Are you receiving a great amount of traffic on your website? Then it is the best time to Monetize your blog. Why not? After all, it is a better source of passive income. But the main concern for beginners or individuals who are new to this blogging, have no idea how to monetize a blog.
Blogging has been always considered a hobby for many individuals but many of them are unaware of the fact that they can even generate a great income out of it.
Gone are the days, When it costs a lot to even start a blog and monetize it. The whole process was not as easy as it is now. But, now it has become an easy task for anyone to start their own blog and follow their passion for blogging. In addition to that for many people, it has become their primary source of income.
Yes you read it right, Blogging can be a primary source of income too, but it is only possible if you are delivering the right content or product to the right and large audience. However, All these processes seem tough but it is not. With the right approach and proper planning, one can easily Monetize a blog and generate a great income.
But you cannot take it lightly, Since the process has become easier, there are a lot of competitors out there trying to outrank you all the time. Only a strong marketing plan, the right content, a very less competitive highly profitable niche, and a strategy on How to monetize a blog can make wonders for you.
In this post, we try to cover almost all the terms regarding Monetizing your Blog, whether When you should consider Monetizing your blog? and Various ways How to monetize a blog.
But Before that let us figure out When you start considering monetizing a blog first.
When you should consider monetizing a Blog?
To be honest, there is no cutoff or threshold amount of web traffic that determines the eligibility to Monetize your blog. Because it all depends on How you implement the marketing strategy and on what niche your blog is based on.
But the two major factors that help you out When and How to Monetize a blog are :
Must have consistent Web traffic: No matter, if your blog traffic fluctuates between high and low daily. But the most important factor your blog must have about a thousand consistent monthly visitors on your blog. It encourages you to push content from time to time and increase your loyal fan base.
Maintain a Genuine Subscriber list: Like website traffic, you also do not need to Increase your subscriber list unless or until it is worthy enough. Even with a small subscriber list, an individual can manage to generate a genuine income from it. The only thing matters here is the authenticity and genuineity of a subscriber/email list.
In addition to the above two major factors, the other most important thing is how you implement the marketing or monetizing strategy for your blog. Let us understand it with some suitable examples.
Suppose, you are running a beauty blog and your monthly income target is to earn min $2000.
You can make a plan or strategize it as follows:
Either You can list beauty products on your blog worth $20 to sell to a minimum of 100 people.
Or you can also start paid courses of about $200 on Makeup tutorials for 10 people.
Also, you can ask for consultation charges worth about 100$ to 20 people.
It is all about how you make a strategy according to user behavior and maintain the supply-demand ratio. First, you need to do a proper analysis of your visitors and see on average how much traffic is showing interest in your content monthly.
To generate high revenue, you cannot simply increase the prices of your products or services. But you need to implement it strategically. Similarly, there are a lot of other things you must consider on How to monetize a blog. which you will be going to see in this post.
No matter, whether you have high traffic blog or you have just started a new one. This post will help you out and provide you with all the possible ways How to monetize a blog.
How to monetize a blog using Google Adsense?
Selling out your blog space for advertising is one of the basic and most common methods How to monetize a blog. Through this, you can generate a passive income by selling your blog space to google. Which is commonly known as Google Adsense. It allows Web admins to put their website space on rent for advertisers to show their ads on your website. Whenever a visitor clicks on the ads on your blog, a little amount of money is credited to your account. Therefore, Google Adsense has become one of the easiest ways to start generating income online.
Similarly, if you want to make more than just blogging, pushing content, and increasing your follower base from your website. Using Google Adsense on your blog would be a great choice for you to generate easy income. You just need to learn the basics of Google Adsense on WordPress and How it works? For more details, You can also read our detailed and comprehensive post on How to Add Google Adsense to your WordPress website.
The Ads can be anything, depending on the user's past search results or relevant to the blog niche. You don't have any control over the types of ads running on your website. The whole activity is only moderated and monitored solely by Google itself. You just define the locations that are empty and where you would like to put the ads, and Google will start displaying ads according to that.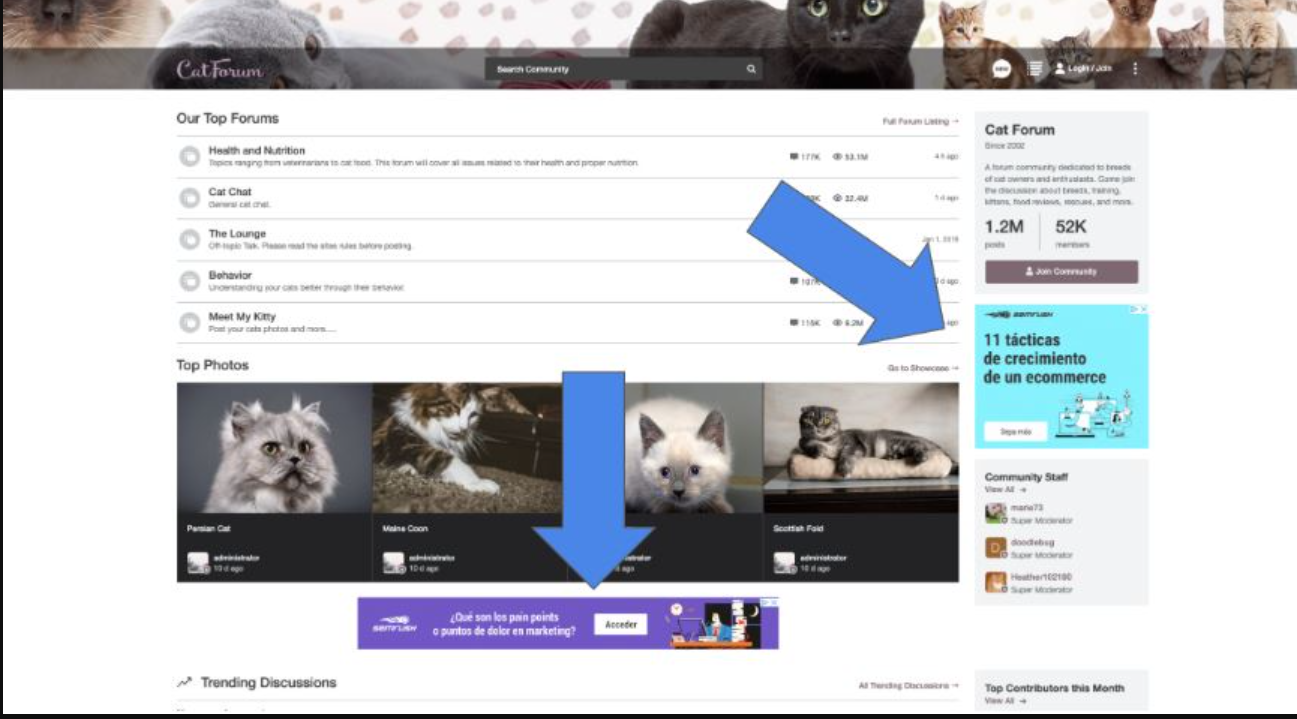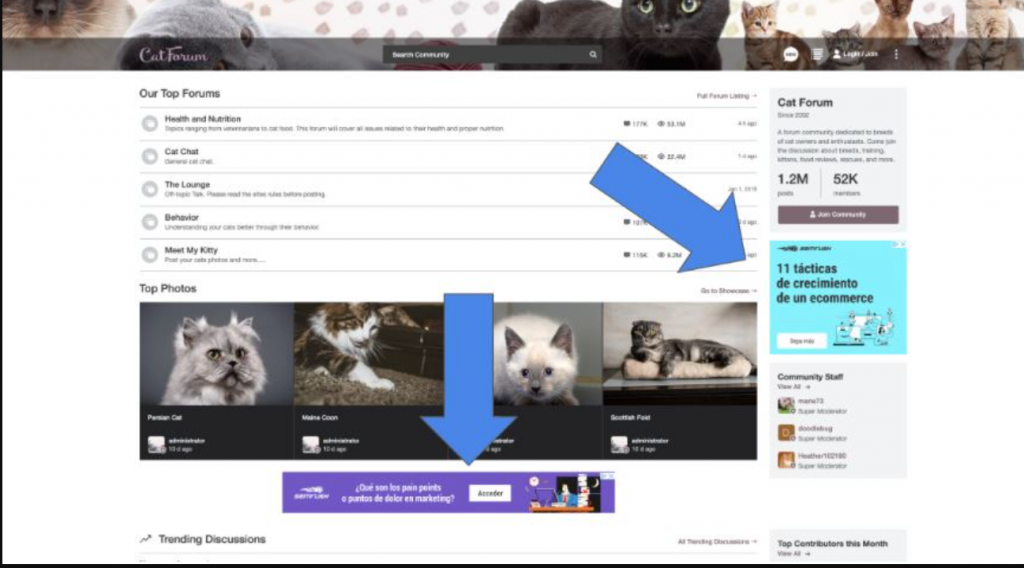 From the above picture, you can easily see what Google ads look like on a blog. Similarly, you can also put ads on your blog and start making money. This is how to monetize a blog by using your blog space in the best possible and most effective way.
How to monetize a blog by selling your blog space to other advertisers?
Google Adsense is great and easy to implement on your blog, but the only limitation is you can only get a limited amount from it. However, there are plenty of other advertisers are out there, that are ready to pay you a good amount for your worthy Ad space on your blog. The more popular and high-traffic blog you have, the higher the amount you will get paid without interfering with Google.
It is somewhat like, you rent an ad banner space to advertisers which are located at the roadside. This Direct Advertising method gives you control over the ad price and you can charge a flat rate for a particular ad on your blog.
To attract advertisers or businesses that are looking to buy ad space to advertise their product, You can create an Ad on your blog, Stating "Advertise here". The advertisers or Businesses will immediately approach you for the collaboration.
However, it has its own problems and certain limitations, It will be a little bit difficult to manage as compared to Google Adsense. You have to make deals with the businesses, negotiate with them, follow certain terms and conditions, and other billing payments by yourself. But all these difficulties can be easily eliminated by certain free WordPress plugins that are available in the WordPress directory. With their help of them, it will become easy for you to manage ads, get all the insight reports, and many more. This is how to monetize a blog using your blog space.
How to Monetize a blog by Start Accepting Guest or Sponsored Posts?
One of the most traditional and popular ways for bloggers used How to monetize a blog is by allowing authors or businesses for sponsored or guest posts on your blog. It is the best way to monetize your blog and earn some amount through it. Basically, companies or businesses approach you to write about their product or services on your blog. Or Even they ask you to post their content on your blog. In return, they will pay you some amount to publish.
It all depends on the Domain Authority of your blog. If your blog is well established, recognized, and receives a good amount of monthly traffic, many companies will be ready to pay for their product promotion or advertisement.
It is somewhat you can relate to, paid promotions that many social media influences on Facebook and Instagram get paid to promote services and products on their social media handles.
If companies or businesses are not approaching you, you can even directly pitch companies in your niche and check if they would like to collaborate/deal with you or not.
While approaching or pitching companies, make sure you are also providing all the information about your website and also let them know how can your website will be beneficial for them to promote their content. Make a complete media kit, showing your website insights, Visitor retention, Monthly blog traffic, Number of followers on social media channels, and other infographics that help Advertisers to reconcile.
But, one thing you must keep in mind while doing paid promotions is that you must abide by the rules and laws of any state Guidelines. In the United States, bloggers are asked to let their audiences know whether the endorsed product service is paid/sponsored or not. Hence, it is mandatory for bloggers or social media influencers to mention a message in their content about " Paid promotions included" or "This post has been sponsored", either in between the post, at the beginning, or at the end.
How to monetize a blog as a Freelancer Blogger?
Freelancing is the newest way to get self-employed. Many individuals are tired of doing typical 9 to 5 jobs or working shifts. Therefore, they are trying out alternate fields, freelancing is one of them. The easiest and most popular way to earn money is through your blog.
Hence, it is the best platform to do self-branding and promote yourself. You do not require to list products and sell them on your blog, instead, you can simply offer the services you are good at and start making money out of them. Hence, this is the most useful way how to monetize a blog for Freelancers.
Usually, bloggers have good writing skills and it is where the bloggers start their blogging. If you are a true blogger, you know how to write a compelling blog on any subject. Hence, you can also offer content writing freelancing services to clients or companies.
Whether you are a content writer, Digital marketing expert, or Graphic designer, you can offer your services to various companies related to your field of expertise through your blog. You can become If you are a Marketing Consultant, you can offer your services to other beginners and help them to grow their businesses online.
However, to make your client search easy, there are various freelancing platforms available online such as Fiverr and Upwork, but the competition is high and the pay is low. Hence, you should use your own blog and offer your services through it.
You must create a contact us page on your blog and embed a contact form so that it will become easier for clients to approach you.
How to monetize a blog Using Digital Courses and Pdfs?
Writing and Selling Digital Courses such as ebooks and Pdfs are turn out to be highly profitable online businesses. Hence, it is a popular way to monetize your blog and a great source of passive income. You only need to write an ebook based on your experience and skills on trending course topics and create a pdf file to sell it on your blog. Similarly, you can also create digital courses such as tutorials and Worksheets in Pdf format, mark their price and list them on your website.
You only need to create it once and it can be downloaded by users multiple times. No need to upload again and again. But one thing you must make clear is that the Ebook or Digital courses you are selling must not compromise the quality of the content.
The ebook must look appealing and interesting to your target audiences and they must be compelled to buy it.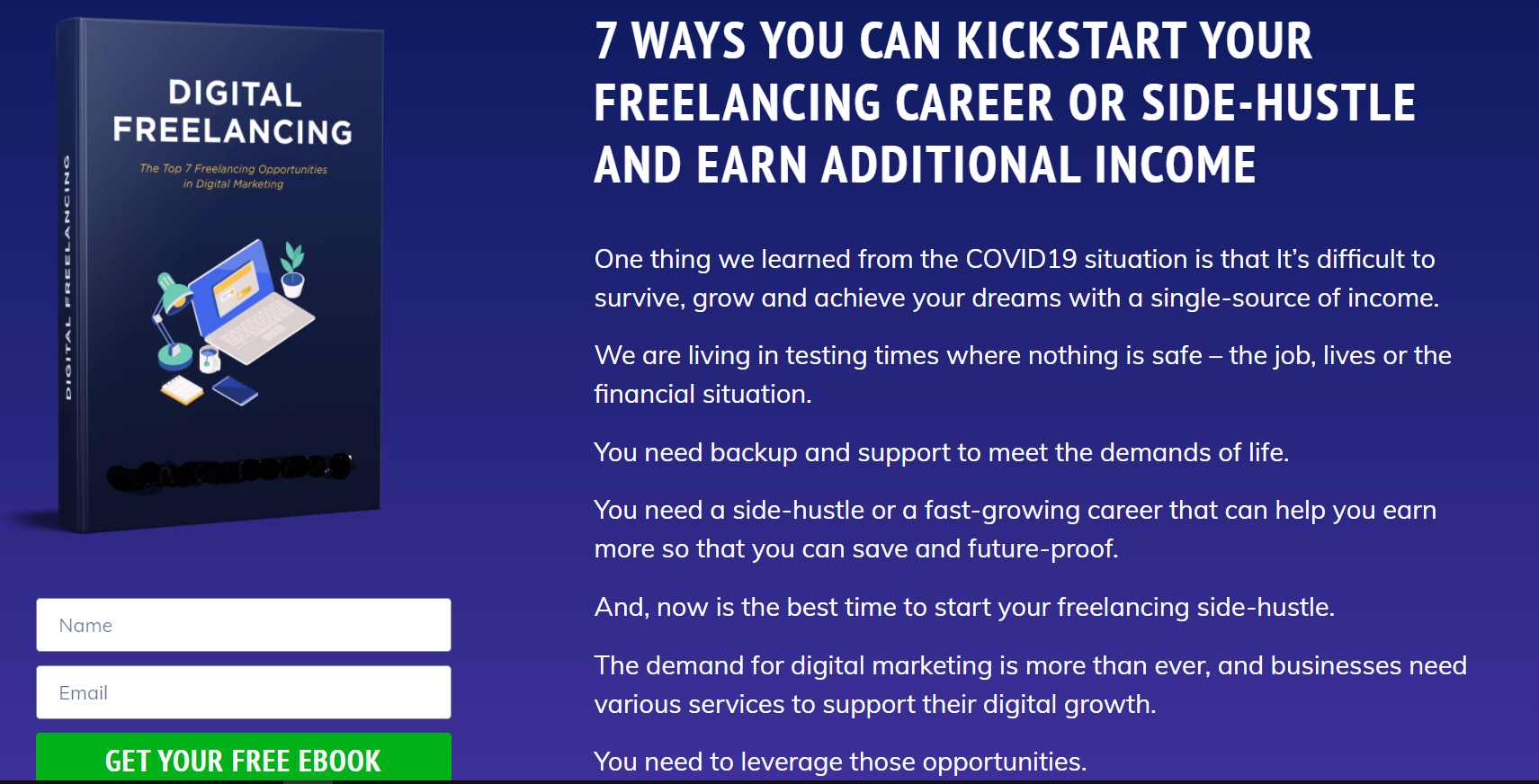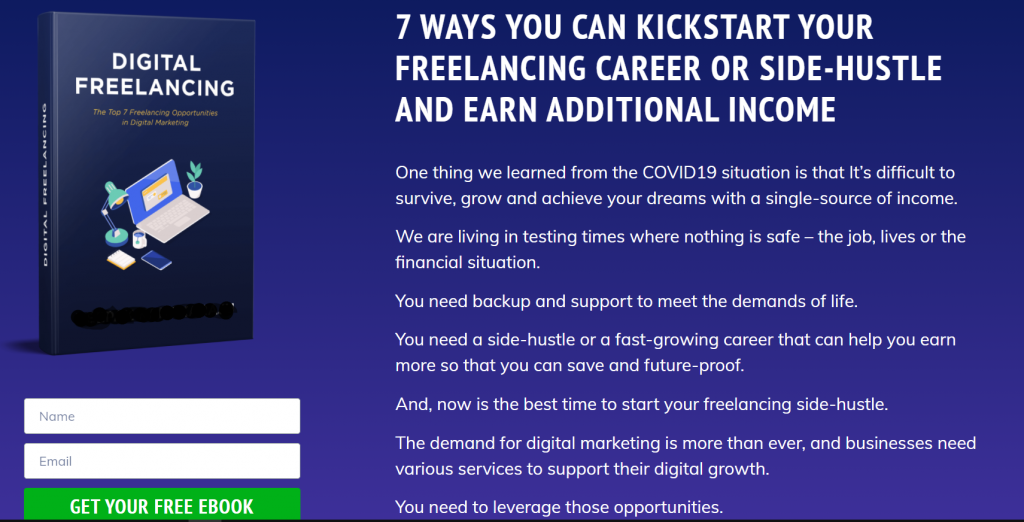 For your convenience, you can also turn your popular Blog posts into a Complete pdf and sell them on your blog. For example, if you are a Digital Marketing Expert and has recently posted a blog about anything related to SEO and Marketing strategy, and eventually it turned out to be Viral. You can create a complete detailed ebook out of it and sell it to your readers. This is how to monetize a blog by selling online digital courses.
How to monetize a blog using Digital Products online?
Apart from selling Pdfs and ebooks, you can also sell other popular digital products such as apps, templates, learning videos, and many more. The only thing required is the right digital marketing skills and the confidence to sell products online. Let us understand it better with an example, Suppose you are running a Wedding blog. You can sell out all the wedding card template designs, printable invitation templates, Wedding videos, and music on your blog.
There are a lot of WordPress plugins available in the WordPress directory, that will help you to implement an online product selling page. The plugins will provide all the functionality such as a check-out page, buy button, shopping card, coupons, and many more. This is how to monetize a blog by selling Digital products online.
How to monetize a blog using Affiliate marketing?
Affiliate marketing is somewhat earning through commission. It is the best way to generate income if you are looking for How to monetize a blog. It is like if you have listed a product with an affiliate link on your blog and whenever an audience buys the product from the link you have provided, a little commission will be credited to your account.
Suppose, a client has asked you to promote their product on your blog and make a deal to give you an amount of $10 as a commission on each sale. If 200 people buy the product from your blog by clicking on the affiliate link that you have posted on your blog, you will get an income of about $2000.
Web Hosting services are one of the highest-paid affiliate marketing niches. Similarly, WPOven has also started an Affiliate program by which you can get paid when a referral user signs up for our hosting plan, and you can earn up to 100% of the first month's payment. For more details, you can check out the link: https://www.wpoven.com/affiliates/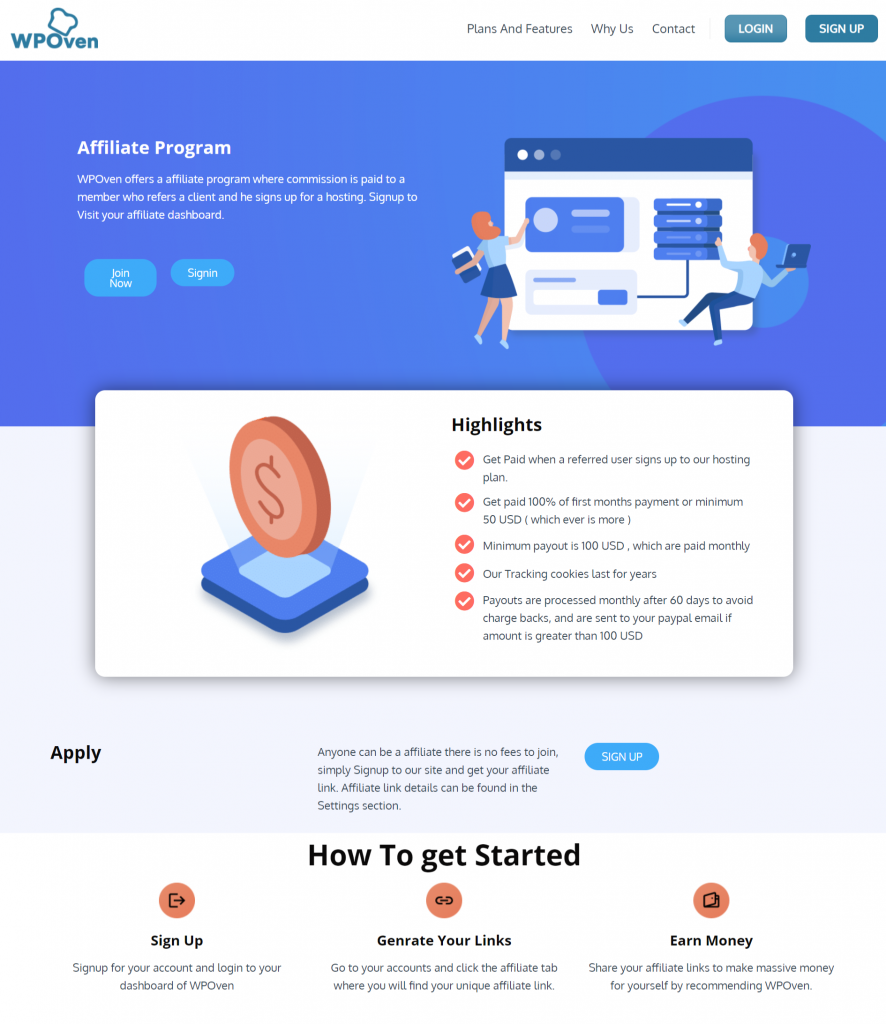 Anyone can be an affiliate there are no fees to join, simply signup to our site and get your affiliate link. Affiliate link details can be found in the Settings section.
Signup for your account and login into your dashboard of WPOven
Go to your accounts and click the affiliate tab where you will find your unique affiliate link.
Share your affiliate links to make massive money for yourself by recommending WPOven.
By sharing our Affiliate link you can easily monetize your blog and generate a good income from it. This is one of the most profitable ways How to monetize a blog.
How to monetize a blog by writing reviews?
Writing paid reviews is somewhat similar to sponsored posts. Paid review is like writing your own opinion or review about a product that a company has asked you in your blog and in return the company pays you. But, you are bound to write products only related to your blog niche, you can't write reviews about any random product on your website.
For example, if your blog niche is about kitchens, you can only post reviews about kitchen tools and kitchen products, instead of posting beauty products or anything else. This is How to monetize a blog using Paid reviews.
How to monetize a blog as an online tutor?
There have a lot of digital activities have been occurring. Due to the digitalization of almost everything education and online courses have become an easy solution for those who cannot afford expensive college fees or who cannot attend colleges.
Hence, people like them move on to other alternate options such as online courses and tutors. If you have the zeal and potential to be an online tutor, you can start a blog, and offer online classes, materials, and subscriptions to your users. Just try to be worth paying for.
You do not need experience or a degree to be an online teacher or tutor, if you have the right knowledge and confidence about a particular subject you can easily share with your readers and sell your online courses to them through your blog.
For example, if you are good at make-up and styling, you can teach your audiences via selling your online courses or paid subscriptions.
With the help of Various WordPress plugins such as the membership plugins and LMS plugin, you can create a full-fledged online classroom program and can offer it to a large audience. This is how to monetize a blog especially if of education niche.
How to monetize a blog by building communities?
Forums or groups are basically a page on your blog where the members can discuss and share their opinion on a topic with the web admin. You can create a separate Paid Forum or group, where users need to pay a little amount of money to get access and become a member.
Forums are the best way to interact with your audiences, increase your follower base and build a whole community. In addition to that, paid Forums help you to generate some income through it. This is how to monetize a blog by building a community.
Sell your own merch and products
There are many social media influencers and successful bloggers out there who are selling their merch like tees, caps, or shoes printed with their brand, logo, and memes on them. Similarly, you can also monetize a blog and sell your own marches/products too.
For example, Nicole Warne, a Sydney-based fashion blogger, sells her own list of products on her blog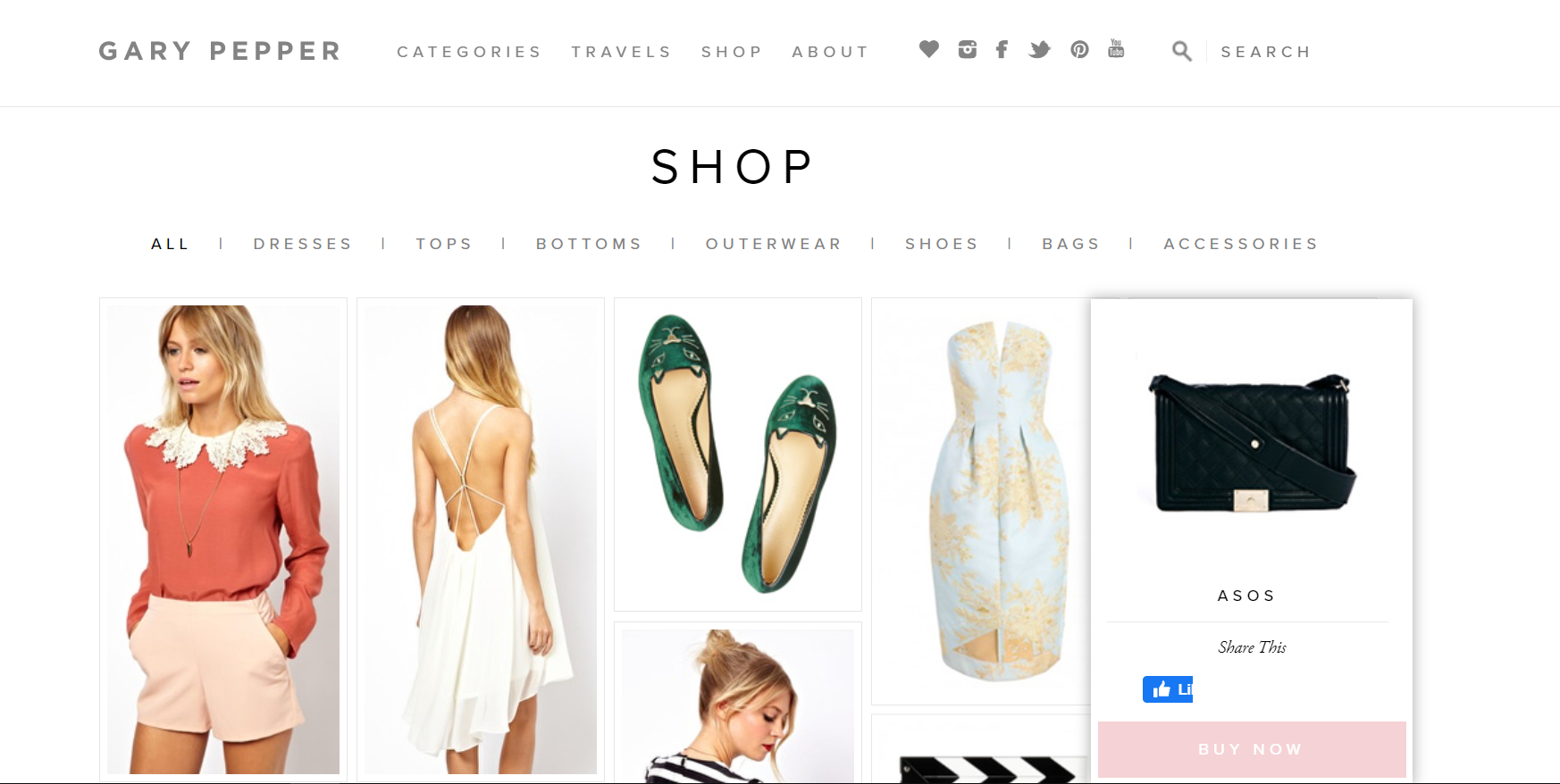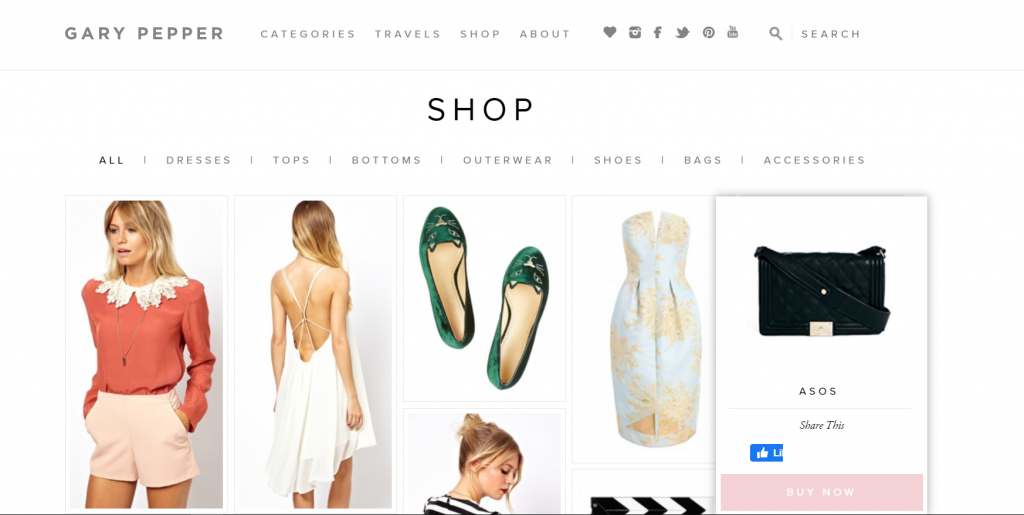 Your followers or Fans who love to read your blogs would definitely buy your mechs from your blog and help to spread brand awareness among others. All you just need to do is to properly list your merch, offer great deals/discounts,s and create eye-catching lucrative ads banner. You can even also take help from an advertisement maker which makes it a lot easier for you to design ads. This way it can help to add up an extra audience to your blog and profit too.
Similarly, if everything goes well, you can also move on to start your e-commerce store and start selling other products too. This is how to monetize a blog and create your own brand.
How to monetize a blog by Converting it to a Membership site?
Once you can create a good fan base, it is now you should start converting your blog into paid/membership website. Loyal fans or audiences who love your content earlier would like to pay for paid content also. It is because your content is used to add value to them.
After converting your blog into a membership website, it will be like the content has been password protected and you can only get access once you pay the one-time payment for it.
If you do not want to receive a one-time payment option, you can also implement a monthly based subscription plan, in which users need to pay you monthly to get access to the content. The content can be either online courses or exclusive daily articles. This way, you can easily monetize a blog.
There are thousands of plugins are available that can help you to build a membership or subscription-based website. To get a better idea you can read our detailed review on the Top 10 WordPress membership plugins. This is how to monetize a blog and earn recurring money.
How to monetize a blog using an Email List ?
You can also indirectly monetize your blog by gathering emails of all the leads and make a list of them. Through Email marketing, you can target your leads and compel them to buy your product by offering them lucrative deals and offers on the products.
The leads who had signed up to your blog earlier showed interest in your content and will be liable to buy services that you offer. Using Email lists for email marketing have its own benefits, they help to ramp up your online sales, such as ebooks, online courses, subscriptions, Affiliate revenue, generating more leads, and many more.
Now the point is, how to create an email list? There are some methods you can try on your blog,
Create a Contact Us page on your Blog.
Create a Pop-up window form
Create a Landing page
There are thousands of WordPress plugins are available in the WordPress directory that can help you to build a pop-up window form on your blog.
A contact us page or pop-up widow asks a viewer's contact details such as name and email address to get access through your content. Through this, you can build a great email list of your niche. IT is one of the indirect and long-term methods you can use for how to monetize a blog.
How to monetize a blog by Hosting Paid summits and Webinars?
You must have heard Webinars and summits have been the latest trends on the internet. It becomes easy for people to attend webinars or summits held overseas through the Internet. Webinars or Summits are like video conferences, where you will get training lessons, Q/A sessions, Online Teaching, Promoting products, and many more.
The only difference between Webinars and Summits is Online Summits are more interactive and engaging. Usually, these Online/virtual conferences are Free for a distinctive period. The major revenue is generated through selling lifetime validity passes, with the help of which users can attend any of the future conferences without any limitation.
The other sources of revenue generated through summits and webinars are promoting or selling summit and webinar products such as membership plans, courses, goodies, and other materials after the completion of online conferences.
This is how to monetize a blog by organizing a webinar and Summits for your audience. Through Webinars and summits, you can promote your blog, interact with your audience and increase your popularity. These virtual webinars and summits can be organized for almost any niche, unless or until you have sufficient content to deliver.
For example, if you are Marketing Guru, you can organize a summit or webinar on Trending Marketing practices and teach How they can use the latest and trending marketing practices to implement in their business.
To acquire more audiences and subscribers for your paid webinars or submit. You need to promote it on your various social media platform. If your budget is high you can even start Google ads. With the help of plugins create Landing pages on your website, that will help you to acquire more leads.
How to monetize a blog by asking Donations?
If you are providing great and valuable content to your audience, they won't hesitate to even pay you if you ask for donations. Most of the time you may have seen the Donation link while installing a Free open source WordPress plugin. Donations really encourage developers or content creators to provide more valuable content without any break.
And it is also not unethical to ask for donations if you are providing something valuable at no cost. This works perfectly great for those who provide Free services and looking for How to monetize a blog simultaneously.
Summary
It seems easy to start a blog and start pushing your content to your audiences. However, it becomes pretty tough when it comes to How to monetize a blog. Simply pushing content tirelessly, without any proper planning or strategy is only a waste of time and money, unless or until you have any future profit expectations. Even Many bloggers do not have sufficient knowledge or any idea about how to monetize a blog and make maximum out of it.
It is also you have seen or noticed that income generated through monetizing a blog does not solely depend on the niche your blog is based on, High traffics, or the leads. If you have the right approach for how to monetize a blog and proper planning, one can easily generate income from any blog either from Marketing or cooking blogs.
All you need is to do the perfect maths about how much average monthly traffic you receive and monetize your blog accordingly. Going through this post is only the knowledge we are trying to provide and sharing all the possibilities on how to monetize a blog. And We hope it will really help you out to make a proper strategy to monetize your own blog.
If you have any more tips or any other method for how to monetize a blog, please let us know in the comment section below.
Frequently Asked Questions
How many views do you need to monetize a blog?
It is not mentioned anywhere or have specific data about how much do you need to monetize a blog. But it depends on how to monetize a blog so that you can earn proportionally to the views. However, it is highly recommended you must try to increase more views possible. More the views greater the profit. IT becomes difficult to get profit with the lower views. However, it is challenging to do but not impossible.
Can you monetize a free blog?
You have multiple options out there, from which you can easily monetize a free blog some of them are:
1. Use affiliate marketing
2. Sponsored posts
3. Newsletters
4. Email lists
5. Paid Reviews and many more.
A free blog is one of the best ways to generate passive side income. Through zero investment you can earn a high income. There are some Bloggers who have started Free blogging and turned out to be now successful bloggers. This all depends on the proper knowledge of How to monetize a blog.
What type of blogs makes the most money?
Depending on the strategy you followed on How to monetize a blog, you can make most of the money even lowest popular blog niches However, there are some blogs that can make the most money online:
1. Web hosting blogs
2. Finance Blogs
3. Fashion Blog
4. Travel and Tourism Blog
5. Fitness blog and many more.