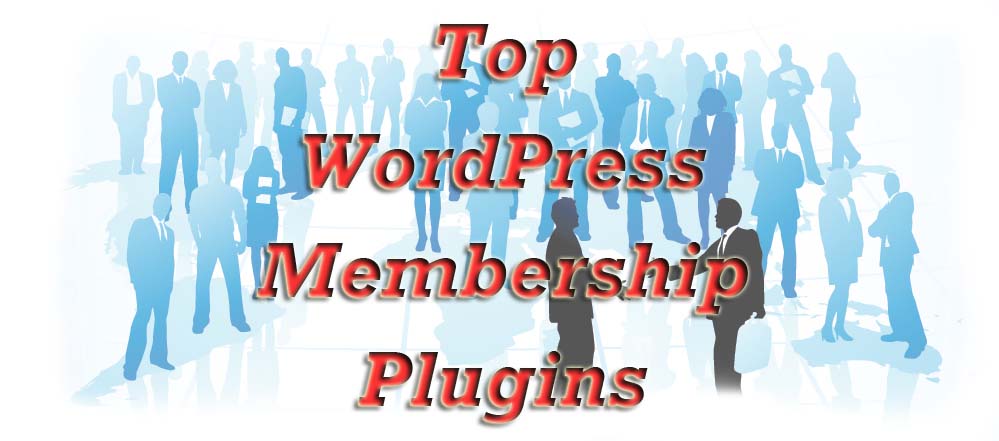 There is no denying the fact that WordPress is the best resource for you to launch your very own blog, online store, or even a photo gallery. Apart from the typical use, WordPress can also be turned into a membership website with various free and premium WordPress membership plugins available for all kinds of users.
Whether you want to go for a free or a premium plugin depends on your need and usage. Each plugin satisfies a particular demand of the user, therefore, it is hard to say which one is the best amongst the rest because all of them are great. Here are the top 5 free and top 5 premium plugins which will help you with your WordPress membership sites:
5 Free WordPress Membership Plugin

Downloads : 277,063
Active Installs : 20,000 +
Rating : 4.4 / 5
Price : FREE
Simple membership offers everything for a simple membership site, for example, the paid and free memberships as well as unlimited membership levels. It also provides the option to hide certain content from the non-members. The only payment option which it offers is PayPal but because PayPal is compatible with major credit and debit cards, no problem is created. Some of its major features are :
Flexible
Easy to use
Unlimited Membership access level
User friendly interface
Add Free or Paid Memberships
Inbuilt Login Widget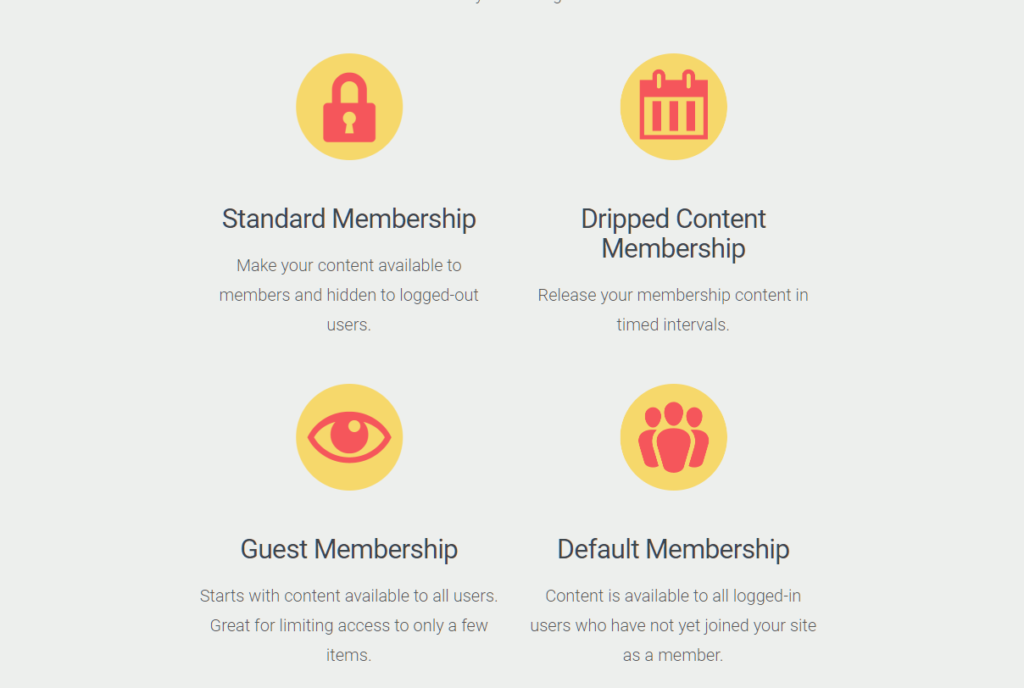 Downloads : 46,731
Active Installs : 10,000 +
Rating : 4.0 / 5
Price : FREE to try for 14 days
This one is not exactly a free plugin but is free to try from WPMUDEV and it also might not be the most widely used but still, holds immense popularity because of its distinct features. It comes both in a basic and a pro version but the free version is enough to perform all the functionalities. There are four membership options including standard membership, dripped content membership, guest membership, and default membership. It also provides a higher level of protection and allows the transaction of payments through PayPal, Stripe or you can even manually accept them in 25 different currencies.
Features :
Smart Setup Wizard
4 Membership types
Multiple Payment options
Easy member management
A large list of available add-ons to boost functionality

Downloads : 1,033,784
Active Installs : 30,000 +
Rating : 4 / 5
Price : FREE
Being a very popular plugin, this one comes with a pro version too. All the standard features are available in this plugin such as tags, categories, posts, protect pages etc. The thing which makes this plugin stand out are the unique features which are not found in the other plugins. These features include the ability to protect certain portions of content within the pages, posts, and themes along with providing the option of downloadable files and audio/video streaming. This plugin also provides a lot of flexibility to the users where each member can choose any page or post and get it unlocked. Other major features include :
Integration with PayPal Website Payments Standard
Role based access restriction
Protect WordPress posts and pages and even parts within the posts/pages
Powerful shortcodes for easy integration

Downloads : 3,215
Active Installs : 1,000 +
Rating : 5 / 5
Price : FREE
A relatively new plugin on the scene, this is the best kind of plugin if you do not need a full-fledged membership site. It serves to be a quick solution and comes with a limited number of features, configuration options, and integrations. If your requirement is nothing beyond getting the basics for the members and non-members of your website then get your hands on this free WordPress plugin. It can serve to be a tester plugin especially for those who are unsure whether the membership option will work for their website or not.

Downloads : 302,048
Active Installs : 20,000 +
Rating : 4.5 / 5
Price : FREE
The group plugin is different from the rest in the sense that it offers group membership. This means that you can assign users to different groups with each of them having a different level of access and manage them as one. This provides more precision in what is accessible to what kind of users. Because of the fact that it functions differently from the rest of the plugins, it might become difficult for some users to understand it in the beginning. But as the things start getting into place, the plugin comes out to be quite straightforward and easy to operate. So broadly again the major features are :
Easy to manage User Groups
Group Hierarchy with inheritance
Easy to assign group capabilities
Set group permissions
5 Premium WordPress membership Plugin
If you are running a business site or a large scale professional site, then you may want to use Premium WordPress membership plugins.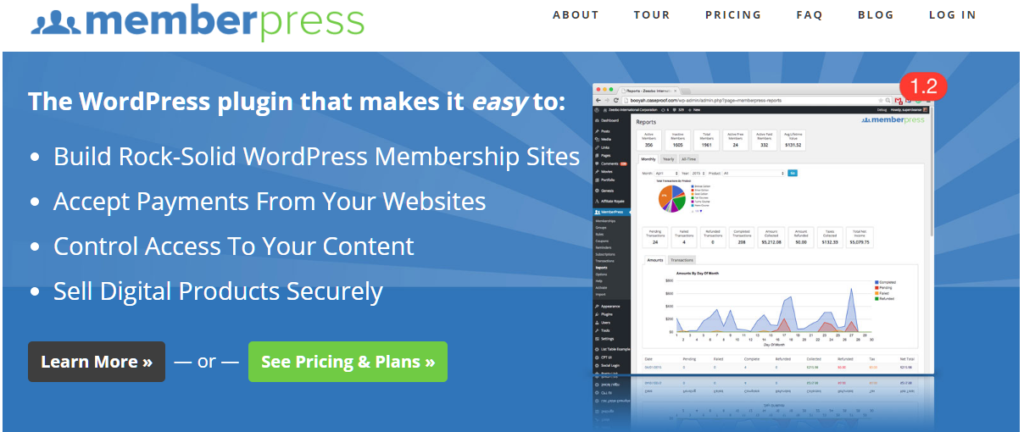 Price : $99 – $199 per year
If you deal with software and e-books then this plugin is absolutely the right choice for you. It is relatively easy to charge the users who wish to use your content with the help of this plugin. Create, manage and track the membership subscriptions and the digital products confidently. Not only this but the Member Press plugin also allows to grant or revoke access to and from any user to the content of your website at a given period of time. This content includes the posts, pages, digital files, tags, feeds, and communities. You can make the decision on what products have been purchased or subscribed to by the user.
Features :
Unlimited Membership levels
Easily get the payment system working
Simple configuration for the options
Memberpress Coupons
Add Product Groups
Access Rules
Great looking reports and analytics
WordPress Premium Content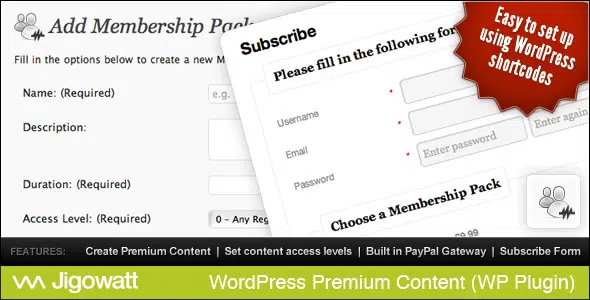 Downloads : 500+
Rating : 4.0 / 5
Price : $40
The Jigowatt's WordPress Premium Content plugin only allows to set up a website whose content can be accessed by users who have an active PayPal subscription. It is easy to manage your subscribers with the help of this plugin. It also comes with the possibilities of changing the subscription prices for the customers at any time and set-up membership renewal options. This custom membership renewal can be annual, bi-annual or even on a monthly basis.
Features :
PayPal payments Integration
Subscription based or one time payment options
Hide entire or part of Posts for users
Ip based security system
Prevents sharing a subscription
Downloads : 14,242
Rating : 4.5 / 5
Price : $34
If you are looking for beautiful frontend profiles then User Pro is the answer to your quest. Packed with so many features, this plugin allows you to a community of searchable directory. Each registered user can have a customized and attractive profile of his own. This plugin makes it obvious for the users that the website is using WordPress.
Features :
1 Click social media connect
Easy Sync with BuddyPress, BBPress and WC
Newsletter Integration
Content Restriction
Activity Feed
Custom Redirections
User invitations
Users Ultra

Downloads : 266,860
Active Installs : 4,000+
Rating : 4.5 / 5
Price : $59.97 to $199 per year
Within a few minutes, you can create advanced users community with the help of Users Ultra. Building model agency websites, talent and social communities become quick and easy with the help of this. It comes with the option of being integrated with any WordPress theme and you can add a number of fields by using the Fields Customizer Tool. You can also enable the users to log in or connect to their other social profiles.
Features:
Follow feature
Elegant User Panel
Custom Pricing tables
Badges and Achievements
WordPress Multisite support
Allow users to create Photo galleries
Easy user management.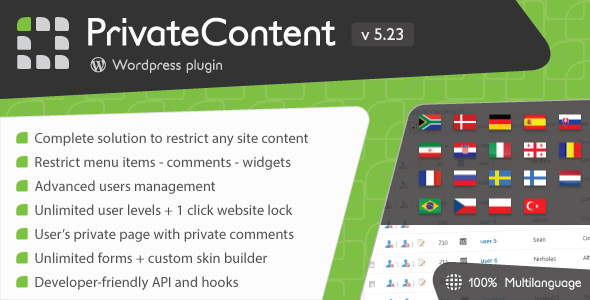 Downloads : 7,772
Rating : 4.5 / 5
Price : $23
As the name suggests, the plugin in basically about having complete privacy over the content and customizing various posts and pages according to your own choice. You can decide which pages should be visible to which users and which need to be accessed by only a few privileged ones. There are a number of management features and you do not have to depend on the scripted knowledge in order to operate this plugin.
Features :
Unlimited User membership and levels assignment
Unlimited registration forms
Fast list management
Content restriction
Custom login form
Customizable messages
Dev-friendly API structure