Time is money, people tend to indulge in 100 tasks per day. This can be frustrating and may reduce your productivity at times. But still, you try to achieve the best of your day. Things, where you can save your time and speed up your task, can act as bliss to your process. We will discuss how to get premium stock photos and free stock photos for your WordPress website.
You are already coupled with so many tasks on your website. Adding stock photos without leaving WordPress can make your work a little easy and effective.
Below listed are a few tricks where plugins & services can help you easily add beautiful videos to your WordPress site while working on the WordPress dashboard. 
How to Find New Stock Photos?
Stock Photos can be essential to support your business. Finding the right image and investing funds in creating your own image is not something every person can afford. It is an easy solution and saves your time. During recent times stock photos platforms have increased in their quality and quantity. A huge number of websites are there, where users can use free of cost that will provide them with excellent image collection. Adding creativity to your project can make people trust your business more and increase their outreach. Many websites online that deal with stock photos have a huge database with high-quality results. Some of these websites are :
Premium Stock Photos 
Free Stock Photos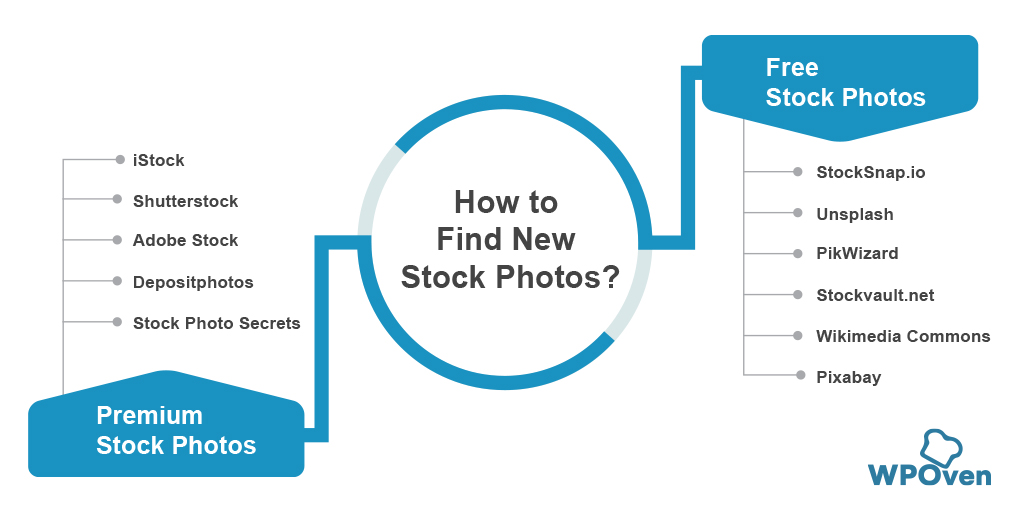 All the above listed are websites providing you with beautiful and HD quality images collection for your WordPress project. But they demand you to visit their website, downloading the images, etc. This makes you work even more time-consuming. You have to juggle with different websites, tabs, and download links. Content creation needs to be done timely and effectively if one wants to meet the expectations of the audience.
Luckily, you can stick to your WordPress website and still find images suitable for your content. There are these two plugins and services that will make you add pictures into your WordPress directly without leaving the website.
1. Instant Images – Its Absolutely Free

Connect, it is a web design studio that has created Instant images. This solution has actually made it easy to browse and add pictures as they have also had a plugin to add your desired HD quality image from Unsplash into your WordPress website directly. 
Unsplash is a website that provides the user with High-quality images to the user. There uploaded images are covered under CCO license. The user is free to modify, copy, distribute, and use the photos, free of cost. They can utilize it for commercial as well as non-commercial use. Permission from the owner of the photograph is not required. Using the image will not attract you any legal consequences.  Read our blog on how to find  on where and how to get free images for WordPress 
It has around 1000+ active installs having 5 out 5 ratings. You can access to Unsplash website right from your WordPress and add photos to it. You can search from the WordPress dashboard then click the "add new" button or can easily search it from the WordPress repository to download it. 
The following steps will explain how to make this feature process after activation for free stock photos-
STEP 1:
Once you have installed the plugin for free stock photos and completed the activation process you need to register or sign-up for an Unsplash account. This will provide you with an API key. Instant images will give you an API key for checking it immediately and see if it works. When you have your API key, it will help you unlock additional requests/lookups. The newsletter is free of cost and you do not need to subscribe, totally up to you. 
STEP 2 :
After joining, the next step is to get yourself registered. There you have to add the reason under the heading "what are you going to build"? Or you can add the "Instant Images WordPress plugin" as an answer.
STEP 3:
The next step is filling the application. There are limits for when you expect the application to be auto-approved, which is limited to 50 searches per hour. This covers 99% of the WordPress population. If you want to gain higher limits then you can provide them with additional information later on. If you are using it in an app, you need to dig deeper for filling the form up.
STEP 4:
Go to the "instant images" tab under the media section, it is the plugin, you need to add APP ID. You can easily search the Unsplash ID from there and add credentials like the height and width of the images. 
STEP 5:
When you are creating a post, you will be able to find the "Instant Images" tab in the editor that can easily launch your search and you can add your desired images from there.
STEP 6:
After launching the search, you can have access to pictures after adding keywords and selecting the image you want. That will upload that image in the media library. This will not directly add the picture to your post, it will be added to your media library. To add the picture to the post you can click on "Add Media" and add the picture to your post. You can also name your file after clicking it, thus improving SEO responses.
This is all you need to do for adding HD quality images to your website without leaving WordPress.  You can use plugins that help you with the image optimization, like Imagery, it will still work irrespective of this change. 
2. PixelRockstar (Premium, Yet Insanely Affordable)

This new plugin and service system called PixelRockstar is your one end solution. This service is not free but yet very affordable to enhance your blogging. Through this, this gives access to a huge number of high-quality photos, easily accessible on your dashboard. The packages provided are very affordable, their highest package is $0.57 for every photo.
They use their own license for each photo. This saves you from any copyright issues. You can utilize that image for commercial as well as non-commercial purposes. The image comes with legally covered insurance up to $10,000. They also provide you will feature like:
You can save an image and use it for your lifetime. The image never expires, you can use it forever.

You can download the stock images with high quality up to 2000 pixels.
The following steps will tell you how to add this feature to your WordPress account:
STEP 1:
Visit website PixelRockstar and subscribe to plans or packs of your choice. There are different options, choice plans as per your choice.
STEP 2:
The plugin discussed in this article is the beta version. Please look for the latest version. 
Install the plugin for free stock photos and then you will receive an API key in your mailbox. You can also access to API key from your account dashboard. You can then select your desired image and edit the width and height of the photo. For other features, you can simply access to "Advanced tab" that will enable you to access features like :
The number of items to be shown for search.

The Default caption you want 

Default ALT you want
STEP 3:
This step includes having access to your "Add Stock Photo" button to your WordPress. Click on this button to add images directly to your WordPress without leaving the page.
STEP 4:
Easily access to photos you want for your website. Click on the photo and choose the size, the default size is based on the size you have set in your settings. You can add it as an "add as featured" image option, thereafter Download it.  
STEP 5:
This plugin allows you to directly add a picture to your post. After clicking on the download option, you are carried directly to image details. There you can click on "insert to the post". Your image is added to your post with these easy steps.
Image optimization will still work after adding this plugin. They optimize the image added to the media library. This option comes with awesome features and is highly affordable. 
While uploading images on your WordPress website, do you struggling with low website speed? WPOven can help you with this hassle by nest VPS hosting in the market. Get Free WordPress migration!
Get SSD storage and dedicated VPS starting just $16.61 per month. We also offer –
FREE SSL Certificate
FREE Daily Offsite Backups
FREE Business Emails
FREE Daily Malware Scanning
FREE Premium Themes & Plugins
FREE WordPress Dev & Server Support
SUMMARY
The above-stated solutions can help you to ease your process of content creation, easily. This will speed up your process. This will easily enable you to not add stock photos while you are working on your WordPress dashboard. You can have access to your desired images on the WordPress bar. You do not have to use your time in browsing the different websites to search appropriate photo. Another major advantage is that you do not have to worry about legal consequences. You are using images with appropriate license policies. These photos are fully protected under any circumstance of copyright issues. 
General FAQ
Does WordPress have stock images?
Yes there are various plugins for free stock images that you can use read about these on our blog on free stock images
What is the best stock photo site?
Their are various free stock and premium stock websites available which you can use for directly import images on our WordPress site. Read about free stock images plugins in detail here