You must have heard about Cloudflare when considering the best security and performance provider for your website. Cloudflare market share has immersive coverage across all the CDN markets. They provide advanced firewalls, Content Delivery Network Caching, image optimization, Intelligent traffic, and many more.
People, usually look for Cloudflare to enhance their website performance and due to being the best service provider in the market, Cloudflare has become the majority's first choice. Although there are plenty of other options or alternatives that are also available in the market. But Cloudflare's lucrative deals and competitive pricing make this particular CDN a top contender to the list.
But before discussing the Cloudflare market share, let us check out in detail about Cloudflare and what are the main things that help it to gain huge popularity.
What is Cloudflare?
Cloudflare is an IT company whose mission is to help build a better and secure internet. It is one of the world's largest networks connecting across countries overseas. Today majority of the internet users whether it is for businesses, bloggers, nonprofitable organizations, or any individual with access to the internet have a faster and secure experience than before, it is all possible due to Cloudflare.
According to the information provided on the Cloudflare website, there are more than 25 million websites or properties that use Cloudflare. And their network is keep growing by thousands per day. It has been estimated that Cloudflare powers Internet properties for nearly 20% of the top 1000 and serves over 25 million HTTP requests each second.
Cloudflare market share has seen an uplift since its launch, and there are plenty of reasons that why internet users prefer to use Cloudflare rather than other alternatives available at the same price. Let us check out what are the possible reasons.
1. Cloudflare helps in to restrict or block Brute force attcks and Hacking attempts:
Cloudflare helps to secure your internet property or website by filtering out most of the potential threats, spams at the Name sever level. And at this level such suspicious or malicious requests are unable to even hit your server. Due to this, your website is protected from any DDOS attacks, spam in comment sections, or SQL injection and provides you with a completely secure experience.
Earlier, it has been reported by many users that their visitors or readers were unable to access the website after using Cloudflare. But they are unaware of the reason behind id that they might have chosen either security level medium or high.
However, we highly recommend you keep your security level low so that visitors across the world can easily access your website.
2. No need to wait for DNS propagation
While moving from one web hosting to another, using Cloudflare won't let you wait for DNS propagation to happen. You can achieve this by just changing the IP address of the server from your Cloudflare dashboard. After that, your domain name will automatically start pointing to the new host immediately.
3. Provides free Cloud Delivery Network (CDN)
Cloudflare provides free CDN which is one of its most significant features. It gets easily integrated with your website and does not alter or change your image URLs or even does not show URLs containing CDN. From my personal experience, I didn't find any problem regarding using Cloudflare CDN, and also it does not affect my SEO practices.
Cloudflare caches, all your static files such as images, JS, or CSS and serves all these from the nearest location possible. In addition to it, using Cloudflare will also increase your website performance by boosting its speed up to 50% and your website will load faster.
4. Reduce Server Bandwidth usage
There are limited Web hosting service providers that offer unlimited bandwidth usage, however, when you choose WPOven you do not have to deal with any bandwidth restrictions. WPOven offers you unlimited bandwidth usage and if you still want more you can get it at very lower rates. However, it is always preferred to efficiently use your bandwidth no matter whether it is unlimited or limited.
Cloudflare also filters out all the spam bot traffic and helps to reduce Server Bandwidth usage. In addition to it, Cloudflare also offers a RocketLoader that automatically asynchronously loads all JavaScript resources. Also protects your website from email harvesting. Cloudflare also provides a Free SSL service which is cherry on the to
To better understand Cloudflare and its Working, the first thing you need to understand is that "How internet works?". For example, you have a website xyz.com and you have hosted it on any web server with I.P address say "8.8.8.8". It means, whenever you type the website URL i.e xyz.com in the address bar of your browser, your browser will immediately send a request to your DNS server and fetch the result "8.8.8.8" and after that, you will be able to access the website.
While setting up your Cloudflare, you need to add Cloudflare name server to your domain first. After configuring all the settings the Cloudflare will start filtering and blocking all the suspicious bots, hacking attempts, or spam requests coming directly to your website. There are a lot of also other things that will happen but to explain in short, all the traffic of your website will have to go through Cloudflare first and if it found any illegal or suspicious access, it will immediately block it and secure your website every time.
One thing you must also note is that whenever you add or integrate Cloudflare with your website, there will no change in your website configurations will take place. Only whatever the traffic comes your website will only get filtered.
Do remember, when you integrate Cloudflare with your website, nothing in terms of technology will change. Hence, it is highly recommended to everyone, to integrate Cloudflare on their website, since it is free and provides a security layer to the website. You can also upgrade to their paid plans as per your requirement whenever you want to.
Some important things to know about Cloudflare:
Make sure to purge or clean all the cloudflare cache before making any changes into the theme of your website when cloudflare is running. To do this go your Settings and first enable the Development mode first.
2. If you do not want to use the manual method to clean up cache memory, WordPress users can use the free Cloudflare plugin to automatically clear cache whenever they publish a new post.
3. It is highly recommended for you to use Cloudflare for at least there a year. However, configuring all the settings of Cloudflare may sound like little technical stuff but you can do it by watching videos available on Youtube.
4. Another thing you must keep in mind is that, before integrating and setting up Cloudflare on your website, always check your website loading time before integrating and after integrating it.
As per the data shared by W3Techs, there is about 80.7% of all the websites on the internet uses CDN that rely on Cloudflare.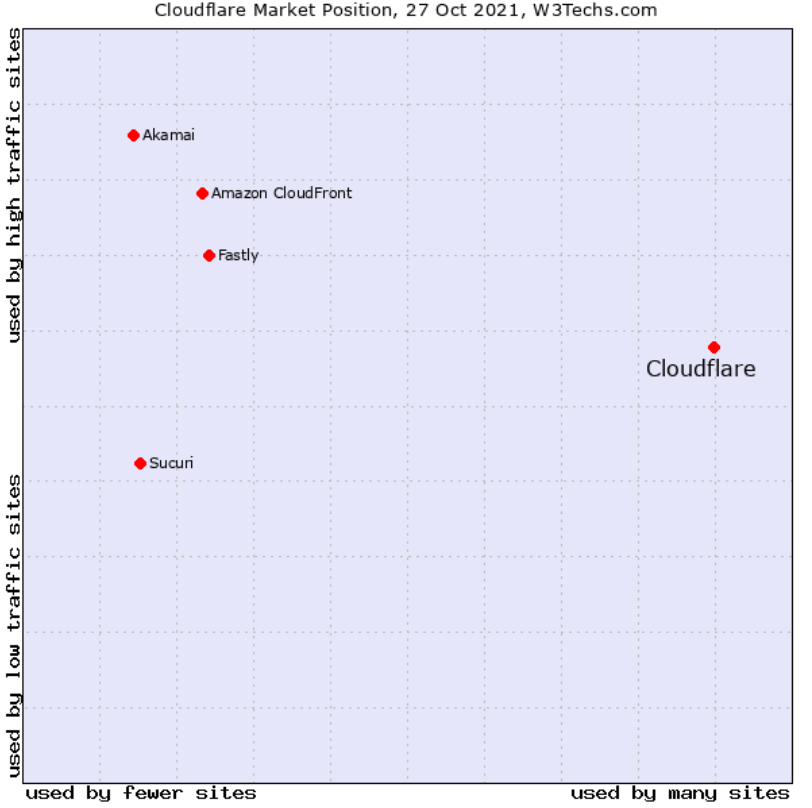 When you look at the figures, you will find Cloudflare turned out to be the market leader. Cloudflare market share is maximum and it is used by the majority of the websites. Even it manages to beat its leading competitors such as Sucuri, Amazon CloudFront, Fastly, and Akamai. You might also be surprised to know there are only a handful of CDNs available in the market and some of them are powered by Amazon. Which makes Cloudflare an edge over the others in terms of reputation.
There is a limited number of Top CDN providers available in the world. And when you look at their user base you will get an idea of how deep these things work. While considering the number of customers, Cloudflare winds the crowd.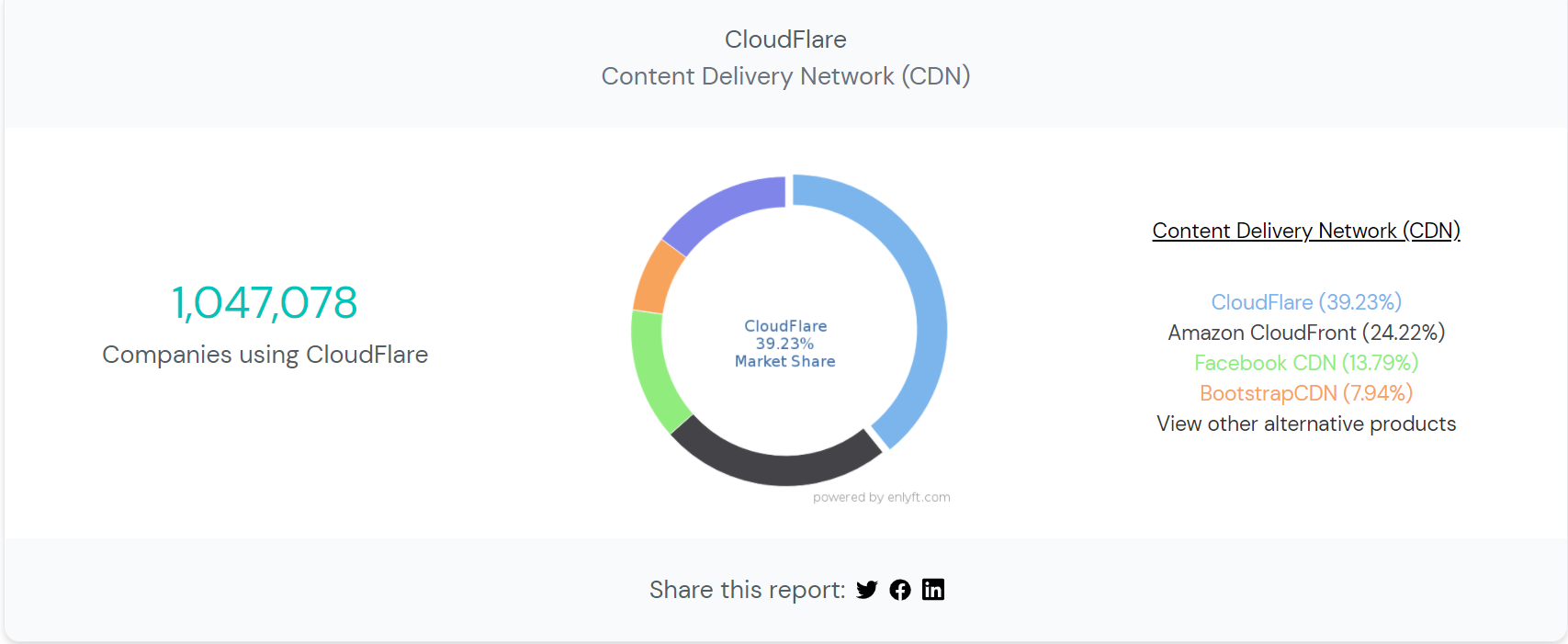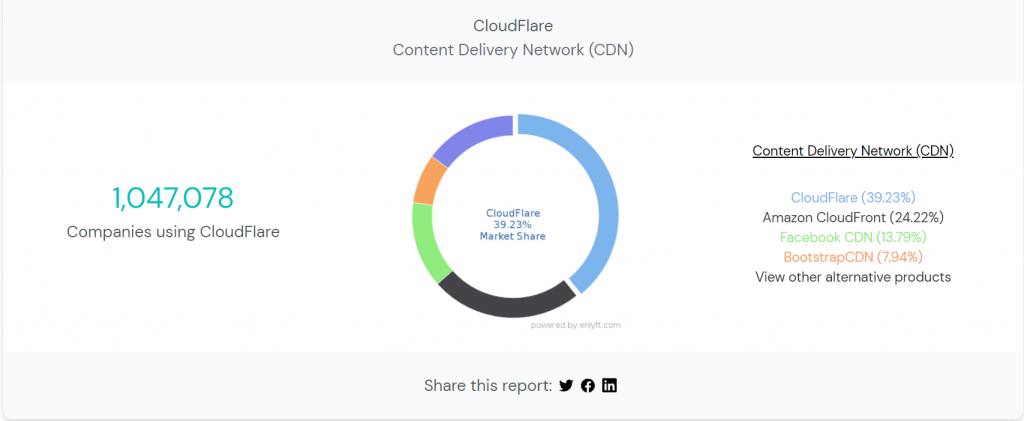 Cloudflare market share is about 39.24% which is the maximum alone in the crowd, whereas Amazon CloudFront is at the second with 24.22%, Followed by Facebook CDN with 13.79%.
Some of the biggest websites that use CDN are:
Fiverr
Medium
Canva
themeforest.net
discord
Since the Cloudflare market share is higher than its competitor and has an even greater customer base, the majority of the clients are either small or medium-sized businesses. But for the enterprise-level market, akamai is the first choice, it is one of the oldest CDN service providers than its competitors.
The main reason why Cloudflare is able to become a market leader and has dominance when talking about Market share is its higher consumer base. Cloudflare's estimated revenue in the year 2020 was about $430 million, which is almost 50% more than the year 2019.
Whereas, Akamai has generated revenue in 2020 is about $319 Million.
As per the reports by Builtwith, it has been found that Cloudflare is used by about 34.57% of the top 10K websites in the world,.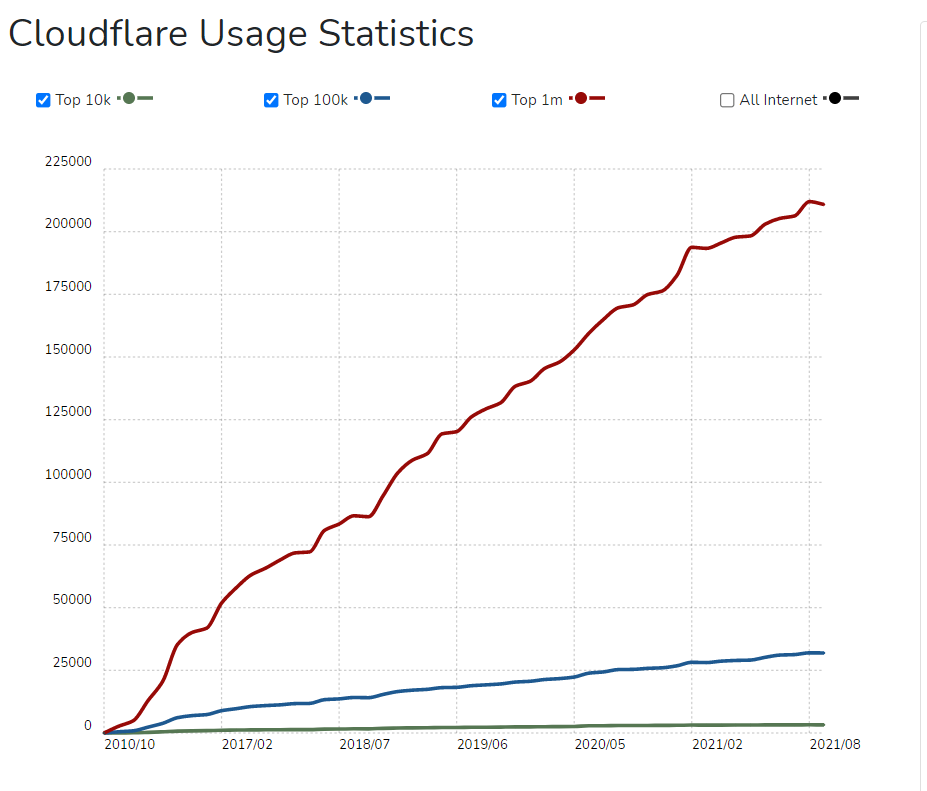 Prediction and Estimation about a company's growth are not that easy as it seems. Before directly making any statement about Cloudflare market share in the future and growth, we need to analyze its performance in the past year.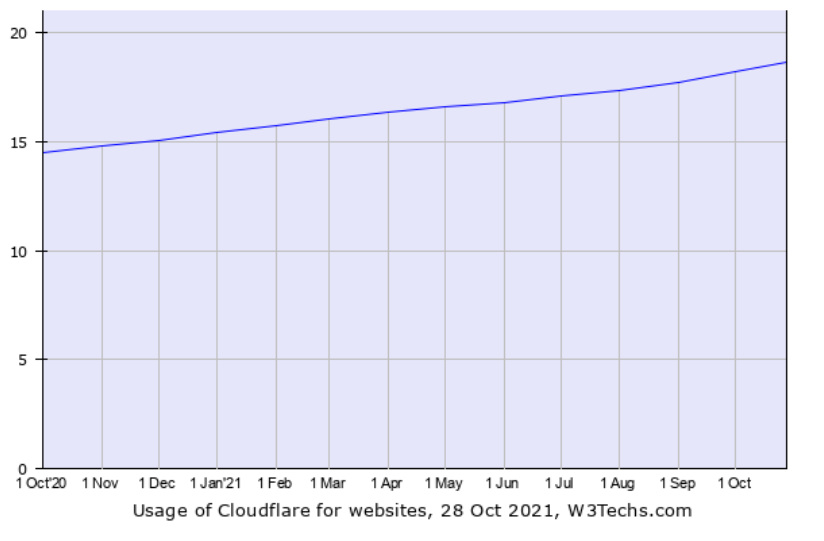 You can clearly see from the above image how the trending graph is massively uprising. Usage of Cloudflare has risen up from 14% on October 1st, 2020 up to 18% on 1st Oct 2021 (Source: W3techs). It is also very important to consider the fact that, despite all the challenges that the world has faced during the COVID pandemic. Companies like Cloudflare were doing great by taking advantage of the companies who migrated their work remotely in a large number.
Since then it has been seen a spike rise in web traffic as well as in hackers/DDOS attacks. All this information and data shows that despite the high Cloudflare market share, it will no longer be able to grow at the same rate like it did in 2020 for coming years. But it would also not be surprising to see steady growth in Cloudflare market share.
Apart from this, it has been observed that from past recent years, there have been more businesses and enterprises coming to understand how important CDN is for their website and how it helps to enhance the website performance. Content Delivery Networks are one of the most important and highly efficient solutions for increasing website speed and any application performance too.
Cloudflare's massive growth has increased a sense of uproar among its top competitors. In the year 2020, it has been seen that Amazon Cloudfront has been used around 0.9% in Oct 2020 and slightly usage growth to approx 1.2%.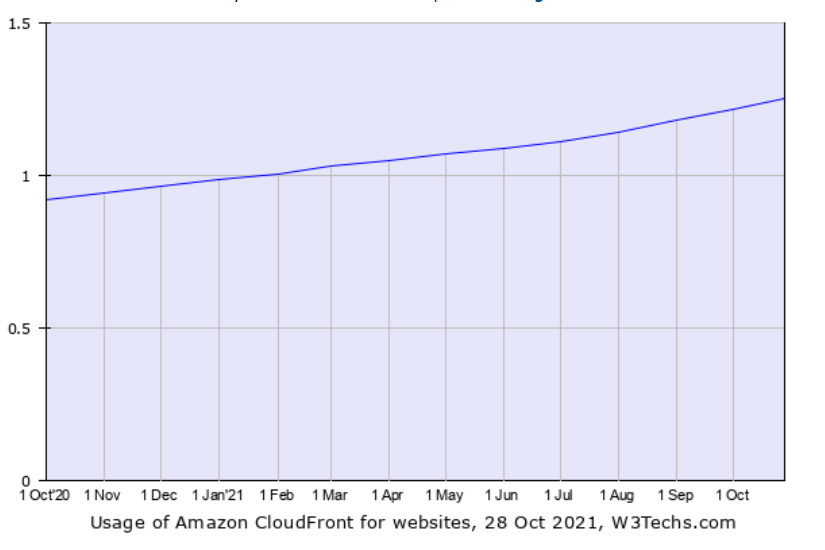 Now when we look at Akamai's usage percentage, its market share has not shown any significant growth over the recent years. It is more likely a steady journey with approx 0.46% ( Oct 2020 to Oct 2021).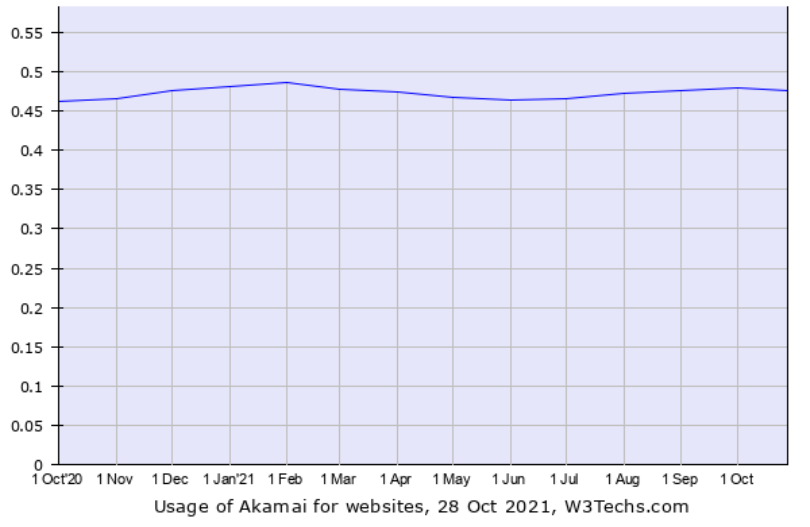 Cloudflare's booming CDN market during pandemic 2020 can be due to its huge popularity among small enterprises. However, Despite slow or steady growth in Akamai and Amazon's Cloudfront. You cannot deny the fact that both these companies have generated massive revenue.
Conclusion
In this post, you have come across different aspects of the masssive growth of the Cloudflare share market and what are the main reasons that help it become the market leader. Even we have covered the topic of how CDNs are beneficial to your website and enhance its performance. In addition to it, you have plenty of options in the market to choose from.
It is also not that hard to find the right one that perfectly fits your requirement. However, we highly recommend you to go for Cloudflare if your budget is tight and want to scale your business without compromising on its performance.
If you find anything that we have either missed to mention in this post regarding Cloudflare market share Or you would like to add some valuable points. Please do let us know in the comment section below:
Frequently asked Questions
Who are Cloudflare biggest customers?
Some of the biggest websites that use CDN are:
Fiverr
Medium
Canva
themeforest.net
discord
What percentage of the Internet uses Cloudflare?
As per the data shared by W3Techs, there is about 80.7% of all the websites on the internet uses CDN that rely on Cloudflare.
When you look at the figures, you will find Cloudflare turned out to be the market leader. Cloudflare's market share is maximum and it is used by the majority of the websites. Even it manages to beat its leading competitors such as Sucuri, Amazon CloudFront, Fastly, and Akamai. You might also be surprised to know there are only a handful of CDNs available in the market and some of them are powered by Amazon. Which makes Cloudflare an edge over the others in terms of reputation.
Who are Cloudflare competitors?
No doubt, Cloudflare market share is huge and leading the CDN market but still, it has some competitors that trying to compete with Cloudflare, they are:
1. Akamai
2. Amazon's Cloudfront
3. Fastly
4. Sucuri
5. Instart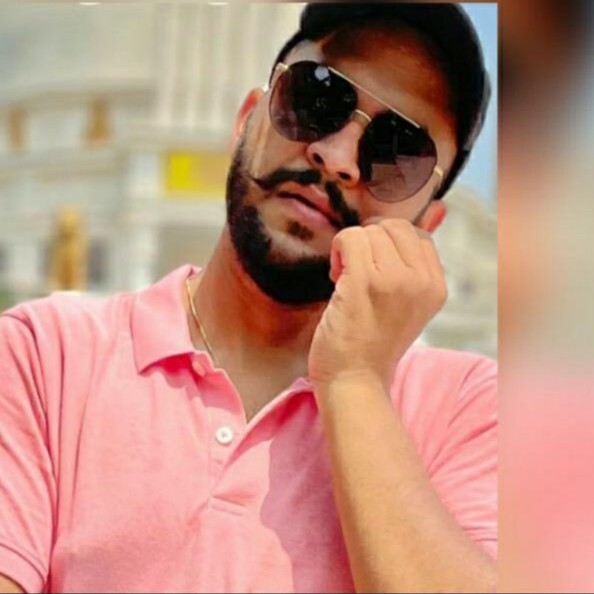 Rahul Kumar is a web enthusiast, and content strategist specializing in WordPress & web hosting. With years of experience and a commitment to staying up-to-date with industry trends, he creates effective online strategies that drive traffic, boosts engagement, and increase conversions. Rahul's attention to detail and ability to craft compelling content makes him a valuable asset to any brand looking to improve its online presence.