Medium Vs WordPress, Which one to choose? This is one of the most common questions that might be in your head while starting a blog or want to publish content online. Both the platforms will provide you with a great experience in two different ways. But the main concern is which one you should go for?
You do not need to worry about it, in this post we tried to cover all the factors on both platforms that might help you to figure out which one is the best. It solely depends on the user's needs and requirements that can vary from individual to individual.
But before that, let get us deep into the complete details of each platform and throw light on all the factors that affect their performance and features. That will surely help you out to decide which one is better Medium vs WordPress.
Let's get started with understanding the medium first in a comprehensive way.
Understanding Medium
Medium is a new platform on which a user has the option to use it as blogging or start publishing their own work. With the help of the medium, anyone can freely sign up, make an account, start writing and become a blogger. The next thing what medium does is, with your consent, it publishes all of your work on its platform either free or paid on different Topics.
But this could not be so randomly chosen, Medium first verifies the blogger and quality of content thoroughly. If everything goes well, mark the blogger as verified and then allow to publish their content. Even, the verification process is not that easy, you have to abide by the rules and guidelines of the medium to become a verified blogger.
Over time Medium has started to monetize its platform with curation, and allows its reader to read some top-notch content up to some extend free. If anyone wants to go beyond that and wants to read the complete article, they need to pay fees.
When everything goes well, and the content quality is top-notch. Most probably, the medium will consider your content for promotion and everything goes well, you can also earn by just publishing your content on medium.
But this is what not happening with WordPress, it has its own other methods of monetization, which will you going to see in the coming sections.
Monetization in Medium: How it works?
Monetization or earning through publication is a great approach of Medium. However, if you are just into simple blogging and don't want medium to promote your content instead, then it's okay for you. But if you are really like to make money while publishing your content on medium, first understand how it works?
How curation program Works in Medium?
As mentioned above the viewers can access your content in either of the ways:
As a Blogger
The contents that you are posting on Medium can easily be accessed by your own followers or subscribers. This is somewhat similar to other blogs where usually only subscribers can read the content without spending any money.
What if you want your content being accessed by Medium's own audiences instead of your subscriber? Here, you need Medium's help via its curator program, in which the medium publishes your content and gives access to reading for its own audiences.
Once, your post being curated by medium, it is now available for any Medium subscriber no matter whether they subscribed to you or not. It is somewhat like, your post is being available for a premium section, that is exclusive for those who chose premium plans.
It is not to be misunderstood that, the curated content is exclusively available for the medium audience but whoever likes to search about the topic on Medium can easily get access to it. For your reference, let us take an example if your content is being curated by medium for the topic " Travel". Anyone who is looking for the topic will get the content easily.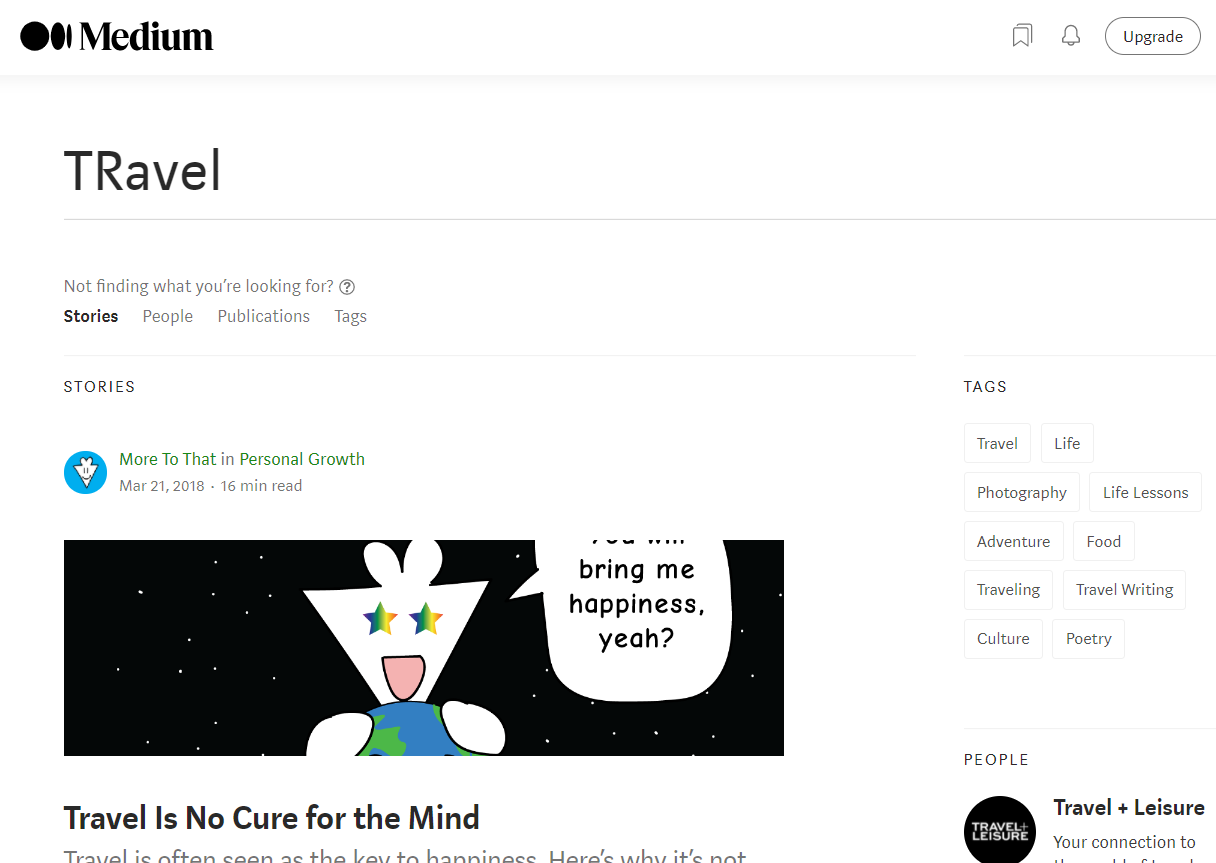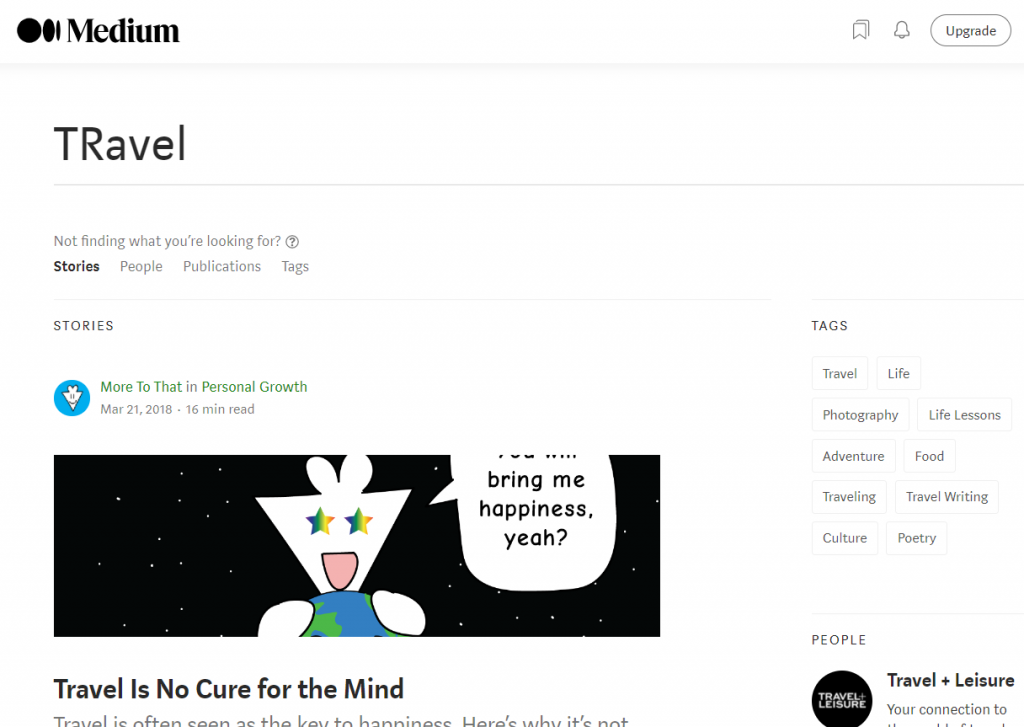 This is what the advantage of using Medium vs WordPress is to get recognized and promoted your content to the medium's audience. It provides you exposure to audiences on a large scale and helps you to grow. But this can only happen when the medium finds your post fit and worthy enough to be curated.
If it does not happen, it is less likely to get some benefit from Medium's own audience. No doubt, audiences still can get access to your content, but only through searches. But you won't get the privileges of medium promotions and top posts list.
As a Paid partner
Medium's partner program is another most unique feature that differentiates between Medium vs WordPress. With the help of Medium's partner Program, Your work will get widely recognized as well as they pay for your content.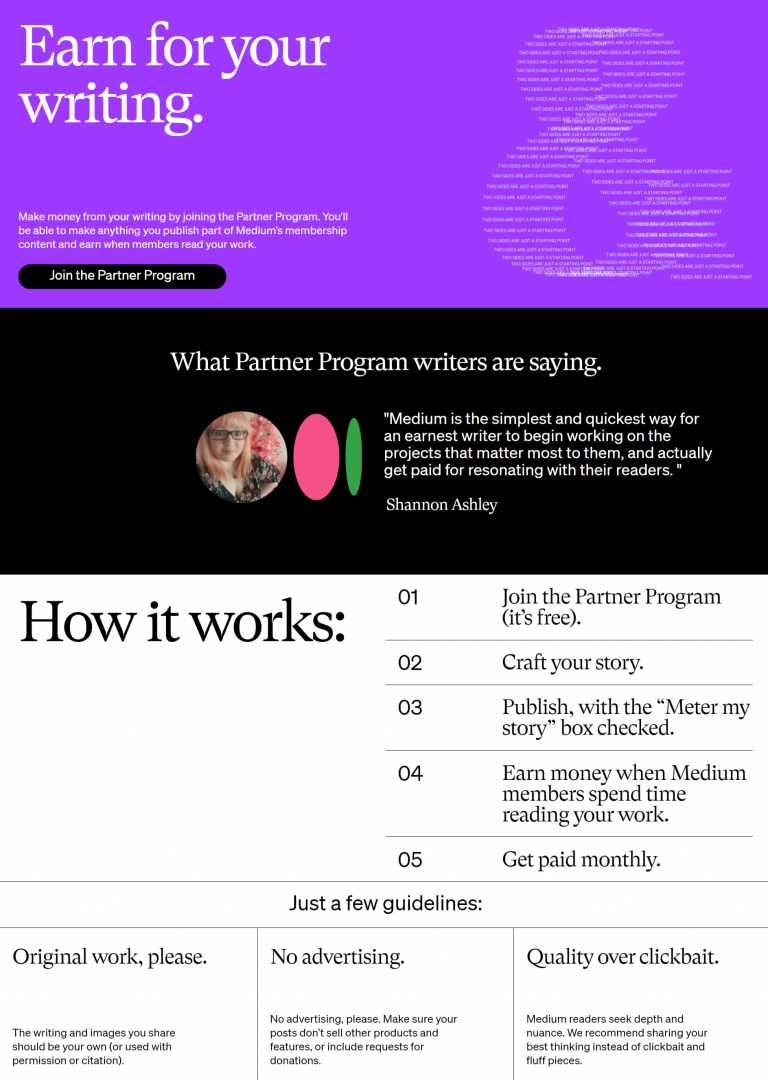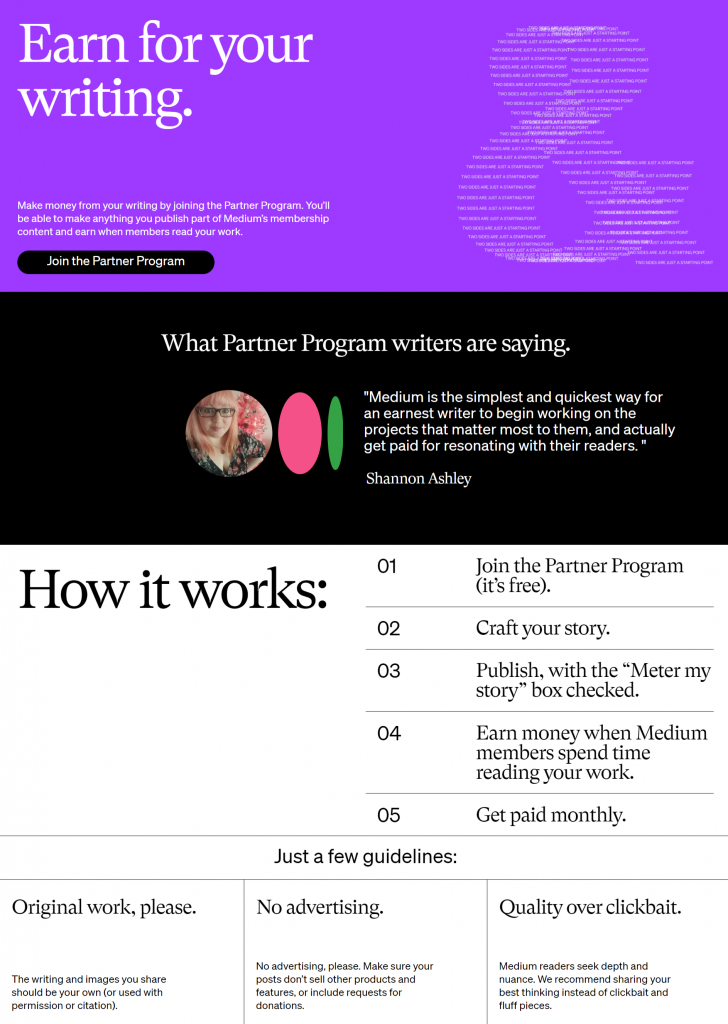 However, if you think you can earn money or get paid from medium to become a rich and full-time blogger. Then you are wrong, it has been observed that only a handful of bloggers are making more than $100 per month. And it continuously varies from time to time, depending upon the content and demand. Hence, you cannot simply rely on this but it can be used as your extra source of passive income.
Another thing is that, if you are really want to make your career in blogging and want to earn money from writing, then you should shift to WordPress. Where you can have a lot of other monetization options. You can also read our detailed post on How to monetize your blog?
The medium itself allows its bloggers to promote their own content and use affiliate links if it is relevant, but you cannot provide backlinks or third-party promotions. But you should always try not to include any promotional links in your content no matter how relevant it is. It is because there are high chances that Medium won't like it and will not consider your content to be promoted.
In other cases, Medium's partner program is best for you, if you are looking for passive income and earn money just for writing.
How you can post your work in Medium?
When you have decided to write content on Medium, the first thing you need to do is to create an account. Read their terms and conditions, and follow their guidelines.
Writing a content on Medium
The whole writing experience on Medium is quite different from the typical WordPress Block editor. The User Interface somewhat looks clean and simple. and writing content is referred to in the medium as "Write a story".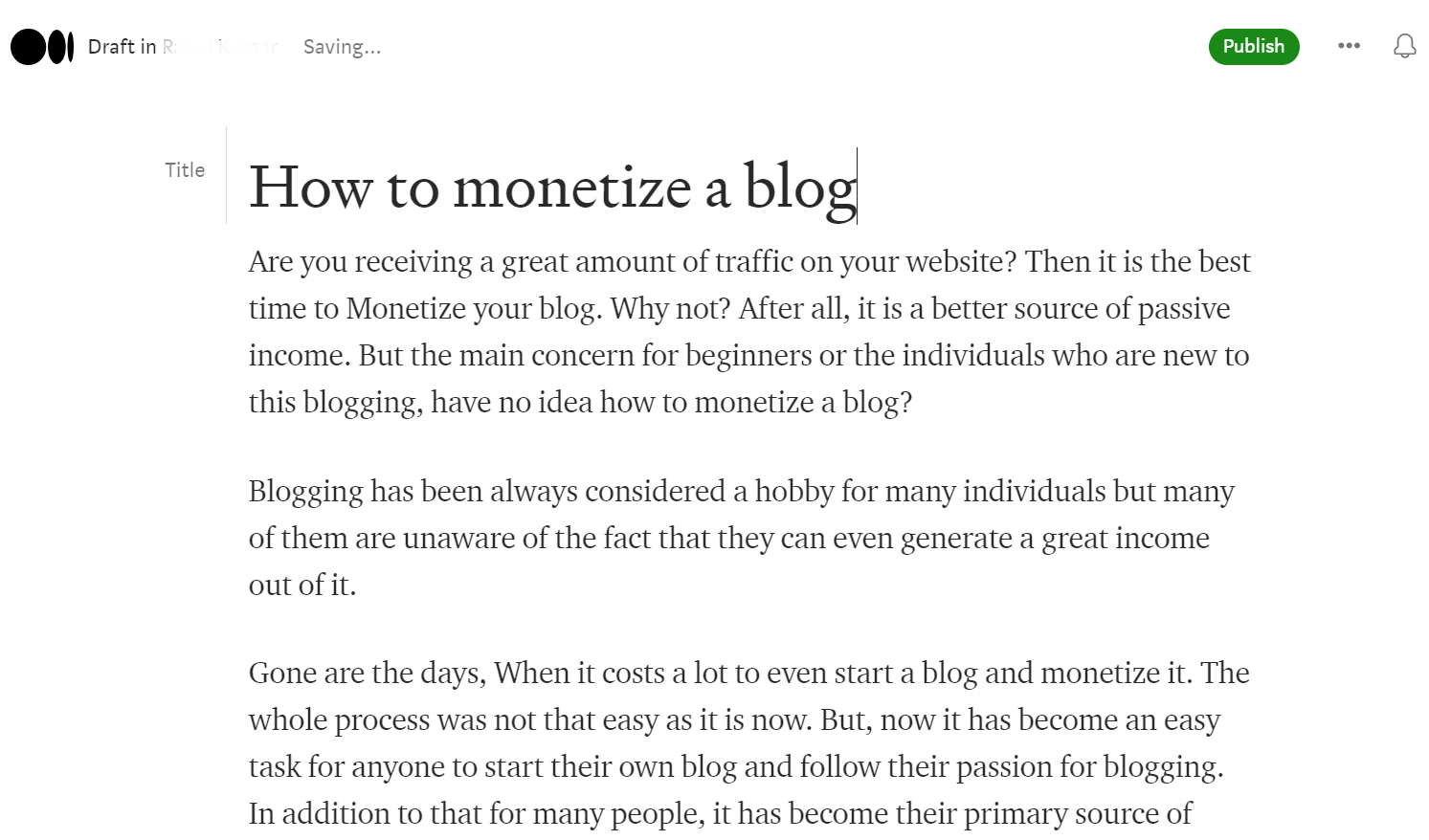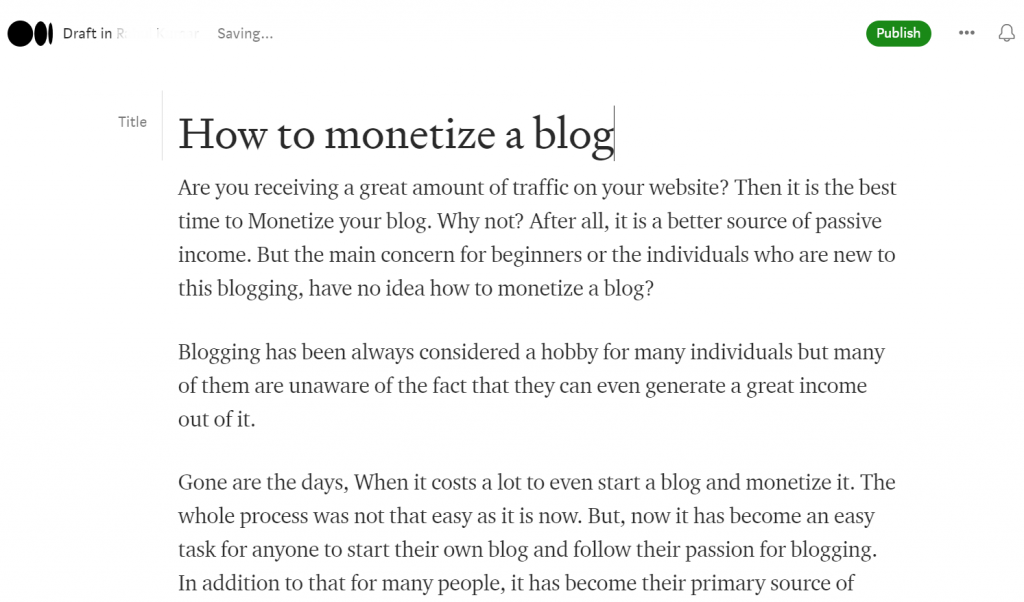 The writing experience with Medium editor is simple and elegant. You have enough space to tell your story without any fancy layout options. Medium mainly focuses on the Quality of the content rather than decorations or other stuff. However, to make your content easier to relate to and understandable, the medium provides you with an option to add images, videos or highlighting effects in the content.
When you are done writing your story and ready to push it. Now you can choose a preview image for your content, add hashtags to make it easily discoverable, and select whether you want to curate your story or not. We shall consider this factor for comparing Medium vs WordPress in the later sections of this article.
Content Management System in Medium
Unlike WordPress, there is no proper content management system you will see. Instead, Medium has a "Your Stories" section in which you can find all your contents(stories) listed that you had already written.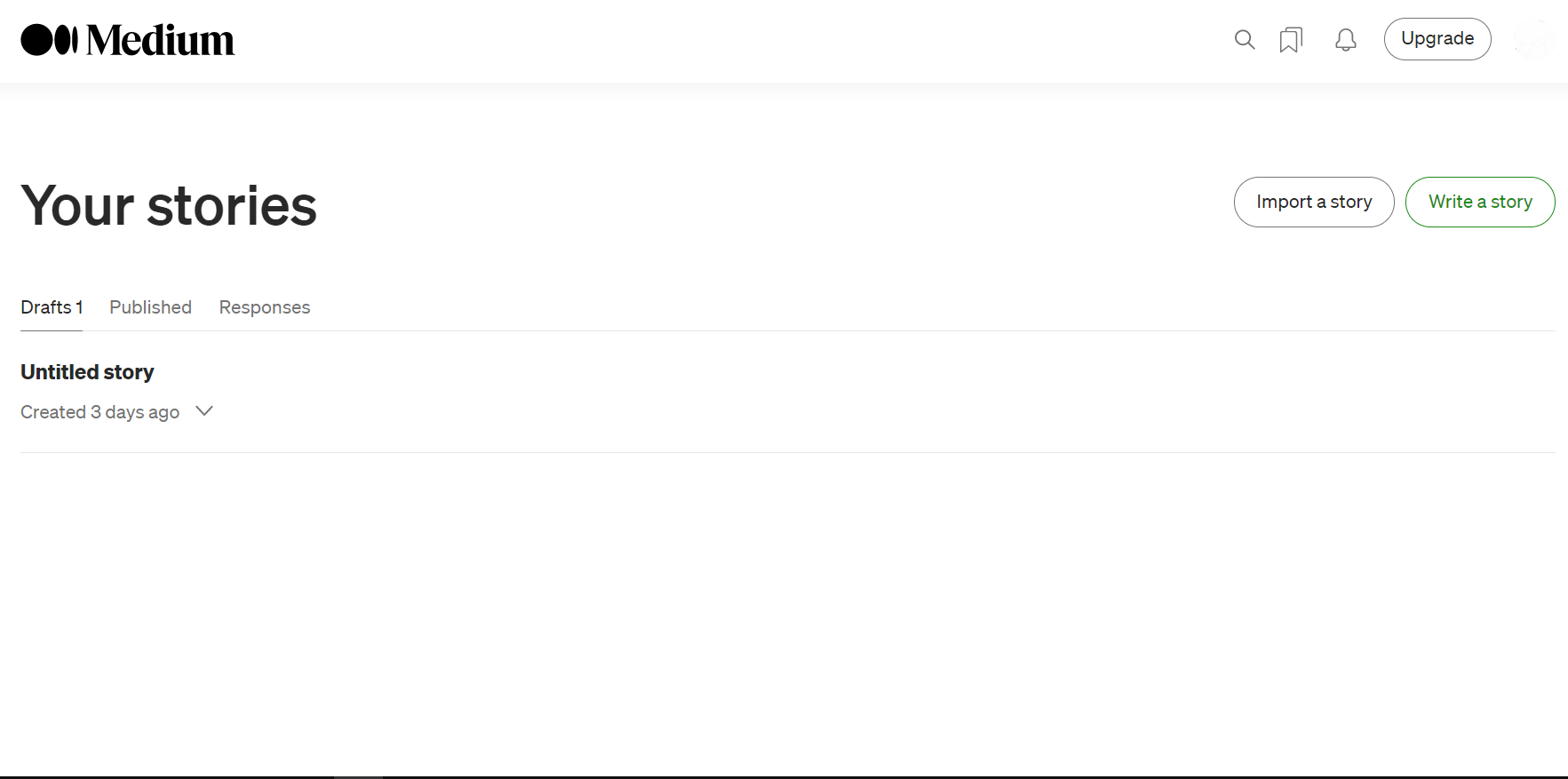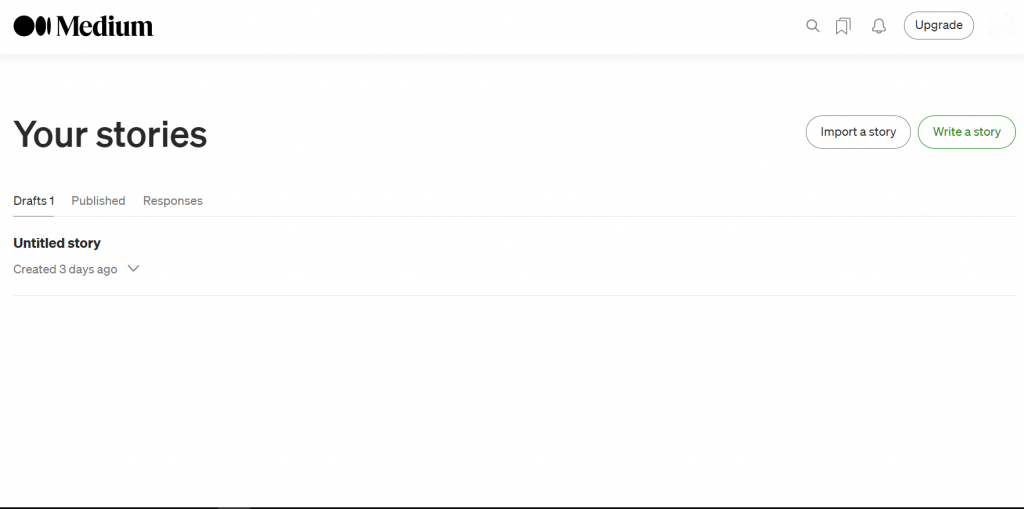 There are no advanced options to manage content properly. No SEO option, no word limitations or any particular default content structure. You need to just type or content, edit or make some changes and you are ready to go.
However, writers in the medium have nothing to worry about all of these, because the medium believes in Quality rather than SEO or other advanced technical stuff. If you deliver great quality content, it automatically attracts readers and gain popularity.
Some Pros and Cons of Medium
To better understand how Medium can be beneficial for you and what are the limitations you may face, let us check out its Pros and Cons :
Pros
A high number of Readers are available.
Simple and Clean Design
The whole setup process is seamless and easy to use
No Technical Stuff is required or SEO
You will get exposure and recognition
Cons
The traffic is not yours.
High completion to get Curated
You are increasing Medium's Domain authority not yours.
You don't have the controls
Understanding WordPress


WordPress is one of the largest blogging as well as a CMS open source platform available. Over 40 % of the total internet users around the world use WordPress to create blogs and websites. However, WordPress also provides a Free blogging platform www.WordPress.com. Where, you can simply create a WordPress account, write your content and publish it freely.
But it has its own limitations, although WordPress.com is free it does not provide the flexibility to design your blog, change its layouts, or increase its functionality. Rather, it is better to go for www.wordPress.org, where you have all the freedom and flexibility to build your website or blog on a self-hosted platform. With the help of a fast Web Hosting service provider like WPOven, wordpress will be installed automatically and you are ready to build your website.
What features does make WordPress a great pick from rest of the others?
There are certain factors that might help to figure out, which one will be the best pick for you. Medium vs WordPress. Let us check out some of WordPress's unique features.
Increase functionality and features of a website/blog using Plugins.
Plugins are powerful tools that with the help of them, you can turn your simple blog into a full-fledged e-commerce website. There are thousands of free plugins are available on the WordPress directory. In addition to that, there are also premium plugins are available from various vendors.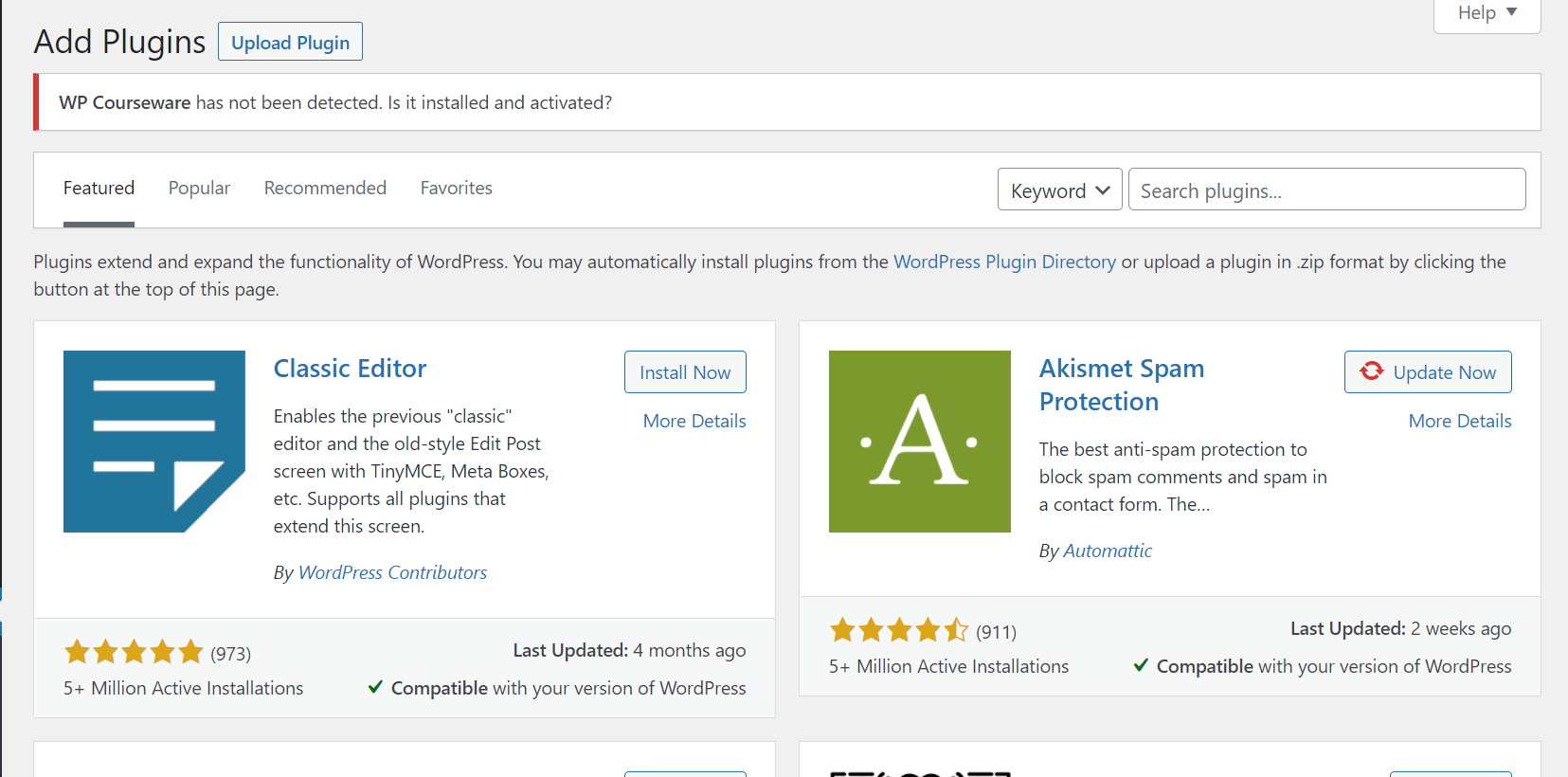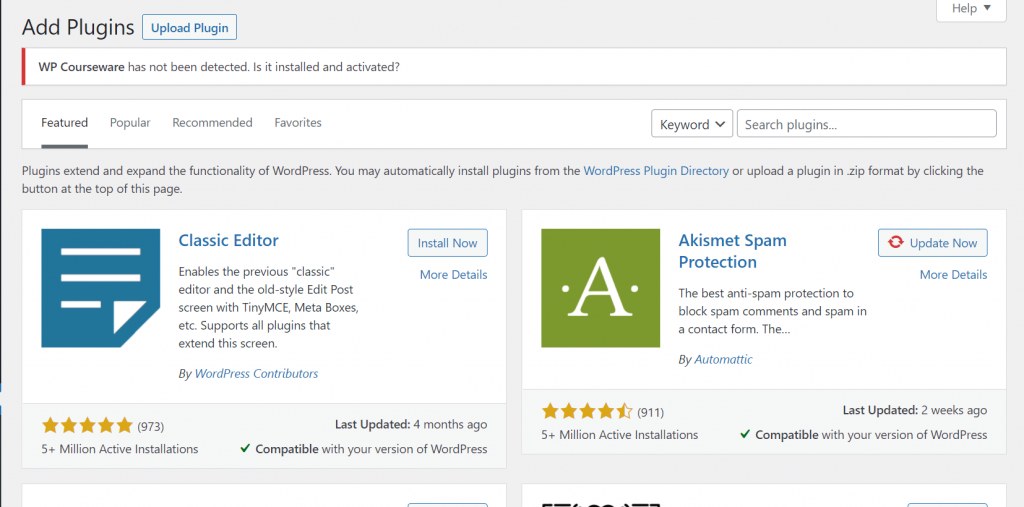 With the help of the plugin, you have endless possibilities to build any type of website. Whatever feature you are looking for on your website, there is a high possibility that it is already available in the online market.
Flexibility to change appearance of your website using Themes


To change the looks of your blog or website, WordPress offers a range of more than thousands of WordPress themes for your website. Depending upon the niche you can choose whatever theme is best applicable to your website. Like plugins, there are also thousands of premium themes available that you can select as per your niche and install them.
Themeforest is one of the popular theme vendors that have a variety of WordPress stunning themes available for any type of blog or website.
Monetize your blog
WordPress also provides a great opportunity to monetize your blog using Google ads. You have full control over display ads on your websites. You can choose which location you want to show ads which not and what type of ads you want to display. In addition to it, you can sell or list products online and sell on your website, embed affiliate links ad many more.
If you are interested, you can read our detailed post on 15 proven methods on How to monetize your blog?
You may even manage your own ads using some of the best advertising plugins. Most importantly, you will be the one making money from those ads.
Build your own Brand
Rather than writing and publishing your own content on Medium. With the help of WordPress, you can build your own blog and publish your own high-quality content. You have your own domain name, which helps to recognize you as your own identity.
You have your own official email address, full control over your contents and all credits of your work will be yours. It helps to build your professional career.
Available Absolutely Free
Since, WordPress is an open-source CMS, that makes it available for everyone without any cost. The only money you need to spend is on Web hosting and Domain name. In addition, if you want your blog to look stunning and add extra features, you might need to pay for some premium themes and plugins.
But if you are a beginner, we highly recommend you to use only free plugins and themes rather than premium ones. Once your blog starts growing and receiving good traffic, then you can switch to premium themes and plugins.
To make all this process seamless and provide you with a better experience, you can also host your website on WPOven.
WPOven enhances the overall experience by providing you:
Fast and Dedicated Servers
Unlimited Sites
Daily Automatic Backups
Staging site
24X7 support
Free SSL and Business emails
Wordwide Datacentres
Malware Scan and Clean up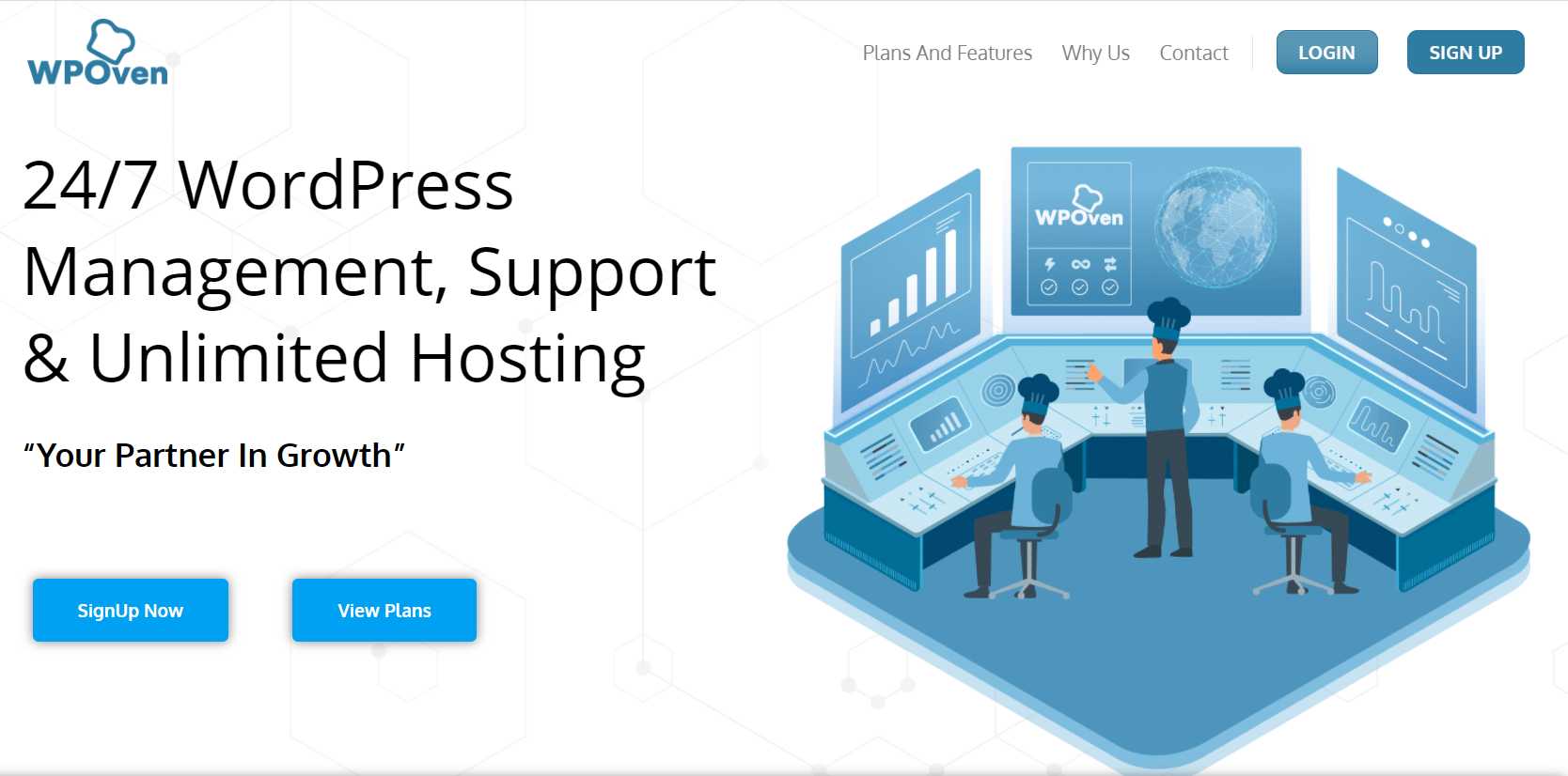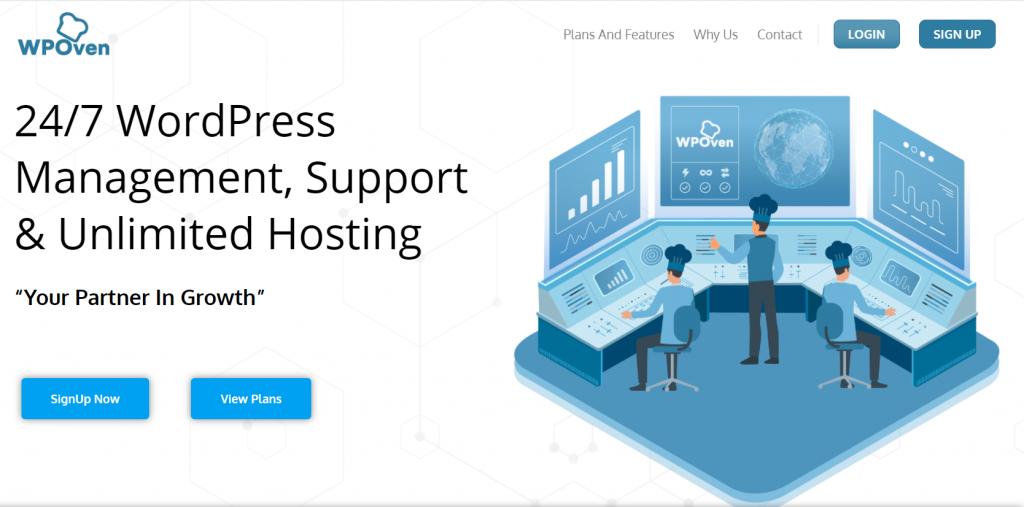 WPOven offers different plans for every type of user, starting at just $16.61 per month.
Some pros and Cons of WordPress
Pros
Highly Flexible platform
Can increase the functionality of website using plugins.
A wide range of themes available to choose from
Implement SEO for better search engine rankings
Full control of the website
Cons
It takes time for beginners to learn.
You are responsible for taking backups, maintenance and security.
Difference Between WordPress.com or other free blogging websites and WordPress.org
WordPress.com or other Free blogging webbsites
WordPress or other free blogging websites such as blogger and Wix are the platforms on which you can easily create an account, provided with a free subdomain (yourblog.Wordpress.com or yourblog.blogspot.com and instantly create your blog.
All the blog data and information will be stored on this platform and you will not have any permission to access them. You simply write content and publish it. However, some free blogging platforms allow users to choose their domain name and add some features by paying some money.
WordPress.org (Self hosted)
As we have discussed earlier, How WordPress.org is different from other platforms and the power of its flexibility. Since it has some technical stuff and requires learning the setup, beginners may find it a little difficult. You are required to pay for domain name and web hosting services separately to set up your website.
The website will be hosted on your own server and you have all the rights and permissions to access the data, alter the design and modify it. You have all the control of your website and do whatever you want. From changing themes, layouts, SEO, Monetizing your website, and adding extra features. You can even edit your theme files and modify them as per your requirement. There are also other Self-hosted platforms available other than WordPress you can choose from such as Drupal and Joomla.
Medium Vs WordPress Comparison on Various Factors
You have learned about both platforms and know what things make them different from each other. Now it is time to get deeper into the comparison between these two popular and widely used blogging platforms Medium vs WordPress. Let us see who is the best:
Medium vs WordPress – Cost
In our first comparison segment between Medium vs WordPress is the setup cost. Although WordPress is absolutely free to use, setting up a website on WordPress required pay Web hosting and domain name fees. Whereas, in medium, it is a completely free platform to use. You are not required to pay any king money to publish your content on Medium.
Which one is the winner Medium vs WordPress?
Medium is a complete winner in the Pricing factor.
Medium vs WordPress – Flexibility
The second factor of comparison between Medium vs WordPress is Flexibility. Although, we have already discussed earlier, How WordPress is flexible and easy to customize, and How medium is simple and elegant. But in terms of customization and flexibility, the clear winner is WordPress. But you must not consider the design of Medium is bad, every user has their own need. Medium is user-friendly and easy to learn whereas WordPress takes time to learn and needs a little knowledge of technical stuff.
But what WordPress provides you, that could not be matched by any other blogging platform.
Which one is the winner Medium vs WordPress?
WordPress is a winner in the Flexibility factor.
Medium vs WordPress – Control over your Content
When talking about rights and control of contents over blogging platforms Medium vs WordPress. It is to be noted that, free blogging platforms like medium have all the admin rights and control over the content you publish. They have all the powers and controls over your content to delete or block your account. There are even slight chances that if anything went wrong, these free platforms can be shut down abruptly without initiating their users. Hence, there always will be the risk of losing your content on these platforms.
Whereas in a self-hosted WordPress blog, you are the boss of your own website and have complete control over it. You will be responsible for anything whether it is content, security or taking regular backups. However there have always been slight risks of Malware and hackers attacks, but WordPress never controls or restricts their users to control over their content.
Another plus point of using WordPress over Medium for blogging is that, once you learned How to manage content and website design it becomes a cakewalk for you to make a complete backup of your blog. In case any issues occurred with WordPress, you can move on another platform without losing any data.
When it comes to monetizing your blog, WordPress has a vast range of different methods from which you can easily monetize your blog and there is no risk of changing it in the future. But when we talk about Medium, the terms and conditions of the Partner program can be changed within a day without prior notice, and you are bound with it.
No double, in the medium you can have quality traffic on your content, but it solely depends on your Content and the curation factor that is determined by Medium. You do not have any control over it. Whereas in WordPress, with proper SEO and Quality of content, you can build your own traffic and have complete control over it.
Which one is the winner Medium vs WordPress?
In terms of control over the content, WordPress is a complete Winner.
Medium vs WordPress – Future Growth
While comparing Medium vs WordPress on the factor of its future growth it is worth to be noted that , With Medium, you are restricted with limited resources. You just pushing different types of content and stories. However, Medium does allow its writers to scale up their profile and increase exposure.
But WordPress Provides a platform for writers to set up a whole new ecosystem and Content is the central part. You can drive traffic on your website through it, luring the visitors and make conversions, build your own brand and monetize through it. Apart from just blogging, you can even do more than just posting content on your blog such as, creating landing pages, selling online products (e-commerce), Make your membership websites and many more.
Where in medium, you are not allowed to do any advertisement, embed affiliate links or use Call to action. But WordPress provide their users a long term platform to grow and build a brand.
Which one is the winner Medium vs WordPress?
In terms of future growth, WordPress is the clear winner. With WordPress, you can grow and build your own brand.
Medium vs WordPress – Audience Traffic
When it comes to comparing audience traffic between Medium vs WordPress, Medium outshines WordPress. One of the most important points of using Medium over WordPress is you do not have to wait or try out different methods to attract traffic to your content. It is because the medium is a high authority website and has millions of active users per month, that ultimately turns out to be massive traffic.
Whereas the majority of the users run their own blog on WordPress. But the only problem associated with it is to make SEO efforts for better SERPs rankings of the content. So that it can reach the majority of the people and hence increases traffic. It can take up to weeks and months to get better visibility and show in search results. Whereas in medium, you just post your content and readers will start reading it without waiting for weeks.
Even, the medium is a high authority website that does not need any SEO efforts to rank in SERPs. Search Engines automatically boost up your medium posts in better rankings.
Which one is the winner Medium vs WordPress?
Medium is the clear winner.
Medium vs WordPress – SEO
SEO or Search Engine Optimization is one of the most crucial factors for any website to get visibility, traffic, and rank on the SERPs. While comparing Medium vs WordPress in SEO, WordPress provides you with a set of incredible tools and plugins that might help you to achieve you to boost your SEO efforts. But as we have already talked about it, it takes a lot of time and patience.
Whereas, in medium, writers can optimize the content through HTML Elements of Medium Post along with following Google's basic guidelines such as:
Title
Subheadings
Meta description
URL
The content of the article
Image tags
Medium provides writers with the ability to include a target keyword in each of these fields. Although Medium is a high domain authority website, it does not require any SEO methods to boost their posts, but they highly focus on the Quality of the content and cannot compromise on that. Whereas, websites on WordPress take time to develop a good domain authority score over a year and so.
According to Moz, Medium had a DA score of about 95 out of 100. Whereas, when we talk about any new blog or website, it will show a score of about 3 to 5 out of 100 which is quite low.

Hence, simply writing content and posting them on the medium can quickly help you to rank your post and gain authority on search engines. Whereas, WordPress also offers a variety of plugins that helps to boost the SEO of your blog.
Which one is the winner Medium vs WordPress?
It is a Tie between Medium and WordPress since both platforms have their own factors to rank in SERPs and both offer great opportunities.
Medium vs WordPress – Writing content
Now let us compare the writing experience between Medium vs WordPress. In past, it has been observed that the editor on both the platforms has a different interface, but recently WordPress has updated its editor tool with a new design and it looks somewhat inspired by the medium.
If you are going to write content on WordPress editor, you will find, the interface is exactly the same as Medium but with extra writing options and tools. Now the Block editor looks like something this: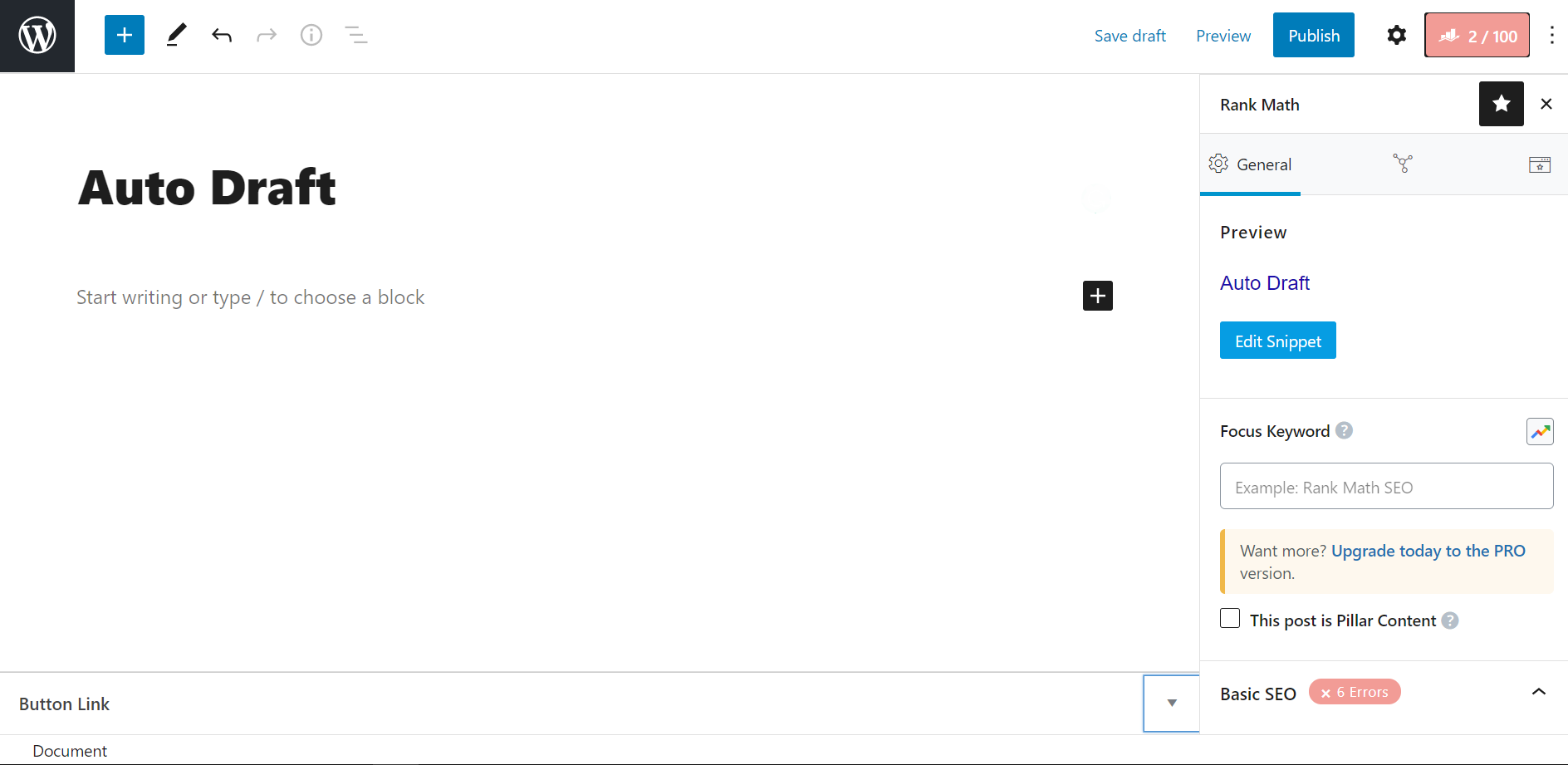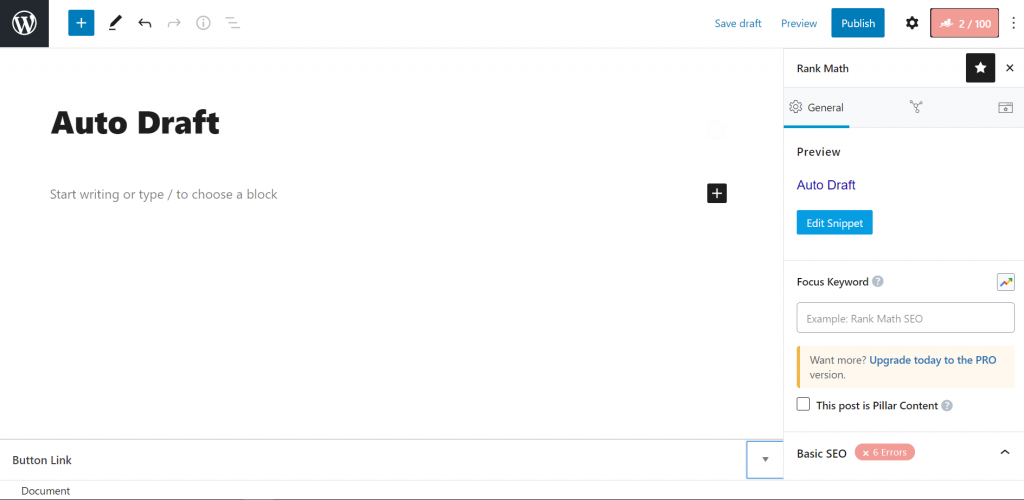 You can easily see that WordPress offers a lot of options to decorate and add elements to the content. From adding images, to embed codes, layouts, Gifs, adding colors, CTAs, and many more. That makes the content more appealing to the audience. Whereas, Medium offers only the basic elements to decorate content such as images, videos, and code embedding.
But you should never underestimate the fact that Medium provides a more clean and easy-to-use editor rather than increasing the complexity by adding more options.
Which one is the winner Medium vs WordPress?
Writing content on both platforms is somewhat the same but with WordPress, you have more options to add. Hence WordPress is the clear winner.
Medium vs WordPress – Usability
As far now, considering various factors, that we have already talked about in the above sections of Medium vs WordPress, you must have figured out up to some extent that how these Blogging platforms work. Now let us understand in detail their ease of use or Usability.
We know Medium has only some basic and clean editor option that is easy to use rather than WordPress. The simplicity of the medium is what makes it the best choice in terms of usability. Whereas in WordPress, regardless of having various customization options, use of plugins, editing tools that empower you to build a full-fledged website that result in complexity and little touch to learn.
It solely depends on you whether you want a simple path or goes for flexibility. The choice is yours.
Which one is the winner Medium vs WordPress?
If we consider the only usability, no doubt Medium is the winner.
Medium vs WordPress- Author portfolio
For the author's recognition and credibility, when we compare Medium vs WordPress, Medium turns out to be a better option rather than WordPress. It provides you better exposure and helps to build your recognition and a complete author portfolio. But when we talk about WordPress, you cannot separate your content from the author portfolio unless or until you have some technical knowledge.
As an author on Medium, you have all the right to create your own publication or follow someone else and add your contribution to it.
Which one is the winner Medium vs WordPress?
Medium gives better exposure and rise as an author rather than WordPress. Hence Medium is the clear Winner.
Medium vs WordPress – Contribution
Although it is associated with the author and publishing content, it needs to be discussed in a separate section too. If you are planned to start your blog using a WordPress website, for posting content you have two options, either you go for writing your own or assign some else as an author to write content.
The contribution done by authors on the WordPress website is very much connected. Even if you gave all the author rights to someone else, the contribution is still considered as the website admin's own contribution.
In the case of Medium, this platform is mainly centered around the author's contribution which is the main difference between Medium and WordPress. When you publish or contribute an article on Medium, it always be considered as your own.
To understand it in easy words, When you contribute or post content on medium, it is somewhat like a publication house chooses your post and published it on their behalf to provide large visibility and exposure. Whereas, in the case of WordPress, you are simply writing for someone as a job.
Which one is the winner Medium vs WordPress?
For better exposure and visibility, Medium is best in terms of contributing content.
Medium vs WordPress – Pricing
As many times we have already mentioned in this post while comparing Medium vs WordPress, that WordPress is an open source platform and it's available absolutely free. The only money you need to spend is for the domain name and web hosting service. If you do not want to spend a single penny and still want to use WordPress, then you can go for its free blogging platform popularly known as WordPress.com.
This free blogging website provides you with a basic and simple website with a domain name something like yoursite.wordpress.com as your blog URL. This is absolutely free and no fees are required to pay. But it has its own shortcoming and limitations. You are unable to customize, design, or add features to it and restricted to only features that it offers unless or until you buy their premium plans that also offer only some basic features.
If money is not an issue for you, you can build a basic website for under 100$. For your convenience some web hosting services like WPOven, provide you preinstalled WordPress when you buy their service.
When we talk about Medium, it is an absolutely Free platform, especially for writers. Anyone can simply create an account and post their story, without any paying fees. But it has also some limitations and is unable to offer flexibility and customization options than WordPress.
Which one is the winner Medium vs WordPress?
If you don't want to spend a single penny and want great exposure, Medium is the clear winner.
Final Verdict : Medium vs WordPress which one you should go for?
It is ambiguous to say which platform is best for you and helps you to clear your goals. Because it solely depends upon an individual's requirements that vary from person to person.
If you don't have the patience and time to build a blog and rank your content on search engines. Instead of looking for a quick and more simple path. Medium is the best option for you. Keeping in mind the below-mentioned facts:
You will not able to customize or add features to your site.
You do not have the full control on the content you post and you are ok with building someeone's authority.
You are okay with the limitations and ready for all the mishappens or your content deleted abruptly.
Unable to use affiliate links or monetize it.
Instead, of this, if you are planning for long-term goals, with little effort, patience, and money. You can build your own WordPress website and have all the ownership. permissions and rights to do whatever you like to with your website. And build your own brand.
It is indeed a time taking process and it takes a lot of effort in building, customizing, spending some money for the domain name and web hosting website. But once you are successful doing all these. It comes out to be a worthy process.
Or you can choose the middle way. Use the benefits of both platforms and use them in your blog. You can simply create your own WordPress blog and also post contents on medium that helps in to drive its audience to your website.
OR import your content on Medium and share it on their platform. Either way, you can use the goods of both of the platforms.
We hope you have enjoyed this detailed comparison article between Medium vs WordPress, and find it helpful to decide which platform you should go for. If you found any more factors or point that we have missed explaining. Please do share your valuable thoughts in the comment section below, we love to hear from you.
Frequently Asked Questions
Is WordPress better than medium?
Comparing Medium vs WordPress, the best platform turns out to be an individual's goal. From the writer's point of view, the medium is one of the best platforms to publish their content and get exposure. But you will have no other option left other than just writing. It is the best platform for writers. Whereas, with WordPress, you will have much more options other than just writing.
Is WordPress a medium?
Comparing both the platforms Medium vs WordPress, these platforms are completely different from each other. Medium is a publishing and writing blog platform whereas, WordPress is an open-source content management system, with the help of which you can create a blog of your own.
Is Medium good for SEO?
When we talk about SEO, Medium is not good enough for SEO, but it has high domain authority, which helps good quality content to get better ranks in SERPs and some writers may see a rise in traffic on their published content.