Are you looking for the Best Blogging platforms? Then it is highly possible that you are planning to start your own blog for your business or just as a hobby. The possibilities are unlimited but the main problem will always be in common, i.e to find out the best blogging platforms, that match your requirements and can fit easily in your standards.
After all, with all these efforts, it will be easy for you to drive traffic to your website, increase your Domain authority and show your talent through it. It has been observed from the past recent years, there have been many Best blogging platforms that have been emerged, some had a leap and some didn't work well through time.
Hence, Based on our experiences, we try to bring you the best blogging platform that is modern, easy to use, easy to set up and has a modern touch. Some have a friendly user interface but lack some basic features whereas, some have all the basic features but lacks easy UI. We shall discuss all the various factors in this article.
When you should consider for Best blogging platforms?
If any individual wants to share their experience through blogs on the internet. The first thing they need to have is a blogging platform, through which they can serve their valuable content and share values with everyone.
Depending upon your Niche and the whole aim of the blog, the initial investment to start a blog will be near about a few dollars per month. But, there are also some Free Blogging platforms are available on which you can start your own blog without spending any penny.
But as you know, every Free thing has its own limitations and issues. They are not suitable for professionals and provide a constrained environment. But using a Free blogging platform would be the right choice for any individual who wants to just try out before hopping into the blogging profession.
But in the end, you will be able to spread your voice, your thoughts, and your experience online, no matter if it is for your business or just as a hobby. Beforehand, if you have no experience of Blogging, posting content on it, or building and maintain a website. The first baby step would be investing a little amount into it and break the ice.
Some Best Blogging Platfroms that you can consider
Best Blogging platforms not just help you to create a blog easily but also help you out to get a great amount of traffic without extra effort. And even it also becomes tough to change a website's platform once it has build. Hence, choosing the right best blogging platforms become an essential and primary task for any individual.
With a variety of options present in the market, it can be a little confusing for most of the users, but a detailed review with certain guidelines can help you out to choose the best one. Let us check out what are they:
WordPress with WPOven
Wix
Squarespace
Medium
Blogger
1. WordPress with WPOven
WPOven an Ultimate Host for WordPress Website
WordPress, as you have heard a lot about it since it gained huge popularity and dominating the internet with almost covering more than 40 percent of all the websites developed on WordPress. From this data, you can assume how much popular it is.
It is a Free open-source platform with outstanding flexibility and scalability features, no other blogging platform can match. And combining it with one of the best WordPress-managed web hosting services starting at just 16.61$ per month can add up an extra edge to it.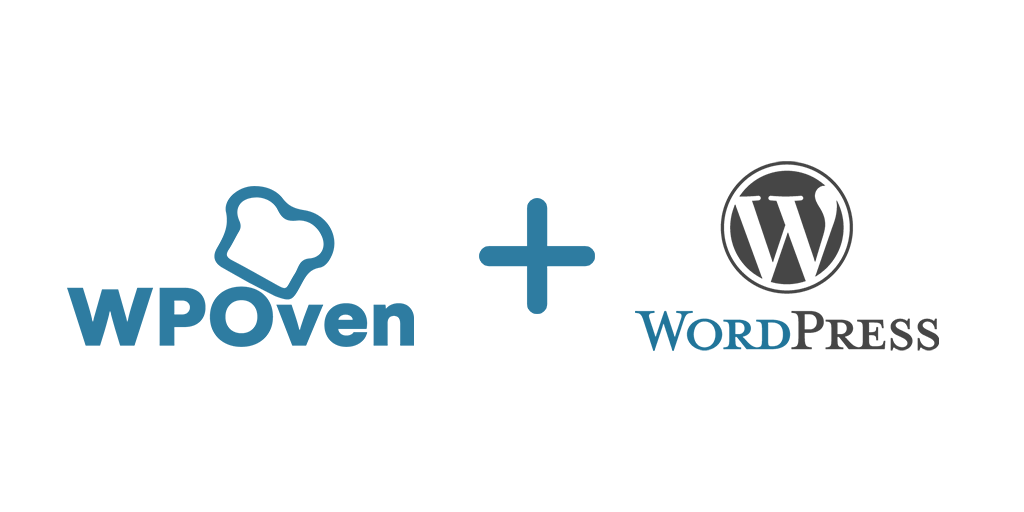 Since it is dominating the internet, there is no doubt it is trusted by the majority of the big brands and business owners that have built their websites on it. This is the main reason, even the largest companies or business owners have their websites developed on WordPress.
If you have already set your goals about starting your own business through blogging, then it is essential to have in-depth knowledge about WordPress CMS. But, if your main objective is to start blogging as a hobby or just for the sake of time pass then using and learning WordPress is not effective, and you are just killing your time. Hence, there are other alternatives that you can choose which you will get to know in later sections of this post.
In short, WordPress is the top platform among the best Blogging Platforms, especially for content creators. Providing limitless possibilities for any individual to bring their imagination into reality.
Even, to your surprise, this content is being powered by WordPress that you are reading now. However, WordPress always consider for every section of bloggers. They have also a free blogging platform WordPress.com, with limited features and it is best suitable for beginners or bloggers who like to publish their content just as a hobby.
On the other hand, For professional bloggers, or individuals who want to make a business from blogging can choose WordPress software. It is an Open source platform and is available absolutely free. It is a self-hosted platform, which means, you are only required to have your own domain name and a web hosting service provider on which you can install WordPress CMS and start building your own blog.
The whole process is so easy and with WPOven, you do not need to download or install WordPress. WPOven downloads and installs them automatically.
To begin with, first of all, you need to buy a WPOven subscription plan, it is because it is specially optimized for WPOven and the whole process is automatic and fast.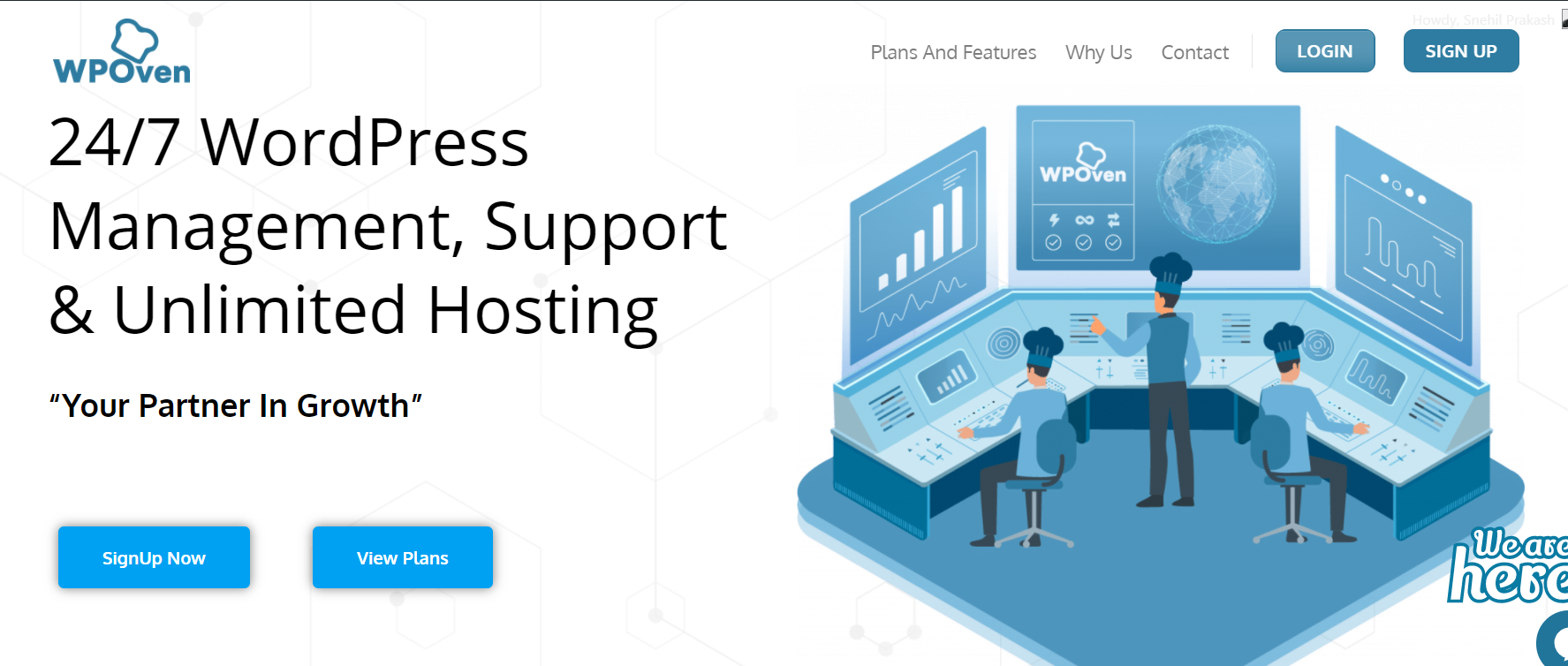 Specially developed with high scalability and flexibility features, WordPress is one of the best platforms for any business that aims for the long run. This is a highly reliable blogging platform and with the help of tools or plugins, one can simply convert a simple blogging website into an e-commerce one in just a simple and few steps.
In addition to it, you will have full control of your website and be easy to manage even its security. And even if you couldn't able to find a plugin that you are looking for, you can even create one with its built-in PHP platform.
With WordPress, you have endless possibilities to bring your imagination into reality and post unlimited content. YOu are not limited to the content size, free to accept content from different authors, do sponsor posts, Affiliate marketing or monetize your blogs. We have also a dedicated article on How to Monetize Your WordPress blog, that can give you an idea to generate income from blogging.
And you have decided to create your own blog with a seamless experience and 24×7 WordPress support, then the combination of WordPress and WPOven will help you out to leverage your career in Blogging.
Some Key Features of Using WordPress
It has thouands of WordPress themes availble in the WordPress repository as well as third party websites.
Can extend features of a website using a wide range of Free as well As premium Plugins.
Easity to manage your website content from Dashboard
Flexible to schedule posts
Easy to restore deleted pages and rollback versions
Managed Website security
Easy to add addtional webiste Editors (Elementor, etc.)
Some Pros and Cons of using WordPress
Pros
Scalability: WordPress provides you high scalability features. You can extend your website functionality with the help of extensions and plugins.
A wide range of Plugins and Extensions is available.
Easy to handle website data and provides more flexibility.
Cons
You actually need to know some form of coding in one or another because you may encounter problems that are challenging to fix. 
You often need to install a plugin for fully functional features such as SEO. For instance, for SEO, the best plugin to install is Rankmath.
If you require a lot of storage, you may need to go for a paid plan to gain access to more space.
Pricing
WordPress software is open source and available Free to download. The only money you need to spend is on your web hosting services and domain name. And for beginners, there are free themes and plugins in the WordPress directory that are more than enough to run a basic blog.
2. Wix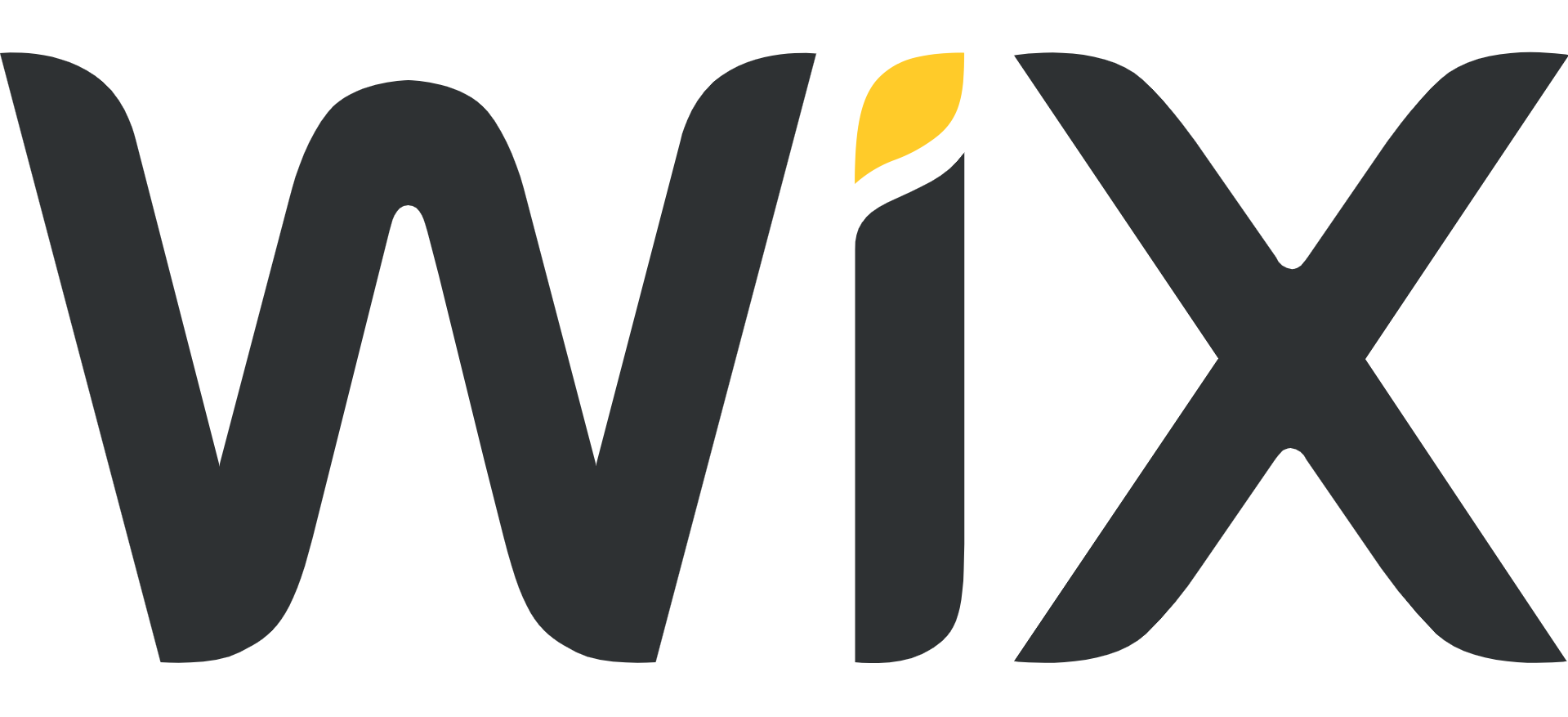 Wix is another website builder website that has been established in the year 2006. And it is one of the most advertised platforms you have ever seen. You must have seen it on various online platforms such as Youtube ads, Google ad banners and even on your television.
At present, it has almost 150 million websites have been created using Wix across the world. And has gained tremendous popularity due to its easy website builder. This is the selling point that Wix has gained tremendous popularity.
Although Wix has also provided a free plan that has some limited features and functionality. But it is highly recommended to use its premium plans starting at $14 to $39 per month.
Another selling point of Wix is, it has an outstanding 24/7 support team that no other platforms can match. And all these features can be upgradable.
However, in the future, if you like to implement online shopping or an e-commerce platform on your blog, Wix has a few premium plans that ensure that a business can easily establish itself. And these plans can be easily connected to Google analytics too and can offer various payment methods to your visitors. Wix provides you with an opportunity to turn your simple blog into an e-commerce website if you are planning to sell products online while blogging.
Some Key Features of Using Wix
A guided process of planning your eCommerce site to meet business needs.
A simple way to track sales and scale your campaigns and business progress
Optimized online monitoring for various aspects of your business
Safe options for managing your website and conducting security audits
Direct contact with expert support offered by Wpoven dedicated to ease your experience.
Some Pros and Cons of using Wix
Pros
Wix offers a wide variety of free templates – even on the cheapest plan which is free.
The drag and drop interface appears to become easier with every development update, saving time in creating a website. No special skills are needed to use Wix features, and with a little tech-savviness, you can build an amazing site for your business. 
It is easy to integrate plugins on Wix, they are all in a single app store that allows you to easily integrate the plugins into your website. 
The blog features a user-friendly blog editor and has integrated SEO features to improve and enhance your SEO rankings.
Cons
The drag and drop design features are incredibly limited and can seem backward for the more advanced web designer. 
The themes tend to be difficult to completely customize to suit a brand, thus limiting design options. 
Only limited features for blogging are available. The post editor is not ideal if you are looking for something completely customizable.
You need to separately edit the mobile and web view of your website which can be time-consuming and it can be challenging to achieve a complementary look.
Pricing
Although Wix comes with the free plan, we won't suggest you go for it because it has some limitations. You have to use the Wix subdomain for your website and are bound to use the default theme.
But you can upgrade to their premium plans starting at $14 to $39 per month.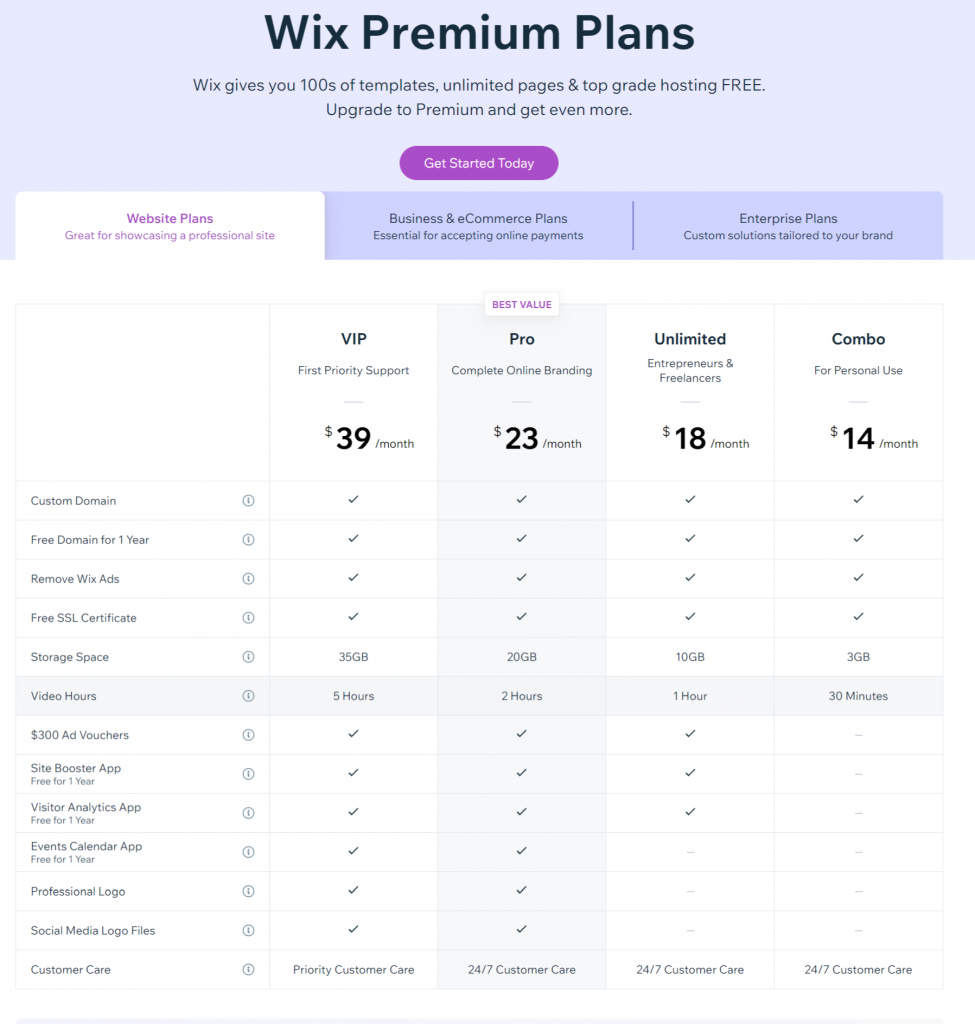 3. Squarespace
Squarespace is an online all-in-one platform. You can build your website all by yourself without resorting to any external help. The platform is most suitable for the novices to build their website as there are no hard technicalities involved in it and the features are simple and easy to use.
Popularly known as one of the easiest platforms to sell products through your blog. With exceptional builders and hundreds of professional well-designed templates, Squarespace is one of the best blogging platforms through which you can easily set up your e-commerce store and do blogging simultaneously.
After all, every platform has roots starting from blogging. Unlike Wix, Squarespace came into existence in 2004 especially for providing the best blogging hosting service. And it has been emerged as one of the best blogging platforms till now. From creating a personal blog website to creating a fully functional business website that becomes a sensation on the internet.
With the easy Drap and drop feature, one can easily edit their website and create beautiful, artistic and more vibrant pages for their e-commerce store or blog. Once you are successfully able to set up your website, you can even use product blocks to embed your products (if any) anywhere in your blog with a lot of customization options available.
Even with the minimum expertise of website building, this platform can be used to create visually appealing websites that as per modern standards. This platform allows the users to create any kind of website ranging from simple blogs to e-commerce stores or business portfolios.
Some key Features of Squarespace
Drag and Drop Management
Image metadata Importing
Portfolio pages
Lightbbox Presentation
Inbuild image editor
Podcast support
Some Pros and Cons of using Squarespace
Pros
Squarespace offers more than 100 sophisticated themes and templates with responsive design.
Best suitable for Blogging websites. If your central focus is to create a blogging website, it provides an option with lots of new features such as podcast integration, multiple authors and automatic scheduling posts.
Squarespace is also available as an app on mobile platforms such as android and iOS.
Cons
You need to click on the save setting on every edit. There should be an autosaving feature or live editing functionality.
Limited to develop small websites with simple navigation menus.
Due to heavy themes and pictures embedded in it, it slows the website a bit and potentially can harm your SEO rankings.
Pricing
Unlike Wix, Squarespace does not have any free plans yet. But if you want to enjoy their service, upgrade to their plans starting at $12 to $40 per month if you choose their annual plans.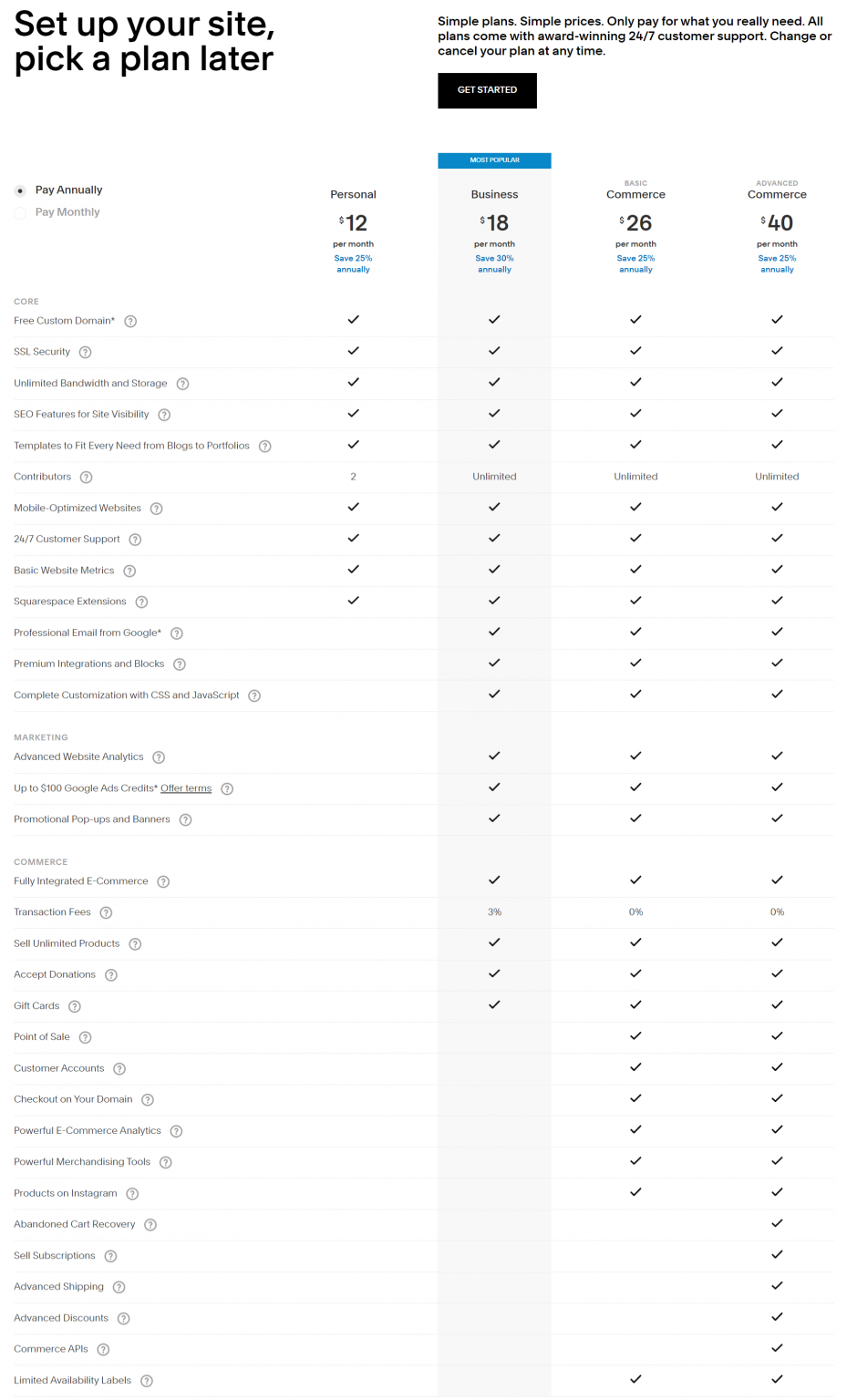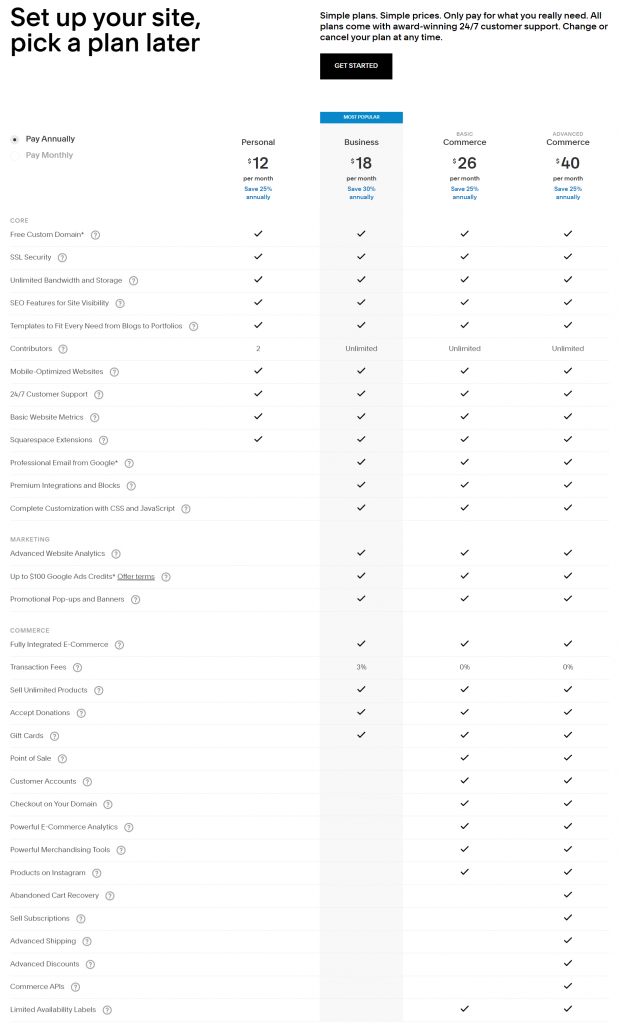 If you still do not want to pay before testing the platform. You can opt for their 14 days trial option and pay if you like.
4. Medium

Medium is a new platform on which a user has the option to use it as blogging or start publishing their own work. With the help of the medium, anyone can freely sign up, make an account, start writing and become a blogger. The next thing what medium does is, with your consent, it publishes all of your work on its platform either free or paid on different Topics.
But this could not be so randomly chosen, Medium first verifies the blogger and quality of content thoroughly. If everything goes well, mark the blogger as verified and then allow to publish their content. Even, the verification process is not that easy, you have to abide by the rules and guidelines of the medium to become a verified blogger.
Over time Medium has started to monetize its platform with curation, and allows its reader to read some top-notch content up to some extend free. If anyone wants to go beyond that and wants to read the complete article, they need to pay fees.
When everything goes well, and the content quality is top-notch. Most probably, the medium will consider your content for promotion and everything goes well, you can also earn by just publishing your content on medium.
But this is what not happening with WordPress, it has its own other methods of monetization, which will you going to see in the coming sections.
The contents that you are posting on Medium can easily be accessed by your own followers or subscribers. This is somewhat similar to other blogs where usually only subscribers can read the content without spending any money.
What if you want your content being accessed by Medium's own audiences instead of your subscriber? Here, you need Medium's help via its curator program, in which the medium publishes your content and gives access to reading for its own audiences.
Once, your post being curated by medium, it is now available for any Medium subscriber no matter whether they subscribed to you or not. It is somewhat like, your post is being available for a premium section, that is exclusive for those who chose premium plans.
It is not to be misunderstood that, the curated content is exclusively available for the medium audience but whoever likes to search about the topic on Medium can easily get access to it. For your reference, let us take an example if your content is being curated by medium for the topic " Travel". Anyone who is looking for the topic will get the content easily.
Some key Features of Medium
Embedding
Strories from different authors
Partnership Programs
Story URL customization
Pre defined traffic
Clean and Simple Editor
Some Pros and Cons of Using Medium
Pros
A high number of Readers are available.
Simple and Clean Design
The whole setup process is seamless and easy to use
No Technical Stuff is required or SEO
You will get exposure and recognition
Cons
The traffic is not yours.
High competition to get Curated
You are increasing Medium's Domain authority not yours.
You don't have the controls
Pricing
When we talk about Medium, it is an absolutely Free platform, especially for writers. Anyone can simply create an account and post their story, without any paying fees. But it has also some limitations and is unable to offer flexibility and customization options than other premium platforms.
5. Blogger


One of the best and widely used Free blogging platforms since 1999. It is the first choice for any beginner who likes to start their blog as a hobby without spending any single penny. However, it provides you with an opportunity to earn some income through implementing Google ads.
Any individual can start free blogging by simply making an account and provide your details, after that the blogger will provide you with blogspot.com as a subdomain. It is so fast and easy that within 20 minutes of basic setup you will be ready to post your valuable content.
It has become nostalgic for any individuals who have started their blogging career as a blogger. But it does not lose its charm, it is still the first thing that came to mind of anyone who is looking to start a blog. Since Blogger is a complete Free blogging platform, beginners can freely start blogging and creating content on the go.
All the basic features of Blogging have been beautifully implemented in it such as editing posts, adding images, links, and many more. Yet, simple and clean with minimal design so that anyone can easily use it and create their own blog.
As we have already discussed earlier, how with the help of a blogger, you can even generate some income through Google ads and get all the website insights using the Google analytics tool. Just like any other website, and start earning while blogging.
When we talk about customizing and designing options, blogger provides you custom website templates so that you can easily make changes or alterations in your blog as per your requirement, without any knowledge of coding.
Some Key Features of Blogger
Mobile responsive since it has started early.
SEO friendly
Single click publishing post, uploading images/videos, installing template, adding widgets or changing settings.
Zero Downtime
Easy to monetize your blog
Reliable System
Some Pros and Cons of using Blogger
Pros
Simple and Easy to use
a lot of customization options with addons and widgets
Security and Backup support by Google
Bandwidth is allocated by Google
No server technicalities required
Easy to use the domain name
Cons
No in-depth insights into your traffic and visitors
Not as customizable as other Best Blogging platforms
You do not have control over it, it runs on the Google parameters and administration.
Pricing
Blogger is Free and one of the earliest among other Best Blogging platforms. However, if you like to customize your blog, you can use premium widgets, add-ons, and themes after paying some charges.
Points you must consider while choosing best blogging platforms
Now the most important question is How can you choose the Best blogging Platforms for your blogs? Well, it depends on various factors and varies from person to person. But first, let us check out the most common factors that help you out to make your decision:
Either you can go for Traditional platfoms
Or, use a Website builder to create your blogging website
Whichever, best blogging platform and the method you choose. One platform would be a lot better in some aspects rather than the other one.
Choose the Best blogging platfroms that require low Maintenance
If you are looking for a smooth experience, without any headache of upkeeping or low maintenance, the traditional blogging platforms would be a perfect choice. They provide simple designs, that can be enough to create just business portfolios, which increases credibility.
Whereas, using a website builder can give you full freedom to create your blog exactly the way you want to. But it is not available to free like traditional ones.
Choose the best blogging platforms from which you have multiple Earning options
There are two types of bloggers out there, One who likes to do blogging just for the sake of a hobby and can make a little side income. Whereas, other types of bloggers are whose primary job is blogging, generate high revenue and their bread and butter are solely dependent on it.
If you are one of the bloggers who fall in the first group, then traditional blogging platforms such as Blogger and Medium are the best blogging platforms for you. As you have already read about them in the above sections, these platforms are free to use and do not require any web hosting plans, domain name registration fees or maintenance.
All these features are managed by the Blogging platform providers.
On the other hand, even WordPress and Wix both provide platforms in their free plans/versions but with certain restrictions and limitations. In addition to it, their free version may contain ads that you do not have control over it and it is so annoying.
whereas, in blogger, you can use Google Adsense to generate side income. Similarly, Medium has also come with their Partner program through which you can earn some income through your posts whenever people read them. In addition to it, you can even use sponsored/affiliate links on your medium posts to generate a great amount of income.
Similarly, there is hell a lot of monetization techniques that you can implement on your blog and generate a good source of income. Such as Wix, Squarespace and WordPress let you turn your simple blogging platform into a fully functional Ecommerce store, Affiliate marketing, Sponsored posts and more endless opportunities.
Choose the best blogging platforms that has Freedom to Customize
Traditional Blogging websites, such as Blogger and medium provide you with some basic customization options and tools to edit, manage and post content. There are not a lot of customization options available with these platforms.
Some premium blogging platforms allow you customization options in their premium plans, that can help you to build a fully functional website.
For beginners, who do not have a lot of editing and customization experience, they can opt for Wix. Its simple drag and drop feature is highly useful to create a website with a low learning curve.
When we talk about Squarespace, it is also the best option to start with, but it has a slightly higher learning curve than the Wix. Apart from it, it is the best blogging platform that provides great control over your blog's design. This is why, it is one of the best blogging platforms for artists, photographers, or professionals from art and creative backgrounds.
But above all, WordPress is turned out to be the top best blogging platform in terms of flexibility, customization, and control over your blog. However it takes time for any individual to learn but once you have learned, you will be able to even build an e-commerce website just like other e-commerce giants.
Choose the best blogging platforms that has Future Growth
There are a lot of options available in the market, but still, we have recommended you only the 5 best blogging platforms in this post. The main reason is, they all have features that can help you grow and leverage all the possibilities.
No matter, whatever your blog niche is and the audiences ( leads, readers or enthusiasts), you still have the option to grow in near future without moving to other options.
Even blogger being a free platform, it gives you a proper traffic insight and lets you analyze your website traffic. In addition to it, for more in-depth analysis you can even integrate your blogger with google analytics tools as well as for marketing campaigns you can also integrate email marketing tools as well.
Whereas, in Meidum you do not need to have done much SEO efforts to gain traffic. Because, Medium has a paid readers and run partner program, through which once your content gets curated, your blog will automatically receive traffic and get rank in SERPs.In addition to it, it becomes easy for your to share your content on medium, on various social media channels and increase your reach.
In Squarespace, you have inbuild email marketing tools that let you create your own email lists and with the help of premium email marketing tools, you can run campaigns.
In Wix, you can monitor and increase your growth with some best SEO tools available such as Google Analytics and Ahrefs.
Whereas in WordPress, You have limitless possibilities for future growth. There are thousands of plugins available, with the help of it you have all the techniques that are required to boost SEO for any blog and Double your web traffic.
The main point is, Blogging is not all about just posting content online and leave it to users to read. But there are some more efforts you need to do so that your content can be able to reach as many audiences, and increase your blog traffic.
Conclusion
Now, here comes the most asked question, Which one is perfect for you among the best blogging platforms?
Well, it solely depends on various factors that we have already covered in this post and varies from user to user. i.e whether a user wants to start blogging as a hobby or profession, budget, ease of use, future growth and many more. There is no definite answer to this type of question. But from our perspective, we can recommend you to either go for WordPress or Wix.
These top two and best WordPress blogging platforms, we can ask you to go for. But again, you must keep in mind that, it may or may not be best suitable for you if it does not match your parameters.
The best possible way to pick up the best blogging platform for you is to try each platform once, we know it can be a tedious and time taking job but it will help you to figure out by yourself which one is best for you.
Alternatively, you can see our take on each Best blogging platforms reviews and read the points that we have already mentioned in this article that can help you to make a solid decision.
If you have found anything missing or worth to mentioned some points, do let us know in the comment section below. We love to hear from you.
Frequently Asked Questions
What is the most useful blogging platform?
WordPress combining with WPOven and Wix turned out to be the most useful and best blogging platform that is anyone can start their blogging. Selecting the right platform is the most important initial step from the Best blogging platforms available around the market.
Which free blog platform is best?
It is tough to choose a single platform from the Best blogging platforms available. It is because it varies from person to person and their requirement, that not a single platform can satisfy everyone.
But you have the Best options available from which you can choose the best blogging platforms that match your requirements, they are:
1. WordPress
2. Wix
3. Blogger
4. Squarespace
5. Medium
Which blogging platform is best for beginners?
For Beginners the best blogging platforms available are:
1. WordPress.com
2. Blogger
3. Wix
4. Squarespace
5. Gator