WordPress Captcha is an essential feature and most important security feature that even top-tier websites use. After all, no one would like to take any risk that can potentially damage their website. Since the technology has evolved so far, new Hacking methods have also evolved.
Now, with the help of bots, hackers can infiltrate and assault websites rapidly. Mainly their target is to attack login pages and user registration pages by brute force attacks, spamming or hacking. Once they successfully infiltrate your website admin page, they can either put malware or crash the complete network of websites hosted on the same Web hosting company network to get some ransom.
Multiple simple tools have been developed to easily tackle all the bots or spammers out of your WordPress website to encounter such situations. WordPress Captcha is one of them that has an automatic turning test capability that helps to differentiate between bots and humans.
WordPress Captcha is a simple and easy tool that provides your website with a security level and helps make it secure.
In this article, we tried to cover all the aspects of WordPress Captcha, from their meaning to the Complete setup process. And How do they do it? In addition, we will introduce you to some of the best WordPress Captcha plugins that make your step process a lot easier.
Then what we are waiting for, let us begin!
What is the meaning Of WordPress Captcha?
Captcha or WordPress Captcha is simply a computer program that helps to differentiate between humans and bots. The program is specially designed to perform an easy test that humans would easily solve, but it would be tough and nearly impossible for any bot or script to solve and pass through it.
Evolution of Captcha
When Captcha was introduced to the internet, the computer program was designed only to ask users to enter the text they saw in an image. And the image can be of random numbers, words, or letters in various and distorted styles.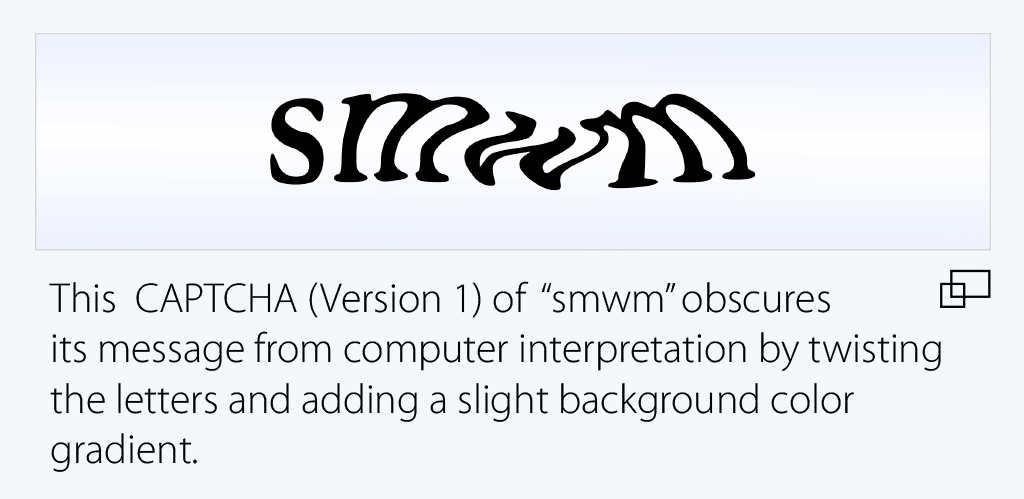 However, after some time, Captcha has been upgraded to a new technology called ReCaptcha. In this program, a random word has been chosen to show on the screen and uses user input that helps in the digitalization of books.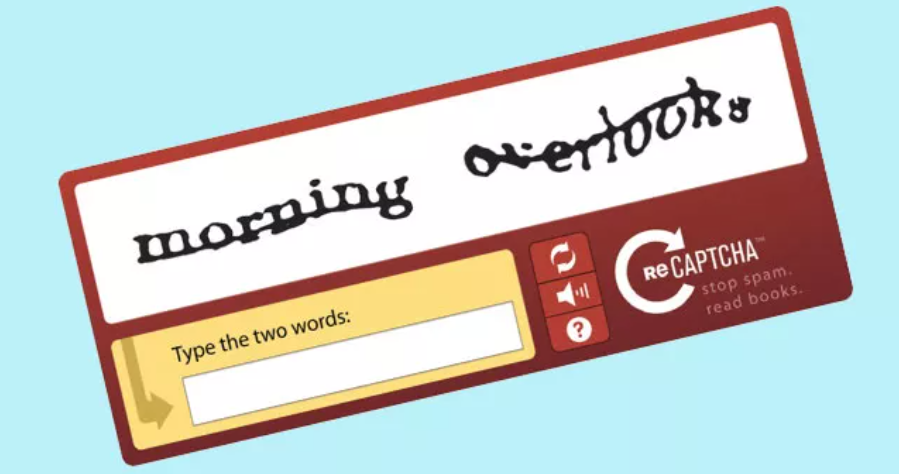 After its successful run, in 2009, google acquired ReCaptcha technology completely. And after that, this program has done an incredible job of digitalizing thousands of books.
Apart from being a useful tool that helped digitalize thousands of books, it has not gained much popularity among users. The main reason was user experience, and users find it irritating; sometimes, even users cannot find the distorted texts; hence, users cannot access content seamlessly.
So, to overcome this annoying problem, Google introduced a new program that is totally based on AI and uses user interaction to figure out humans and bots. This new Captcha program is known as "No Captcha reCaptcha."

In google Captcha reCaptcha, you will find a simple checkbox in which human input is required. However, if your browser finds any huge suspicious traffic, it will show images of anything that a human can easily identify but is not possible for the bot.
This is all about how Google has implemented this application to distinguish between a human and a bot. Let us talk about how you can improve your security with this Captcha Tool in your WordPress websites.
Using Captcha in WordPress
More than 40 percent of the total websites on the internet are built on WordPress. Hence it is one of the vulnerable CMS that hackers often attack. They usually try to infiltrate the WordPress default security by using spam and brute force attacks.
To learn more about WordPress security, you can also check out our Ultimate guide on WordPress Website Security 101 and explore different working methods to secure your website from hackers' attacks.
Hence, it has become essential to take strict security measures to protect your WordPress website from getting hacked or attacked. Using the WordPress Captcha tool can be an easy solution to protect your WordPress site using Various WordPress security plugins. These plugins have the potential to block any suspicious activity and block unauthorized logins.
In addition, if you like to introduce another layer of protection to your WordPress websites and registration pages, it enables password protection login that recruits anyone to get access to your website.
The major downside of this protective layer is that sharing passwords can be vulnerable to attacks, and it is not a good option for large-scale websites with members and multiple authors. However, this security layer can also get breached easily by using brute force attacks. The only easiest and the best alternative to this is using Captcha.
Built with Google's AI technology, it has become easy to differentiate between humans and bots by presenting Captcha challenges in finding any suspicious activity.
Now you know why you should use Captcha for your WordPress website. Another question that may arise in your mind is, How can you easily implement Captcha on your WordPress website and Comparison with the default settings? Let us find out in the below sections.
Comparing between Default and Custom WordPress Login and registration page
In WordPress, the default Login or registration pages have fundamental features that let users access different sections of WordPress as per their respective user roles and permissions.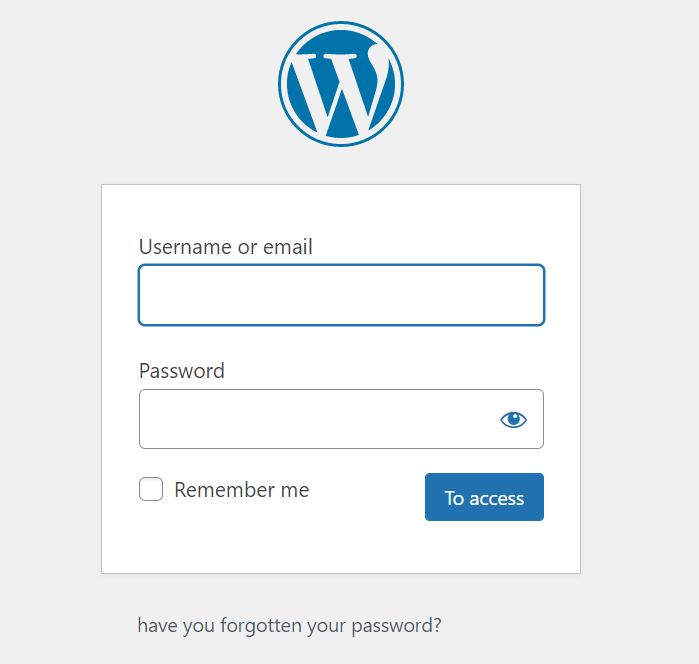 And when we talk about the WordPress default registration form, it simply lets visitors create an account on your website before proceeding to any task assigned as per their roles.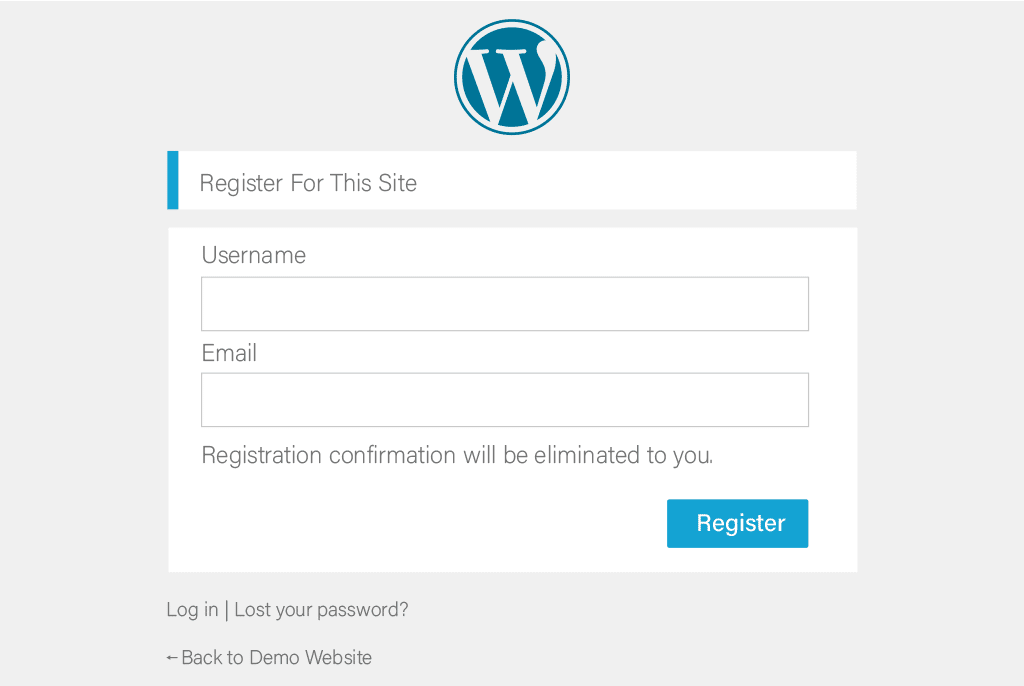 However, you also have many customization options available to customize your WordPress login or registration page the way you want. There are multiple WordPress Plugins are available that help you to customize login and registration pages easily.
You can also check out our post on "Best Way To change your Default WordPress Login URL" and learn more about customizing your default WordPress login Url.
Whether you choose to use a custom or default page on your website, I try to cover all the aspects of this blog. I guide you through the whole setup process of the reCaptcha program for both options in WordPress.
But before that, let us understand what Google reCaptcha is all about.
Understanding Google reCaptcha
Implementing the Captcha program on your website provides you with various benefits and security to some extent, but still, it lacks in some areas. Such as it has been seen that using Captcha has badly affected the User Experience. It adds an extra step and delays the whole login or registration process.
In addition, these Captcha programs have become challenging and not a great step for users suffering from eye problems or dyslexia. Due to this, most special-abled users cannot use the website and are restricted from accessing certain websites.
To counter all these downsides of using Captcha, Google comes with its new No Captcha reCaptcha.
It is a successor to the previous one that presents distorted images of words to test, but the new version asks users to click on the checkbox showing the text " I am not a robot."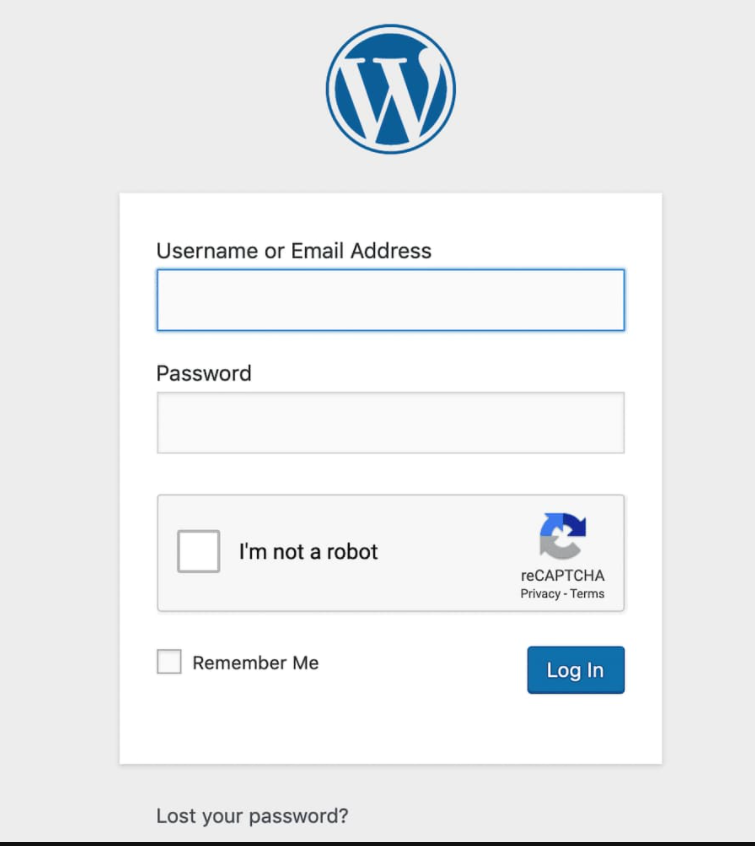 This new reCaptcha program from Google was easier to use and super fast than the previous version. Google has not stopped at this point; they have continued to bring some more improvements and introduced a new term, "invisible Captcha".
Introduced in 2018, this invisible Captcha has the feature to detect bots without asking for any input from the users. However, when you try to add Captcha to your WordPress website, you will have the option or freedom to implement any Captcha you want. But one thing you must keep in mind while implementing any version of Captcha on your website is that it should not affect user experience and try to make the whole process a lot smooth and enjoyable for your users.
Implementing Captcha to your WordPress website
Since I have already explained in the above sections how WordPress is vulnerable to attacks and what necessary measures a user can take, similarly, apart from enabling password protection, another layer of protection by implementing Captcha to your WordPress site would strengthen the security and helps to restrict hackers' attacks to some extent.
Now the main thing is how can you do it. Well, it is not a tough process and can be easily implemented in just three simple steps. Let us check out what these steps are in detail.
Step 1: Install WordPress Captcha Plugin
The first and foremost step for adding Captions on your WordPress Website is to install a WordPress Captcha plugin on your site. With thousands of WordPress plugins available in the WordPress directory, most of them are free and are sufficient to do your job. And you do not need to pay any extra money to boost the security of your website.
But before installing any free plugin, there are certain points that you must consider while installing. Because often free things bring more bugs and stability problems to the website.
The first thing you need to determine which Captcha version or type is best suited for you. Since there have been three available choices and they have their own certain limitations. Check out which option is more user-friendly and does not present users or visitors' distorted images.
Another thing you must consider is that the plugin should work at multiple areas of your website and not just stick to a particular location such as the website login page.
Make sure that the plugin must work anywhere you added a form on your website so that any bot that tries to sign up with the form can be filtered out.
For your convenience, check out these WordPress Captcha plugins that fulfill all the essential requirements that we have already mentioned above.
Advanced noCaptcha and Invisible Captcha

An easy and widely used WordPress Captcha plugin that can be easily used anywhere on the website page. It is also compatible with various membership plugins such as BBpress and BuddyPress, whether implemented on the Comment form, Register, Multisite User signup, contact form, etc. In addition to it, you can even add multiple Captcha on the same page as per the requirement.
key Features:
You can easily choose which version of reCaptcha will be used.
Easy to change Error message if any
Language can be changed.
The theme, Size can be changed in WordPress Captcha version 2.
Location and Theme can be changed in WordPress Captcha version 2
You can easily change even the location of the script to be loaded in WordPress Captcha version 3.
You are provided with an option to hide or show a captcha for already logged users.
Now let us hop on another WordPress Captcha plugin Google Captcha.
Google Captcha
Google Captcha is one of the best and very effective WordPress Captcha plugins that let you protect your WordPress site by filtering out scammers and allowing real users to access your website. With the help of this WordPress captcha plugin, you can use it on the registration page, password recovery, contact form, etc., including all the versions of the WordPress captcha available. it can be used for login, registration, password recovery, comments, popular contact forms, and others. reCAPTCHA Version 3, Version 2, and Invisible are included.
Some Key features
Hide reCaptcha for the allowed listed IP addresses
You can disable the submit button
You can add Captcha anywhere on the website.
You can even limit the number of attempts
Supports Multilingual
Compatible with the latest WordPress Version
Login No Captcha reCaptcha

Login no Captcha reCaptcha lets you use the Google ReCaptcha checkbox for your login, Woocommerce login, forget the password, and registration forms. Restricts bots and automated scripts but humans to log in by checking a box. In addition to it, with the help of this plugin, you can also restrict spammers to spam on your comment section or contact forms which you won't find in the above two plugins.
Step 2: Create Google reCaptcha and integrate it into your website
When you have finally decided which WordPress Recaptcha plugin to install and activate, the next thing you need to do is to create your Google Recaptcha, only if your plugin uses it. Go to the Google ReCaptcha Admin page, and fill out the necessary information asked as shown in the picture below: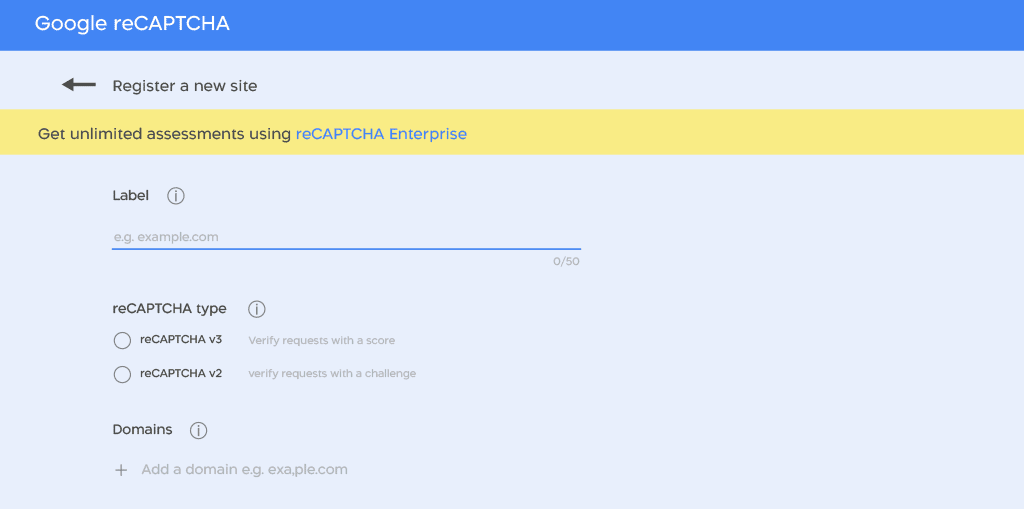 You must keep in mind that you will be provided with two versions of reCaptcha as an option to choose from reCaptcha v2 and reCaptcha v3. Depending upon your choice, you can use either verify with a score or with a challenge. But it should not affect the User experience.
After successfully filling up the Google Recaptcha form with all the necessary details, click on the submit button. Copy the site key and secret key, which will be shown on the next page.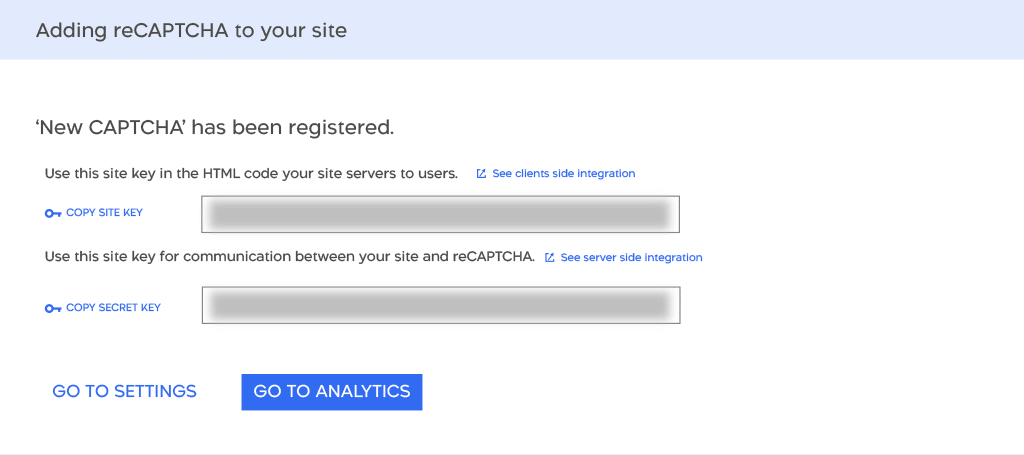 The keys that have been shown in the above picture need to be entered into your WordPress Captcha plugin settings. However, the process may differ depending on the Plugin you use. But you won't find it tough to get the plugin's Settings page. Once you find the settings page, paste the keys in their respective fields.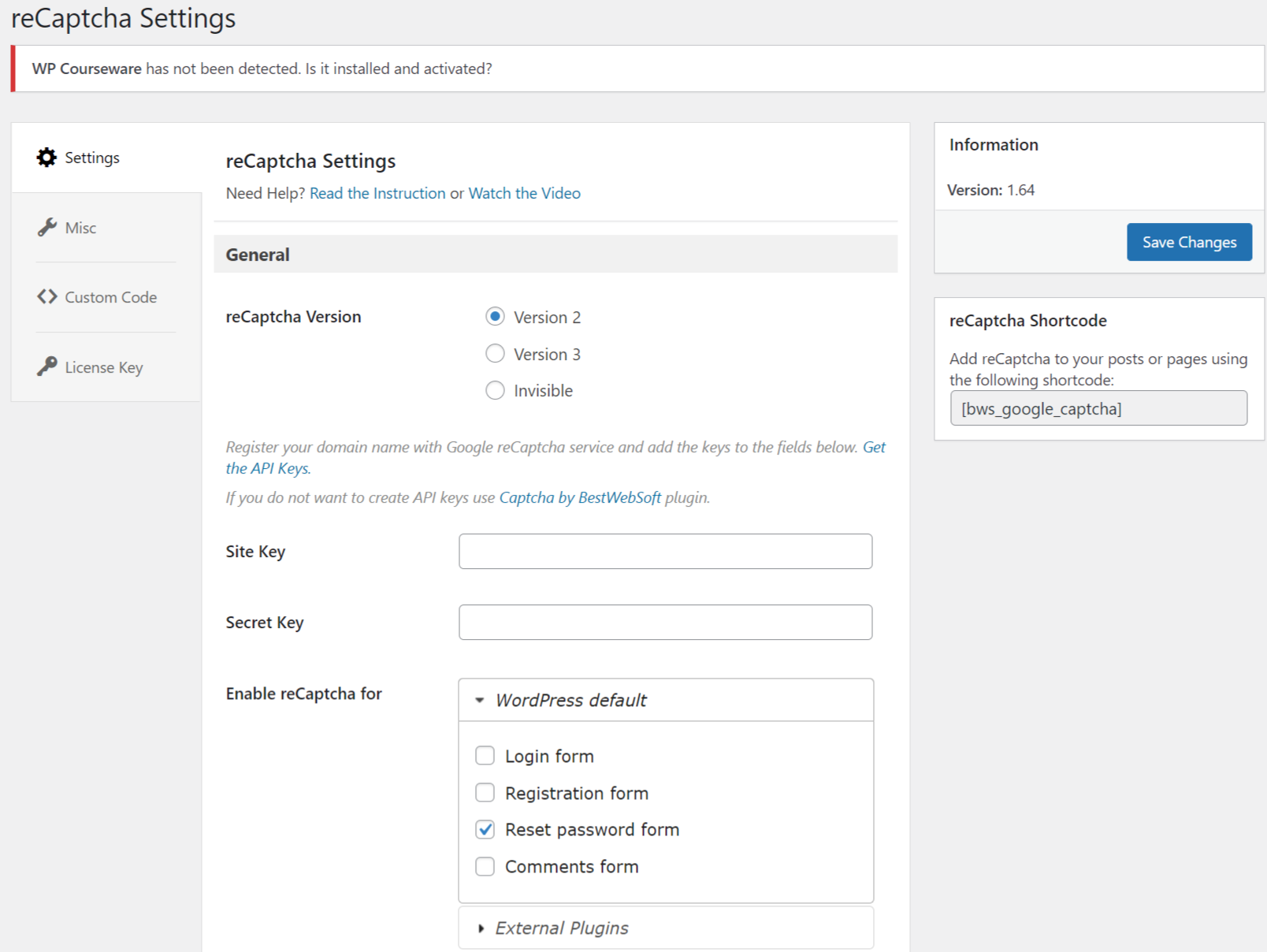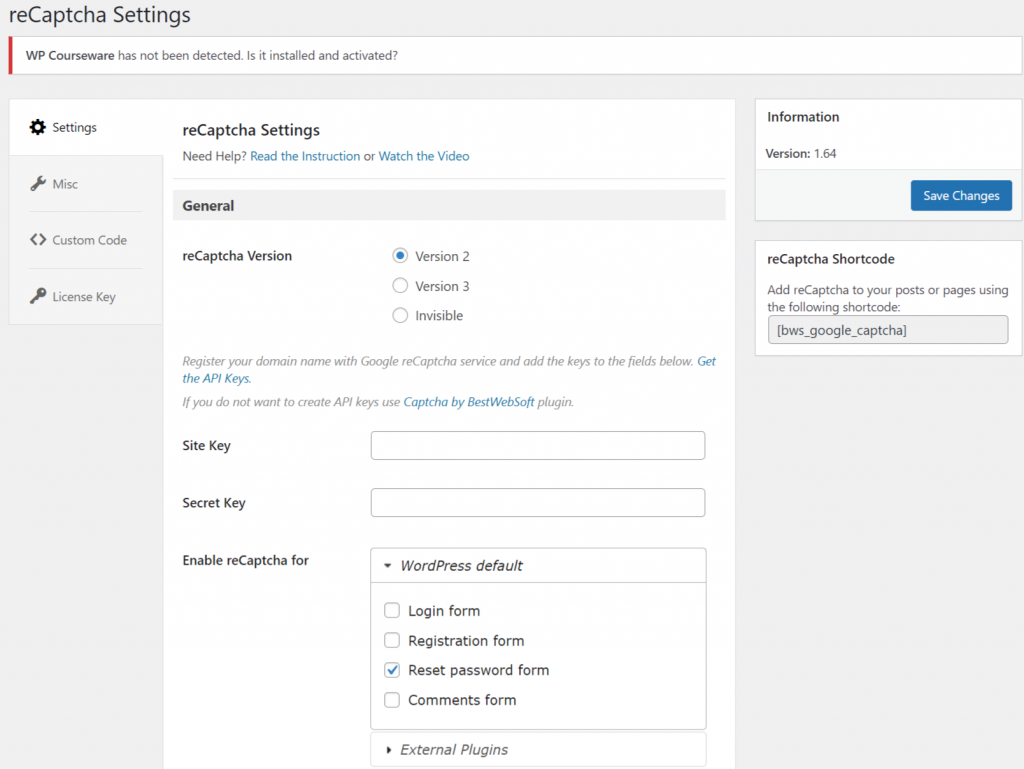 After pasting the keys, click on the"save changes" button and regularly check your google ReCaptcha admin page. When your website starts receiving a significant amount of traffic, you will be able to check out your Google Recaptcha analytics.
Step 3: Setting up Captcha to protect some areas
After successfully passing the keys, now it is time to enable Captcha protection on specific areas of your website. When you install any WordPress Captcha plugin in their settings, you can usually find a list of pages or sections of your website to enable Google ReCaptcha protection. Select the pages or areas important to protect and click on the Save button to make changes effective.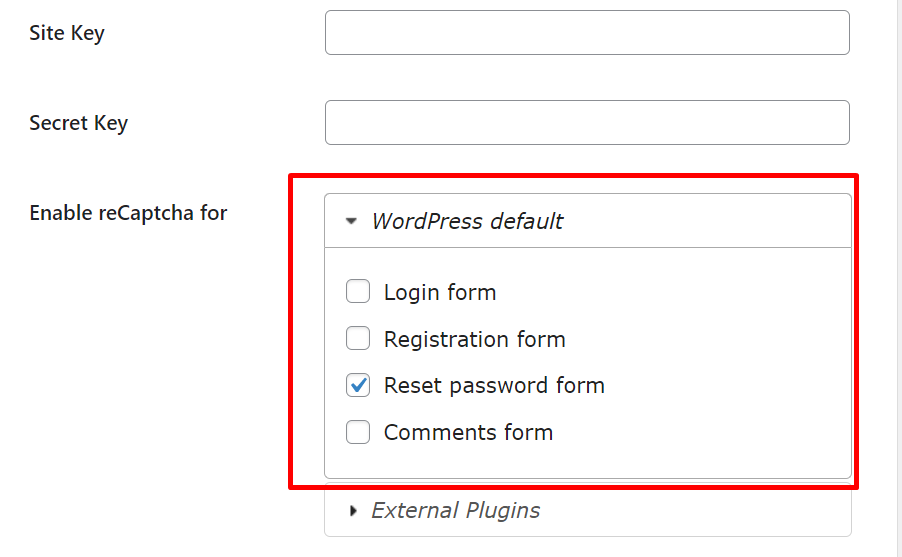 You can enable reCaptcha for any login form you have, whether it is for:
Admin page
Registration form
Reset password form
Comments Form
However, if you like to have more fields to protect. You can upgrade to pro plans that provide you with more areas to enable Recaptcha.
How to add Captcha security to your Admin login page?
Since I have previously discussed how admin login pages are vulnerable to serious hacker attacks, securing your admin page using various security layers becomes essential. Adding WordPress Captcha is one of them.
All you need to do is Go to your WordPress Dashboard > reCaptcha > Settings > General > Enable reCaptcha and select the Login Form option under WordPress Default.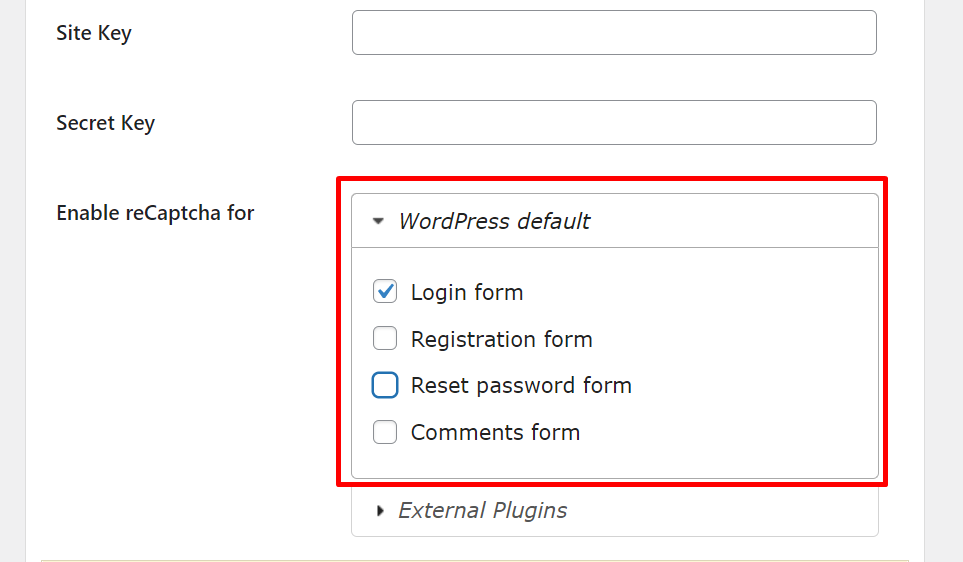 How to Add Captcha protection to your password reset page?
The next thing hackers do is reset your password after failing multiple login attempts on the admin page. Hence, it is also required to protect your reset password form with a Google captcha. All you need to go to your WordPress Dashboard > reCaptcha > Settings > General > Enable reCaptcha > Reset Password form.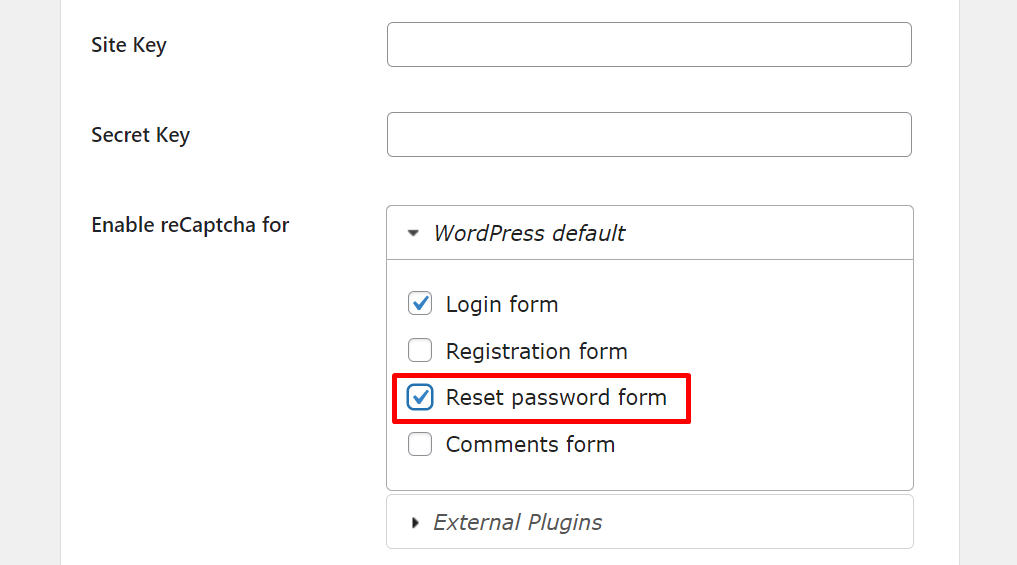 How to enable WordPress captcha for Woocommerce login page?
Similar to any WordPress page, your woocommerce Login page is also vulnerable to any hacker attack. Hence, it becomes important that you must also protect your Woocommerce login page by enabling Google Captcha. But you won't find it in the free version of WordPress captcha plugins. You need to upgrade or use a provision for it.
When you have a pro version, go to your WordPress Dashboard > reCaptcha > Settings > Enable reCaptcha and scroll down to find "Woocommerce Login Form."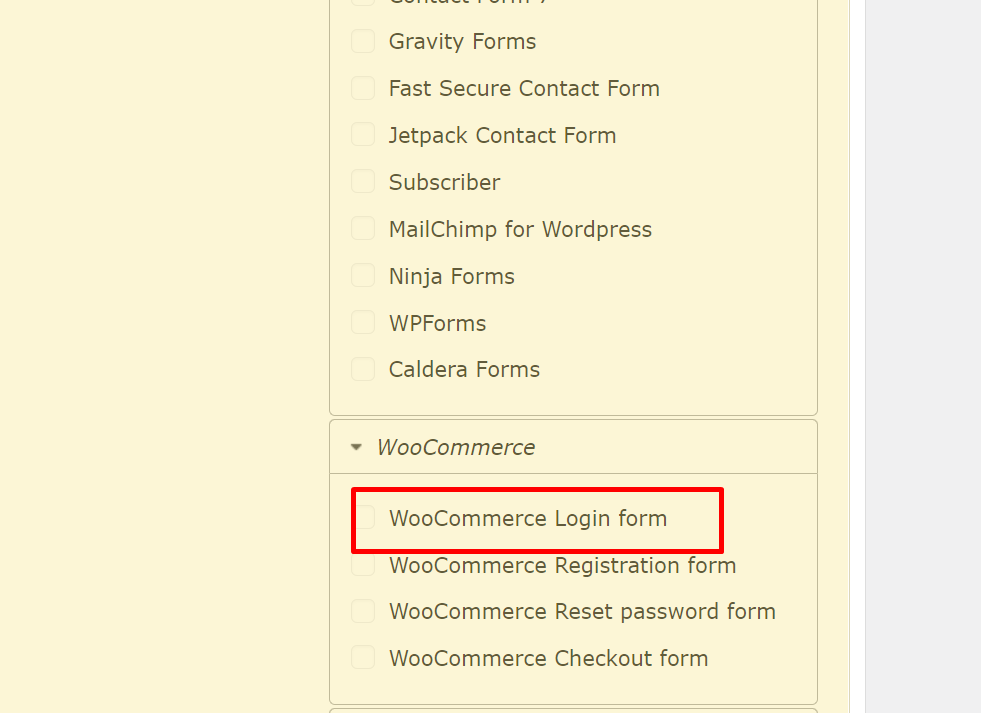 From the above pic, you can see a complete list of Wocommerce pages available on which you can easily enable WordPress Captcha protection.
How to enable WordPress Captcha to contact Form?
Like other pages you have already seen in the above sections, you can also enable WordPress Captcha protection on your contact form. But some WordPress contact form plugins provide an inbuilt Google Captcha option.
But before that, you must have an active contact form plugin on your website so that you can add a Captcha to your contact form. Just go to your WordPress dashboard > Recaptcha > Settings > General > Enable reCaptcha and under the External plugins option, you will find the Contact form as shown in the picture below: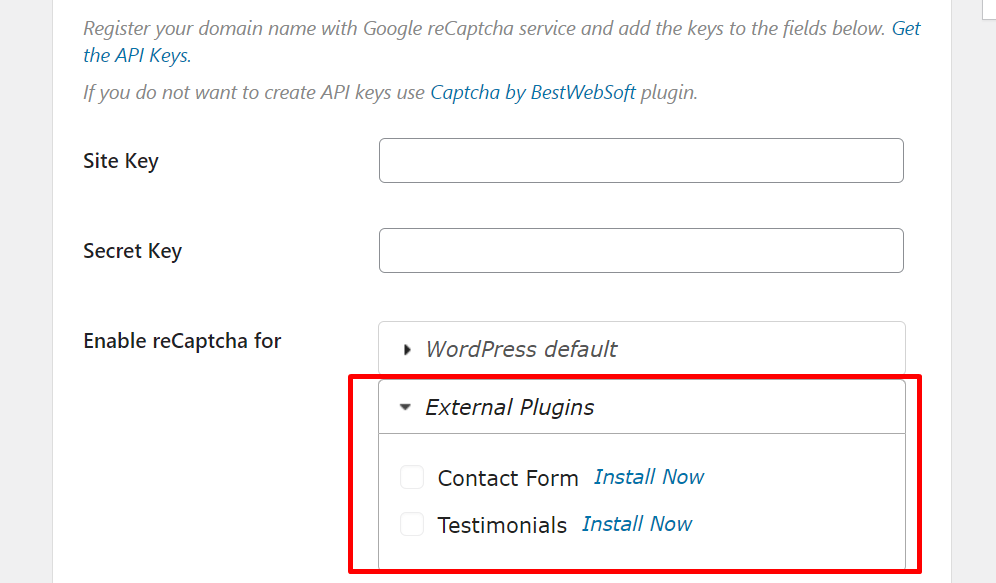 That's it; you have completed the setup to enable WordPress Captcha protection on your WordPress website. However, if you feel like changing to another WordPress Captcha plugin, you also go for it.
Summary
Restricting and keeping away bots or automatic scripts from your WordPress site is one of the essential and most important steps one should always follow on their WordPress site. Although WordPress has password protection as an option, providing an extra security layer is not bad. After all, as technology has evolved, hackers easily figure out how to breach any security measures by using bots or automatic scripts.
To encounter such, implementing Google Captcha is one of the best options that keep these activities off your website to some extent. To enable this extra layer of protection, all you need to do is to follow these simple four steps:
Find out a suitable WordPress Captcha plugin, install it, and activate it.
Go to the Google Captcha admin page and create your own Google captcha.
Copy the keys generated by the Google captcha console and add them to your website.
Check out all the relevant areas in which you would like to add Google Captcha and enable it.
That's it! You are ready to go. If you found anything that we have missed or you would like to add to this article. Please do let us know in the comment section below; we love to hear from you.
---
Protect your website from harmful malware and cyberattacks. Choose a more reliable and highly secure WordPress hosting. At WPOven, you will be provided with enterprise-level protection such as
Hardened Servers
Let's Encrypt Free SSL
Inbuilt Bot and Firewall protection
Cloudflare Certified Partner
Daily offsite backup and 1 click restore
Anti-Hacking Support
Automatic and Safe Updates
Unlimited staging environment, etc.
You can have all these features and much more in a single plan starting at $16.61 per month, with unlimited Free migrations, unlimited staging, and a 14-day risk-free guarantee. Check out our plans or Contact our support team that assists you to choose the right plan.
Frequently Asked Questions
How do I add a WordPress captcha to cut down on spam?
To add a WordPress Captcha on your WordPress website to cut down on spam, you need to follow these simple steps:
1. Install and activate a WordPress Captcha Plugin
2. Create Google ReCaptcha one Google console and copy the generated keys.
3. Paste the keys into WordPress Captcha plugins Settings.
4. Configure the key areas where you would like to enable Captcha.
And you are done.
What is the best CAPTCHA plugin for WordPress?
Although there are many WordPress plugins are available, most of them have limited features. But here are some best WordPress Captcha plugins that you can consider.
1. Advanced no Captcha and Invisible Captcha
2. Google Captcha
3. Login No Captcha reCaptcha
How do you add a simple captcha to a WordPress email form?
If you are already using Contact Form 7 by default, Then the process is quite simple. Just go to the Contact Form settings page > Click on Integration tab > You will see ReCaptcha V3 > Click on Setup > Paste your API keys > Save changes, and you are done.