Broken links are one of the major concerns from both user and SEO points of view. Hence, learning how to detect broken links and resolve them in time is one of the most crucial parts of Technical SEO.
In this article, you will learn What are Broken links? How they affect your site and user experience. And 5 Best comprehensive methods to resolve in WordPress without any extra effort.
---
---
What are Broken Links?
In simple words, broken links or dead links are links that no longer exist or are removed. The link can be of anything, either broken backlinks, affiliate links, or URLs. This can happen due to several reasons, but the most common reason is when you delete a page or move to a different location, resulting in a 404 error page.
What are the causes of Broken Links?
Common mistakes that lead to broken links in WordPress:
Moving or changing the location of web pages or content
Deleting web pages without proper redirection
Spelling mistakes in links
Changing Permalinks
Mis-typed URLs
Dead External Links
Hence, it is always advisable to,
Regular website monitoring is essential to maintain the health of your website's SEO
Detects dead links and spelling mistakes in links
Prevents negative effects on SEO.
In this article, we will share you with some techniques and tools that help you sort out all dead links present on your website and How to remove them with comprehensive solutions.
---
Importance of Fixing Broken Links in SEO
As mentioned earlier, broken links are bad for SEO and users. And the main reasons behind this are mentioned below:
1. Degrade User experience – What if a visitor is clicking on the link provided by you is broken? Is it quite irritating to see a blank or error page? Hence, the final verdict will be the visitors will no longer show interest and trust in your content. Slowly your website traffic graph will start showing getting down, and in the end, it will become deserted.
Hence, to maintain healthy traffic and website reputation, you must use Broken Link Checker WordPress plugins or other methods discussed in this article.
2. Affect SEO: Another impact broken links show on the SEO of the Website. As you know, many search engines have their own Bots called crawlers, whose main work is to crawl the website pages and check links and contents thoroughly. Once the crawlers detect a link as broken, it results in a 404 error page. And as a result, if the error persists, leading search engines like Google can ban it in the future.
3. Affect Link Juice: Inbound links to your website, also known as "backlinks," play a key role in determining your PageRank. When a backlink leads to a broken link, it loses its value and does not pass any link juice to your website. This can result in a decrease in PageRank.
Now, let us check out what exactly broken links mean.
---
5 Best Methods to Find and Remove Broken Links WordPress
Now, you must have clearly understood how Broken links impact your SEO efforts. Now you will learn how to detect and resolve it as soon as possible with comprehensive available online tools. Below are the following solutions mentioned :
---
1. Online Popular SEO Tools (SEMrush & Ahref)
The most effective and popular method we highly recommend is using SEO tools such as SEMrush and Ahref. These two paid tools have been specially designed to carry out all the necessary tasks for website health. These tools scan your website thoroughly and generate reports accordingly.
Let us see how to use Ahrefs first to determine broken links.
Ahref's Broken Link Checker Tool
Step 1: Using the Ahrefs web tool
Open Ahrefs in your browser and click on "add a new project"
Enter the URL of your website and let it scan the entire site
Wait for the scan to complete (may take several minutes)
Step 2: Checking for 404 errors
Click on "reports" to see a list of all 404 errors on your website
Review the list of dead links and make any necessary corrections.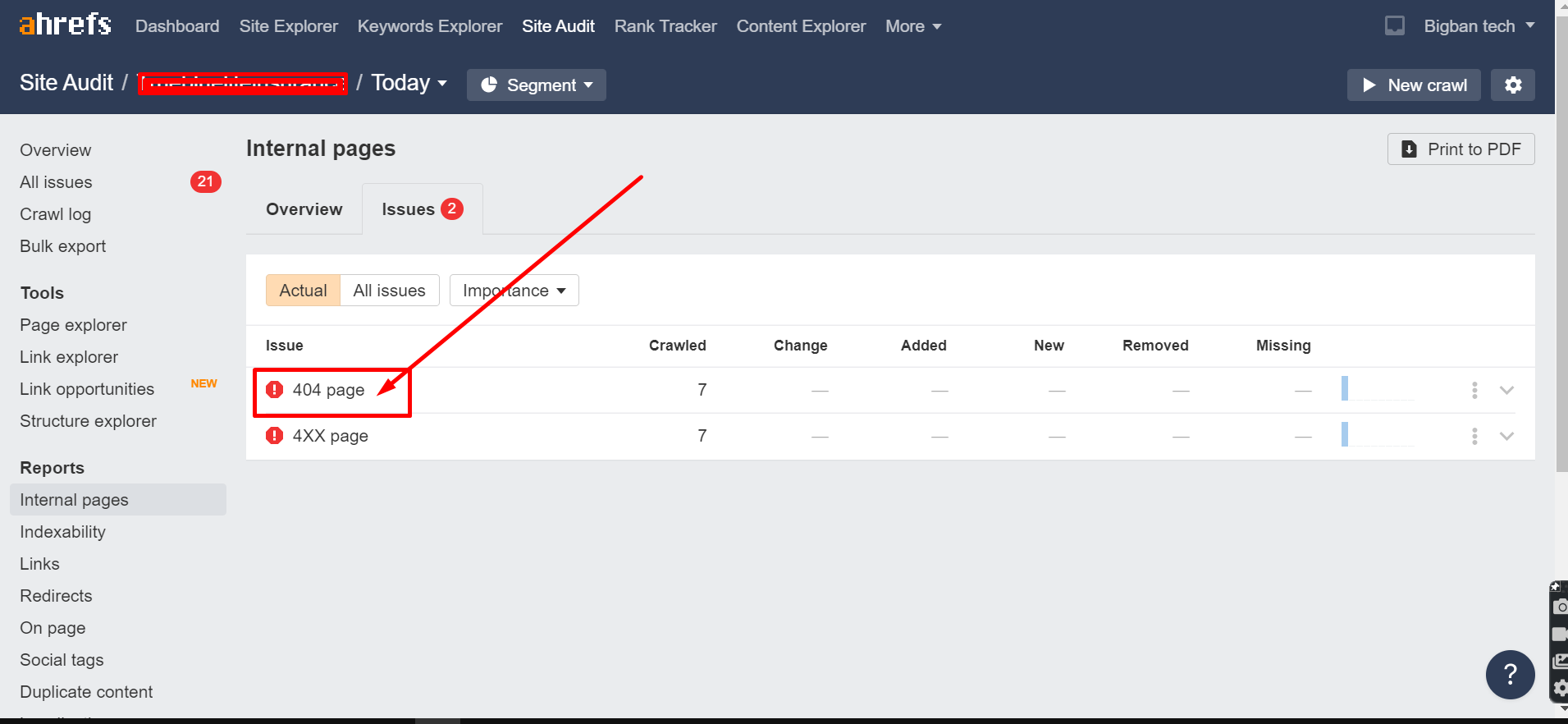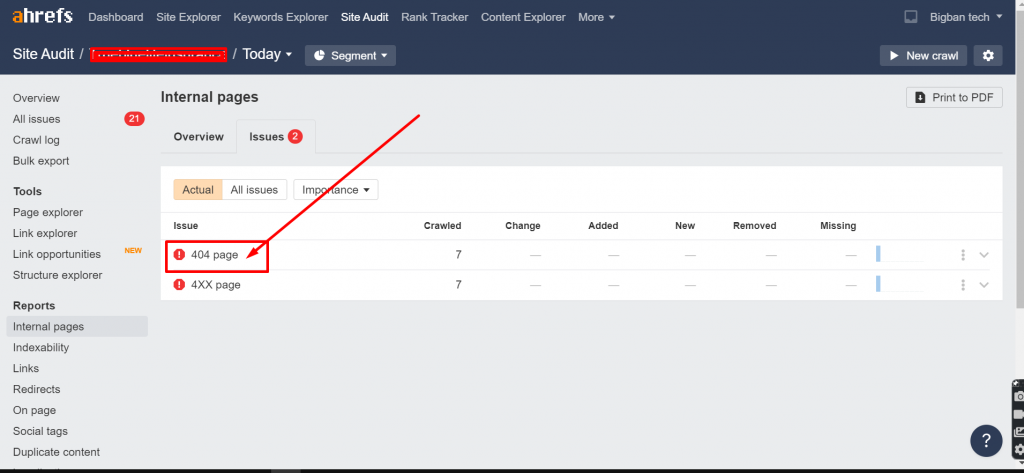 Ahref's Broken Backlink Checker
Not just 404 error pages, but with the help of these powerful web tools, you can also check all the dead backlinks present on your website. To check, first,
Step 1: Accessing the "Backlink profile" section
Go to the "Backlink profile" section as shown in the image
Step 2: Checking for broken backlinks
Click on "Broken" to generate a report of all broken backlinks on your website
Step 3: Removing broken backlinks
Review the report and remove any broken backlinks found.
Check Broken Outgoing links
Similarly, you can also check Outgoing links on your webpage by clicking on the Outgoing links section. A complete outgoing broken links report will generate showing all the dead links present on your website.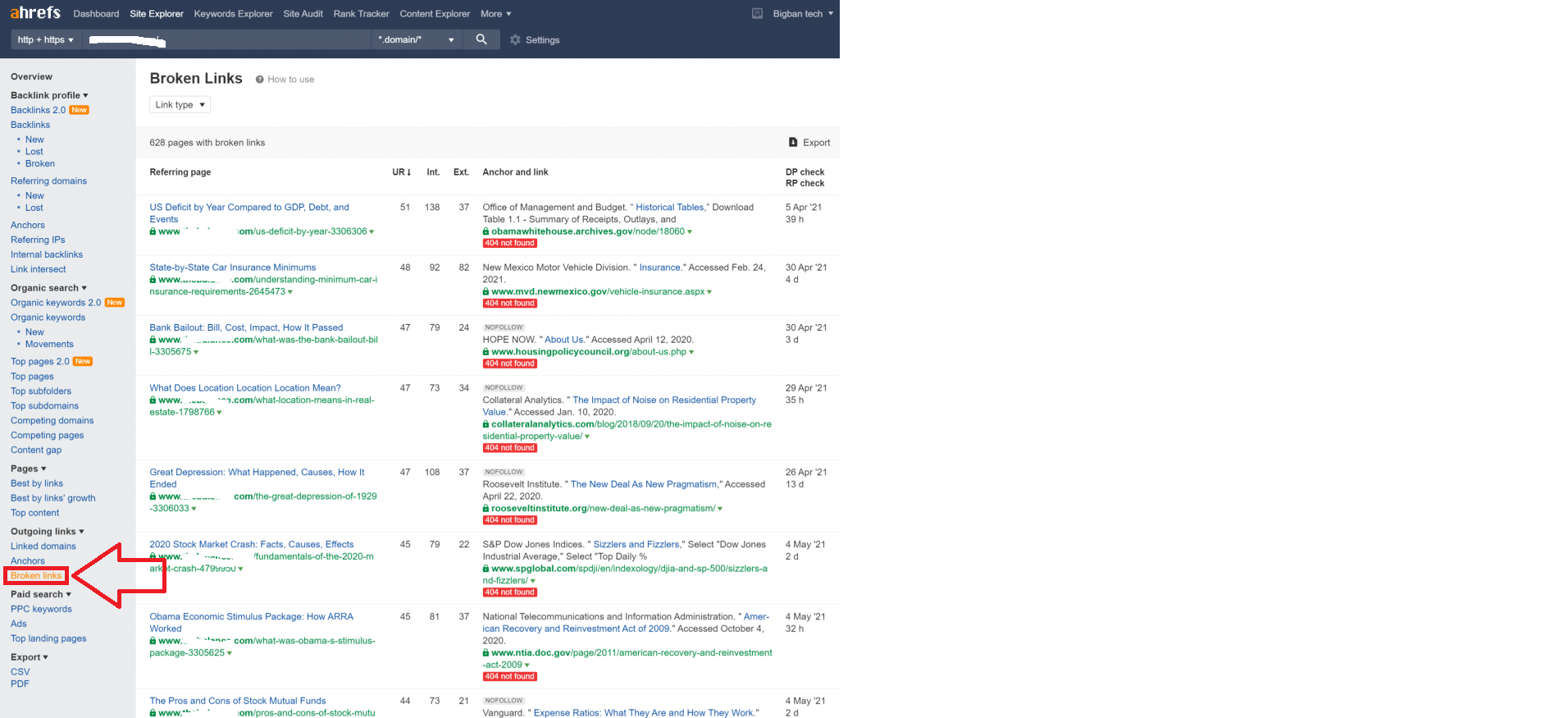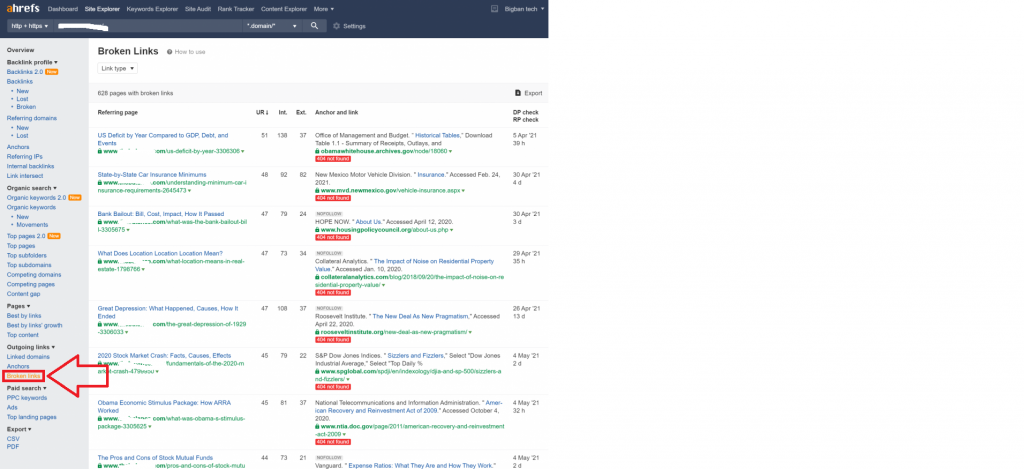 Let's understand the way in which you can find broken links using the Semrush tool
Semrush
In order to check the broken links of a WordPress website or any other type of website using Semrush, you will have to perform a site audit. In every site audit report, you will get all 404 errors.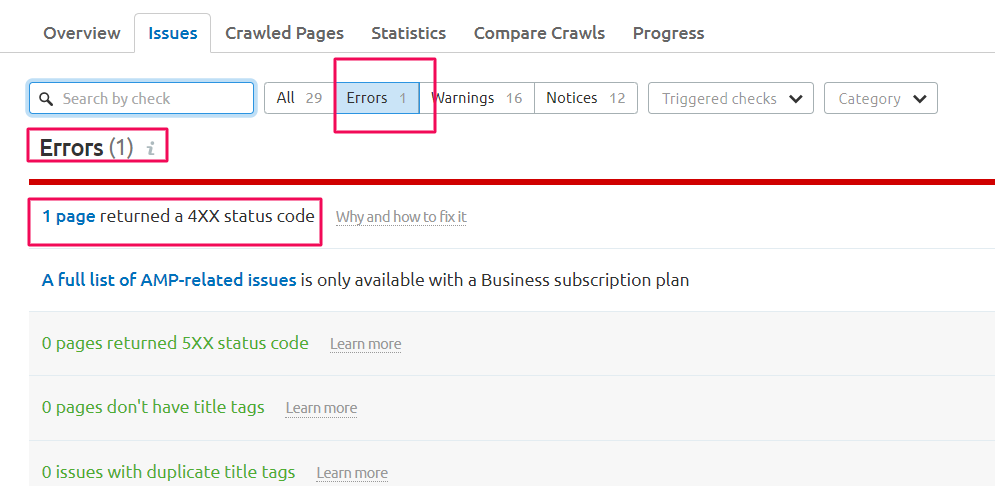 Both Semrush and Ahrefs are good options to find broken links in your WordPress websites.
---
2. Using Google Search Console Crawl Stats
Google search console, an online tool developed by Google to monitor and troubleshoot errors on a webpage for better Google search results. To begin the scanning process, first, you need to link your website with a Google console. After adding it, you can enjoy its features and benefits.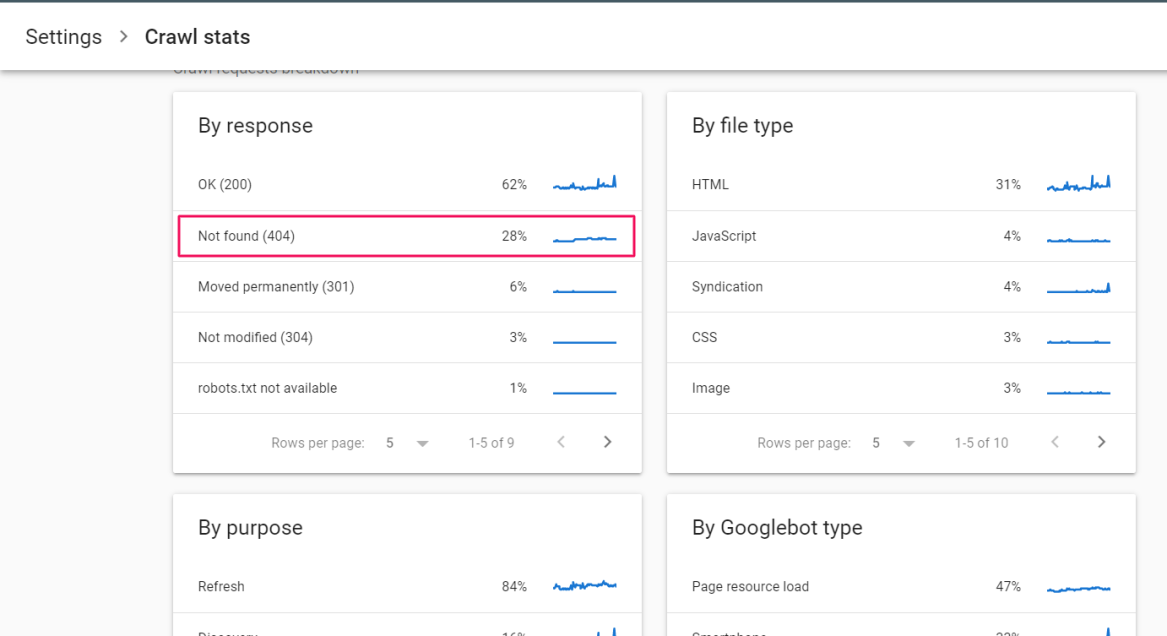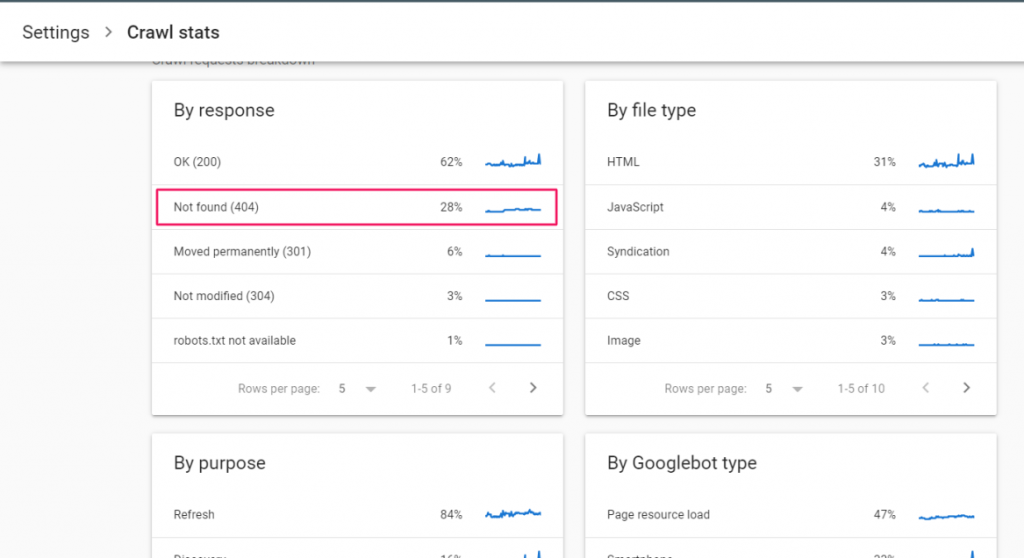 From the above pic, you can see how the Google search console shows 404 error pages.
---
3. With Broken Links WordPress Plugin
Although, we do not want you to use the Broken Link Checker WordPress Plugin because it can impact your site performance by slowing it down. These plugins are heavy and use all the resources of your website.
Consider all the problems it might generate for your website if you still want to use it. It is highly recommended to use for a short period of time, and after the completion of scanning and correcting dead links, you can uninstall or deactivate it.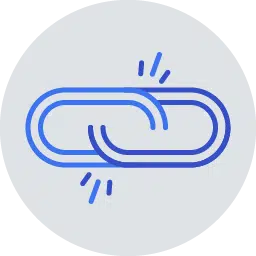 Broken Link Checker WordPress plugin is one of the most no download (more than 700000+ downloads till now) plugins in this section, and it is available absolutely free. The developers are trying to bring regular updates, and it was showing the last update was 2 months ago for us.
The key features that Broken Link Checker has:
Monitors external links and internal links in your posts, pages, comments, blogroll, and custom fields (optional).
Detects links that don't work, missing images, and redirects.
Notifies you either via the Dashboard or by email.
It makes broken links display differently in posts (optional).
Prevents search engines from following broken links (optional).
You can search and filter links by URL, anchor text, and so on.
Links can be edited directly from the plugin's page without manually updating each post.
Highly configurable.
How to scan and detect Broken links using a WordPress plugin
Step 1: Installing the Broken Link Checker plugin
Install the Broken Link Checker plugin on your WordPress website
Step 2: Generating a report of broken links
Open Dashboard > Tools > Broken Links to generate a report of broken links on your website
Step 3: Editing broken links
Hover over a broken link to reveal quick editing options
Select "Edit" to open the URL editing options
Step 4: Updating the URL
Edit, delete, or replace the URL as necessary
Click "Update" to save the changes.
---
4. Free Online Broken Link Checker Tool
Free online broken link checkers are among the best web tools for beginners, especially those who have small websites and do not like to use paid tools. There are many websites available that scan the whole website and give full detailed reports online.
One of the best Free online broken link checker tools you can try is the Sitechecker.
Step 1: Accessing the Sitechecker tool
Open the Sitechecker website, a free online broken link checker tool
Step 2: Entering the website URL
Enter the URL of your website into the input field
Step 3: Scanning for broken links
Click the forward arrow button to initiate the scan
The tool will crawl through your website and identify any broken links
Step 4: Reviewing and correcting broken links
Review the broken links reported by the Sitechecker tool
Correct any broken links found.
Step 5: Open the Sitechecker tool and enter the URL of your website
Step 6: Click the "Check" button to initiate the scan
Step 7: Wait for the tool to scan all links, which may take a few minutes depending on the size of the website.
Step 8: Review the Complete Report and view the list of Dead links
Step 9: Observe the source links from which the dead links appear on the webpage.
---
5. ScreamFrog dead link checker software
Apart from online SEO tools like Semrush, Ahrefs, WordPress plugins, and online dead link checkers. There is also desktop software available to perform similar tasks efficiently. And one of the most popular ones is the Screaming frog.
This SEO software is widely available for all the platforms such as Windows, MacOS, and Ubuntu.
Steps to check for broken links using SEO Spider:
Download and install the software on your PC
Open the software and upload the list of URLs you want to check
Copy the list of URLs and click on 'Upload > Paste'
Wait for the SEO Spider to crawl the URLs and reach 100%
Go to the 'Response Codes' tab and filter for 'Client Error (4XX)'
Look for URLs with a '404' status code to identify broken links
Use the 'Inlinks' tab to see which page from the original URL list has the broken links. Click on the URL in the top window pane, then on the 'Inlinks' tab at the bottom to populate the lower window pane.

---
Conclusion On Choosing Best Broken Links Checking Methods
At the beginning of this article, it has been already explained how broken/dead links can affect your website's SEO and overall reputation.
So, checking dead links from time to time and maintaining it becomes one the crucial task to ensure Good site health. Hence, we have mentioned some tools that might work great for you:
Ahrefs and Semrush: Highly recommended SEO tool for getting a complete detailed list of broken links.
Google Search Console: Best Crawl error expert developed by Google which shows all the offending links that might affect your SERP rankings.
Broken Link Checker WordPress plugin: Not recommended to use, but you can use other 4 alternatives other than this.
Dead link checker: Best for beginners and small websites.
Screaming Frog: Software-based broken/dead link checker which high-efficiency performance.
We have tried our best to bring all the possible solutions for the detection of broken links available in the market. But still, if we missed some tools to mention in this article, feel free to mention them in the comments down below.
---
FAQ On Broken Link WordPress Checkers
How do I find broken links?
There are many online resources available to find broken links. But the most effective methods are mentioned below:
1. Use SEO tools like SEMrush or Ahrefs
2. Use online tools like deadlinkchecker.com
3. Use google search consoles
4. Use desktop software like Screaming Frog.
What are Broken Links SEO?
Broken links or dead links are links that no longer exist or are removed. This can happen due to several reasons, but the most common reason is when you delete a page or move to a different location, resulting in a 404 error page.
Do Broken links hurt SEO?
Broken links not only irritate users by showing a 404 Error page. But it can also degrade your website's reputation and relationship with Google, which is called SEO. It is better to avoid using dead links on your website and resolve your website's broken pages.
---