Being able to create free business emails will allow you to project a better image with your clients, suppliers, and investors.
I remember in my first business delivering business cards with emails from Hotmail, Gmail, or Yahoo! I felt that by not knowing how to create business emails, I had a great professional disadvantage, the seriousness of my business diminished, and work and personal conversations were mixed.
They are those details that begin to create a certain image of our business and we always want to project the greatest amount of trust in each interaction.
---
"33% of people" doubt the reliability of a business if it does not have business emails.
---
If you still don't know how to create free business emails, here is the step-by-step for you to do it:
---
---
What Is A Business Email And Why Is It Important?
A business email is an email account that contains the business name of the company through a domain (example: mycompany.com).
Business emails differ from personal emails by different web providers (Outlook, Gmail, Yahoo, among others). In general, a company assigns a business email to each employee, making them participate in the company and projecting a solid image of the brand in front of customers.
Learning how to create business emails will not only increase the reputation and trust of your business, but it will also save you money every time you need it. It's amazing how nowadays you can create a web page, buy a domain, and configure your applications without needing programming.
Today, people trust less in a brand that does not have a business email with its own domain:
33%: Doubt about the reliability of the business.
24%: They are concerned about sharing personal information.
2.3%: They avoid providing their credit card details.
In addition to the aforementioned statistics, a business email offers you multiple benefits from the first day you create it :
Improve the reputation and professional image of your company.
It separates labor issues from personal ones.
It makes it easy to remember your business email and the name of your company.
Build credibility and trust with your customers.
Improve the security of your company information.
---
Step By Step: How To Create Free Business Emails With Zoho Mail Workplace.
To learn how to create free business emails, I recommend using Zoho Mail. Other people prefer to use GSuite because they are more familiar with Google products. You can choose the platform of your preference.
Zoho Mail is an online platform that I trust and recommend every time I need to create business emails. Not only it will allow you to create 5 free business email accounts, but it also offers you various tools for your business.
How much is the maximum capacity of an email, either to send or receive?
You can send and receive emails with up to 25MB in attachments.
Up to how many business emails can I create with Zoho Mail?
With the free version of Zoho, you can create up to 5 business emails.
How much is the Zoho Mail inbox capacity?
With the free version of Zoho, each user has up to 5GB of space.
---
IMPORTANT: The only payment that you will have to make in this process is the purchase of the domain ($10 per year) which is mandatory to have your business emails.
---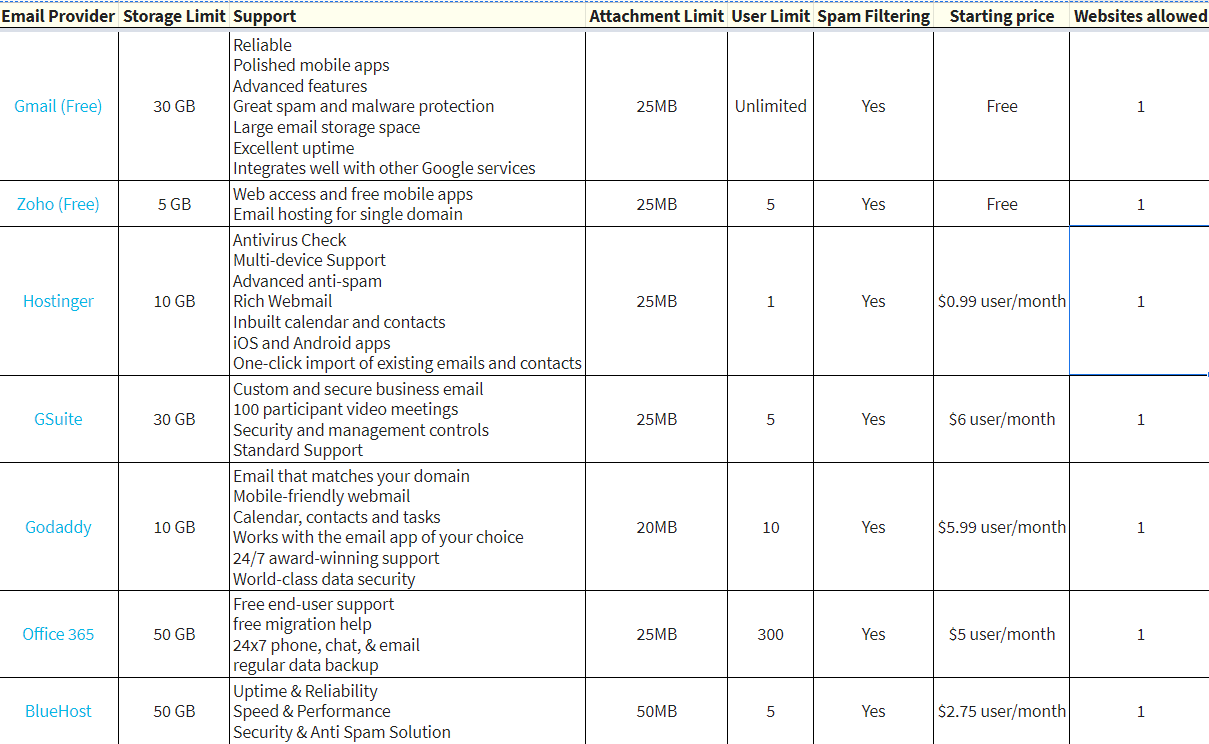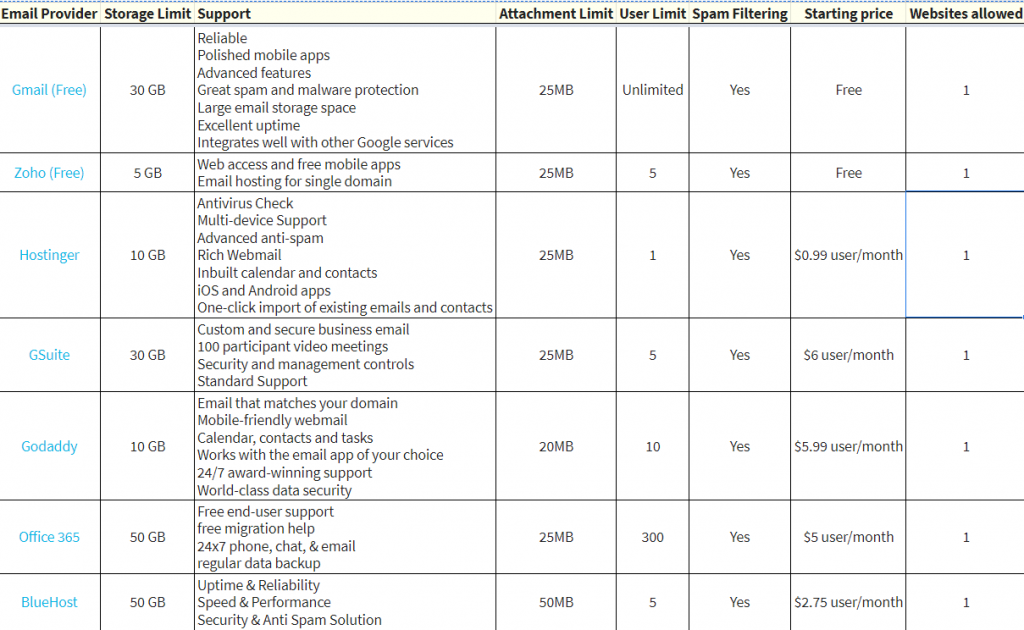 ---
Step # 1: Get Your Domain And Create Your First Free Business Email (7 Minutes).
A web domain is a name that is given to a website on the internet so that visitors can access it (like example.com) and it's unique for everyone. This means that each domain can only be granted and used by a single owner.
To obtain your domain, follow these steps:
1. Enter Zoho Mail here and register your personal data:
Notes:

* The email you register in this section is your personal email. You still DO NOT have to register the business email you want to create.

* I recommend you assign a password that contains uppercase and lowercase letters, as well as numbers and special characters.
2. Enter your cell phone number to validate your registration. In a few minutes, you will receive a text message with a verification code that you will need.
3. Once you receive the text message on your cell phone and your account is valid, you can continue with the process to create business emails.
4. Select the option "Add your existing domain for email hosting with Zoho and create an address based on the domain." and continue the process.
5. Select the option "Buy Domain":
6. Search for the domain you want to buy to validate that it is available.
7. Then, fill in your personal data for the purchase of this domain and continue the process.
Notes:
* In the "Email Address" field, you can indicate the name of your first business email. This email will be used by the administrator user.
* In the "Contact Email Address" field you must indicate a personal email to which you have access, as you will receive a verification link.
Review the recorded data well and continue the process:
8. Review the order details and record your payment details. You can pay by credit card or PayPal.
DONE! You have bought your domain and created your first business email. You can log into your Zoho Mail business email account and start receiving and sending messages.
---
IMPORTANT: Remember to enter your personal email (which you registered in step # 7) and verify your registration through a link that you should have received from Zoho Mail. If you do not carry out this process, your domain may be suspended.
---
You can now create your free business emails for your work team. Continue to the next section.
---
Step # 2: Create Free Business Emails For Your Work Team (2 Minutes).
Once you have learned how to create free business emails, you can assign other accounts to your team.
From the Zoho Mail control panel, go to the "User Details" section:



Select the option "Add User", register your data, and save:




DONE! You can repeat this process to add each member of your team.
---
---
Video Tutorial To Create Free Business Emails.
If you prefer, I have created the following video with the same steps to buy your domain and create free business emails.
---
Step By Step: How To Create Free Business Email with Gmail and Cpanel
We are going to show you how to create an email account in Cpanel and connect it with Gmail. So they can send business emails from Gmail and receive them there too.
This small tutorial will be useful to you to unify the management of your business email account from your personal Gmail, since if you manage several domains or accounts it could be a hassle(well, it is) managing them from several mail services, even more so if we add our personal emails to this cocktail.
---
Step # 1: How To Create A Business Email Account In Cpanel (10 Minutes)
First things first, we need an email account. To do this go to Cpanel of hosting, right in the email account section (email account).
Then enter the name of the email, for example- [email protected], meaning "@example.com" the domain linked to our hosting.
The next thing will be to create an email password. It would be good if it was a strong password, that the difficulty indicator was green, and as an attribute, a password that they can remember; the same will be to link later with Gmail service.
In the Mailbox Quota box set the mail capacity, for example, to about 250 megabytes, which is enough, but if you want you can add more. Then click on Create Account And boom!! You have created your business email.
---
Step # 2: Add Forwarders From Webmail
The next step will be to go to the top of Webmail, where the user is, and click on Forwarders to add a new one, right on the blue button. This is in the function of forwarding all the emails that arrive in this email that you have just created and going forward it to a Gmail account.
In this example, we are going to use an account created [email protected]. Now add that account in Cpanel. Paste it in the Destination field and click on Add Forwarder so that all emails that come to [email protected] are automatically forwarded.
---
Step # 3: Make sure to Check Cpanel Business Email Sync with Gmail
Send an email from a personal account to the account of [email protected] that would be just created, to see if the emails are coming to the Gmail destination. Just wait for the mail to arrive. First, we can check if it arrived in the Cpanel by clicking on Roundcube which is one of the email services.
Then go to the email [email protected] to see if he forwarded it. This is necessary to ensure that we have both emails correctly linked.
---
Step #4: How To Compose An Email from Gmail that Looks Like It Was Sent from Cpanel?
That is, you can send it as [email protected] from Gmail.
You can do it by going to Cpanel's Webmail. In the configuration menu, click on Configure Mail Client. We are going to be given a series of configurations (Mail Client Manual Settings) that we will have to place in our Gmail.
Preferably we opt for the data provided by the Secure SSL/TLS Settings box which tells us the user, the password for the email we create, as well as a series of settings such as the server ports.
Now go to Gmail and click on the settings, on the wheel, followed by Accounts and Import. Below it says "Send email as"
Click on "Add another email address".
Now put the name you want to put, in our case the address will then be

[email protected]

.
Now select "Treat it as an alias" and click Next Step.
In the subsequent window, we are going to indicate which will be the input server that appears in the Secure SSL/TLS Settings window.
Copy the name of the SMTP server example.com and paste it into Gmail.
Place the name of the email (

[email protected]

) as the username. The password will be the password with which we create the email, so it is important to write it down in a notepad so as not to lose it.
Leave the Secure connection via the TLS box selected.
In the port select 465 and click on "Add account".
Now confirmation email sent to

[email protected]

.
Go to Cpanel and Click above on the user, in Roundcube and access the email that they had just sent.
Copy the confirmation code and paste it in the check box, and click on verify.
When the window disappears, it means properly configured.
---
Step #5: Testing Corporate Email
The last step will be to verify the synchronization of emails by sending a test email. Click on compose and in the "From" part you already have a drop-down menu that will allow you to choose the preferred sender.
Select [email protected] and send a test note to your personal email to verify that everything is properly configured.
Now Gmail is ready to send all the emails we want as if it were a business account.
---
Other Options To Create Business Emails With Extra Features. [Paid]
Zoho Mail is a great platform to learn how to create business emails for free. However, there are also other platforms that you can use if you require more capacity and functions:
Zoho Mail Workplace: If you have tried the tutorial on how to create business emails and are ready to move to the next level in your company, the paid version of Zoho Mail may be your best option. It includes a large portfolio of services that simplify teamwork. From shared documents, calendars, online meetings, chat, and dozens of benefits and modules that position Zoho as an excellent inexpensive, and simple alternative for many companies.
GSuite: It is one of the most robust and complete platforms for business emails. Not only does it have a good reputation for Google, but it also offers dozens of modules at no additional cost (online documents, calendars, chat, online calls, etc.).
Hostinger: A simple and inexpensive solution for business emails. It is a good option if you are only looking to create business email accounts without the need for other tools. Their prices include a free domain and are an excellent alternative for companies that are starting and looking for the greatest economy.
Office 365: It is one of the strongest competitors in the market for being developed by Microsoft. I recommend Office 365 to companies that already have a long experience with Microsoft products (Excel, Word, Powerpoint, etc.) and are not willing to spend time learning other tools. Its support is fast and learning to use Office 365 is very simple for those who have worked with Outlook.
---
Differences Between Free Vs Paid Options.
"Why pay for a service, if there is already a free one?"
This is an excellent question when learning how to create business emails. After testing various business email platforms (free and paid), I conclude that there are a few reasons why we want to pay for a business email service:
Interface and learning time: It can be a headache to work with a system that has an unfriendly and difficult-to-learn interface. Of course, everyone has their preferences for the design and operation of each system. For this reason, an email service is worth paying for if you find it intuitive and user-friendly. The last thing you want is for you and your team to hate checking their inbox every day.
Functions: More than just sending and receiving emails, some of us need more web tools to work. These include calendars, shared documents, chat, video calls, and others that we usually use. In my opinion, I recommend you pay for a business email service that includes the work tools you need. Better to have all these modules on one platform than dozens of additional systems everywhere. You can easily compare the functions of each business email platform to make your decision easier.
Space: Generally, business email services limit the space you can store in your email account. All the messages you send and receive are accumulated along with their attachments. If you are reaching the limit of your storage capacity or if your job involves sending and receiving large files, I recommend hiring a paid business mail service. I suggest you compare the space offered by each business email platform before registering.
Support: In my case, I like to use platforms that offer the greatest number of support channels (phone, chat, email, etc). This is a great investment for companies and for this reason not all have the same support methods. In most cases, the payment options for creating business emails have the highest quantity and quality of support. You can check the support options of each company before hiring it.
---
FAQ
What Are Business Emails?
Business emails are email accounts that contain the company's commercial name through a domain (example: mycompany.com): These business emails differ from personal emails by different web providers (Outlook, Gmail, Yahoo, among others).
How To Create Free Business Emails?
To create business emails, you just need to create an account in Zoho Mail and follow the step-by-step tutorial.
Do I Need A Domain To Create Business Emails?
Yes, you need a domain to create business emails, since this will be part of the configuration that you will need when creating them.
---
Conclusion And Recommendations:
Creating free business emails may be easier than you think. If your company is just starting, creating business emails and having a digital signature will boost the trust and stability of your business in front of clients, investors, and suppliers.
You can get started for free with Zoho Mail and then decide if you need to invest in a paid business mail service. My recommendation is not to complicate this decision and start at once. It is a good decision and an easy process to implement in your company and you will feel that you have taken a great step forward in your business.
If you already have your business emails configured, how about you continue creating your website without technical knowledge or create a professional signature for your emails?
---