How to publish a website? One of the most sought-after questions, by a majority of beginners. If you have fortunately landed on this post, it is most likely that you are also looking for the same. The actual meaning of "How to publish a website simply includes a complete A to Z step from choosing a publishing platform to hosting. Well, there are a lot of main steps that are also there which we will cover in this post.
Not just beginners, even sometimes big marketers are also struggling to decide How to Publish a website and from where to start.
This is the main reason, why we bring you a comprehensive and detailed post on "How to publish a website?".
In this post, we will cover all the aspects and key points you should focus on while creating your website. And am sure you will be able to publish an effective, engaging website with a strong foundation.
Stay tuned and keep reading!
How to Publish A Website?: Pre Requisite
Before starting a website, there should be proper planning required, so that the resources can be used efficiently and increase your productivity. Let us check out what are the pre-requisite things you need to have before diving into creating a website.
 1. Choose Your Website Niche
The initial and foremost step for "How to publish a website?" is to decide your Niche. The niche plays an important role that determines your area of interest and it will be easy for you to deliver highly efficient content.
So, Niche should not be chosen as per the market needs and its value. But it should be something that you would love to explore, learn, and be interested in.
To make things easier for you, we have provided some of the most popular website niches that will help you get an idea of how vast the opportunities are.
Some of the most popular Niche are:
Lifestyle
Art + DIY
News
Business & Finance
Entertainment
Food
Tech
Science
Product Reviews and many more.
These are only a few blog niches we have mentioned that gained huge popularity, But there are many more are exist. Even, you cannot imagine how many different types of sub-niche are present within the same Parent niche. For example, in the Health niche, you can choose Health, Nutrition, Fashion, Travel, Beauty, Parenting, Fitness, Bodybuilding, Weightloss, and many more.
Another important thing you must learn is that choosing a niche is not all about just picking a random topic and starting to create content on it. But it will also impact your web traffic and How well your visitors are engaged. For example, if you took bodybuilding and Fitness as a niche, both share the same ideology but there would be differences in their theme, audience, and content.
However, whatever you choose for your website niche, you are also free to express and extend your views in another area of interest as well. And there is no foundation or any restrictions to deliver content around the chosen niche only.
2. Decide Your Website Publishing Platform
If you are a tech enthusiast, that would be a plus point for publishing a website if not, then you not need to worry. There are various tools and platforms are available on the internet, that fit every category of users and their budgets.
Let us check out what are the publishing platforms you have:
2.1. Website developed in HTML, CSS, or Javascript
If you can hire a professional web developer or already have a team member who knows how to code, your website can be created and published just by coding using the languages HTML, CSS, or Javascript. However, this is one of the most daunting and time-consuming processes, in addition to that hiring a web developer can be expensive.
Let us check out the Pros and cons of Website coding:
Pros and Cons of Website Coding
Pros
The website will be original and easy to customize
You will have full control over your website
Easy to manage
The website looks professional with a unique design
Well-optimized for conversions
Good For SEO
Better Webpage speed
Best technical/professional support
Affordable if you do not hire a developer
Cons
It can be expensive if you do not know how to code and hire a professional web developer.
Time-consuming process
There can be some errors and issues.
2.2. Website Developed on Website Builders
Since a majority of the beginners are not tech enthusiasts and even they do not have the budget to hire web developers, the best and cheapest alternative is to use Website builders. With the help of this, you will be able to create any website with a simple drag-and-drop feature.
Even, some website builders offer you to build and host your website for free with certain restrictions or limitations. Such as, if you choose a free website builder, it may allow you to use your domain name and bind you to use only the free plugins they provide.
These are some of the most popular Website Builders available you can consider:
Wix
Squarespace
Weebly
Duda
If you have a low budget with limited time, website builders can be a great choice to publish a website. But you should keep the pros and cons in mind :
Pros and Cons of Using Website Builders
Pros
No need to have coding skills
Inexpensive and Fast to build a website
Easy export websites to other platforms
No prior Web designing skills required
Cons
Not a great option for professional or Business websites
Limited customization options
The website loading time will be high
Bad for SEO
Limited features and limited web pages
2.3. Content Management System (CMS)
CMS or Content Management Systems are software-based platforms with the help of which users can create, build, and publish content easily. However, you won't find it easy to create websites on CMS as compared to Web builders. CMS has a steep learning curve but it's worth it. Once you learn how to use CMS, you will be able to create and publish highly professional business websites without any knowledge of coding.
To your amazement, it is about more than 65% of the total websites on the internet are based on CMS. Some of the most popular CMSs are:
WordPress (43.41%)
Joomla(2.44%)
Magento (0.8%)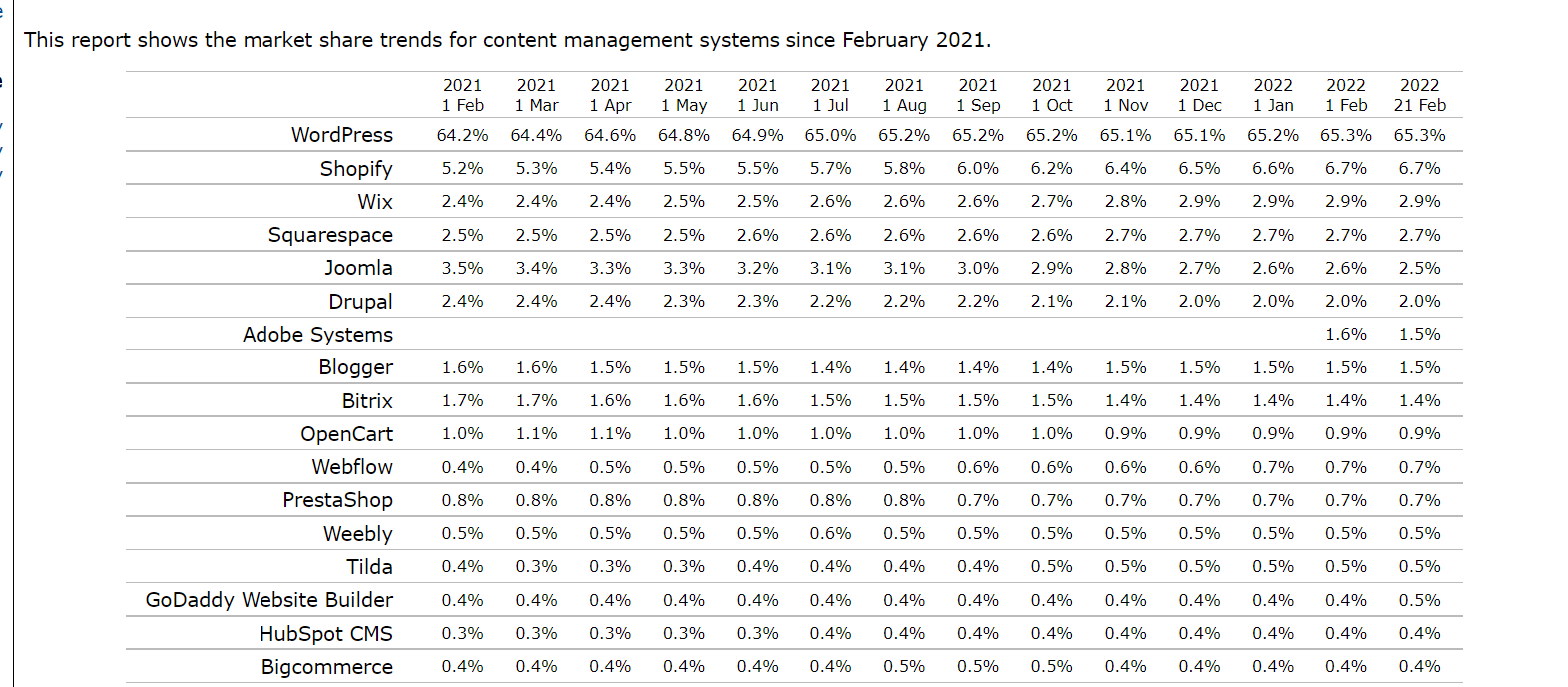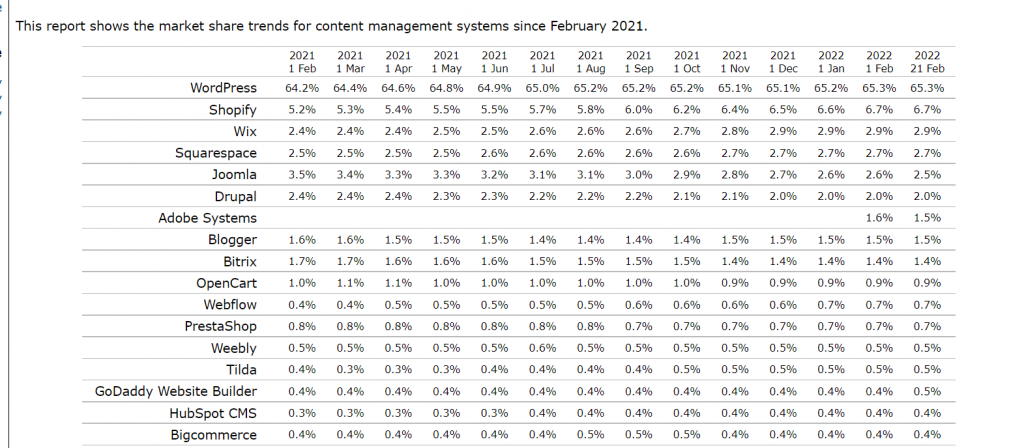 Let us check out some of the pros and cons of using CMS.
Some Pros and Cons of using CMS
Pros
No coding skills required
Quick development time
Budget-friendly
Include built-in Page builders
Best for SEO
Best Security features
A wide range of templates is available
A lot of customization is possible
A wide range of extensions, widgets, and plugins is available
Cons
Premium plugins and extensions are expensive
You have to rely on Plugins and extensions
Limited Flexibility
Needs Maintenance periodically
Prone to hacker attacks if not updated regularly
The website can potentially break or damage if not configured properly
Consume more server resources
Steep learning curve
3. Research and Decide Domain Name
If you have chosen a website builder to publish a website, you are not required to have a domain name. But if you have chosen CMS or asked a developer to build a website for you, then you must follow this step.
Owning a domain name for your website is one of the most basic and essential steps for How to publish a website. It is so important that your SEO, Web traffic, and brand are completely dependent on it. You cannot simply choose any random domain before keyword research and competition analysis.
For the best domain name, you must check these qualities to get better visibility online.
Do a thorough keyword research around your niche.
Try to choose a name from the keyword or names around it that has high search volume and low competition.
If keywords are unavailable you can choose Your own name and link it with your niche to make a Brand out of it. It is called Self-branding. The domain name should be your name and niche, the tone you use for writing, and the theme you choose that defines your personality.
Always give priority to the ".com" domain.
The name should be easy to remember and pronounce.
Make it as short, if possible make it to one word
The whole buying and registering of a domain name will depend on availability and seller. But on average, it will cost you around $10- $20 per year/domain.
4. Choose Hosting Service Provider- WPOven Makes it Easy!
If you are building your website on CMS or hiring a web developer, you will be required to have a Web hosting service to host your website. It is like a home you are living in, putting your all website content in it and the domain name as your home address.
These hosting services provide all the resources that a website needs to run and manage all of its vital functions. So that a smooth and seamless website experience can be delivered. But it can be only possible if you choose the right hosting service provider.
Without a second thought, WPOven is one of the best Web hosting service providers that you can trust. We have servers and data centers with dedicated hotspots around the World that keep your blog connected to the internet all the time.
Some of the key Features of WPOven are :
24/7 customer support
You can choose a data center from our 13 locations around the world.
Can host unlimited websites
Provides and Staging platform and easy Sync
We offer a Dedicated Cloud with SSD Storage.
Complete Security
And Plans start at $16.61 per month. It is one of the lowest and best plans for anyone who likes to start a WordPress blog.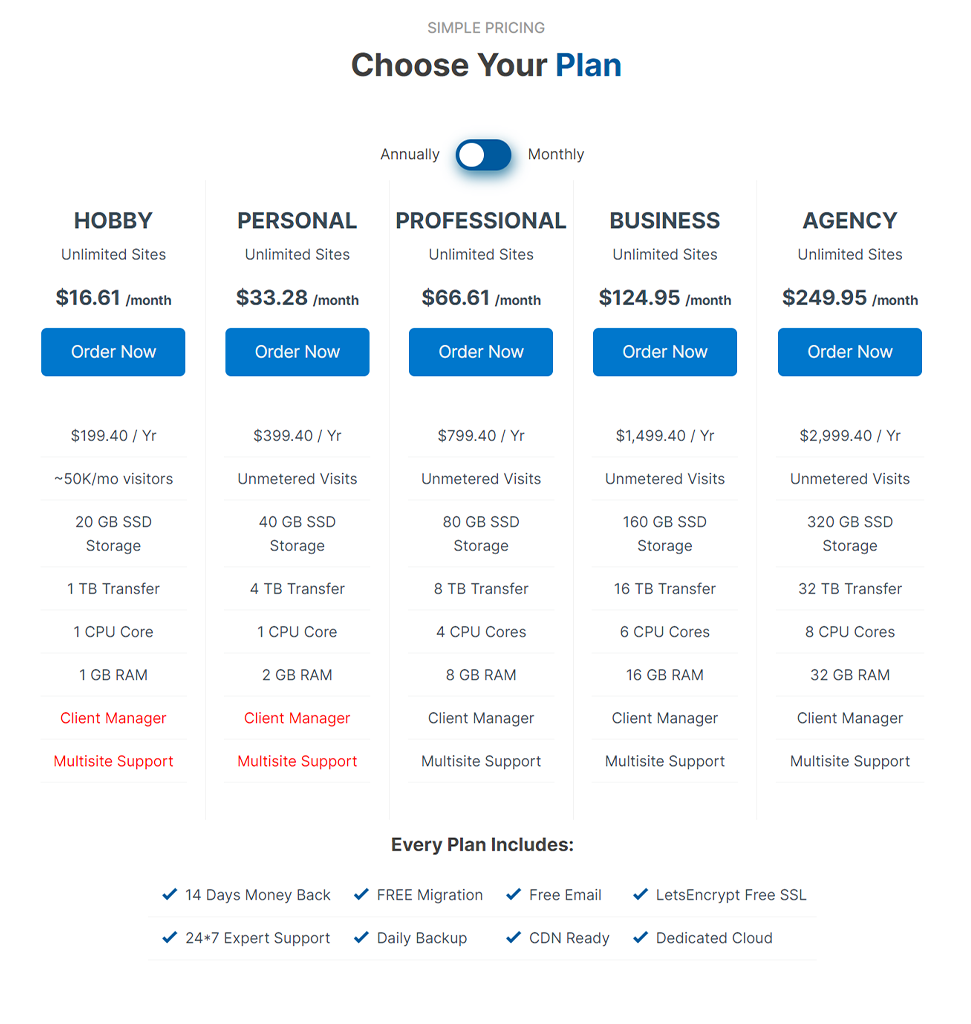 5. Plan Your Content
It does not matter, what method you choose to build a website. But what matters is the content you push. It is the only thing that decides your fate. So, it would be great, if you have preplanned your content before designing your website. No need to go into deep at first, but must have a basic idea of what your page content would be.
5.1. Competitor Analysis
If you don't know where to start for the content, the best thing you can do is to do a Competitor analysis. See what your competitors are doing and on what topics they are ranking well.
Check out all social media channels and see what people are interested in. Covering all the areas, make a comprehensive list and start working on it.
5.2. Do Keyword Analysis
There are plenty of free keyword research tools, with the help of which you can easily perform keyword analysis check out which keywords your ideal audience is looking for, and use these keywords in your content so that people can easily find you.
You can create your content using primary and secondary keywords to get better visibility in the SERPs. If you use only a primary keyword, for example, an eCommerce website, which has higher search volume and high competition it will be difficult for you to get the top position in SERPs.
Whereas secondary keywords are long-tail keywords that have generally high search volumes and low competition. They add context to the content and by combining both short as well as long-tail keywords it will be easy for you to rank better in Top SERPs.
5.3. Use Infographics and Videos in Your Content
Visitors usually don't like textual content, because it seems dull. To make your content more informative and attractive, use multimedia and graphics that explain well your topics.
In fact, according to Statista, there has been more than 83% of internet users in the USA love to access video content. The majority of online visitors prefer to consume video-based content that explains the products and services well rather than textual content.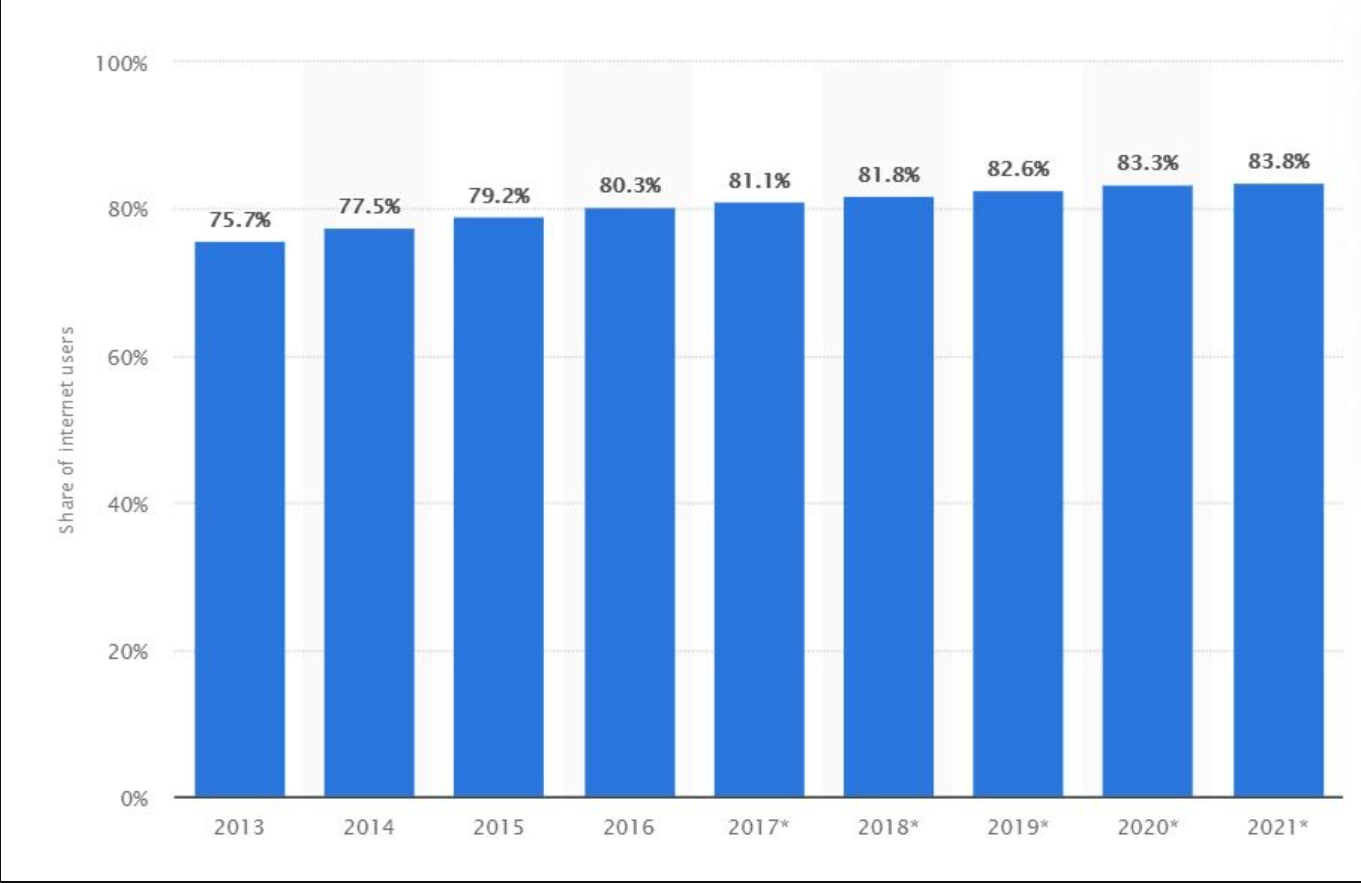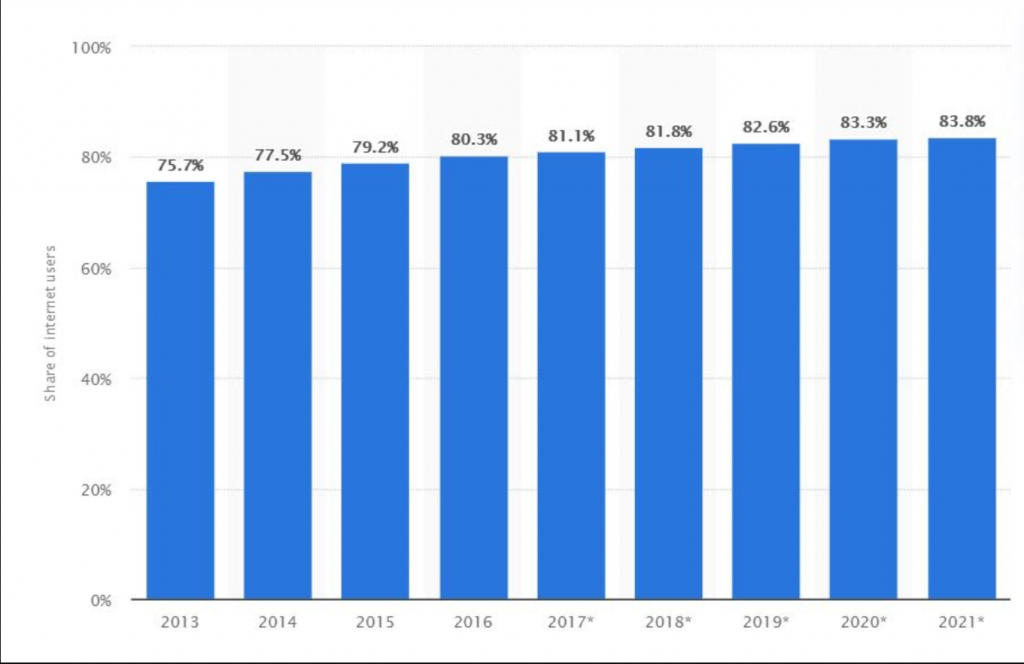 5.4. Proofreading and Updating Your Content
Review your content and check if there any mistakes or grammatical errors are present. You won't like your visitors to find mistakes in your content and even it is not good for search engines. Always do proofreading before making it live.
There are plenty of online tools available such as Grammarly or Paperrater, with the help of which you can make things a little easier.
6. Create and Design Your Website
To have a great website, the fundamental part that you must work on is its user interface and responsiveness. However, there are a lot more other factors that will be required to build and design a website that we will discuss in this section:
6.1. Structure of Website
The first step in creating a website is to design its layout. Make a rough sketch of your website on a piece of paper, i.e. how do you like it to be? What are the features you are going to provide and How many pages you will require?
It is somewhat like a blueprint that can help you build your website in a systematic and well-structured manner.
However, if you are using a Website builder that has a drag-drop feature or templates to design or create your website you might not need to have a rough sketch but it will still help you out and save your time to a great extent.
6.2. Decide Your Brand and the Theme
The theme and design of the website should be per your website niche. The logo, tagline, colors of the website, and content of the website should match the brand.
If your brand is new, come up with creative and innovative ideas to attract visitors and implement them such that How you want your visitors to feel when they land on your website. Try to connect with the visitors with your design and brand.
6.3. Focus on User Experience (UX design) and Responsiveness
No matter how good and world-class content you push on your website. If it is not easy to access or quite confusing for your visitors, it will be all waste.
This is the main reason, why you should focus on your User experience. UX is all about making an easy and seamless experience for your visitors on your website. The more you make things easy for your visitors, the more will be user engagement and user retention.
In addition, your web design must be consistent, stable, and easy to access on all the possible screens available. As per the reports by Perficient, there is about more than 61% of the total visits are driven by mobile devices in the USA. Whereas, 36% were from the Desktop and 3% were from Tablet.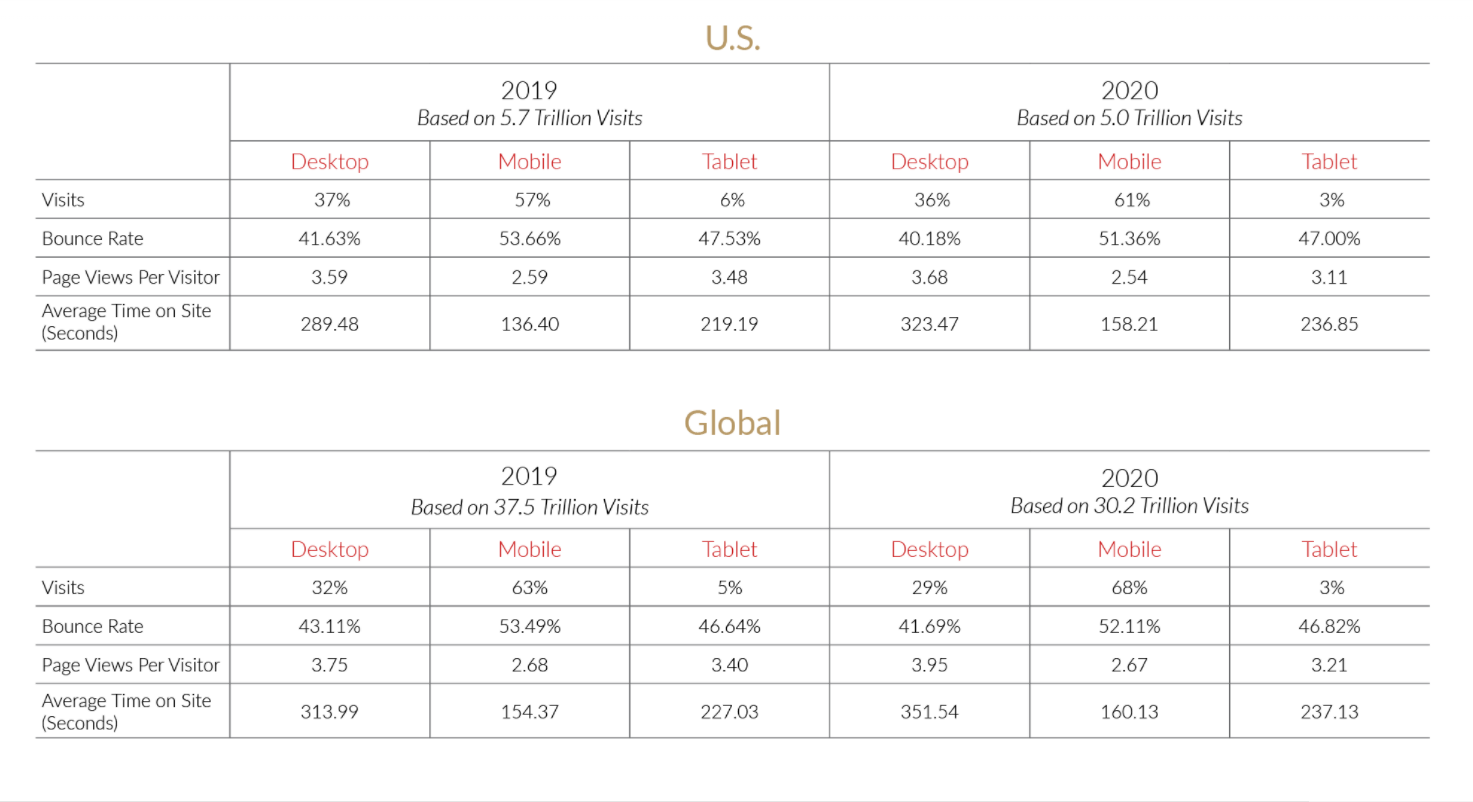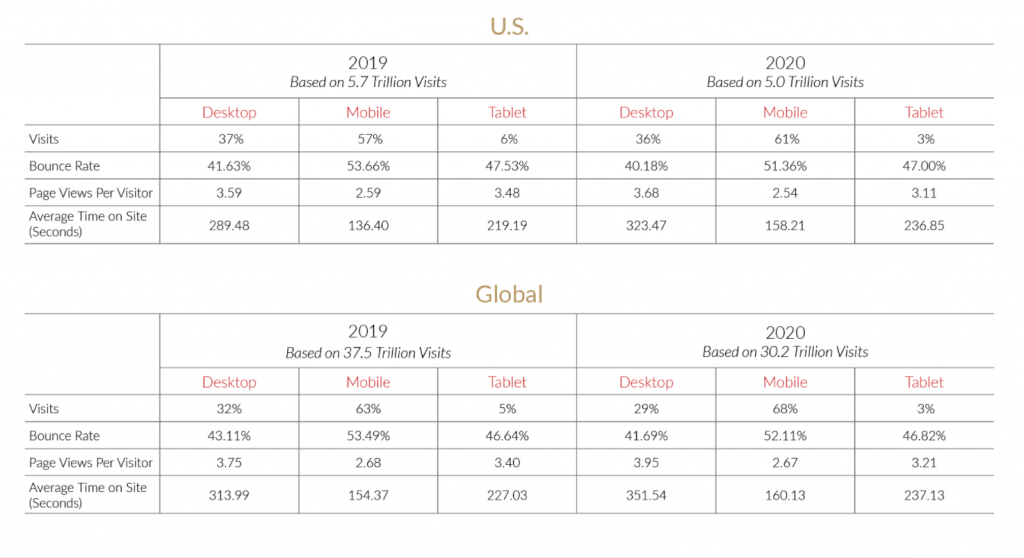 Even, the Global share of visitors from mobile devices is also more than 68%, which shows how it become essential for websites to have responsive designs.
To deliver a better experience without fail, it is suitable to perform A/B tests and analyze which design works best for you before making it live.
6.4. Run Test on the Website
Before launching your website, Upload all the graphics, files, and content to check the performance of your website. Whether it runs smooth, has no bugs present, and has a good loading time or not. It's better to run your website on a staging platform to check how would it appear before making it live.
If you found your website performance is slow or not up to the mark you can read out a detailed and comprehensive post on "22 Best Ways to Speed Up WordPress Performance" and boost the performance of your website.
7. Putting the Website on Live
Now, this is the time, you are going to share your website with the entire audience on the internet. If you have followed all the steps mentioned above and followed all the tips to build a website such as domain registration, buying a hosting service, content planning, building and testing your website performance, the only thing that is left for you to do is to fire the publish button and you are ready to go.
But you are not done yet, you are also required to do some more important steps such as:
7.1. Indexing Your Website in Search Engines
You are not done yet, after launching your website successfully, you need to index your website in search engines to make it visible to visitors. However, Google or any search engines will eventually index the newer websites on their own but to make this faster, you have an option to index your website on the Google search console.
All you need to submit your website to the Google search console and verify website ownership.
There are mainly two ways available through which you can verify your website ownership such as:
Using the Domain (New and Easy)
URL prefix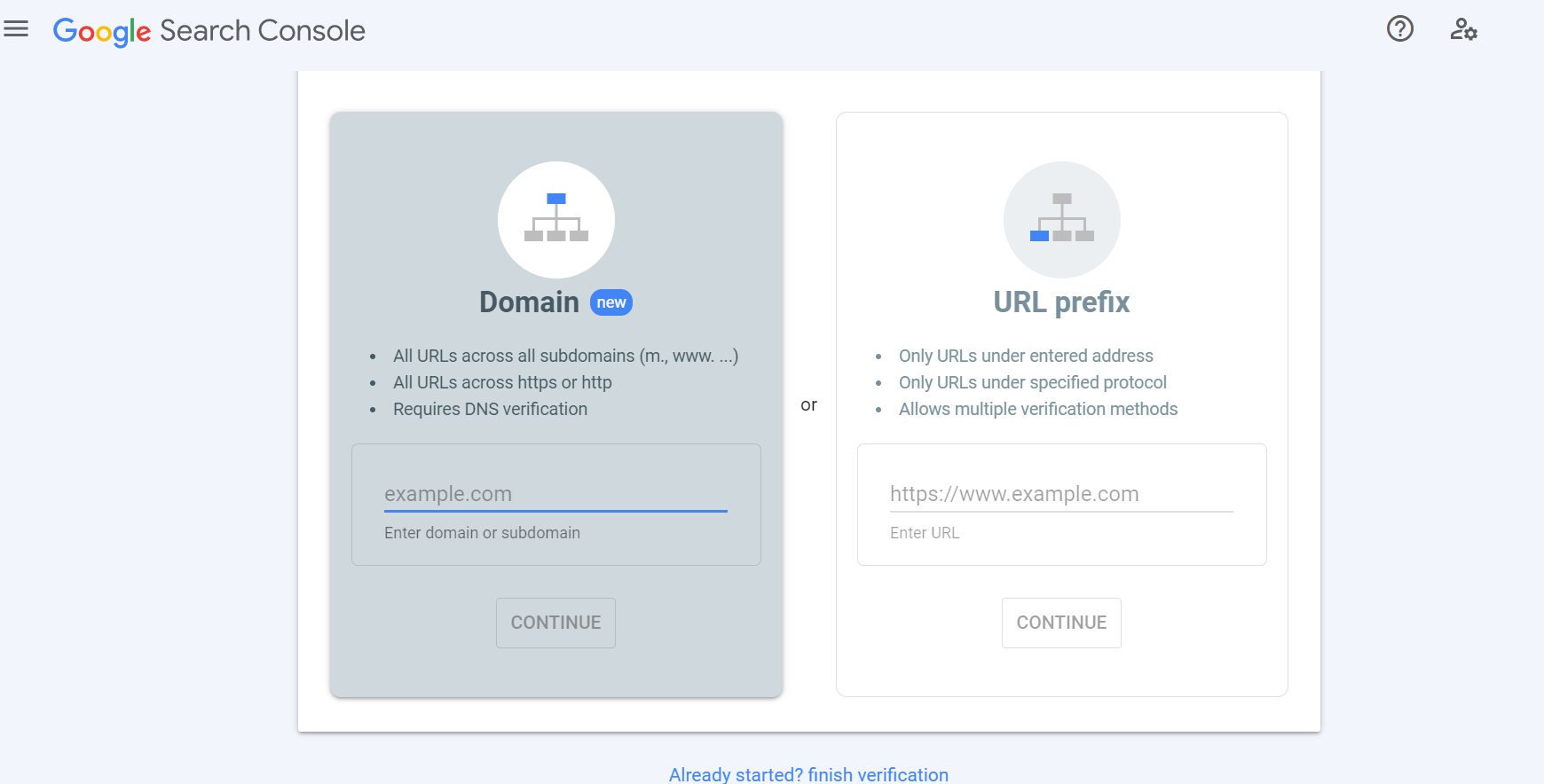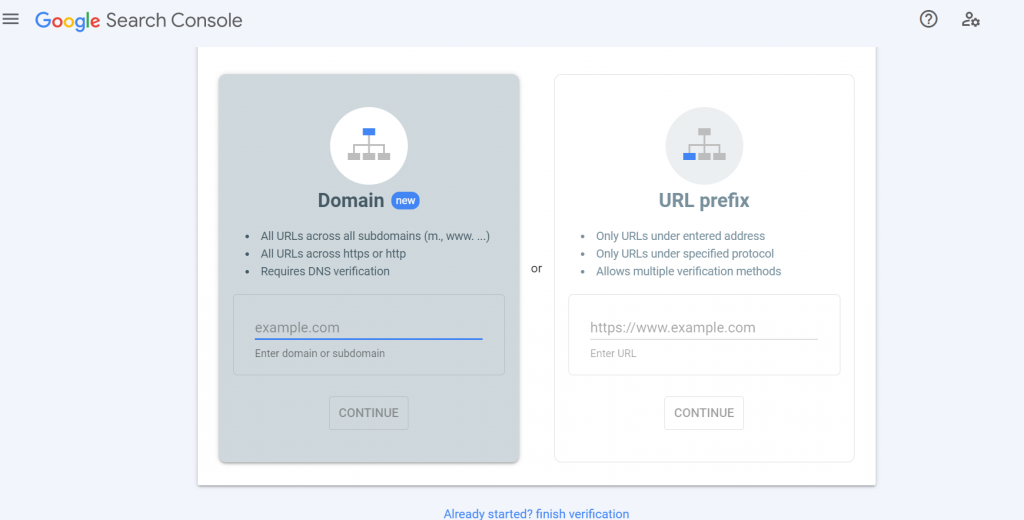 8. Optimization and Grow Your Website
After launching and indexing your website on search engines, the only thing left for you to work on its Search engine Optimization, Updates, and Growth
Let us check out what things you can do and focus on to improve the performance of your website and grow.
8.1. Push New Content and Add Features from Time to Time
You must push new content regularly and maintain this continuity so that your audience will be engaged and show interest in your content. In return, it will increase your website traffic and user retention which is a good thing for your SEO.
Follow your content plan, which you have made earlier, and keep pushing new content weekly. In addition to it, you must also try to bring new features to your website and update the old content from time to time.
8.2. Grow Your Website Using Best SEO Strategies
To grow your website organically and build your brand, the best thing you can do is to follow the best SEO strategies. Although you have already done some of the SEO tasks such as keyword analysis for your domain name and content. But there are some more important areas for SEO to explore such as:
Work on Content marketing (with best SEO practices)
Work on Technical SEO (Broken links, HTTP Security and redirect loops)
On-page SEO (Optimizing your website and other pages)
Off-Page SEO (Content creation and earning backlinks from other websites)
and many more.
8.3. Generate Revenues from Your Website
After putting a lot of effort into publishing a website and receiving consistent web traffic, Now it is time to generate revenues out of it. To make this happen many monetization methods are beyond just selling products or services and help to generate a decent passive income.
Some of the best methods to generate revenue from a website are:
Using Google AdSense
Selling Website space to advertisers
Start Accepting Guest and Sponsored posts
Through Affiliate Marketing
By writing reviews
Using an email list and many more.
You can also read our complete and detailed article on How to Monetize a blog in which we have covered all the possible ways through which you can generate revenue from your website.
8.4. Create Awareness
There is no better option than Social Media marketing to Generate awareness among people. Social media is considered to be one of the best platforms to drive traffic to your website. According Statista to There is about 82% of the total US population currently uses any social media.
From this data, you can assume how much it can be beneficial if you implement an engaging social media campaign that can drive traffic to your website.
All you need to do is create a page or account of your brand on various social media platforms and update your content regularly. If possible run social media advertisements but try not to post any sponsored or promotional content but let your audience know about your product and services through informative posts or videos that help to build awareness and show how much it can add value to them.
Try to engage with your subscribers or followers and be social with them.
Summary
For any beginner, publishing a website can be an intimidating and time-consuming task. But once you figure out all the steps involved, you will be able to build and publish websites more quickly without any delay. With proper strategy and the right guidance, anyone can publish an effective website that reflects your brand or business with its full potential in the best possible manner.
If you find anything that we have missed to cover in this post or would like to add more points that can add value to it, please do let us know in the comment section below:
How can I publish my website for free?
There are a lot of Free website publishing platforms available such as"
1. Wix
2. Blogger
3. WordPress.com
4. Weebly
Although these platforms help you to build and publish a website for free. But they provide limited features and functionality.
Do I have to pay to publish my website?
If you do not own a domain, you can publish a website on various Free Platforms, such as Wix, wordpress.com, Weebly, or Blogger. But if you have registered a domain name and looking to build a website, you will be required to pay for hosting to publish your website.
How do I submit my website to Google?
To submit or index a website to Google, you need to have a Google console account. Open the Google search console on your browser and enter your website URL to initiate the website ownership verification process.
Choose any one of these two verification methods and you are done.
1. Using the Domain (New and Easy)
2. URL prefix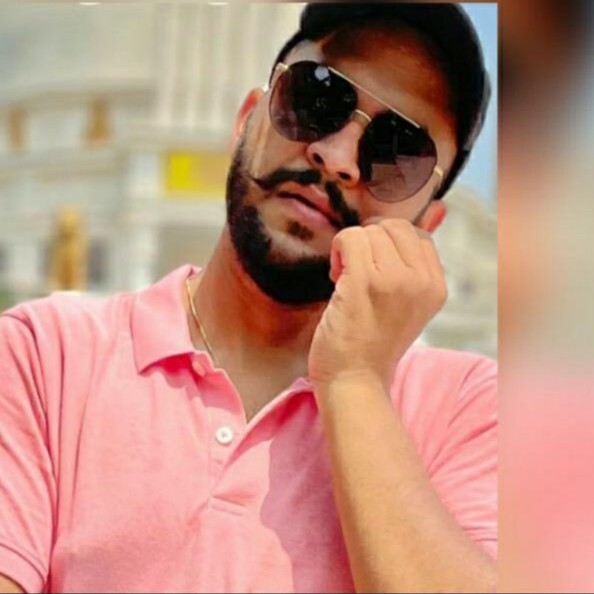 Rahul Kumar is a web enthusiast, and content strategist specializing in WordPress & web hosting. With years of experience and a commitment to staying up-to-date with industry trends, he creates effective online strategies that drive traffic, boosts engagement, and increase conversions. Rahul's attention to detail and ability to craft compelling content makes him a valuable asset to any brand looking to improve its online presence.