We have been pushing a lot of articles revolving around speeding up WordPress and its performance in lots of posts. Due to this, there has been a lot of confusion has been arising among users that where they can get all the best practices to speed up WordPress in the best possible way. To make this a lot easier and more comprehensive, we are going to share with you some of the most effective and working methods to speed up WordPress, that we have gathered from our past 8 years of experience.
During Technical auditing of your WordPress, WordPress Speed has to be your utmost priority. After all, nobody likes to wait for a website to load. But with the help of the right guidance and tools, you can get insights into your WordPress performance and analyze what areas you should work on to Speed up WordPress.
We did our best to cover all the aspects of Speed Up WordPress such as Why you need to Speed Up WordPress site? How can you check your WordPress insights? What are the main reasons that your WordPress is slowing down and What method you should follow to speed Up WordPress immediately?
Just keep reading this post and unveil all the answers.
---
---
Why do you need to Speed Up your WordPress site?
You won't like your WordPress Admin panel or Dashboard from where you manage your website to perform poorly. Not only affects your work efficiency by also makes things even words. Apart from this, even visitors won't like poorly managed and performing websites whose speed has been compromised and whose loading time has been increased. Nobody likes to wait and choose to move to other websites, once they go away, there are very less chances that they will ever come back.
Let us see what the main reasons to Speed up a WordPress site are:
Search Engines rank websites with faster loading times higher in SERPs as compared to WordPress websites which are slow. So, if you want to get positioned at higher ranks you need to focus on speeding up the WordPress site and making it top of your priority list.
As per recent studies, it has been observed that websites that have a loading time of fewer than 2 seconds have an average bounce rate of 9%, and websites with have a loading time of 5 secs have shown a drastic increase in bounce rate by 38%. So, to retain your maximum traffic, you need to speed up the WordPress site immediately.
If you are running an e-commerce store, the speed of a website can seriously impact your overall revenues. Even a slight second delay can lead to losing potential customers. It is because online buyers are important fellows and they like to webpages load instantly. So, if you are running an e-commerce store on WordPress, you have to speed up your WordPress online store to make your business more profitable.
---
How You Can Check Your WordPress Website Speed?
It has been observed that the majority of the website owners do not perform Website speed tests from time to time. Especially the beginners who think that their website is running fast enough on their browser. But they are unaware of the fact that they are making a huge mistake.
Since, as a beginner, you visit your website on your PC through some modern browsers such as Google Chrome. They have the functionality to store the website as a cache so that whenever you visit the website again the website can load instantly.
But in the case of any other user who has never visited your website on their browser and for the first time visiting your website, won't find the same fast website loading experience you usually find on your browser. Even, the website experience can also vary from one location to another depending upon the location of the server and the browser they use.
Due to this, it is highly recommended for any website owner to check website speed using only standard tools such as the Google Page Speed Insights or Pingdom Website Speed Test. These two are some of the popular and free online Website Speed testing tools that provide your website speed vitals and insights.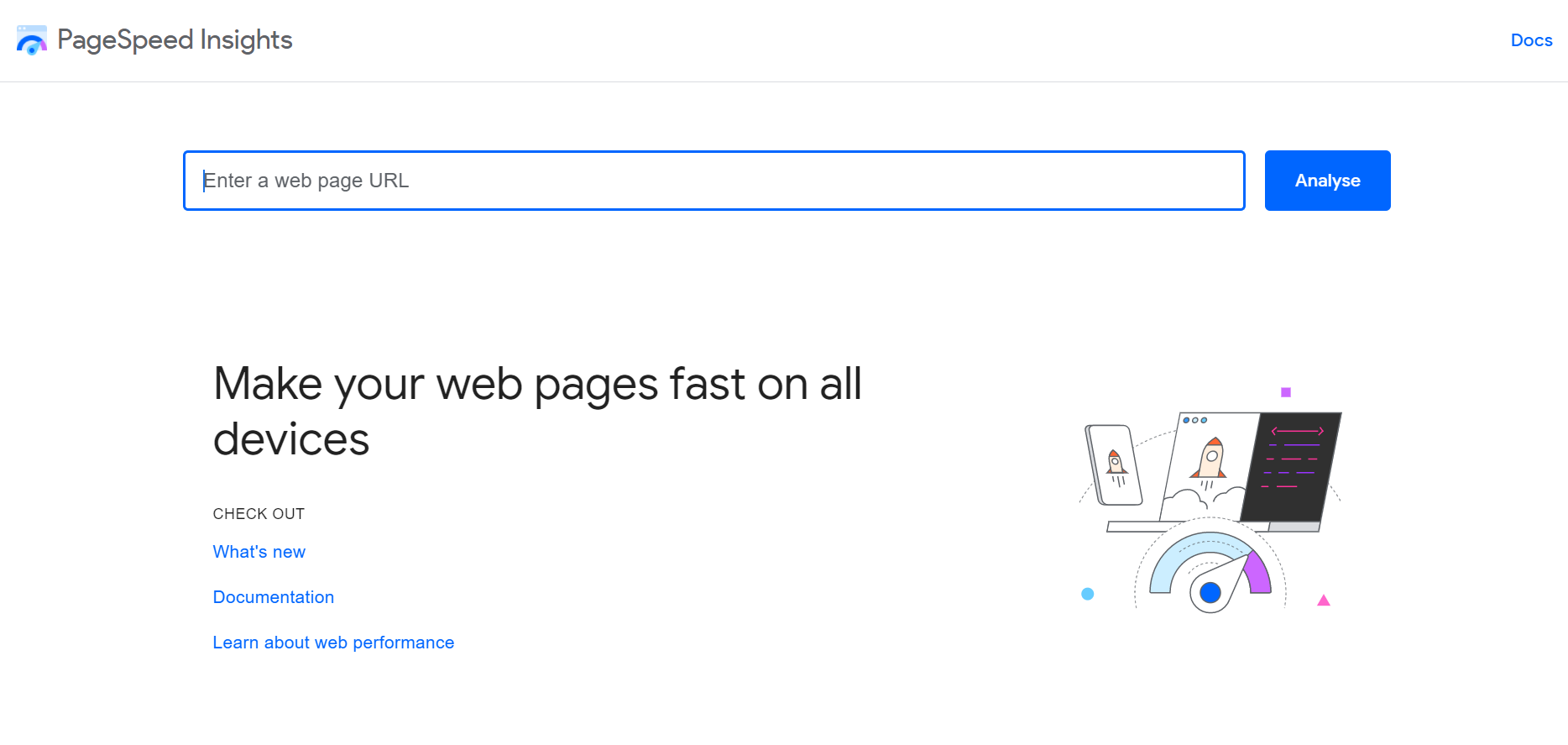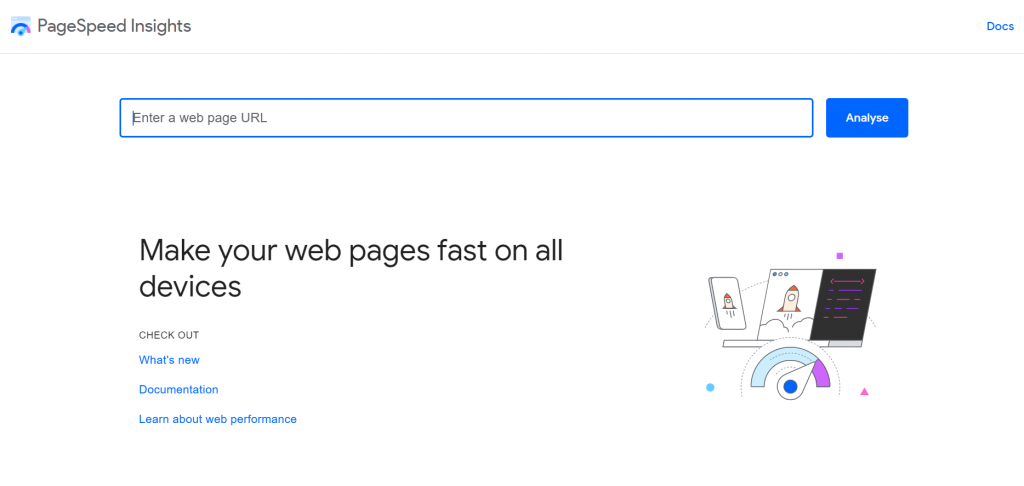 When you enter a web page URL and perform a speed test, you must be thinking about what areas you need to work on to speed up WordPress. Well, there are a lot of parameters that you need to consider but the main thing is to achieve a webpage loading time of fewer than 2 seconds.
Lowering the webpage loading time faster will improve your WordPress website. Even a fraction of a second's improvement can speed up the WordPress website. For your better understanding of this area, you need to understand some Core Web vitals so that you can easily understand and work on them accordingly.
Understanding Core Web Vitals
Google has set certain parameters to check the Core Web Vitals of a website such as page loading time and if a user is satisfied with your website after its existence or not, which is an essential thing that contributes to overall user experience.
Google is the largest search engine, uses Google speed insights to determine and analyze the performance of each website on the internet. It analyzes the webpage loading time to determine whether the users are feeling frustrated with poor website speed and the rate at which users bounce back from your WordPress website.
All these can be easily improved by understanding how the Core Web Vitals works, which helps to speed up the WordPress site. Generally, Google distributes Core Web Vitals into four elements.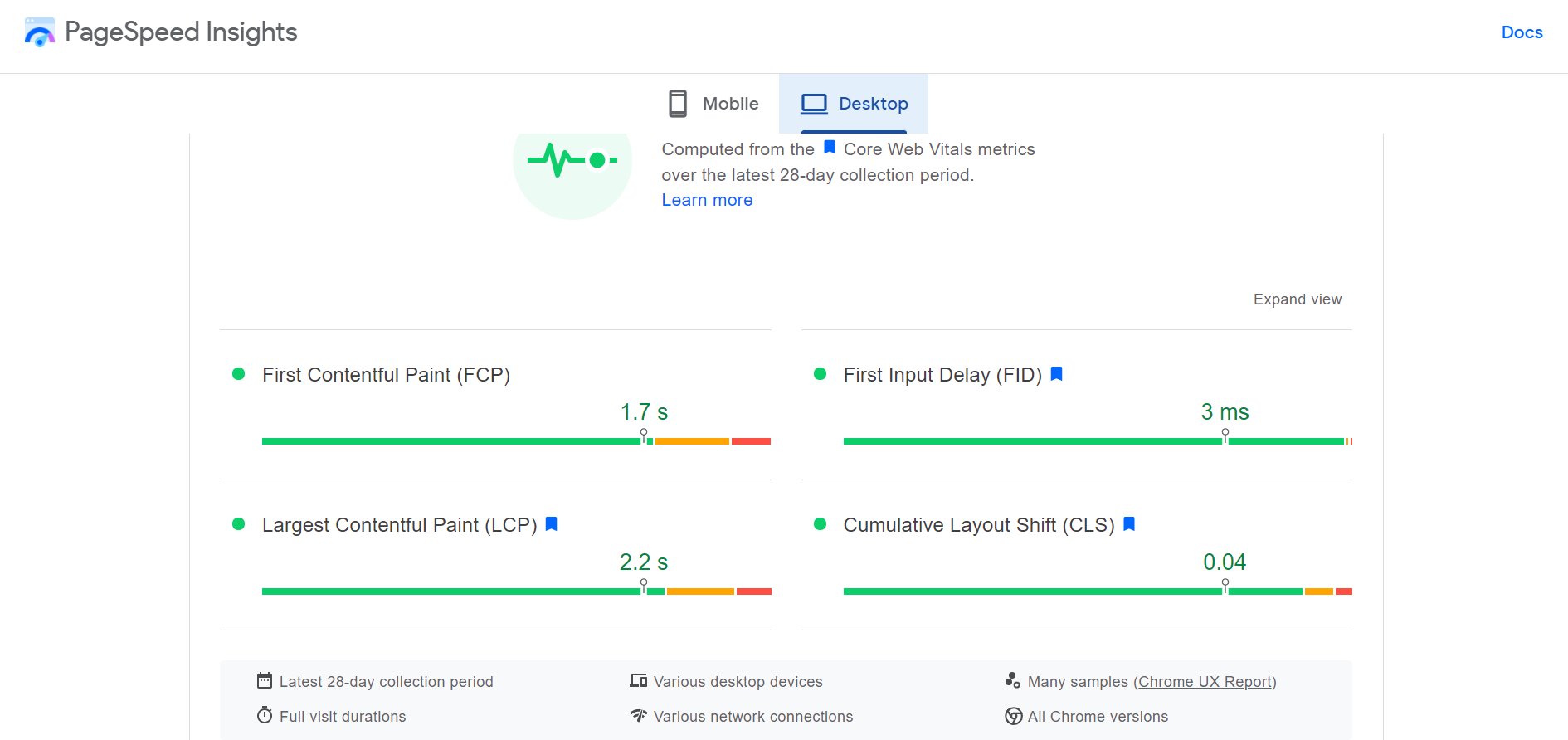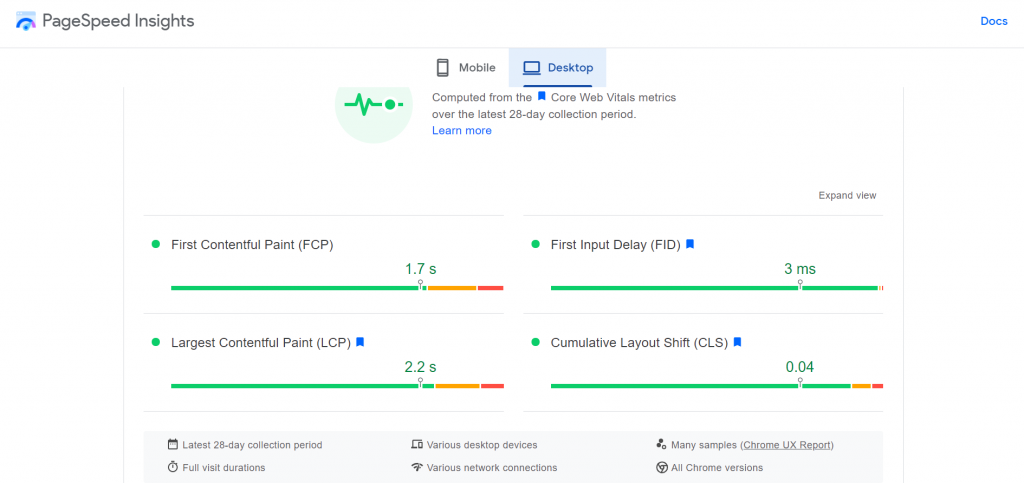 FCP (First Contentful Paint)
FID (First Input Delay)
LCP (Largest Contentful Paint)
CLS (Cumulative Layout Shift)
FCP (First Contentful Paint): It is a performance metric that measures how quickly a visitor can see the actual content of the webpage. It is the total time taken by the browser to load a page from the beginning to the extent when any content is rendered on the screen. Lowering the value of FCP better will be for the user experience and your visitors will be able to access the content as soon as they land on the page without delay.
FCP thresholds:
Less than or equal to 0.934 seconds – Good
More than 0.934 seconds to 1.2 seconds – OK but need improvement
More than 1.2 seconds but less than 1.6 seconds- Longer than recommended
More than 1.6 seconds – Very Poor
FID (First Input Delay): It is a metric that measures how much time it takes for a user to interact with your webpage. Interaction with the webpage can be either filling up the form, clicking on the menu bar, or many more. So, if your WordPress site is based on interaction then this metric is very essential to measure the user-interaction speed and you must work on it.
FID thresholds:
0 to 100ms – Good
Between 200ms to 300ms – Needs improvement
Between 400ms to 500ms – Poor
LCP (Largest Contentful Paint): It is a metric that measures the time taken to load the webpage from clicking the first link to display maximum content on the screen. These metrics help you to analyze from the user's point of view what elements are affecting your LCP in Google Page speed insights.
LCP Thresholds:
From 0 to 2 seconds – Good
From 3 to 4 seconds – Needs improvement
From 5 to 6 seconds – Poor
CLS (Cumulative Layout Shift): It is a metric that measures the visual stability of content on the webpage when it loads. In other words, it measures the visual stability of a web page, for example, if graphics or images on your webpage are moving around when the webpage is still loading, then it means it has some serious CLS problem that needs to be fixed.
CLS thresholds:
From 0 to 0.1 seconds – Good
0.1 to 0.25 seconds – Needs improvement
0.25 to 0.3 seconds – Poor
---
What are the reasons that slow down your WordPress website?
When you perform a website speed test, you will come across multiple metrics and parameters which is recommended for improvements. But in most cases, beginners are not aware of these technical terms, and it becomes difficult for them to understand.
Understanding all the terms and how you can use them to improve your overall website performance can be a smart move that helps you to make proper planning and sustain the same performance for the long run.
Some of the main culprits that cause slower WordPress sites are:
Bad Web Hosting: If you have chosen a bad web hosting service provider that doesn't provide you with a proper infrastructure as well as not configure their servers properly, it can badly affect your website speed.
Bad Plugins: If you have installed plugins that are poorly coded or installed from random third-party websites, they can also affect your website speed significantly.
Poor WordPress Configuration: If your WordPress site has been poorly configured and unable to serve cached pages then it will become a burden on the server and cause the website to be slow.
Adding External Scripts: When you add external scripts or javascripts such as ads, banners, etc., they also have a significant impact on your WordPress site performance.
Size of page: The size of a website also affects your website speed. If Graphics and videos are used in high quality without optimizing them properly can significantly affect your website speed.
Now you are aware of some of the main factors that affect your website speed and performance. Let us see how you can speed up WordPress sites in different ways.
---
How you can speed up WordPress sites?
If you want to make efforts from your side to Speed up the WordPress site, we have mentioned different tactics that you must try on your own. On another note, it is not necessary to try out all the methods or solutions at once wanting to speed up the WordPress site instantly.
Rather, you can choose whichever method is easy for you and your convenience. So let's check out!
1. Choose a reliable and Better Web Hosting service provider.
One of the most important and major factors that influences your website speed is the Web hosting service provider you choose for your WordPress website. Some web hosts will lure you with attractive offers such as unlimited bandwidths, unlimited sites, email services, and many more with shared hosting.
But the main thing we usually do not consider while choosing a web host is whether shared hosting is capable of handling huge traffic during peak hours and will be able to provide continuous uptime. Shared hosting does have not a good track record for delivering good website performance, it is because they are more than one user sharing the same server space and there is no fixed how much resources they use. In addition, you will have no idea whether the servers are well-optimized or not.
Fortunately, there have been a lot of changes taking place in the web hosting industry. There have been a variety of services being offered with advanced technology at a very competitive price. At present, you can have dedicated cloud Servers offered by various cloud companies such as AWS and Google Cloud. But here comes, the most daunting task, These cloud servers need to be well configured and set up from scratch, which can be very tricky for any user.
So here comes the Managed Web hosting providers as WPOven comes into play. At WPOven, our servers are preconfigured to optimally run your WordPress sites as easily as click and launch. Your site will be blazing fast once it is running on our custom-configured servers for WordPress and with dedicated resources. 
2. Speed up WordPress by Removing Unused & corrupt Plugins
The second tactic you can try to speed up the WordPress site is checking out if all your installed plugins are working perfectly. It is because, in most cases, a faulty, unused, or corrupt plugin can affect your site speed and cause your website to lag. You can perform a plugin performance test with the help of another plugin Query Monitor, which you can install for free and it will let you know if there is an issue with your website.
In addition to it, you must also remove or delete unused Plugins, because they are unnecessary loads on the server which can also affect website speed. You must choose the plugin with multiple functionalities with the best performance rather than installing multiple plugins for each feature.
The more plugins you will install it will significantly affect your WordPress site speed.
3. Delete Unused or Corrupt themes and use a light one
Just like Plugins, you also need to consider themes that you have installed on your website. You must check if the installed theme is the main culprit for slowing down the site speed, if is it loaded with heavy graphics or design, does it has any lagging issues, or is poorly coded. These issues generally occur when you download themes from third-party sources that are not reliable and not trustworthy.
Your topmost priority should be Website speed and the theme which you are using must not affect it at any cost. So just like plugins, you must remove all the unused themes from your WordPress and install a light one from genuine and verified sources.
4. Speed up WordPress sites by using the Caching plugin
One of the most widely used and popular methods to speed up WordPress sites is to use a WordPress caching plugin. The browser usually stores temporary data so that we can quickly access that data anytime we submit a request to our browser. This temporary data collected by the browser is called a cache. The Caching plugins create HTML pages for your website and store them on your server. Whenever a visitor tries to visit the website again and again, the caching plugin will show the stored HTML pages which are lighter rather than serving and processing the original site PHP scripts.
In simple words, a caching plugin will serve the light HTML version of your website to visitors each time.
For your convenience, you can also check out our detailed post on the 11 Best WordPress Caching Plugins to Speed up the WordPress site.
5. Speed up WordPress by using CDN (Content Delivery Network)
CDN is another one of the best options available so far, especially for speeding up WordPress sites. These tend to provide better and more reliable loading times for any type of website you want. But if your website is hosted at WPOVen, you are even required to have a CDN. Our utmost priority is to provide the default setup so fast that CDN is not required.
However, if you still want to have CDN there are plenty of great options available out there, such as Cloudflare and Cloudways CDN.
6. Speed up WordPress by Optimizing and Compressing all your media files
We know how much quality matters in increasing user experience, but it should not affect website loading time. The use of heavy media files such as graphics, images, and videos, not only covers your server space but also increases the load on the server, which slows down your WordPress site.
So, for this reason, another thing you can do to speed up the WordPress site is to compress and optimize your media files. To do this, there are various free plugins available that can compress all the media files without compromising their quality.
Overall, the lower the media file size better be page loading time and the better the WordPress Speed optimization.
7. Keep Updated your WordPress with the latest version available
Always keep updating your WordPress with the latest version available. No matter whether it's WordPress core files, WordPress themes, or WordPress plugins. You must keep all the elements of your WordPress to be updated with the latest version available. But you must keep one thing in mind before final updating, you must check and test on a staging site, whether the latest update will be effective or not, Or does it creates any other issues.
If you find everything is alright and working fine then apply it on your live website.
8. Speed up WordPress by Disabling Hotlinking
The concept of Hotlinking is not new but you may find it new due to a lack of awareness. Let us understand Hotlinking with an example, Suppose, you find an image on the internet randomly or somewhere on another's website, and you use the image URL directly on your website. The image will be also started to show on your website but it is hosted on the website server from where you took the image URL. In this way, you are stealing that website's resources and bandwidth without using your own.
There are various ways through which you can disable and prevent Hotlinking such as:
You can prevent Hotlining by using WordPress plugins.
Enable Hotlinking protection in CDN
Restrict hotlinking by directly Blocking Specific Domains
Hotlinking protection by Disabling right click option in WordPress
Prevent Hotlinking by changing or renaming your Files
Built a Hotlink protection tool in cPanel
You can also read our detailed post on What is Hotlinking? How To Prevent In WordPress Websites. and disable hotlinking on your website.
9. Speed up WordPress by Optimizing your homepage
The homepage is the only page where a visitor lands for the first time while accessing your domain. So it becomes necessary for you to optimize your homepage to speed up your WordPress site. You can make it as simple as possible without any unnecessary heavy graphics, large media files, tools, or useless widgets.
You must keep things minimum, simple, and short. Displaying Longer posts or content on the homepage takes a lot of time to load, which affects website speed.
The simpler and lighter your homepage is, the better its loading speed.
10. Speed up WordPress by Reducing the size of your WordPress site
From the above method, we have already mentioned that when you keep your web pages on the lighter side, it will be very easy and fast to load. Similarly, you should try to reduce or compress your WordPress site, so that it lowers the burden on the server and reduces bandwidth, which helps to speed up your WordPress site.
This can be easily done with some software applications such as GZip which can compress and reduce the size of your website by 70%. This is a significant degree of compression and after being compressed, your website will load faster.
There are plenty of WordPress caching plugins available that also provide the GZip feature by default. All you need to do is simply install and activate a WordPress caching plugin, and it is done.
Some best WordPress caching plugins with the GZip feature you can consider are:
11. Speed up WordPress by Removing unnecessary Widgets
Usually, the majority of WordPress websites are burdened with lots of unnecessary Widgets and this is the main reason why most of them have poor loading time. Most users are unaware of the fact that instead of increasing the functionality of a website, using too many widgets can seriously impact their website's performance.
Widgets or any social share buttons tend to increase the load on your website server and as a result, your website becomes sluggish and slow. So, the best thing you can do to speed up a WordPress site is, to keep widgets to the minimum and install only those that are essential and your website needs it. The other alternative but much efficient is to use codes., which require fewer resources and will not affect your website speed.
12. Keep everything close to your data center
To speed up the WordPress site, proximity also plays an important role. When you are considering hosting and servers, make it on your priority list to check whether the Databases and WordPress sites are located in the same data center or not.
If both the website and Database are located in the same data center, it will become easy to fetch all the website content without any issue, and no delay, Syncing with the database will become easy and seamless and ultimately speed up the WordPress site.
Therefore, at WPOven we provide Global coverage with our data centers are available all over the world there is always one near you.
13. Speed up WordPress by Cleaning the junk out of your WordPress Database
To better Speed up the WordPress website, database optimization is what you need to do regularly. Over time, your WordPress database collects all junk files and it gets filled up, which ultimately slows down your WordPress site. To avoid this, the best thing you can do is to clean up all your unnecessary or junk files stored from time to time.
You can carry out this process either with the help of WordPress database plugins if you are a beginner or not tech-savvy. Or you can go another way using the manual method only if you are tech-savvy Because it requires a lot of technical stuff such as basic knowledge of WordPress databases and How to access them.
14. Speed Up WordPress by Limiting Database Calls
Many WordPress unnecessary widgets, social share buttons, and poorly coded WordPress themes don't follow WordPress standard protocols and allow direct database calls. These are some of the reasons that send unnecessary calls or requests to the Database which overburden the work and slows down the server.
So, to limit or reduce database calls, you need to replace the unnecessary data calls with your specific information.
15. Speed up WordPress by Restricting Post Revision
Post Revision is one of the best features available in WordPress. But it is also true that some features are not feasible for everyone. Similarly, being a great feature Post revision can be a serious problem for some users, especially those users who have a low database or disk space.
Post revision is a feature of WordPress in which whenever you update or change the content of your website, a fresh copy of the post will be saved without removing or deleting the previous post in the database. It is because, in the future, if the user likes to revert to the previous post, it will become easy for them.
On the other side, it also keeps on increasing the database size, which ultimately affects your WordPress performance. So to speed up the WordPress site, you can restrict or reduce the frequency of the autosave function of a post. To do this you need to add the following line to your wp-config.php file.
define( 'WP_POST_REVISIONS', 3 );
This code will reduce the autosave frequency by 3 last revisions of your content and also delete the older one.
16. Speed up WordPress by Optimizing your Javascript and CSS files
Whenever you run a speed test on your WordPress site, especially with Google Page Speed Insights, and in the test results it shows a warning msg to minify Java Scripts and CSS files. It means you are required to optimize the sizes of your Java script as well as CSS files, which helps to speed up the WordPress site.
Even though there are many WordPress Caching plugins available, they help to optimize Javascript and CSS files too such as Autoptimize. With the help of these plugins, you can easily limit the Calls and minify file sizes, your website loading time will become faster and lower the burden of bandwidth usage.
17. Speed up WordPress by Paginating Comment sections and long-form contents
No doubt user engagement increases your visibility as well as it is best for SEO. But it can also affect your website if resources are limited. Similarly, the Comment section is one of the common features that help to increase user engagement on a webpage or blog. But if your blog or page is popular and resources are limited, hundreds of comments can seriously affect your website performance as well.
In addition to it, the majority of the comments will comprise advertisements or Spam by bots that have no significance. To avoid such and speed up the WordPress sites, you can either disable the comment sections or paginate them.
If you think your website is not receiving huge comments or the comments are not significant enough, you should disable them. Or you should consider paginating the comments section.
Pagination lets users load comments if they like to and the only interested users will be able to see the comment section. To do this all you need to go to your WordPress dashboard > Settings > Discussion.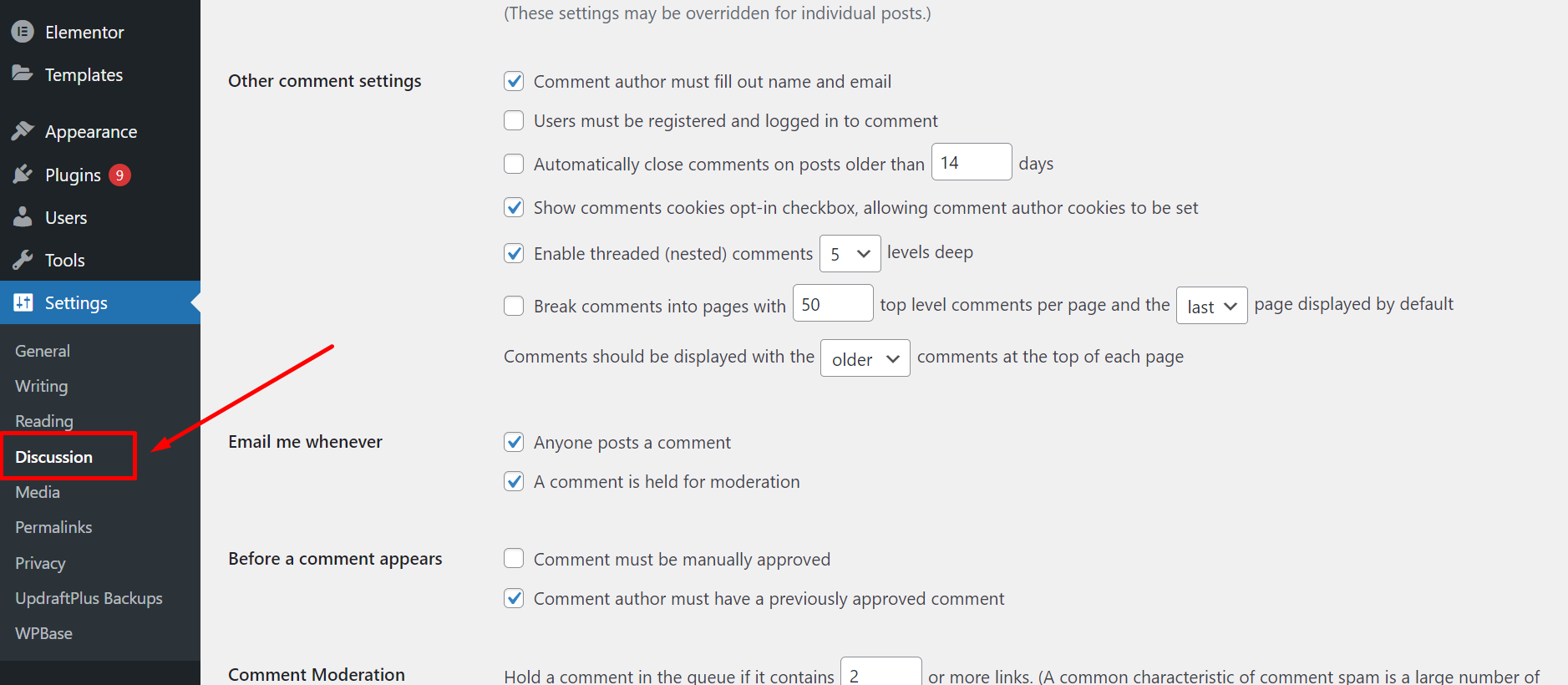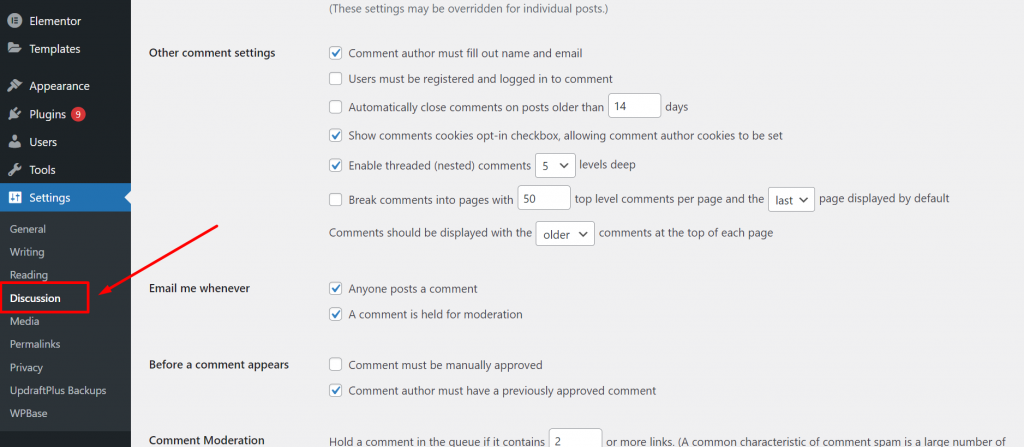 Similarly, you can also use pagination for your long-form content. In this way, it will shorten the length of the overall page and it will get quicker to load. In addition to it, it also increases users' readability and engagement. There are a lot of themes are provide an option to opt for paginating content but in case it is not available you have always tried the manual method.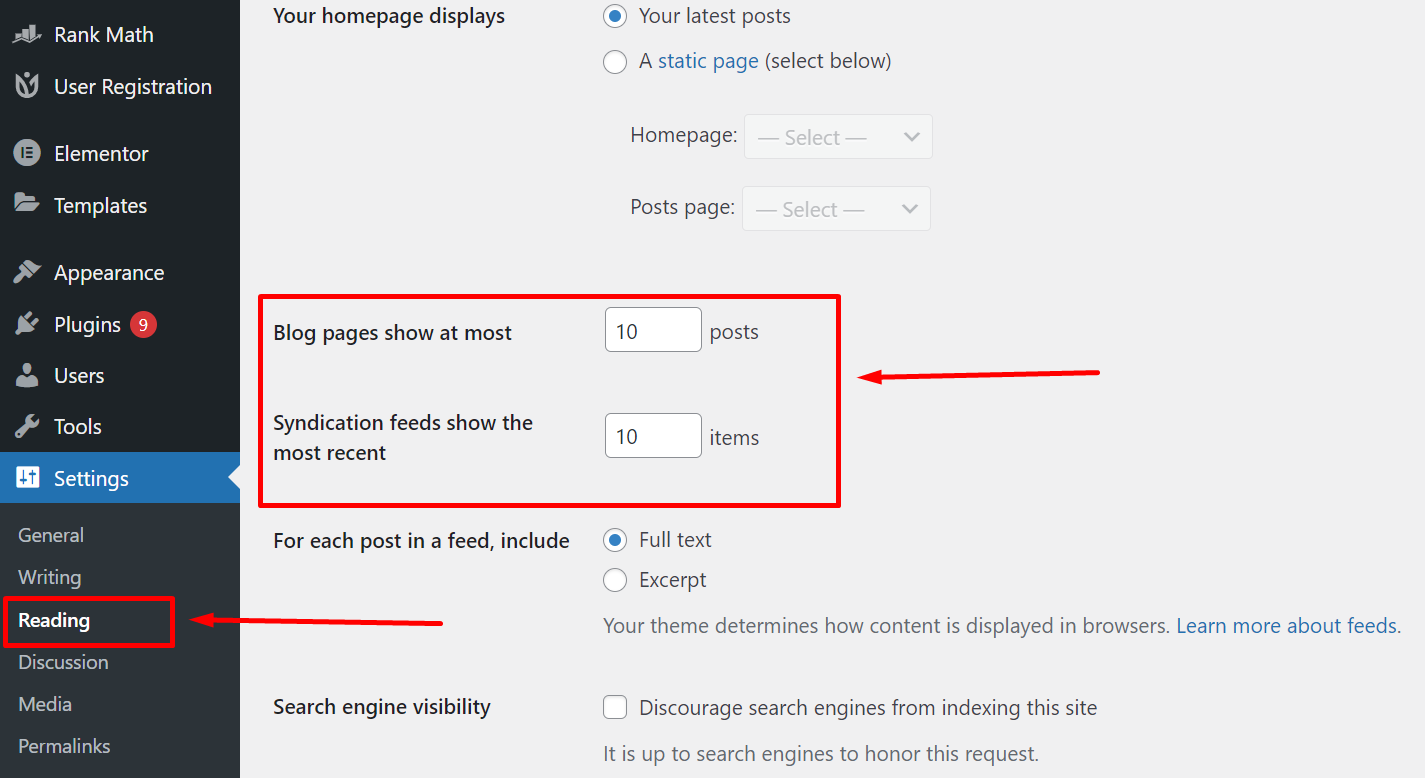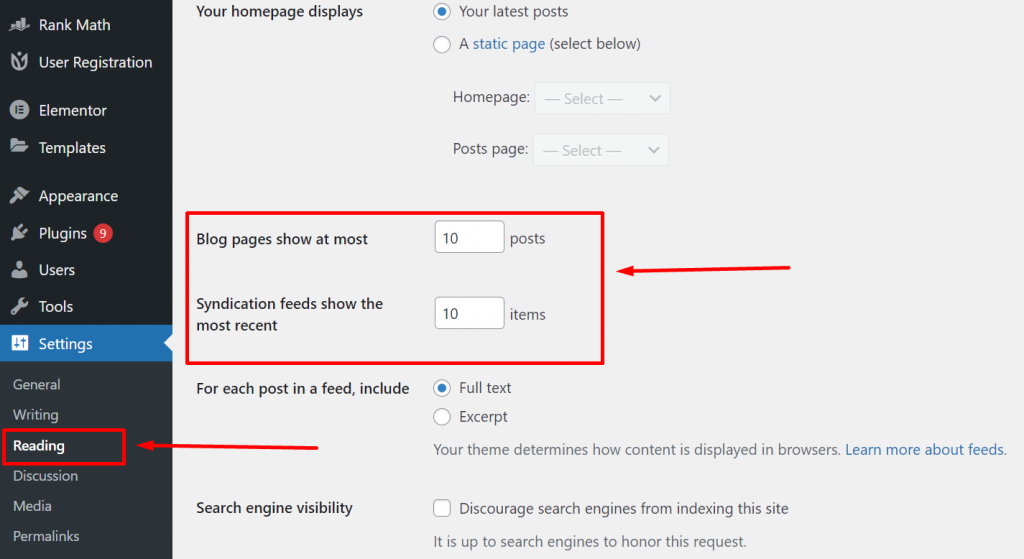 For the manual method, All you need to do is open the single.php file in your Theme editor and add <?PHP wp_link_pages(); ?> in the WP loop.as shown in the picture below: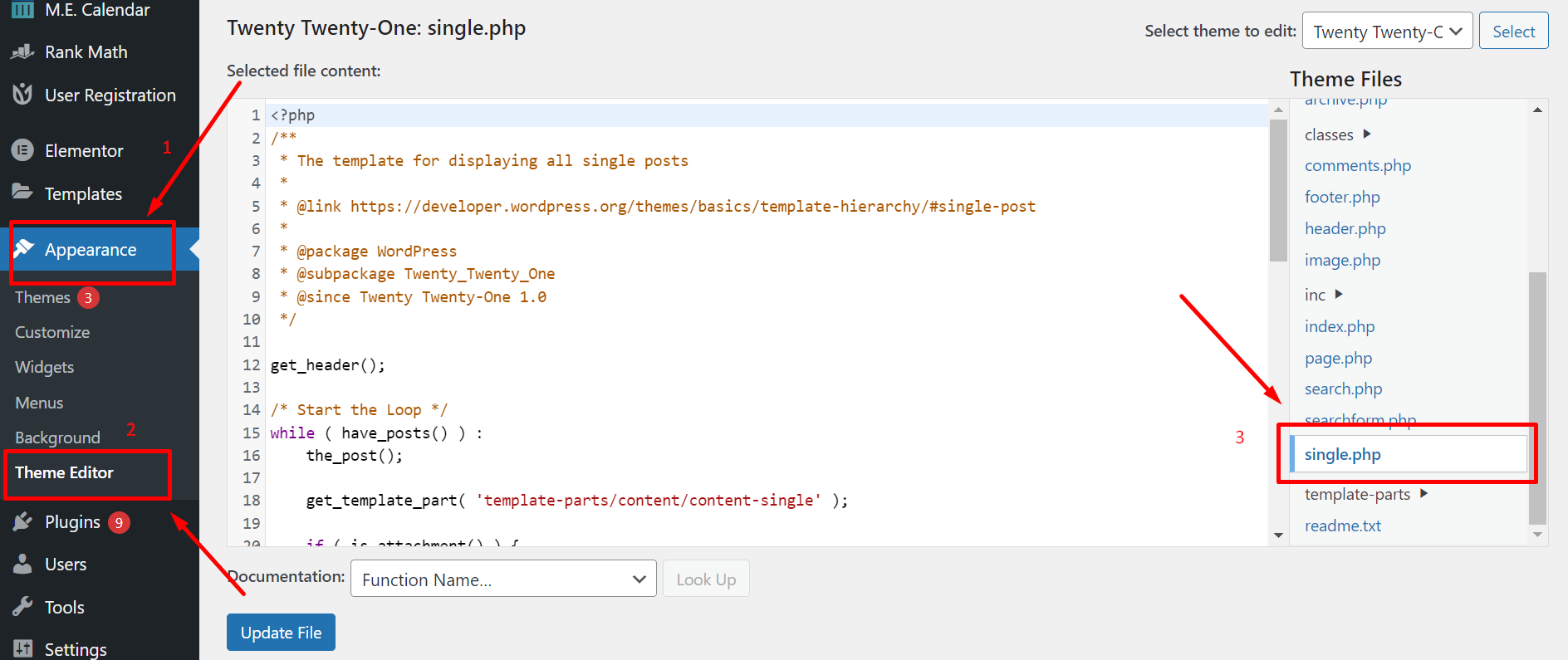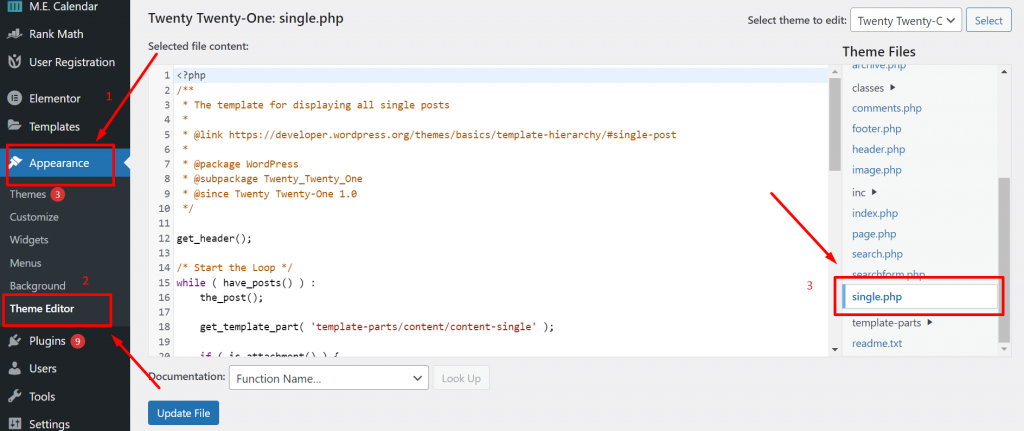 18. Try to Limit External scripts and HTTP requests
Your WordPress themes and plugins are one of the major sources of external scripts and create maximum HTTP requests. These external scripts are responsible for calling a variety of resources such as images, CSS, JavaScript, and many more, which adds up to a big chunk of data that affects your loading time.
So to speed up WordPress sites, it is better to keep External scripts to the minimum and opt for only the best and essential ones such as Google Analytics. You can also check your WordPress website's source code and see there are a lot of scripts running that you are not familiar with.
19. Speed up WordPress by enabling the Lazy Loading feature
"Lazy loading" is one of the best features you can enable to make fewer HTTP requests and speed up WordPress sites. With this enabled feature, the images or videos on the website won't load until the user begins scrolling down your website. But you may wonder how this feature will help to speed up WordPress sites.
Here is the answer, the media won't get loaded until the user has not scrolled the webpage, hence it won't trigger an HTTP request for the initial page load. Due to this, it won't affect the user experience as well. The fun fact is, that the majority of the users do not know about this feature and the difference between regular and lazy load.
Now the main question is, How you can enable this feature on your website? Well, like any other adding feature, there is also a plugin available named Lazy Load in the WordPress directory. Now you might think, that adding again a plugin will affect your website site, but to your knowledge, this plugin takes only up to 10KB of space and does not consume too many resources. All you need to just install and activate the plugin and you are ready to go.
Some key features you would like to know:
Make fewer HTTP requests
Improves loading time
No javascript library is used
Can replace YouTube iframes
Pricing
Owned by WPRocket, lazyload is an open-source plugin available free to install and use from the WordPress directory.
20. Host your visual content on third-party websites
Visual content such as Videos and infographics are some of the best things to engage your audiences. But they are also required to use a significant amount of server resources. Which can ultimately affect your website speed. So, to speed up the WordPress site along with using visual content on your website, the best thing you can do is to host your videos or visual content on some third-party video streaming websites such as YouTube or Vimeo.
You can make a channel of your website on YouTube and upload your videos. Later you can embed the video code on your website's content page if required. In this way, your website servers will be exempted from being utilized by your videos.
21. Opt for a better and more reliable Database
This is one of the most important things that you should always do for a better, reputable, and reliable database for your WordPress site. Whenever you are planning to move on to another host or start from the beginning, you must always research which database they are providing you.
It is because databases are one of the vital things that influence your Website speed. and most commonly MySQL is provided by a majority of the hosting providers. It is because MySQL is reliable and provides good speed. But if possible try to get MariaDB, because comparably it is faster than MySQL.
22. Always use Google fonts
Google fonts are an extensive library that makes it easy to bring personality and performance to your website and products. Often most WordPress users prefer to use Google fonts on their website because it is hosted separately doesn't affect the server and helps to speed up WordPress sites.
Google Fonts are one of the great ways to boost the performance of your website and you must know how to make maximum use of them to speed up WordPress sites
So, to do this, the first thing you need to do is to make sure that Google fonts are pre-loaded or not. Another thing you need to do is make sure the Google fonts are downloaded on your system. If possible, the last thing you need to do is to utilize a few variations in the fonts, because the more variations you use it will taker the longer time to download them.
---
Summary
Although there are also plenty of complex and complicated solutions available that help you to speed up WordPress sites. The tactics that we have mentioned in the above post are enough to provide you with significant positive results.
Having a blazing-fast website speed, not just increases website user experience but also improves overall SERP rankings, loading time, user retention increases conversion rates, and many more. It is also worth mentioning that, in this fast-paced lifestyle, everyone loves visiting fast websites.
We hope, that reading the above tactics to speed up WordPress sites can be very helpful for you and that you will be able to try out a few methods to speed up your WordPress site successfully.
However, if you find anything more worthy points that we forgot to mention, please do let us know in the comment section below:
---
Frequently Asked Questions
How do I make my WordPress site faster?
Here are some of the best tactics that you follow to speed up WordPress sites:
1. Choose a reliable and Better Web Hosting service provider.
2. Delete or Remove Unused or corrupt Plugins
3. Delete Unused or Corrupt themes and use a light one
4. Use a Caching plugin
5. Use CDN (Content Delivery Network)
6. Optimize and Compress all your media files
7. Keep Updated your WordPress with the latest version available
8. Disable Hotlinking if any and Prevent it in future
9. Optimize and make simple your homepage
10. Reduce the size of your WordPress site
Why is WordPress going so slow?
Although there can be many reasons for WordPress going slow, the most common reasons are using poor quality web hosting that doesn't match your requirements, not using any CDN that reduces load, not using any caching plugins, and installing too many widgets and plugins.
How do I check my WordPress speed?
To check WordPress website speed, there are plenty of online tools available but you can use these two standard tools Google Page Speed Insights and Pingdom Website Speed Test. These two are some of the popular and free online Website Speed testing tools that provide your website speed vitals and insights.
---