Taking your business online for the first time and changing your online infrastructure. Both are challenging if you have half or no knowledge about the best option available to manage a flawless online business. Today, we are going to discover some of the smartest ways to identify and choose managed WordPress hosting. We shall also understand how managed WordPress hosting is a better alternative to shared hosting or any small VPS.
Make sure, when you start best, you get the best and managed WordPress hosting is the perfect choice to get started and scale up your growth.
---
---
What Is Managed WordPress Hosting?
Managed WordPress Hosting is a combined package of the best hosting solution with developer management support that offers you server infrastructure management for your website. Typically, managed hosting was used for dedicated servers earlier but now this management is offered for Different hosting types like VPS, Cloud, and sometimes shared also. Talking specifically about WordPress, the managed WordPress hosting solution offers you dedicated hosting optimized for a WordPress website with complete servers managed by the hosting provider. You just need to focus on growing your online business.
To understand Managed WordPress hosting in detail, we must compare all types of hostings like shared, unmanaged, or DIY Hosting and managed hosting.
---
1. Shared WordPress Hosting
Shared hosting is a web hosting solution for people who are just in a beginner state and willing to start a small blog or website.
---
Caution: If you have long-term serious goals, shared hosting is not for you.
---
Shared WordPress Hosting is generally cheap price hosting that starts somewhere between $3 to $10.
Who are these people who choose shared hosting?
Those who are building their first website.
Bloggers who were using blogger.com or WordPress.com and planning to create independent infrastructure for their blog.
Those who have no idea about web hosting start with a plan that's purely dependent on pricing and not on value-giving.
People who love cheap services.
The above points seem quite discouraging. Right? We don't want to discourage you. In fact, if you are a beginner and have a low budget, you can always go for shared hosting but always know what you get with low-budget hosting.
What you get with Shared Web Hosting?
It is very important for you to understand the difference of what you get and how good it will be, for you website, blog or whatever you are planning to host. Let's see
Shared web hosting is often cheap hence you don't get a good amount of server resources. If a web hosting solution offering unlimited shared hosting resources comes to you, it is time to avoid them. In shared hosting, you can never get that unlimited CPU, RAM, etc to load your site faster. In reality, there is nothing called Unlimited. When we, at WPOven say Unlimited hosting, it's about hosting unlimited websites but we also take care of the kind of resources that are being allocated for your website.
For example, if you are hosting 3 websites with us, we allocated maximum resources to the website which is consuming more CPU. So, this always helps your website users to experience uninterrupted fast performance.
Your site can face outages or downtime since your CPU is being shared by 500+ other websites. Any problem or over consumption by one website can affect the other website being hosted on the same shared host. It's like sharing the same plate with too many eaters. A clever foody will eat more and you may get less.
Lastly, the shared hosting business doesn't make much or no money selling shared hosting. It is actually a kind of targetted lead for them where they try upselling products like domain or upgrading the server is an upsell for them. SSL and other add-ons are some of the associated upsell in the shared hosting business.
We are not against shared hosting solutions but it is purely for starters.
---
Our recommendation: If you are a new blogger willing to start a blog or creating a test website then shared hosting is good for you.
---
2. Unmanaged Hosting
You must not have heard about unmanaged hosting before. This is because such hustings are only used by professional developers. Here you don't get support or optimization services because it is a complete DIY system. You get what you choose.
These hosting solutions are offered by companies like digital ocean, vultr, linode starting at $5-$10 dollars but any mishap with your website management will be your headache. Their will be a cost cut in getting a quality server but it needs a lot of skills to get started.
If you wish to focus on growth for your online business forgetting about the headache of managing your servers then Unmanaged hosting definitely not for you.
---
Note: Almost all managed hosting also offer options to choose the unmanaged version where you get full SHH control and custom server setting options.
---
What you get with Unmanaged Web Hosting?
Unlike shared hosting, unmanaged hosting is a good option but as we discussed before. this solution comes with extra skills that you must possess. So what you get when you choose unmanaged web hosting?
You get full control of setting up your server from scratch.
It cut cost but at the same time makes you completely responsible for any website glitches.
Unmanaged Hosting offers the options to choose your server location, resources, the allocations etc to offer an uninterrupted solution.
No dev support is offered in this. You get what you know.
---
Our recommendation: Unmanaged hosting is good for SAAS businesses that are just beginning and also a way to go ahead and keep upgrading as they go.
---
3. Managed WordPress Hosting
Managed WordPress Hosting is the best solution for entrepreneurs who wish to focus only on growing their business. The best thing that we know about every successful entrepreneur is they focus on what really matters for growing their business and pass on secondary work to designated skilled persons.
Managed WordPress costing varies somewhere between $20 – $150. It is worth investing in as it allows you to grow since your site loading and performance improve with fast loading. Even search engine algorithm prefer ranking fast websites.
Similarly, when you choose managed WordPress hosting, you can hand over server management to your hosting company.
What you get with Managed WordPress Hosting?
Managed WordPress hosting offers you a complete package of everything that you need to grow your business. Let's understand this package properly.
Complete server management.
Full on dev support to meet your tech needs.
24/7 support for both sales and technical help.
Hacking prevention and malware scanning support.
Pre-installed CMS with add-on features to boost your online business.
These are some few features, in this blog, we are going to over 33 reasons to choose managed WordPress hosting. Do read till the end.
Let's take some site speed testing into consideration using GTMetrix and test same website by migrating it to Shared, unmanaged and Managed Hosting solution. This will make it more clear for you to identify you choice, need and match it with your budget as well.
---
Site Speed Testing With Different Hosting Types.
In this section, we are going to take a sample website, host it on three different types of hosting solutions, and share the results of its site speed and loading time.
We have created a demo website for testing [ freesmtpservers.com ] that has decent traffic so that we can test it by migrating the load on different types of servers. Used GTMetrix for site speed testing.
---
1. Results on Shared Hosting
We tested the site speed on shared hosting with a demo website and found the following results.
2. Results On Free Hosting
---
Note: There are few hosting companies that offer free hosting where you can create demo websites. We used one of it to test.
---
3. Results on Managed WordPress Hosting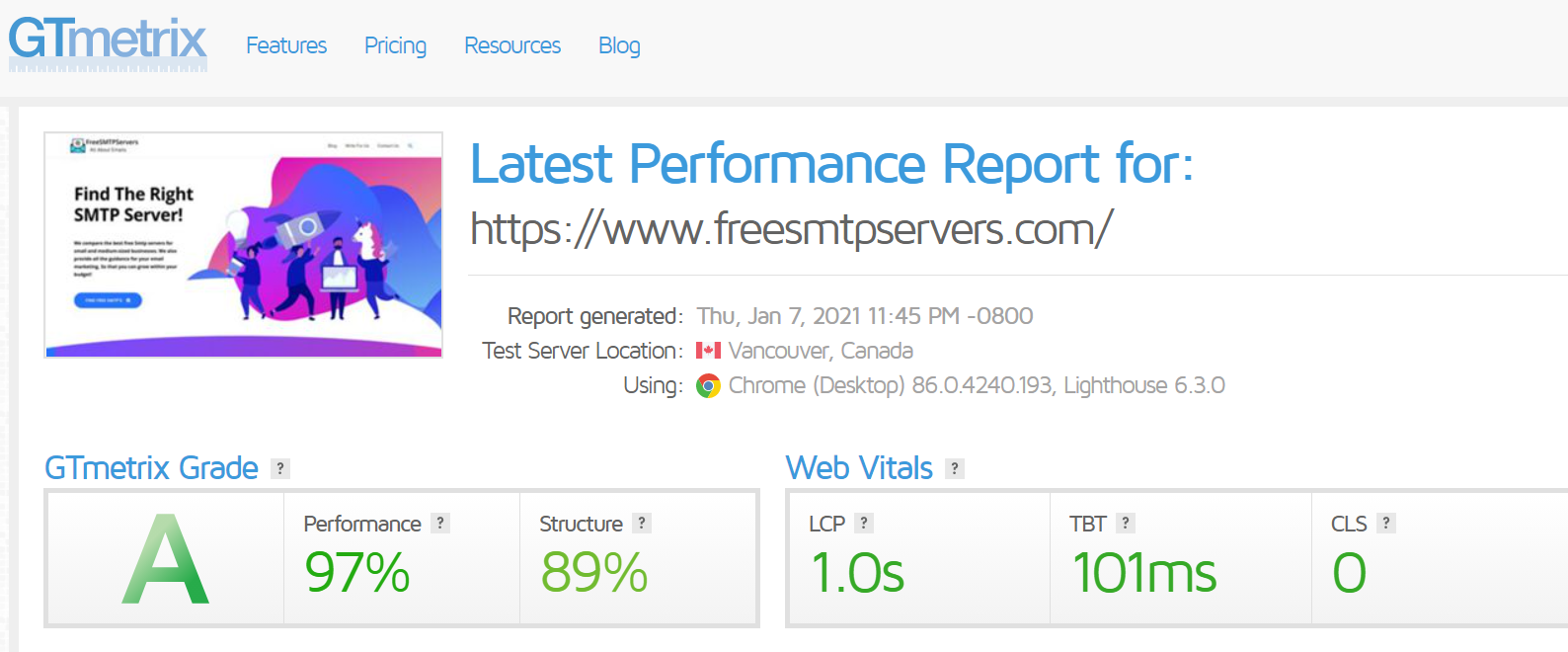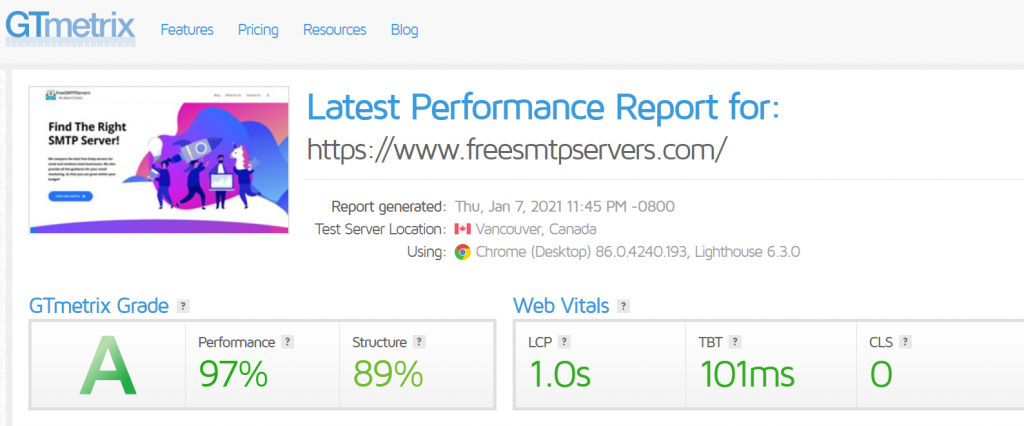 The result tested on WPOven which is a managed WordPress hosting solution.
Our Review on Hosting
From the above results, it is quite evident that the companies offering free and shared hosting is purely for begineer. These hosting solutions are not for growth or scaling online business.
While our results on WPOven's Managed WordPress hosting have promising results.
Let's get down to have an insightful discussion on choosing a Managed WordPress Hosting Solution.
---
Why Choose Managed WordPress Hosting?
As far as we have been into running hosting business, we know that their is no hard and fast rule in choosing a host but its all about choosing the right thing.
Whenever we have a choice, which solution is best fit, it is always considered as a combination of you
Your budget.
The business model.
The goals that you are willing to archive.
Kind of skills that you have to manage servers.
And a ton of other miscellaneous factors. But, when it comes to choosing a managed WordPress hosting solution, we at WPOven know how the market is and what is the best fit for the customer segment in WordPress management. Hence, we have taken this as our responsibility to help you get the right reason to identify reasons and choose a managed hosting. Let's understand.
These are some prior reasons which can be only fulfilled by any managed WordPress hosting.
Again, we wish to remind you, managed WordPress hosting can also be in a different format. We have been noticing a lot of companies coming up with a managed hosting solution for WordPress but in that, they offer the server which is sometimes shared, or on VPS or it may have dedicated cloud as well. So, while choosing your Managed hosting for WordPress, try identifying the kind of server that you are picking and choose the best web hosting.
---
1. Premium Support
Who knows the better importance of a support system than us. Whenever we have a new website owner with us, the first communication that happens between us is always a reach out for support. Support in terms of inquiry related to things like
How to get started.
Some of them want to migrate and need it without downtime.
Enquires related to kind of RAM, CPU, etc so that they are confident about what they get while they pay for it.
Help with recovering their hacked website.
Sales related quires are very common.
Some have doubts related to the data center location.
People are worried about their site speed resolutions and want help.
Security is something that people reach out to support. From SSL to saving from any attack, people are very concerned with to which the premium support system responds diligently.
DNS management support.
Upgrading with higher configuration without downtime.
And a ton of questions that we at WPOven answer 24/7 to make our users feel responded whenever they are in need.
2. Get Your Website Quick
When you choose a managed WordPress hosting and building your website on WordPress, it becomes fairly easier for you to get started with Managed WordPress Hosting.
The CMS comes pre installed if you choose managed hosting. Along with the pre install softwares, you also get the best services to back your website with fast performance.
Your Database is pre configured and all the security passwords and login pages are generated automatically. These data are present in your dashboard which are highly secured and confidential. You can anytime to choose to change or update them.
With Managed hosting, you also get a few important plugins pre-installed like cache plugins, or in a lot of managed hosting services, you will find caching at the server level which is amazing.
3. Automatic backup for the website.
Have you heard about rebirth? A lot of people don't believe in this but when we talk about this in web hosting, it is a reality. How? The power of restoring backups helps you in getting back what you lost.
We always take backups at WPOven and make it easily accessible by user so that you can restore your website if you get lost somewhere. When you have a unmanaged Hosting, you will have to set up your backup management system yourself.
We have created an automatic back system where all your backups are stored in Amazon S3 servers without affecting your personal storage of your website. You can access 20 backups to restore or download at a time.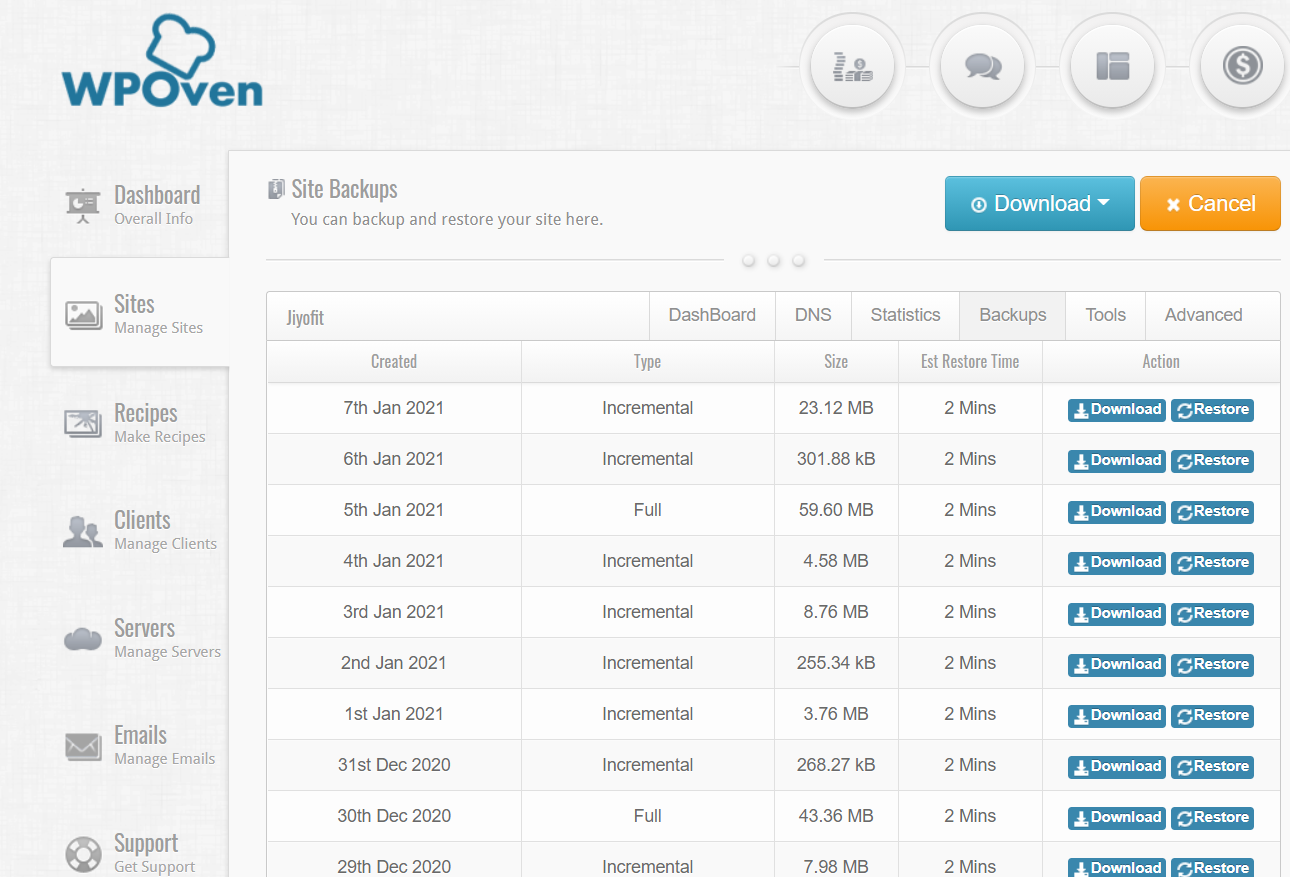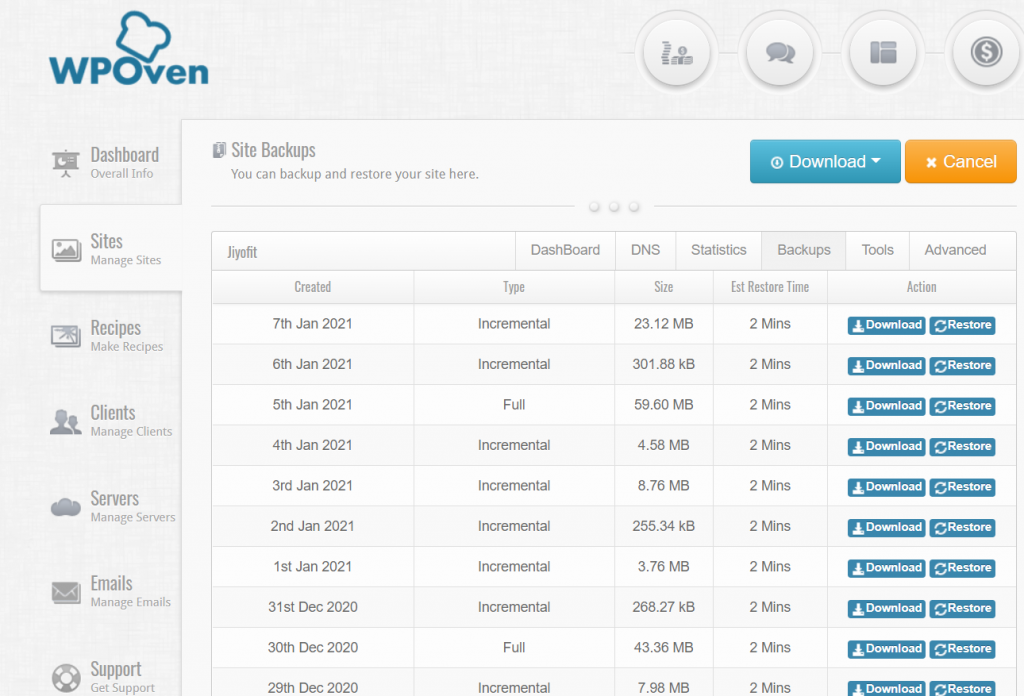 You also get to choose manual backup with one single click.
You get a full backup download also. So, if you wish to save your backup at personal storage systems, you can download with one click and secure your package with all files and SQL files that are needed for restoration.
The advantage of such an automatic backup system is that you don't have to hustle with any backup plugin, FTP Logins, or accessing your phpMyadmin areas.
4. Get developer-friendly tools [SHH, Git, WP-CLI.]
The best thing about Managed WordPress hosting is the developer tools and features that you get. These features are never given by any shared hosting plan due to their low cost. Also, when you choose to opt for unmanaged hosting solution, you will have to arrange all these dev tools with limitations with your skills to do all the settings for better functionality.
When we talk about WPOven, we are really proud to offer you the developer tools like the SHH logins which is not available in shared or unmanaged hosts. Plus, you get all Git push, Sequal, WP-CLI, to manage your business from WPOven Dashboard.
Staging environment setup is easy with a click.
You can choose your Php version, the way you like.
Free custom setup with Redis, PageSpeed, etc.
With all the above features powered by 24/7 Dev support with an SLA of 5 minutes, WPOven is a developer-friendly Managed WordPress Hosting solution.
5. Secured platforms.
Well, more than premium support or any features, everything goes vague if the hosting provider is not offering you a secured platform to host your business websites or blogs.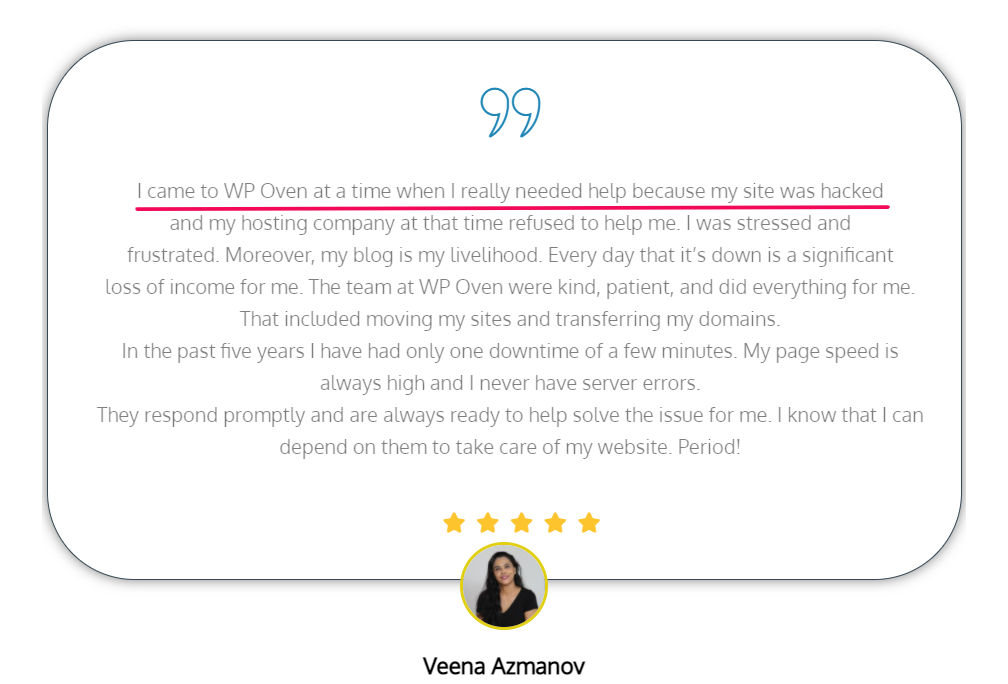 We helped Veena when her website got hacked and she has no option but to consult and get her website restored. We understand how important the blog or website is for people who are dependent on it. Our dev support team is smart enough to help you secure your website and prevent any future mishap. With daily malware scanning and automatic backup, you are already in safe hands. We take WordPress security very seriously.
With new site lock feature, preventing malware attack is easy with WPOven.
The same support and prevention, you will never get with any shared hosting or even in unmanaged hosting. You will keep yelling at them with no measures on time. This is a bad experience we always hear at our support end when new website owners migrate to us.
Meanwhile, we also appeal to all WordPress website owners to be smart enough to secure your website. Don't share your login details publically for solution resolution without trusting. Make sure you change or update your passwords regularly.
We use dedicated cloud in all our pricing plan powered by AWS, which is one of the oldest service since couple of decades. Highly secured and amazon web security personals working dedicatedly to offer an uninterrupted servers while we managed it for you and your online businesses.
---
Read all security norms and measures we take at WPOven to Offer a reliable Managed WordPress Hosting Solution.
---
6. Multi-location data center for the server.
Serving a global audience is always an advantage. A lot of people prefer starting their online business from one location with a long-term goal that they will expand their reach globally with time.
But, you can improve this long term plan by starting to work for it from today. That is something you will know when we talk about the importance of CDN network which WPOven is already friendly with.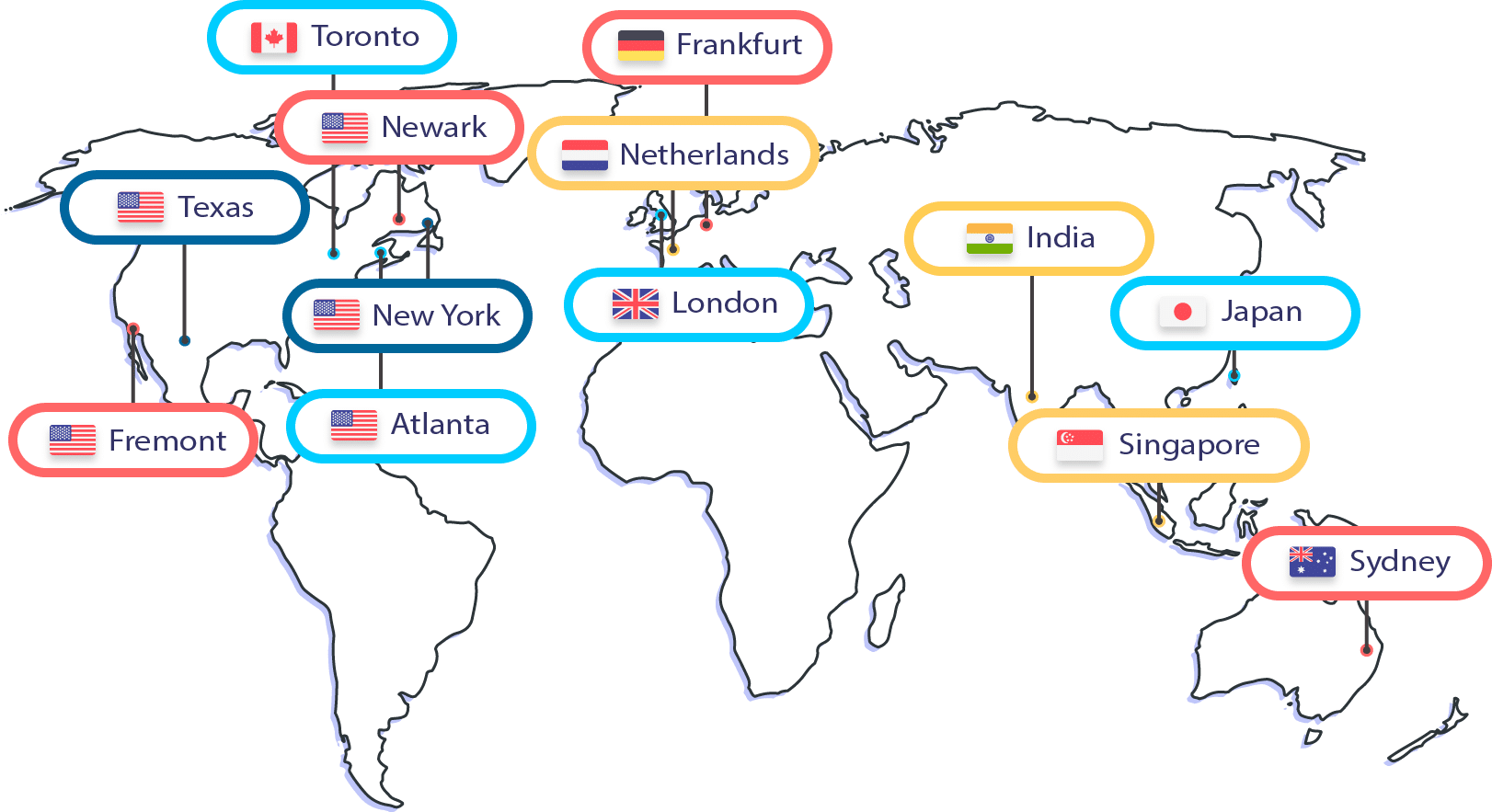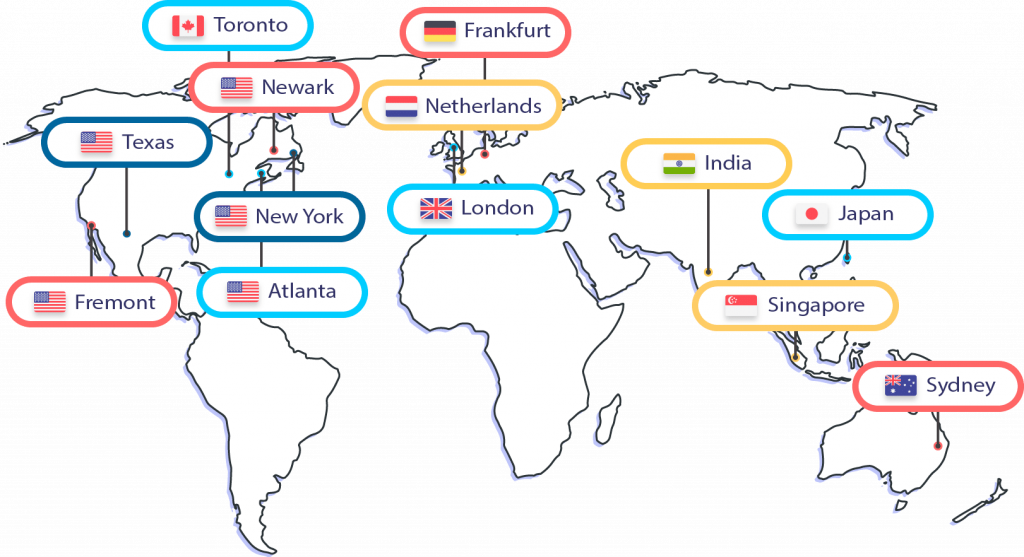 Right now, if you are starting your business with a particular location as target region, it is always advantageous to hold your website with uninterrupted experience to your customer. The near is your server location to your customer, the better would be the expeirnce hence it is always preferred to select the neareast possible server location.
At WPOven, we have our customers from different countries and location. Hence our Datacentres are located worldwide.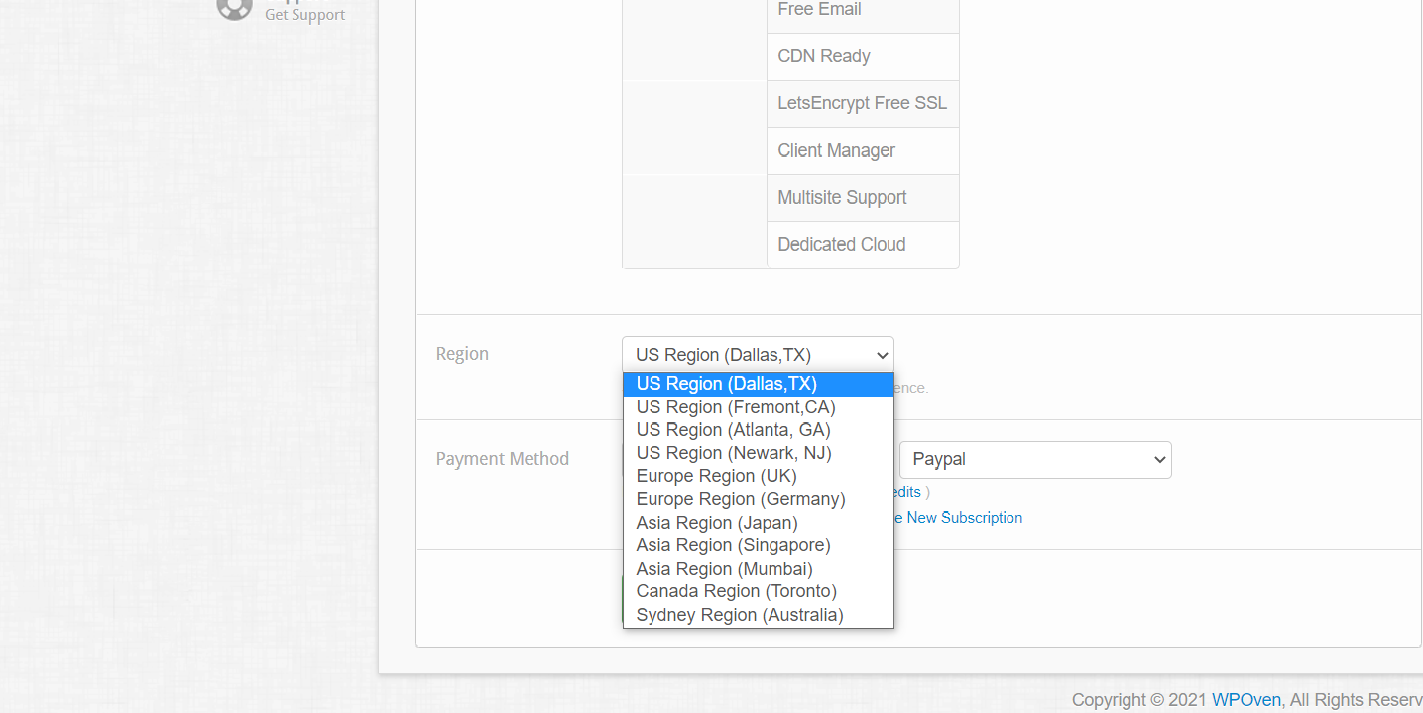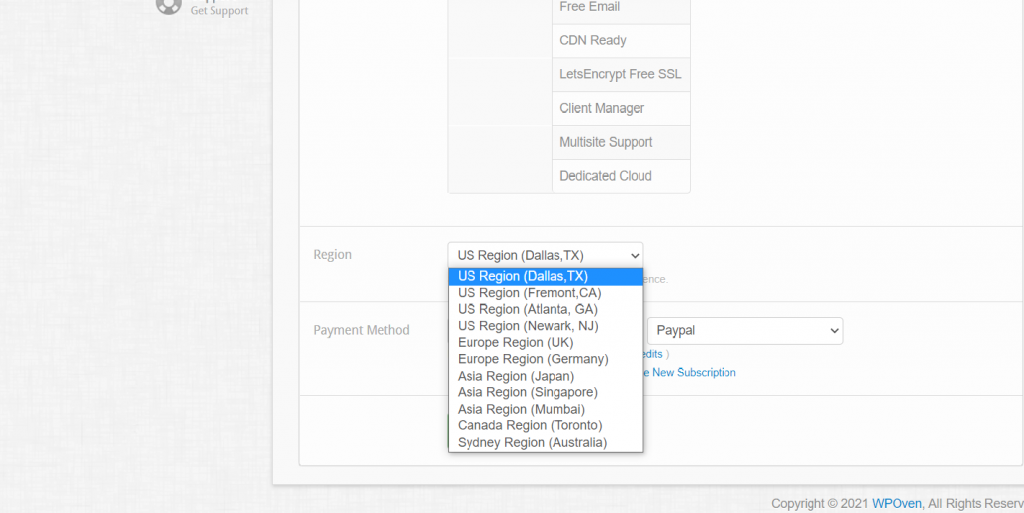 Whenever you start creating your server with WPOven, you get the option to choose your data center. When you choose a location friendly server, your network latency is improved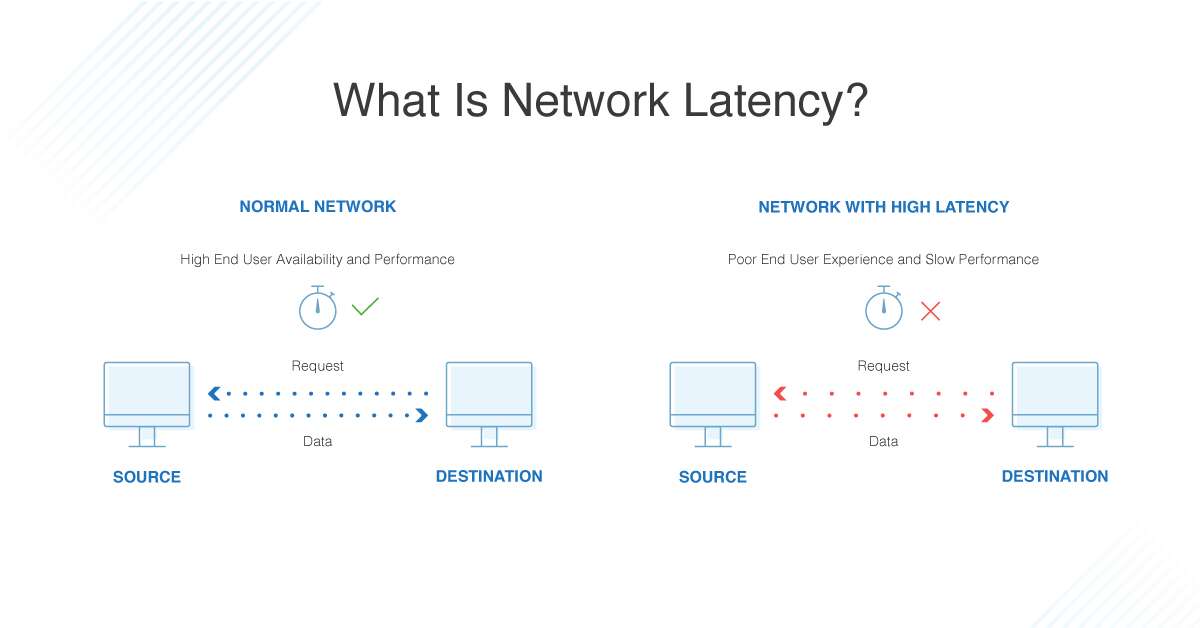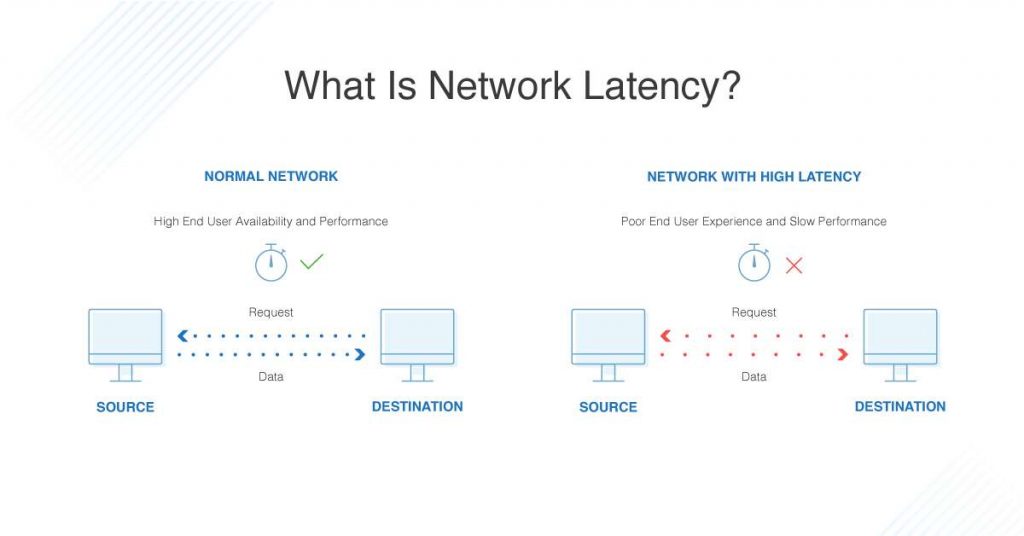 Make sure to choose servers where you get the option to select your server location. Generally, in shared hosting, you don't get this or it is limited to few locations only.
7. One-Click Sync staging environment.
Staging is a great feature if you are a web developer or want to test a lot before taking your website live. Generally, it can be a bad practice to test any new update on your website which has a high traffic. It can lead to confusion, downtime, errors or may be some other system issue.
In order to test your website before taking it to live URL, a lot of developer do it on locally environment and then take heads-up to migrate it to live URL. This can be tedious at times when their is huge data to be transferred.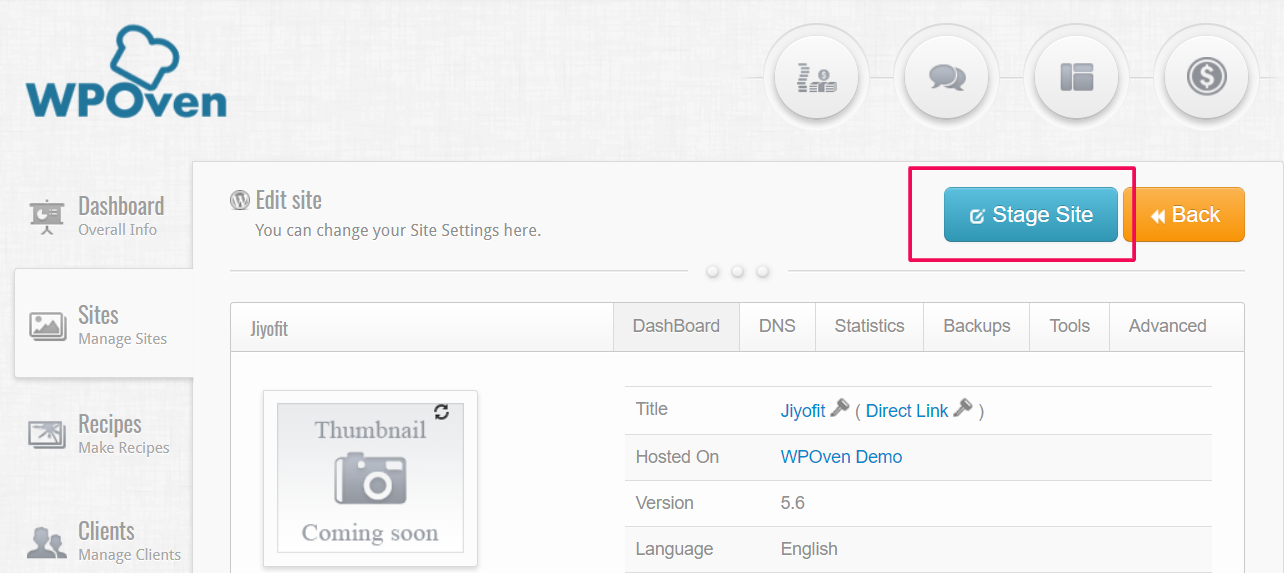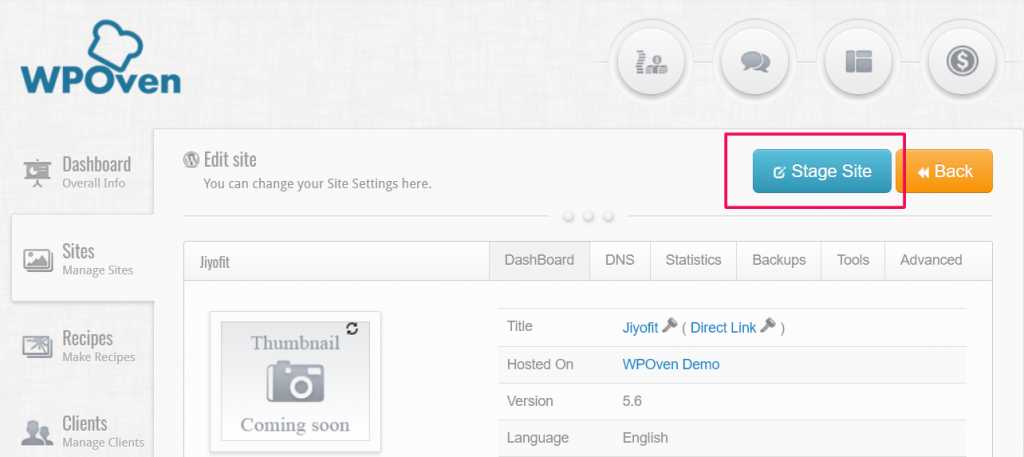 Good hosting companies and servers allow you to create a staging environment and make all changes in a dummy URL. With the One-click Sync option, you can migrate your test website to your live URL without any glitches.
All these things happens from a single dashboard.
8. Optimized For WordPress.
If you are specifically sure about running your website using WordPress CMS, using a managed WordPress hosting is the best choice to get started. The reason is
These servers are fined tuned to work perfectly with WordPress.
Managed hosting comes with pre-installed software made for optimizing WordPress websites.
Managed hosting has better performance and uptime as compared to shared hosting as you get dedicated resources.
Managed hosting have server-level caching so you don't need plugins and handle caching yourself. Its taken care of by the hosting company.
You can monitor your website load, history of load, and other cache level statistics.
With Good managed hosting, you get to use the latest technologies and versions of PHP, MariaDB, HTTP/2, and NGINX.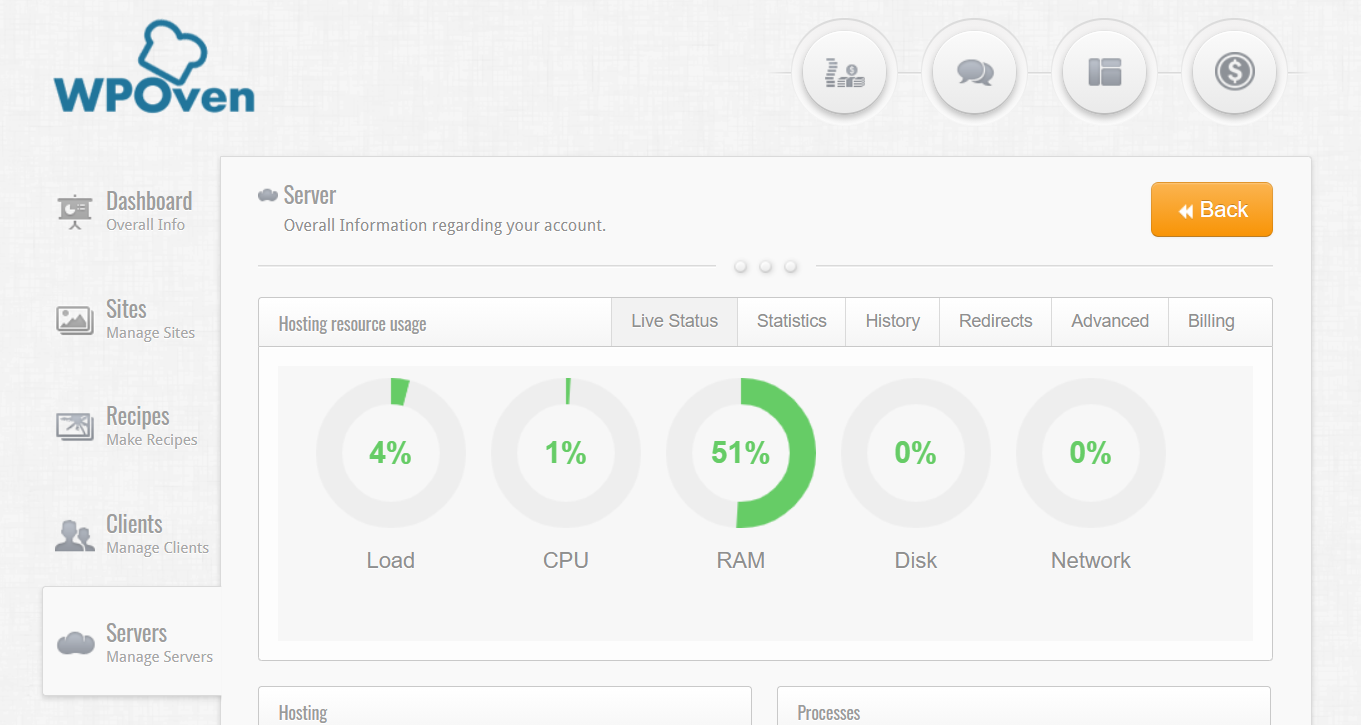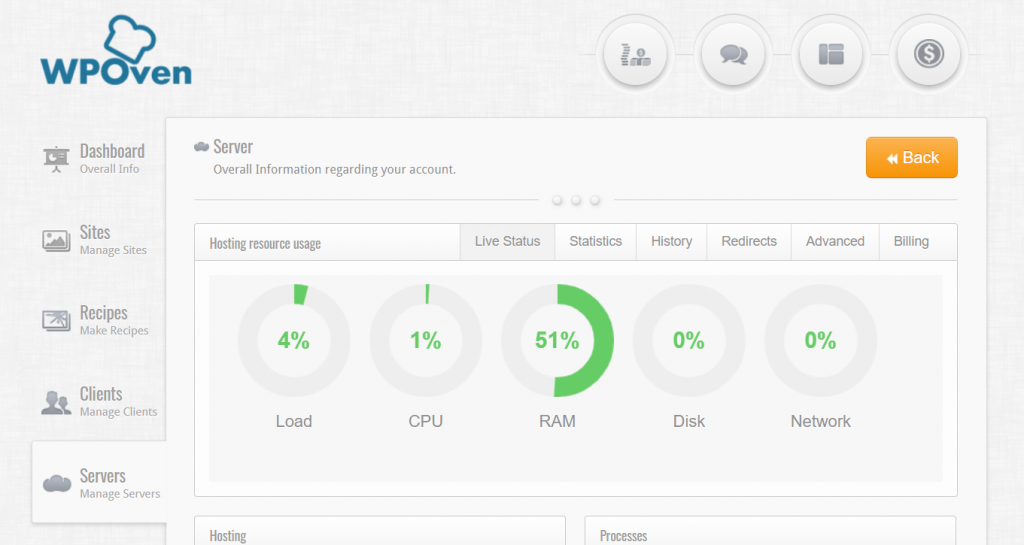 ---
According to the performance benchmark for WordPress hosting by review signal, WPOven has been marked as Tier 1 Webhosting for WordPress.
---
9. CDN Ready Servers.
CDN or Content delivery network is a geographically located group of servers that are responsible to deliver content at a faster speed by working together.
We discussed earlier how best-managed WordPress hosting solutions offer strategic data center locations to improve site speed performance and loading.
Imagine a situation that you started a business with a location in the united states and your data center was also located in the United States. With time, your business grew and you wish to expand your business globally. In this case, to deliver your content to a global audience via your online platform, it is always preferred to have your data center located worldwide.
The best option to do this is serving worldwide users by delivering your content using CDN.
What happens with serving from CDN? When you route your data centers via CDN, it copies your data and creates a duplicated database of those in all its geographically spread content.
Now, the content is servered from the nearest location and hence, your users get fast content delivery.
In shared hosting, even through you use CDN, your servers are still slow. In Unmanaged hosting, you will have to integrate all your datacenter to CDN yourself but in managed WordPress hosting, your servers are already CDN ready.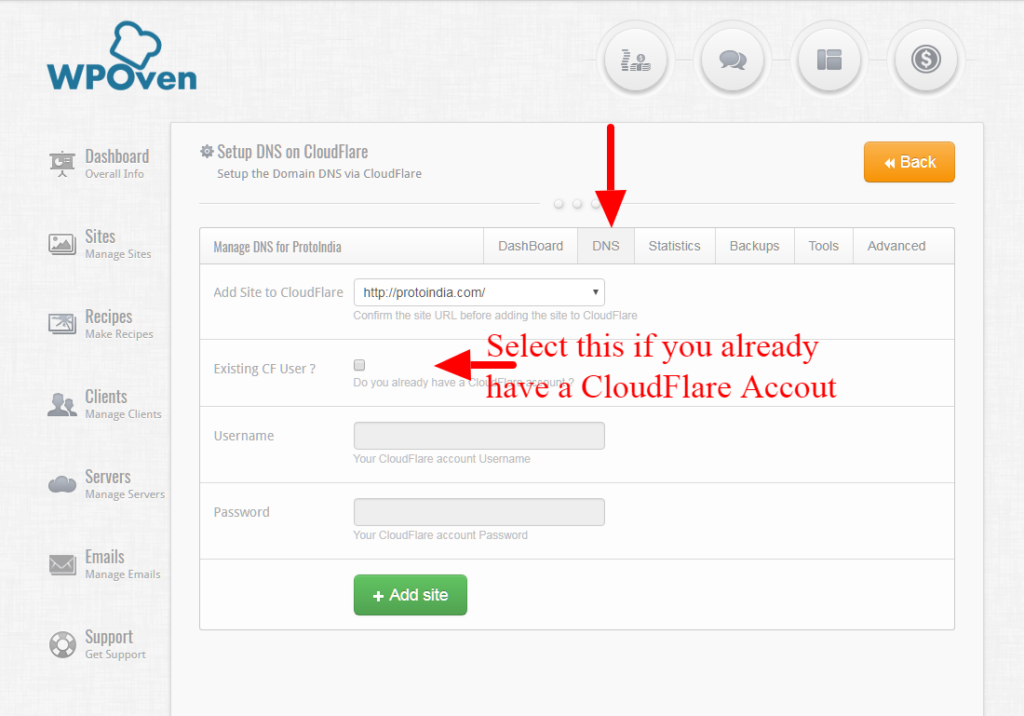 With WPOven, you get Cloudflare CDN integrated with all servers which you create. You can also integrate your own Cloudflare from the dashboard using your own Cloudflare credentials.
WPOven is Clooudflare Certified Partner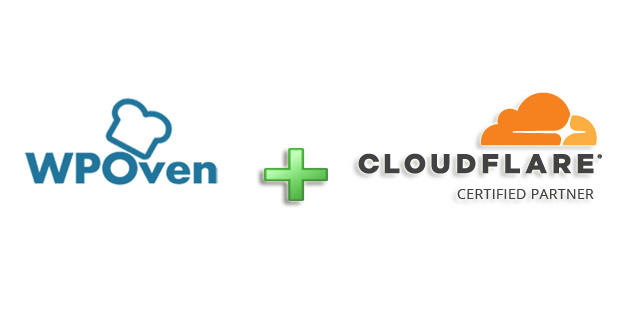 Using CDN ready servers should be important for you from day one since it helps you to take your business growth globally.
Don't wait for a time to start expanding to a global audience. Using managed WordPress hosting that is CDN ready and reach every corner of the globe.

---
Final Thought
Choosing a Managed WordPress hosting is like an investment. You can't buy Ferrari for 100$. To choose the right product or service, you have to invest the right money.
With Managed WordPress hosting like WPOvem, investing on servers is not challenging but if you start with shared or DIY hosting, you are investing time instead of investing money. You can always earn money but the time you loose is forever. You can't bring that back. Choose your Managed WordPress hosting widely.
---
Read: 🚩 Read 33 reasons to choose WPOven as your Managed Hosting For WordPress
---
If you loved our suggestions, do feel free to add your comments below. We would love to hear feedback, suggestions from your end as well.
Having trouble with WordPress hosting? Talk to us and we will help you. Check our plans for hosting your WordPress website.