Are you Looking for best WordPress hosting Canada? Then you are landed on the right blog.
Since the internet has evolved and the emergence of millions of websites has increased, in which WordPress holds a huge share of Websites and blogs. It has become one of the most powerful and widely used content management systems and more than 40% of the entire websites on the internet are based on WordPress. And the numbers are increasing day by day.
After all, what's wrong with it? If you or any user wants to create a website either for a personal blog or business on WordPress, you would prefer to choose a web host that is well recognized, experienced, and has positive reviews.
Choosing Webhosting for your WordPress site is so critical that it can either boost your WordPress site growth or can completely pull it down. For example, website performance can have a serious impact on your online business. Even a slight delay in your website speed can potentially hit your monthly traffic and hence lower your ROIs.
In addition to it, search engines like Google do not encourage ranking poor-performing or slow websites on SERPs.
These are the major reasons why choosing a well-recognized and Top-notch WordPress web hosting for your WordPress site is important.
While talking about Canada, is one of the most developed countries in the world, and hence shares the major internet users around the world. So, if you are currently living in Canada or you are targeting a Canadian audience, then what would be a better option than choosing the best WordPress hosting Canada.
That has local data centers offer incredible loading time with minimum latency which helps you to deliver the best performance and high-speed experience to your Canadian Visitors.
So, in this post, we will help you to make a decision on What qualities you should look for in WordPress hosting and How WPOven can be your Best WordPress hosting companion in Canada?
Let us get started!
---
---
WordPress Userbase in Canada
Canada has become among the leading with more than 200K WordPress users in the top 5 countries, whereas the United States topped the list with more than 9+ Million WordPress users.
As per the reports by Statista, the internet penetration in Canada will rise up to 99.1% by 2026.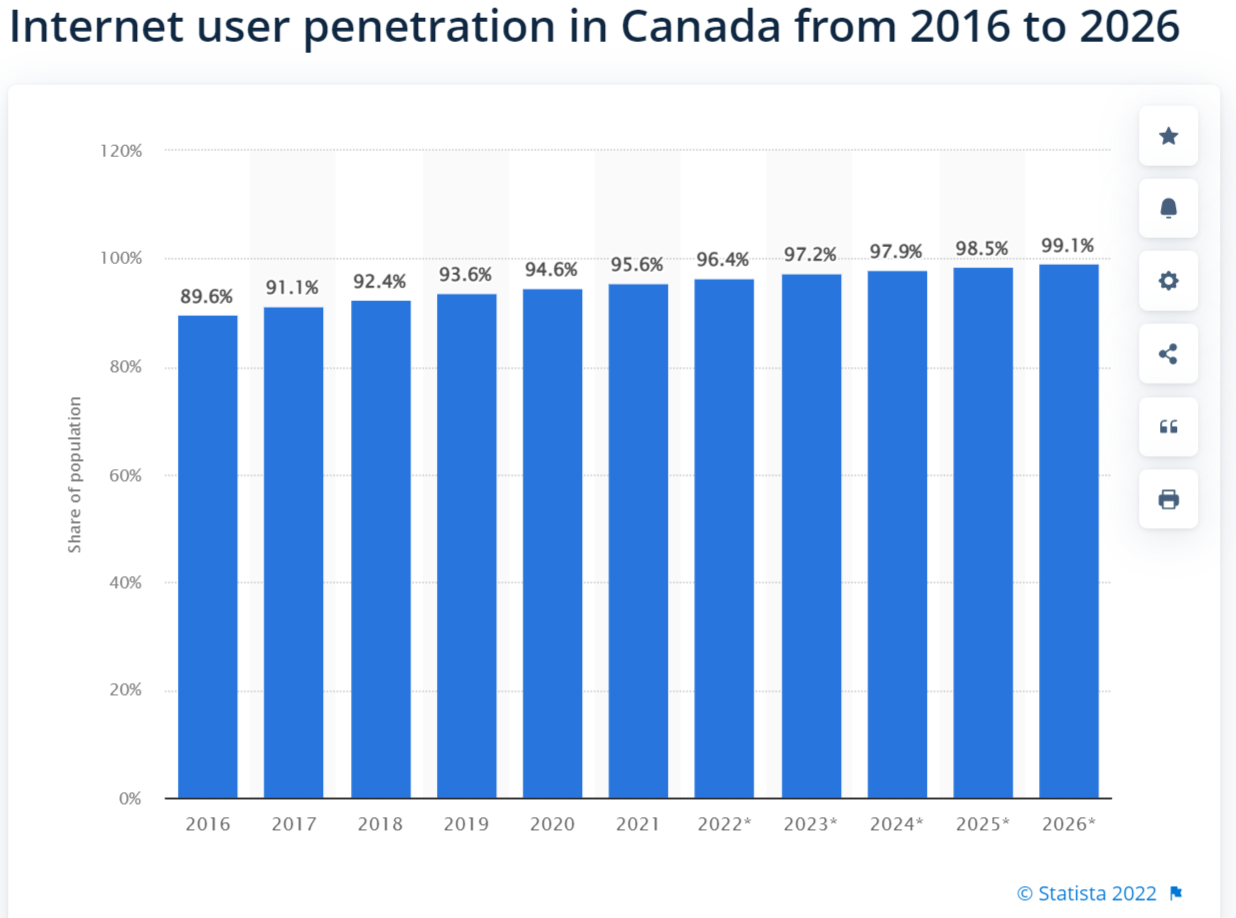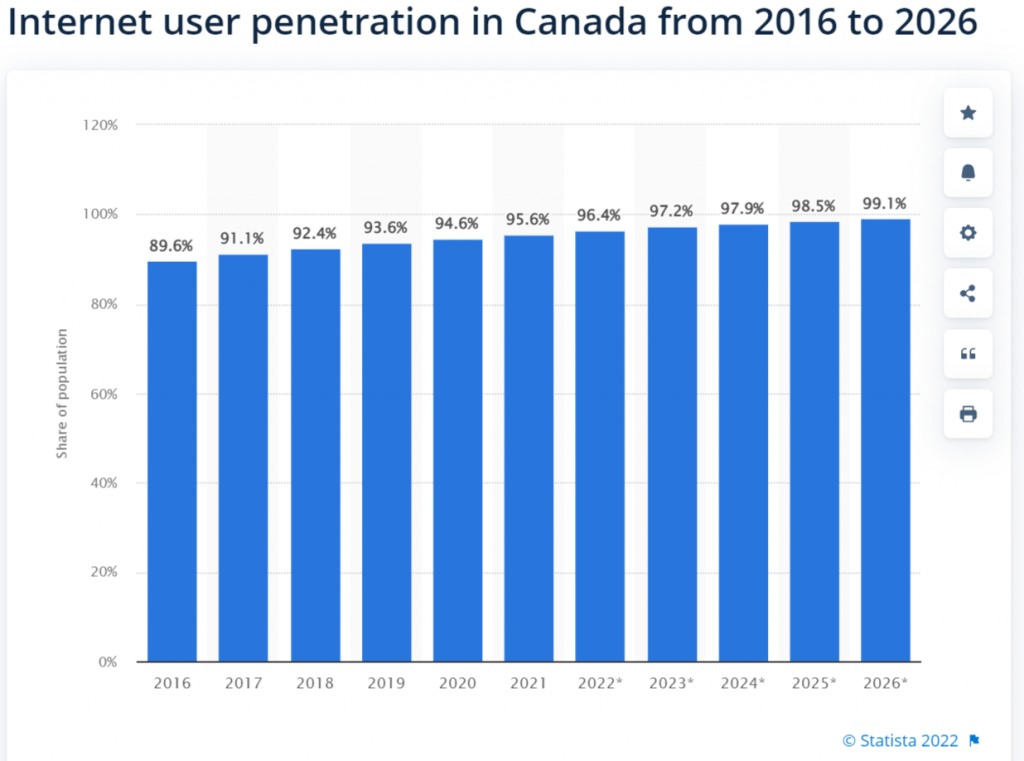 ---
What Qualities you should look for in the best Canada managed WordPress host?
There are various factors and points that you must consider while choosing the best managed WordPress hosting in Canada. But before that, you need to understand the basic difference between Managed WordPress Hosting and regular hosting.
Managed WordPress hosting
Managed WordPress hosting is a type of web hosting in which the servers are especially well optimized for WordPress, offering preinstalled WordPress CMS, bundled with some premium plugins and support.
This type of web hosting helps in to manage your website on your behalf and provides extra services such as an Interactive Dashboard, top-notch security, automatic backups, and automatic installation of WordPress updates.
Regular Hosting
In regular hosting, you will be provided with a cPanel through which you can install any CMS of your choice and you will be responsible for managing all the tasks of your website.
If you have hosted a WordPress site on Regular hosting, you will be required to do all the tasks to manage your websites. Including installing updates, security, and taking regular backups.
Now, let us look at the factors or points that you must consider while choosing the best WordPress host,
1. Datacentre
If you are from Canada or your target audience is from Canada, you would not like them to experience slow access to your website by hosting your website in other locations. So, always look for a web host that has a data center located in your location or available to the nearest.
However, if you chose to have an international audience base, you can always use CDNs to boost the server speed.
2. Storage Capacity
Various web hosts offer lucrative and affordable deals but with a catch. To compensate for the price, they limit the storage capacity, which can restrict you if you are planning to build a website that requires a lot of media usage.
3. Security
The web host must provide the best in the industry security features and a Free SSL certificate for your website. This not only helps to secure your website but also boosts your website SEO.
4. No. of Sites
Some web hosts offer limited site hosting on their plans, but there are many other web hosts are also available that offer unlimited websites even in their lower plans.
5. Allowed Bandwidth
It takes time for any website that has started from scratch to build up traffic. It can take from months to years to receive significant traffic on your website which raises concerns about your limited Bandwidth. However, if you are a beginner and just started a website, it would be okay to go with the limited bandwidth initially but also must have an affordable option to increase the bandwidth if required.
6. Uptime and Automatic Backups
The more reliable your website is, the better its performance and traffic will be. So, always look for web hosts that offer you a high uptime guarantee (up to 99.95%). So that your website stays online no matter what.
On the other hand, also look at whether the web host has an automatic backup feature or not.
7. Customer Support
Always prefer a web host that has the best customer support, quick response time, and available 24×7. So that if anything went wrong with your website, you do not have to wait long for it to get fixed and the support team should be able to fix it as soon as possible and get your website right back on track.
8. Check and compare the price
Always check the prices of multiple web host companies and compare the features they are providing at almost the same rates. Also, check if the mode of payment is easy, convenient, and has multiple payment options available for Canadian users or not.
Although, there are multiple best hosting sites for WordPress Canada available to choose from. But what makes WPOven the perfect fit, you will be going to see down below:
---
Best WordPress Hosting Canada: WPOven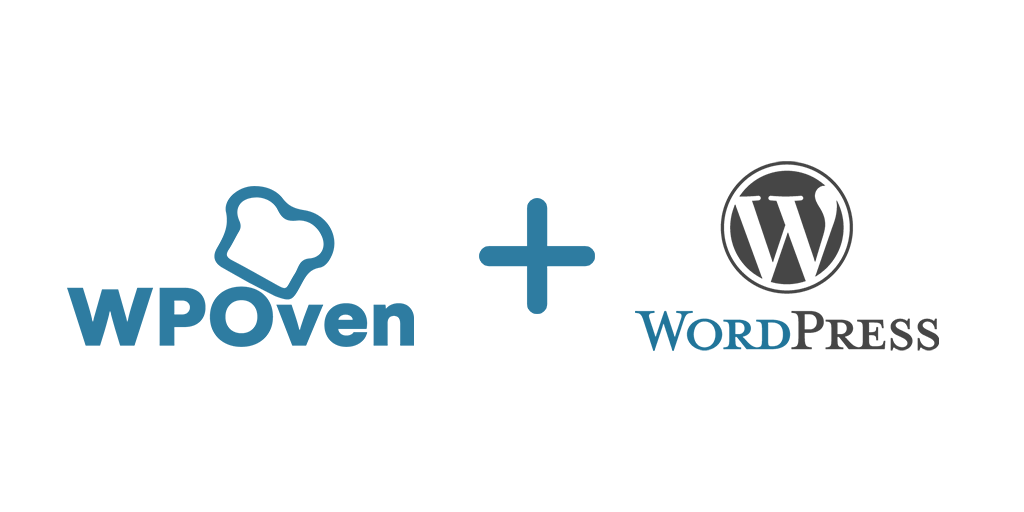 WPOven is one of the best-managed WordPress hosting Canada. Started its hosting services in the year 2011 with an aim to provide the fastest, most secure, and well-optimized WordPress hosting services at a very affordable price without any compromise.
Let us check out the qualities that make WPOVen the best Canada hosting for WordPress sites?
1. Datacentres in Canada
WPOven has a dedicated Datacentre in Canada to serve Canadian traffic. It means the Canadian users have no longer to suffer accessing websites with slower speeds and higher latency.
2. Fully WordPress Optimized servers
Since WordPress's popularity has increased and even some of the popular Canadian websites are built on WordPress. WPoven offers a fully managed WordPress web hosting service that offers a unique and well-optimized platform that helps your WordPress site to grow. So that, you can make complete use of the power of WordPress in Canada.
3. Blazingly Fast Servers
We know every second counts, and every delay in one second can lead to a decrease in your conversion rate by up to 7%. So, taking all these into consideration, WPOven has server level in RAM cache for Amazing Speeds. On top of that WPOven is a proud partner of Cloudflare to deliver your assets fast.
4. Dedicated & Private Servers
WPOven is best known for being one of the best dedicated WordPress hosting Canada. We offer custom-built infrastructure that is well optimized for your site. Our dedicated WordPress optimized servers have the potential to deliver consistently high performance without any hiccups with up to 100% uptime SLA.
5. High-end Multilayered security
Since, Canada has a higher number of WordPress users, DDoS attacks, malware infections, and hackers attack has been prevalent. Considering all these challenges, WPOven has come up with multiple layers of security systems that provide a completely secure website experience.
Hardened Servers (Security Best practices with firewalls and DDOs Protection.)
Supported by Cloudflare
Free SSL certificate for all Sites.
Built-in Bot Protection
Daily Malware scanning
Web application Firewalls
6. Go unlimited
Build as many sites as you like without any restrictions and any hidden costs.
Unlimited one-click staging and syncing
Unlimited number of Visits
7. Mind Free Daily Backups
Regular offsite Amazon S3-based Backup with single click restore option so that you can easily get your website back on track if things go south.
8. Website Growth and Management Support
Apart from providing a completely well-optimized WordPress platform, WPOven provides extended support that focuses on the overall growth of the user's website. Where you will not just host a website but nurture and grow as well.
Web Management
SEO services
Graphic design
Premium Addons (Themes and Plugins)
9. Affordable prices that go easy on your pocket
You can choose a plan that fulfils your needs or you can contact you directly for your special needs. Choose the most suitable plan and get 14 days of the money-back guarantee.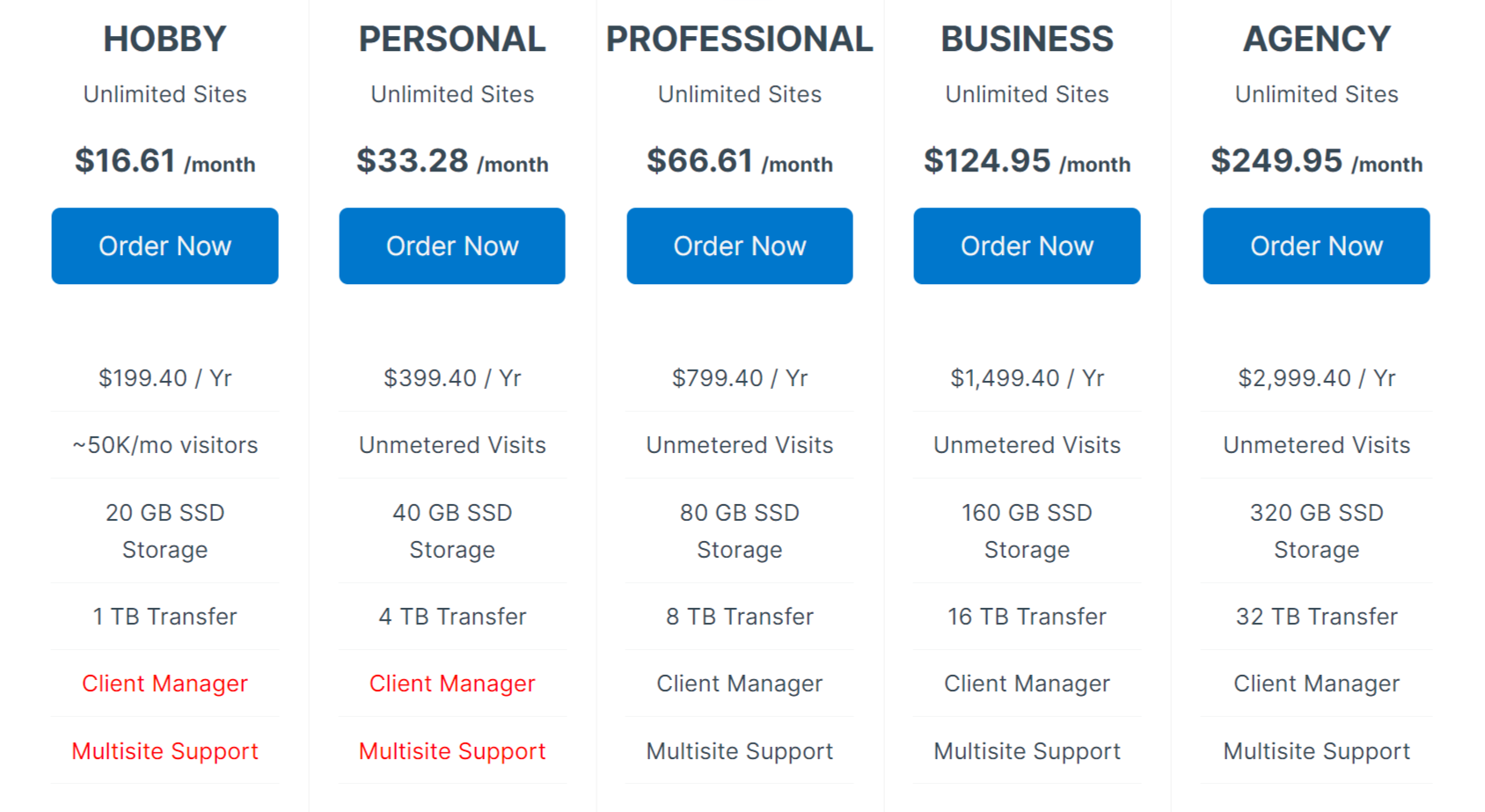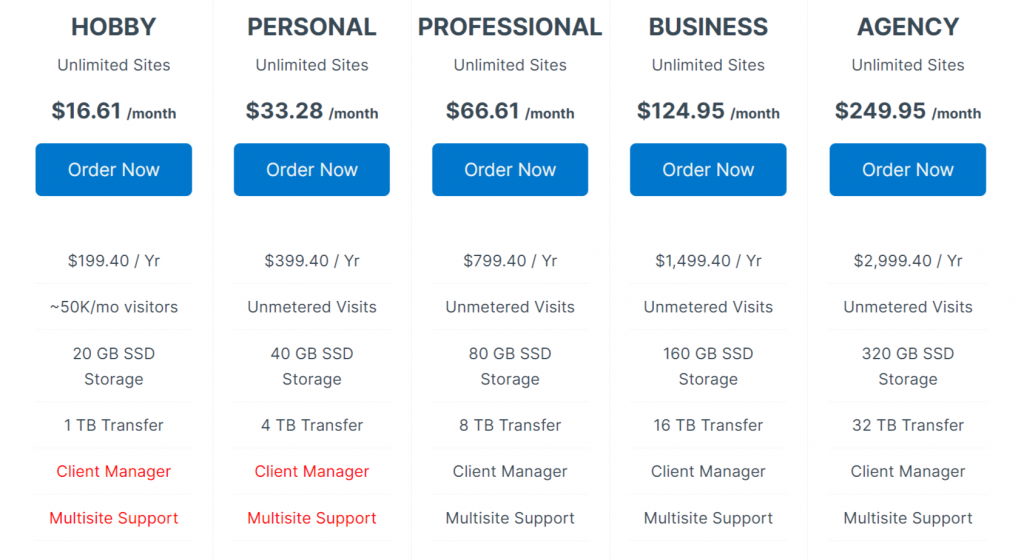 10. Expert level Support
Websites are vulnerable and fragile, and issues can happen anytime, especially at the most inappropriate time. At this moment the response time of the Support team plays a crucial role that can either make a deal or break it.
At WPOven, we value your precious time, so we have a dedicated expert team that is available to assist you 24×7 around the clock. (Including weekend and public holidays)
---
Why WPOven is leading among the best-hosting sites for WordPress Canada?
Although there are plenty of web hosting sites available in Canada, such as Kinsta, Cloudways, WPEngine, etc. But still, WPOven stands out from this crowd and makes a significant difference.
Let us check out the comparison and see how WPOven has the potential to provide a better deal than others.
WPOven vs Kinsta
WPOven
Well optimized for WordPress and also supports other PHP-based Applications via SSH.
A white-label client panel is available
Complete virtual as well as Premium Expert support system available.
custom-built recipes having themes and plugins to create sites quickly
Unlimited Staging
Free Email
Unlimited visits, Multisite hosting, and many more.
Kinsta
1. It is limited to only WordPress and doesn't support other PHP-based applications. 
2. Exclusive to only Google Cloud and doesn't allow the flexibility to choose any other cloud services provider. 
3. Certain plugin restrictions 
4. No Whitelabel client panel 
5. No support system 
6. No invoicing No site builder
WPOven Vs Cloudways
WPOven
High performance with an Average Response time of 370ms.
Provide Complete Hardened Server
Free daily offsite backup and single-click restore.
Premium Plugins and Themes are available.
Integrated Support system for clients.
Manage Client sites with white label client panel
Optimization support available
Anti-Hacking Support provided
Cloudways
Poor performance with an Average Response time of 1131ms.
Limited Hardened Server
It is included in their Addons.
No Premium themes and plugins are available.
No integrated Support System
No white label client panel
No optimization support is provided.
No anti-Hacking support provided
WPOven vs WPEngine
WPOven
Well optimized for WordPress and also supports other PHP-based applications via SSH. 
Complete virtual as well as Premium Expert support system available. 
Custom-built recipes having themes and plugins to create sites quickly 
Unlimited Staging, Add unlimited sites and Free email.
13 Data Centers located globally 
No need to pay extra for hosting your website for a certain server location 
Free Cloudflare integration with firewalls and DDoS protection 
Unlimited Free migrations and handled by WPOven Experts 
Uptime monitoring included in all plans 
More developer and Agency Friendly
WordPress multisite support can be easily managed from the dashboard
Cloudways
No flexibility to choose a server.
Consumes all your storage and bandwidth with website growth 
Critical features are only exclusive to premium plans 
Limited site hosting on each plan
Only 11 Data Centers around the world. 
You need to pay extra for hosting your website in certain locations. 
Doesn't include firewall protection and need to buy a Global security addon 
You need to do Migration on your own. 
Uptime monitoring only exclusive to premium plans 
Not developer-friendly 
Requires manual process for deploying/importing multisite
---
Conclusion
WPOven has not left any stone unturned to bring a complete package of Managed WordPress hosting experience to Canadian users at a reasonable price. Covering a large segment of users, fulfilling their requirements, and providing best-in-class service is what everyone expects. And this is where WPOven stands out from the rest of the other Canadian web hosts.
If you have already hosted your website on WPOven please do share your experience with us or if you have any queries regarding our services or features, you can either reach out to us directly via the contact us page or write in the comment section below.
---
Frequently Asked Questions
Which hosting is best for WordPress?
WPOven is one of its kind that provides a well-efficient web hosting service that no other can provide, especially at a very reasonable price.
Is WordPress available in Canada?
WPOven is the best-Managed WordPress hosting service provider in Canada that has WordPress optimized dedicated servers with a data center located in Canada. And offers complete WordPress support that focuses on growing your WordPress site.
Does WordPress provide hosting?
Yes, WordPress.com provides a hosting service that comes with both free and paid plans. You can directly host a free website on WordPress.com without paying any charges for a domain name or server. However, if you chose to have your own domain name and use some plugins you need to upgrade to their paid plans.
---