WordPress Market Share has been rising exponentially from the day it was launched on 27 May 2003. Initially, it was launched on a vision to provide an easy platform for users to start their website as it is not possible for everyone to learn Html and PHP.
Even hiring a web developer sounds not economically great to many users. Hence, WordPress developed a CMS to replace highly sophisticated coding.
Now, you might have wondered, What is CMS? In short, CMS or Content Management system is software, mostly web-based. That provides users with a platform to manage, create and design their content on a website without any prior knowledge of sophisticated coding.
In this blog. You will get all the vital information about WordPress, dominating the Internet with maximum Market share. Before further proceeding, Let us make our basics clear about WordPress.
What is WordPress?
As mentioned, brief information about WordPress in the beginning. You must have got a clue about what is WordPress is all about. But the exact definition states that " WordPress is an open-source content management system that is designed for everyone, emphasizing accessibility, performance, security, and ease of use."
To provide great software with minimum set up, so you can focus on sharing your story, product, or services freely. The basic WordPress software is simple and predictable, so you can easily get started. It also offers powerful features for growth and success.
The difference between WordPress.org and WordPress.com?
Before going into deep information about WordPress Market share, I want to clarify WordPress and its ecosystem. Many beginners often confuse between WordPress.com and WordPress.org. But, do you know these are two different platforms.
Most of the time, beginners make blunder mistakes by choosing the wrong platform for their blogs. Even people who know that these two platforms are different but unable to distinguish between them.
Even the majority of the people are often confused about which platform to choose. To clarify WordPress and its types, we bring you a detailed comparison between WordPress.com and WordPress.org.
However, you must know both these platforms are comprised in overall WordPress market share. Our main objective is to provide comprehensive information about WordPress that lets you help in choosing the right platform.
Let us see how WordPress has spread its roots with two platforms on the Internet.
WordPress.org (self-hosted WordPress)
WordPress.org is the real and the main part of WordPress Market share. Because it is open-source software, it is absolutely free, and you need to buy a domain name and hosting service from other providers to run a website. Hence, most of the websites are created on this platform.
Let us check out the pros and cons down below:
Pros
Open source, 100% Free and easy to use.
You will have full control over your website contents and data.
A lot of WordPress plugins and extensions integration option available.
Easy to design and customize your website and add beautiful themes.
Generate revenue by adding Ads on your website.
You can create any website and scale it up for larger audience.
Cons
Need expensive Web hosting Services.
Need to install WordPress software on web hosting. Although its free and many hosting companies provide one step installation process.
You need to update WordPress manually.
Due to regular WordPress updates, there will be some plugin compatibility issues from time to time.
Hence, the overall cost for creating a website on WordPress.org varies from a person and the project.
WordPress.com
WordPress.com is a web hosting service started by the same parent company; hence many beginners got confused between the two. This platform is best suitable for bloggers who want to create an online family.
let us check out what are the pros and cons of WordPress.com.
Pros
Automatic Software updates and Backups.
Free up to 3Gb and beyond that you need to choose their premium plans.
Cons
Irritating ad banners on free version.
No third party plugin support. You have to rely on integrated plugins.
Limited theme availability and no customization option for Free version. But you will all services in premium version.
subdomain available for only free version.
Hence, both the platforms from WordPress are providing a great featureful service to design websites in the most simpler way possible. And these two platforms comprise the maximum WordPress market share.
WordPress Market share: Why it is dominating over the internet?
You might have noticed that one-third of the website on the internet is developed on WordPress. Do you ever think, Why are users choosing WordPress over other CMS available? Why is WordPress dominating and holding a huge market share?
All the above questions will be covered in this section, and it will help you how it gained such huge popularity.
As per the report shared by a leading survey website w3techs, WordPress's market share is about 41.3%, to be very precise, of all the websites present on the internet. This survey is solely based on combined all the available CMS and other web builders available.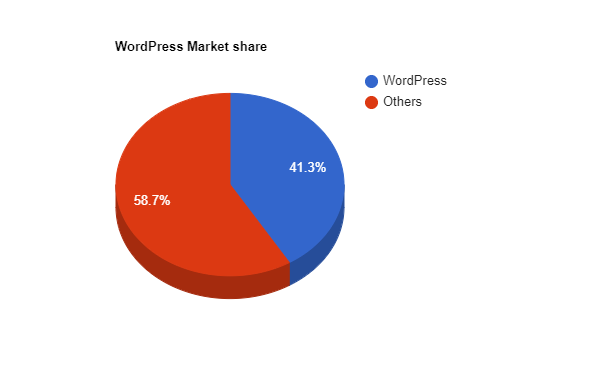 If we talk about the WordPress market share among the known or its competitive CMSs, it leads with a whopping 64% market share.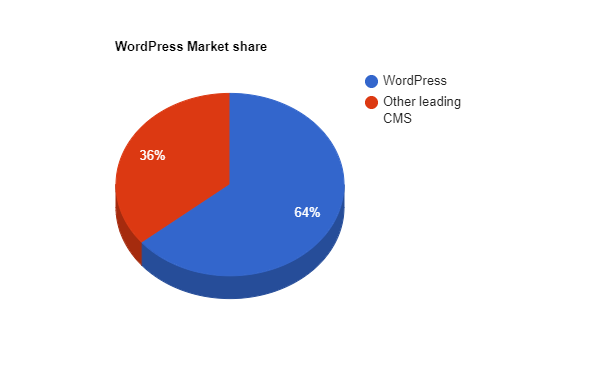 Now let us check out how WordPress holds its share among other leading CMS available, such as Joomla, Drupal, and Wix.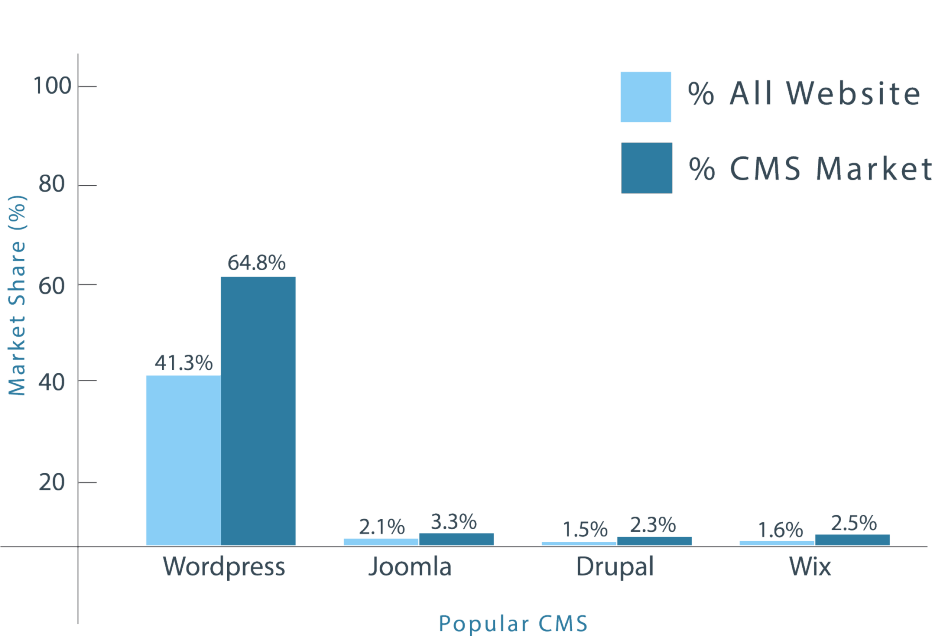 From the above graph, you can see, WordPress is showing a great contender to its competitors, and it is not likely to lose its maximum market share any time soon.
WordPress Market Share in Ecommerce
Ecommerce, one of the most popular widely used platforms for online business. And we are considering e-commerce apart from other sectors because most of the websites are built for online business, and it shows rapid growth from the recent decade.
Learn How to start ecommerce with wordpress
Due to its massive popularity, now every small business is trying to bring their business online. The amazing fact about it is that most of these people are starting their e-commerce website on WordPress.
Due to its high flexibility and user-friendly dashboard, it is easy to design websites and control website data. WordPress changed the whole scenario of e-commerce by introducing their own powerful plugin Woocommerce, which can transform any website into full fledge online business.
Let us see How WordPress and its rivals are performing in the ecommerce sector.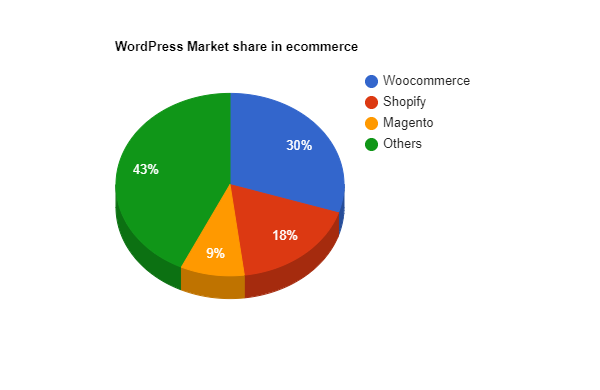 As per the data shown, you can clearly see that Woocommerce is dominating the other popular Ecommerce CMS platforms by 30%. WordPress has gained not only popularity in Blog websites but also in other large sectors such as e-commerce. At the same time, Shopify is among the second most widely used e-commerce CMS after woocommerce.

Historical yearly trends of CMS
As per the reports by W3techs.com, It has been observed that from the past five years, WordPress shows rapid growth from 29.2% to 41.3%. It is almost a 41% massive increment from the past 5 years.


And each year, it shows an increment in WordPress market share from the past year by almost 1% to 4%. And there are no signs of it slowing down any time soon.
Market Growth of WordPress with Comparison with other CMS
In the above historic yearly trend of CMS, it is observed that WordPress showed a continued positive growth from the preceding year. But is it applicable to other CMS too!! Let us find out:
In the year 2020-21, Joomla decreased its market share from 2.6% to 2.2%. Similarly, Drupal decreased from 1.7% to 1.5%. Although, these numbers are not significant for WordPress.
Things have been changing for new Website builders such as Wix. Although, their market share is small in comparison to other self-hosted CMS. But the data shows amazing growth.
Wix shows an increment from 1.3% to 1.5% for the year 2020-21, which is approximately a 7% increment.
So, WordPress is dominating the market, whereas the hosted website builders such as Wix are also gaining popularity faster.
Will WordPress continue to Dominate CMS market share?
Since the data represents a good sign for WordPress and will grow shortly, with continuous updates and bringing more features from time to time, they have provided bug fixes and resolves security issues since beginning their journey. The introduction of Woocommerce has added an extra point to compete with the ecommerce sector.
Whereas, WordPress.com is also gearing up for hosted website builders such as Wix to give tough competition.
In short, While the growth of hosted website builders like Wix and Shopify is worth mentioning. All the data gives direction to one conclusion, WordPress is one of the most popular CMS available now, and it is not going to be dethroned shortly.

Some Frequently Asked Questions
How much is the WordPress market share in the website industry?
As per the recent reports by W3techs.com, WordPress shares almost 41.3% of all the websites available on the internet.
Why is PHP going down while the WordPress market share is constantly increasing?
It is ambiguous to say, WordPress market share is increasing whereas PHP going down. Because, more than 80 % of all websites are still utilize PHP. And even it is quite popular among lots of Developer too.
Which has a larger market share: WordPress or Tumblr?
Without any doubt, WordPress has a larger market share as compared to Tumblr. According to SEMrush, WordPress has about 500 million pages in Google and 10 on SEOmoz's top 500 domains.
Whereas the tumbler has 70 million pages in Google and 24 on SEOmoz's top 500 domains.
Both the platforms are great to depend on how you use them.