The map is an integral part of your site's contact page and helps make it much more useful and informative. For example, a post where you tell your readers about your favorite restaurants, it will be much more clear when you add a map with marked locations. It goes without saying that such maps are necessary on the sites of stores, services or real estate centers.There are a lot of other examples when maps can do a good job for any WordPress site.
There are several possible ways to add a map to the page. Of course, you can add the code manually. But for that, you will require some programming skills. But what if you are not familiar with programming? The easiest way to add a map is by using the WordPress map plugin.
In the review, we will list the top paid and free WordPress map plugins. We will briefly describe their functionality and at the links to get them for your website.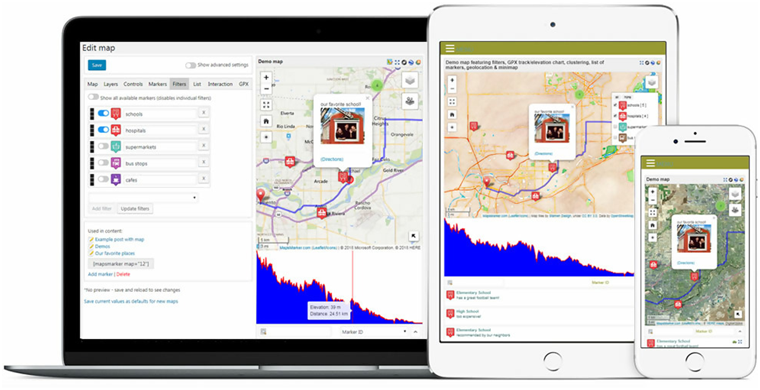 Premium WordPress map plugin working with a variety of map creation systems, such as Google Maps, Google Earth, OpenStreetMap, MapQuest, OGD Vienna Maps, as well as Bing Maps. In addition, you can add your own custom maps (a great opportunity if you need to add a scheme of the mall or your hotel). Other options include custom map pins (including 800 icons), a layer marker, a built-in address search, a pop-up descriptive constructor, simple map shortcodes, etc.
Free plugin for WordPress from the Maps Marker Pro creators. The plugin will delight you with an excellent set of features. Professionally add Google maps, Bing maps, and OpenStreetMap. There are features for marking clusters, full-screen maps, custom styles, shortcodes, as well as widgets.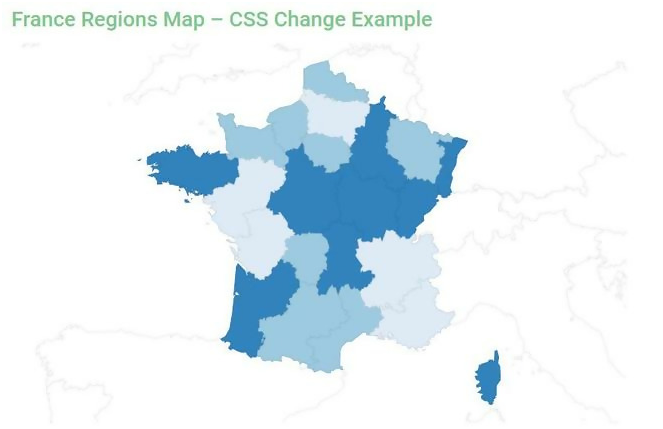 Premium WordPress map plugin for adding large scale maps. The plugin is needed by those who want to boast that they have traveled half the world or those who want to show that their offices are scattered throughout the country or even the world. Build your own customizable maps that cover the whole world. Additionally, you can add interactive hints for each location, including information or even images.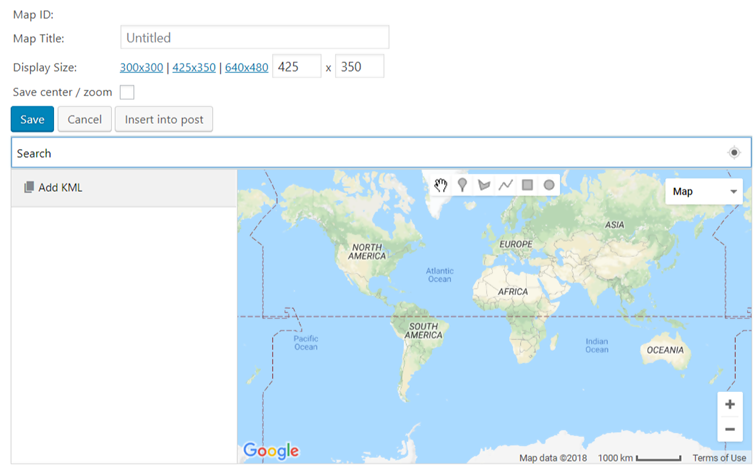 Free WordPress plugin that uses the latest Google API. The plugin works great with custom post types and can be installed on multiple sites. Also, it includes useful options such as shortcodes, street view, custom text, real traffic jams, etc. Pro version is also available.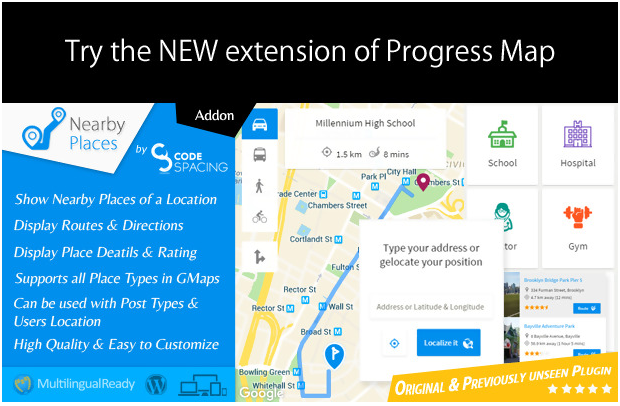 Great and very powerful premium WordPress map plugin. The trick is that you can add multiple locations to your website by organizing them into subject lists. Plus, all locations will be displayed on a smart Google map and custom carousel right below it. The plugin is easy to install, has a lot of templates, supports custom creativity, works with mobile touch-swipe-navigation.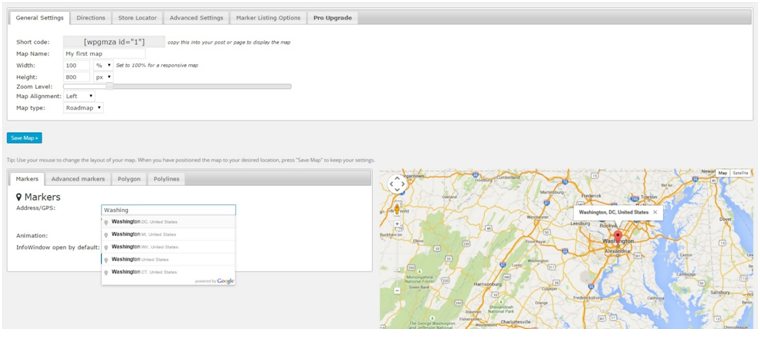 The free plugin allows quick and easy to add Google Maps to the WordPress website. Just enter the address to include markers, select a map type, and then select a shortcode or widget.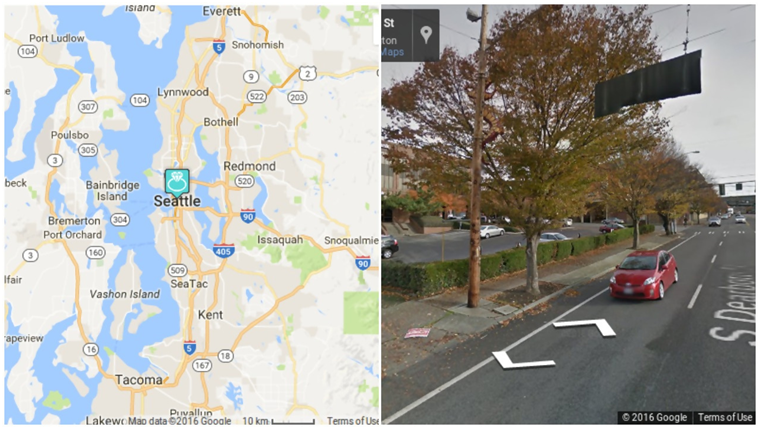 Free WordPress plugin which allows adding an unlimited number of maps with an unlimited number of locations. Use rich functionality to build custom maps and custom markers. In addition, the plugin includes layers showing traffic jams or landscapes to create more interesting maps. There is a pro version which includes advanced options like custom skins, tables, contact forms, etc.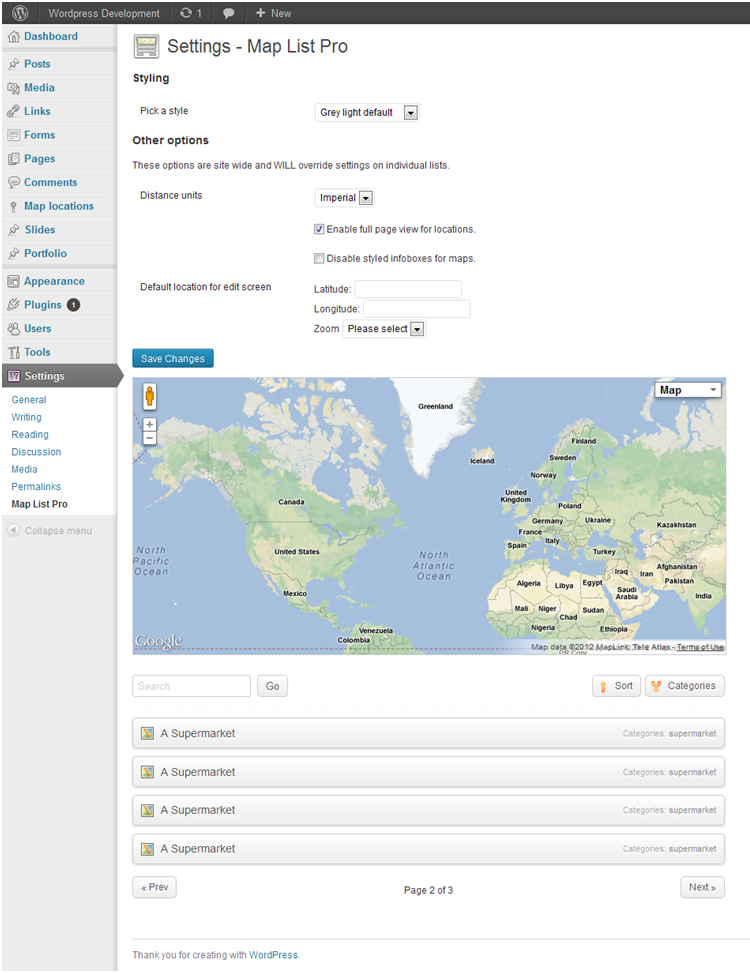 Another very popular and functional premium WordPress map plugin that helps to add detailed maps and lists along with search and shortcodes. It comes with 25 preset map styles, pictures, autozoom, custom markers, categories, and filter markers.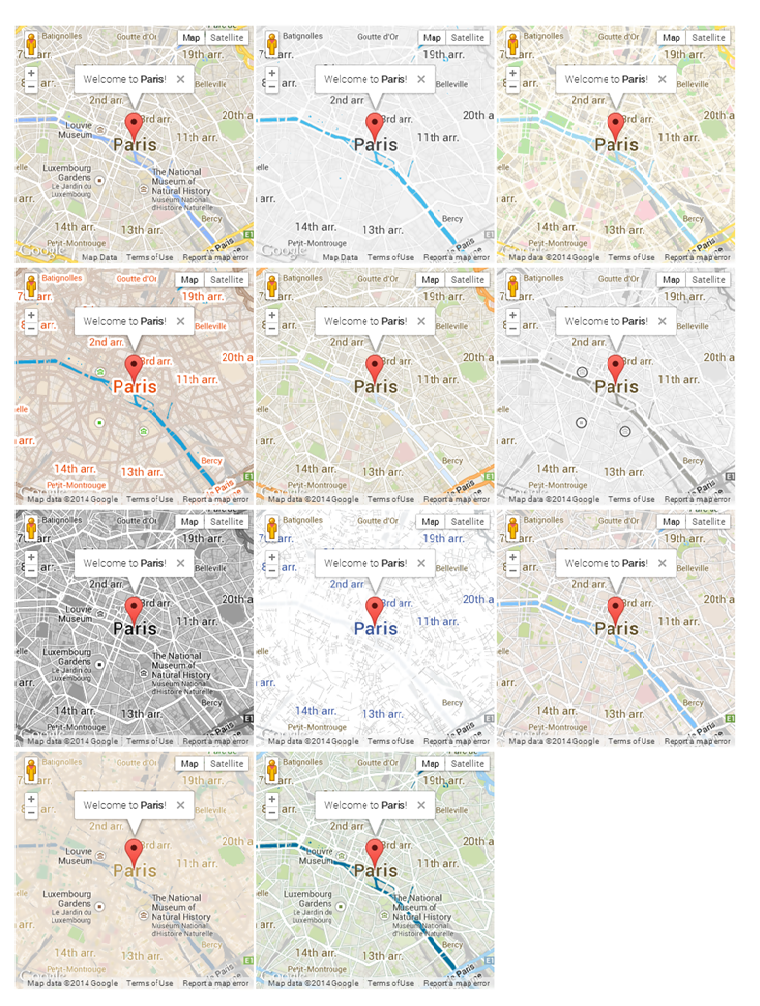 Premium plugin with great options to work with the maps. It boasts with a visual map designer, which allows to see all the pins and change them if necessary. The developers also added 10 unique skins, unlimited number of color overlaps, 15 pin icons, automatic language selection, as well as easy-to-use shortcodes. Moreover, all the pins can be "decorated" with animation, hints, directions, etc.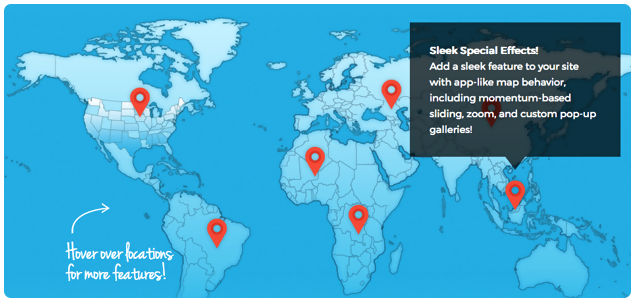 Premium WordPress plugin. Its flexibility is simply amazing: maps are extremely easy to add. Moreover, you are able to create your own. Add pins with tips to group photos, use rich animations, custom markers, videos, gallery features, lightboxes, multi-site integration, etc. You can even create layouts in PSD format.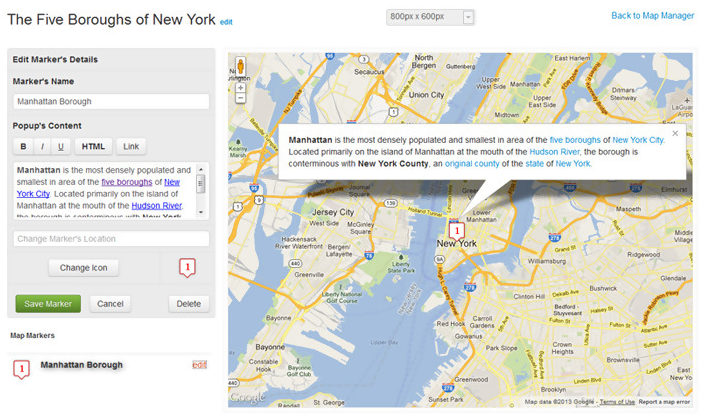 The free Easy2Map plugin allows you to simply add maps: install the plugin and start working. You can move markers to add locations to your map. The plugin also supports various encodings, custom HTML and hyperlinks for markers. There are custom markers and icons, zoom functions, easy-to-use shortcodes and more are available.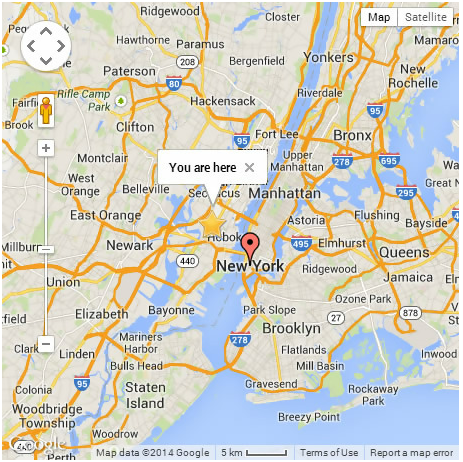 Free WordPress map plugin to build maps that related to the content on your website. You can add multiple locations, create your own markers, embed maps in different languages, and use customization options such as zoom, map types, indents, resizing, and more.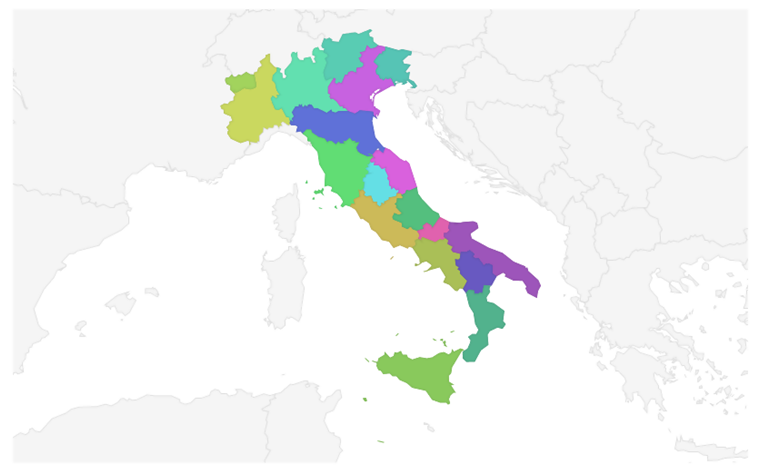 A great solution for those who want to create beautiful interactive maps that will serve any specific needs of your site.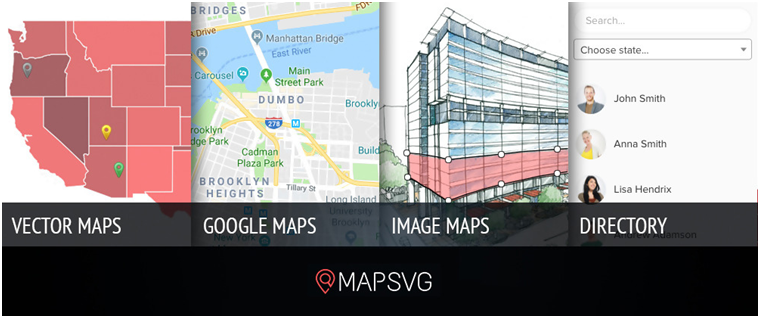 One of the most efficient WordPress map plugins. This solution for interactive mapping makes it easy to create vector maps, Google maps or image maps. The plugin includes powerful options for markers, tooltips, geolocation coordinates, custom event handlers, building the forms, customizable CSS, etc. You can even add your own statistics using cartograms, which is ideal for demographics, weather mapping, etc.
MapSVG also includes a built-in preview in the dashboard, so you are able to easily create and view changes in your map during the process. Other notable features of the plugin include more than 100 countries/world maps, custom colors, links to regions, a list of map market catalogs, custom fields of the map object (text, date, radio, checkbox, WordPress post, image, status, regions, marker) and much more.

A free map plugin that you are able to use for adding an amusing and interactive map of the world to your WordPress website. Add links, text, and pictures when you hover the cursor, as well as change the colors of the map using the visual editor. When you're done, simply use the shortcode to add your map to any post or page. All maps are responsive and load quickly, so your SEO should not be affected in any way. And if you want to create a local map, pay attention to customizable interactive developer maps for the USA, Europe, Asia, and other regions.

If your company has the locations in several cities or countries, use this plugin to add convenient, interactive maps to your WordPress website. Users will be able to filter locations by radius and get directions to each place. You can add vital information, such as phone numbers, hours of operation, and other useful data information, to each center. The design of your map is also customizable.

Using the GPX file as a source, the plugin will display interactive maps with features such as altitude, speed, heart rate, and temperature. This functionality can be useful for scheduling race/events or tracking fitness data.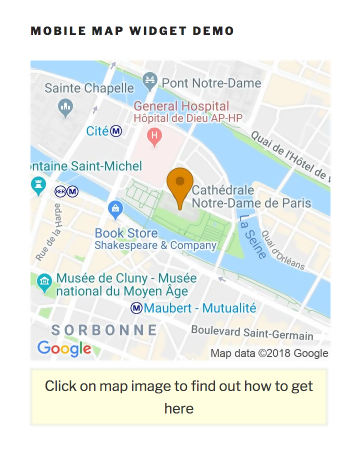 A plugin is optimized for use with mobile devices. It will display a static Google map with a centered pin in the right place. When you click, Google Maps will open. Users can then fill their current location to get directions.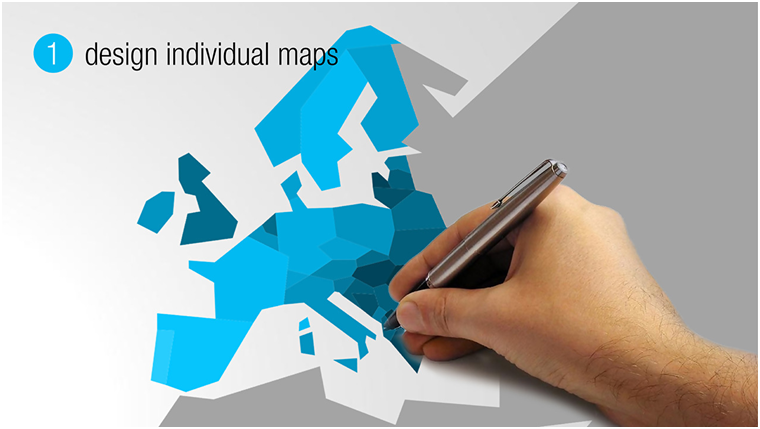 The product is not a common plugin since it is designed to give a much higher level of customization. You are able to manually develop a map according to the design of your WordPress website. You can also select whether to use the geolocation data, which gives additional features.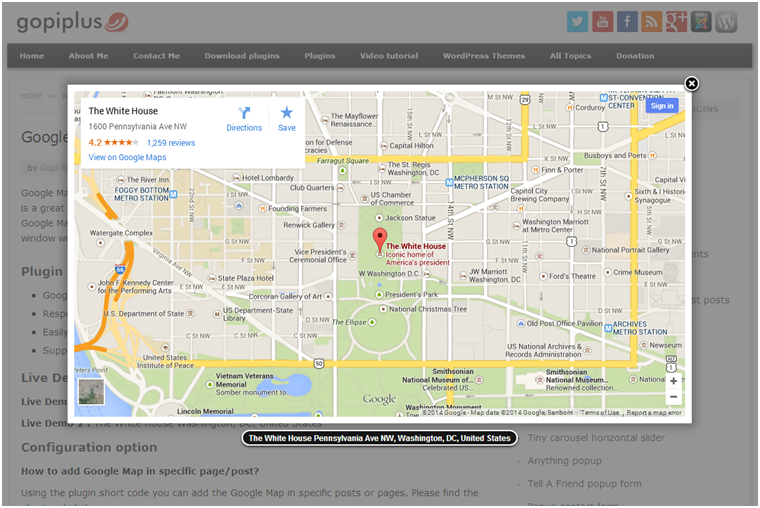 Instead of displaying Google Maps in your content, this plugin allows displaying the map in a popup window. This can be a great solution for websites that need to show several maps without sacrificing performance or do not want to distract the maps from other content.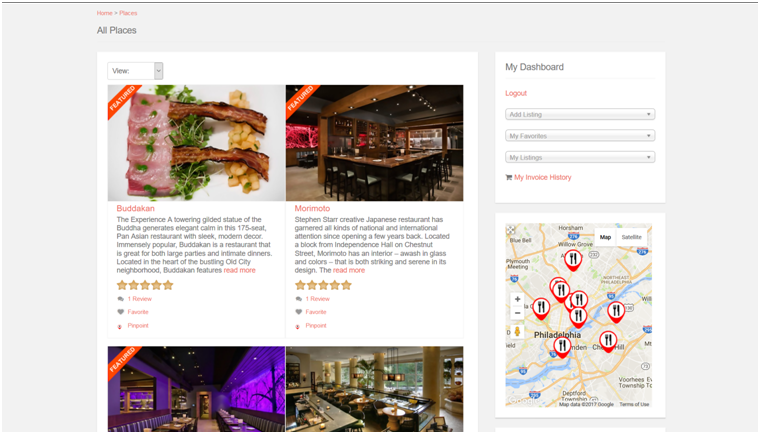 The tool can be used to create a regional or global directory of companies or participants for the website of your company. The plugin supports the import and export from/to CSV, which allows you to quickly create directories.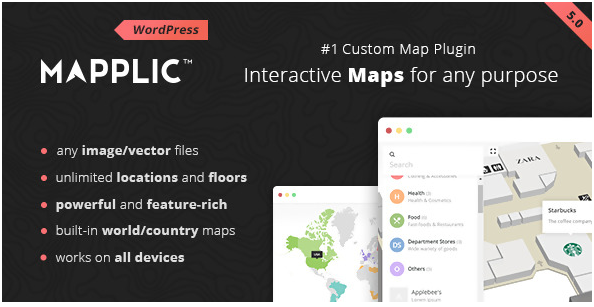 Premium interactive map plugin with advanced features for creating a map for your company site. Build vector and graphic maps, add an unlimited number of floors and landmarks, use the built-in maps of countries or the whole world, add deep links, as well as create fully responsive maps for anything!

If your company is not only online but have an offline presence, the number of people who can find you actively influence your success. And how will your potential clients find you? Of course, using a map on your contacts page!
The Advanced Google Maps plugin is probably one of the most complex Google Maps plugins today. The plugin is multi-functional and supports almost any existing type of map. You are able to overlay shapes and colored shapes on your maps to direct specific messages to your clients, and the plugin supports all the available Google Maps skins, including street view, a map view, Earth view, panoramic view and a 45° view.
You can add an unlimited number of places, and maps can be added to any page or post with a shortcode or any area of widgets. The most outstanding option is the ability to add layers to your maps. This means that you can add to your map routes, cycling routes, traffic levels, and weather layers. This feature will provide your visitors to the site with everything they need to find you.
Maps are fully adaptive and can be changed using one of the more than 500 preset markers. Moreover, you are able to build your own one, add custom shapes and layers, build custom map covers, clusters, display multiple routes, etc.

Do you want to build outstanding full-screen maps and add them to the website? This premium WordPress map plugin has full-screen mode support, as well as a huge amount of options for easy creating drag and drop maps, loading locations from a CSV file, custom markers on the map, filters of the map, full or fixed layouts, shape layers, color skins, and more.
With technology rapidly expanding one can now make digital maps using softwares like Mapx

Image Map Pro is a plugin for creating premium image maps. Why limit them only to Google Maps? With Image Map Pro, you are able to build your own maps using an image (or map) of your choice. Then add custom shapes, font icons, tooltips, mouseover or actions on mouse clicks, custom zoom, full-screen layout, and more. In addition, the plugin has the support of simple import of the map, undo/redo when building, duplicating layers, custom styles, and automatic updates.

Simple and intuitive plugin for adding Google maps to any WordPress website. Just install the plugin and start creating your maps. The plugin supports several locations, categorized/linked locations, map layers, markers, map links, directions, and more. To add your created map to any message or page, simply use the shortcode.

Create improved maps for clients to find your locations using Super Store Finder for WordPress. Create responsive maps to be used on mobile devices with street views and directions. Add an unlimited number of places, select a boxed or full layout, include geo-location, customize colors or styles, add custom labels, and many more.

Advanced custom plugin for adding interactive and animated pins to your own pictures (whether you are uploading a shopping center map, flat product form or something else). Add custom pins with tool tips, slides, tabs, links, bubbles, filters, and more. The plugin also supports Google fonts, custom styles, lightbox, and actions.
Actually, there are much more WordPress plugins to work with maps. We presented only the best ones. Try any of them depending on your needs and let us know which one is your favorite.