Do you like traveling? Like to explore different places of the world or you are deeply affected by Wanderlust? Then it is not a bad idea to share your experience with other travelers or people who might plan to travel in the near future. Whether you start it as a hobby, making it a career option is not that bad too. Apart from just posting pictures and writing travel blogs, it can also help you to fund your further travel expenses.
But the main concern that arises is how to initiate. How can it all be possible? How to start a travel blog? How to make money out of it? and many more questions will come to mind. But you do not need to worry, Your all queries and doubts will be cleared in this detailed article on" How to start a travel blog".
Just stay with us and keep reading this article. But before we proceed further first check out the Positive and Negative Aspects of a Travel Blog:
Some Pros and Cons of A Travel Blog
Before hopping on all the steps on "How to Start a Travel blog'. You must know all its negative as well as positive aspects before proceeding. That will help you in making certain decisions about it. Because, you do not like to leave it mid-away which might affect you as a great loss in terms of time, effort, and money.
So it is better you must consider both sides of this type of blog and Decide accordingly.
Pros of having a Travel Blog
First, let us check out what are the positive aspects and the Pros of starting a Travel blog.
If you are a wanderlust and love to travel and explore different places, then this is one of the best Hobby or career options for you. You can live your dream and earn money as well. You can only grow if you like your work or if not then it becomes a burden.
Passionate about Travelling:
Those who love to travel and explore different places, regardless of the comfortable life living at their homes. You can share your worthwhile experience with other travelers and make their experience better.
The mission for every journey:
If you are adventurous and work as a travel blogger, the whole traveling will be like a mission for you. Whether you have to write about some remote untouched places, communities, or culture. You will have a strong reason for your journey to accomplish. If you are traveling to accomplish a mission, the whole journey will become more interesting and enjoyable. But make sure you do not compromise with your work.
New Adventures and Experience:
For many people, visiting new places for adventures will be their dream come true. Hence, as a Travel blogger, it will be an amazing opportunity to visit new places, and exploring new cultures will be a worthy experience that no one has experienced before.
Opportunity to bring New stories to your readers:
As a Travel blogger, you will be traveling to different places meeting different people, and experiencing their cultures. Each time, you will have a different story to tell your readers no matter if it is negative or positive. Although, readers like to read stories that are engaging and unique to them all the time and you will never run out of any content.
Apart from enjoying and living your dream as a Travel blogger, there are high chances that you will also receive a high income. Once, you reached popularity and become a successful travel blog writer, sponsors, and various Travel agencies will approach you.
As a travel blogger, you will not just bring new stories or experiences to your readers. But you will have an opportunity to learn and educate yourself about culture, people, languages, customs, and many more. Once you visit someplace, you can learn their language to better understand their story and share your experience about the same on your blog.
Cons of Having a Travel Blog
Working as a full-time or part-time travel blogger is not as easy as it seems. Apart from high income, there are also some downsides one should consider before hopping on " How to start a travel blog?". Let us see what are they:
Threat to Life and belongings:
Sometimes, you might need to visit some remote areas or such places where Administration is weak. You might have to face certain situations that can be a threat to your life and your property. Even if you are staying at a hotel or couch surfing, your security will be at your own risk.
Threat to your financial status
In the beginning, all your travel and stay expenses will be incurred by you. And you should not forget that travel can sometimes need a lot of investment, especially if you are traveling to distant places. Hence, to become a successful travel writer, initially, you have to invest your own money. And if nothing goes well, it can severely damage your financial status. Hence, to avoid such a catastrophe, if you are sponsoring your own trip, it is better to make a complete proper plan or strategy before proceeding.
Tiresome and stressful job
Being it is adventurous or someone's dream job. Traveling through different modes on long routes, different climates, and different food can also affect your body. In addition to it, you have to write content in certain uncomfortable situations, gather information piling them up is another stressful job.
Hence, it is highly advisable you must check out all the pros and cons before deciding to how to start a travel blog.
How to Start A Travel Blog?
After knowing all the ups and downs of a Travel Blog, if you are still taking the chance and want to start your travel blog, then follow the steps in which we have provided a step-by-step comprehensive process:
How to start a Travel blog? at first, seems very tedious and confusing for any beginner. Especially without any prior knowledge of any website technical stuff, How a search engine works? How to get more and more viewers? and How to monetize your blog becomes more difficult. Find out all the answers below:
All you need to do is to follow the steps:
Research about Travel Blog Niche
Decide a Blogging platform on which you would like to share content
Research and decide Domain Name
Select Hosting Service Provider
Setup your Website on WordPress
Choose a Website Theme
Create Content Strategy
Marketing
Add Google Adsense
Research about Travel Blog Niche
The first and foremost step for "How to start a Travel blog?" is to do extensive research about your blog niche. And try to find out all the available Travel blog niches available. It is because there are millions of blogs available in different travel niches for wider audiences.
If you are not specific about your Travel niche and start blogging for an entire audience. It will become challenging for you to compete in the vast competition and be in the top ten search list. Hence, it is always advisable to narrow your path and choose a specific Travel niche that you are specialized into. That will help you to target only a particular type of audience and it will help to lower the competition So that you can effectively deliver your content.
Different Types of Travel blog Niche
To get lower the competition, You can consider the following popular/trending Travel blogs,
Luxury destinations
Local city blogging
Traveling to a particular region
Budget travels
Solo Traveller
Female Travellers
Travel in Budget
Travel without Money
Adventure Travel
Mission travel and many more…
There are plenty of options from which you can choose. But you should always choose what people are looking for and which is currently trending. Or You can go for whatever Travel blog niche you are passionate about.
No matter what you choose, running a Travel blog without any Keen interest, will only consume your time, effort, and money. So it is better to choose only those niche that interests you, for example, if you are into adventure travel you like to explore and find out some Adventure places that have never been searched for or reviewed. Or You like to travel for a mission and bring some incredible stories to share with your readers. It would be a great step to focus only on those that you are familiar with and will be easier to attract audiences of the same interest.
Choose carefully whatever Travel blog niche you want, because once you choose, you cannot step back.
Choose a Blogging Platform
Gone are the days, when you plan to start a website or blog, you need to learn coding and other technical stuff to start building a website from the scratch. Fortunately, now there are various platforms available that help you to build your website without prior knowledge of coding. These platforms are popularly known as CMS or Content Management Systems. These systems are well-equipped with all the features that content creators need for their blogs, such as content editing tools, comment moderation, website designing, plugin support, and many more.
As the name suggests, the Content management system is a whole setup that helps you to manage your content online in a well-systematic and easy way. So, it becomes the best option for any blogger to start with.
WordPress is one of the most popular Contents Management Systems that is widely accepted and used. And shares more than 41.3% of all the websites on the Internet is WordPress.org. With regular updates, bug fixes, and high flexibility, it becomes the first choice for any individual. For a complete Latest analysis, read our blog on WordPress Market Share: Updated stats 2023.
However, WordPress is an Open source and completely free platform. But to run a website you need to buy web hosting services and a domain name. Which we will discuss later in this article.
But if you do not want to spend a single penny, WordPress has a Free blogging platform WordPress.com as well, with its own limitation. If you do not want to use WordPress, there are other Free blogging Platforms that are also available such as Blogger, Wix, Joomla, etc.
You will have all the free available WordPress themes and WordPress plugins that come with the free version. But restricted to using their inbuilt features only. No third-party themes and plugins can be integrated and used. It means you have simply relied on the features and resources they have inbuild or integrated into their Free platform. A separate domain name and extra plugins, you need to pay for that, which adds up to an extra cost to your budget.
But still, if you do not want to spend even a single penny, you can go for Free web hosting platforms and be bound to the features they have provided.
If you genuinely want to start a Travel Blog and generate revenue, we highly recommend you go for self-hosted WordPress or Managed WordPress Hosting if you want to focus on your travel blog and leave all tech support to the hosting company.
Research and Decide Domain Name
Having your own domain name for your blog is one of the basic and most important things for a website. It is so important that your whole brand reputation, Web traffic, and Search result optimization (SEO) depend on it. You cannot select any random name prior to keyword research and analysis.
For the best domain name, you must check these qualities to get better visibility online.
Do a keyword research around the niche.
Try to choose a name from the keyword or names around it which has high search volume and low competition.
If keywords are unavailable you can choose Your own name and link it with your niche to make a Brand out of it. It is called Self Branding. The domain name should be your name and niche, the tone you use for writing, and the theme you choose that defines your personality.
Always give priority to the ".com" domain.
The name should be easy to remember and pronounce.
Make it as short, if possible make it to one word
The whole buying and registering of a domain name will depend on availability and the seller. But on average, it will cost you around $10- $20 per year/domain.
Select hosting service Provider – WPOven makes it easy!
Once you are done registering your Domain name. Now in our "How to Start a Travel Blog" article, the next segment is to select the best web hosting service provider. You can understand its importance as, If a domain name is your home address then web hosting is your home where all the content will be hosted.
These hosting providers are one of those who have the power to make your website accessible for users. However, there are a number of web hosting services available now. But the main concern is to choose the right one.
But with WPOven, you can simply trust us, We have servers and data centers with dedicated hotspots around the World that keep your blog connected to the internet all the time.
Some of the key Features of WPOven are :
24/7 customer support
You can choose a Datacenter from our 13 locations around the world.
Can host unlimited websites
Provides and Staging platform and easy Sync
We offer a Dedicated Cloud with SSD Storage.
Complete Security
And Plans start at $16.61 per month. It is one of the lowest and best plans for anyone who likes to start a Travel blog.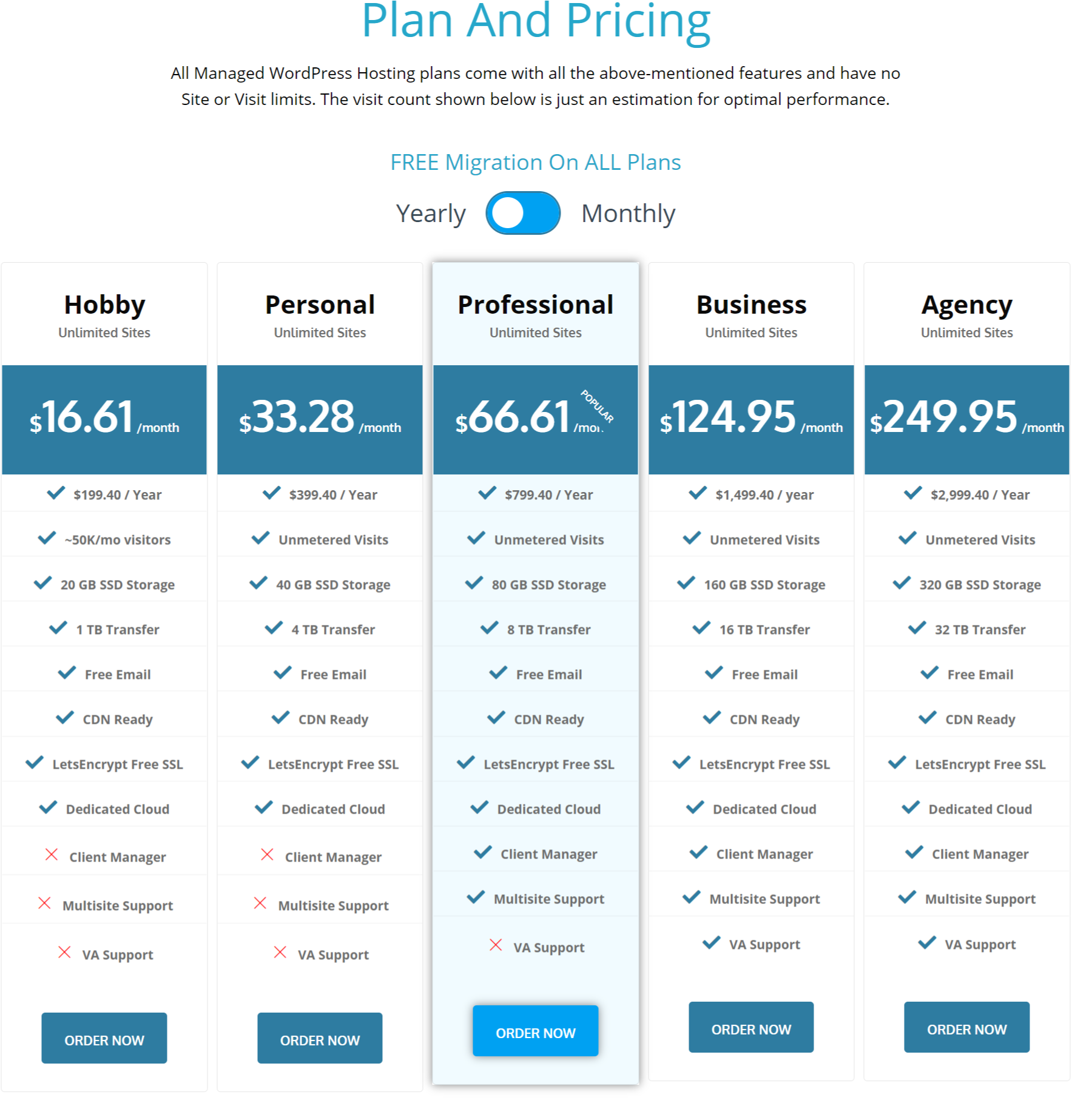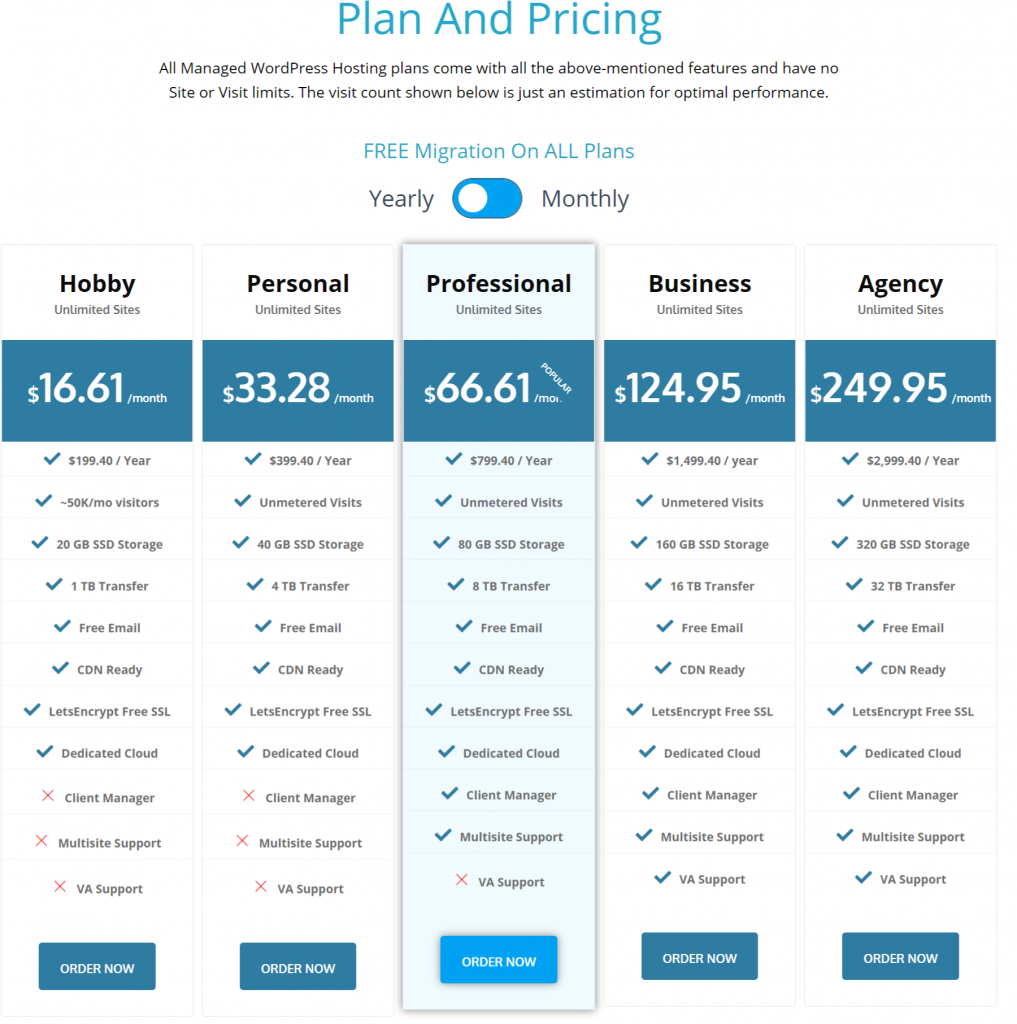 Setup your Website on WordPress
After finalizing your domain and buying a Web hosting service, now it is time to learn all the technical details on How to start a travel blog? You will be guided through how to set up WordPress on your Web host.
In the First step of setup, You need to go WPOven homepage.
Sign Up for a Free Account on WPOven.com
In the first step of website setup, you need to visit WPOven Homepage, and click on the Sign-UP button as shown in the picture below:
Once, you click on the "Sign Up" button a Sign-UP form appears asking for your important credentials such as:
Your name
Email address
Password
Check the terms and conditions button and hit the Sign UP Now button to complete registration. A verification email will be sent to your registered email id. You have to open your email box and click on the verification email to verify it.
After you are done with your verification, it is time to choose your hosting plan. Go to back to the Homepage and click on the "Plans And Features" button as shown in the image.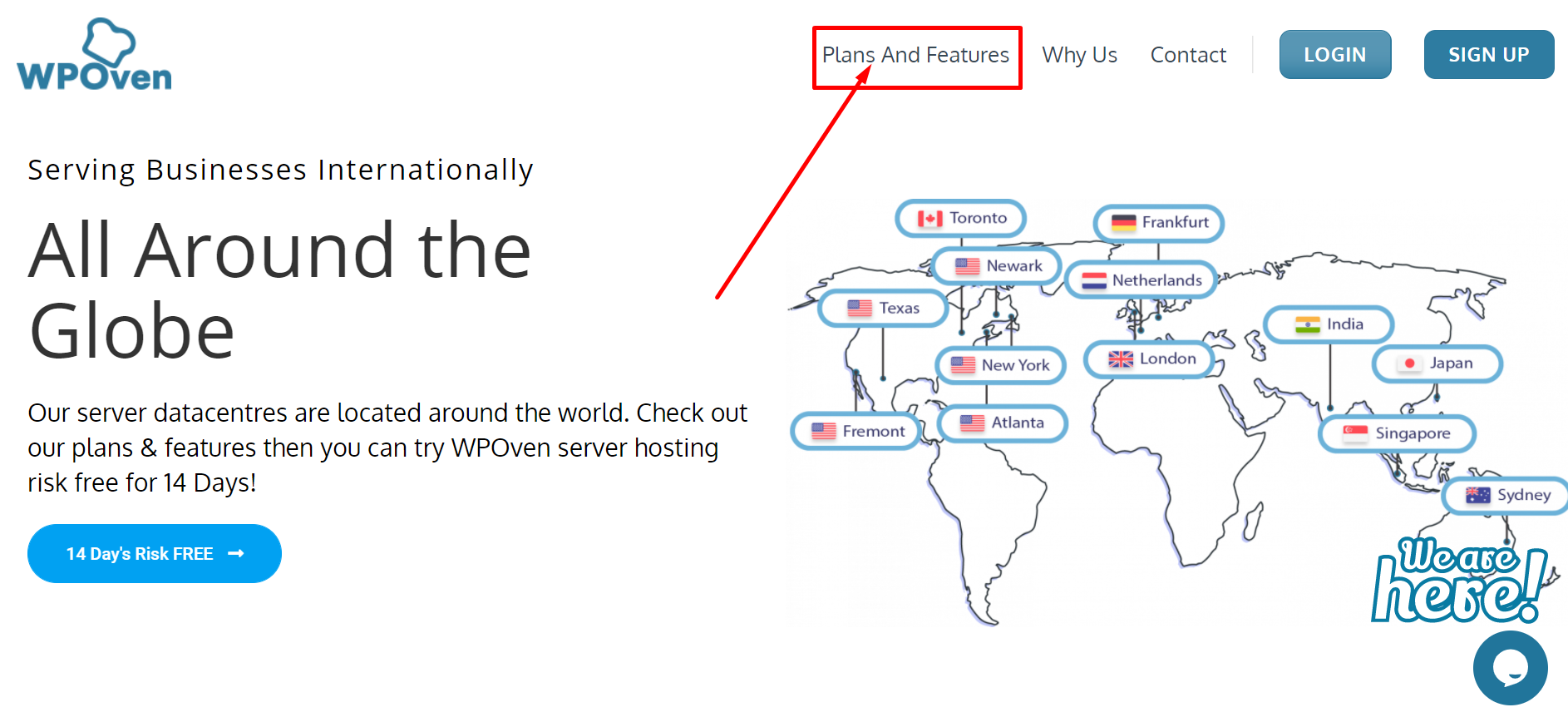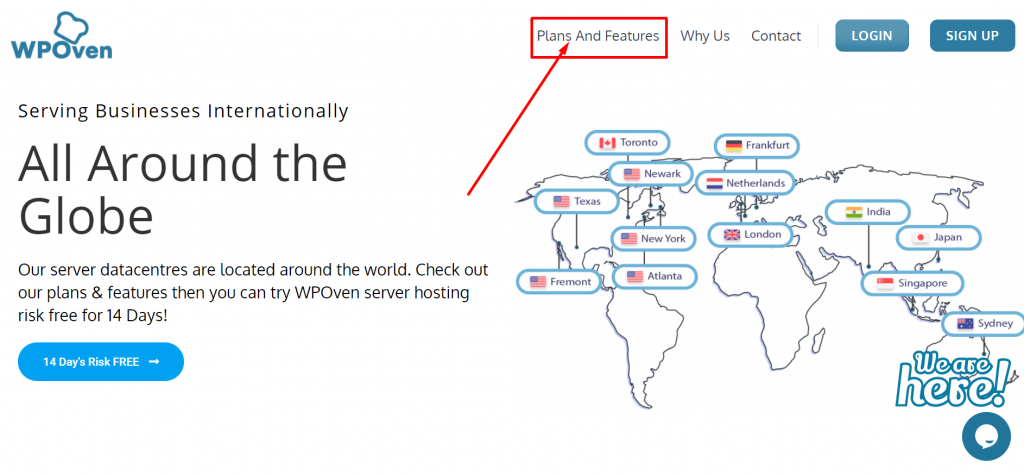 A page with detailed plans and Features will appear. Read thoroughly and check out the complete details that are best suitable for your requirements. To choose a suitable starting plan we will recommend you go for a very basic one. Once you, start growing and getting traffic, you can move on to higher plans. At WPOven, we take care of every user and we have plans for everyone, from users who like to have a website for their hobbies or for running an Agency.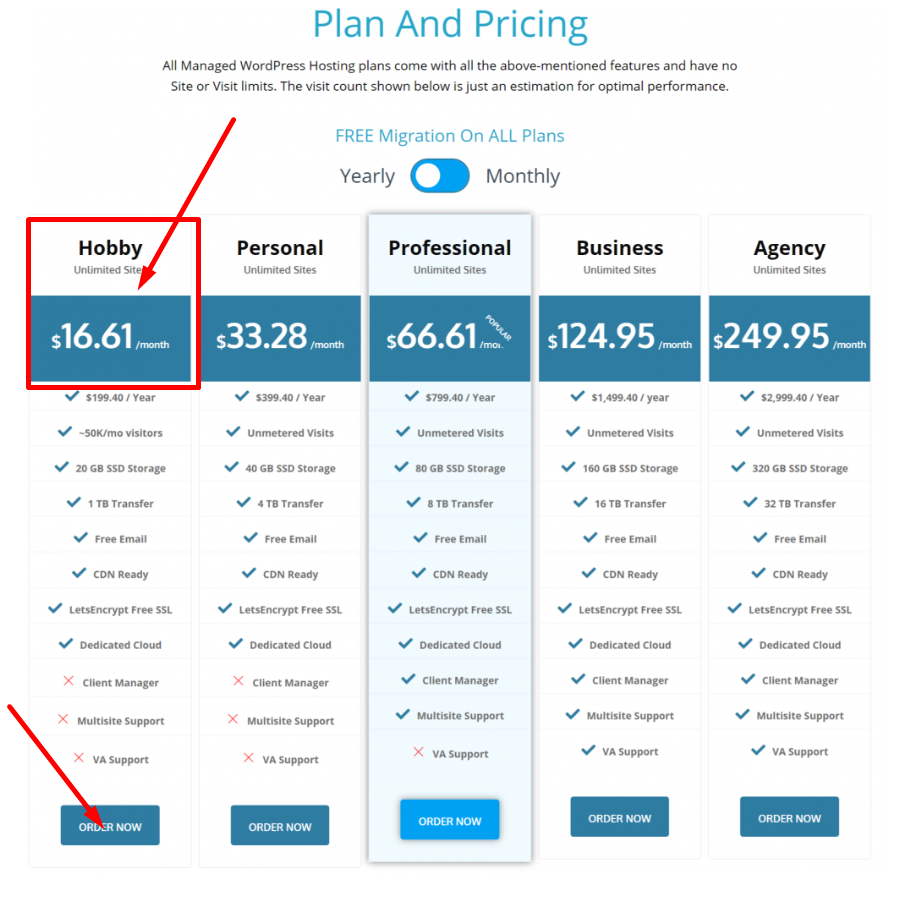 The basic at WPOven starts at $16.67 a month, especially focusing on users who want a website as their hoppy or newbies who like to start a Travel blog just like you. To continue with the process, click on the "Order now" button and complete the payment.
How to add your Domain to WPOven
After you are done with buying a Web hosting service, Now it is time to Set up your Domain Name on your Web hosting service. Just check out the "How To Add Your Domains to WPOven" setup tutorial. It will really help you to get through this.
Add WordPress Themes
Once you are done with basic setups like Web hosting, add the domain to the web host and another WordPress setup. It is time to decide how your website should look like. There are various WordPress themes available on in some of them are available for free and some of them are paid. One of the most popular WordPress theme providers " ThemeForest" has various themes available for Travel blogs/websites.
In the beginning, if you find this quite confusing and do not want to go for paid themes. You can choose a free theme and if everything goes well, you have the option to change it later on.
Once you have decided on your theme, you can download it either from the theme forest website or use the default theme present on the WordPress dashboard.
Here you can see a list of themes available on ThemeForest for travel Blog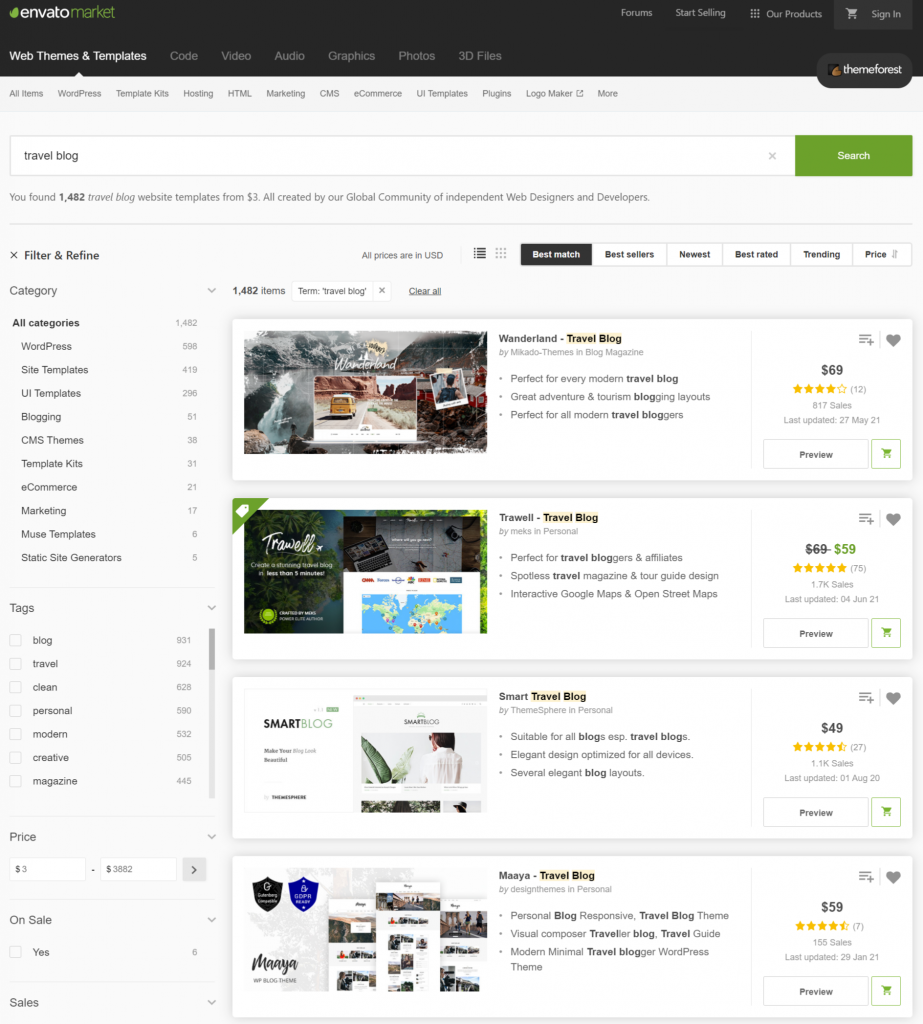 Installing Plugins
Plugins are essential tools that help to extend the functionality and feature of a website. So, if you want your website to look rich and featureful, you can add/install some Travel plugins that add up an extra edge to it. For example, if you like to add an image gallery that shows all pictures you have visited. Simply install a photo gallery plugin that will do the work.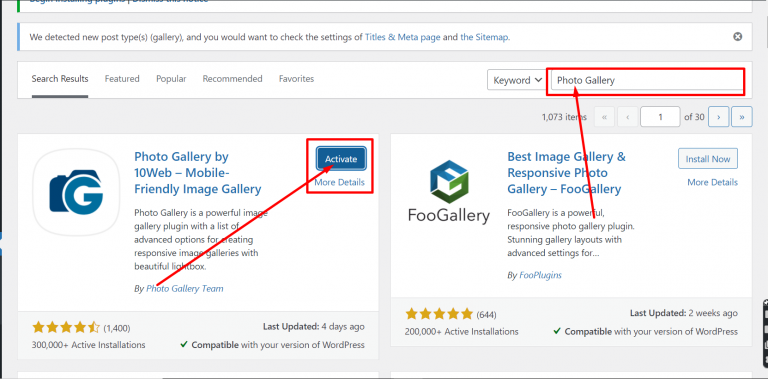 And if you like to show your readers, which places you have been to. Install Nomad World Map.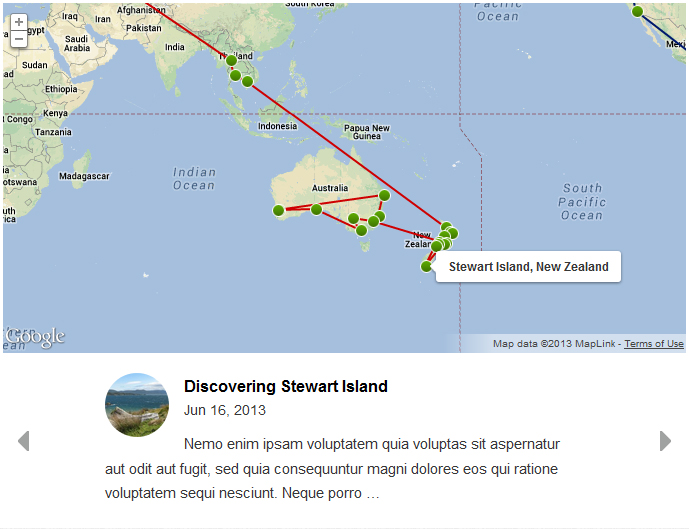 Or, you can also Install the Instagram plugin "Smash Balloon Social Photo Feed" on your blog, to show all of your travel pictures.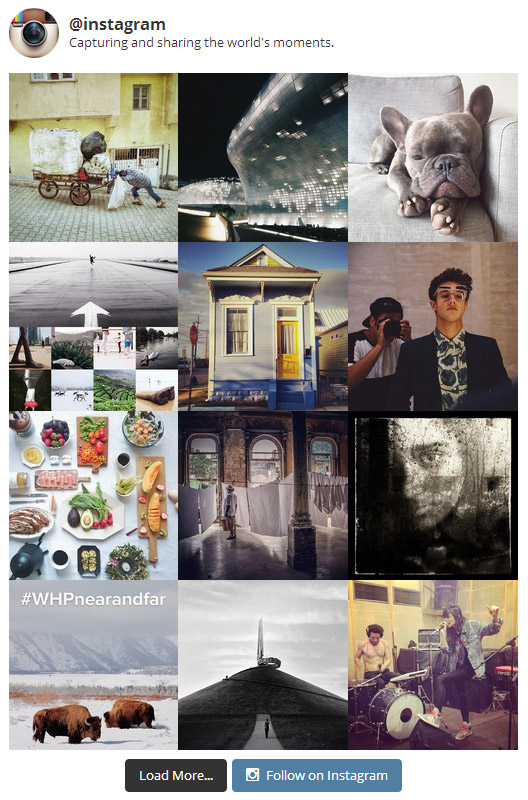 Some SEO Tips for your Travel Blog
SEO or Search Engine Optimization is a method of increasing search engine visibility, improving SERP rankings, and increasing traffic. It includes a wide range of methods and parameters to follow for getting better results. But in this article "How to start a travel blog?", we shall talk about only the basic and most important SEO methods worth mentioning.
Install Rankmath SEO plugin – This SEO plugin will guide you through how to write well SEO-optimized content and other Technical search optimization aspects.
Responsive Website Design – More than 50% of internet traffic comes from mobile web browsers. From this data, you can clearly understand how important your website should have a responsive design. So, always pick up a responsive Theme that has a responsive design and is compatible.
Post rich and relevant Contents – Content Relevancy is one of the major parameters of google for ranking. The content must be rich in vibrant images of places, videos, and graphics.
Schema Markup– More often in SERPs you have seen, reviews and star rating snippets. These rich snippets can only be shown through a proper Schema Markup. This SEO technique is usually used to provide additional information to Google about what type of content is and which type of audience is suitable. This additional information makes it easy for Google to understand and gives better search results. This method is best suitable for Recipes, Reviews, etc.
Meanwhile, you can also check out our latest blog on 11 Best WordPress Plugins to Boost organic Traffic for your blog. And check out other SEO plugins that have a lot to offer.
Create an effective Content Strategy
Creating Content for Travel Blog is depend on the individual, Some go for long textual ones and some people use infographics to tell their stories. Some people like to write Tips and Guides and some like to share their own experiences. In fact, there is no good or bad way of writing content in this niche.
However, the best kind of travel blog is always appreciated whose content is mixed up of all types. The tone you use for delivering your own experience is what the readers will seek from you. Your unique tone for delivering content is what the readers will be attracted to you.
Content is the base of every Website or Blog to get better visibility and organic traffic. Hence, making an effective Content Strategy and implementing it on your website is another milestone you need to cover regularly. Because Consistency is what the users always demand from their favorite bloggers.
If you are failed to provide regular content or ignored updating your blogs, there will be a negative impression will be on your readers. They might think that your travel blog is no longer active or You are not showing dedication to it.
If you are going to start traveling or plan to travel before you create and set up your Travelling blog. Always make a complete content plan or strategy at least two weeks in advance and schedule them. It will give you enough time to travel and work on your next project, meanwhile the readers will be busy reading them.
How to make Your content look appealing?
Contents that are based on texts are the most suitable for articles. But a long paragraph textual blog may not look appealing and users will immediately get bored and will leave midway through the content without reading it completely. In terms of SEO, it is called poor user retention. Lower user retention poor will be the website's performance and finally, it will affect its search engine ranking.
To make it easy to read, you must break the paragraph into small parts, and style it with attractive relevant pictures, videos, GIFs, and emojis. These media help to increase a sense of fun in reading and appeal. Let us find out what you can do more with it to make to brush up on your content.
Enhance your Photography Skills
For a serious blogger, it is also necessary to ensure everything absolutely perfect and like a pro. Similarly, in a Travel blog, to make your content more beautiful and attractive, You need a high-quality camera and some tips and tricks which you can learn from YouTube tutorials.
However, taking pictures is not an easy task. Setting up lighting, picture angles, and colors do not seem all easy. And Hiring a professional photographer and paying for his travel expenses will double your budget. The only solution is to learn and enhance your own photography skills by starting from the very basics.
How to make your Content Search Engine Optimized?
After you have done your content planning and scheduling. It is now time to learn how to create a well Search engine optimized content for your Travel Blog.
You might have thought, blogging is about just writing textual content and just publishing it on the internet. But things won't work like that in the Search Engine. These search engines cannot understand their own what the content is all about, unless or until it has been properly optimized and followed all the parameters for search engine rankings.
As earlier mentioned, Using an SEO plugin like Rank Math can do the job by guiding you through the writing process. But it is just not sufficient for content to be fully optimized. Let us check out what more you can do for optimization.
Use of key phrases or long tail keywords
Key phrases or long-tail keywords are combinations of two or more words that help to add context to the content. It is highly preferable to use rather than a single keyword because, if the readers are searching with a single keyword on google, there is less chance that your blog will appear in the search engine rankings. It is because, for a single keyword, there are more than thousands of blogs that can be present, and hence it will be difficult for Google to rank the most relevant article.
Hence, to refine search results and get better visibility, you need to provide more information to the search engines that will show the more relevant search results. The more information or relevant keyword you use the more relevant content will be targeted to your visitors.
For example, instead of using the simple keyword" Travel ", use a long tail keyword " Beautiful places to travel".
Create blog highly Responsive
More than 50% of internet users, use their smartphones for browsing and reading articles. Hence, it becomes blogs or websites to be well optimized and compatible with all screen sizes such as Smartphones, tablets, laptops, and personal computers. It is so important that your Google use this parameter for their SERP rankings and if they found your blog is not well optimized for smartphones or mobile devices. They simply push your blog towards lower search results, and it will be difficult for visitors to find your blog.
Write long and rich content
Although, Google or any other search engine does not disclose its algorithm for search engine rankings. But it has been seen that they prefer contents that have a higher word length to get higher rankings as compared to the lower content length. But you should note that it is not always the case, the ranking factor depends on various other parameters, and sometimes you can also find that a short blog gets better rankings than the longer one.
You must note that, along with other essential parameters, word count is a plus point for getting a good rank. And it is always recommended, that a blog must be more than 2000 words. Due to this the keyword density (Which is one of the basic SEO factors) also increases and hence chances of better visibility and organic reach become higher.
Promote your blog
Once you have successfully set up your blog and start pushing content. Now it is time to let internet users know about your blog and its content. Brand Awareness is one of the most basic levels of the Marketing Funnel. To let visitors know about your blog, you have to promote your blog on various other platforms and increase your visibility. Let us check out the various ways you can promote your blog and its content.
Use of Social Media platforms (Social Media Marketing)
One of the most reliable and highly acceptable platforms to increase awareness. These social media platforms have a higher user base, hence it increases the chances of getting higher visibility and awareness. You can simply create an account or blog page on this platform and share the links of your latest blogs from time to time.
You need to engage your audiences with interesting activities like polls, Q/A sessions, Online quizzes, etc., and reply to their queries in the comment section quickly. The more active you will be on these platforms, the greater the number of followers. Try not to be inactive or respond slowly, it will create a sense of unprofessionalism, that can harm your web traffic.
It is better to choose a visual-oriented social media platform rather than textual ones such as Pinterest, Instagram, Twitter, and Facebook.
Influencer marketing and Collaborations
This is quite trending marketing nowadays. You can reach social media influencers who have a good fan base and have the same niche. Or you can ask other bloggers of the same niche to collaborate with you. Or if you couldn't able to find an influencer of the same niche, you can go for similar ones. For example, if your niche is "Vegetarian dishes", you can contact a blogger whose niche is vegetarian English dishes.
Search Engines for promotion
Organic web traffic is one of the most basic and free modes of promotion. Hence, it is highly competitive too. For most websites, the majority of the web traffic are coming from organic search results. So, it is tough and highly competitive to get Top rankings in the SERPs.
Getting backlinks from other Travel blogs also helps in getting more viewers as well as helps in SERP rankings. In addition to it, you can also gather the email addresses of your visitor and use them to send email newsletters for the promotion of your blog which helps to directly target your audiences.
Using Traditional Media for Promotion
Getting featured in local newspapers, articles or Magazines is another way to get popular. However many people are moving on online material, but it is better to make sure no promotional platform should be left.
Revenue generation
After completing all the above steps, In our last section of the " How to start a Travel blog?" blog, We will discuss What are the various ways to earn money. After all, you are putting so much effort into it, you can make it your full-time business too. However, many travelers are somehow able to earn for their travel expenses by working on the road as Travel consultants, and writers Working for some agency.
There are also some other income sources that you can avail of through your Travel blog. Let us see what are they.
Selling Travel ebooks
One of the highest profitable strategies you can follow is selling Ebooks online based on your Travel experience. Users find it comfortable to buy ebooks online and read them on their computer screens. Ebooks or other digital Products offer an unlimited supply of inventory with a minimal cost associated with production. It is also become a major source of your passive income, even though you sell your ebooks at cheaper rates. No need for hard pages, or visiting publishing houses to spend a hefty amount. All you need is to type directly type content on the editor of your computer and make a book out of it, upload it on your website and add a buy to it.
Selling an ebook does not require any expensive setups or any material. All you need is a personal computer and a fast internet connection.
Display advertising
Google Adsense is the best option for generating passive income by selling out your Website or blog space to advertisers. Google utilizes your Blog space to show only relevant ads with ad banners, GIFs, or other ad Graphics. The ads are created and paid for by advertisers who want to promote their products. In this way, you can create a passive income out of it and also get good web traffic.
Youtube
With increasing day-by-day users, One of the most popular media-consuming online platforms is YouTube. And hence it makes it the best choice for any blogger to increase their followers, and online readers and increases visibility. To make this happen, just like social media platforms, you also need to create an account and upload your Travel videos or you can even upload your vlogs, which will help to promote your blog.
In addition to it, when your Youtube account starts growing, you will start generating revenue from its YouTube Ads, and many companies will contact you for sponsorship.
Lead generation
Lead generation is an old technique to make a list of potential customers, who have signed up on your blog or showed interest in your posts. Through this, you can easily target your audience and sell them your products and services directly.
But to follow this strategy, first of all, you need an email list, and you can have it by making a landing page on your blog, asking visitors to sign up. Once they sign up, their emails and other information will be listed and with the help of that email list, you can start your email campaigns.
Running Ads on social media accounts
As we have earlier discussed how social media marketing can help to create brand awareness among social media account users. And how it will help in increasing web traffic. Similarly, you can also boost up the whole process by running paid ads on these platforms. You can benefit your Travel blog by simply investing some initial amount on social media accounts, that are worthy of getting higher audience reach and piling up a loyal customer base.
In addition to it, you can get more benefits if you have started offering travel gadgets or packages online. Social media platforms such as Facebook and Instagram use retarget marketing methods, in which they display relevant products to the user's behavior and likes. Actually, they are helping to target the right audiences that might be interested in your product and services.
Affiliate Marketing (Earn through Commission)
Affiliate marketing or Earning through commission is another revenue generation option, that you might be interested in. In this marketing strategy, bloggers try to convince their loyal readers to buy some sort of product or service through their content and directly connect their readers to the affiliate company. You will get a part of the profit or commission on each new customer who buys a product by clicking on the affiliate link.
Sponsored trips
You can work with private travel companies, Agencies, and Government tourism departments to promote their services, offers, and brand while traveling. In return, they will pay you a good commission, for all your travel expenses, food, and other activities. However, the motive of these entities is to promote their brands at a huge scale of audiences, they can only approach you if you have such as huge audience base or Followers.
Summary
Travel blogs are one of the ways by which you can cherish your travel memories and live your dream. Starting your travel blog can help you to document all your travel experiences in a blog. In addition to enjoying your dream, it also creates an opportunity to generate income.
So far as in the article "How to start a Travel blog?", You have seen setting up a travel blog seems easy. But you must be aware that growing it and building a follower base is a lot tougher. You won't see huge traffic on your blog for at least a year, or sometimes it may take longer.
Becoming a successful travel blogger, cannot happen overnight. It requires a full year of dedication and handwork by putting in your time for at least 15 hrs a week. Then only you will be able to see some positive results.
What do you think about it? If you have any more tips or suggestions regarding "How to start a Travel blog'? . Please do share them with us in the comment section below. We love to hear from you.
Frequently Asked Questions
How do travel bloggers get paid?
There are many sources of income for a travel blogger, let us check them out what are they:
1. Work as a Freelance Content Writer
2. Virtual Assistant
3. Consultants
4. Through Google AdSense
5. Sponsorship
6. Digital products
7. Selling Travel Stories
8. Affiliate Marketing
9. Paid promotions
How do I create a travel blog?
Here are some steps you need to follow to create a travel blog.
1. Research your Niche.
2. Purchase a domain name and web hosting
3. Choose a Travel web theme for your blog and customize it.
4. Make a content strategy and keep pushing content from time to time.
5. Start promoting your website on various platforms.
Is it hard to start a travel blog?
Yes, indeed it is hard to start a travel blog, while setting up a blog seems easy but traveling, exploring new places, bringing out new stories and pushing new content regularly is not an easy task. In addition to it, growing and building a follower base also requires a lot of effort. You won't see huge traffic on your blog for at least a year, or sometimes it may take longer.
Becoming a successful travel blogger, cannot happen overnight. It requires a full year of dedication and handwork by putting in your time for at least 15 hrs. a week. Then only you will be able to see some positive results.