Website hosting cost estimation is one factor that decides what your website would be like. You require a certain amount of funds to make your website accessible on the internet; this amount also determines your server's overall configuration.
So, in this post, we will discuss what are the different elements that determine the overall website hosting cost that helps you to decide the best option available. But before that, let us clear some basics about website hosting.
What is Website Hosting?
Web hosting is a service provided by various hosting companies through which a user can easily build, run and make it accessible to everyone on the internet. It is a type of renting service in which web hosting companies provide a server space with other benefits such as software installation, storage, bandwidth, security, maintenance, etc.
These servers can be located anywhere around the world. These web hosts provide a wide range of other services such as SMTP servers, email services, domain registration, web designing tools, and many more.
Since it is a very competitive market, web hosting can be done through a lot of players available in the market, therefore the prices can vary by a large margin. Due to this, some web hosts offer their services at very affordable rates.
In simple words, web hosting is like renting a space that is directly proportional to the price. The more you pay the better and more space you will get.
What are the Factors that determine Website Hosting Cost?
In the web hosting market, there are a lot of web host plans and services available. Depending upon the user's demand and their budget, you will find a wide range of services are being offered from a single host. Generally, the elements or factors that determine web hosting cost are:
Type of web hosting: On average, the price of each type of web hosting plan varies since each plan comes with its own sets of features bundled.
The Webhosting brand: There are thousands of web hosting providers available on the internet, targeting different sets of users. Finding the right web hosting provider is important, especially the one that offers features on your budget.
Duration of the plan: You will find many web hosts offer special discounts on annual plans rather than monthly plans.
Extra features or addons: The overall cost even varies from one host to another in terms of extra benefits or features they offer in their plans.
Now let us see how many types of Web hosting we have.
Website Hosting Cost Comparison of Various Web Hosting Types
1. Shared Hosting
Shared is a type of web hosting in which multiple websites are hosted on the same server and share the same server resources such as bandwidth, storage, and processing power simultaneously. It is something like you and your friend renting the same apartment and sharing the rent.
This web hosting is one of the cheapest and most affordable plans that specially target beginners and hobbyists. Since the server is being shared the overall cost of the server is also shared among all the websites that are hosted, hence it becomes cheaper and affordable.
Average Price range: Varying from one web host to another, generally you will find shared hosting is being offered between $5 to $15 per month.
Pros and cons of Shared Hosting
Pros
Cheap and Affordable pricing: Since the server and its resources are being shared, the shared hosting plans are affordable.
Best for Beginners: Shared hosting is most suitable for beginners whose budgets are generally low and are in the learning phase.
Easy to upgrade: You do need to go through a technical or support team to upgrade your plan. You can upgrade your storage or bandwidth through a simple portal provided.
Customizability: Easy to customize your website as per your requirements.
Cons
Limited resources: As the number of websites gets added to the same server, its resources also get lowered and hence impact the performance of your website.
Poor Scalability: It Doesn't provide a lot of room to expand, since the resources are limited.
Vulnerable to attacks: If any of the websites hosted on the shared server got compromised or hacked. The other websites on the same server are also vulnerable to getting compromised.
No dedicated IP: If something goes wrong, you won't be able to access your website with a dedicated IP address.
No dedicated SSL certificate: Since SSL certificates work on dedicated IP addresses, individual websites on the shared hosting will not have this facility.
2. VPS Hosting
VPS or Virtual Private Server is another type of Web hosting in which a server space is being allotted virtually to a particular website on the shared server. VPS hosting is an excellent option for websites that usually receive higher traffic and require good security.
The websites get their own hosting space and resources virtually allotted which doesn't affect other website performance even being hosted on the same server.
VPS hosting is the most suitable for users who have the technical expertise and like to have control over their server. In addition to that, the majority of the VPS hosting is now also offering full access to the server and allows installing software and operating systems to it.
Average Price Range: The pricing of VPS hosting mainly depends on factors such as the server resources assigned to the CPU, RAM, and SSDs. Due to this, you usually find the pricing in the range of $20-$50 per month.
Pros and Cons of VPS Hosting
Pros
Controllability: Users will have complete control over the server.
Traffic handling: It can sustain huge traffic surges or spikes as compared to shared hosting.
Better security: Your website will be safe and secure and if any of the neighboring websites get compromised, it won't affect yours.
Scalability: It is easy to scale your website with VPS hosting. You can host your website on VPS with minimum resources and when your website grows gradually, you can increase your hosting plan accordingly.
Premium Support: You will be provided premium expert support 24X7.
Less expensive than fully dedicated hosting.
Cons
Little more expensive than shared hosting
Need Expertise: You will be required to have the technical knowledge to control the virtual environment.
Users need to be cautious while setting up VPS because any slight mistake can potentially lead to a threat to your website's security.
3. Dedicated Hosting
In dedicated hosting, users get the entire physical server allotted for their website. It means you will have complete control over your dedicated server. You can customize your dedicated server as per your requirements, install software, and operating system, and configure its settings.
However, on average, you will find dedicated hosting the most expensive as compared to VPS and shared. Its general pricing ranges from $100 to $500 per month. This amount largely depends upon the resources and add-ons you require.
On top of that, you will have complete flexibility to customize your server as you want but for that, you also need to have special technical knowledge and skills. You can also be able to decide on and implement your hosting security.
Pros and Cons of Dedicated hosting
Pros
Controllability: You will have complete control over your physically dedicated server.
Flexibility: Provide extreme flexibility to configure your server as per your requirements.
Sustainability: Best suitable for websites that usually receive high traffic.
Reliable Performance: You will have server uptime up to 99.99%, which means your website performance will not get affected even during a spike in website traffic.
Tightened security: No security threat from the neighboring websites as you have seen in shared hosting and you will have complete charge of your website protection.
Dedicated support: You will be provided with premium dedicated support from your hosting company.
Cons
Expensive: Since you will have a complete physical server for your website, the cost can be a bit more expensive than VPS as well as shared hosting.
Technical Knowledge: You will require special skills and technical knowledge to manage and configure your physically dedicated server.
Poor Scalability: It will be very tough for you to scale a dedicated physical server, as it is itself a huge machine to start with.
4. Cloud Hosting
Cloud hosting has become popular and the best alternative to Dedicate hosting. It has been the first choice for large-scale websites, eCommerce websites as well as big business websites. Unlike other web hosts, the cloud host works on a different mechanism. It uses a network of multiple virtual servers located globally to host a website, due to which it is able to provide high uptime and great scalability.
In addition to that, a cloud host has lesser hardware failure issues as compared to other types of web hosts. This means that if any of the servers fail due to any issue with hardware/software, another server on the same network will keep on running the website.
It can also easily handle high traffic volumes or sudden rises in traffic to the website using its load balancing feature, which actually equally distributes all the traffic on all the servers of the same network.
When comparing it with other web hosts, it is easier to scale your website with cloud web hosting.
The average price range of Cloud hosting
You will find the price range of cloud hosting in the US web hosting market ranging from $5 to 300$ per month.
Pros and Cons of Cloud Hosting
Pros
Best reliability: If any of the servers fail in the network, the other servers will keep your website running.
Cost-effective: Provide a cost-effective option loaded with high-end features as compared to other web hosts.
Best traffic handling capability: The website performance will be maintained no matter how much traffic your website receives.
Great scalability: When your website grows, you can simply upgrade its storage and bandwidth.
Cons
Less controllability: The hosting company will be able to manage and control the hosting environment.
Security concerns: A slight mistake in configuration can lead to a security threat to your website.
Depends on Bandwidth: You can only enjoy the true power of cloud hosting if you have a powerful internet connection.
Downtime: It can be a nightmare for any business if they have to face downtime. The cloud hosting providers, the vendors, can also face technical difficulties on their side.
5. Managed WordPress Hosting
Since the vast dominance of WordPress on the internet, the web host companies are now also offering a complete WordPress-optimized hosting platform for WordPress users. This is a custom build platform that focuses on providing speed, security, and better performance to WordPress sites.
This type of web hosting service tries to make things simpler and optimize your complete WordPress site-building process. A managed WordPress hosting differentiates itself from other types of hosting services in terms of its features, one-click solutions, add-ons, and WordPress expert support.
The average price of Managed WordPress hosting
You will find the average price range for Managed WordPress hosting in the US web hosting market as $50 to 400$ per month.
You will find Managed WordPress hosting usually bundled with dedicated or VPS hosting services. At WPOven, we offer a Fully Managed WordPress dedicated VPS hosting to our clients with the best features at very affordable rates.
Our plans start from $16.61 per month to $249.95 per month with a Dedicated VPS and hardened server, high-end security system, and Premium expert support 24×7 throughout the year. For all exclusive features and deals, you can check out the Plans and features page.
Pros and cons of Managed WordPress Hosting
Pros
Blazing Fast and High Performance: Managed hosting provides better up-time and better loading time.
Support from WordPress experts: You will not just get a simple solution or support for web hosting issues but you will have a dedicated team of WordPress Experts.
Best Security: You will be provided with a secure platform with all the best security measures implemented that help to minimize all security threats.
Staging platform: You will have a staging platform on which you can perform tests on your website before making it live.
Pre-installed SSL certificates: Most of the managed WordPress hosts provide free SSL certificates bundled with their plans.
Access to development tools: You will be provided with a fully customized dashboard and easy access to developer tools.
Automatic Regular Backups: Get Mind free from fear of website loss, your website data will be regularly backup offsite or onsite automatically.
Cons
Bit Expensive: This is one of the major cons of Managed WordPress hosting. It is quite expensive as compared to shared hosting.
Limited Flexibility with plugins: Due to security concerns, managed WordPress hosting generally disallows third-party or open-source plugins to install.
Limited to WordPress: You can only host WordPress-based sites rather than any other CMS.
Unable to access the .htaccess file: It is because the majority of the WordPress-managed hosting uses NGINX which does not allow access to the .htaccess file.
Other Elements that Affect Website Hosting Cost
Other than just web hosting services, there are some other elements too that affect your overall website hosting cost. Let us see what they are.
Domain Registration Cost
A domain name is an address or URL of your website through which users can easily direct to your website. Without a domain name, you have to use the IP address to visit the website, which is hard for anyone to remember.
Therefore, domain names come into the picture, that not only easily help anyone to remember but also increase user experience.
There are multiple domain registrars available on the internet through which you can buy a domain name for your website. The best part is you will find the same price for the same domain name on every domain registrar.
However, there are also some web hosting companies available that also offer free domain name registration which is included in their hosting plans which helps to save some money.
The domain registration price varies depending on the type of domain you are choosing. The TLD or top-level domain such as .com, .net, .ai, or .org are usually more expensive. Whereas, other domains such as .store, .online, etc. are less expensive and affordable.
On average the domain registration price can range from $2-$20 per year, depending upon various discounts and coupons that can also apply.
Premium Themes and Plugins
WordPress themes help to give a different look to your website on which you can also do your own customization to make it more personalized. The majority of Content Management Systems (CMS) provide free themes available in their repository. In WordPress, you will find there about more than 8000 free themes available to use.
However, the paid or premium theme provides you with more features and areas of customization. Through this, you can create an attractive website with an enhanced user experience. These paid themes have a lot of advantages such as receiving regular updates, added new features, and premium support.
ThemeForest is one of the most popular WordPress theme directories which has a collection of thousands of paid/premium themes ranging from $14 to $1000.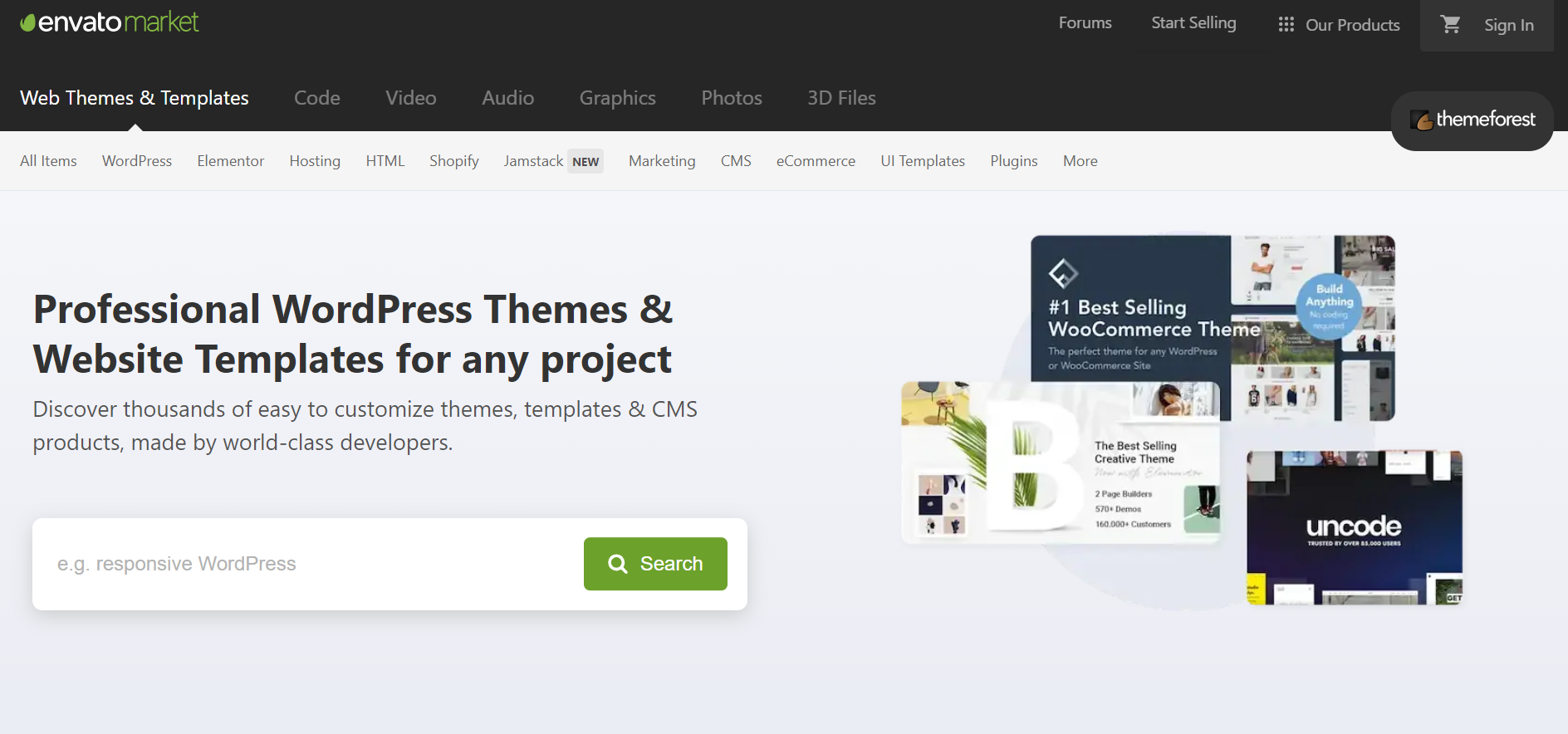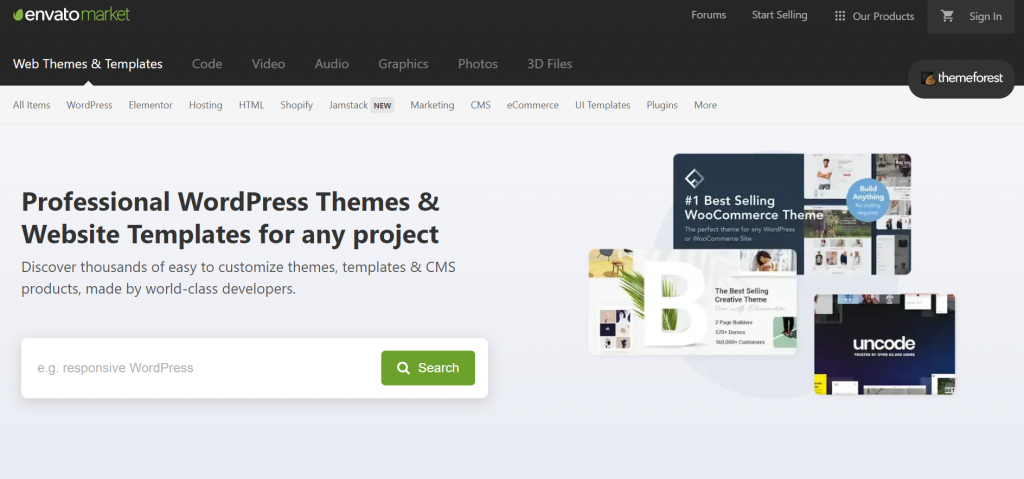 Similarly, WordPress Plugins or Extensions are special tools through which you can enhance your overall website's functionality. From adding payment gateways, improving security, adding forms, or adding a pop-up message, all can be easily implemented by just installing WordPress plugins.
Just like Free WordPress themes, WordPress also provides a directory of Free plugins, through which you can easily install and activate any plugin to your website.
But in free plugins, you will be provided with limited functionality. However, you can also install third-party premium plugins such as WP-Rocket, and Optin Monster to get premium features.
All these premium plugins or extensions you will find online in the average price range of $5 to 100$ per month. Even some premium plugins can charge you only a one-time installation fee.
Some Essential Tools for Marketing
After hosting and building your website, the next thing you are required to do is to do the marketing. So that your website can get maximum visibility and reach the target audiences. But this won't be easy as it seems unless you have access to some premium marketing tools.
Some marketing strategies such as social media advertising, Search engine ranking, or email marketing require special tools. For which you have to pay an average of $10 to 200$ per month individually.
SEO tools like Semrush or Ahrefs can get a bit more expensive side, which costs you around $99 to 1000$ per month. These tools help you to do competitor analysis, keyword research, backlinks, SEO audit, and many more, that help you to build a strong marketing strategy.
Summary
When you are looking for hosting a website, it is important to estimate the overall Website hosting cost initially. This way can set your budget and choose every element of Web hosting accordingly. On another hand, if you found website hosting cost exceeds your budget, then you can also consider Free Website hosting platforms.
So finally, How much a Website hosting cost you? Well, it depends on your budget and other web hosting elements that we have already talked about.
Summarizing everything, the average website hosting cost will be as follows:
Shared hosting – $5 to $15 per month
VPS hosting- $20 t0 $50 per month
Dedicated hosting- $100 to $500 per month
Cloud Hosting– $5 to $300 per month
Managed WordPress hosting- $50 to $400 per month
Domain Registration- $2 to $20 per year
Premium theme and plugins – $14 to $1000
Marketing tools- $99 to $1000 per monthly
But at WPoven, we believe in providing a premium web hosting experience to users at very affordable rates without any compromise. You can host your website on our Fastest fully managed dedicated servers located globally at very competitive and affordable rates.
If you have any questions or valuable suggestions that you like to share with us, please do write in the comment section below.
Frequently Asked Questions
Is It Cheaper to Host Your Own Website?
If you are looking to host your own personal website, the website hosting cost would be very much cheaper compared to business or e-commerce websites. You can host your personal website on shared hosting and can utilize free WordPress themes and plugins.
How Much Does It Cost to Set Up and Host a Website?
On average, if you build a basic website with simple features and functionality, you will have to spend $5 to $15 per month on shared hosting, $2 for domain registration, Free WordPress theme, and plugins, and up to 50$ on other miscellaneous elements (Support, SSL certificate, etc.).
However, as you move forward to more complex websites such as e-commerce or Business. The cost to set up and host a website will also get much more expensive.
How Much Is Web Hosting Monthly?
At WPoven, you can host your WordPress site on the Fastest, most reliable, and fully managed WordPress dedicated servers at only $16.61 per month.