Most bloggers like to recommend their favorite products to their readers and all those who they know. If we really like any product or service, and we believe that they are really useful, why not recommend them to your friends and family?
WordPress is the most popular platform to have a blog. And there is no doubt that we must use any WordPress product — be it a plug-in, or a theme, or a service that we really like. We like it so much that we cannot work without it. Perhaps you would like to recommend this product to your friends. Or, if you are a blogger or a business owner, to our clients, visitors, readers or subscribers.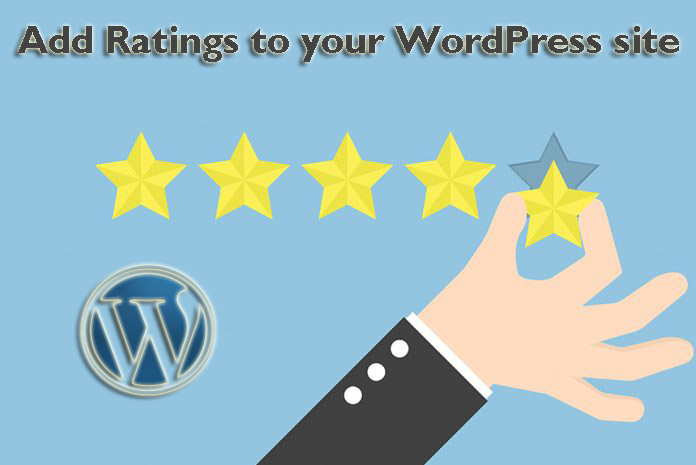 Therefore, we created this list of the best WordPress review plugins which you can use to write reviews and create ratings. With the help of plugins included in this list, you will be able to create spectacular reviews in the shortest possible time!
The main purpose of the review is to get someone to buy the product that you recommend. Here is the main goal in terms of marketing. The review should be objective. It must compare all the pros and cons of the product.
No product is perfect, each new one has some improvement in comparing to the competitors.
Benefits of using reviews and ratings on your site
When referring to ratings and reviews, people often imagine sites like Amazon or Yelp! Therefore, it is believed that user ratings and reviews can help promote sites of this type only. However, almost any site can use ratings and reviews in its work.
Add Ratings to WordPress Blogs
Whatever you write on your blog, it probably contains several entries that would be a review of a particular product or service. And, despite the fact that you are not going to focus on reviews and discussion of goods, you may still need something like a rating system.
There are plugins that help you create a concentrated version of your review and place it in a viewable place on the page. It is beneficial for several reasons at once.
Did you know that the perception of the average Internet user is limited by the same number of objects as the perception of a primitive creature, such as a fish? Unfortunately, this is so.
People tend to visit sites between other more important things, running pages diagonally and closing them, if any bright object does not attract their attention. But if you are able to stop the look of an ordinary surfer for at least a second, then consider that you have received the reader.
A brief summary of the review is a great way to do this.
You create a mini version of your post, reducing all the meaning to a couple of main theses. This piece of information is almost instantly assimilated by the visitor and it encourages him to read the full version, further decision and possibly the purchase of the product that you described in the review. And all that satisfies both you and your customer.
But blogging is not the only category of sites which benefits the use of reviews and ratings.
Adding Reviews for Small business sites
All business people have long appreciated the benefits of reviews and reviews posted on social networks and blogs. But how about placing these materials on the website?
As we have already said, reviews help consumers to choose goods and services. Small businesses owners often use the power of large social sites to attract a visitor to their product.
But quite often they forget that some visitors come to their site not from blogs and social networks, but directly from search engines. And if they cannot find reviews and ratings on the site, then you may lose a significant share of the conversion.
There are plenty of plugins that allow your visitors to share the reviews right on your site, and many of them have convenient moderation mechanisms, as opposed to Yelp! or Google+, where you can often choose what you want to display, and which one you do not.
It does not matter whether your business is online or offline — the reviews will add the significance to your website and help you get the loyal customers.
Now, let's deep into the topic and see what WordPress review plugin is the best.
1. Unlimited Blocks
Unlimited blocks WordPress Plugin has tons of blocks to improve your blog readability. But, when we talk about WordPress Review Plugins, Unlimited blocks review block is the best part that we love personally. Infact, when we review any particular product on WPOven, we use unlimited blocks review schema block to add review into our blog post.
Check out this video below to understand more about this WordPress Review plugin in detail.
When you add a review block with this plugin, it gives a beautiful box that can show the review data in a better structure. Just to give you example, we have added a review block using this plugin below.
Unlimited Blocks
Summary
Unlimited blocks is committed to the word "unlimited" with so many features to improve your blog performance in terms of readability and post schema. This plugin has been our favorite choice when we think about designing our blogs on WPOven. Not only for adding a review to your blog, but this plugin also adds more than what you can imagine.
2. The Author hReview

The Author hReview — a family of 3 plugins
Three plug-ins in the Author hReview family are:
Author hReview
WP Reviews (for creating a site with a full review)
WP Rich Snippets.
Developed by Hesham Zebida, Author hReview (and its analogs) is a set of plug-ins that are very good.
Active Installs : 3000+
Ratings : 4/5
Price : Free
Author hReview adds a short preview field to your review posts that will allow your readers to quickly view your thoughts about a particular product or service without having to read the full review.
3. WP Reviews

Active Installs : NA
Ratings : 4/5
Price : Free – $199
This plugin is ideal for those who want to turn your blog into a website with full reviews. It turns ordinary posts into well-presented reviews that fill the entire recording area width on your site.
It includes standard review components:
Product header
Rating
Price
Author's name
Date
Summary review
Button with a link to buy the product
Prices:
These plugins are quite expensive, their price ranges from $69 for one license. It gives you access to all three plug-ins, provides one year of support and updates. The package for $299 gives a lifetime license that provides an access to all the future plug-ins, add-ons, updates, as well as unlimited support.
AMAZING ADD-ONS:
If three plug-ins are not enough for you, there are many other incredibly useful add-ons for WP Rich Snippets that provide additional functionality. We listed some of them:
Call-To-Action: displays your review in the field below, which contains a price, rating, and description.
Ranking Table: helps your users' filter results by rank or rating.
Display Rating: displays ratings in excerpts.
User Reviews Image: allows users to download images from a review.
Compare: similar to the Ranking Table add-on, but it can still be inserted into the image overview.
4. Taqyeem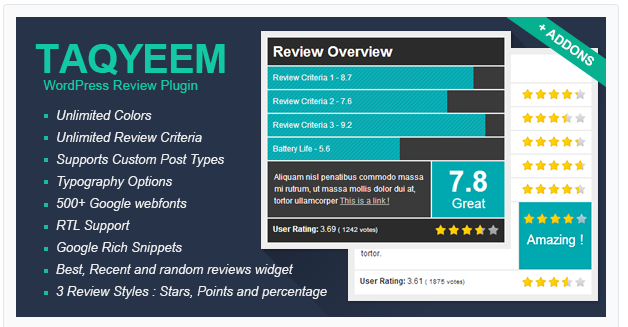 Active Installs : 1000+
Ratings : 4.5/5
Price : $25
Developed by CodeCanyon Elite author TieLabs, Taqyeem is really great WordPress review plugin. Its price is $20. This plugin adds a field for review to all posts, pages, and even types of user posts. You can customize the review field using an unlimited number of colors and design options (with Google fonts) to display the design of your WordPress theme.
Other interesting features of the plugin:
Can display the review fragments
3 widgets: best, latest and random reviews
3 review styles: Stars, Points, and Percentage
5 WPREVIEW Pro
Active Installs : 2000+
Ratings : 4.8/5
Price : $87
WP Review Pro plugin, developed by MyThemeShop is a freemium model with additional features in the premium version, which has a price of $19 USD. You can insert a theme into GitHub.
Main features:
Easy to customize (change colors, fonts, etc.) using CSS
Adaptive design
The ability to display the fragments and excerpts
Several rating systems
6. WP Product Review

Active Installs : 60,000+
Ratings : 4.5/5
Price : Free
For WP Product Review, both free and premium versions are available. You can download it or buy it for $26.95 for one license.
The plugin has an impressive set of features:
General display settings and custom icons
Preloader to provide the users more comfort
List of pros and cons
Shortcodes support
"Download now" or the direct action button
7. Rich Reviews

Active Installs : 10,000+
Ratings : 4.5/5
Price : Free
Rich Reviews is a completely free WordPress plugin for reviews, with an interesting list of features. The plug-in supports shortcodes, and the user can display the review in any section of the site that supports shortcodes, in posts, on pages, in the footer area or any widget area. The plugin allows you to choose which reviews to publish or to display on each review page.
8 WP Customer Reviews

Active Installs : 60,000+
Ratings : 4.5/5
Price : Free
If you want to know your customers' opinions about the products you are talking about in a review, then this plugin is for you! This plugin is more for recommendations, not for full reviews. It will help you to establish a specific page on your blog in order to receive customer recommendations for a specific product or service.
Some interesting features of the plugin:
A business hCard support that helps to identify that all your website pages are belonging to you.
Shortcodes to post the reviews into any place on your site
Ability to shorten the review and post it on the special page section
In order to create an accurate and organized product review, you must follow a certain order. The elements of your product overview, such as images and comparison lists, may be unique to your site. Add some special features, but keep a consistent format for all your reviews. This will not only keeps your site in order but will also demonstrate your attention to details. As a result, your audience will increase.
We would be interested to know your opinion. What is your favorite WordPress review plugin? Write about it in the comments below!

Frequently Asked Questions
How do I use WordPress Review Plugin?
You will have to choose the best one and do the Installation
Upload the plugin that you choose to the folder /wp-content/plugins/ directory.
Activate the plugin through the 'Plugins' menu in WordPress. Configure as per need and you are done.
How do I set up a site review plugin?
Log in to your WordPress admin panel. In the left column navigation, mouse over the "Plugins" link and click the "Add New" link. In the "Search plugin" box, enter, "Site Reviews." When you find the plugin, click the "Install Now" button.