If you are running a shop you cannot afford to lose customers due to the unnecessary closure of the shop. Same is true for your eCommerce store. If your eCommerce store is not accessible by customers or it responds slowly then you are surely going to lose customers, and will also hurt your brand reputation in the long run. That makes it very important to make sure that your eCommerce store has maximum uptime and decent loading speed, and the first step towards achieving this is hosting on a good web server.
In this article, you will learn about eCommerce hosting as well as important factors to consider while choosing a suitable eCommerce hosting.
What is an eCommerce Hosting?
A website with eCommerce functionality is way different from general websites or a CMS based website. It has special needs like it needs extra security to win the trust of its customer, it should be able to handle a large amount of traffic, should be able to handle a large number of processes (as it many customers will be placing orders simultaneously), should be fast to respond, and it should have enough space to host a large number of files. Also, the hosting should be compatible with the payment gateway that you intend to use. About 42% of the visitors expect the website to load within 2 seconds.
A good eCommerce hosting package should include features like SSL encryption and certificate, additional security, SSD Storage, CDN enabled, Cloud Hosted, Easy Backup and Restore functionality, among other usual features to make it your preferred choice for hosting your eCommerce store.
In this article, we will walk you through some of the important factors to consider while choosing Hosting for eCommerce Store.
1. Technical Details About Server
It is understandable that you might not be technically sound enough to get into technical details about the server, but there are some basic things that you should know about it.
You should know if it is Shared, VPS or Dedicated. A shared server is the one which is shared among many websites, whereas a dedicated server is intended to be used for a single website or single account. VPS is a shared server but some limitations are applied to its resources so that they are smartly utilized among the website hosted. Dedicated hosting is the most expensive of them all.
Cloud hosting offers flexible options to manage the resources to be used, which makes it affordable and offers decent performance. Cloud hosting can be used in the form of Software as a Service (SaaS).
Some of the renowned and popular hosting providers like WPOven offers dedicated VPS, which is specially optimized for WordPress websites, using dedicated resources including RAM, CPU, ICU and other Network resources. 
Also, you can investigate the hardware used, like are they using SSD storages or Hard Disk storages. SSD is much faster than the traditional hard disks. If you want to go in much detail you can try to find out what RAMs and processors are being used.
Server Location
This is another factor that you need to take into account while choosing a web server. It is recommended to choose a CDN service, which basically means that the hosting company has servers at various locations, and based on the location of visitors the nearest server is used. WP Oven offers this on all their packages and has servers in the US, Europe, Canada, Asia and Australia. There are third party CDN services too that you can use like AWS by Amazon, as well as Cloudflare.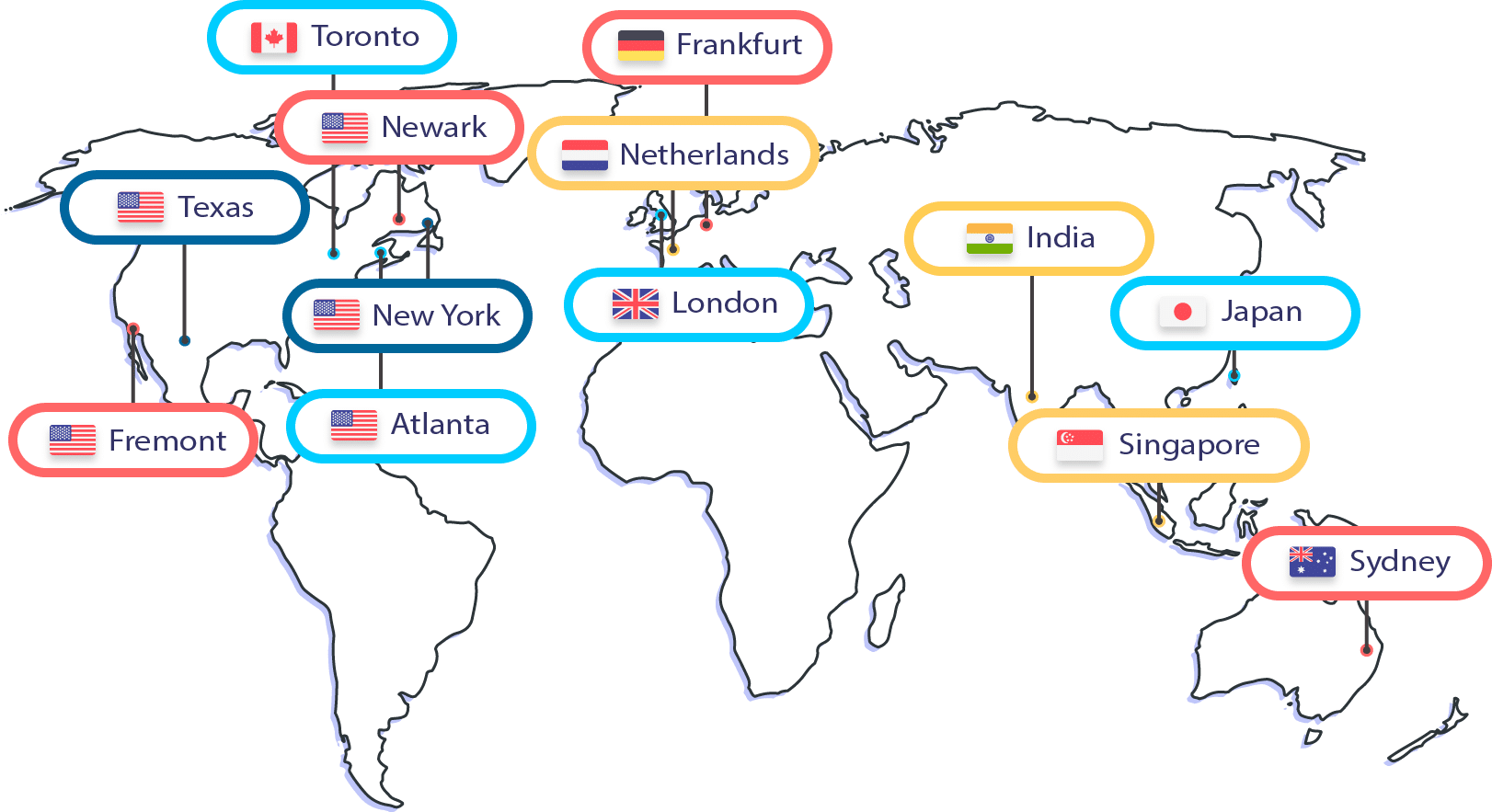 2. SSL Encryption
It is an internet security protocol to secure your websites and transactions. It is highly recommended for eCommerce websites where financial transactions occur. Not only does it build trust in your customers for your brand, but it is also instrumental in boosting your search engine rankings. You need to check whether the web hosting is providing it along with the package or charging it extra as an add-on.
If your hosting provider is not providing an SSL certificate then, you can search for SSL providers. You can find many useful SSL certificates from reputed CAs designed for specific purposes like GeoTrust Wildcard SSL, multi-domain SSL, etc.
If you are hosted on WPOven Managed WordPress Hosting you need not worry about SSL Encryption as all our plans have lifetime access to free SSL certificates.
3. Additional Security
Security is an utmost important feature for your eCommerce store, as it deals with financial transactions as well as your customer's data and personal information. First and foremost you need to make sure that there are firewalls and DDoS protection to harden the server against attacks. Also, you need to check whether the web hosting providers have some process in place to scan the malware and prevent hacking attacks. There should be tools to monitor the uptime, downtime and other activity on your website to identify any suspicious activity. Additional security can include:
Firewalls
DDoS Protection
Suspicious login detection
Spam filters
Viru Protection
Malware Scanning
Hacking Protection and Recovery
We at WPOven perform daily malware scanning and cleanup for all our servers and clients. In case of any issues, you can always raise a support ticket where our tech team will provide you will all the support you need.
4. Backup and Restore
There might be some instances where you would want to restore your wordpress website to a previous workable version. For such instances, your company should provide you with automatic backup services. WPOven offers daily offsite backup and single-click restoration service. Check out our article on how to restore your backup with WPOven
5. Single Click Installations
You should be able to install the popularly used application like WordPress easily on your hosting. This is a very common feature which is available with almost all hosting companies.
At WPOven we provide you with pre-installed WordPress on your websites that are hosted on our servers. Here is the guide on how to get started with WPOven.
6. Easy to Upgrade and Rollback
There are scripts which need to be upgraded with time. Your web hosting should offer easy options to upgrade these. For example, PHP versions are constantly upgrading. A web hosting company will offer you to choose and upgrade to various versions available, and even options to roll back to previous versions. If by chance you have upgraded to a latest yet unstable version which is not compatible with some themes or plugins, you might want to roll back to the previous version to keep your website working.
But at WPOven upgrading your plan is easy.
7. Payment Gateway Compatibility
A payment gateway is the most vital part of your eCommerce system if it fails your whole system fails. You have to make sure that the payment gateway that you intend to use will be supported by your hosting. You can ask your hosting company about it before purchasing the plan. 
8. Sufficient Bandwidth and Number of Visits
You should understand that more number of visitors to your website means more consumption of bandwidth, and if you have a clear idea of how many visitors you expect per month of your website you can work out the amount of bandwidth that your website will need. Most web hosting providers have plans that offer unlimited bandwidth, you can choose those plans if you are unsure about the number of visitors hitting your website. It is extremely important to consider bandwidth as a hosting factor if you have high-resolution images or high definition videos on your website, as they will consume more bandwidth.
At WPOven we don't have any limit on the number of visits. You can host unlimited sites on our server. Check out our plan and features here
9. Sufficient File Storage Space
Any website consists of some pages (HTML, PHP, etc.), some files including product images, PDFs, videos, audio, etc. Each one of them occupies some space. As you grow your website these files tend to increase. The plugins and themes that you update with time will have more file and hence will consume more storage. Your web hosting plan should offer sufficient space to host these files. You should always keep an eye on the storage space being utilized so that if in case you are running out of space you can upgrade the plan. Again, some hosting providers offer unlimited space.
10. Reliable Support
Help from Tech support is inevitable. You need it at some point in time, sooner or later. You never know what may go wrong. Hence to troubleshoot the technical issues you will need help from the technical desk of the hosting provider. The best hosting companies offer 24X7 technical support that is really effective.
WPOven provides 24*7 support !!
11. User-friendly dashboard
This is another important factor in choosing a good eCommerce hosting service. Wp Oven provides a comprehensive dashboard, through which you can manage your WordPress website as well as view other vital information about the webserver and the resources.
At WPOven we have designed the dashboard for your convenience here is a screenshot of our dashboard.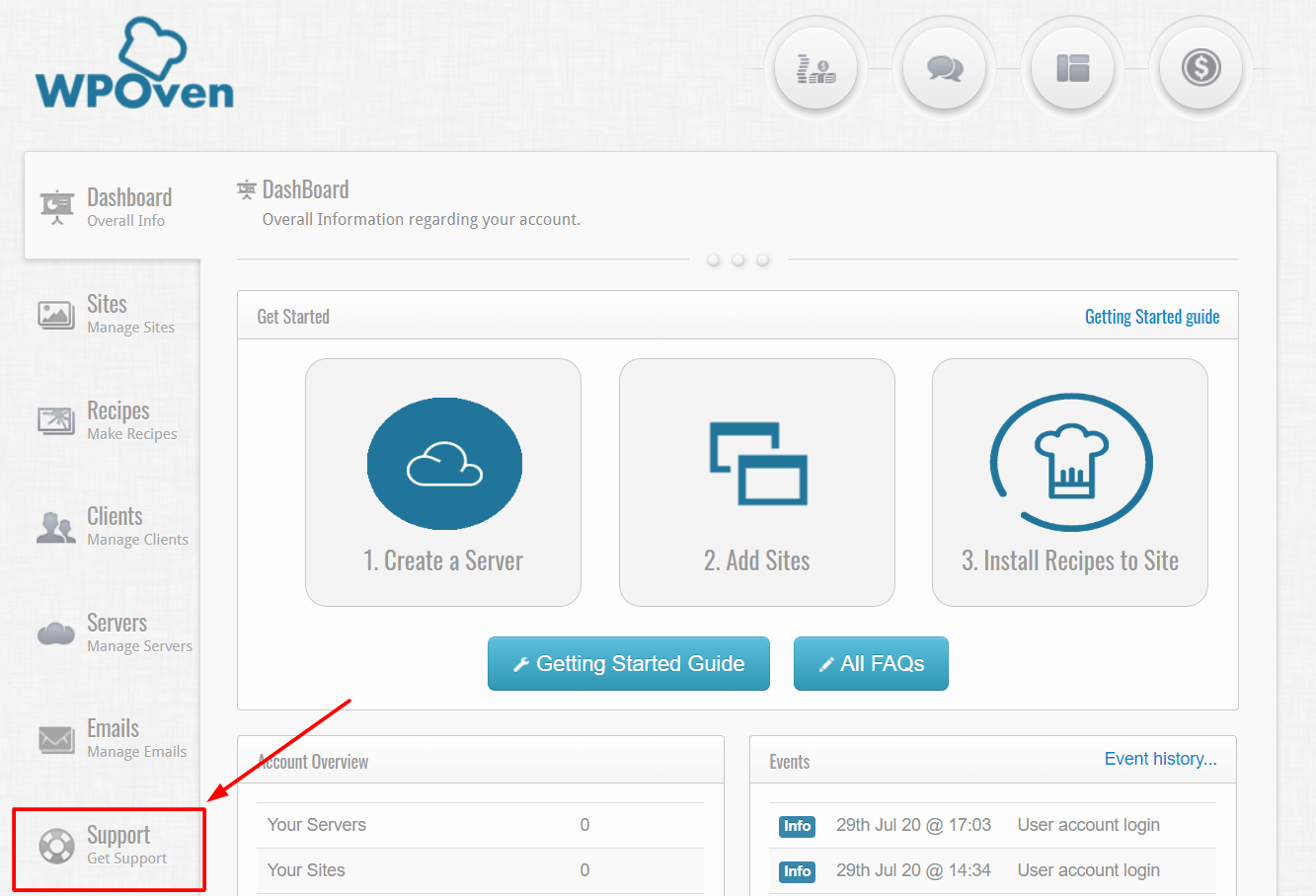 12. Monitoring and Management Tools
To make your website work efficiently you need some basic tools using which you can monitor and manage your website as well as hosting. There are various WordPress hosting plans that offer tools like managing site cache (essential for site speed), debugging, PHP management, HTTPS management, DNS Management, Analytics, Performance Monitoring etc. which you can use. You will also need tools to improve your PageSpeed and Redis score to gain load time and improve the accessibility as well as search engine rankings. 
13. Developer Friendly
The hosting provider should also offer integrated tools to stage your website while under development, so you can test it in a live environment, and easily sync it. Some hosting providers also provide access to development tools like Git and WP-CLI. There are dedicated WordPress hosting plans that go really well if your eCommerce store is based on Woocommerce. These hosting plans are specially optimized for WordPress.
14. Easy Migration
The web hosting company you intend to choose should not pose any issues in case you want to migrate away from the website to another hosting company. You should identify the constraints and restrictions that you might face in such a situation by the server. You should understand how easy it is to export the database and download the files. Also, if you are moving from another server to the new server, please check if the new server company offers free migration as well.
If you are at WPOven, you can either raise a support ticket using support option from your dashboard in that case, our tech team can help you set up your website. Or you can read our self-explanatory guide to migration to WPOven.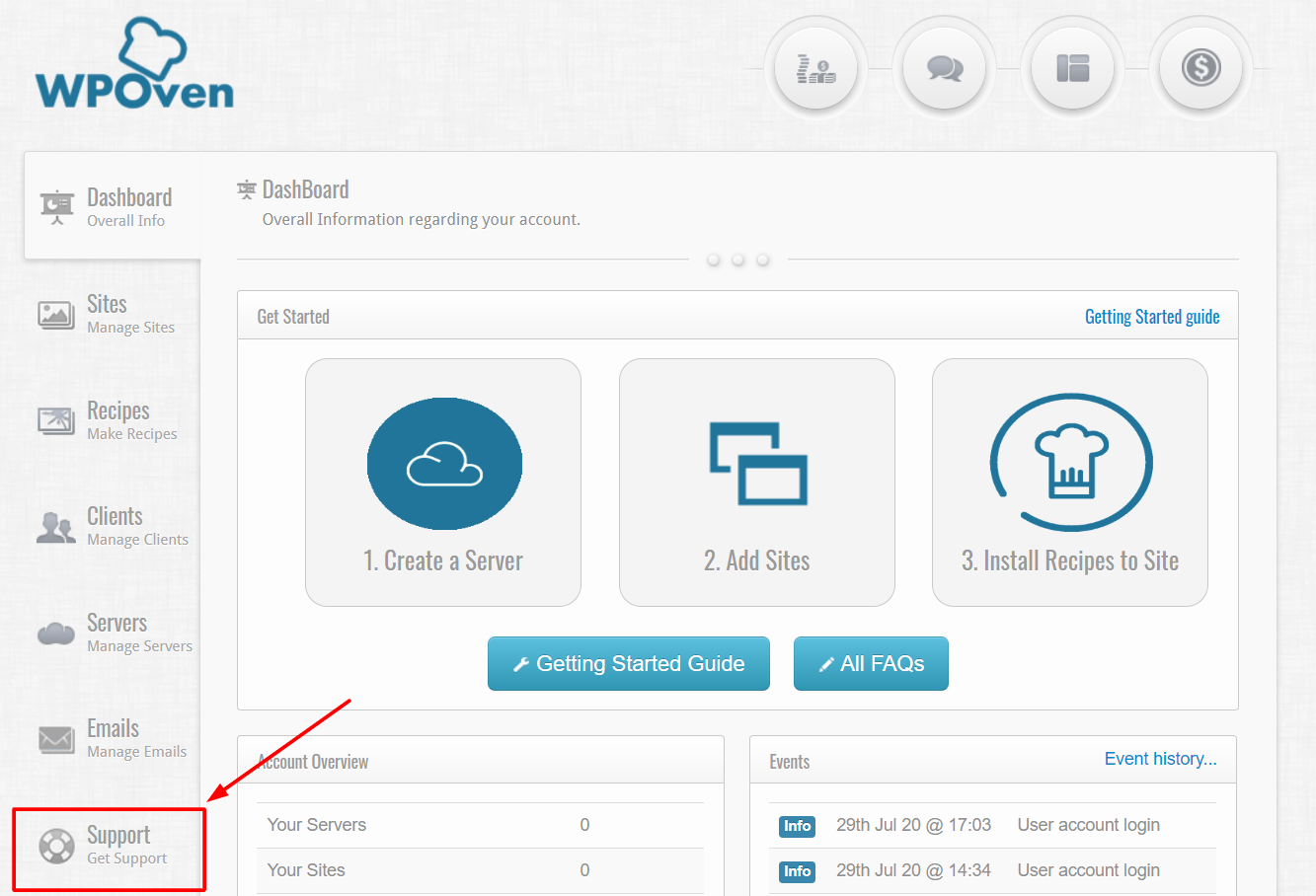 15. User Management
As your eCommerce store grows you will have more people in your team helping you manage your website. You can check with your hosting provider if they have a feature to add users to manage the website. 
16. Modify Package
Another question to ask your hosting provider is will you be able to upgrade or downgrade your current package so that you can switch it based on your requirement. 
17. Multisite setup
If you have multiple eCommerce stores, you should be able to host and manage them from the same account. Almost all the top eCommerce web hosting companies have packages that allow you to host multiple sites from the same dashboard. It is a very convenient option to manage multiple sites from the same account.
18. Free Emails
The success of your eCommerce store also depends on:
Building trust

Good tech support over email
You should always use your domain email ([email protected]), as it will build a sense of trust and reliability among your customers. Choose a hosting provider that also provides good email hosting as well. Some hosting companies also have a limit on the number of emails that you can use, or the storage space that you can use for emails. It is recommended to know these details about email hosting in advance. Some of them might even charge on a per email per month basis, while WPOven provides free Business email along with all of its plans.
19. Budget
This is another important consideration in taking the final call about your eCommerce store hosting. Hosting is not a single time investment, but it is something which has to be paid out on a monthly or yearly basis. So you have to be careful while taking this decision. There are companies that are offering managed WordPress hosting starting at $30 per month for a single site. But WP Oven has plans starting at $16.61 per month for unlimited websites, along with Free SSL, Free Emails, CDN and dedicated cloud hosting among other features.
Conclusion
It has often been found that eCommerce store owners who have no idea about how web servers and hosting works struggle to get it right and get stuck in getting the hosting issues resolved instead of focusing on growing their eCommerce store. Moreover, the frequent outage issues and more downtime lead to losing up customers. By the time you decide to move out, it has already done the damage.
Hence we recommend that you understand the unique requirements of your eCommerce store and its operations, and choose the hosting which is reliable, has good reviews, economical and offers best in class service and support. Good hosting is the first step in making your eCommerce store leap in the next orbit in no time.