WordPress has released a New Update with renowned Name " Eckstine" in the honor of American Popular Singer Billy Eckstine.  With a considerable amount of new features mainly in the editor, things like being able to make some basic edits to the image block, or what I think is one of the most essential features of this version, the new block patterns that it seems to me will be the direction to take for many WordPress themes; And of course, this version also continues on the same path of improving the accessibility of the editor, and there are also many, many minor improvements to the editor and WordPress in general in this version, some of them have been in the oven for up to eleven years waiting for leave. 
Though WordPress has released a major update"WordPress 5.5″ and a Managed WordPress hosting service user, you need to manually start the updating procedure.
Editor Improvements In WordPress 5.5
As you can imagine, the star in this edition is the Gutenberg editor, and it includes 10 versions of the plugin (from 7.6 to 8.5), and will also include bug patches and performance of versions 8.6 and 8.7, as well that the editor comes excellent in WordPress 5.5. Several of these updates are very important and I honestly think they improve the editor significantly. Without further ado, let's review them:
Introducing New Control Features in Editor( Crop, Rotate & Zoom)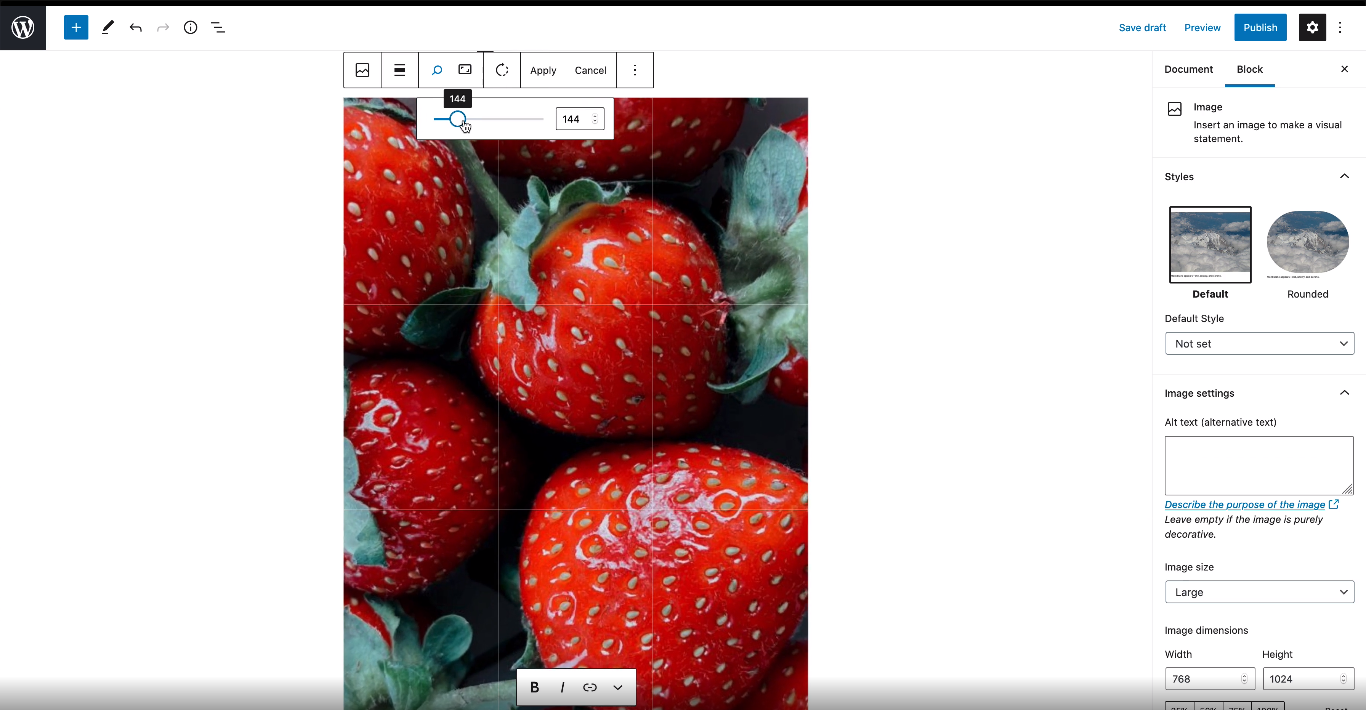 With introducing and adding new features, it will become an easy task to work on images, While editing images, you will find that in its toolbar there is a control to make cropping.
And by clicking on it you can zoom either with a control from the same toolbar or with the scroll wheel of the mouse, and you can also rotate the image, even make changes as per the required aspect ratio.
It works very simple; with an image block selected:
Click the Crop button.

When you do, several buttons appear which are:
Zoom: to zoom in and out of the image, you can still use the mouse wheel.
Aspect ratio: as its name implies, you can change the aspect ratio of the image, having as options Original, Square, landscape formats (16:10, 16: 9, 4: 3 and 3: 2), and formats of portrait (10:16, 9:16, 3: 4 and 2: 3).
Rotate: you can rotate the image in 90 ° increments.
Apply: apply the changes you have made.
Cancel: discard the changes you have applied.
Of course, you won't get all features like Photoshop, but they are basic controls as they are required for daily operations with images. It may take you a bit to get used to the type of clipping that WordPress implements, but after some time working on it, you will see that it is very simple.
New Insert Panel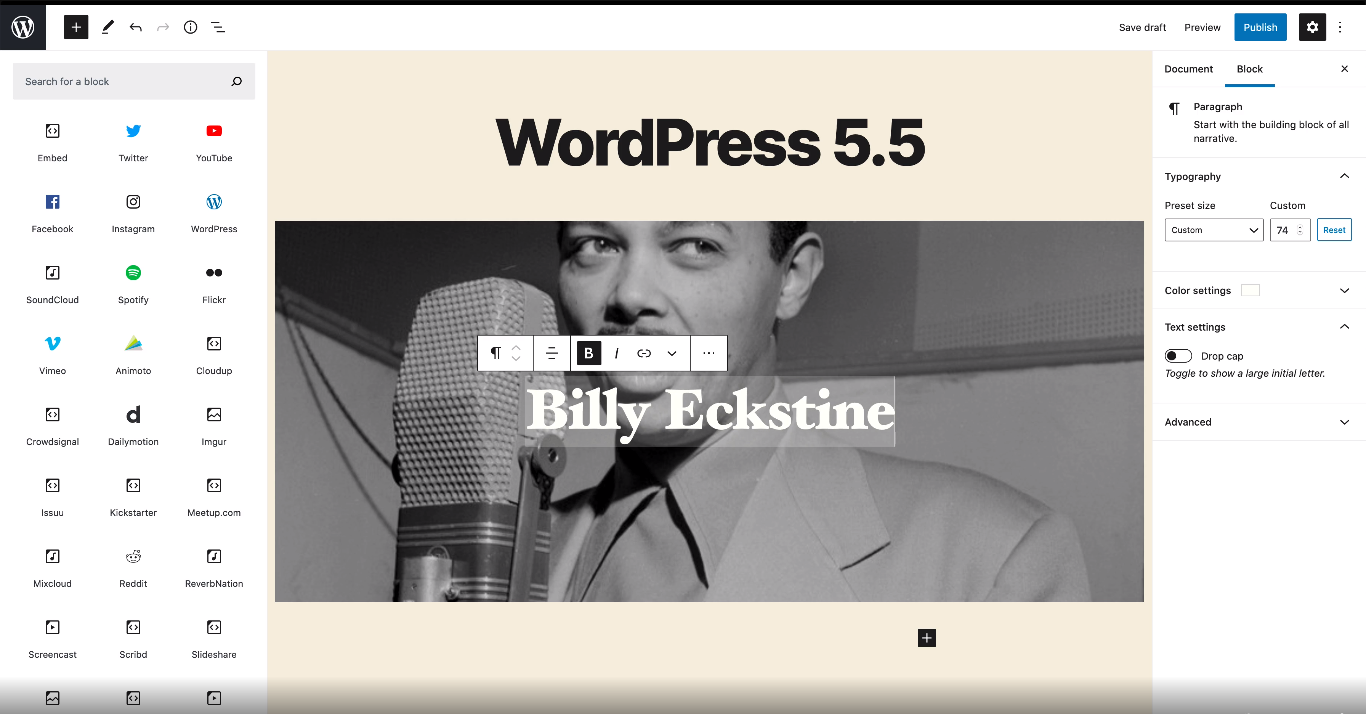 Now the insertion control shows a panel where you can see three large groups (in tabs at the top), which are Blocks, Patterns, and Reusable.
The blocks are better organized and visually it shows.
New Block patterns
Now from Insert block, you have access to the Block patterns, which are nothing more than groups of predesigned blocks in commonly used structures; You will find them in the Insert button.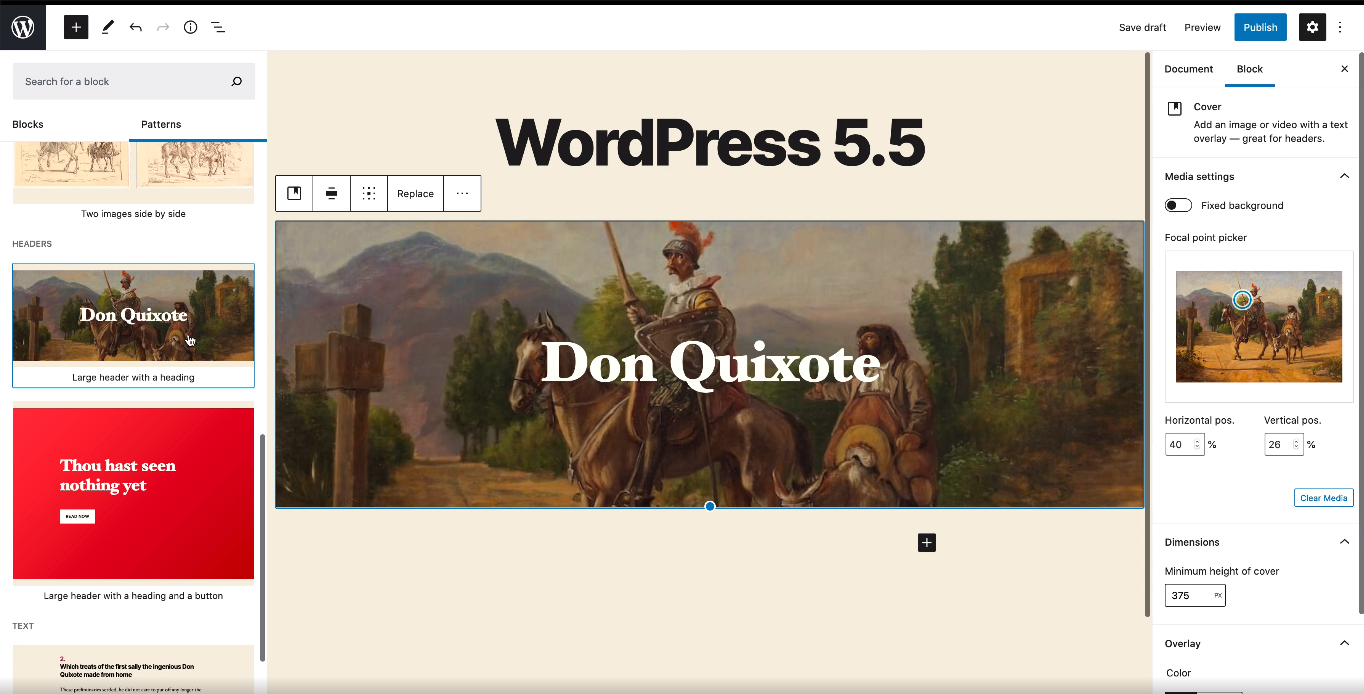 These patterns are easy to create, easy to use, and easy to distribute. I don't see anything negative in its use, quite the contrary, I think it will be a great tool and a plus that theme creators can use to give added value to their work. And this is one of the things that can be done natively in Gutenberg that before could not be done in the classic editor: posts with design, without having to fight with ten plugins, shortcodes, CSS, and so on. It may still require some of this, but it will be minimal compared to the past. Expect pattern libraries everywhere – and we will surely see a new era in WordPress post styling.
Block directory Integration
When you use the quick block search from the inserter and there are no matches, you will get suggestions for blocks that are in the Block Directory:
From there you can add the one you like. It sounds great, although for now, the search results are few.
Preview by device
Now the preview can be done by Desktop, Tablet, or Mobile and It is possible now to drag and drop blocks in an easy manner.
In hindsight, the drag-and-drop mode even before this version was not exactly good, but not remotely. Now you can click on the first button on the bar and drag it wherever you want, while a visual indicator tells you where it goes. It works like a charm, and I think it will be the final implementation.
Bringing Accessibility improvements in WordPress 5.5
In total there are 34 improvements regarding accessibility in WordPress 5.5; you already know how accessibility improvements are: you, me and many others may not perceive them, but there are many people who need help such as assistive technologies that benefit from these improvements, and then you will realize that it is an extremely important job that should not be overlooked. The full breakdown of the improvements can be found at this link.
Automatic Theme and plugin Update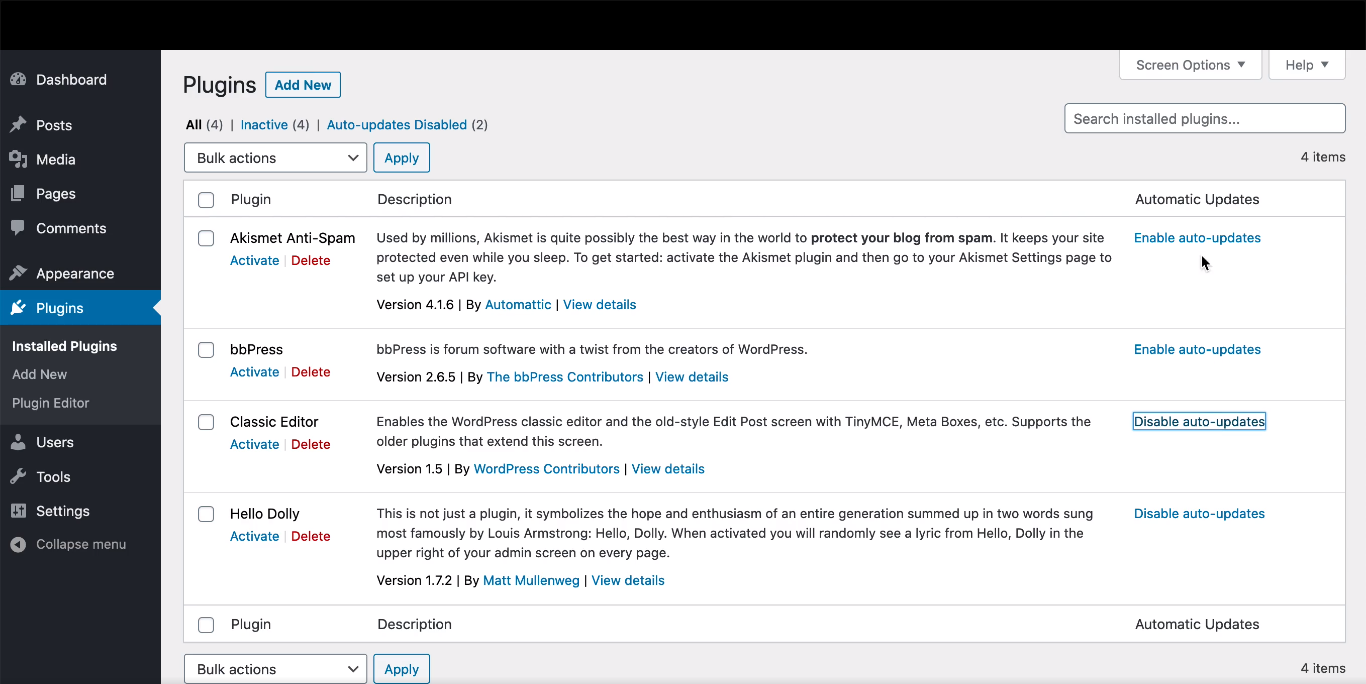 Now with WordPress 5.5, you can control if you want automatic updates right from the interface; Now in the plugins view you will see an option to enable or disable the automatic update (by the plugin), and you can also filter the view based on this criteria.
In the themes it is not so obvious in the first instance, you have to see the details of a particular theme to be able to access its automatic updates.
These automatic updates are disabled by default, that is, you will have to specify that you want the updates explicitly for them to begin to apply. This does not affect the language packs; they will continue to be updated as usual. And do not fear, that single sites and multisite installations duly segment the functionality: By default, all users with the capabilities update_plugins and update_themes can toggle the automatic updates for plugins and themes respectively. In multisite installations, only network administrators have this capability, and only when they are in the context of the network dashboard.
How do you find out about the automatic update? Each update attempt (regardless of whether it was completed or not), will cause an email to be sent to you; the feature is smart enough to send you only the first email on repeated bugs of the same version. These notifications can still be configured, and the fine details can be found in this Make WordPress Core post.
Like other features of this version, it comes with a lot of flexibility and new filters and everything you need to adjust it as much as you like; All the information on how to use the new filters and code can be found in this post in Make WordPress Core, and in this one also where they recommend good practices for the update API.
Plugin and theme updates via ZIP file in WordPress 5.5
Seriously, it took over a decade to bring this feature, but now you can update your themes and plugins directly from a ZIP; The procedure is the same as if you were to upload a ZIP as you have always done, but when a previous version already exists, you will now see the old screen.
And as you can see you have the option to replace the plugin or cancel. Works great so far in my tests. You ask, what is this for? well, personally I see it very useful with some issues that require putting the site in maintenance, deactivate, upload, update, activate, test and return the site to how it was; that was finished with this update.
Native XML Sitemaps In WordPress 5.5
There is not much to say about this: XML sitemaps are now included with WordPress natively, but most likely you will not use them because you already have an SEO plugin that manages it. 
The native WordPress implementation goes something like this: by default, it will try to publish the index of sitemaps to /wp-sitemap.xml, which can contain up to 5,000 sitemaps, and each up to 2,000 entries. This new feature will still be reflected in the robots.txt, which will mention this new sitemap.
This feature requires the PHP SimpleXML extension to work, and if it is not in place of the sitemap an HTTP 501 ("Not implemented") error will be displayed. It is also worth mentioning that if you change the visibility of the site using the option "Prevent search engines from indexing this site" (that is, if you deactivate it), you will still deactivate the sitemaps.
By default, sitemaps will include the types of content included with WordPress, such as posts, pages, and files. Everything is configurable, but through custom code that you can add in places like your functions.php or a specialized plugin. You can find all the pertinent information on how to control the new WordPress 5.5 sitemap feature in this Make WordPress Core article. 
Should You Need to Upgrade Your Site to WordPress 5.5?
In my humble opinion, proceed with caution; I think this update has the potential to have some issues with some component of the site. If your site is already an established site and you have some traffic, this update is worth testing separately before you jump right into putting it on your live site. Always remember to have a backup before updating!
Conclusion
It is a very good round of WordPress enhancements; at least, he is the best Gutenberg of all that there have been, so far. But it looks good for now; Perhaps the only thing that can be criticized in this version is the integrated functionality of XML sitemaps, which has not yet entered my head, why dedicate time and effort to develop it, with all due respect to the developers involved, which of course is not their fault. However, I think the other features like block patterns, native lazy loading, welcome improvements in the editor, and automatic updates make WordPress 5.5 a very good update, perhaps one of the best in recent times. In the days to come I'll be delving into some of the new features on the blog, so stay tuned.
Remember to do your tests in a dedicated environment, like any major version there is a risk when updating.