A featured image is one of the most crucial parts of blogging that most individuals generally overlook. But the fact is, an engaging or attractive title with the right approach are the things that help to capture visitors' attention and ultimately increase your CTR (Click Through Rate).
Featured images are just like banners or advertisements for your blog or content that attract visitors to reach your content. So, apart from considering other blogging tips and guidelines and focusing only on blogging, there are some best practices or tips on WordPress Featured image size and its design you must follow.
In this post, we will let you know what is all about featured images, their importance, and how you decide on WordPress featured image size to make it look more engaging and attractive. All these questions will be answered most easily and comprehensively. All you need to do is to stay tuned and keep reading this post till the end.
Let us get started!
What is A WordPress Featured image?
WordPress Featured images are the visual representation or advertisement banner of your blog that also automatically turns into your blog's thumbnail. It acts as a default image of posts that are being shared on various social media pages or websites.
Varying from theme to theme, you may find these WordPress featured images located either at top of the content or you may need to upload a featured image to set manually appear at the beginning or top of your content.
Generally, many individuals or bloggers do not prefer to use WordPress featured images and let WordPress use the default one, or WordPress will use the first image of content as a thumbnail.
However, it is highly recommended that you upload a separate featured image with an appealing title within the correct WordPress feature image size and WordPress feature image aspect ratio. If you are going to insert a featured image, the best location for inserting would be either at the top of your content or just below the first paragraph.
What is the Perfect WordPress Featured Image Size?
The most recommended or ideal WordPress feature image size is 1200 by 628 pixels. This is one of the most common and widely accepted WordPress features image aspect ratios that the majority of WordPress themes accept.
However, some WordPress themes have different sizes for their featured images. But they still allow you to change the settings and customize the size of featured images as per your blogs. You can even change your feature image settings so that it can automatically change its dimension or resolution as per your preference.
What is the Perfect WordPress Featured Image Size for Facebook?
Facebook is one of the most popular social media where people usually prefer to share almost everything. When you share a post or blog page from your website on Facebook using the social share button, you will find Facebook will automatically take a thumbnail image from your website as a display image for the link.
To avoid any error or the taking inappropriate resolution of thumbnail images of your website link by Facebook, there are some specified size requirements of Facebook you need to follow. And to get the best results it is highly recommended you must adhere to their size requirements.
For the best display or high-resolution devices, Facebook recommends using images of at least 1200 by 630 pixels. However, if you want to use a smaller resolution the accepted minimum resolution is 600 by 315 pixels that are best to display thumbnails of pages or post links. The size of the image file should be up to 8 MB.
In case you are using images smaller than the recommended size, they will still be displayed on the link pages but the quality would be not the same and the size would be much smaller.
To get a better result and display full images in Facebook's news feed without cropping, you must try to keep your images within an aspect ratio of 1.91:1.
Why do You need to Change the WordPress Featured Image Size?
Whenever you upload any media to the WordPress media library, WordPress will automatically create thumbnails out of it in default four different sizes. Such as,
For thumbnail: 150 pixels
Medium size: 300 pixels
Medium-large: 768 pixels
Large: 1024 pixels
Although there are more WordPress-featured image sizes introduced you cannot access them via the WordPress admin dashboard. In addition to that, as we have previously said, some WordPress themes have their specified size of WordPress featured image size.
For example, if you are using WordPress Free theme Twenty Twenty One, you will find on the settings page that it provides a new featured image size variant of 1568 pixels and allows you to insert it at the top of the post title.
In the majority of cases, you may also find WordPress feature image sizes too big, depending on the WordPress theme you are using. Here comes another concerning point about Feature image size you must look upon.
It is because the larger the file you are using, the more storage space it will consume and the more wastage of your resources will happen. Hence, if changing the WordPress featured image size is properly done, it will save more storage space and as a result, the pages will load faster.
How to Change the WordPress Featured Image Size?
If you are not using any WordPress feature image size plugin, you will find three default feature image sizes in WordPress under Settings > media page.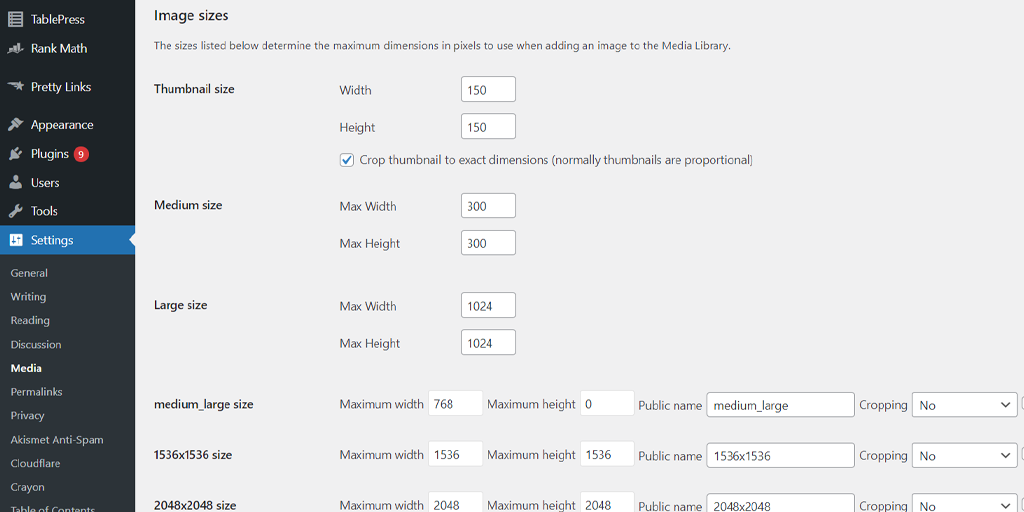 From the above image, you can see, that the default settings for featured images are available with three different size options. These are Thumbnail size, medium size, and large size, which you can change as per your requirement.
However, if you want to change the sizes of other image variants, you will require either to change your WordPress theme or need to install a WordPress-featured image size plugin. Let us see How you can use WordPress featured image size plugin to change the size of various image variants.
How to use WordPress Featured Image Size Plugin?
If you want to change the size of more image variants, there are plenty of free as well as paid WordPress plugins available that you install and use. For example, Regenerate thumbnail and Simple image sizes are the two most popular WordPress plugins that have a higher number of installations as well as better ratings.
If you have installed Simple image sizes, you will have an additional 4 image variant options along with the three default ones as shown below: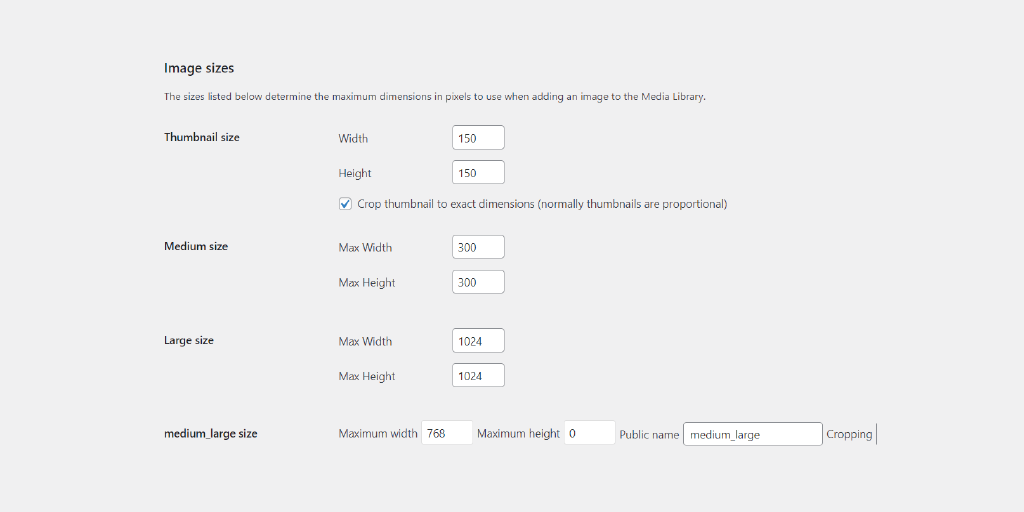 With the help of this plugin, you can now customize or specify your image size for your different image types. You can set values of width and height to 0, to prevent WordPress from generating images of that particular dimension.
After setting up the width size and height of images you can click on the Save changes button to complete the setup. Now, whenever you upload any image to the media library, WordPress will generate images of different variants as per your specified dimensions.

How Can You Set the WordPress Featured Image in WordPress?
After knowing how to easily set up WordPress-featured image sizes for the different variants. Now, let us see how you can set the WordPress featured image in WordPress. For that, you need to open the post on which you would like to insert the featured image, and in the block, the editor clicks on the Post link and scroll down until you see the Featured image.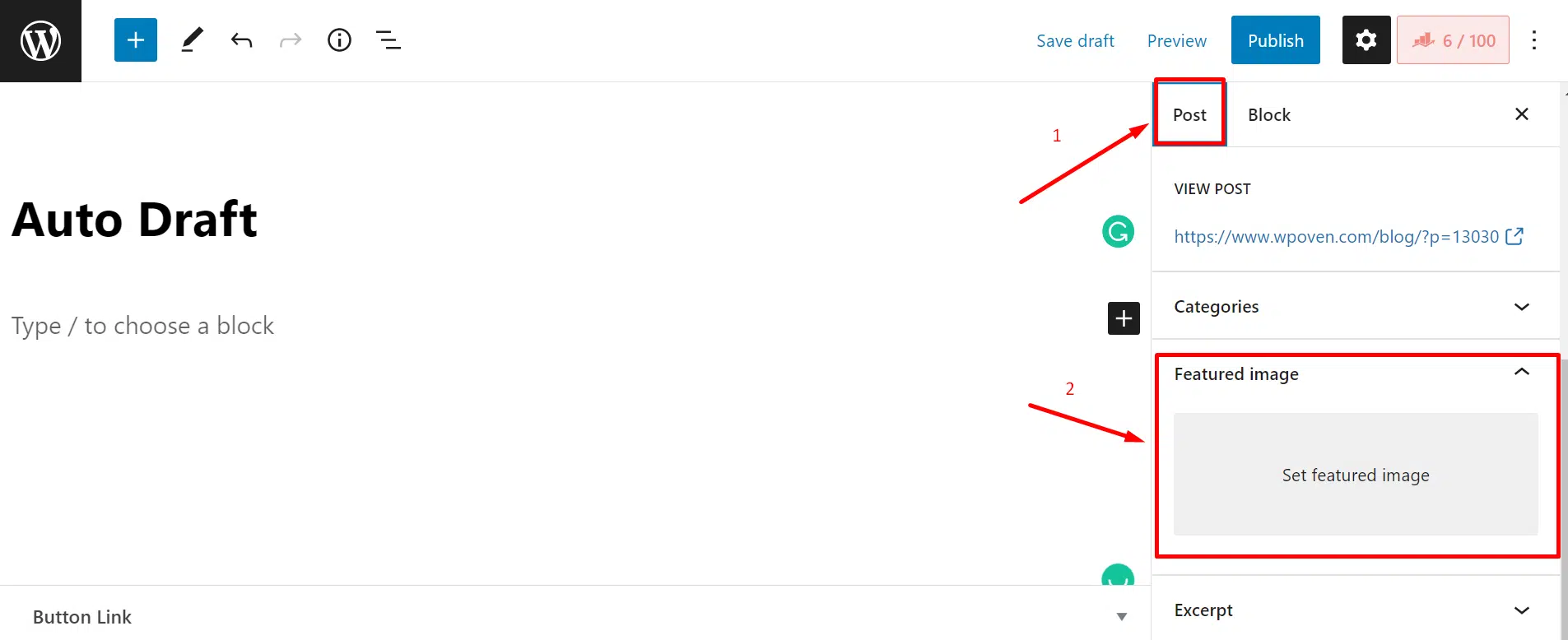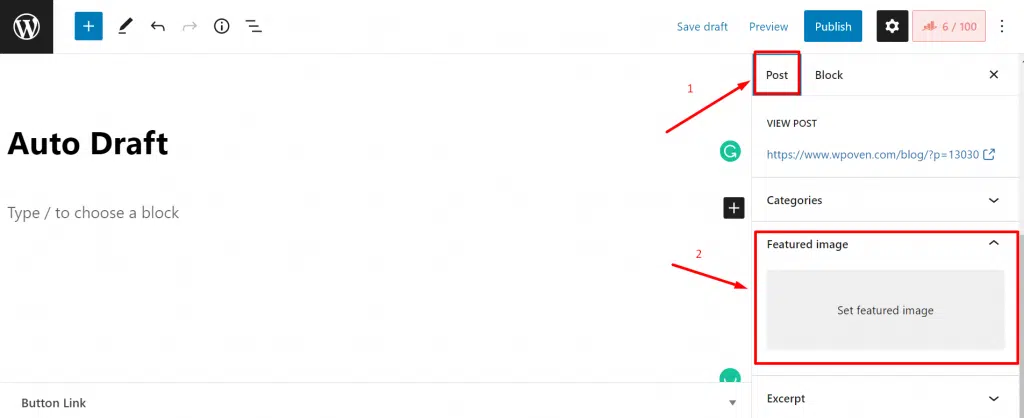 Now, click on the Feature image section as shown in the picture above and either choose any image from the WordPress library or upload a new one. And do not forget to optimize the image by adding Alt text and the title of the image followed by clicking on the "set featured image" button and you are done.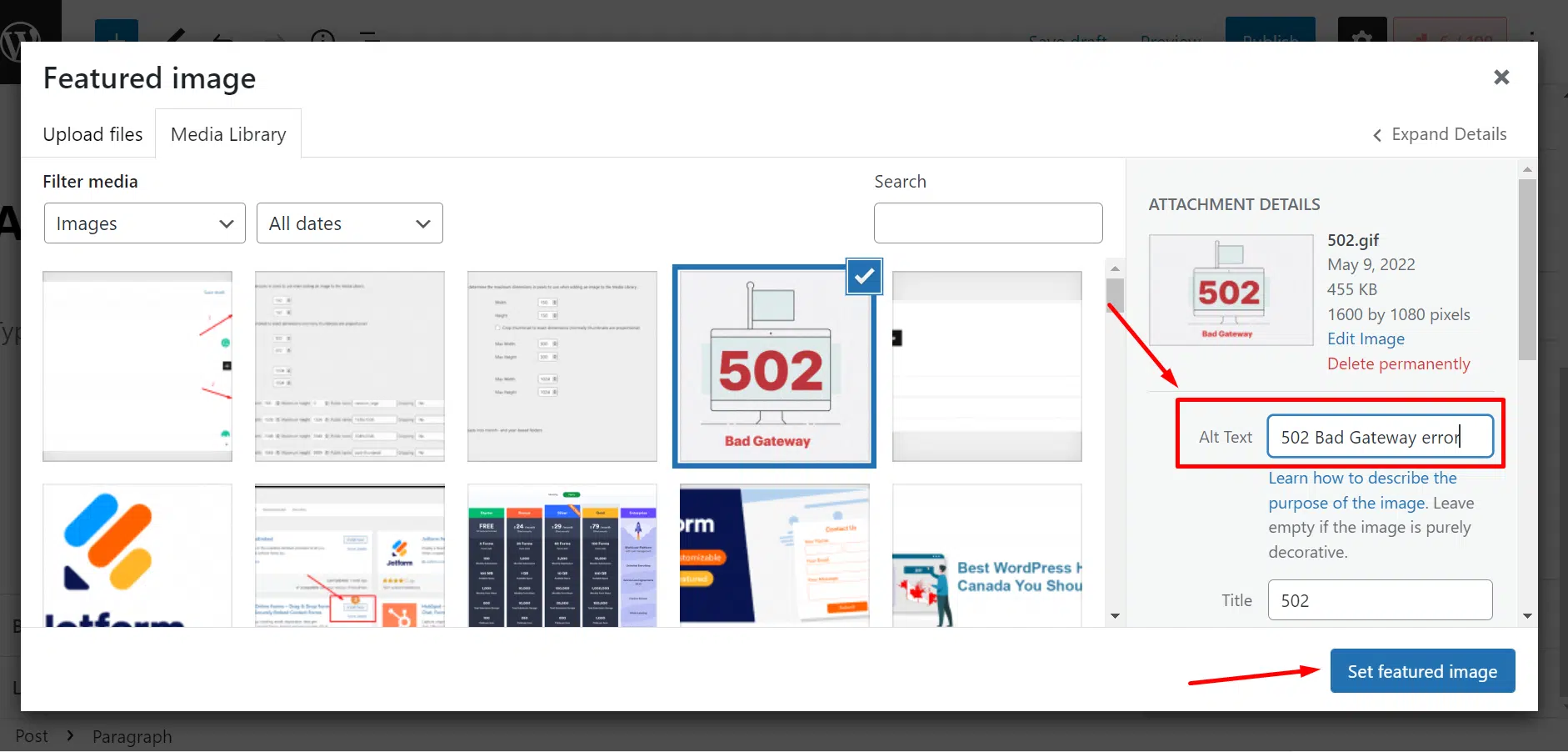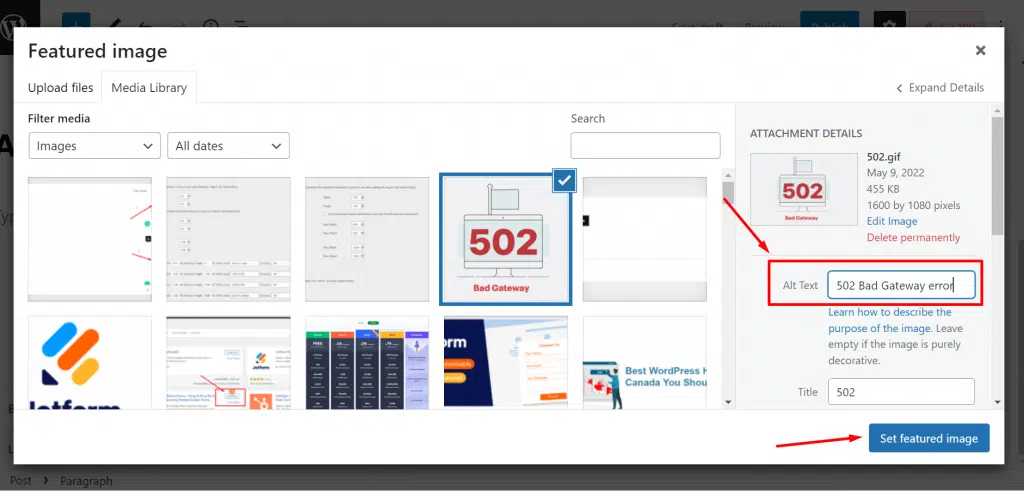 The featured image will start to show up in the Feature image box on the right side of the toolbar. You can either replace it or remove it at any time.
If you like to learn about How to protect images on your WordPress site, you can check out our ultimate guide on "11 best methods to protect images on our site" in a very comprehensive way.
What are the Advantages of using Featured Images in Your Posts or Blogs?
For any blog or post, the content took the whole limelight, and featured images are generally forgotten or ignored. But this doesn't mean that inserting featured images has no advantage or doesn't add any benefit to it.
If you have used the right approach, high-quality, right-size featured image, and appealing and attractive title it can boost Click through rate of your post.
First of all, Using Graphics or images in a post adds an extra edge to your textual content and helps to explain better what your content is all about.
Inserting a WordPress feature image into your posts can increase your visibility and it becomes easy for online readers and browsers to find out the right content for themselves. In addition to that, attractive designs and catchy titles can help you to gather more visitors online and also help to develop brand recognition.
If you have used impactful featured images, the browsers or online readers will eventually learn about your brand and also start visiting your website frequently for more content. For example, if you have chosen a yellow color layout for feature images of all your posts and a distinctive font, the online readers will quickly be able to recall your brand or website name even before clicking on it.
How to Optimize Your WordPress Feature Image for Better Search Engine Visibility?
When considering from an SEO perspective, you can optimize your featured image by adding alt text and titles to it. You can further boost the SEO by using focus keywords in alt text and using the perfect size of a featured image without compromising its quality.
Summary
WordPress-featured images are like book covers of your blogs and posts, so you cannot simply ignore them. You also have to give them attention just like you did to the content of your post. You cannot simply use random sizes or resolutions of images for featured images of your posts.
Spend some time and follow the recommended WordPress featured image size for your posts and make sure the images must display perfectly without any issue or compromise. In addition to it, do not forget to make your featured image more attractive with impactful titles that can help in attract online readers and hence increase your website traffic.
If you have any queries to ask or any suggestions to share, please do let us know in the comment section below.
---
Save your time, money, and resources, and give your website mammoth growth with WPOven's Fastest, and Fully managed Dedicated Servers.
24X7 WordPress Expert support
Cloudflare integration
High-end Security
Datacentres around the world, etc.
You can have all these features and much more in a single plan with unlimited Free migrations, unlimited staging, and a 14-day risk-free guarantee, Signup Now!
Frequently Asked Questions
What size should your featured image be?
The recommended WordPress featured image size should be 1200 by 628 pixels.
Is Featured image good for SEO?
Featured images add visual interest to online readers or browsers. They attract browsers and hence increase your website traffic as well as CTR. In addition to that, if you have optimized your Featured image by adding focus keywords in the alt text, it increases search engine visibility.
Does image size affect SEO?
Yes, it does, if you have used images of inappropriate resolution or file size, it can affect your page loading time and hence decrease overall web traffic.