Social media has been integrated into each and every part of our internet experience. Whether you are viewing a video on YouTube or reading an article on BBC, you will see a section on the page that allows you to share content through social media services.
Social media is a crucial component for any online marketing strategy. The reason websites promote social media sharing is because so much traffic can be generated from it. If you're running your small business website on the WordPress platform, it's incredibly easy to integrate social. There are hundreds of ready made social media plugins for WordPress to choose from.
Your choice of social media plugins for your WordPress website will depend on which social platforms you use actively, what kind of content you offer on your site, and the best look and placement of social tools that complements your website design. Here is an amazing article on social media marketing.
Below are some of the best WordPress plugins for social media.
1. DIGG DIGG  (Free)

Digg Digg by Buffer gives all in one social sharing plugin for your blog. Nice display of all sharing buttons on your blog and gives it an amazing look.
All popular social sharing buttons with count, such as Twitter, Buffer, Facebook Share, Facebook Like, Digg, LinkedIn, Google +1, Reddit, dZone, TweetMeme, Topsy, Yahoo Buzz, WebBlend, BlogEngage, Serpd, Pinterest, Pocket and Tumblr are displayed.
Facebook Like (Iframe or XFBML), support thumbnail generation, multiple languages, show faces and send button.
Great customization options. Choose a floating bar or sharing buttons at the top or bottom of the post.
Lazy loading to increase website performance.
Left or right scrolling effect like Mashable.com.
Support in excerpt mode.
Support for email and print services.
Nearly any button out there you can think of.
2.Facebook Likebox/ Twitter Slider (BUY $17)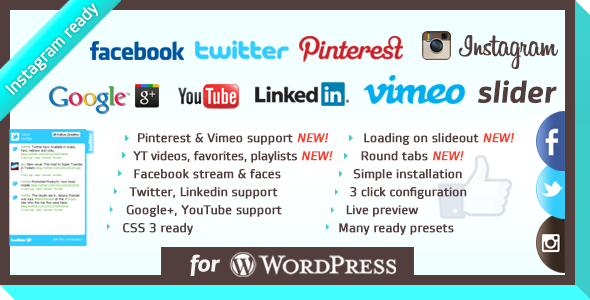 Don't be fooled by its title, this plugin supports a number of social networking sites including Facebook (obviously), Twitter, Google+, Youtube, Vimeo, LinkedIn and Pinterest.  Easy to install, 3 click configuration, awesome tabs design
Left/right side of page available (flexible positioning)
Top/bottom margin configuration
iPad, iPhone, other mobile devices support
Facebook steam & faces support
Twitter support
Google+ support
Very fast loading – content is only loaded when required
Powered by jQuery (noConflict mode)
Great support (24h)
3. WordPress Social Stream (BUY  $16)

WordPress Social Stream is a feature-rich and regularly updated social media plugin that lets you combine all your social network activities into a single feed or one single network stream.
Display using rotating feed list or a filterable Social Network Wall
Option to display wall randomly
Can handle multiple users per network.
Can handle multiple feeds per network.
Rotating list with infinite loop – set direction & speed – both auto and manual.
Set each feed item output content and layout.
Quickly & easily customise social network colors via color pickers in plugin admin page.
Save unlimited social stream profiles in plugin admin
Full documentation.
4. SHARE THIS (Free)

ShareThis is one of the popular social media plugins for WordPress that's been downloaded more than 1.5 million times.
Great customization andtons of features.
More than 120 supported social media platforms,
 Social buttons in the form of a Hovering Bar that can be displayed on the right or left side of your pages, with counters and your choice of small or large buttons.
 ShareThis has built-in social analytics, a CopyNShare widget that helps you track shares when your content is copied and pasted, and more.
5. Social Media Feather (Free)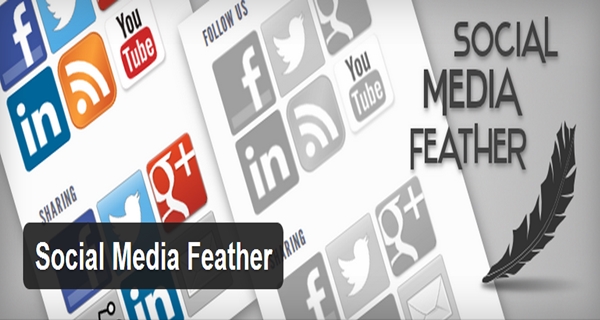 Social Media Feather is super lightweight, simple, and give effective social sharing and following buttons and icons on your site.
 High-performing social plugin that keeps speeds up and load times down by not using JavaScript.
The buttons have a clean and a modern look.
You can customize the appearance of buttons with social icons skins.
This plugin supports shortcodes.
It is currently the only social sharing plugin that supports Retina and high-resolution displays used by mobile devices like the iPad 5.
6. Jetpack (Free)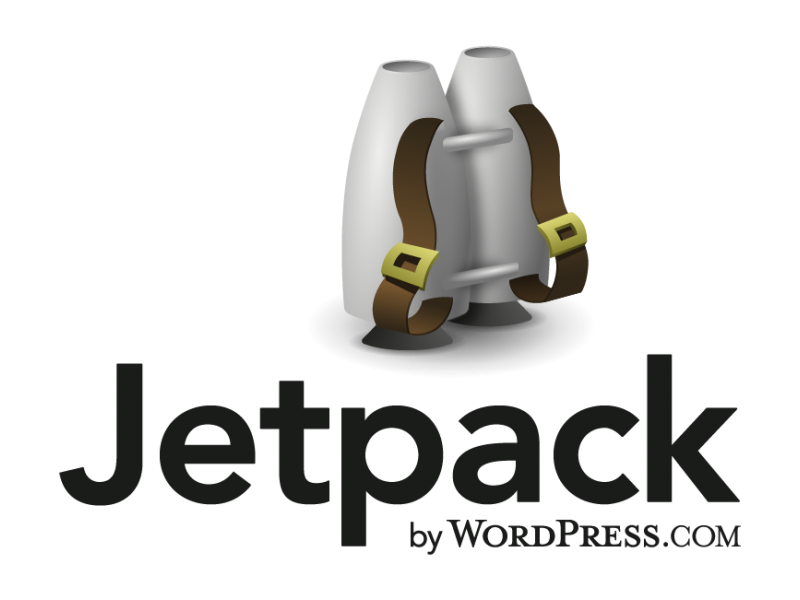 Jetpack is a WordPress plugin that supercharges your self-hosted WordPress site with the awesome cloud power of WordPress.com.
Simple, concise stats with no additional load on your server.

E

mail subscriptions for your blog's posts and your post's comments.

Social networking enabled comment system.

Easily embedded media from popular sites like YouTube, Digg, and Vimeo.

 
7. Shareaholic (Free)

Shareaholic is an extremely useful and successful tool in getting your readers to actually discover and submit your articles to numerous social bookmarking sites.
Adds an attractive social bookmarking menu and related content widget to your posts, pages, index, or any combination of the three.
Full support for Facebook, Twitter, Google Plus, Pinterest, etc
Share Counters for Twitter, Facebook, LinkedIn, etc
Official support for Google's URL shortener (goo.gl) and Google Analytics
 Increases engagement and time on site by highlighting relevant content that may not otherwise be discovered from across your site.
Provides you with important actionable metrics including insights into how your content is performing, who's sharing it, and through which channels.
8. Share Button by AddToAny (FREE)

Offering support for more than 100 social sites in 19 languages, AddToAny Share Buttons is one of the most popular social media plugins for WordPress.
 It's easy to customize and fully featured.
it supports both shares and interactive clicks – including Facebook Likes, a Tweet button for Twitter, a "Pin It" button for Pinterest, a +1 button for Google+….
Bookmarking and email buttons integrate with the most popular email services (Gmail, Yahoo! Mail, Outlook / Hotmail, AOL, and nearly every Web-based or desktop email program).
You can customize the appearance and position of the AddToAny share bar, and integrate with Google Analytics to make the most of your social marketing.
9. Social Media Widget (FREE)

 Social Media Widget is an easy-to-use plugin that creates a sidebar widget for social sharing, with links that open a separate tab or window when clicked.
Tons of icons come in 3 sizes, 4 icon styles, and 4 animations.
Supports the most leading social media sites including Facebook, Google+ and Twitter,
Align your widget left, center, or right.
Create your own image alt/title tags for hover-over text.
Arrange the order of the icons however you like.
10. Woof (BUY $20)

This is quite some social media plugin since it doesn't create social sharing buttons but instead loads your entire WordPress website inside your Facebook page. As opposed to leaving Facebook to visit your site, your visitors can browse, comment and share your WordPress site right from inside Facebook.
Create WP pages and show them on your FB Fan Page
Enable FB users to comment your WP posts from your FB Fan Page
Enable/Disable your FB Stream, FB Comments, FB Activity, FB LikeBox on your Woof Fan Page
Build your own FB Fan Page Menu using the WP Menu settings
Customize everything: Colors, Fonts, Backgrounds, Patterns, Buttons, Ribbons, even the Woof style itself!
Display your tweets and your flickr pics on your FB Fan Page
Create, Schedule and Rotate banners through your Woof Pages (new!)
Create Full Banners Pages on your Fan Page using the included WoofBanners plugin (new!)
Additional Social plugins
 1. FLARE  (Free)

Simple and eye-catching, the Flare plugin not only gives you customizable share buttons, but also lets you create and display a Follow Me widget, so your visitors can one-click follow your social media channels right from your website.
Compatible with many major social media platforms, including Facebook, Twitter, Pinterest, Google+ and more.
The appearance of the buttons can be customised
You can place the share bar at the top or bottom of posts, or to the left and right of your pages.
 The left and right options scroll down the page with viewers, and auto-hide when not in use.
2. Share Buttons by AddThis (Free)

AddThis Share Buttons help drive traffic to your site by helping visitors share, bookmark and email your content to over 330 services.
Users can promote your content by sharing to over 330 of the most popular social networking and bookmarking sites (like Facebook, Twitter, Pinterest, Google+ and LinkedIn).

Support address bar sharing in modern browsers.

The plugin gives you plenty of layout choices.

F

ree analytics to see how your visitors are sharing your content: which services they're using for sharing, which content is shared the most, and more.
3.Slick Social Sharing Buttons (Free)
Slick Social Sharing Buttons is a social media plugin for WordPress that's easy to implement and comes with plenty of options.
This plugin lets you customize button types.

Lets you specify which pages and posts to display social sharing on.

Choice between a floating or slide-out share bar.

You can also customize location, direction, floating speed, animation speed and more.

Slick Social Sharing Buttons supports shortcodes, and gives you a social analytics dashboard to help you track your sharing activity.