If you are looking for email marketing, then the best bulk email services are worth trying, especially if you drive leads or generate sales for your business through emails.
The main problem with your regular email clients such as Gmail, Yahoo, or Outlook is, that they have certain restrictions, limitations, and good ISP reputation. This is the main reason you need the best bulk email services for your email campaign or marketing.
So, in this post, we are providing you with a complete list of the best bulk email services that can help you to conduct email marketing without any issues. We know it is next to impossible for any individual to try out each and every bulk email service.
Therefore, our expert team has thoroughly tested and tried each and every bulk email service and come up with reviews and comparations that would definitely help you to choose the best bulk email services for your email marketing.
But before we directly hop on the lists, first you need to understand What are bulk email services, their key features, and their disadvantages or cons.
Then what are we waiting for, let us get started.
---
---
What Do You Mean by Bulk Email Services?
Bulk email services are email providers that help you to do email marketing or run email campaigns by sending emails in bulk to the masses at a time. These bulk email services provide you with a tool, with the help of which it becomes very easy, efficient, and reliable for anyone to send out different types of emails (transactional, promotional, newsletter, etc.)
Apart from just helping you in sending bulk emails, the bulk email service providers also help you to monitor the performance of your email marketing campaigns by using different metrics such as CTR (Click through Rate), Conversion rates, Bounce rate, Deliverability, etc. So that you can optimize the marketing strategy and get better results.
Although there are various best bulk email service providers available on the internet, finding an affordable price tag can be challenging. But you do not need to worry, we have shortlisted both paid and free best bulk email services that are worth trying.
However, getting the right bulk email-sending service at an affordable price can be challenging. But don't worry, we've done most of the work for you by collecting 10 of the best bulk email-sending services.
---
What Key Features Must Look into in the Best Bulk Email Services?
As we have previously mentioned that you cannot send bulk emails through your regular email service providers (Gmail or Outlook) and apart from the basic reasons we have already told you. Another one is you will be unable to get any feedback or acknowledgment about how your recipients interact with the emails that you have sent.
In addition to it, you won't be able to optimize your email marketing strategies since you won't be able to measure any essential services such as CTR, deliverability, bounce rates, or conversion rates.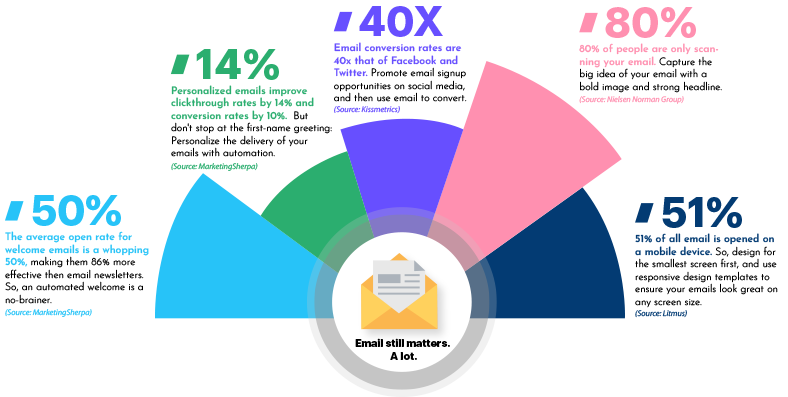 But, if you use bulk email service, there would be no such problems will happen. Even the best thing about these bulk email services is that they provide you with certain automation tools, with the help of which it becomes easy for you to optimize your email marketing campaigns and make the whole process smoother.
To enjoy all these benefits, there are some essential main points you must look into before finalizing a bulk email service.
It should have all the metrics.
User interaction tracking system,
Email Segmentation
Simple, easy, and clean user interface
Must include A/B testing feature
Must have high email deliverability rates
Good ISP reputation
Automation tools
Drag and drop email builder
Free email templates are available
Good Expert support
Some of the features you might get in the pro version (paid), while other features you might get for free. Now let us check out some of the best bulk email services (both paid and Free) for your email marketing.
---
Some Best Free Bulk Email Services You Must Consider
Here, we are providing you with some of the best paid as well as Free Smtp Servers or Bulk email services to send bulk email marketing services that will be very beneficial for any beginners or small bloggers to learn email marketing. All you have to do is just sign up with their free plan and learn all the technicalities of email marketing, from setting up a whole email campaign, automation, and design, and check out the metrics.
If things go well and you have to increase email marketing size, simply upgrade to their pro or paid plans.
---
1. Sendinblue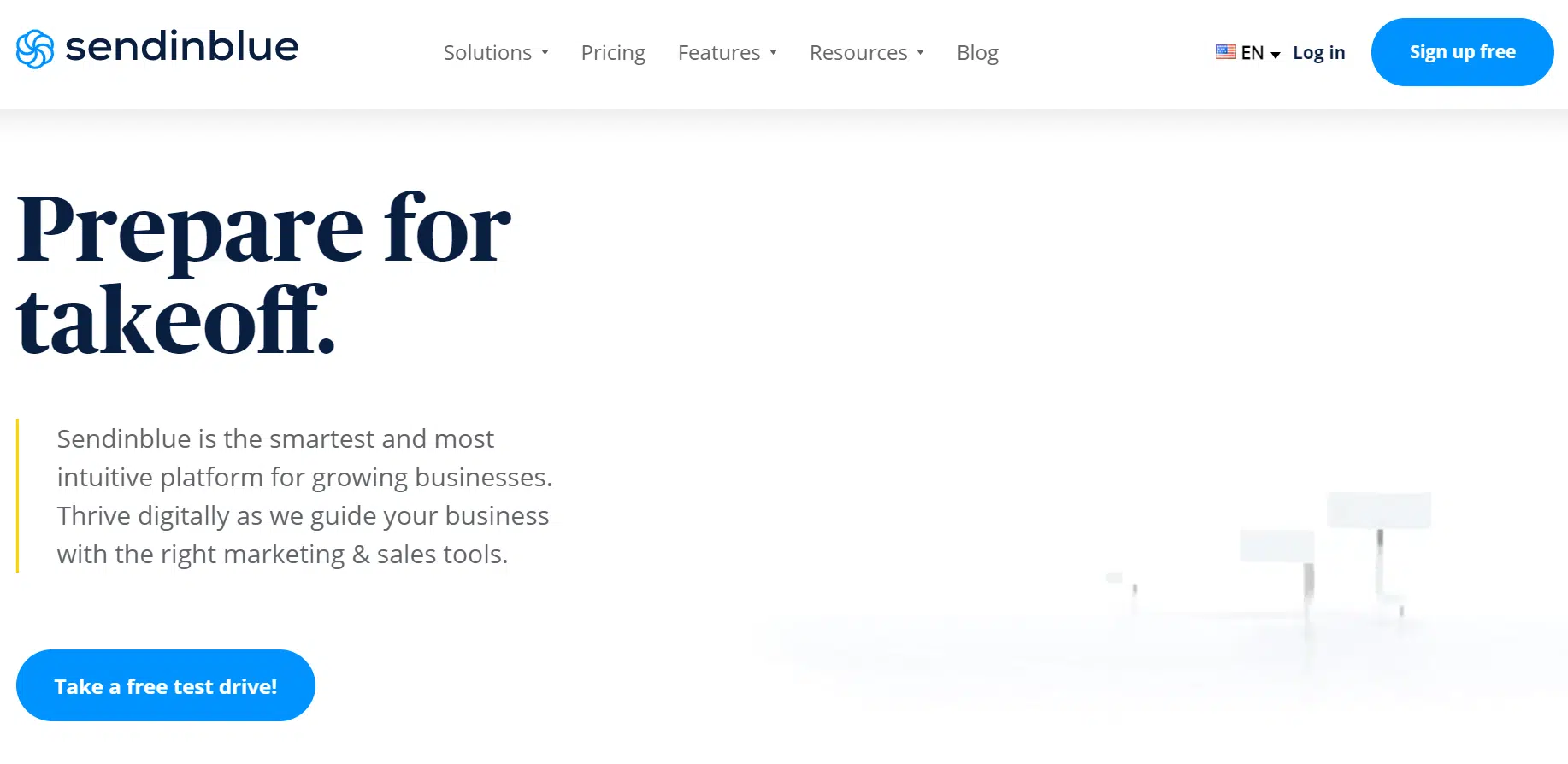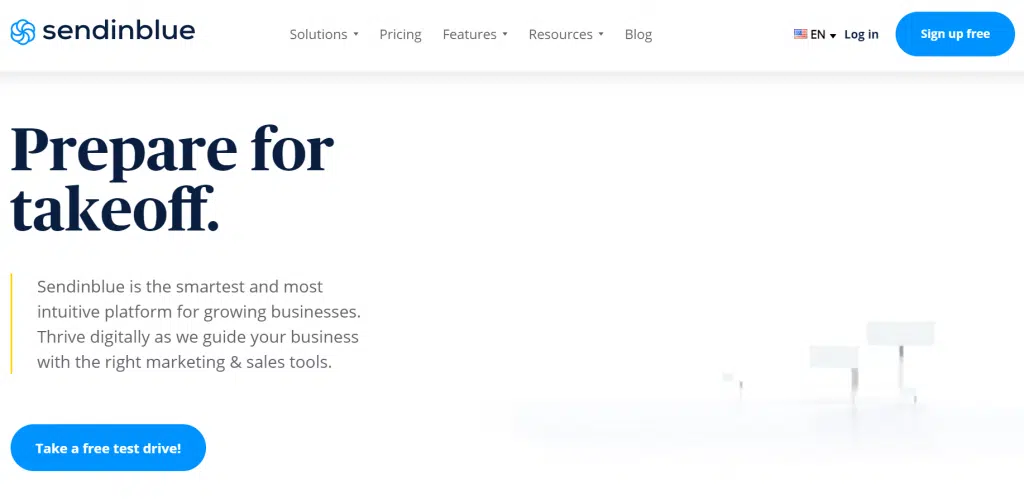 Sendinblue is one of the most famous and widely used SaaS solutions for sending bulk emails or email marketing. It offers you a great user interface and lets you manage customers using your current CRM.
It is considered one of the prominent bulk email services that have a superb deliverability rate and also lets you optimize your email marketing campaigns for a better outcome.
Let us check out some of the key features of Sendinblue.
Some Key Features:
Simple and easy drag-drop editor feature that helps beginners with email marketing.
Integration with your existing CRM tool and let you manage contacts
Send bulk transactional emails, segment and automate your email marketing
You can use AI (Artificial intelligence) to optimize your email marketing for better results.
Easy to monitor your email marketing campaign's performance and its metrics.
High deliverability rate
Offers a Free plan with 300 emails per day limitation with the Sendinblue logo.
Advanced features such as Facebook ads integration, live chat support, CRM, etc. are included in premium plans.
Some Pros and Cons of Sendinblue
Pros
Easy and simple sign-up process.
Offers various tools and templates to the customers.
Easy to monitor and track your email campaigns
Versatile email platform for all business sizes
Excellent customer support
The free plan offers you 300 emails per day which are Ideal for beginners who want to learn email marketing
Cons
Not easy to use all the features offered by them
Doesn't offer design services for custom templates
You cannot use it like your regular email services such as Gmail or Hotmail.
You need to create a separate account for contacts.
You will be unable to send more than one email at the same time from your account.
The email editor lacks some advanced features.
Pricing and Plans of Sendinblue
SendinBlue provides three major plans Lite, Premium, and Enterprise. It also provides a free service in which you can send 300 emails per day.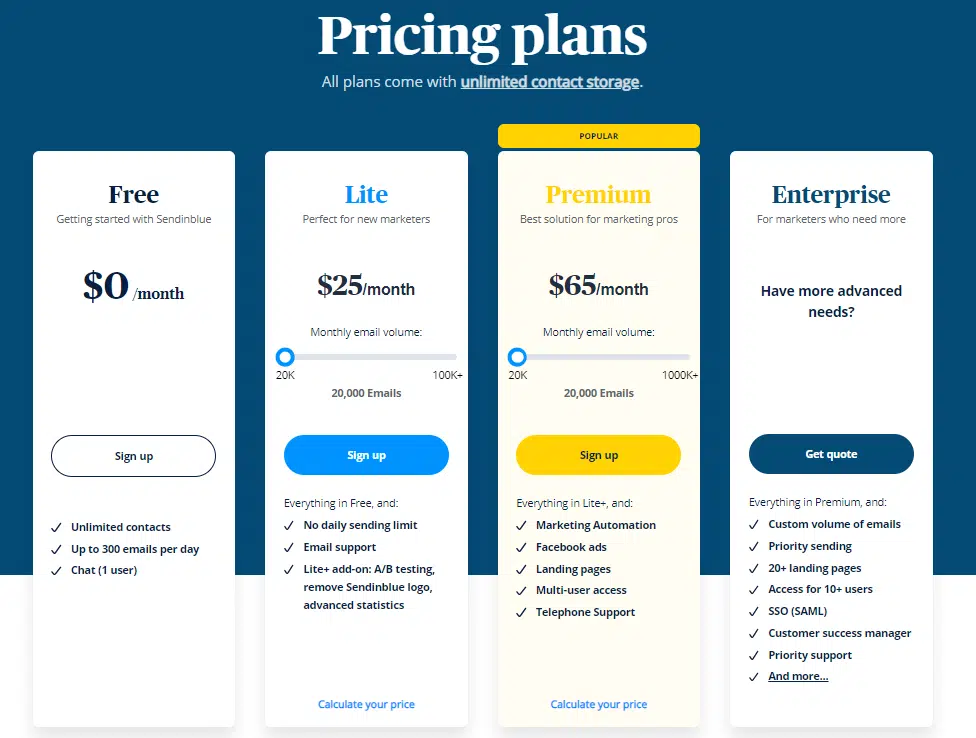 ---
Note: While setting up email campaigns on Sendinblue be ready with solid proof of having a valid email list.
---
2. Amazon SES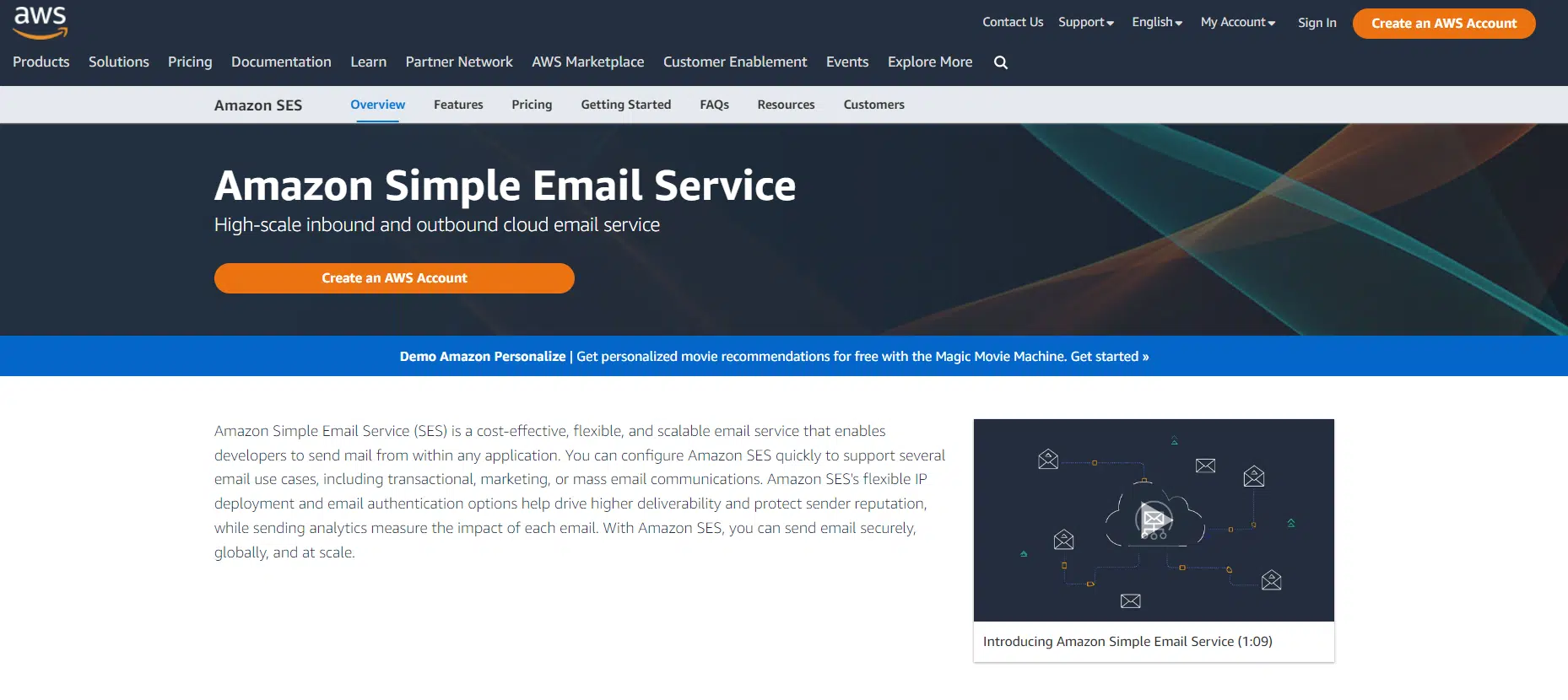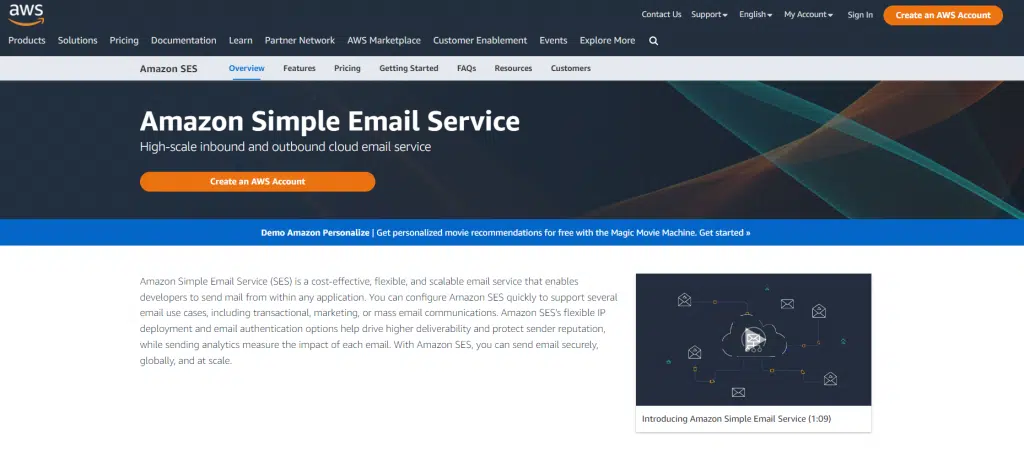 Amazon SES or Amazon Simple Email Services is a cloud-based bulk email services provider that is most suitable for small businesses and startups. It is a highly cost-effective and scalable bulk email service provider that works on a pay-as-you-go plan. It is so easy to use that you can directly integrate it into your existing applications, and ready to go.
Some key features of Amazon SES
Send automatic emails and highly personalized ones too.
With its clean dashboard, you can check the performance of email campaigns.
Efficiently track your email marketing metrics such as bounce rate, CTR, deliverability rate, etc.
Offer Real-time analytics, email testing, and advanced email personalization.
You can customize email acceptance and rejection based on email add, IP addresses, or domains.
It allows you to easily integrate with various other tools or applications such as AWS IAM.
Allows you to send emails through various methods such as SMTP and SES API.
Support for authentication of emails.
Some Pros and Cons of Amazon SES
Pros
Amazon SES is a reliable, cheap, and easy-to-set-up bulk email service provider.
Best suitable for small businesses and startups.
Highly scalable with a pay-as-you-go plan.
Offers free first 62000 emails.
Good ISP reputation and high email deliverability
One of the cheapest Bulk email services out there.
Cons
Not easy to learn and configure its settings. Requires a few technical skills or knowledge to use its features.
You may find it difficult to get used to the dashboard.
Not well-organized documentation
Support is inexpensive from Amazon
Manual support ticket opening process
Pricing and Plans of Amazon SES
The Amazon AWS SES has both free as well as paid plans. For its free plan, you will be provided with 62000 emails per month only if you are an Amazon EC2 user and you have to pay as per the conditions shown in the image below:


---
3. Mailgun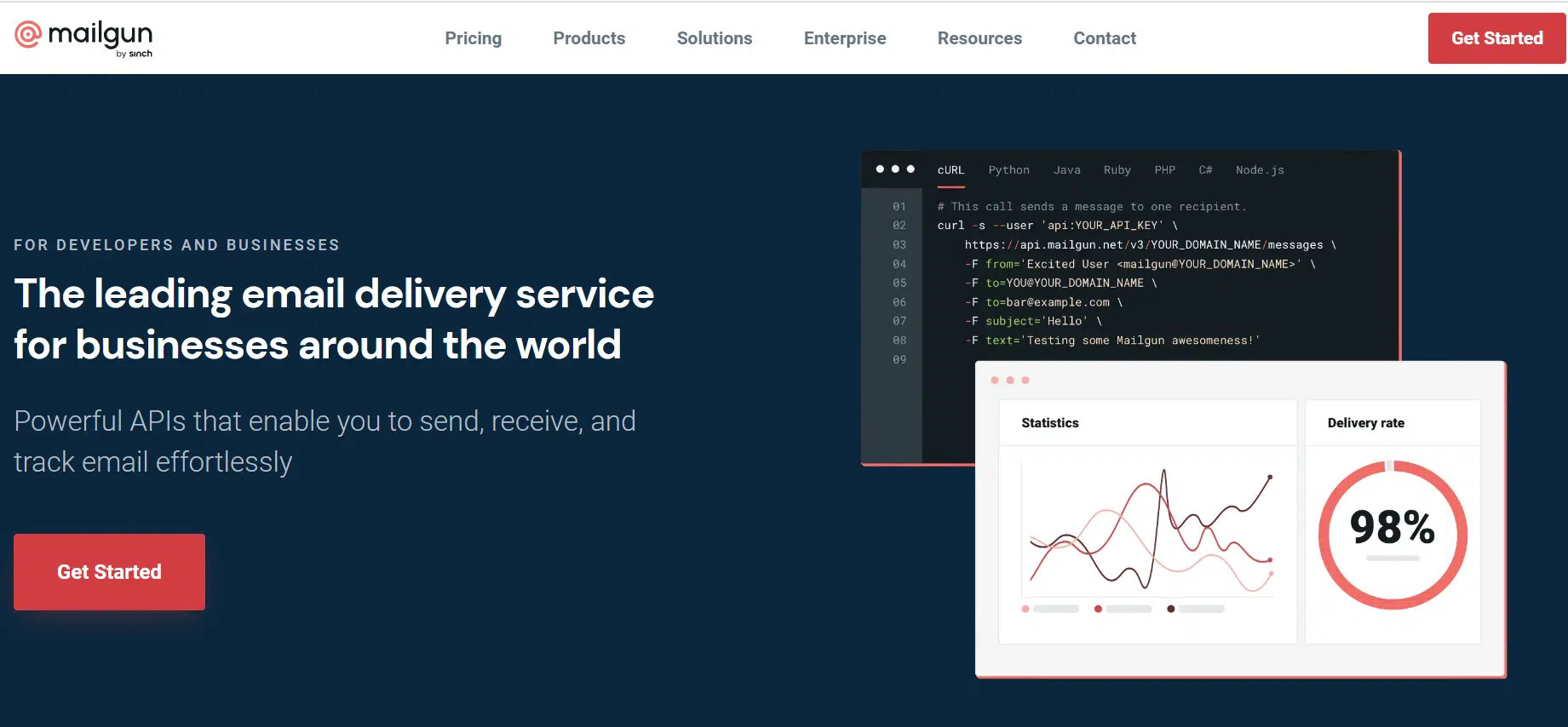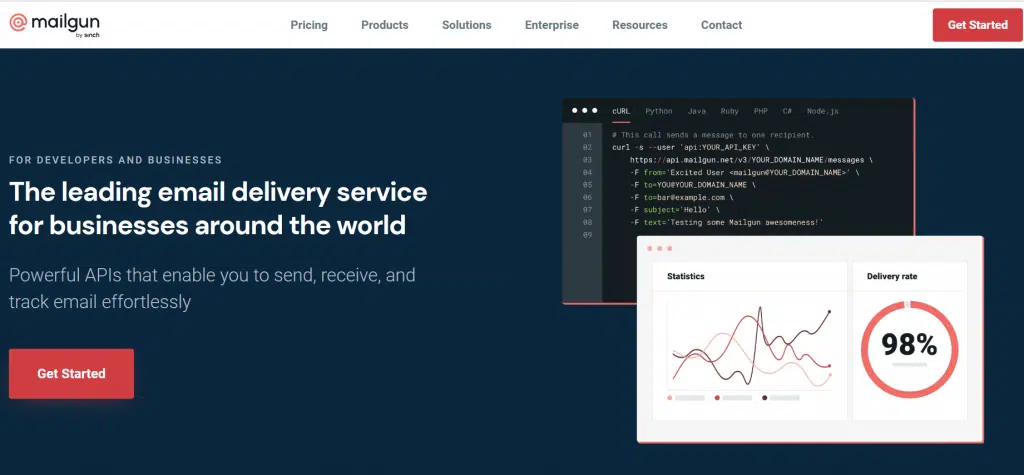 Another most famous and widely used bulk email services provider that has advanced analytics and real-time tracking features, that will help you diagnose your email campaign performances. It is best known for its email automation service for free SMTP relay.
It has anti-spam features, which help to ensure your emails don't land in the recipient's spam folder. Another best thing about Mailgun is that it helps to optimize your email list by removing unresponsive email addresses.
Some key Features of Mailgun
Fastest email validation feature.
Logs are stored and maintained for 30 days
Provides up to 99.99% uptime SLA
Developer friendly infrastructure
Automatically delivers emails at the best time
Segmentation, personalization, and a/b testing
Some Pros and Cons of Mailgun
Pros
Clean UI and easy to navigate
Easy and efficient to use for creating emails
Provides up to 99.99% uptime SLR
Best suitable for businesses
Premium customer support 24X7
Clear and easy-to-use dashboard
Ability to optimize your database to increase the deliverability rate and decrease the bounce rate.
Easy integration with languages such as Python, java, etc.
Cons
A little bit expensive for small businesses or startups.
Does not offer you the tools for backend email building.
Support is not great for free plans
New users might find it difficult to understand.
Only limited to transactional emails
Pricing and Plans of Mailgun
The best thing that Mailgun has done for beginners, small startups, or small businesses is they provide a free plan of 5k emails per month, if you exceed this limitation, you have to pay $1 per 1000 emails. Apart from that, Mailgun provides you with three paid plans Foundation, Growth, and Scale.
Trial – $0 per month
Foundation – $35 per month
Growth – $80 per month
Scale – $90 per month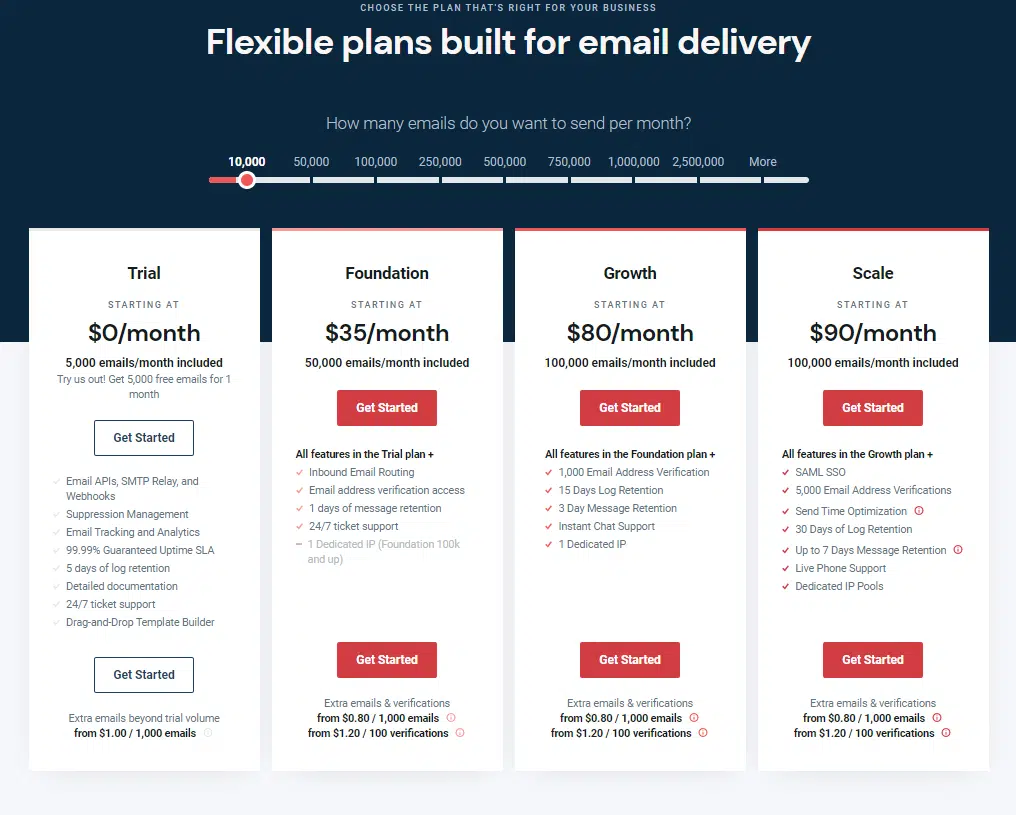 ---
4. Sendpulse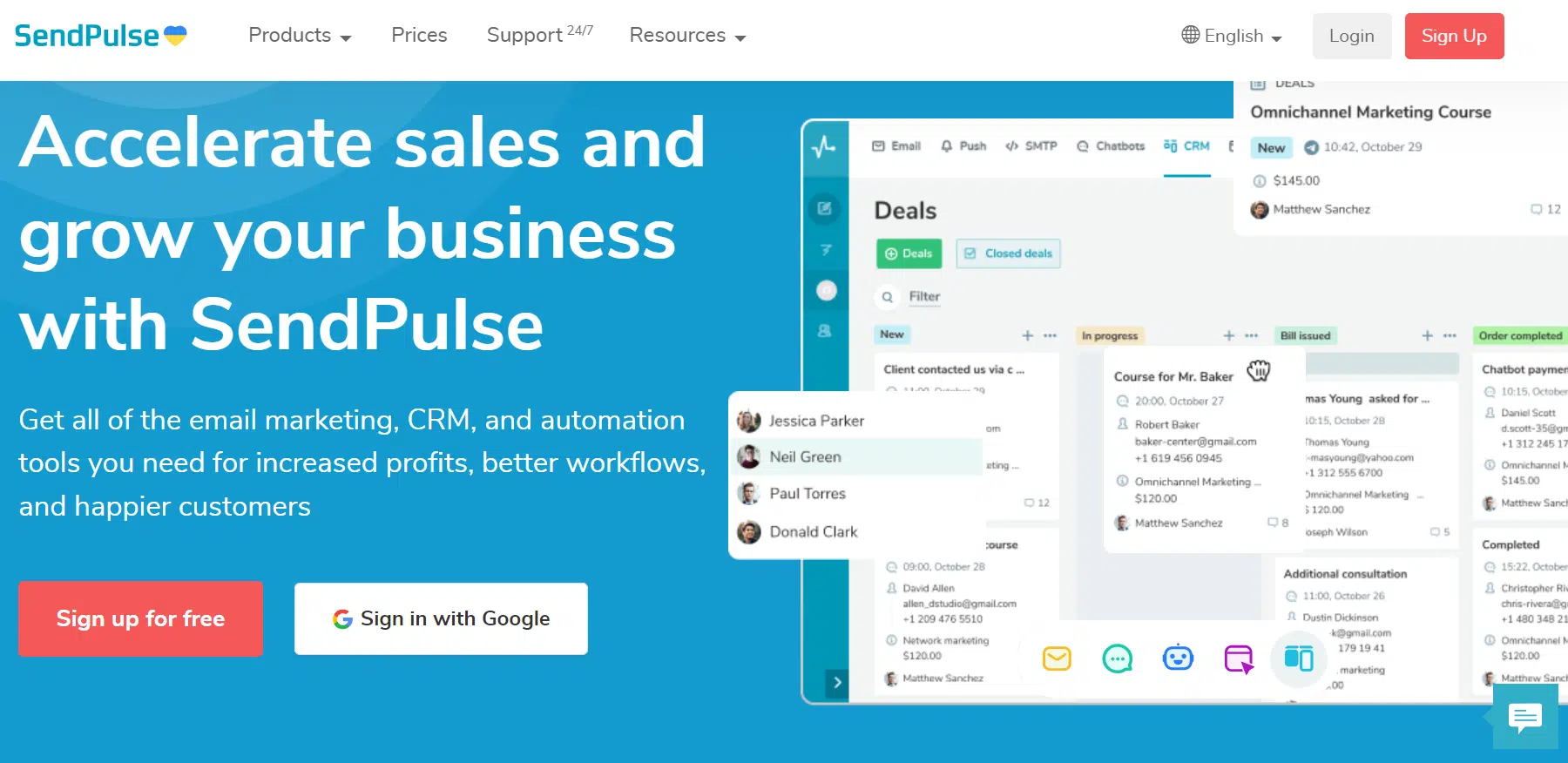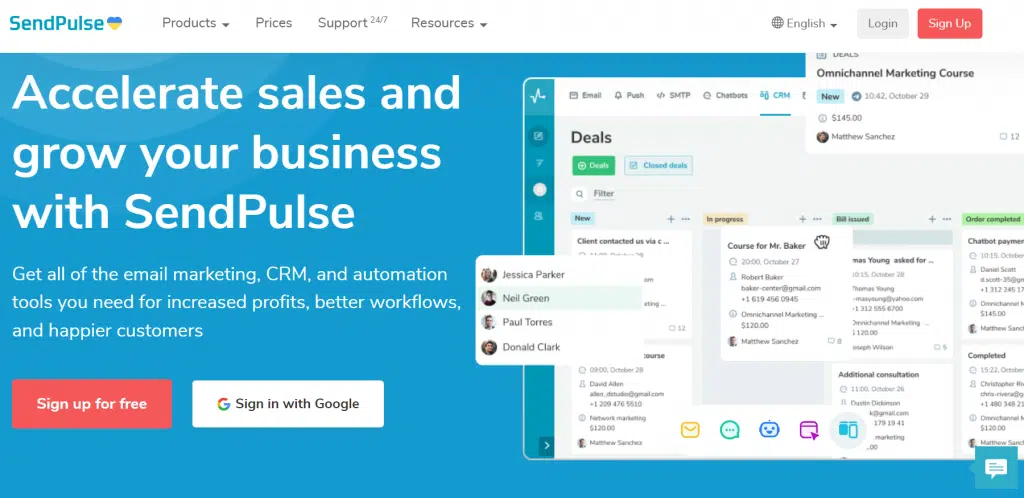 Sendpulse is another best bulk email service that is popular for its multichannel bulk email services, which provide various communication options such as Email, SMS, Facebook Messenger, etc. For email marketing, send pulse provides an easy editor tool, through which you can easily design responsive emails, without any knowledge of coding.
If you are not into designing, there are plenty of premade email templates available you can choose from. Apart from the emails, you can also design a website form using its simple drag-and-drop feature and embed it directly into your website to collect your visitor's information.
Some Key Features of Sendpulse
Drag-Drop editor
Integration with WordPress, Zapier, Drupal, etc.
Geo Segmentation
A/B testing
Chatbots, CRM, and Web push notifications
Responsive email design templates
Editor tools provided to create subscription forms
Pros and Cons of Sendpulse
Pros
Clean and easy User Interface
Beginner friendly
Multichannel features provided
Multi-language support
Segmentation and A/B testing provided
In-built editors
Live support feature
Best for small businesses
Cons
Automation features need more functionality
Bit of a learning curve
Limited customer support
Lack of documentation and guidance materials
Pricing and Plans of Sendpulse
Sendpulse has done a great job by providing a free plan for beginners or individuals who might get their hands on email marketing for the first time. With a limitation of 15k emails and 500 subscribers, we think it is not that bad. Apart from this, there are also paid plans as follows:
Free- $0 (15k emails and 500 subscribers)
Standard- $8 per month
Pro- $9.6 per month
Enterprise- $13.44 per month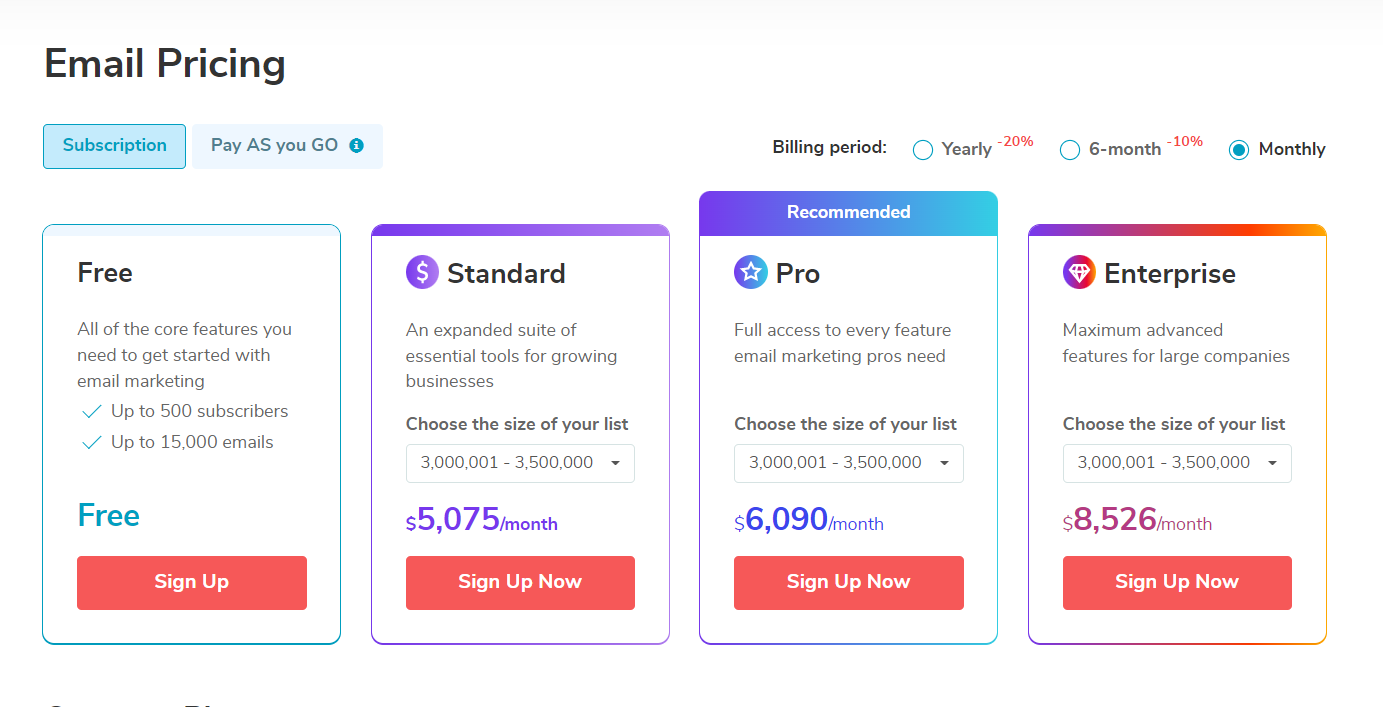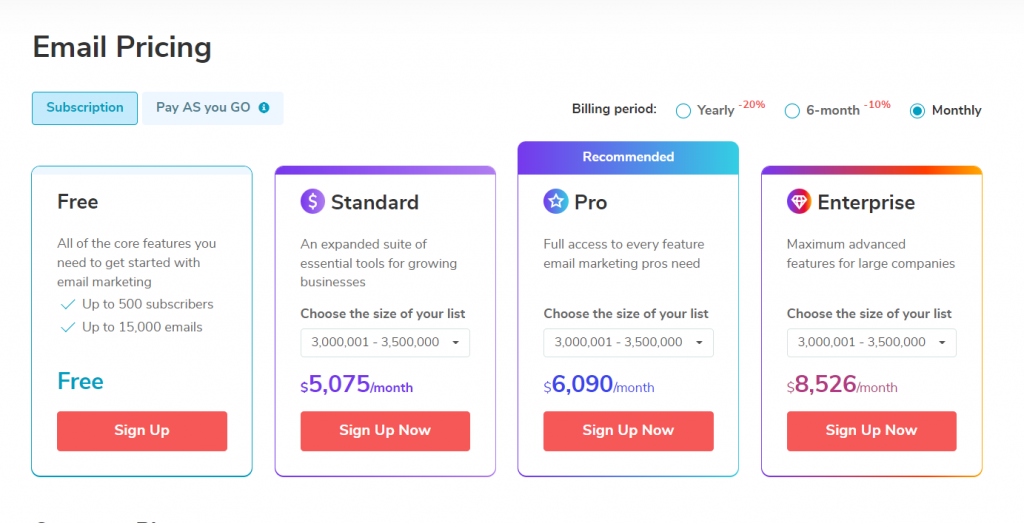 ---
5. Elastic Emails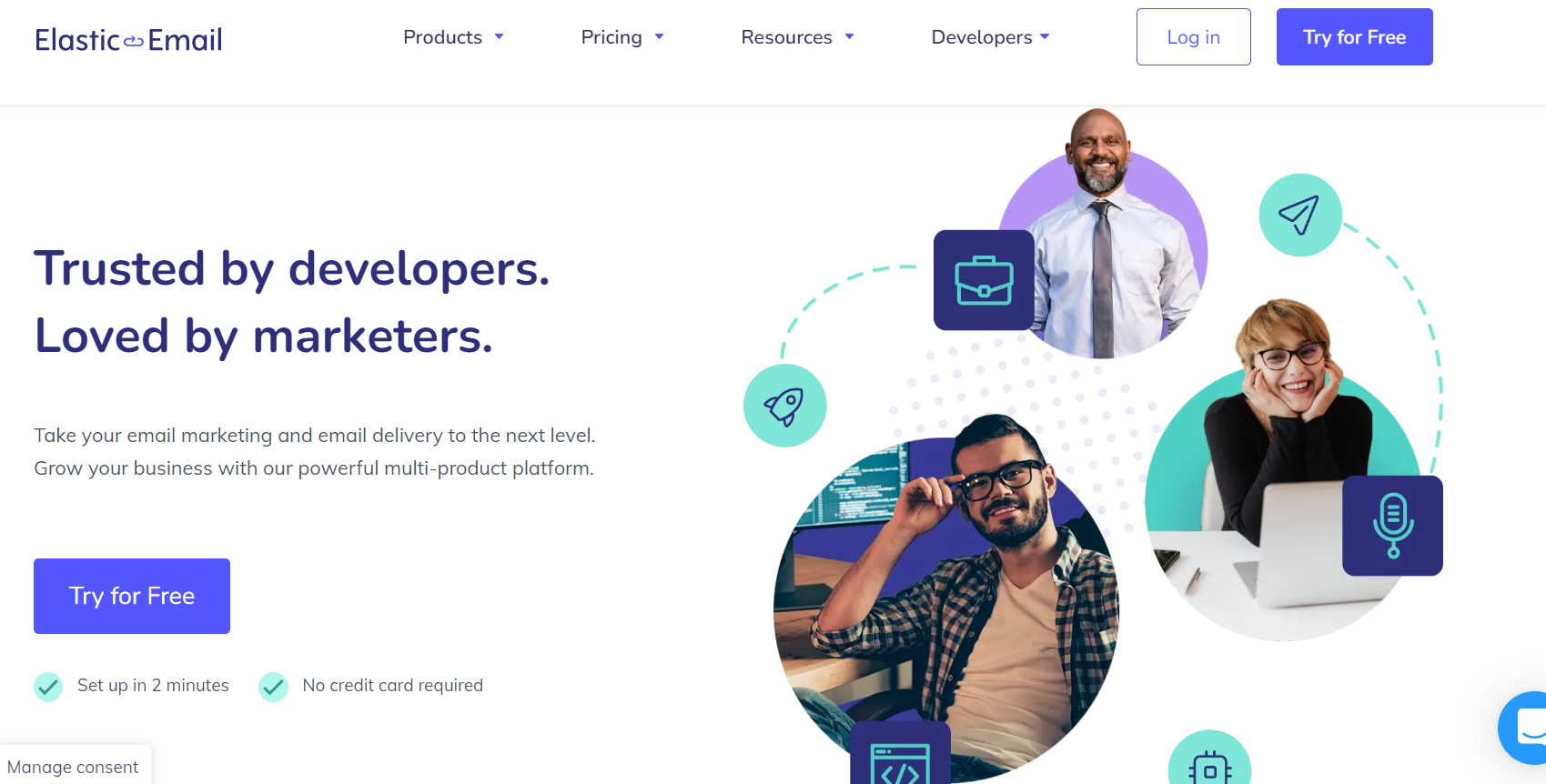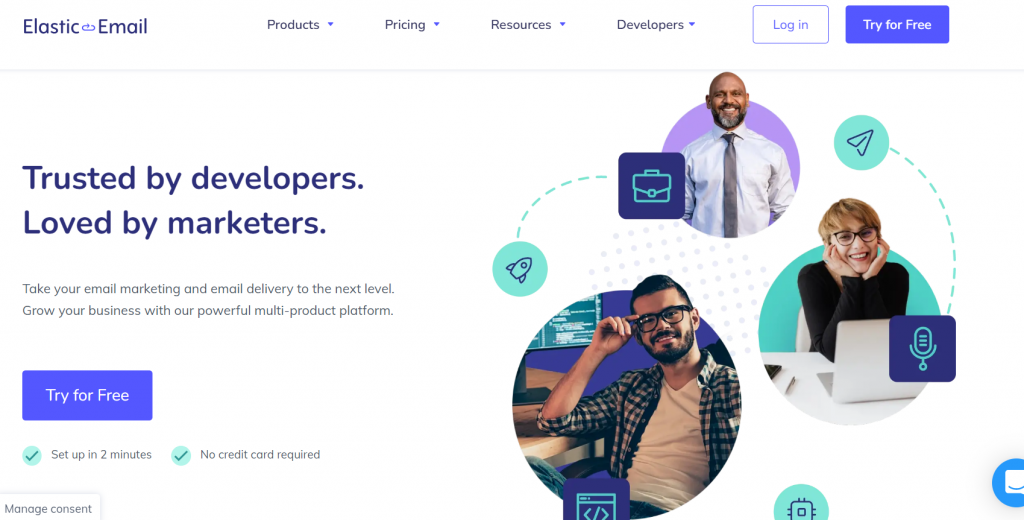 Elastic Emails is a brilliant bulk email sender that has a collection of various tools for both developers and marketers. Its ultra-fast global infrastructure and amazing features make it an ideal choice for small business owners or solo entrepreneurs.
It consists of advanced algorithms that help you to detect invalid emails and also avoid duplicate email addresses. It has an amazingly easy-to-use editor tool, that will let you design beautiful email layouts as well as you can also build landing pages and forms.
Some key features of Elastic Emails
Collection of tools available for Developers and marketers
Complete Email automation
Let you schedule your emails in various settings
Beginner-friendly drag-and-drop feature to edit or modify templates
Great Scalability
Large integration ability
Pros and Cons of Elastic Emails
Pros
Pocket-friendly best bulk email services provider
Top-notch customer service
Easy to use and intuitive user interface
Easy setup and get going
Comprehensive Dashboard and easy tracking
Cost-effective features
Easy to implement API and convenient to use.
Cons
Reputation management features need improvement
Requires more integrability with other CRMs & analytics tools
Not beginner friendly
Slow performing dashboard needs optimization
Price and Plans of Elastic Emails
Like other best bulk email services, Elastic Emails also provide a free plan with a limit of 100 emails per day which sums up to 3000 emails per month. However, if you want to send more, go for their paid plans as follows:
Unlimited – $15 per month
Unlimited Pro – $50 per month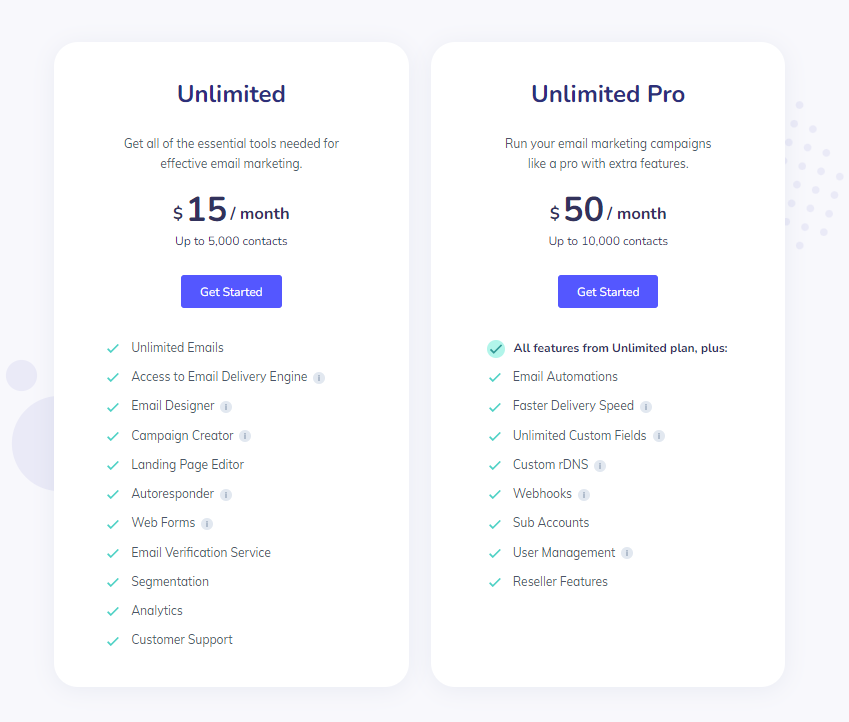 ---
6. Hubspot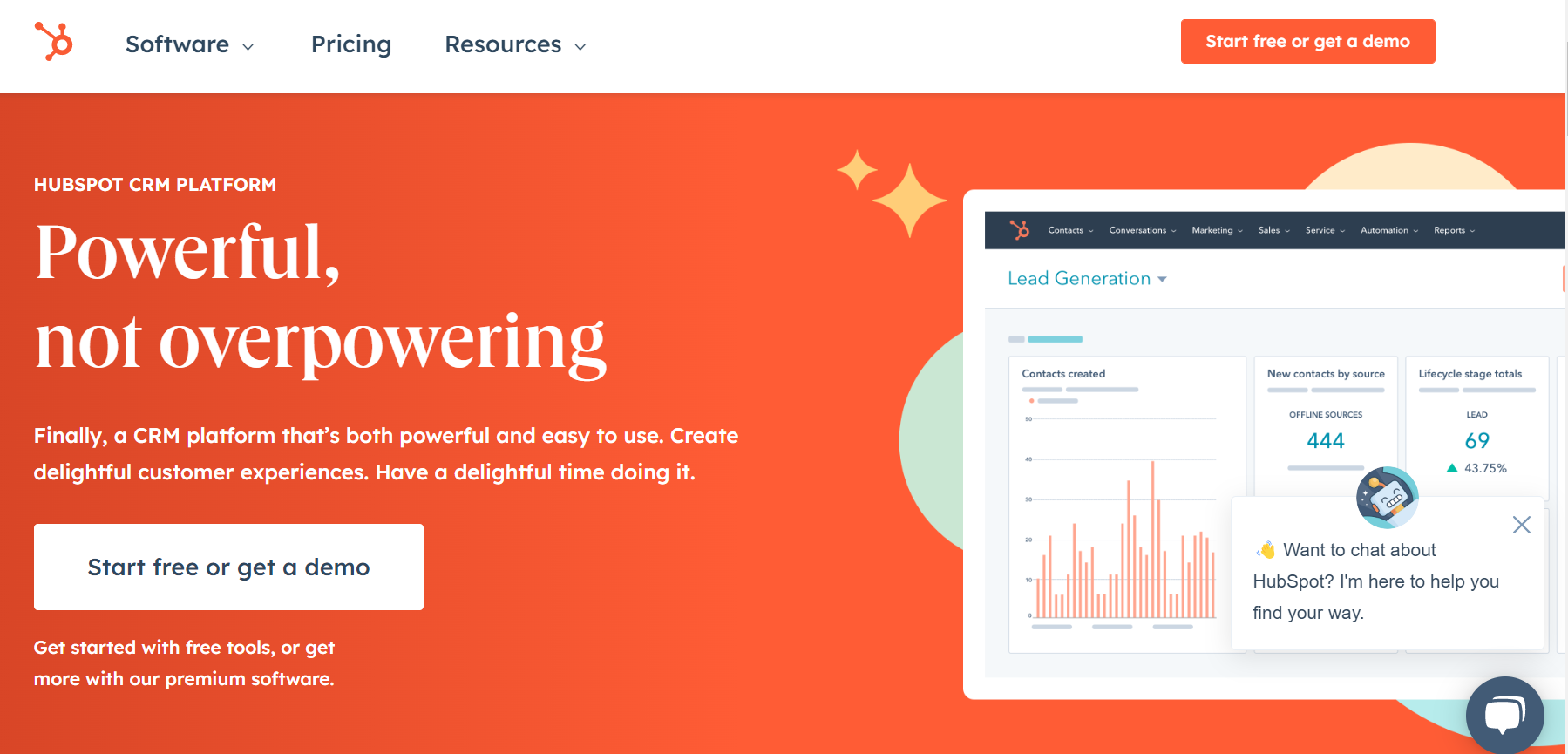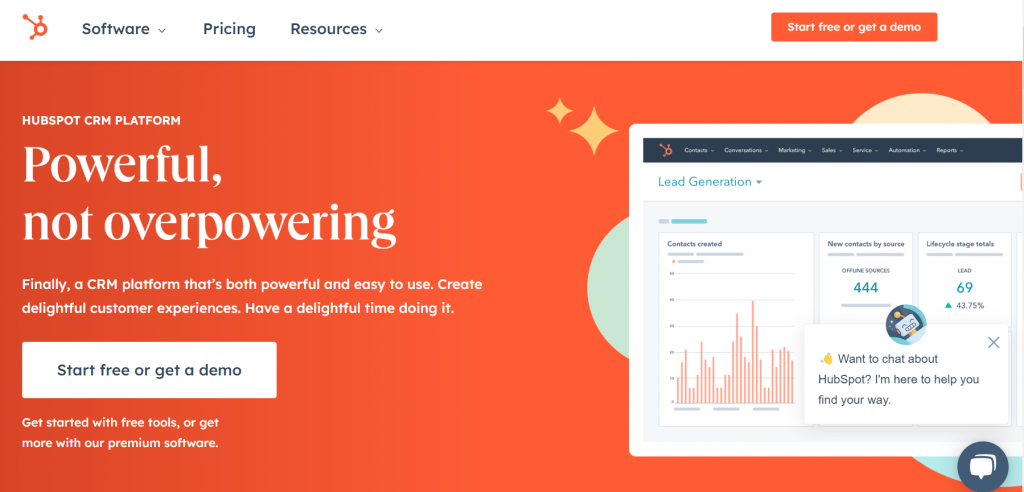 Hubspot is a well-established CRM, that is quite popular among marketing individuals for email marketing. It has an in-built email marketing service which is free. In addition to that, it comes up with advanced features and automation that help enhance the overall email marketing performance.
You do not need to have a developer or designer design your email campaigns. Similarly, there are plenty of other features listed below.
Some Key Features of Hubspot
Easy to design and draft email campaigns quickly.
The drag-drop editor tool provided
Personalization, scheduling, and Automation provided
A/B testing
Detailed analytics reports
Allows you to send bulk emails to anyone without any restriction
Let you design landing pages, pop-up signup forms, and tracking
List management
Pros and Cons of Hubspot
Pros
Easy to use
It has all basic CRM functionalities
Runs email campaigns with high deliverability rates
Good customer support
Easy Email designing and deployment
Effective A/B testing
Easy integration to the site
Cons
It gets expensive when you start to add features
Email templates are a bit hard to edit and modify
A/B testing is not available in lower plans
Most of the marketing tools offered are available and free to use elsewhere.
Paid Customer support
Price and Plan of Hubspot
Hubspot provides a free plan for email marketing that includes CRM and other marketing tools. In its free plan, you will be offered 2000 emails and unlimited contact storage. If you like to use more advanced features, then check out these marketing plans as follows:
Starter- $45 per month
Professional- $800 per month
Enterprise- $3200 per month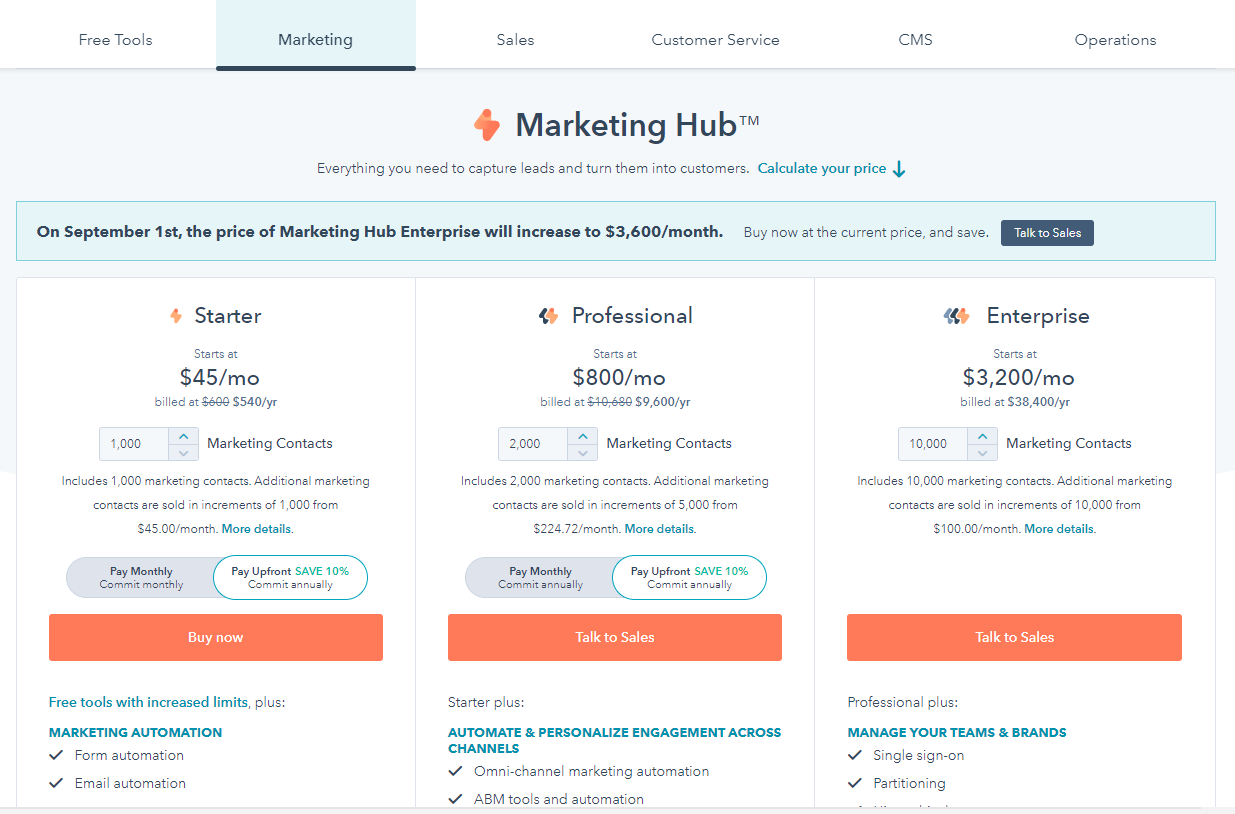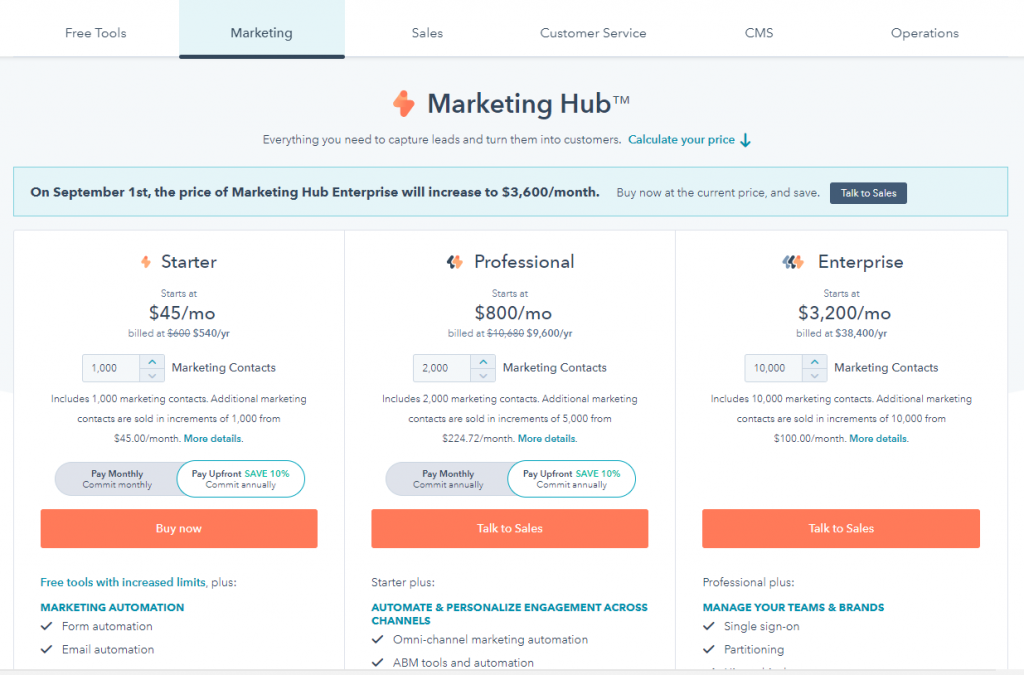 ---
Conclusion
It doesn't make any sense to list all the available bulk emailing services in a single post and increase the word count. This not only increases confusion but also as a reader you might find it difficult to consume all the content in a single go.
Hence, to reduce your efforts and in searching for the most reliable and popular email marketing service provider as well as to provide you with quality content, we come up with the top 6 Best bulk email services that you must consider.
Using the right bulk email services can make your email marketing campaigns successful and all your efforts will pay off. However, finding the best email services that are cost-effective and feature-rich can be a very daunting task, but after reading this comprehensive post you will be successfully able to choose the perfect one.
No doubt, there is a high chance that there is even better email marketing software available that we are not aware of or is new. If we find any, they will be definitely added to our list. On top of that, WPOven provides you with an open Free SMTP server for testing email issues.
You can send and receive emails using any address and they will be caught and displayed on your screen. In addition to that, you can even enhance the user experience during email marketing by bringing your customers to a Fast Landing page. This can be only possible if you Host your website on the Fastest managed web host, i.e. WPOven.
---
Migrate your existing website or host a new website on WPOven's fastest servers at a very minimum price of $16.61 per month with a 14-day money-back guarantee.
---
If you have any queries or doubts, please do let us know in the comment section below.
Frequently Asked Questions
How can I send 10000 emails for free?
There are some bulk email services available that allow you to send 10000 emails for free. Amazon SES (62000 emails) and Sendpulse (15000 emails) are the two best bulk email services that offer more than 10K in their free plans.
How can I bulk email for free?
To send bulk emails for free, here is a list of the best bulk email services that offer free trials to send bulk emails.
1. Sendinblue
2. Amazon SES
3. Sendpulse
4. Mailgun
5. Elastic Emails
6. Hubspot
What is bulk email known as?
Bulk email is a process in which companies send emails to the mass (Multiple lists of recipients) either for advertising or promoting their products at a specific time.
---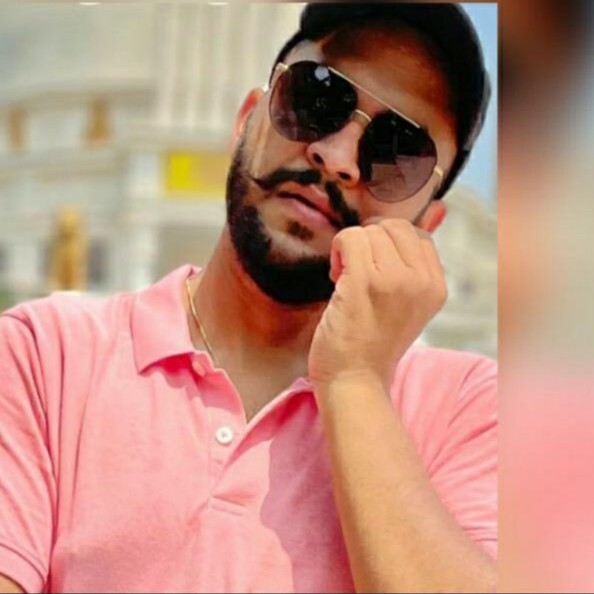 Rahul Kumar is a web enthusiast, and content strategist specializing in WordPress & web hosting. With years of experience and a commitment to staying up-to-date with industry trends, he creates effective online strategies that drive traffic, boosts engagement, and increase conversions. Rahul's attention to detail and ability to craft compelling content makes him a valuable asset to any brand looking to improve its online presence.