Using emails for online business strategy is like a puzzle. If you agree then you should look into what some of the best email services providers can do for you. They provide you with new tools to make your existing tasks easier as well as revealing totally new possibilities.
Before starting let's make it clear that Email deliverability is not a problem unless you have to send a lot of them.
As a WordPress website beginner, you do not need any email-related delivery service at all. You can use services like MailPoet and have the emails sent but ideally, it is not the most optimized solution.
Problems with Sending Emails
Basically, you can differentiate the emails that you need to send into two main types, i.e. bulk email, and transactional email.
The first type i.e bulk emails are the ones where you can send mass emails to multiple users (list of subscribers) all at once.
The second type of email is the transactional email that is sent to individual recipients and it is one-to-one communication- based on the recipient's activity. Moreover, it is the recipient who triggers the email to be sent in their direction.
Transactional emails are an important type of email-based communication between a business and its audience or customer base. In a nutshell, if you have the tool, plugin, web service, etc. and you want a particular thing to communicate with the user automatically based on specific triggers then it is when transactional email happens.
In that scenario, you do not have to do any work, your tools algorithm will detect the things and trigger the email to the particular user (one-to-one communication) when any transaction happens. Transactional emails can be like this:
New account creation emails
Order confirmation mail
Comment responded to mail, etc.
So, transactional emails are important and must be delivered to your recipients without fail and fast.
You can achieve this by using PHP's mail() function or similar in other technologies but these are not recommended as you can run into some deliverability issues here. Especially when you have a shared web server and the server's IP might already be on spam blacklists, which will send your emails to the recipient's spam folder and hence conflict with the deliverability. And therefore, this is not a recommended way to send transactional emails.
Free SMTP Servers – The Best One To Choose
(Simple Mail Transfer Protocol) SMTP is an international electronic standard for the transmission of emails. Nearly all emails use a free SMTP server. If you get an email in your inbox, most likely it is sent from an SMTP server. Today we will explore some of the free SMTP service providers.
Check out our free SMTP server list and choose which plan is best suited for your needs –
1. SendinBlue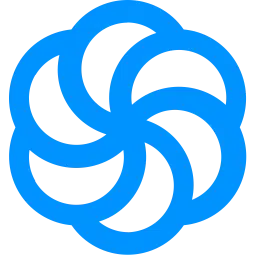 The SendinBlue is again a very good free SMTP server provider which is easy to use and also supports API, Plugins, and Integrations. Integrating SendinBlue with WordPress is very easy. We highly recommend using Sendinblue.
SendinBlue Features
Some of the features of SendinBlue are:
Easy to send Transactional and standard email campaigns
Import/export features for email data
Advanced Tracking and statistics
Marketing automation
Easy to manually send emails using the user panel
SendinBlue Pricing
Although the SendinBlue SMTP plugin is available and Free to use with a limitation of 300 emails per day or 9000 emails a month. But if you want to use its full potential, you can go for their paid plans starting at $25 per month and going up to $1000 per month.
Scalability: SendinBlue is available from free to $66/month. It also gives you the opportunity to choose the "Enterprise" plan in which you can customize your plans according to your need. The full details of the plans can be seen here.
SendinBlue WordPress Integration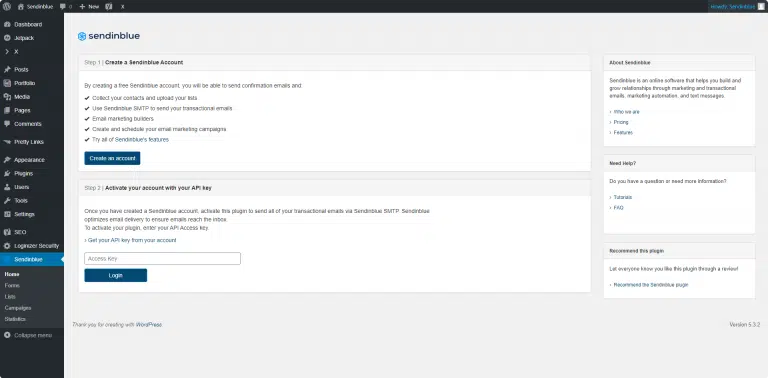 SendinBlue can be integrated with the WordPress site and integrating it is very easy. You can use the SendinBlue plugin to integrate the service into WordPress. To integrate it check this document.
---
2. Pepipost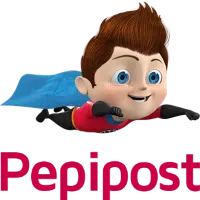 Pepipost or Netcore email API is a cloud-based SMTP Email delivery service. It boasts of having lighting fast deliveries. With servers all around the globe, it can push your emails from the optimum locations to give you fast service and reduce network latency. If you are looking for SMTP relay servers, we recommend giving Pepipost a chance.
Pepipost Features
Some of the features of Pepipost are:
Real-Time Reports
Subaccount Management
Email API to connect your apps
Pepipost pricing
Pepipost provides 30,000 emails free when you sign up for the first 30 days and then 100 free emails per day. You can send 150,000 emails with their starting plan costing $25 per month for annual plans. If you exceed this limit, you will be charged $0.60 for an extra 1000 emails.
Scalability: It scales between free i.e. $0/month (for 30,000 emails for the first month) to $311.50/month for 2,000,000 emails and then you are charged $.40 for an extra 1000 emails. There are several plans according to your requirements.
Pepipost WordPress Integration:
Step 1: Log in to WordPress and install the official Pepipost WordPress Plugin from the WordPress plugin repository.
Step 2: Once you have installed the Pepipost WordPress Plugin, navigate to the plugins page and click on the "Settings" link for the plugin. Alternatively, you can also find the Pepipost Settings option on the side menu.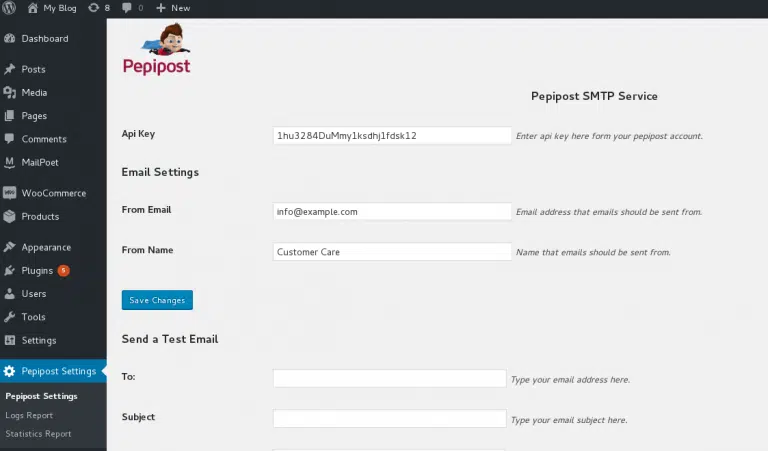 Step 3: On the Pepipost Settings page, you will see several options that you need to configure. These include:
API key: Get the API key from your Pepipost account and enter it here.
From Email: Enter the email address that you want to use as the sender's email address (e.g.,

[email protected]

). Note that the domain (e.g., example.com) needs to be pre-verified and approved on Pepipost. You can log in to your Pepipost account to add and verify your sender domain. Unless the domain is approved, you will not be able to send any emails.
From Name: Enter a name that will be recognizable to your subscribers (e.g., Customer Care) and will appear in their inbox.
Once you have configured all the settings, click on "Save Changes".
Step 4: After saving the changes, you can send a test email to ensure that the settings have been configured correctly. To send a test email, navigate to the Pepipost Settings page and click on the "Test Email" button.
Step 5: You can check the real-time email sending status under the "Logs Report" section, and overall statistics under the "Statistics Report" section.
That's it! You have successfully installed and configured the Pepipost WordPress Plugin for your WordPress site.
---
3. Elastic Emails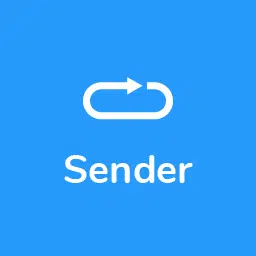 Elastic Email is a free SMTP service provider. It has a set of tools for everyone whether you are a developer, marketer, or a designer, the tools developed by them fit all. It provides the ultra-fast global infrastructure for transactional emails.
Features of Elastic Email
Some of the features of Elastic Email are:
Tools for designers, marketers, as well as developer
A/B testing
Large Integration library
Email automation
Pricing of Elastic email
Elastic Email has two offers to choose from. Email API and Email Marketing. Depending on the plan you choose, you either pay a monthly fee of $18 per 5000 contacts and unlimited emails or pay as you go for $0.10 per 1000 emails and an additional daily fee of $ 0.50.
Free Emails: It provides you with 3,000 emails/month for free. [ 100 Emails per day]
Scalability: The plan ranges from a free trial account. Email Marketing ranges from $15 to $1200 and you can get an individual pricing plan if you wish to send emails on a large scale. Email API is from $0.10 to $0.40 per 1000 emails and you can get purchase email as you would like to go.
Elastic Emails WordPress Integration
Elastic Email has an official WordPress plugin dedicated to making WordPress integration easy. Here's how you can proceed
Step 1: Sign in to your Elastic Email account at www.elasticemail.com.
Step 2: Once you have logged in, navigate to the "Settings" menu and select "API Key" from the dropdown.
Step 3: Copy the API Key provided by Elastic Email.
Step 4: Now, log in to your WordPress dashboard.
Step 5: On your WordPress dashboard, go to "Plugins" > click on "Add New" > Search "Elastic Email Sender" > "Install Now" > "Activate".
Step 6: On the Elastic Email Sender plugin page, paste the API Key that you copied earlier from your Elastic Email account into the API Key field.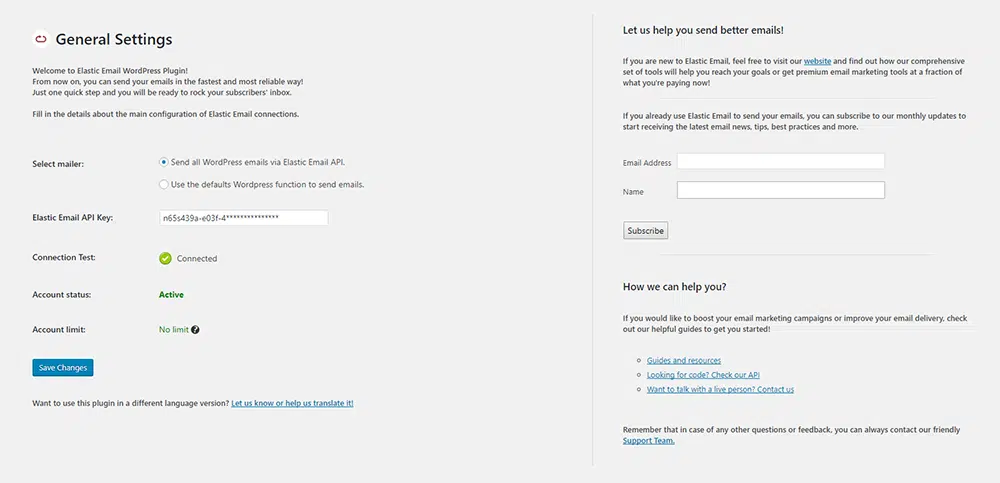 Step 6: Save the changes by clicking on the "Save Changes" button.
Now, You have successfully integrated your Elastic Email account with your WordPress dashboard using the Elastic Email Sender plugin.
---
4. SendPulse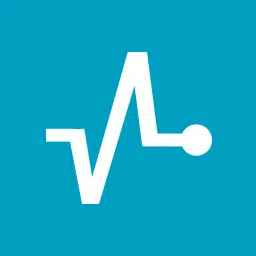 SendPulse is a Multi-Channel Marketing Platform and a free SMTP service. They provide Email, SMS, Transactional Emails, Facebook Messenger, etc. services. For Emails, they provide features like an Email Editor, Subscriber Ratings, segmentation, A/B testing, etc. They have a smooth interface and are good for marketers and developers.
SendPulse Features
Some of the features of SendPulse are:
Convenient Email Editor
Automation 360
Subscriber Rating
Subscription Forms
Sendpulse Pricing
Sendpulse provides 500 free subscribers and lets you send 15000 free emails. Their paid plans start at $6.4 per month when billed annually and $8 when paid monthly. They also have a pay-as-you-go feature for $0.0032 per email. Valid for 12 months after purchase.
Free Emails: SendPulse Provides you with 15,000/month Free Emails.
Scalability: You can send unlimited emails to the size 4,000,001 – 5,000,000 contacts list for $9,480 per month when billed yearly.
Sendpulse WordPress Integration
SendPulse can be easily integrated with WordPress using the "SendPulse Email Marketing Newsletter" plugin you can download from WordPress Directory.
Step 1: Log in to your WordPress dashboard > Go to "Plugins" > Type "SendPulse" in the search bar > Select SendPulse Email Marketing Newsletter" Plugin > Click "Install" > "Activate."
Step 2: To configure the plugin, first, copy your ID and Secret from your SendPulse account. Log in to your SendPulse account > go to "Account settings" > Choose the "API" tab > activate "REST API," > click "Save." This will generate the API ID and Secret.
Step 3: Go back to WordPress Dashboard > Open "SendPulse" in the left menu > Choose "Settings" > Paste your API ID and Secret in the fields "Client ID and "Client Secret". Specify your mailing list in the field "Address Book for new users." When you click "Save Changes," all changes will be applied.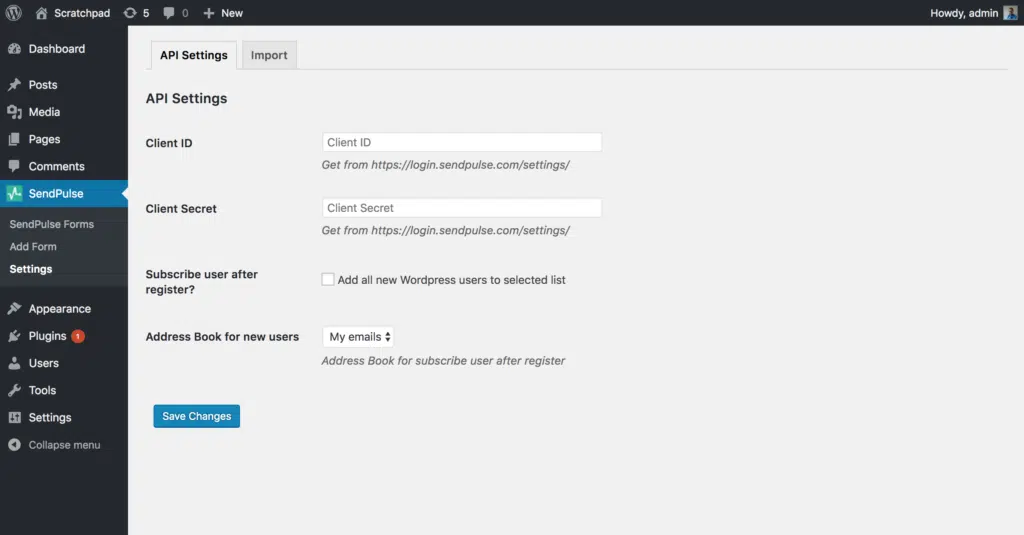 ---
5. Amazon SES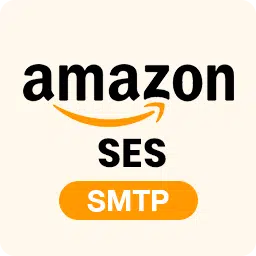 Amazon SES (Amazon Simple Email Service) is another cloud-based email-sending service designed to send transactional and marketing emails to help digital marketers as well as application developers. It can also be integrated into the software you already use, such as ticketing systems and email clients. You can use a Free SMTP server for testing.
Features of Amazon SES
Some of the features of Amazon SES are:
Basic numbers on successful deliveries, complaints, and bounced or rejected messages.
All you get is their API and SMTP
DKIM and Dmarc integration
Amazon SES Pricing
This service is free as well as paid. For free service, you can send up to 62,000 emails per month, but there is a special condition. You can only take advantage of the free tier (free service) if you are an Amazon EC2 user and "when you call Amazon SES from an Amazon EC2 instance directly or through AWS Elastic Beanstalk." Also, $0.12 per GB of attachments sent.
Free Emails: Amazon gives 62,000 emails per month for sending more emails, the plan must be upgraded.
Scalability: It allows you to send free mail up to 62,000 per month for the charge of $0 if you are an EC2 user and after 62,000 emails $0.10 per 1,000 emails will be charged.
Amazon SES WordPress Integration
Amazon SES can be integrated with WordPress using the plugin "WP SES". It is easy to install and configure. Check how to install the WP SES plugin and configure it with Amazon SES here.
Go to the AWS website (https://aws.amazon.com/) and click on the "Create an AWS account" button.
Follow the prompts to enter your account information, including your name, email address, and password.
Enter your payment information. AWS offers a free tier, but you will need to provide a credit card in case you exceed the free tier limits.
Once your account is created, log in to the AWS Management Console.
Click on the "Services" dropdown menu in the top left corner and select "IAM".
In the IAM console, click on the "Users" link in the sidebar.
Click on the "Add user" button.
Enter a user name and select the "Programmatic access" checkbox.
On the permissions screen, select "Attach existing policies directly" and search for "AmazonSESFullAccess" and "AmazonSNSFullAccess".
Check the boxes next to both policies and click "Next: Tags".
You can skip the "Tags" screen and click "Next: Review".
Review your settings and click "Create user".
Make note of the access key ID and secret access key provided, as you will need them later.
To remove sending restrictions from your account, follow the AWS documentation to request a sending limit increase.
Once your sending limit has been increased, configure your WordPress site to send emails through Amazon SES using either SMTP or the SES API.
Install and configure the WP Offload SES WordPress plugin to help your site and Amazon SES account work together.
Fill out the General Settings section of the plugin with your WordPress notification email, name, reply to address, and return path.
Toggle the "Send Mail Using SES" button in the General Settings.
Send a test email from the Send Test Email section of the settings menu to test everything.
Set up DomainKeys Identified Mail (DKIM) records and your Sender Policy Framework (SPF) to improve email deliverability.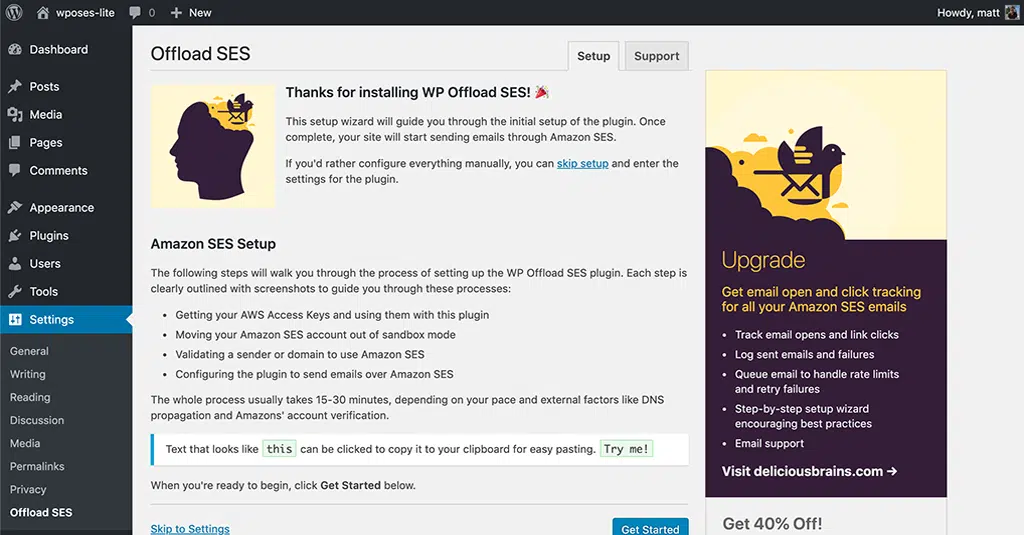 ---
6. Mailgun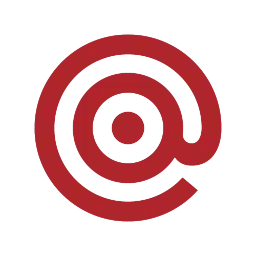 Mailgun is an email automation service for free SMTP relay provided by Rackspace, especially for developers. It provides powerful APIs for sending, receiving, and tracking emails effortlessly. It offers a complete cloud-based email service. Read about online business strategies here to grow your business.
Mailgun Features
Some of the features of Mailgun are:
It automatically delivers the emails at the best time
Emails Analytics to enhance the email sending performance
Logs are maintained for 30 days
All you get is their API and SMTP
Mailgun Pricing
Mailgun is available free of cost and you can send a maximum of 5,000 emails/per month. If you need a higher-level service then paid options are also available, starting from $35/month and going upto $90/month.
Free Emails: Mailgun gives you 5,000 emails/month for free. If you want to send more emails then you can send them an extra charge/per email.
Scalability: You can send as many emails as you want ranging from 5,000 emails per month to 100,000 emails per month, depending upon the plan you choose.
Mailgun WordPress Integration
Mailgun can be integrated with WordPress very easily. Mailgun provides the WordPress Plugin to make WordPress integration easy. The plugin is easy to install and configure.
Signup for a free account at Mailgun.com and set up two-factor authentication.
Add your domain by clicking on the "Domains" tab and then "Add New Domain."
Configure your domain for delivery, following Mailgun's recommendations for choosing a domain. Add the required DNS records to point your email to Mailgun.
Verify that your DNS records have propagated by checking them with a free tool like DNSMap or in the Mailgun control panel.
Download and install the Mailgun plugin from the WordPress repository, and configure it to send emails with Mailgun's HTTP API method.
Hook up the plugin by inputting your Mailgun domain name and API key, in the plugin settings.
Save the changes and test the configuration by sending a test email to the default WordPress email.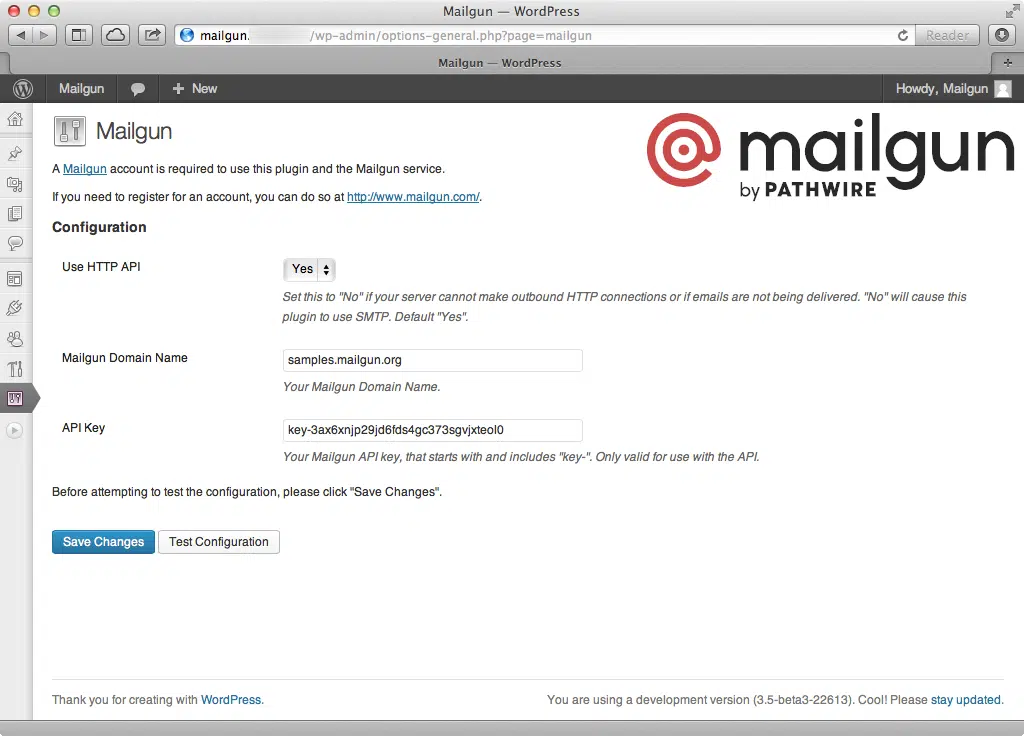 That's it! All emails from your WordPress site will now go out via Mailgun's mail servers.
---
7. Google SMTP Server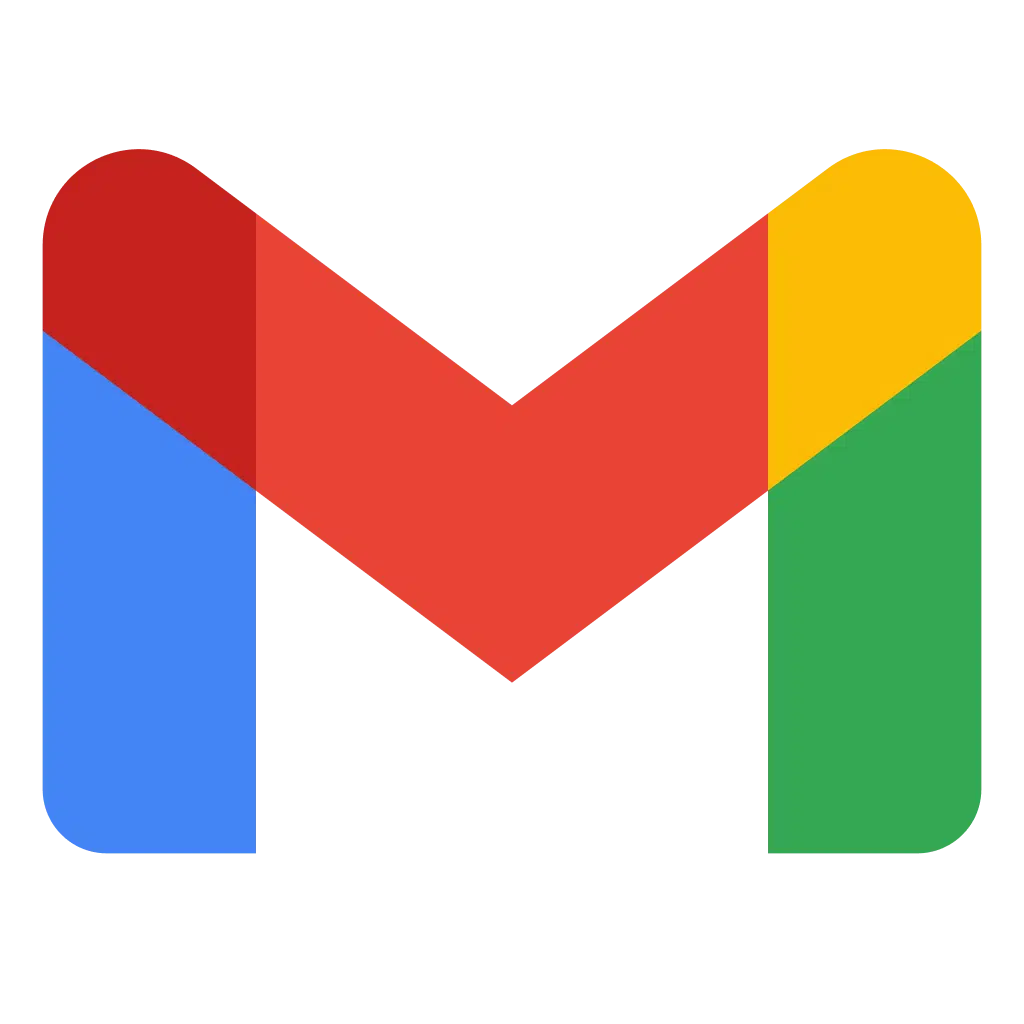 Gmail SMTP is the most well-known free SMTP provider. Instead of using an unreliable service or technology for sending emails, you can simply configure Google's SMTP server settings into whatever script or program you wish to send email from.
Since a lot of people use Gmail to access their Emails, emails sent from Gmail SMTP have a very small chance of going into the spam folder. It provides the best deliverability for Gmail users.
Gmail SMTP Features
Some of the features of Gmail SMTP are:
Instant access to google drive and other google services
Manage users, devices, and data securely and easily
Google's level Security
Access googles forms, sheets, etc. to create whatever, you want
Gmail SMTP Pricing
However, Google SMTP server is completely free of cost, but as we all know nothing is there for free without its limits. There are limits on how many emails you can send per day, recipients per message, etc.
Free Emails: It gives 500 emails per day for a trial account (valid for 14 days). Then you must choose a plan and upgrade.
Scalability: Google also offers you paid plans starting from $6/month in which you can send up to 2000 emails in 24hr.
Google SMTP WordPress Integration
Gmail Smtp can be integrated with WordPress but the procedure takes some time and is easy. Firstly, you need to install the Gmail SMTP plugin for your WordPress and then configure it.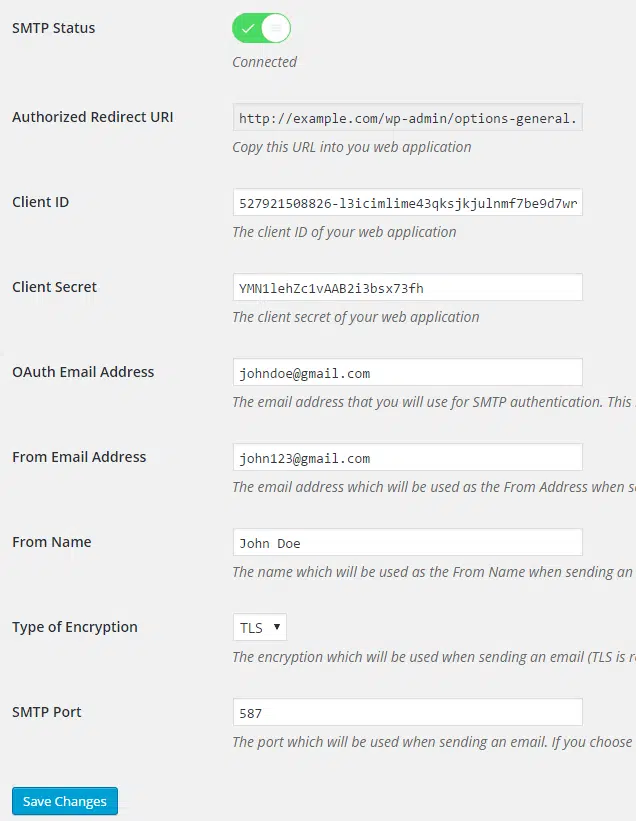 ---
Want to learn more about setting up Gmail SMTP on your WordPress site? Check out our dedicated blog, "What Is A Gmail SMTP Server and How to Use It for Sending Emails for Free," for more information!
---
8. SendGrid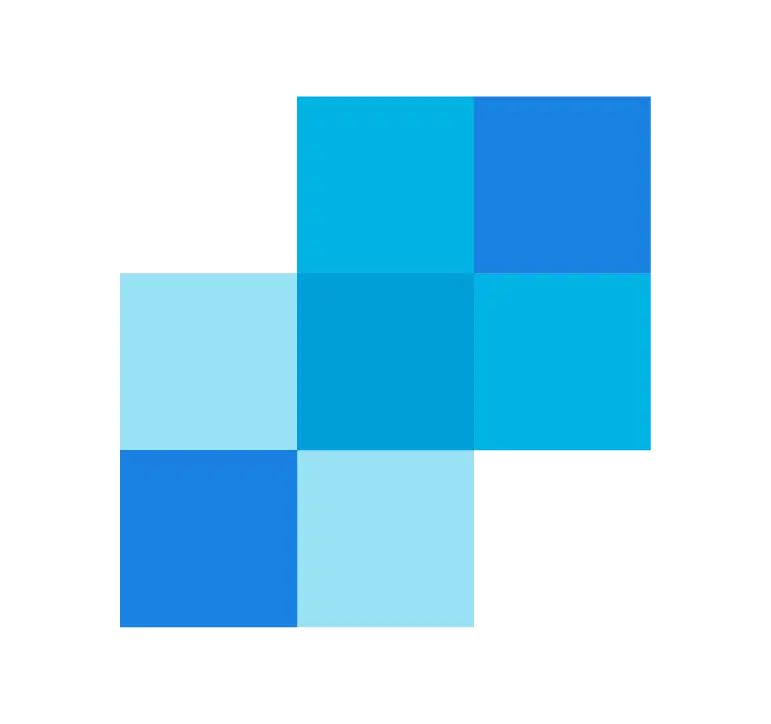 SendGrid is basically a Denver, Colorado-based customer communication platform for transactional and marketing email. It provides a cloud-based service to send transactional and marketing emails to hundreds of thousands of customers.
SendGrid Features
Some of the features of Sendgrid are:
Secure sending environment (for example two-factor authentication when sending).
APIs supporting Node.js, PHP, Java, etc.
Scheduling, segmentation, A/B testing, and other marketing features.
SendGrid Pricing
Sendgrid offers three different pricing options, Essential, Pro, and Premier. Apart from these paid plans, you can also try them for free as details are given below.
Free Emails: SendGrid gives you 3,000 emails for a month after that you need to upgrade the plan to continue the service.
Scalability: SendGrid is not free after the trial version is over. The pricing of the SendGrid service differs according to the plan. Essentials start at $ 19.95/month with 50K emails, Pro starts at $89.95/month with 100K emails and Premier plans allow you to pitch custom plans.
Sendgrid WordPress Integration
SendGrid has no official WordPress Plugin and can be integrated with the WordPress site via third-party plugins such as Post SMTP Plugin.
Create a SendGrid Account and Generate an API Key
Go to SendGrid.com and sign up for a free trial.
Verify your account by clicking on the confirmation email you receive.
Set up two-factor authentication for added security by going to "Settings" → "Two-Factor Authentication."
Choose either the Authy App or text message as your two-factor authentication method.
Generate your SendGrid API key by going to "Settings" → "API Keys" → "Create API Key."
Give your API key a recognizable name, select "Full Access," and click "Create & View."
Copy your API key and store it securely, as you will need it to configure plugins.
Configure Sendgrid in WordPress with Post SMTP Plugin
Install the Post SMTP plugin on your WordPress site from the WordPress repository.
Click on "Post SMTP" and then "Start the Wizard."
Enter the email address and name that you want to "send mail as" and click "Next."
Enter SendGrid's SMTP server address, which is "smtp.sendgrid.net," and click "Next."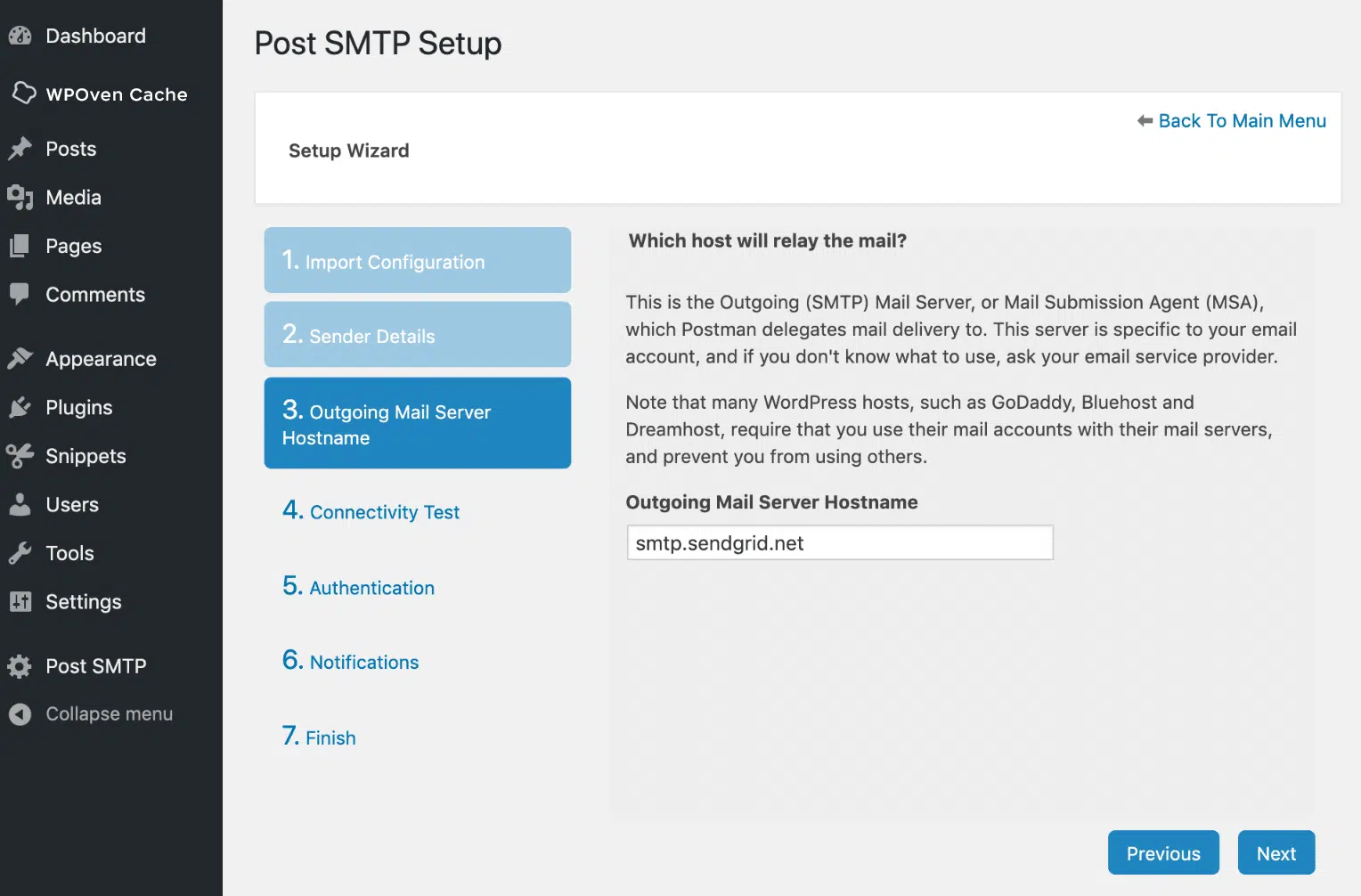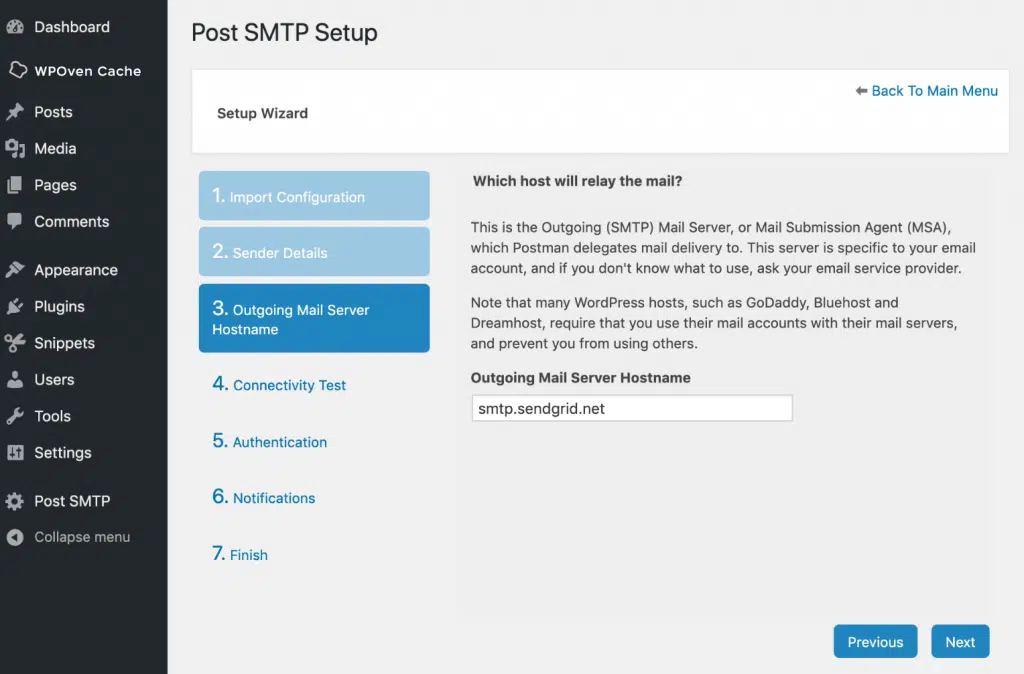 Select "SendGrid API" and click "Next."
Paste in your SendGrid API key that you generated earlier and click "Next."
Choose how you want to be notified if an email fails to be delivered, and click "Next."
Send a test email to ensure everything is working properly by clicking on "Send a Test Email" under the Actions menu.
Type in the recipient's email address and click "Next." If the email is successfully delivered, you will see a "Success" message.
---
9. Moosend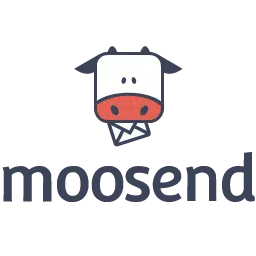 Moosend is a powerful email and marketing automation platform designed specifically for small and medium-sized businesses. With Moosend, you can easily create marketing campaigns, design landing pages, build forms, and manage your audience all in one place.
Moosend Features
Some of the features of Moosend are:
Managing contacts and checking for spam
Tracking Website Visitors
Drag and Drop editor
Lead Management and Scoring
Moosend Pricing
Moosend offers two pricing plans, one is a Free trial which comes with a 30-days limitation. However, please note that the trial version does not include an SMTP server.
Free Emails: You can send unlimited Free emails in their 30-day trial plan.
Scalability: After your free trial period ends, you'll need to upgrade to the pro plan, which starts at $9 per month (billed monthly) for up to 500 contacts, and send unlimited emails with pricing increasing based on the size of your mailing list.
Moosend WordPress Integration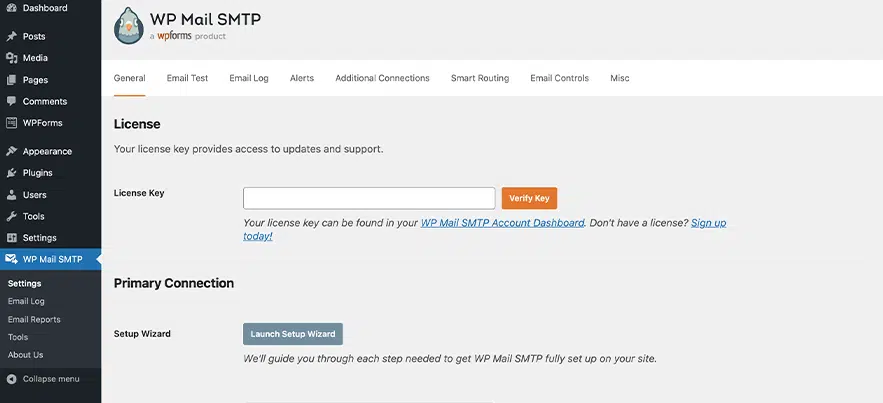 Moosend can be integrated with the WordPress site using any third-party SMTP plugin such as WP Mail SMTP. You can also check out their complete SMTP to WordPress integration page.
---
10. SMTP2GO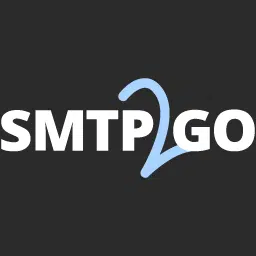 SMTP2GO is a reliable provider of email delivery services, offering the necessary tools to ensure the proper configuration and maintenance of your outbound emails. Their multi-datacenter infrastructure, which includes redundant systems, guarantees that your emails will be delivered even if the internet goes down.
SMTP2GO Features
Some of the features of SMTP2GO are:
Email monitoring
Blacklisting and detecting spam
Easy Email authentication
Easy-to-use API
SMTP2GO Pricing
SMTP2GO offers simple plans covering all types of users and their requirements. They basically have three types of plans Free, Professional, and Premium. The details are given below:
Free Plan: SMTP2GO offers a Free plan with a limitation of 1000 emails per month, 5 days of email reporting, and Ticket Support only.
Scalability: If you want more features, you can easily upgrade to their paid plans starting at $10/month for 10,000 emails and going up to $520/month for 1Million emails.
SMTP2GO WordPress Integration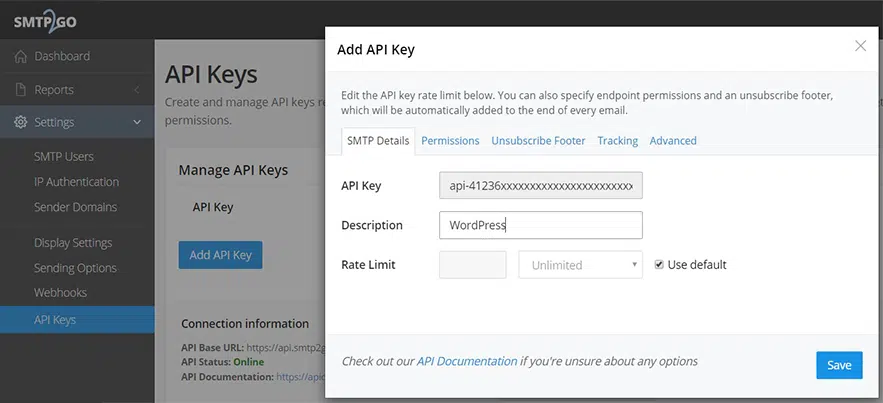 You can easily integrate your WordPress site using SMTP2GO's official WordPress plugin available in the WordPress directory. Check out the complete SMTP2GO WordPress Integration Setup guide.
---
11. MailerSend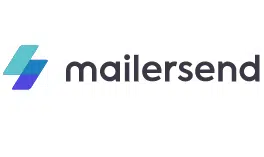 Mailersend is a fantastic email service that makes sending transactional emails easy and efficient. It offers a drag-and-drop email builder that allows your whole team to collaborate and contribute to email campaigns.
One of the best things about Mailersend is that it helps you avoid common email problems like spam traps and blacklists, and it can even reduce your bounce rates. By using SPF, DKIM, and DMARC security protocols, Mailersend ensures that your sender's reputation is protected.
MailerSend Features
Some of the features of MailerSend are:
Dynamic Email templates
Email Verification
Email Analytics
Easy Email API integration
MailerSend Pricing
MailerSend offers simple pricing for all sections of users and their requirements. They have basically three types of plans Starter, Premium, and Enterprise. The details are given below:
Free Plan: MailerSend offers a Free Plan with 12000 emails per month with a limitation of 1000 daily API requests.
Premium Plan: Whereas, the Premium Plan starts at $25/month with 50000 emails, Dedicated IP, Premium IP Pool Management, and Priority Email Support.
Enterprise Plan: For enterprise services, you need to contact their support and get a Quote.
MailerSend WordPress Integration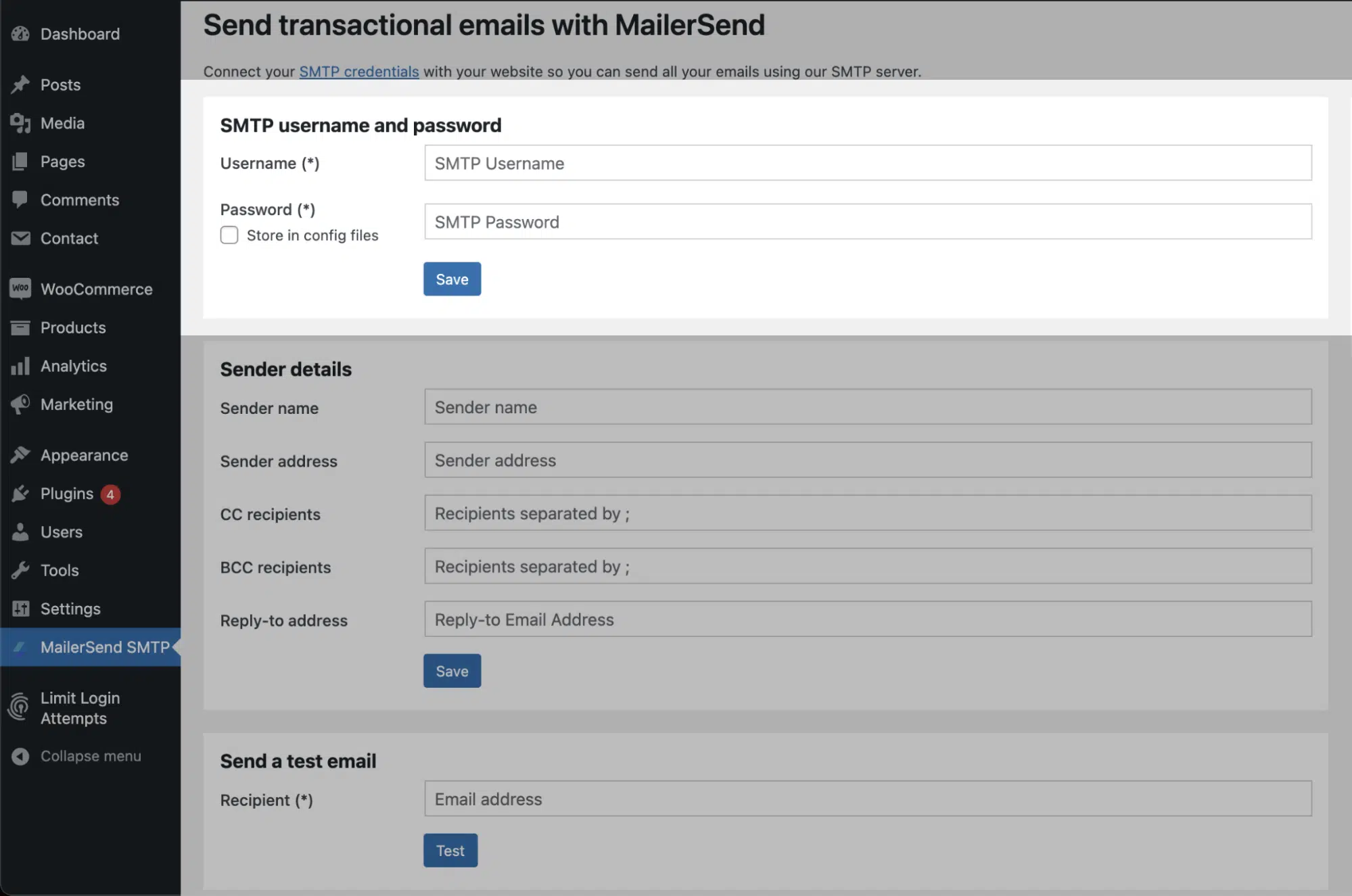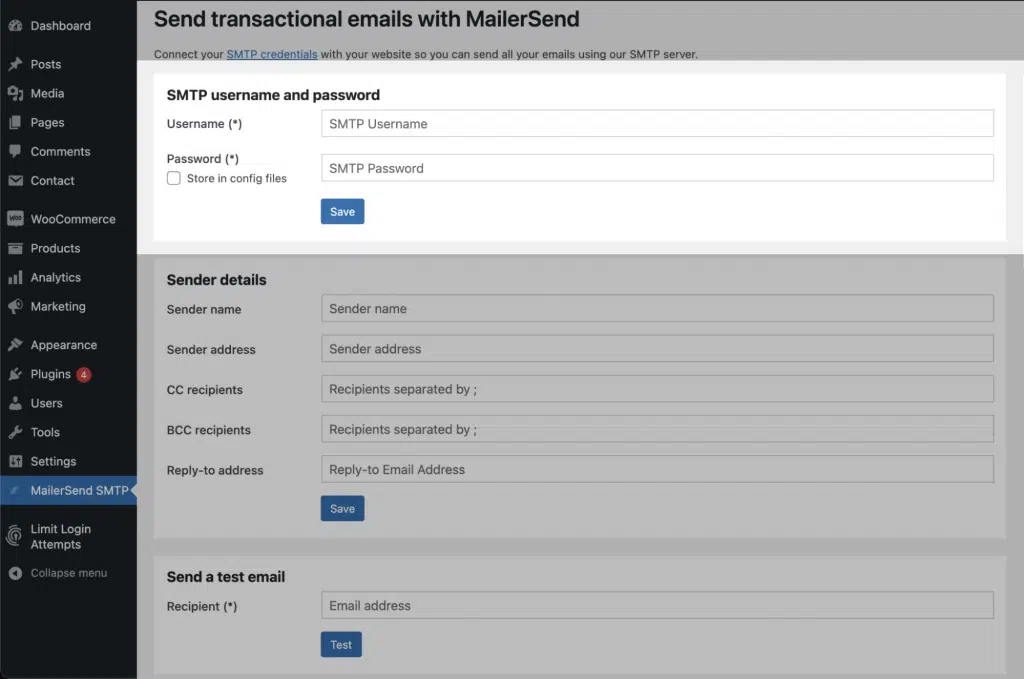 You can easily integrate your WordPress site using MailerSend Official WordPress Plugin available in the WordPress directory. You can also check out the MailerSend WordPress Integration setup guide.
---
12. Mailtrap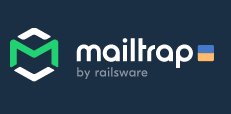 Mailtrap is an online service designed for developers and QA teams to test email functionality in their applications. It provides a fake SMTP server that allows users to send test emails and preview them in a safe and isolated environment.
Using Mailtrap, developers can test their email templates, verify the formatting, and ensure that the emails are delivered correctly without actually sending them to real recipients. It also allows users to inspect the email headers and content to diagnose any issues.
Mailtrap supports a range of popular programming languages, frameworks, and integrations such as Ruby on Rails, Python, PHP, and Node.js. It is also compatible with popular email clients like Gmail, Outlook, and Yahoo.
Mailtrap Features
Some of the Features of Mailtrap are:
60 days of email log
Webhooks
QA automation and HTML check
Easy Integrations with Python, PHP, Node.Js, etc.
Mailtrap Pricing
Mailtrap offers simple and transparent pricing for every type of user. They offer basically five types of pricing plans mentioned down below:
Free Plan: Send 1000 emails per month with 7 email logs.
Individual: Send upto 10,000 emails per month at $10 per month.
Business: Send upto 100,000 emails per month at $85 per month.
Enterprise: Send upto 1.5 Million emails per month at $750 per month.
Custom: If you want to send more than 5 Million emails per month, talk to their deliverability experts.
Mailtrap WordPress Integration
Step 1: Create a Mailtrap account and verify your domain by adding DNS records.
Step 2: Install the WP Mail SMTP by WP Forms plugin in your WordPress admin dashboard.
Step 3: In the plugin's settings, select "Other SMTP" as the mailer and enter your Mailtrap SMTP credentials.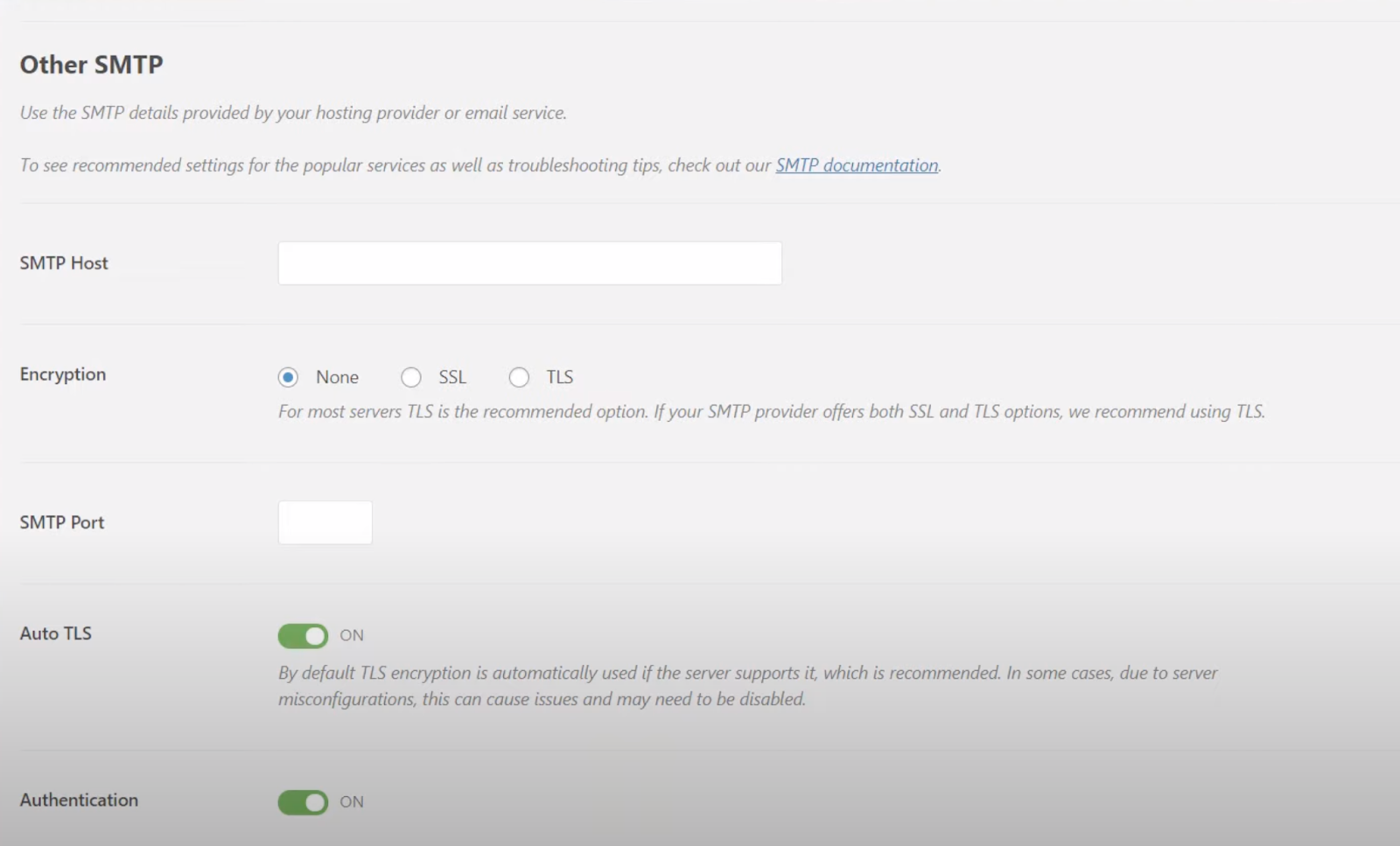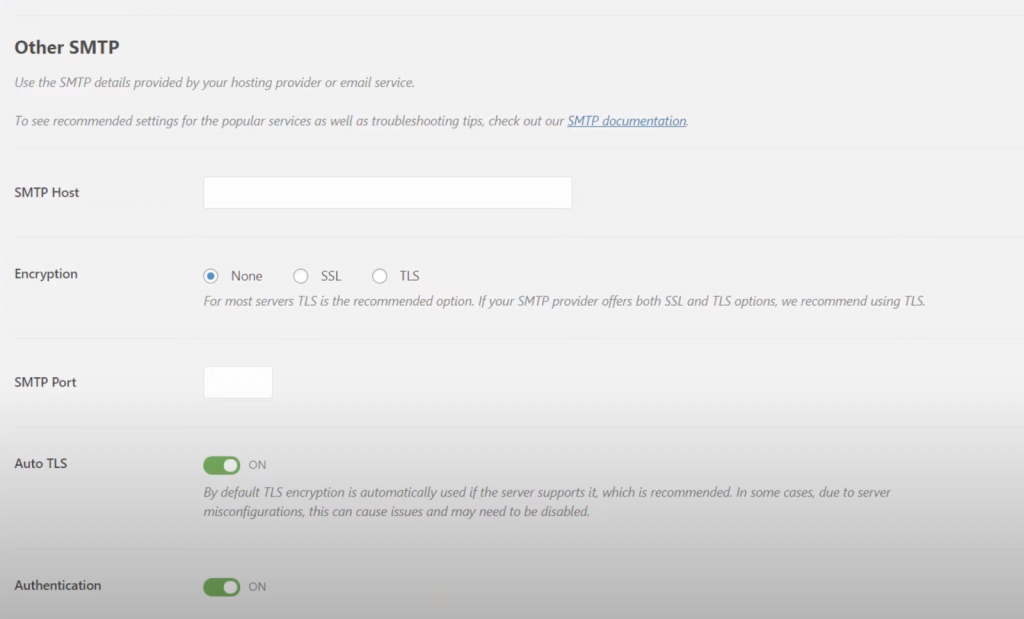 The credentials are as follows:
SMTP Host is send.smtp.mailtrap.io, as listed in the Integrations box.
Choose TLS encryption in the plugin Settings.
SMTP Port is 587
Keep Auto TLS and Authentication toggled on.
Step 4: Test the settings by sending a test email and verifying it in Mailtrap.
---
13. Postmark

Postmark is the transactional email service provider for web applications. It focuses on fast and reliable delivery of transactional emails. The brand strives to maintain a high reputation in the industry as they manually review every new account to maintain fast delivery. It is a very good service for free SMTP relay.
Postmark Features
Some of the Features of Postmark are:
45 days of content history
Responsive integrated templates
Two-factor authentication
Postmark Pricing
Free Plan: Postmark provides 100 Free emails per month. After that, you need to purchase the plan.
Paid Plan: The Paid Plans of postmark scale between $10/month to $400/month. For the $10 plan, you will get 10,000 emails; for the $400 you will get 7,00,000 emails. You can see all the plans here.
Postmark WordPress Integration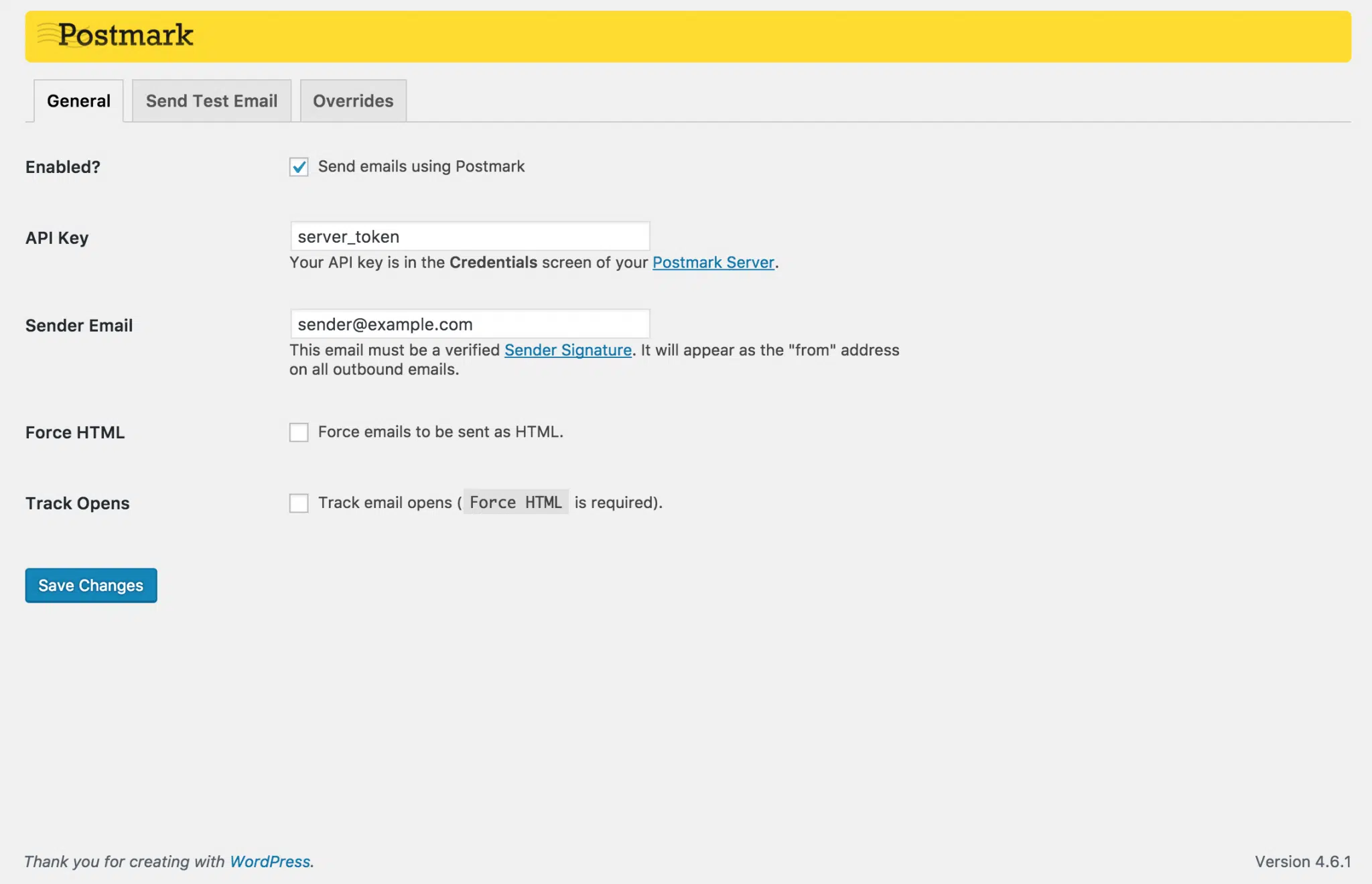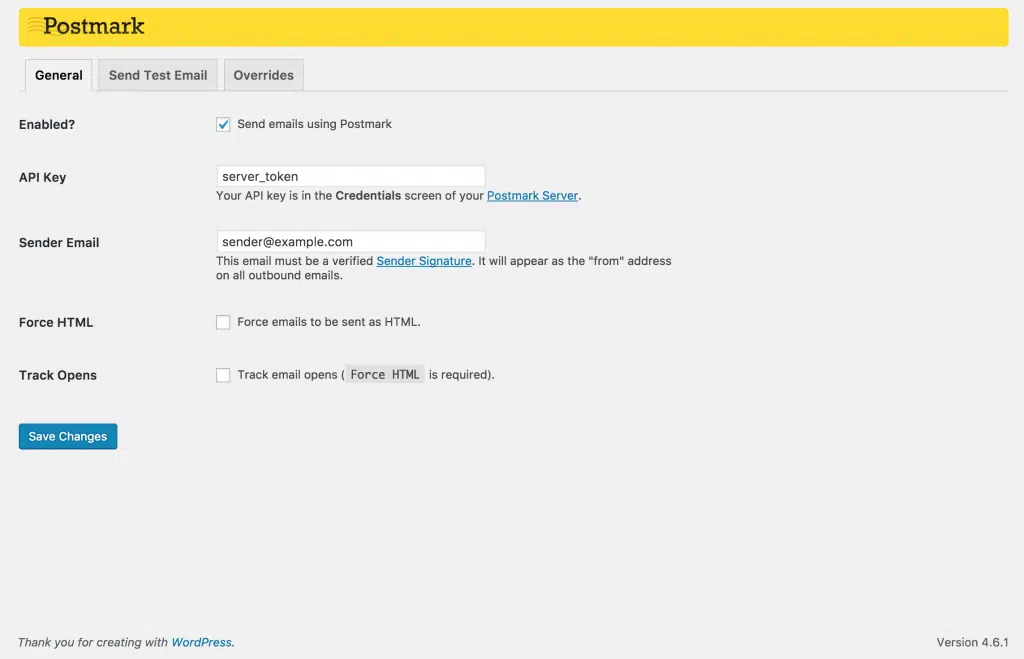 There is a WordPress plugin for Postmark hence it is easy to integrate it with WordPress and configure it. For a complete setup guide, check out the Postmark WordPress integration page.
---
14. Mailify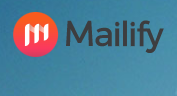 Mailify is an awesome SMTP service provider that makes creating stunning emails super easy with its drag-and-drop editor. Plus, it's one of the best SMTP services out there thanks to its cool automation technology that takes care of tedious manual tasks for you.
And that's not all – Mailify also offers additional services like SMS marketing, automation software, landing pages, CRM, sign-up forms, and more. You can even send responsive campaigns with attachments through Mailify's bulk email SMTP server and customize your merge tags.
Mailify Features
Some of the Features of Mailify are:
SMS marketing
AI to optimize emails
Bounce Management
Landing Page Builder
Mailify Pricing
Mailify doesn't provide any Free plans, but you can use their paid plans starting at:
Essential Plan: $69 per month and send upto 5000 emails.
Premium Plan: $99 per month and send upto 10,000.
Exclusive Plan: $139 per month and send upto 25,000.
WordPress Integration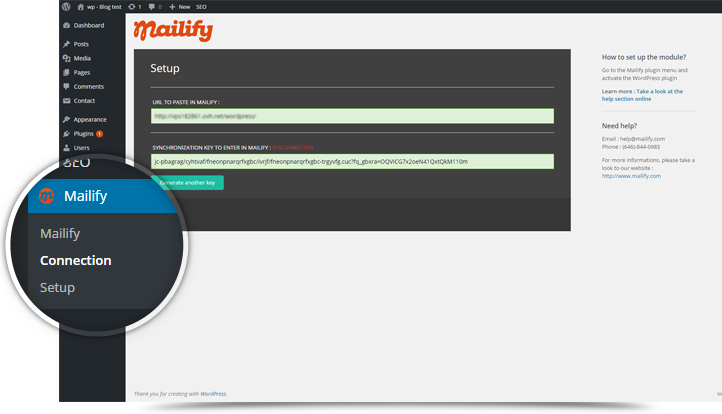 With the Mailify WordPress plugin for email marketing can easily sync your WordPress website data with Mailify's email marketing software. It's super convenient because the plugin automatically synchronizes the contact information for all your website's users and accounts. So, you don't have to worry about manually transferring data anymore.
---
Best Free SMTP Servers – Comparison Table 2023
Free SMTP Servers
Starting price
Free email Daily limit
Free Email
/Month
Used for
Sendinblue
$25/month for
20K emails
300
9000
SMTP, email marketing, SMS, and marketing automation
Pepipost
$25/month for
150K emails
100
30000 for the First 30 days
SMTP service, email marketing
Elastic Emails
$18/month for
Unlimited emails
100
3000
Email campaigns
Sendpulse
$6.40 for
Unlimited emails
400
15000
Email marketing, WhatsApp campaigns, and SMS
Amazon SES
$0.10 per
1000 emails
NA
62000
Email marketing, notifications, and transactional emails
Mailgun
$35/month for
50K emails
200
5000
Transactional emails
Google SMTP
$6/month for
2000 emails/day
500mails/day
for 14 days
Valid for 14 days
For low email volumes
Sendgrid
$19.95/month for
50K emails
100
3000
Promotional emails, Newsletters, Password reset emails
Moosend
$9/month for
Unlimited emails
Unlimited
Unlimited
Email marketing
SMTP2GO
$10/month for
10K emails
200
1000
Transactional
and Marketing emails
MailerSend
$25/month for 50K emails
1000
12000
Transactional emails, Email marekting ,SMTP
Mailtrap
$10/month for 10k emails
NA
1000
SMTP, Email marketing, QA automation
Postmark
$10/month for 10,000 emails
NA
100 emails per month
Free SMTP relay and transactional emails
Mailify
$69/month for 5000 emails
NA
NA
SMS marketing, SMTP, email marketing
Best Free SMTP servers comparison table
General FAQ:
What is an SMTP server?
An SMTP (Simple Mail Transfer Protocol) server is a service that sends and receives emails. It is the "post office" for email messages, responsible for delivering emails to their intended recipients.
What is the best free SMTP Server?
We recommend using SendinBlue for all your bulk email and SMS needs. They provide Customization, automation, and segmentation of your emails in a very effective and efficient manner. Also, they have a very good dashboard and CRM for tracking all your clientele.
How to set up a free SMTP server?
There is no particular way to set up your SMTP, different service providers have different ways. Kindly visit your SMTP service provider for accurate information.
Do I need an SMTP Relay for Email testing? 
If you wish to test how emails are being sent or capture SMTP traffic then we recommend something like Mailtrap, even WPOven provides a free SMTP server for testing. These will capture all outbound Emails and allow you to see how things work.
How to configure Gmail SMTP?
Make sure you have a Gmail account with 2-step authentication. Generate an App Password that is used for SMTP integration and choose other custom names. Choose whether you want SSL or TLS and then chose your port.