One of the major concerns for people about WordPress is: Is WordPress Free? The answer to this question can be a little confusing for many people, Hence in this article, we try to make things a little easier for you to understand first all the aspects of WordPress being Free and How do they generate revenue? This could really help you out to understand the basics of WordPress and You can easily conclude is WordPress Free or not?
A WordPress website can be Free or it may have some cost attached to it. But for your knowledge, one thing you always keep in mind is that WordPress software is absolutely Free, especially the WordPress core which is an open-source platform and is Free to use for everyone. It's not just Free in terms of cost but also Free in terms of usage, modifications and downloads.
Is WordPress Free?
There are some Key Points on which we try to explain Is WordPress Free or not? But before that let us understand its License. In General, WordPress is released for public use under the GPL (General Public License). Under this License, it gives the general public the power to download, customize, Use, modify and even sell it to others.
No doubt the core software WordPress CMS is absolutely free and available in open source, but to make efficient use of it you might need to pay for other services that are associated with it, such as:
Paying for Web hosting and domain to start a WordPress website.
End up paying for some premium themes and plugins.
You might required Premium/paid support
Security
Defining the Free term Associated with WordPress
Before explaining further is WordPress Free? first I would like to define the sense of the word "Free" associated with WordPress in two different manners. The first meaning of Free is in the context of its monetary value and the other context of Free is the freedom of usage.
Whenever anyone asks is WordPress Free? They usually mean concerning its price. Do they have to pay any fees to download the software or not? And the second sense of Free is whether is it Free to use without any hidden cost or restrictions or not.
The most comprehensive answer to this question is Yes it is absolutely Free in both the senses and you will get to know more in detail below:
Is WordPress Free to Download?
The WordPress Core software is published and made available for the general public under the GPL (General Public Licence). Hence, it is an open-source platform that, a user can download, use, modify or even sell it as long as it is under GPL.
Under the GPL, the following points are to be considered.
There is no restrictions will be imposed on usage of WordPress software in any Manner.
Full freedom to mmodify, edit or add your customizations to the orignal WordPress Softwar.
You can make it your own, sell it under your brand name, or sell it with addtional packages without any restrictions under GPL.
In the last point, people might get confused that you all have the freedom to rebrand, edit modify and even sell it to other users but the only catch is, you will also publish your rebranded software under GPL so that the buyers have the right to customize it by themselves.
It sounds amazing, isn't it? After all the most crucial software you are getting absolutely Free without paying a hefty amount. However, we do not encourage or recommend you to use or edit WordPress Core files. You should make customizations to your website using WordPress themes or plugins so that after updating the WordPress core files, your customization efforts won't get lost. And all the modifications or customizations that you have made will be retained with the plugin or theme files.
Is wordPress Free to Use?
You must have thought that is wordpress free to Use without any Charges. The right and the short answer to this particular question is that WordPress is not owned or run by a particular Company. Instead, it is solely owned by a Non-Profit Organisation popularly known as WordPress Foundation. Whose, the main objective is to ensure free access, in perpetuity, to the software projects we support.
And Follows these philosophies:
To serve the public good, all of the software and projects we promote should support the following goals:
The software should be licensed under the GNU Public License.
The software should be freely available to anyone to use for any purpose, and without permission.
The software should be open to modifications.
Any modifications should be freely distributable at no cost and without permission from its creators.
The software should provide a framework for translation to make it globally accessible to speakers of all languages.
The software should provide a framework for extensions so modifications and enhancements can be made without modifying core code.
In addition, WordPress has thousands of plugins and Theme are available in its repository. Some of them are free and some of them are premium, but even the premium plugin/themes have trial versions available Free. Similar to WordPress core files, you can also edit, customize, modify or even resell their core file to anyone under the GPL.
The alternate option to this is either you write code for another plugin that has the feature of the WordPress plugin in addition to some tweaks or creating another plugin completely based on the original one. After all, WordPress core software and plugins both are open sources.
How WordPress able to provide services?
As we have already mentioned earlier that WordPress is being owned and run by a non-profit organization named WordPress Foundation. Hence, developers and coders around the world are free to contribute their work to this platform for free.
But How can it be possible to run such a huge organization and provide top-notch software service absolutely free? In short, the simple answer is, not just a single but there are about more than millions of people, developers, users and even companies do get benefit from it. Hence, the top developers or coders realize that without their contribution it is impossible for WordPress to achieve this position and has provided incredible software, that is the base of many people to earn money.
Hence, in return, they have decided to contribute their knowledge and skills to the WordPress community to provide Support, WordPress development, and other major events.
How you can start a WordPress website using WordPress software?
The most common and widely used way to use WordPress software for free is by starting a website either signing up on WordPress.com or planning to start a website on a self-hosted platform. For a beginner without any budget starting your own website from WordPress.com would be a good choice. But it is not a great option if you are planning for the long run.
There are certain limitations are associated with it and to avail some features. you have to pay a premium. Still, you will be unable to access the code and have limited plugins and theme support. You have to rely on the domain name provided by WordPress and also you will have no control over ads running on your WordPress Free website.
This is why it is highly recommended for anyone to go for a self-hosted WordPress website. No doubt you will have to pay separately for the domain name and Web hosting services. But it will be worth buying for.
Some of the Best Managed WordPress hosting Services like WPOven offers the best plans starting at a minimum cost of $19.95/month. And the best part is if you chose their yearly plans the monthly plan gets reduce to nearly $16.61/month.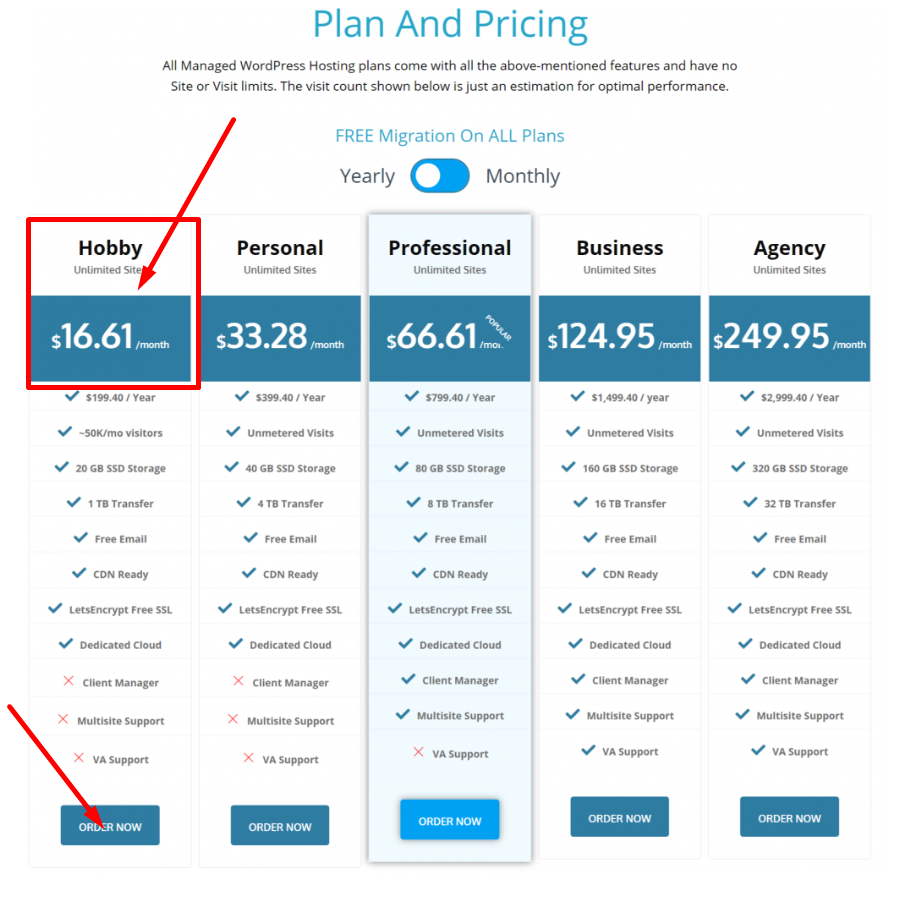 Hence, for the best WordPress Experience, spending $16.61 per month for hosting would be worthy enough in addition to that Registering for a domain is even cheaper. Usually costs you around $10 per year. Overall, to run a self-hosted website your monthly expense would be around $50 per month.
These are the most basic things that you will require for any self-hosted website to build. In addition to that if you can pay additional money or have a good budget you can even opt for Premium themes and plugins that add up an extra value to your website. Even, at this point, you can smartly cut out the extra expense of the plugin by replacing it with a theme that is based on your niche and rich in features.
In addition to it, there are certain things that you are by yourself capable to do, either it is web designing to Maintenance part of your website. There are many WordPress community Forums and Free support available that would help you to out to resolve any kind of issue. And if you won't find any, you can even look upon Tutorial videos that are available free on Youtube.
Various Aspects of WordPress that are Free
No matter whether you are using a Free WordPress website or not. There are some other Qualities of Free WordPress services that you can still use. Along with Free WordPress core files, one has always an option to choose either Free or the premium WordPress Plugins or Themes.
And who doesn't like free things? After all, you are getting something extra services and features without paying a single penny. But, developers who provide free WordPress add-ons such as plugins and themes do this for some solid reasons.
The first reason is that Developers contribute their services free to this WordPress community and in return, everyone has free access to this ultimate Free WordPress software. And another valid reason is that they provide a free version of plugins of themes, in which a user is free to upgrade to its premium version.
But it is not to be misunderstood that the Free plugins and themes have not valid sources. WordPress tries its best to provide a better user experience to their users without compromising its quality and security. Let us get into more details of WordPress that provides Free services.
WordPress Free Core Software
As we have already elaborated on how WordPress provides Free core Software to create a website. And also provide their free blogging platform WordPress.com with certain limitations. And for your Convenience, at WPOven, we provide automatic latest WordPress installation on the WPOven dashboard, which makes the process fast and provides an effortless experience.
WordPress Free Themes
Not just WordPress comes with Free CMS software but WordPress provides you with a wide range of Free WordPress themes that look elegant and is sufficient to create a full-fledged website.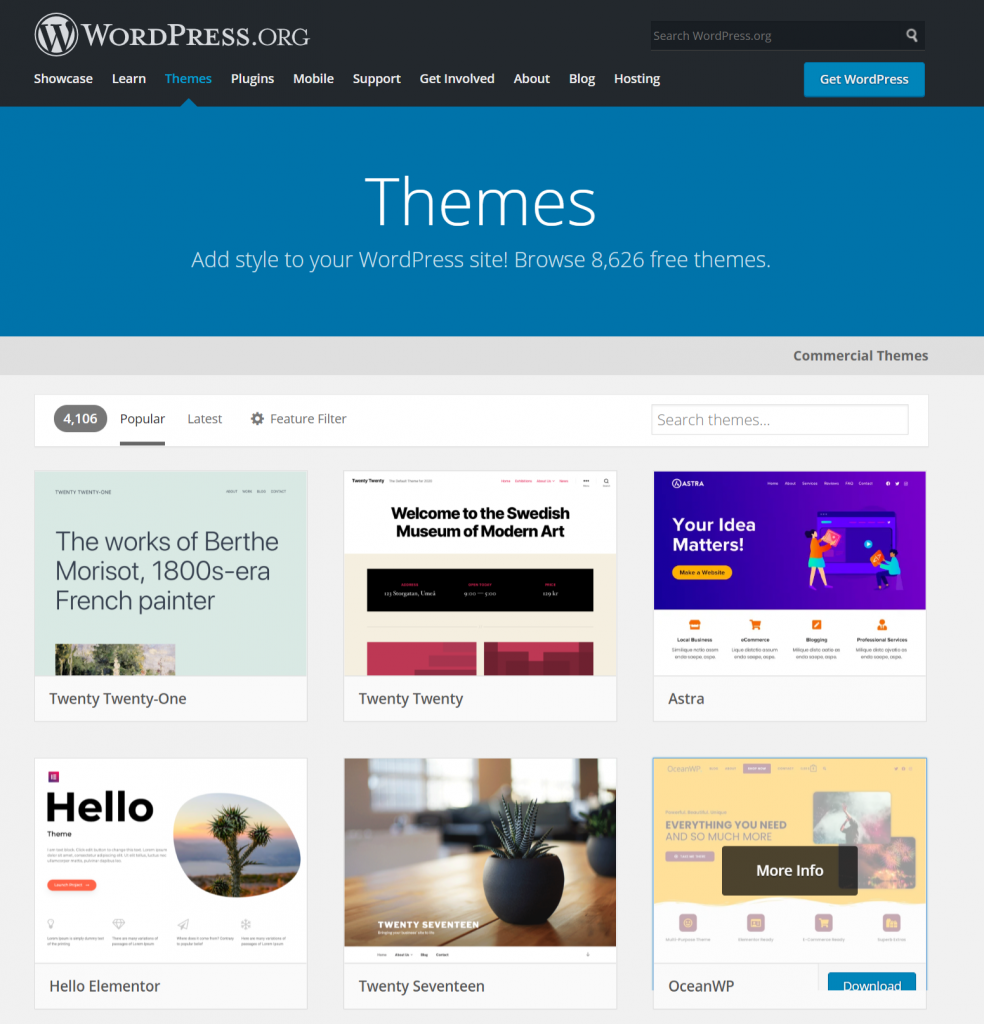 WordPress has more than 8 thousand Free themes that are available to download from its repository. And I think this would be more than enough for anyone to create a stunning website.
All these themes have been created by various developers who contribute their work to the WordPress foundation and they mainly consist of theme developers, WordPress team and Freelancers. Before any theme making to the final publication, it has to go through various testing and has to score well on different benchmarks first. Making it stable, secure and well optimized, once done with everything they are now available to use for the general public and listed on the WordPress repository to download for Free.
It is the only place from where you can blindly trust any Free theme and download. Whereas themes from other sources have the risks and vulnerabilities associated with them, that can damage your website. Hence, it is highly recommended for any user to avoid themes from other third parties without proper validation and authenticity. Even if it is available free. These third-party free themes are often infected with spam or malicious codes that may potentially damage your website.
WordPress Free Plugins
Similar to themes, WordPress has thousands of free plugins available in their WordPress Repository or directory. These Free plugins are available in a variety of ranges with minor to major features and functionality. You might have to think why there is such a huge range of plugins that are available absolutely free. Why anyone would do that? well, there are three solid reasons behind this.
Some Developers like to contribite their work to the WordPress community to make it rich and reachable for everyone.
Some companies develop these free WordPress plugins to promote their brand or for the sake of publicity.
Some companies provide trial plugins with an option to upgrade in Future to avail its premium features.
From the above points, you can infer that developers create Free plugins with only two main objectives, either to make some profit out of it or for selfless contributions. Similar to themes, WordPress tried its level best to bring a great user experience by providing safe, secure and more reliable plugins to their users. Hence, after proper testing by the WordPress team, then the plugins get listed on the WordPress directory.
Hence, you can trust and count on WordPress for bringing secure and safe plugins for the general public to use. But it is not always the case, some certain updates might affect the performance of the WordPress plugin. But a good WordPress developer tries to bring the latest updates to their WordPress plugins so that it won't show any compatibility issues whenever a new version of WordPress is released.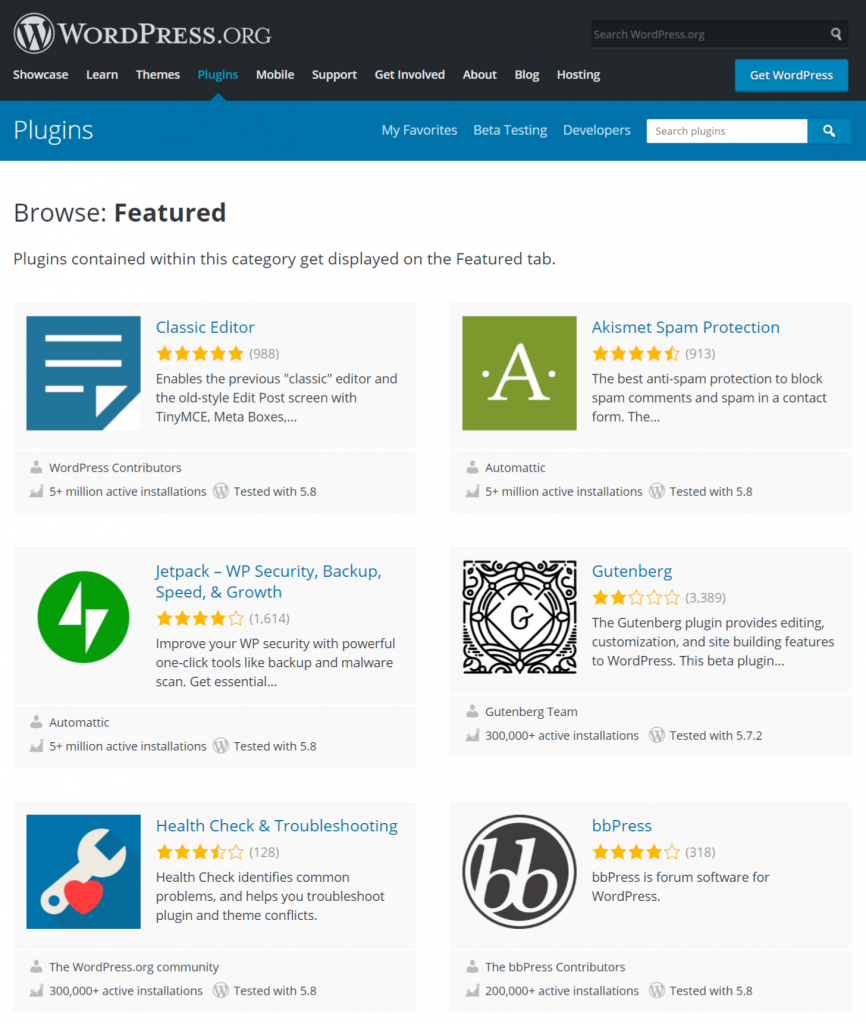 WordPress provides Regular Free Updates
WordPress brings regular core updates to its CMS software absolutely Free. And you do not need to check manually all the time for the updates. The Automatic updates feature of WordPress lets you know by showing you on your WordPress dashboard whenever a new version is released.
We highly recommend you always run the latest updates on a staging platform before making it live on your website. Or else you will face massive compatibility issues with your themes and plugins that let you in some serious trouble. And in the worst case, your website might get damaged and you have to start from scratch.
With WPOven, you have the ultimate feature of using a staging platform to run and test all the latest updates of WordPress, themes or plugins before making it live on your website. If you find the latest update causes any issue, (Most probably due to compatibility issues with plugins or themes) you have the option to not update the WordPress till the latest updates for plugins is not available.
Another thing you must keep in mind is that WordPress provides regular updates not just for the core files but for also Free WordPress Themes and Plugins.
Free WordPress Support
WordPress itself provides Free support to their users by WordPress forums, Developers who voluntarily provide support or the WordPress team. Even some Best Managed WordPress hosting companies like WPOven provide their customers with premium WordPress support along with their Hosting plans.
Even there are various articles and Youtube Videos are present on the internet that helps you out to learn and manage your wordPress site, how to write your own WordPress plugins and Create your own WordPress website. One thing you must keep in mind about WordPress support is that you are not paying a single penny for this support, hence you must not have high expectations to get a Premium and Fast response from their side.
Things that WordPress doesn't Provide Free Services
As far as now you have seen there are various aspects of WordPress that are free, which makes it the most popular CMS widely used. But sometimes beginners generally got confused by this huge popularity and outstanding features of the software is available free to use. It is not like other giant software companies that charge you a heafty amount for subscriptions and regular updates.
But you may be surprised to know the fact that, WordPress being an open-source platform still you need to pay some amount to create a website. The total budget depends on individuals on individual and their requirements. Let us see what Aspects of WordPress are not Free and you are required to pay for.
Web hosting services
Premium plugins
Premium themes
Premium support
Paid updates
Web hosting services
If you are planning to start your own wordPress website or blog rather than using a free WordPress blog website. Then are required to pay for web hosting services first. It will give you complete freedom and flexibility to do whatever with your website.
Other than this, if you opt for a self-hosted website rather than a free blogging platform, you will have other benefits such as:
Automatic WordPress CMS installation on your Web hosting dashboard Provided by WPOven.
Freedom to configure your Website files
Premium dedicated support
Automatic Regular backups
Security
Blazing fast website experiecne
Hence, it is highly recommended to you that before buying any web hosting plan, you must make sure all the above services must be provided by them. However, it may look more appealing and budget-friendly while choosing the cheap web hosting services but they may compromise your website speed and overall experience. Which you won't like in the long run.
As we have already mentioned in an earlier section that, even WordPress has its own Free blogging platform WordPress.com which provides a free platform to create your own website. However, for a better experience, you also need to pay for your own hosting and some additional features.
Premium Plugins
In addition to the free plugins, that you can install from the plugin repository, Sometimes you need to upgrade or buy a premium plugin rather than using a Free one. It is because the free plugins have limited and basic features that can be insufficient for your website. Even free plugins are unable to provide regular updates that can be harmful to your website.
There are certain situations in which you may require to either upgrade your free plugin to a premium one or to buy a separate premium plugin instead.
The Free version of the plugin is insufficient to provide you the extra features and functionality that premium version would have.
The Free plugin resctricts you and limits your freedom to use certain feature then you need to use a premium verision.
When you use each plugin for seperate feature that can you easily get bundled in a premium one.
When you need to add extra features to the existing Free plugin by buying premium add ons, for example Elementor.
Hence, to boost up productivity and reduce a lot of time and effort, the right premium plugin can do wonders for you. The only thing you need to do is to choose the right and best suitable Premium Plugin for your website. There are certain checklists you need to follow before choosing a premium plugin.
Check Ratings and Reviews of the plugin on various platform before considering a premium plugin,.
The plugin must come under General Public License.
Check if they are providing Support, if yes then what kind of and for how long, What kind of isues they usually resolve, Their response time, etc.
Check if the Publisher has listed their plugin in a reputable directory such as WordPress or not.
If they whether provide a trial period or money back guarentee, so that after buying a permium plugin, if it fails to fulfill your requirements , you wont have to waste your hard earned money.
But another thing you must be aware of is the fact that there are even paid reviews and ratings rolling over the internet. Hence it is hard to believe these facts, however, the best solution to this is to get personal recommendations or it is better to contact WordPress users or developers who have been already using multiple premium plugins. Check out Different forums and social media groups to find out whether other users are happy with it or not.
Premium Themes
Similar to Premium plugins that we have already discussed above, sometimes Free themes are unable to meet your requirements and need to be upgraded or replaced by a premium one. These premium themes provide a lot of flexibility and an easy User interface that helps users to customize their website as they like.
For your convenience, there are usually three types of premium themes are available solely based on user's requirements,
Some themes are especially developed with easy UI.
Some themes provide you a great flexibility with easy page builders.
Fullpacked themes that are bundled and sold seperately by third party publishers.
Hence, similar to premium themes, boost your productivity and reduce efforts. The right WordPress theme can do wonders for you and your website. All you need to choose is the best suitable candidate that meets all your requirements and it should be easy and safe to install. In addition to it, you also need to consider the below following points:
Check Ratings and Reviews of Themes on various platforms.
Even the Theme must consider under General Public License.
Ask wordpress users and developers about the same.
Check whether they provide premium suppot and response time.
Check for any money back guarentee or trial period offers available.
The above points help you out to find the best suitable plugin. If you found that the theme fails to meet any point mentioned above, you do not need to spend your money on that.
Premium Support
Generally, a good web hosting service provider provides you with premium WordPress support 24×7 with their plans. Just like how WPOven provides a WordPress support system to their customers.
Even, if you need additional support and you are not satisfied with the free support, the only option left for you is to go for the premium support. There are various online vendors out there that help you out with your problems related to WordPress and in return, you need to buy their premium subscription.
Paid Updates
As you have already read about some Premium themes and Plugins that charge money for their latest updates or upgrading. Depending upon the subscription plans that you have chosen. In general, premium plugins and themes provide a minimum of one year of free updates and support. But there are always some expectations to it.
There are some Themes and Plugins that even charge you for a one-time payment and lifetime free access. Hence, it solely depends on the publisher to publisher. But what if you stopped to renew your subscription plan and you won't receive any updates.
This may potentially harm your website because, if the plugin or theme may develop some security problems. There are also compatibility risks that WordPress releases a new core update and you are unable to receive new updates for your themes and plugins. This may damage or in the worst case break your website which you won't like to happen.
Is WordPress Free? : Conclusion
Now after reading the whole article, it will be easy to conclude on Is WordPress free or not? And summarizing the above article it is clear that, WordPress core software is 100% free and always will be in any context.
A user is free to download the WordPress software, edit it, modify it and resell it under the General public License. However, free things always come under certain limitations, and to go beyond that limitation you need to pay for the premium.
To create a full-fledge professional Website you will be required to pay for web hosting services, premium themes, some premium plugins and a domain name. But the WordPress core software will be free and will always receive free regular software updates.
We hope you find this article interesting enough and help you out to understand Is WordPress Free? If you found anything that we have missed to mentioned in this article or would like to add more valuable points to it. Please do provide your valuable suggestions in the comment section below.
Frequently Aksed Questions
Can I create a WordPress website for free?
The short and simple answer is Yes, you can create a WordPress Website for free. WordPress has its Free blogging website wordpress.com from where you can create your own blog without spending any penny. However, if you want your own self-hosted website, then you are required to pay for only Hosting service, domain name, themes and plugins. Where the WordPress software is completely Free.
Are WordPress domains free?
WordPress.com a free WordPress blogging website provides their customer with a free subdomain. However, if you have already registered a domain name and want to use it in WordPress, then you can only make it by subscribing to their personal plans.
Is WordPress a beginner?
WordPress is popularly known to be an easy user interface and beginner-friendly platform. Hence, it is always recommended to choose WordPress while starting a blog or a website.