Weebly is a web-hosting service featuring a drag-and-drop website builder. It is very easy to understand and user-friendly to build a website using its drag-and-drop feature. It provides many themes and tools to build a website.
Most startups choose Weebly for their work because it is extremely simple and easy to use. Also, it does not demand more technical knowledge and provides reliable drag-and-drop options which are easy to understand and use.
As this startup grows into a big business, they face problems due to the limitations of the Weebly platform. And therefore, they decide to move on to something more powerful and flexible that also does not have many limitations.
Many of these businesses choose WordPress as the alternative to their Weebly as it is also very easy to understand and use. WordPress is more powerful than Weebly in many aspects and does not have many limitations.
Weebly Vs WordPress

WordPress is an open-source and free content management system based on PHP and MySQL. Before considering migrating your site from Weebly to WordPress you must know the pros and cons of both of them. Here is a brief comparison between Weebly vs WordPress:
| Features | Weebly | WordPress |
| --- | --- | --- |
| Hosting | Self-hosted service | Requires own hosting server and domain |
| Drag & Drop | Default feature | Not available by default, but available through plugins |
| Online Store | Basic features, transaction fee | Many free and premium plugins are available, with no transaction fee |
| Custom Functionality | Limited built-in features, | Wide range of plugins available for customization, and the ability to create custom plugins |
Weebly Vs WordPress
In short, Weebly is a self-hosted service with built-in drag-and-drop features and basic online store functionality, but with limited customizability beyond its built-in features.
In contrast, WordPress requires its hosting server and domain, does not have drag-and-drop features by default (though they are available through plugins), but has a wide range of plugins available for online store functionality and customization, as well as the ability to create custom plugins. Before migrating from Weebly to WordPress, it is important to consider the pros and cons of each platform.
---
Things You Need To Consider Before Moving From Weebly
Before you begin the process of migrating your website from Weebly to WordPress, it is essential to evaluate your current Weebly site. This step is crucial as it helps you to identify what content, structure, and design elements you want to keep in your new WordPress site.
Evaluating your current Weebly site before migrating to WordPress is crucial.
Assess your site's content to identify what content needs to be transferred to WordPress.
Evaluate the structure of your site, including menu structure, page hierarchy, and custom templates, to plan how to re-create it in WordPress.
Evaluate the design of your site, including colors, typography, and design aesthetic, to determine how to customize your new WordPress site.
By evaluating your Weebly site before migrating, you can ensure that you retain the essential elements of your site and create a new WordPress site that is just as functional and visually appealing.
The evaluation step is essential to ensure a smooth and successful migration process.
Also, you must not forget that there are some features or advantages of Weebly you might not find on WordPress. Some of them are:
Weebly's drag-and-drop interface is a favored feature, but it is not available in WordPress. However, you can use page builder plugins like Divi Theme or wp bakery's visual composer to recreate a similar experience in WordPress. Additionally, the new Gutenberg editor in WordPress 5.0 has a drag-and-drop feature included by default.
Weebly's themes are more limited than WordPress, but they provide small businesses with good-looking themes right out of the box. When migrating to WordPress, you cannot directly migrate the theme, so you need to browse the available themes for WordPress or recreate the theme using a flexible theme like Divi.
---
Read: 🚩 What is Managed Hosting?
---
Weebly To WordPress: Pre-Migration Steps
So, when you decide to migrate your blog from Weebly to WordPress. These are the steps to follow:
1. Purchase Hosting: If you are moving from Weebly to WordPress, you need hosting. WordPress hosting is widely available, with options ranging from inexpensive shared hosting to specialized managed hosting.
Specialized hosts provide security, backups, WordPress updates, and performance features. Specialized hosts typically cost more than those shared ones but this cost is worth the price to protect your site.
2. Set up a temporary domain: Until the migration process is complete, you can set up a temporary domain for your WordPress site. After the migration is completed, you can switch the domain to the new site and change the URLs of all the pages and posts accordingly.
3. Install WordPress on Temporary Domain: Now, you need to install WordPress on your temporary domain. If you host with Managed hosts like WPOven or alike, the hosting provider will install WordPress on the domain by default. Otherwise, you would have to install WordPress manually as mentioned on the wordpress.org site. You can follow the steps and get it done within a few minutes.
If you prefer to install WordPress on the domain manually, then follow this guide "How to install WordPress manually".
---
Weebly To WordPress: Manual Migration
The simplest way to migrate the site from Weebly to WordPress is simply to copy the content from Weebly and paste it to WordPress as in any text editor.
The benefit of moving the site manually is that you will be sure that every piece of content is migrated to the new WordPress site. This is a very good way to copy the site from Weebly to WordPress. We recommend this method if you have a small site (i.e. less than 25 posts and pages).
The disadvantage of this method is that it can be slow and time-consuming if you have a large site.
The steps to migrate the site manually from Weebly to WordPress are:
Step 1: Setup Pages And Posts
If planning to migrate your small website manually, the first step is to create the pages and posts that you want in the new WordPress site.
You can create pages and posts manually by going to the 'Add new' menu under posts and pages individually in the WordPress admin dashboard.
Alternatively, you can use plugins like Bulk Page Creator or Quick Bulk Post & Page Creator for bulk creation to save time.

Step 2: Copy And Paste Content
Once the pages and posts which are needed are created. Copy the content of the pages and posts manually from Weebly and paste it on the pages or posts of WordPress.

The media files must also be moved manually. What you have to do is just save the media and then upload the media on the corresponding page or post manually. Also, you need to fix the internal links of the images so that they must point to the pages within your WordPress page.
Advantages and Disadvantages Of Manual Migration
Advantages
It ensures that every piece of code is migrated
It allows you to review your content throughout the process.
Disadvantages
For larger sites (having more than 500 posts or pages), manual migration is simply not feasible.
It requires a large amount of time.
---
Weebly to WordPress: Automated Migration
If your site is bigger, i.e. it contains more than 25 posts and pages, or you do not have much time to migrate to the site or do not want to waste much time on the migration process, then you can opt for this process. The automated option is the second-best option for migration available.
Let's go through the process:
Step 1: Use RSS Feed To Import Posts
Weebly provides an RSS feed for the blog which can be used to automate the process of migrating blog posts.
Clicking on the RSS button on the Weebly site opens the feed as an XML file in the browser with the URL as "www.testsite.com/1/feed/" or "www.testsite.com/blog-page/feed/". This file should be saved on the system.
The default importer cannot be used to import the Weebly feed into WordPress.
Tools like WP All Import or ImportWP can be used to import the Weebly feed from the XML file into WordPress, allowing us to map the fields in the feed to WordPress posts.
Step 2: Convert Pages
Weebly doesn't provide feeds for the pages, so you have to export the entire site if you want to migrate.
It is recommended to back up your site before exporting the entire site.
After exporting, you will get the HTML for all the pages on your website.
If you are unable to export the entire site, you can use this method to export posts.
Save the HTML on the system after the export process.
To import the data into WordPress, use the plugin called HTML Import.
Step 3: Check Media Links
However, the HTML Import plugin imports images and other media as well. But check for the incorrectly linked images or any other file. You can manually fix it or can use plugins like Import External Images, and Import External Attachments to fix it.
Advantages and Disadvantages of Automated Migration
Advantages
This process works perfectly well with a large amount of content.
It is faster than manual migration.
Disadvantages
It is done by machine so it needs to be checked.
Some data might not be able to migrate.
---
Weebly To WordPress: Paid Migration
If you want to avoid the hassle of migrating from Weebly to WordPress, you can outsource the project to a third-party website that offers Weebly to WordPress migration services. These websites only require a few pieces of information from you, and then they will handle the migration process for you.
CMS2CMS
There are many services available online that provide the migration from one CMS to another CMS as a service. The best example of this type of service is the CMS2CMS service. They provide a smooth and effortless paid service to migrate your website from one CMS to another CMS. You also get the demo migration which will give you an idea about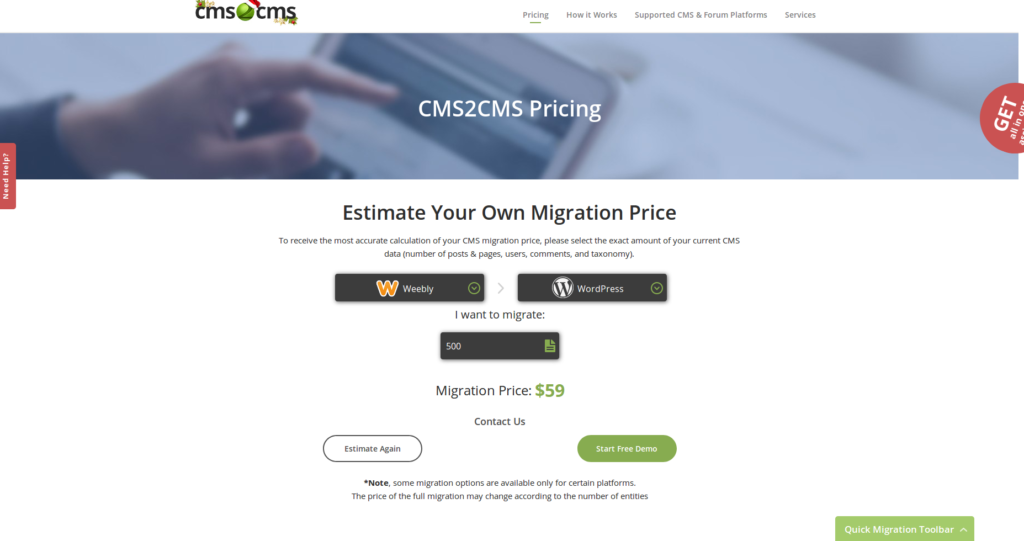 If you do not want to spend any of the time migrating to the website or you are having trouble migrating your website from Weebly to WordPress then you can opt for this as it is also a good option.
To begin with the process, the first thing you need to do is to Sign up for an account on their website and follow their step-by-step process.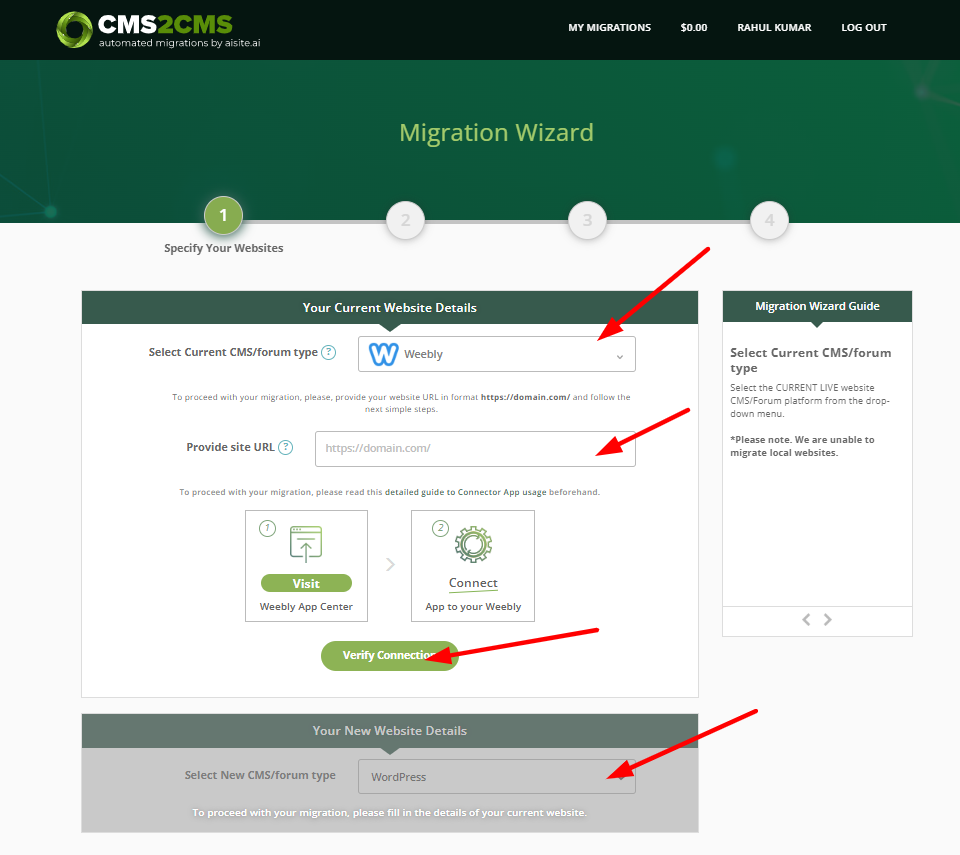 Wordherd
Wordherd is a website migration service that specializes in moving websites from Weebly to WordPress. It provides an automated migration process that moves website content, including pages, posts, images, and comments, from Weebly to WordPress in just a few clicks.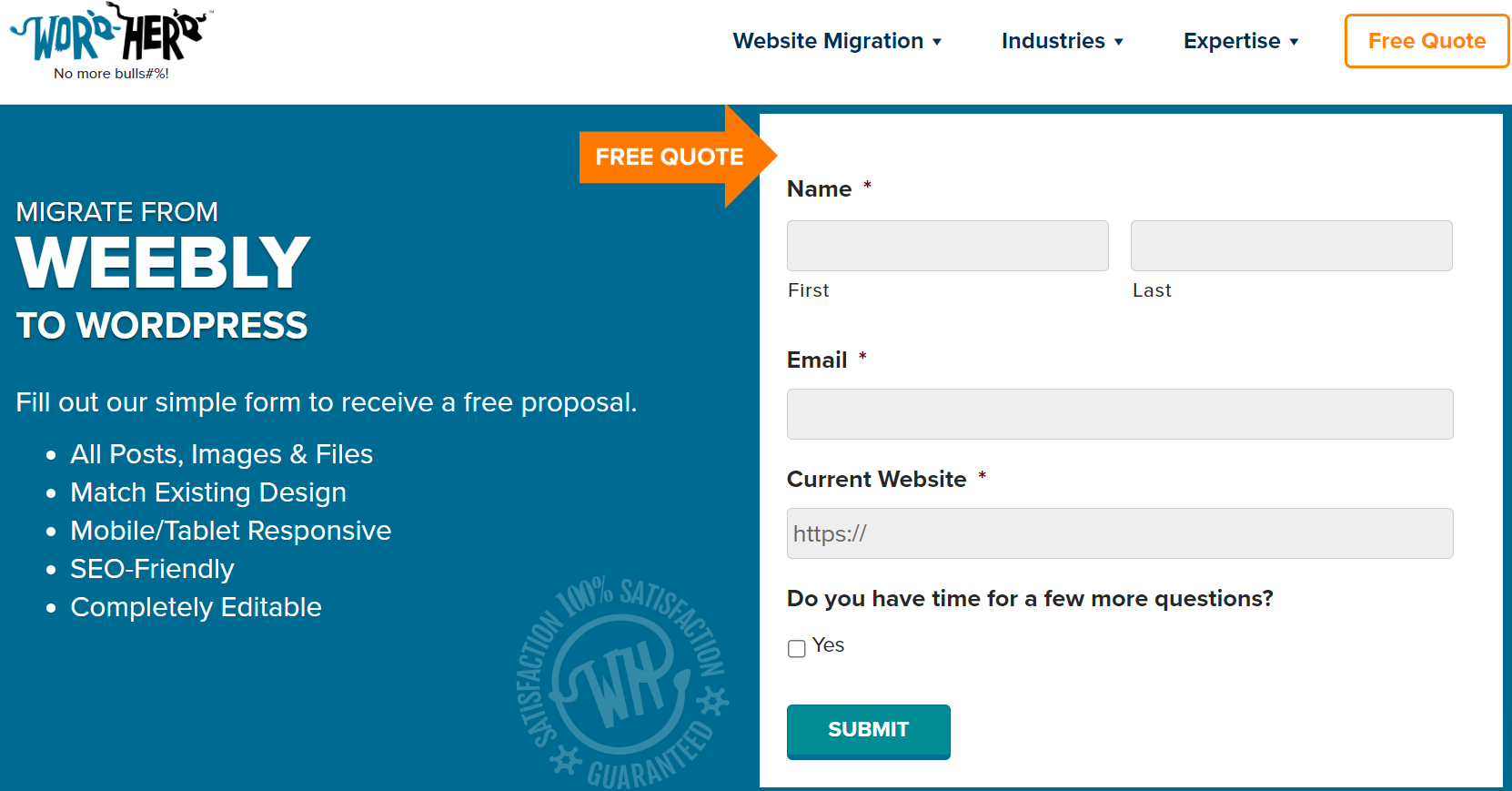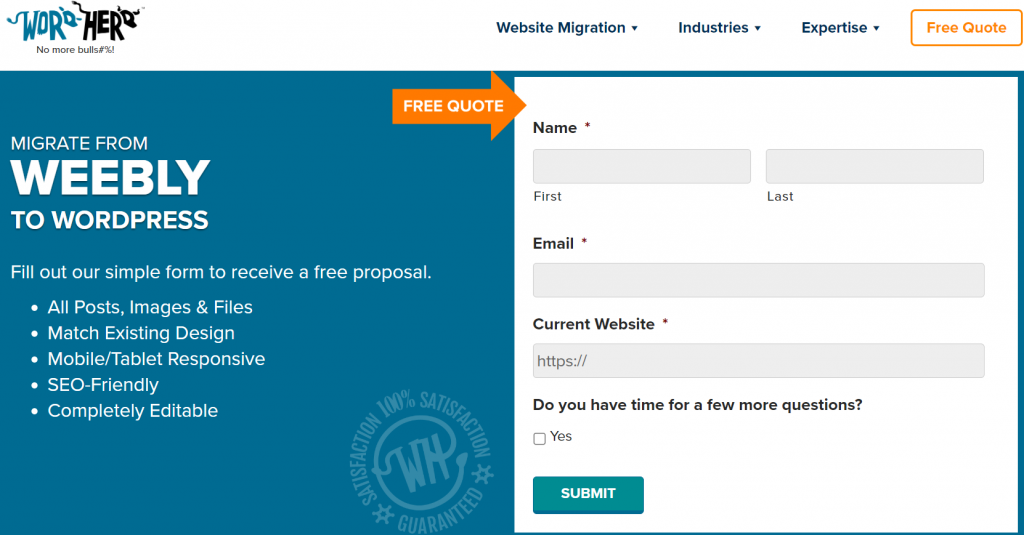 Wordherd provides a user-friendly interface that simplifies the migration process.
It offers a free demo migration option to help users test the service before committing to a full migration.
Wordherd has affordable pricing plans.
It can preserve the search engine rankings and URLs of the Weebly website during the migration process to prevent loss of traffic or SEO ranking.
Wordherd has a team of experts available to provide support and assistance during the migration process to ensure a smooth experience.
To begin the migration process, the first thing you need to do is fill up the FreeQuote form on their website.
Although we often prefer to handle tasks on our own, in some situations it may be more beneficial to outsource the migration process. While there will be a cost involved, opting for professional assistance can provide a guaranteed and faster way to set up and run your website, compared to manual or automated processes.
---
Weebly To WordPress: Post Migration Steps
The migration process is now completed. To get ready with your site you need to set up a few things so that the WordPress site becomes ready. There are a few steps left that must be followed to complete the WordPress site.
The steps are:
Step 1. Choose the theme for the website: As discussed above, Weebly provides several themes but it is not possible to get the same theme on WordPress. Therefore, the theme must be chosen for the website and, if needed, customize it. You can customize the theme using the Divi theme.
Step 2. Setup all other features: Now you can add functionalities to the site like forms, SEO, etc. You can also add widgets to the site. Customize the site as per your needs.
Step 3. Test the Site: As the website is nearly ready, you can check all the functionality of the site. Also, check whether all the pages and posts are migrated by automated migration and whether every media is linked correctly or not. To check the broken links, you can use Broken Link Checker to scan all of your pages and posts and notify you about the broken links in the pages or posts.
Step 4. Set your Domain to point new website: Test your site repeatedly and when are satisfied, set the domain to point new website. This is the two-step process:
Step 4.1: Transfer your Domain from Weebly
To transfer your domain from Weebly follow these steps:
Login to Weebly
Go to the Domains Tab

Click Disable under Registrar Lock
Now copy the EPP code
Step 4.2: Change WordPress Site to use Domain
After testing and transferring the domain, update the WordPress site to use the new domain name.
Change the home URL and site URL in General Settings from temporary to live domain.
Use search-and-replace plugins like Better Search and Replace or Real-time Search and Replace to change the URL of every page and post.
Enter the old URL and the new domain name in the plugins to update the URLs.
Create a backup of the database before making any changes.
---
Read: 🚩 Wix To WordPress Migration: How To Do? 3 Methods Explained
---
Conclusion
Migrating from Weebly to WordPress involves several steps, such as exporting the RSS feed, creating pages and posts, selecting a theme, and updating the domain. You can use plugins to simplify the process, such as WP All Import or HTML Import.
By making the switch, you can benefit from WordPress's drag-and-drop interface and a vast selection of themes and plugins, which offer more flexibility and customization options. Additionally, WordPress is an open-source platform that allows for greater control and ownership of your website.
While the migration process can be time-consuming, the benefits of switching to WordPress can make it worthwhile in the long run. If you have any queries or would like to add your valuable points, please do let us know in the comment section below.
---
Frequently Asked Questions
Is Weebly better than WordPress?
Weebly and WordPress have their respective pros and cons but overall, WordPress has more edge over Weebly in terms of SEO, Marketing, and flexibility capabilities.
What is the disadvantage of Weebly?
1. Weebly may not be as flexible as other platforms, especially for complex websites that need advanced features and customizations.
2. Design options on Weebly can be limited compared to other website builders.
3. These limitations may make it harder to create a fully customized and unique website on Weebly.
Is Weebly SEO-friendly?
Weebly has some basic SEO features, but it may not be as SEO-friendly as other platforms like WordPress, which offers more advanced SEO capabilities and customization options.