Are you looking to own a website? Then the first and most important thing you need to consider is How to host a website (In case, you have preregistered your domain name). However, there are plenty of self-hosted platforms available on the internet through which you can easily build and host a website.
But that is another topic that we will discuss in another post. But for now, we are focusing on the beginners who do not know about the ABC of How to host a website and all the necessary steps involved in it. There are a lot of misconceptions revolving around hosting a website that you need special knowledge or technical skills to host a website.
Which is completely untrue.
With the right guidance and approach, anyone can easily host their website in just simple steps. Hence, in this post, we will try to answer all the major sought questions by beginners regarding hosting a website, such as How to host a website for free? How to host a website with domain name? How do I host my first website? and so on.
So stay tuned, and keep reading this article to the end. This will help you to learn all about web hosting in a nutshell.
Let us get started!
What does Hosting a website truly mean?
Hosting a website simply means renting a special space i.e. servers or computers where you can put your website files. So, that anyone can easily get access to your content. In other words, suppose you are renting a plot where you have to build your house and store all the livelihood necessities.
Here the plot is your web host, the house is your website and the livelihood necessities are the website files that you stored. I hope this example will help you to better understand web hosting.
Now, to make your website easily accessible to people on the internet, these servers or computers are required to have special software i.e. web server installed. The main function is to send or receive requests from the browser to the server.
I know all these terms would sound techier, but you do not need to worry about them. It is because there are multiple online companies available that provide all these services at very affordable rates.
To your surprise, even some of the most popular tech giant companies such as Netflix and Siemens hosted their website on AWS (Amazon Web services).
However, there are only a handful of companies that can host their services on their servers. For example, Amazon, a giant e-commerce platform, hosted its services on Amazon Web services, and Google, which is like a giant search engine, hosted its services on the Google Cloud Platform.
All these are possible due to the availability of manpower, IT infrastructure, technology resources, and huge financial support that these tech giants possess.
Similarly, some businesses like ours's WPOven provide Fully Managed Web hosting services to host websites.
Things are required before hosting a website
Now, before we directly move on to How to host a website? There are certain things you need to consider before proceeding further.
Domain Name registration
Right Web hosting Provider
Before hosting a website, the first thing you need is to register a unique Domain name for your website. It is the address of your website through which anyone can access your website. For example, if you type WPOven.com on your browser Address bar, you will be directed to the website directly.
Another most important thing about hosting a website is to have the right web hosting service provider. Although there are plenty of options available, which one would be the best deal for you is the main thing to consider.
But you do not need to worry about it, we will guide you on how you can decide to choose the right web hosting service provider that fulfills all your website requirements without burning your pocket.
How to Host A Website: Step by Step guide
1. Decide your Type of Website
Before looking for a hosting website, first, you have to decide what type of website you are looking forward to. Whether it can be a simple blog or an e-commerce store. Different website niches have different requirements to run and hence different Web hosting plans.
There are mainly two types of websites you would find on the internet.
Static websites – These types of websites can be built either using simple HTML codes or using any software to build a website. The nature of these types of websites is very basic and mainly consists of only 1-2 pages. The content on these websites is static and whenever you make any changes or edits to your website, you will require to upload it again to the server. These types of websites are usually very cheap and require low maintenance but have limited functionality with no option for eCommerce option.
Dynamic Websites – Dynamic websites are like modern websites whose content can be changed the real-time. These types of websites are resource-intensive and require fast servers and high-end security to work. All the edits or content updation takes effect on both servers as well client-side. You can add functionality and add extra features to make your website interactive as well as you can even build a complete eCommerce store.
Both these types of websites require different resources to run. After all, you won't like to pay for advanced web hosting services that may not be required for your basic website.
2. Choose the right Web hosting for your website?
Since there are a variety of options available, any user can easily be confused and choose the wrong web hosting service. But before you make concrete decisions you need to learn about different hosting platforms that are available.
There is a variety of web hosting platforms are available, covering all section of users and their website requirements. The only thing you need to do is to match the most suitable web hosting service with your website requirements.
These are some of the web hosting plans that you will commonly find:
Shared hosting: One of the most beginner-friendly web hosting plans that are affordable and quite popular. Although all the websites will have their unique accounts and login credentials the cost of operating the server will be shared. In shared hosting, multiple websites will be hosted on the same physical server and share the available server resources.
Virtual Private Server: It is the best alternate solution for shared hosting in which all the websites are hosted on the most powerful and fasted web server. This server software is well configured and virtually distributed into multiple compartments so that each website can work independently. This hosting plan would be best for those users who like to experience above-average server performance without compromising security and paying high prices.
Dedicated Hosting: In dedicated hosting, the websites are hosted on the entire server as a result the websites will become more Faster, will have powerful performance, higher security, and even costlier. This hosting plan is most suitable for high-traffic driving websites such as eCommerce.
Managed WordPress hosting: Since the majority of the websites are built on WordPress CMS, various web hosting service providers now come with a Complete Managed WordPress hosting solution. This type of web hosting is well optimized for WordPress sites and manages your WordPress site without user intervention. These Managed WordPress hosting servers have generally the Fastest dedicated servers, top-notch security, and are loaded with various addons.
Cloud hosting: These types of hosting are more advanced and use multiple web servers to host a website or multiple websites. Since the website is not hosted on a dedicated single server, the web resources can either expand or shrunk as per the website web traffic. Hence, it becomes an efficient and more value for money option for e-commerce or large websites which have higher average monthly traffic.
What attributes must you look into a web hosting?
Since we have already mentioned that there are a lot of web hosting platforms available offering different services at different plans, there are certain factors involved when choosing the right web hosting.
Web hosting is not just all about hosting your website and making it available online all the time. Web hosts offer a lot more essential services such as security, Firewalls, Uptime monitoring, expert technical support, and many more.
You cannot simply make decisions on the pricing that they offer, but as we have already mentioned earlier, you first need to figure out exactly what your website requirements are. In addition to it, for choosing the right web host, you can follow our tips given below:
1. Check out the server technology
First, check out what type of server your web host is offering. Is it a hardened server, the Fastest in the industry and is it based on advanced technology or not? The more powerful and Fast server is the better website performance will be.
Note: WPOven servers are the Fastest and based on the latest technology stacks that provide high performance without any roadblocks.
2. Maximum Uptime monitoring
Check if the web host can provide up to 99.95% uptime monitoring or not. This helps to ensure that your website remains online all the time irrespective of any issue. After all, you don't like your visitors to see a blank screen during the downtime of your website which can negatively impact your SEO and web traffic as well. For small websites with low average monthly traffic, uptime issues can be ignored but for higher traffic-oriented websites they cannot be ignored.
Note: WPOven offers more than a 99.99% uptime monitoring guarantee.
3. Best in class security
Website security is one of the most vital factors that no one should compromise. Even, it is one of the key points that affect your Google ranking. If you want your website to rank better in SERPs, a simple SSL certificate can make a huge difference. Along with other security measures, provide your website a strong shield from various attacks such as malware injections, DDoS, and Hackers attacks.
Note: WPOven is a kind of web hosting provider that offers a Free SSL certificate along with WPOven Partnered with Cloudflare which provides a completely secure experience.
4. Bandwidth Allocation
Bandwidth is the capacity of data or traffic that can be transferred between the sites, servers, and users. So, if you are looking for a media-intensive site that has videos, graphics, online podcasts, or even live streaming services. Then you must go with plans that offer higher Bandwidths. However, simple websites that have textual content with simple images and low-end videos or use other services to save their content generally do not require higher bandwidths.
Note: WPOven offers unmetered or unlimited Bandwidth in personal and further plans.
5. Scalability
When you are considering a hosting plan for your website, one thing you must not forget is to consider the future growth of your website. Any pilot project or online business initially starts with a lower hosting plan which has limited resources. which is a more efficient and affordable strategy that anyone considers initially. But a time will come when your website starts growing and all the initial resources won't be enough to run the website smoothly.
So, make sure your current hosting plan offers an upgrade program to add more resources or must provide a seamless migration option to another hosting service without any complications and additional fees.
Note: At WPoven, you can upgrade to any plan that perfectly fits your budget and requirement without any issue and also provide unlimited options to migrate.
6. Automatic Backup
Taking regular manual backup of a website can be a hectic and time taking process. Especially for users who are not into technical stuff, anyone can even forget to take regular manual backup. Hence, many web hosting companies are now providing automatic backup systems that make sure that if anything went wrong with your website, it can be easily restored. The best and most renowned Web hosting company will offer you a regular automatic backup system so that if anything goes south, you will be mind free and get things back on track immediately.
Note: Since WPOven is a fully managed WordPress hosting provider, it provides Amazon S3-based daily backups system that is included in all plans.
7. Compensation
For small websites or blogs, downtime may not be a huge issue. But when it comes to online businesses or websites with huge traffic it can seriously impact your online sales and revenue. Hence, if a Webhosting company provides you with compensation, it means they will compensate the website whatever the loss has been incurred during any issue related to Web hosting or servers.
Note: WPOven knows the value of online businesses and hence offers 100% uptime SLA and promises up to 100% server uptime or else compensate with 10 times downtime cost.
8. Check Datacentres
For better website speed and lower latency, it is very important to host a website on the nearby Datacenter available. So, Web hosting with data centers nearby locations would be a better deal than data centers located remotely. After all, it is all about speed, and every second counts for your website experience, SEO, and online growth.
Note: WPOven has data centers located Globally so that you do not have to compromise with the website speed and provide lower latency.
9. Manageability
Many Web hosts are not well organized and don't provide a clean user interface or dashboard to manage your web host account. However, many web hosts provide default cPanel to manage accounts which is quite popular and widely accepted as the industry standard. Which let users manage their website, hosting plan, taking backups, and using addons.
So, you must check if the hosting offers you a cPanel or dashboard to manage your web host or not. If not then get ready to do all the manual hectic work by yourself.
Note: WPoven has a unique and simple Dashboard from which managing your Web host account becomes easy.
10. Addons and Extra Features
Due to high competition, Web hosting providers offer extra features and add-ons bundled with their plans. You need to check if these plans are adding value to your site or not. Are they justifying the price Web hosting providing asking for?
Note: Apart from Premium Expert Support, WPOven offers Virtual Growth support that includes web management services, Graphic design, and SEO services for your online growth. In addition to it, there are multiple premium themes and plugins are also available that add an extra benefit to your website.
11. Customer service
Hosting a website is not as easy as it seems, things become trickier and more complicated, especially for beginners. There are a lot of steps involved and a lot of processes take place on both the front and backend. This is why a dedicated expert team is necessary that can assist users 24×7 around the clock. The better the customer service, the more convenient for the users.
Note: WPOven offers concierge support with a dedicated team that assists 24×7 around the clock.
3. Add your domain name to the Web host
Once you have decided on a particular web hosting and purchased a suitable plan, you will be provided with a DNS name or commonly known as Domain Name servers.
To make your website live and work, you will be required to change the Domain Name servers of your domain. This is how you need to proceed.
Step1: Login to your Domain account page.
Step2: Select and click on the Domain name for which you would like to change name servers.
Step3: Click on Domain Settings or DNS management where you will find an option to change Name servers.


step4: Now click on Change to replace the existing Nameservers with the new ones provided by your web host and click save to finish.
However, if you have chosen any WPOven web hosting plans, the whole process would be easier. You do not require to set DNS records rather WPOven will provide you with a unique IP address to which you are required to add the A data of your Domain.
In addition to that, since WPOven is a proud certified partner with Cloudflare, you will be provided with the ability to easily enable the free Cloudflare plan for all your domains.
To add a domain/site to your WPOven server, simply login to the WPOven dashboard and navigate to the 'Sites' Tab. You will now see a form to add a new site.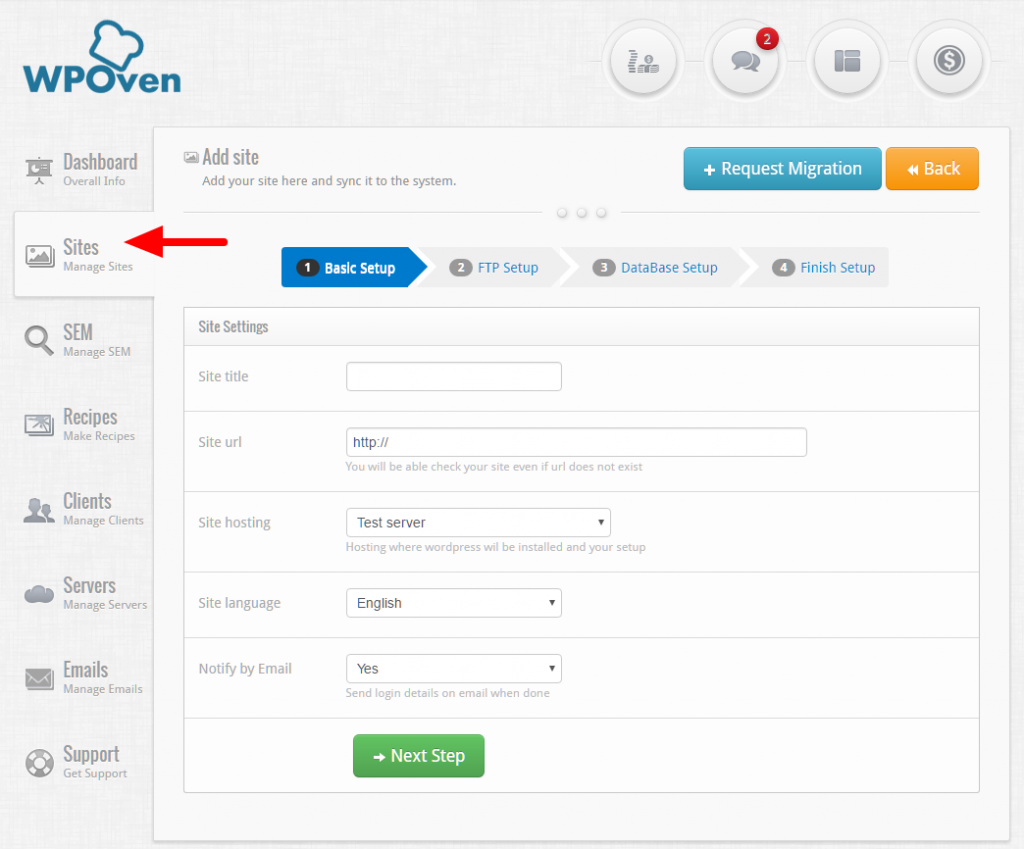 Fill in the form and your site will be installed on your WPOven server, with the latest WordPress version installed on it.
That's it, now you know how to host a website successfully.
Now if you do not like to spend money on Web hosting as well as a domain name, there are plenty of free platforms are available on which you can easily host your own website absolutely Free.
How to host a website for Free?
We know hosting a website cannot be affordable for everyone. Especially for students or beginners who have just started learning about blogging. Targeting these types of audiences, there is a variety of Free platforms available that provide free web hosting and services.
WordPress.com, Blogger, Wix, Squarespace, and Weebly are some of the popular web hosting sites that offer free web hosting services but with limited functions. If you are wondering which platform is better to host a website for free, you can check out our detailed and comprehensive article on the Comparison between Wix vs WordPress vs Squarespace and WordPress vs Wix.
Summary
Hosting a website is not as complex as it seems, but what makes it a bit tricky is choosing the right Web host for your website. From the variety of web hosts offering various features and plans, it becomes tough for any individual to make a concrete decision and select the best one.
Lack of awareness is what makes a big hindrance for any individual to select the perfect web host. If you are able to figure out what type of website you want to host and what are its requirements, hosting a website will not be a tough task.
However, if you want to go the safe side, there are plenty of free web hosting options also available, or you can choose the cheapest plan available, to begin with, your web hosting.
We hope all the tips and steps mentioned in this article will able to help you to figure out How to Host a website in a very simple and easy way.
If you have any queries or would like to add your valuable opinions, please do let us know in the comment section below.
How can I host my website for free?
You can easily host your website for free from these free platforms:
1. WordPress.com
2. Wix.com
3. Squarespace.com
4. Weebly
5. Amazon AWS
How do I host my first website?
1. The first thing you need to do is to register a domain that matches your website niche and is unique.
2. Buy a suitable Web hosting plan that is affordable and matches your website requirements.
3. Change or replace the existing Nameservers with the new ones provided by your web host on the Domain settings page.
4. Install WordPress theme and plugins.
5. Start building your website and you are done.
Is hosting a website easy?
There is a misconception that hosting a website is not easy and requires special technical skills to do so. But that is all untrue. The fact is if you follow the right path and instructions, you can easily host your website in merely just a few minutes.