Are you thinking of starting a podcast? It is the right to start your own WordPress Podcast as the advertising industry has been boom since a recent decade.
It is impossible to watch a video or read a blog when driving or taking your dog for a walk. Luckily, you can listen to a podcast. All you will need is headphones and download the file. And also there are a lot of new possibilities have also been emerged that generate an exceeding amount of revenue worldwide.
Similarly, Podcast has been one of the recently emerged advertising platforms that started to gain popularity. According to recent reports published by Podcast insight, about 50% of all US homes are Podcasts Fans. About more than 68 million listen to podcasts weekly.
To discover or look for new podcast channels, many users like to make it a Google search. Hence to make your Podcast channel visible on search engines, it is highly recommended to begin with a Website.
In this article, we will try our best to provide you a complete WordPress Podcast Guide such as How to set up a WordPress podcast website? How to choose a channel theme? Which WordPress Podcast plugin to choose from and many more.
Let us get started!! But before that let us brush up about Podcast.
What is a Podcast?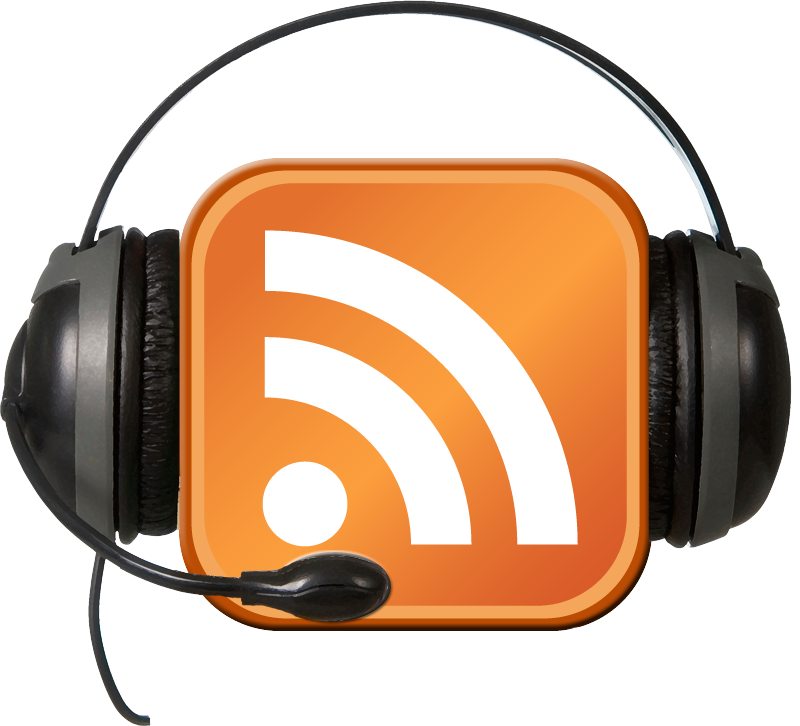 The podcast is talk radio but on demand. Basically, it is a series of spoken, audio episodes that focus on a certain subject. For example, start-ups or cycling. The word 'podcast' is derived from Apple's "iPod" and "broadcast". In case you are not familiar with the technology, iPod is a portable music player introduced by Apple.
As it is named after iPod, it doesn't mean you need an iPod to listen to a podcast. You can listen to the podcast on any digital media player. It can be downloaded from the internet and listened to on a digital player or computer. The podcast can be produced by anyone who wants to share and communicate with the world.
How to get started with WordPress Podcast?
Starting something new might look like empty space for you. New channels coming up with new innovative and creative show ideas. There are a lot of things goes behind the scene, which we will discuss in this article.
However, it might look quite complex as it sounds, but you will need only a few easy steps to bring it into reality.
Be creative with the Podcast theme and select the right Concept.
It is highly necessary to make things arranged and ready, before you start podcasting. You cannot just start away podcasting without a proper planning and arrangements.
To begin with, the first thing is to select a particular topic from a variety of themes such as Music; Art, Comedy, Chat shows etc. Try to include influencers or celebrities to add up extra audiences.
You must note trying to bring out the content whatever you like to share passionately, with your own interest. Rather than the topics that bore you or you are not interested in. It is better to make a short note on what topics you like to work on and interests you. You will never run out of content while preaching for hours.
Once you decide on the topic, it's time to choose a particular format to deliver the content to the podcast audiences. Some popular formats are trending nowadays, and they are:
Interviews or Chats with celebrities or influencers– An Q/A session round with celebrities or influencers on spicy and trending topics weekly will attract audiences and increase retention ability.
Standup format- In this format, you as a host delivering content to a larger audience and ask them about their opinion on that particular topic.
Conversational format- Bring a co-host with whom you can have a healthy conversation about the topic to bring out more content.
Single Host format- A host tries to convey his ideas or opinion more innovatively and creatively to listeners.
It is preferable to start WordPress Podcast with informative or educational content. Listeners like to hear the contents, which can be productive and interesting.
Once you done with selecting the format, Now its time to choose a name for Your WordPress Podcast. we highly recommend you to choose some interesting name, that sounds catchy and easy to remember.
Try to be clear and it should be familiar to your podcast theme. You cannot simply choose a comedy WordPress podcast name and start preaching some religious thoughts. Here comes the most creative part of you, try to mix up with the names that has some pun in it or even you can use your name for self branding.
Whatever you like to name your WordPress podcast, do consider the following points before finalizing :
SEO-friendly name: This is one of the most important points one should always consider while choosing a name for their channel. Most internet users rely on search engines, and you would not like to spare any chances to get top ranks in SERP. So, think about the related keyword about your podcast niche and find out which keyword has high volume with low competition. And try to mix up names around it.
Thoroughly Research: Once you decided the name, Google search it and look out in Podcast directories whether it has been already taken. And be ensure that your WordPress podcast website domain, social media channels and Podcast directories are unique and new.
Easy to Spell and remember: As already mentioned, the WordPress podcast name should be clear, loud and catchy. The more it easy to say, the more people can remember it and find you.
Podcast Setup Tools and Equipments
Once you finalize the WordPress Podcast channel name and domain name, it's time to establish a whole setup with essential Tools and Equipment that can produce high-quality professionals content.
Here is a list of all the equipment you might need.
Microphone
Computer
Recording and mixing software
Headphones
Internet access
Pop filters (optional)
There are several ways through which you can buy this required equipments. You buy the equipment from various online stores like Best Buy, eBay, and Amazon. The equipment you should buy depends on your budget and experience level. But the main and basic things will remain the same: a pair of earphones and a microphone.
There are plenty of headphones/earphones and microphones' are available online. But to choose the best one is another hectic task. But we can provide you some tips on how to choose the right one:
Buy as per your budget, i.e. more affordable and easily available.
Check out the reviews and ratings online.
For headphones, try to buy comfortable cushy and soundproof over-the-ear headphones. This will help you to restrict the outside noise and concentrate on your work.
After purchasing the equipment (Hardware) part, it is now time to choose the editing tools or software. That helps you bring out more tuned, refined and crystal clear high-quality content.
For editing Raw recordings, we recommend using Audacity, which is free and loaded with all the basic features that you will be required and take less time.
Beginning the WordPress Podcast recording
It is obvious to be nervous while starting something new. But to overcome this behind the mic fear. It is highly recommended for you to practice and do preparations before the final shot.
To begin with, it is better to write a script before start recording. It will help you to build confidence, maintain flow and in covering all the topics.
For example, if you are conducting a chat show or conversation, it is better to make a complete list of Q/A on a piece of paper. And share it with the guest to plan out on which they would like to talk.
Avoid uploading files to a podcasting hosting service
We highly do not recommend you upload your recording files to a Podcasting hosting service. High-quality podcast files contain large data; hence it will exhaust your upload limit data and can incur extra charges for you. Usually, these Podcast hostings are designed for holding up small files and data, but high-quality podcast episodes can be of larger sizes.
It is also possible that due to the large file size, it will be difficult for podcasting hosting services to transfer data seamlessly. Due to this, a user may encounter delays in service and content buffering issues.
Hence, it is better to choose those Podcast hosting services, that provide large file uploads and transfer efficiently.

Understanding Podcast Hosting Services
As mentioned earlier, Podcast Hosting Services is somewhat like a medium between you and your listeners. When you, upload your Podcast episode on your account, the hosting service will generate an RSS feed link, through this link you can connect your show with your WordPress website.
Whenever, a listener tries to click on play button, the platform sends request to your podcast hosting service to send back the audio file though RSS feed.
While looking for WordPress Podcasting, the first step is to determine whether the service has any WordPress Plugins available. The availability will provide a seamless integration through which you can directly upload podcast episodes and play on your WordPress website.
Another option you can try is to make your own RSS feed.
Arranging and managing Podcast Directories on your WordPress website
Integrating Podcast on your WordPress website creates an easy platform to showcase your WordPress podcast episodes, and it becomes easy to manage them. While majority of the audience will look for episodes on your website with different Podcast directories such as Spotify, Apple podcasts or Google play.
It will become easier for users to search and listen from their respective directories.
To arrange podcasts and make them available for various directories. you need to make an account on each platform and submit the RSS feed link to connect. From then, whenever you upload a new episode, it will automatically be distributed to all the connected directories.
Once you are done with the whole setup and connection, you do not need to re-connect them.
What is Required for a WordPress Podcast?
The main advantage of using WordPress Podcast is to make simple and easy the whole setup process, which can only be done with the help of WordPress. Hence, we will learn how you can set up WordPress podcasting in the following few steps:
Create a WordPress Podcast Website
The most crucial step is to build the website, not a simple one but a WordPress Podcast Website. It is vital to select a platform that is easy to use and appropriate. WordPress is the best platform for creating your own podcast website.
Are you wondering what makes WordPress so special? WordPress is easy and free to use as you can install the plugin and customize the design of your site. Along with this, you can make money easily without any limitations.
You will need a domain name and web hosting. In simple words, the domain name is the address of your website. At the same time, web hosting is the house of your website.

Step 1: Choose a Podcast WordPress Theme
To start developing a WordPress website, you will require a theme that is specially developed for Podcast, which you can buy from a popular WordPress theme directory, " Themeforrest." The WordPress Podcast theme must have all format media support and Responsive design.
Once you finalized the theme and purchased, you can easily upload it to your WordPress dashboard by following the below steps:
Open your WordPress Dashboard.
Go to Appearance Section, on the left side of the Dashboard.
Click on Themes > Add New > Upload Theme
Then Install the files and you are ready to customize it.
Some Best WordPress Podcast themes
For your convenience, we are providing you a list of most popular Best WordPress Podcast Themes around:
1.Viseo


One of the most famous WordPress Podcast themes available to buy at $59 from ThemeForest. Its "latest Shows" section lets users navigate through your recently uploaded podcast content quickly. Its Local integrated Video player feature lets you upload and high-quality video content easily. It is also easy to customize the theme with the help of its Drag and Drop feature.
Rating : 4.38/5
Price : $59
Some key features:
Drag and Drop Builder
Integrated Local Video player
The latest shows section for quick navigation to recent uploads
2.Podcaster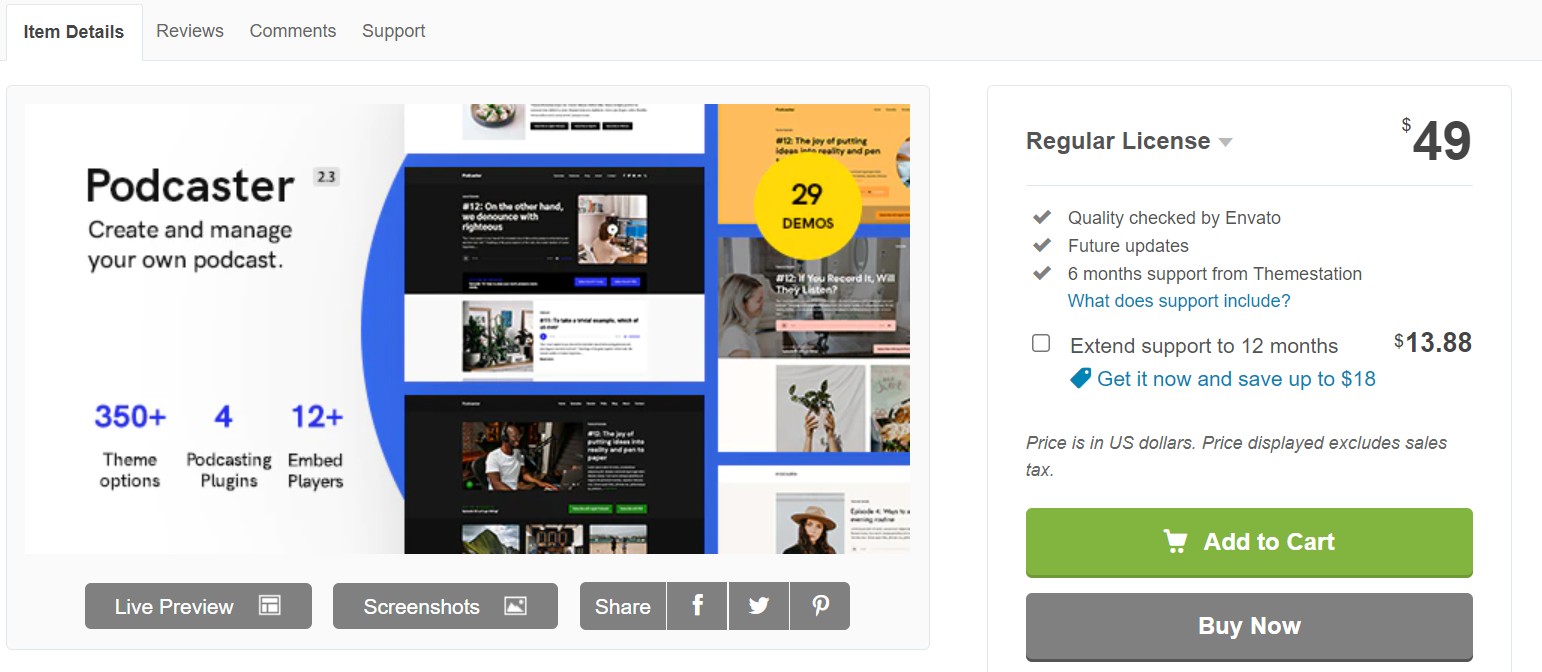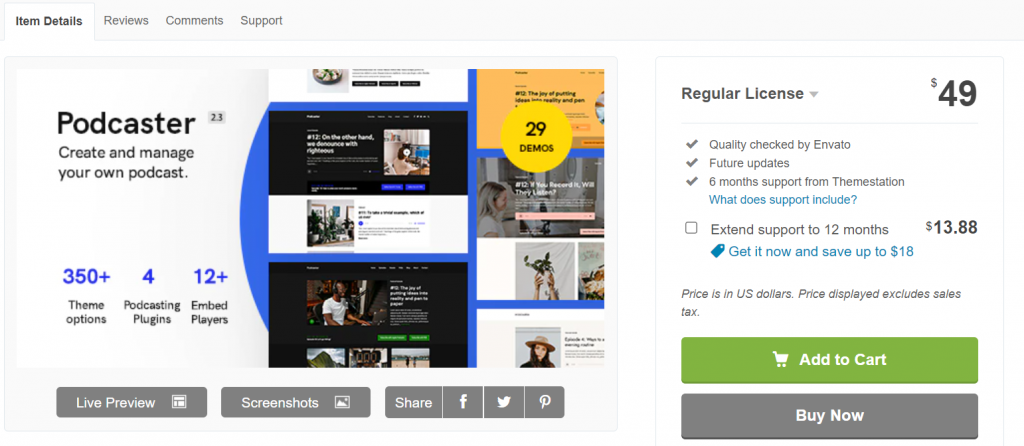 Podcaster is developed especially on the parameters of podcast requirements. It helps users to manage and arrange all the podcasts on a single platform. This theme provides an unlimited number of pages to make podcast archives for a longer period of time. It also has an integrated video player, which can directly play the latest uploaded content on the homepage. You can also customize theme colours to match your Podcast profile.
Rating : 4.13/5
Price : $49
Some key features :
A lot of customization Option
Dedicated and integrated video player
Unlimited podcast archive pages.
3. Gumbo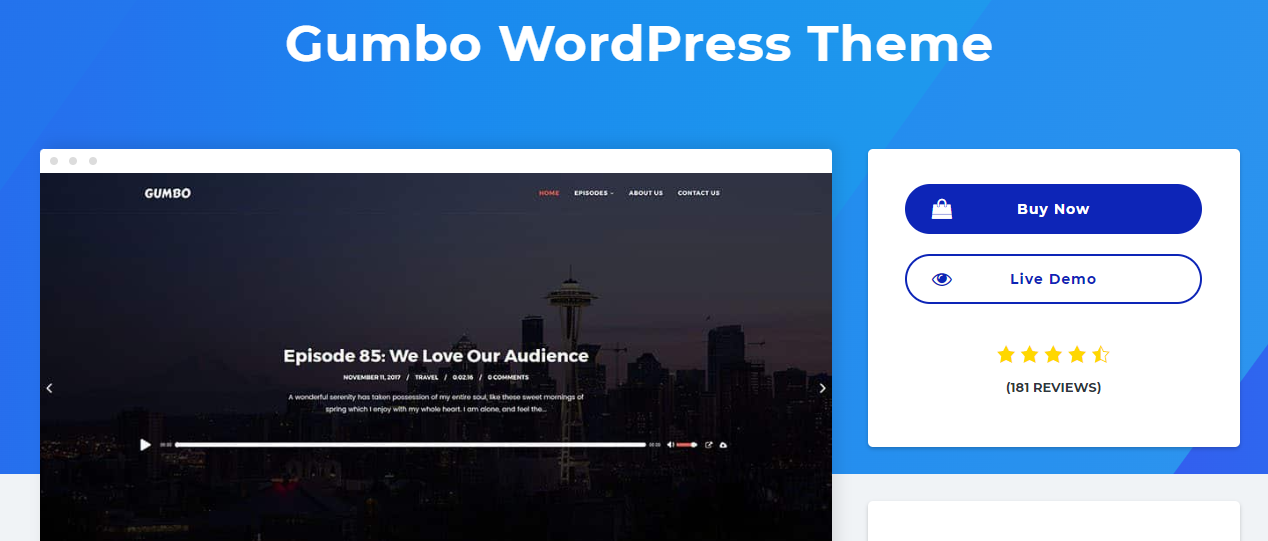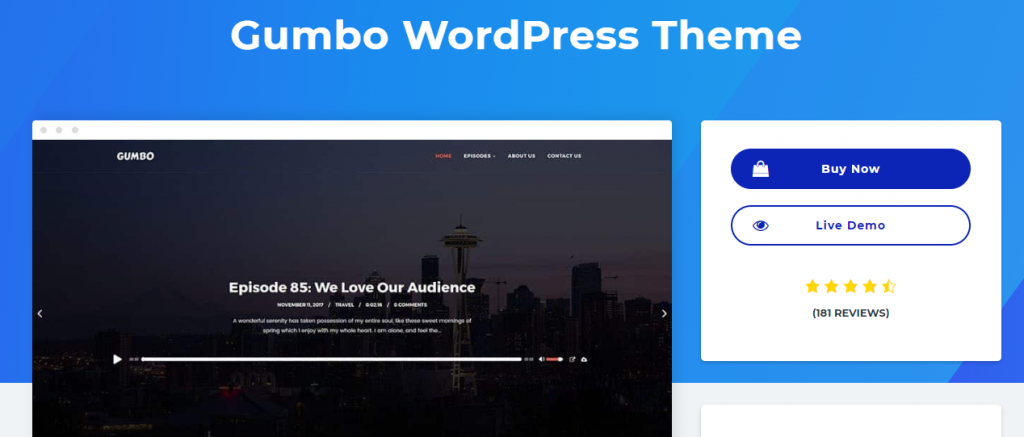 Gumbo is a fantastic WordPress Podcast theme that is specially developed for Podcast owners. The theme lets users put their podcasts at the front and centre of the website. The theme supports multiple audio sources, layouts, Videos, and a featured slider. You can also easily customize it as per your requirement with easy Elementor editor.
Rating : 4.5/5
Price : $69
Some key features :
SEO friendly
Easy to Customize
Complete Responsive Design
Inbuilt translation option
Dedicated support
4.Tusant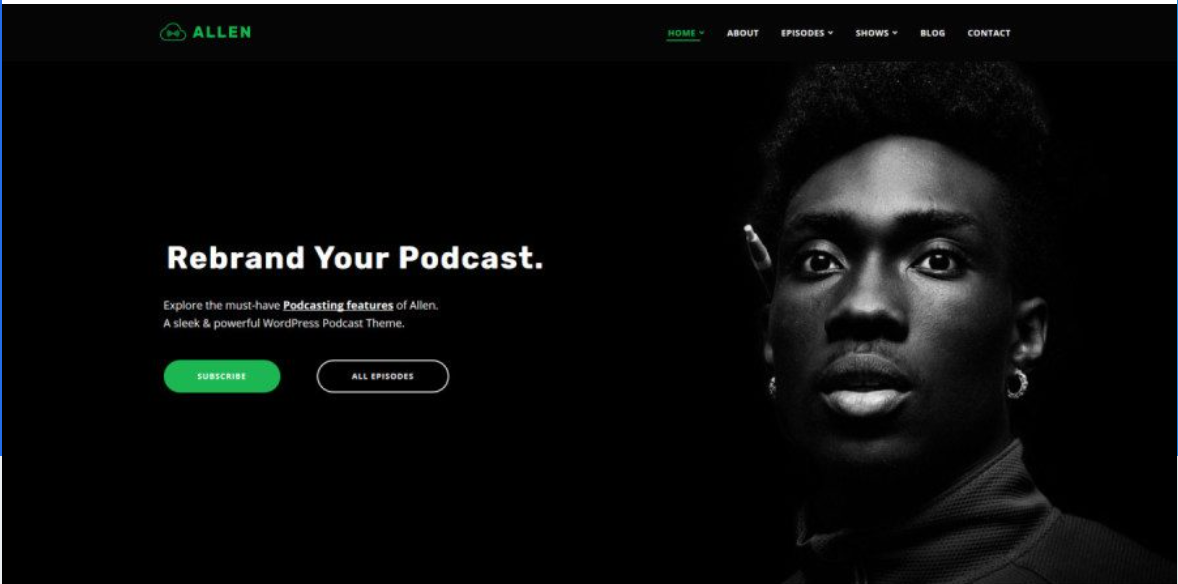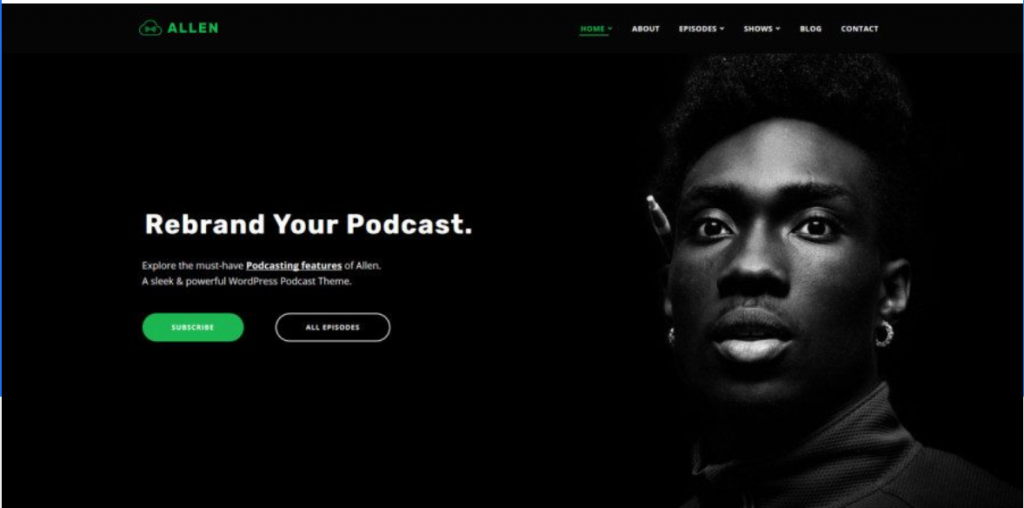 With a stunning modern look and design, Tusant is one of the latest WordPress Podcast themes available. It is built specifically for Podcast, Music Streaming and Video purposes. Due to this multi-feature specialty, It becomes most suitable for all kinds of media projects. It is easy to edit and customize with the support of Elementor.
Rating : 4.5/5
Price : $69
Some key features :
Easy to customize with Elementor support
Display podcasts on multiple layout options.
Full Support for WooCommerce for eCommerce websites
Episode Sliders Included
Show Carousel & Slider Included
Podcast Subscribe Buttons Plugin Included
Dedicated Support
Install a WordPress Podcast plugin
To get most of the benefit of creating a WordPress Podcast website, you need to install a WordPress podcast plugin. It just not make the whole process seamless but also do these two purpose:
WordPress plugin will store all your podcast files on a separate Podcast hosting server without breaching security effectively. Due to this, the website will also not get burden and slower.
The plugin will help you to manage and arrange all podcast episodes from the same WordPress dashboard.
Due to a dedicated website and uploading podcast episodes directly to hosting services, it will become easy for your listeners to play any podcast seamlessly.
Connecting Podcast hosting service with WordPress Podcast Plugin
Once you are done with the WordPress plugin installation, it is now time to link it with your Podcast hosting service. Please note: It is highly recommended you link your WordPress Podcast plugin with Podcast hosting service before uploading the episodes.
The linking instruction may vary from plugin to plugin. Hence, you need to read the whole setup manual of that specific plugin before installing it.
Why you need a Podcast Hosting Service?
It might sound strange to have separate Hosting services, i.e. website hosting and Podcast hosting. But to provide a smooth experience, you will require both.
Because The podcast you will record will be a large audio file. It will require plenty of server resources to serve the files from the web host. As a result of this, it will make your website slow and sometimes unresponsive.
We recommend you to use Blubrry for an excellent user experience. However, some of the podcasters use separate podcasting services for serving her files. It is one of the smartest and efficient ways to do so.

Start Uploading your Podcast Episodes with the WordPress Podcast plugin.
You have completed your equipment setup, and now you have recorded some high-quality Podcast episodes. Now it is time to start uploading them with the help of the WordPress podcast plugin. The process will be different from the Plugin to the plugin. Hence it is highly recommended that you must read the documentation of plugins before installing them.
When you start uploading Podcast Episodes, the WordPress Podcast plugin will automatically give instructions to Podcast hosting service for proper storage. And the file information must be updated on both platforms simultaneously.
Note: Once you start uploading the files, the plugin will update the file information to the Hosting service. Not the podcast hosting service will give information to the plugin.
Arranging and Managing Podcast Episodes from WordPress
As you start uploading Podcast episodes from time to time, the files will get all piled up. But due to WordPress, managing and them Arranging them is an easy task. The WordPress has a simple well structured dashboard from where, you can easily manage all the podcast files without any problem.
It reduces the manual work and multiple actions from managing one file from one platform to another. All the processes become smooth and straightforward. Even, some WordPress Podcast plugins provide insights about visitors and in-depth analytics reports. It will give you an idea about your Podcast performance and help you out to deliver better content.
Hence, Podcasting on WordPress, provide a streamline experience by making all the process well planned and a lot of customization options.
Below, we are going to share with you some Best WordPress Podcast plugins that make your whole process a lot easier:
Top 5 WordPress Plugins for Creating a Podcast
Do you know how to start your own podcast using plugins? Are you looking for the best WordPress plugins? We have listed the best WordPress podcasting plugins.
PowerPress

Active Installs : 50,000+
Rating : 4.8/5
Price : Free
PowerPress is one of the best WordPress plugins by Blubrry. This plugin is easy and simple to use thanks to its separate modes, Simple and Advanced. In simple mode, you can follow these simple steps:
PowerPress key features:
Publish your blog post with your first episode
Set up podcast setting
Submit your podcast to iTunes
On the other hand, in Advanced mode, you can get a list of full options.
Simple Podcast Press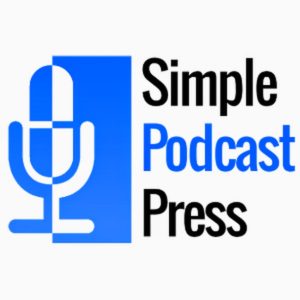 Price: $67 to $147/year
Another great plugin for a podcast with WordPress is Simple Podcast Press. This plugin is not free, you will have to purchase it one time. Simple Podcast Press is an automation tool and a podcast player as well. With the help of automation tool, the podcast can be published automatically to your WordPress website.
For this, you will have to enter the URL of the podcast just once. After that, the plugin will find the new podcast you published. A great thing about this plugin is that it features a mobile-friendly podcast player.
Simple Podcast Press Key features:
Fully customizable buttons
Worldwide iTunes Reviews
Email Opt-In integrations
Clickable Timestamps
Podcast Playlists
Clutter-Free Transcripts
Seriously Simple Podcasting

Active Installs : 10,000+
Rating : 4.8/5 (based on 134 ratings)
Price : Free
Seriously Simple Podcasting is another great plugin that ensures simple podcast publishing. The settings page has four options: General, Security, Feed Details, Redirect and Publishing. You will have to just set in which posts you want your podcast to appear in.
Along with this, you will have to position the audio player and where the podcast feed link will be. This plugin allows you to form several podcast series with different episodes.
Seriously Simple Podcasting Key features:
Set your podcast's title, subtitle, description, category and sub-category selections, cover art, explicit rating, and copyright information from WordPress.
Manage all updates to your podcast's RSS feed on WordPress and changes automatically sync with your podcast hosting provider.
Turbo-charge RSS feeds to increase the number of episodes displayed on podcasting apps and speed up the feed's load time.
Create password-protected RSS feeds to restrict access to premium content.
With Castos, use the one-click submission feature to easily submit your podcast to Spotify.
Buzzsprout Podcasting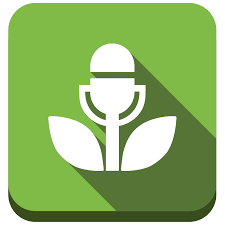 Active Installs : 900+
Rating : 5/5 (based on 4 ratings)
Price : Free
Buzzsporut is a great podcast plugin that enables you to easily submit your podcast to Stitcher and iTunes. You can add your podcast episodes with the help of a media button. It features a beautiful HTML5 audio player. The plugin enables you to transfer podcast from other hosting services as well. You can easily find the episodes with specific tags.
Buzzsprout Podcasting key features:
Secure hosting dedicated to your Podcast.
Complete iTunes support
Podcast Migration tool
Feed burner
HTML5 and Flash Audio Players
Play count Statistics
FuseBox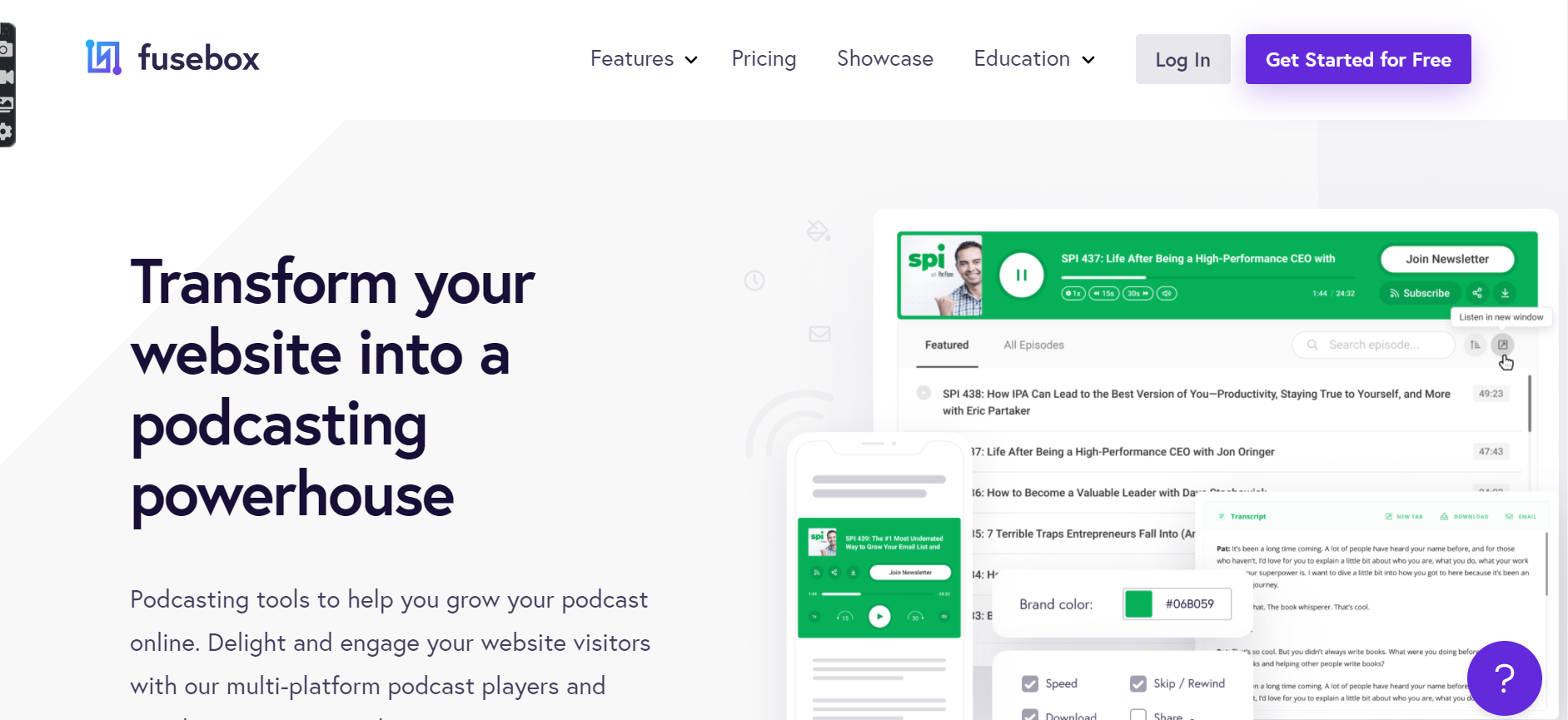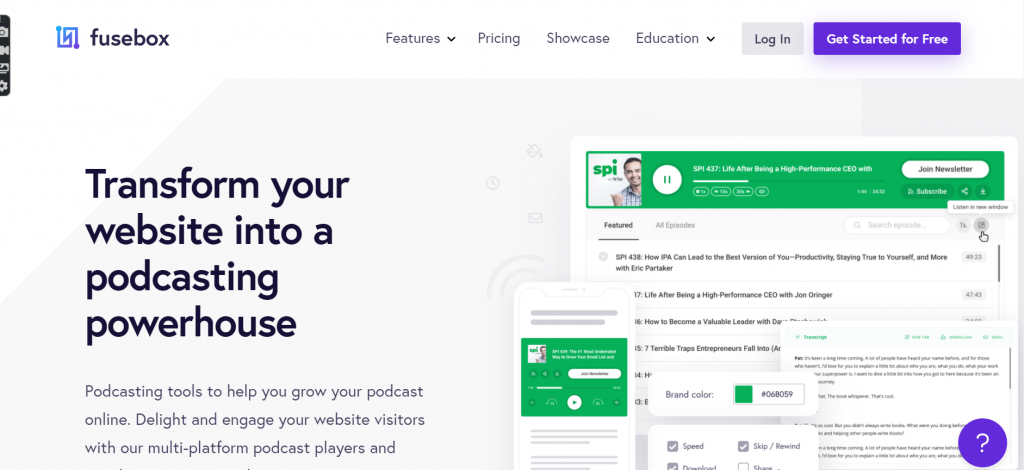 Price : $8 to $12/month
Next on the list, is a premium plugin for WordPress. It serves your podcast with an interactive and modern player. The best feature of this WordPress Podcast plugin is that you can change the colour and style of the audio player.
You can match the player with your website's theme. The episodes are added to pages and posts with just a button. It allows you to display all the podcast episodes in a playlist or single episode on all pages.
In the end, we hope this guide answers your question of how to start your own podcast. What gear are you using for podcasting? Let us know in the comments below.
Fusebox Key features:
Multi-platform support
Advanced Customization Options
Social Sharing
Email Capturing for generating leads
Responsive Design
Unlimited shows
Speed Control
We have provided you with some best WordPress Podcast plugins, now for a better experience, Which Podcast directory you should consider:
Some best available Podcast directories available
You have gone through detailed information about how to start a WordPress Podcast. But to increase your visibility, you must be available on multiple platforms as well. Due to good marketing, you might have heard about Spotify and Apple podcasts a lot. But there are a lot of other best options are existing too.
Let us check out what are they:
Spotify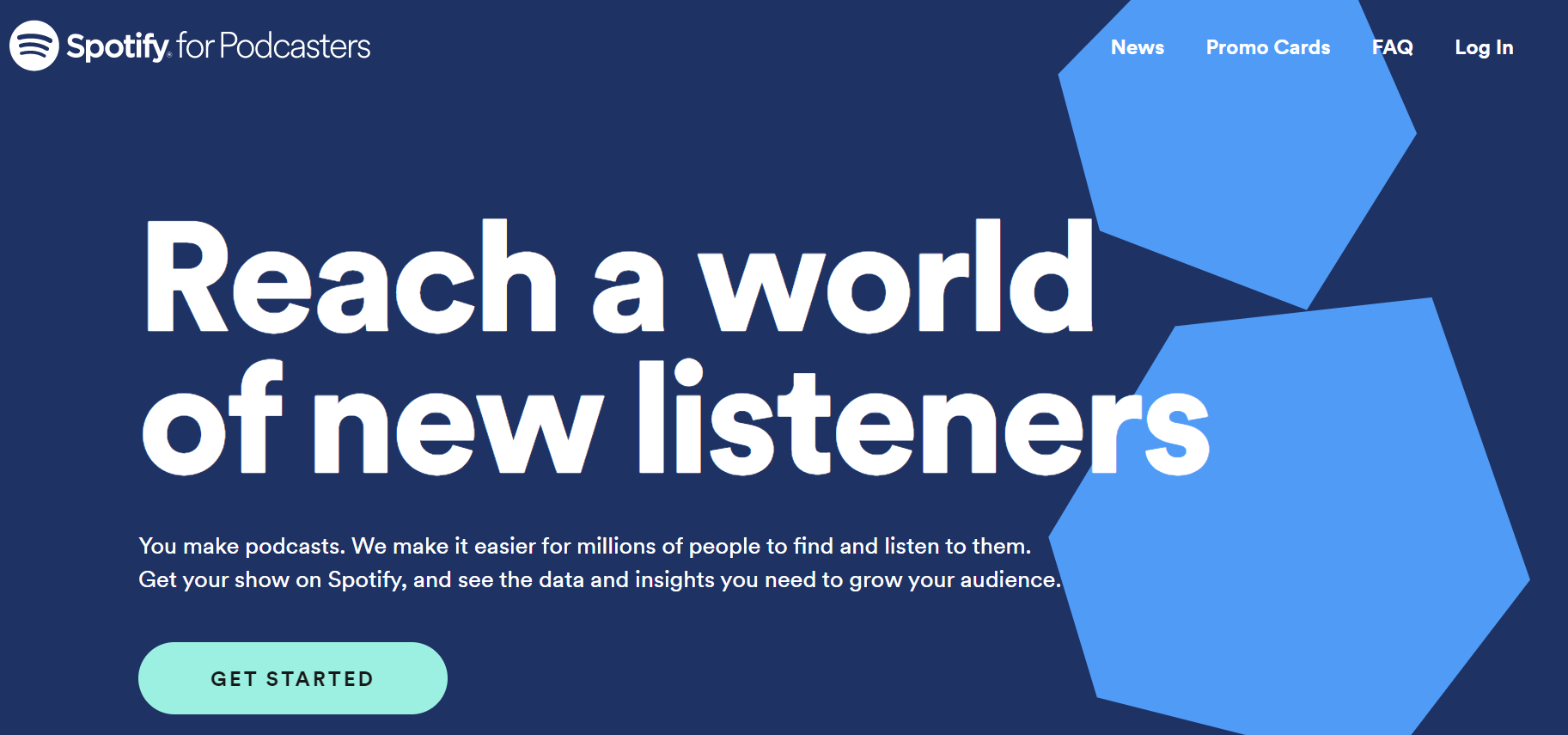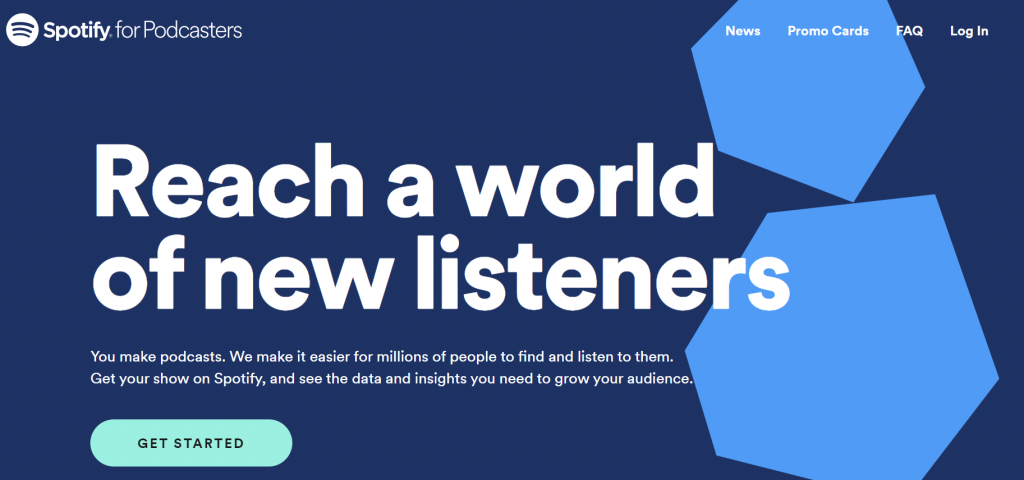 Spotify is one of the most popular media streaming platform, which has been recently acquired by anchor.fm. This added automation features, hence the user has not to submit RSS feed link manually.
To get started with , you need to first create an account. Proceeded by submitting RSS feed link , the whole process is quite similar to other directories as well.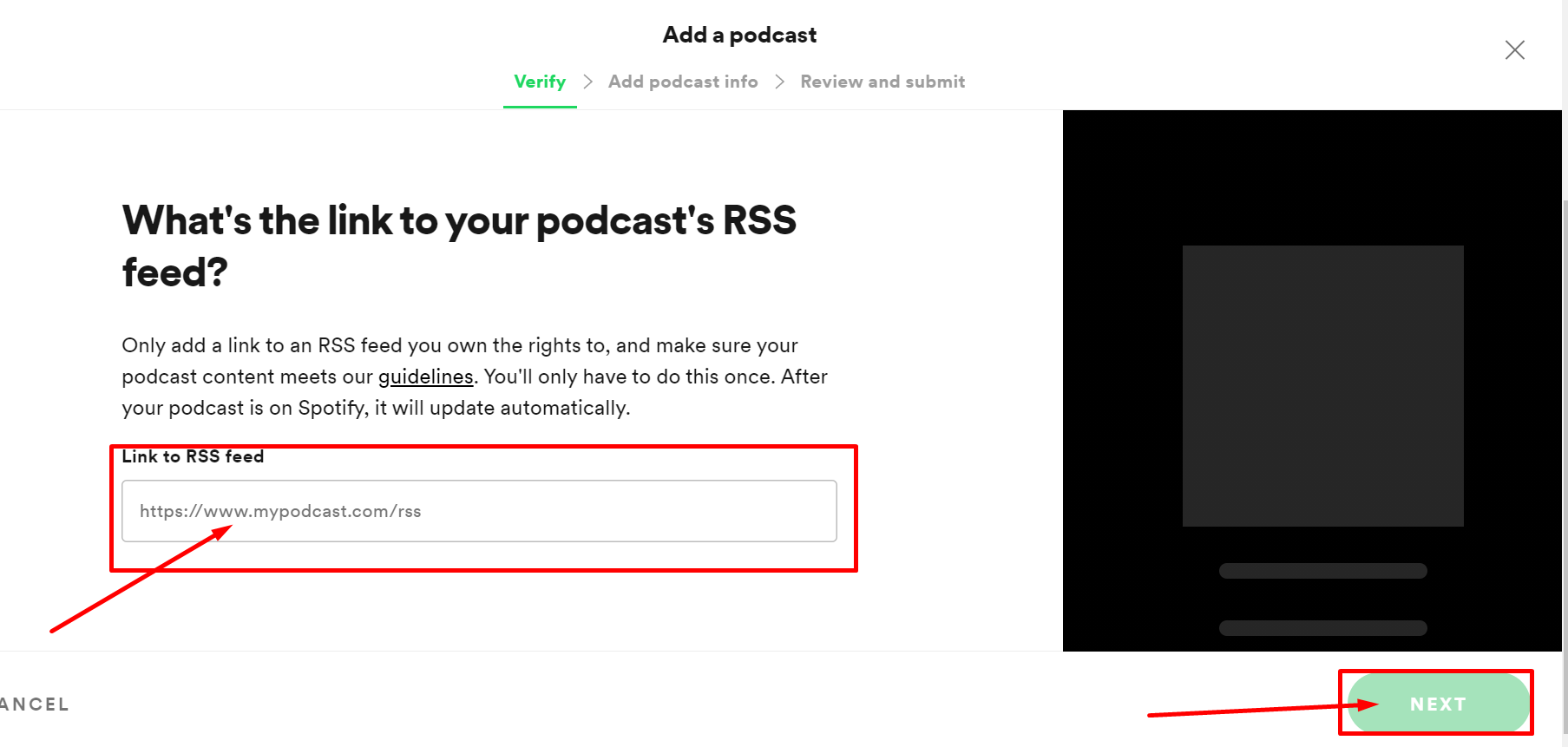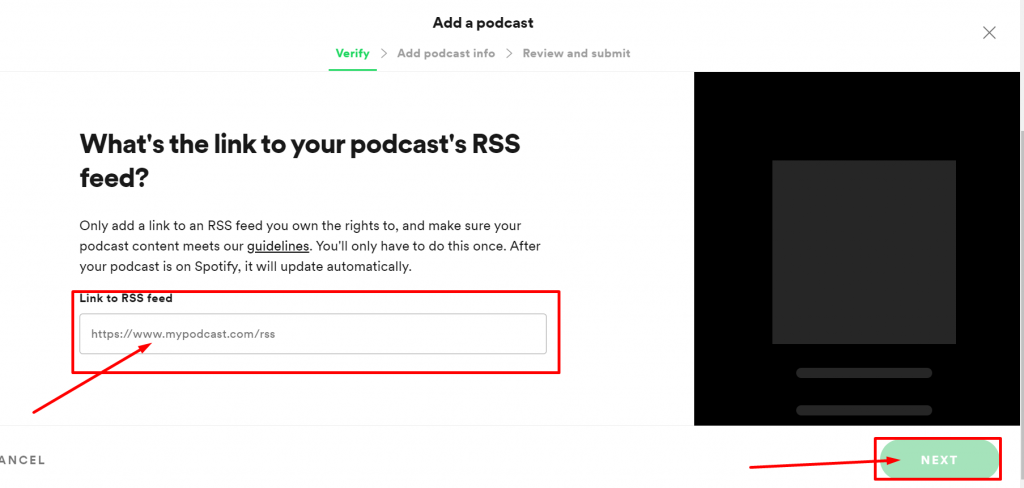 After you submitted, the RSS Feed link, the Spotify team will verify all the credentials and approve your content in couple of days.
Apple Podcast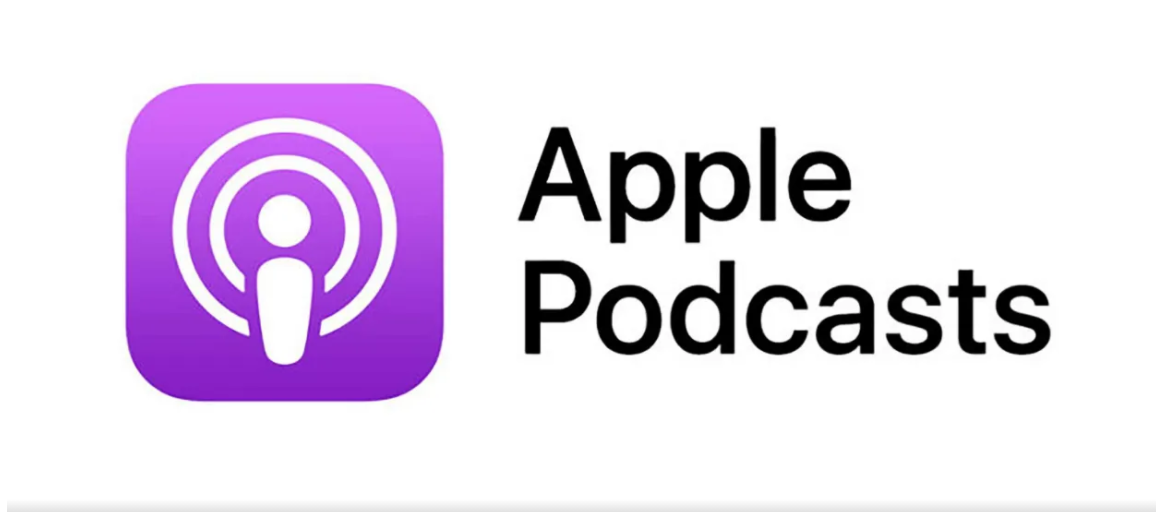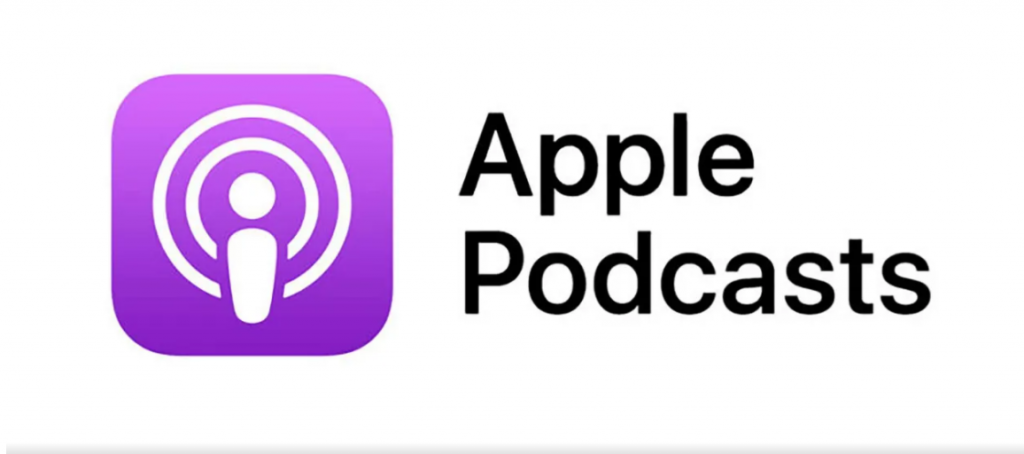 Apple has been multiplying its subscribers base at a storming rate. According to an article published by Fastcompany, by 2018 apple has topped Whooping 50 billion all-time downloads and streams and still growing.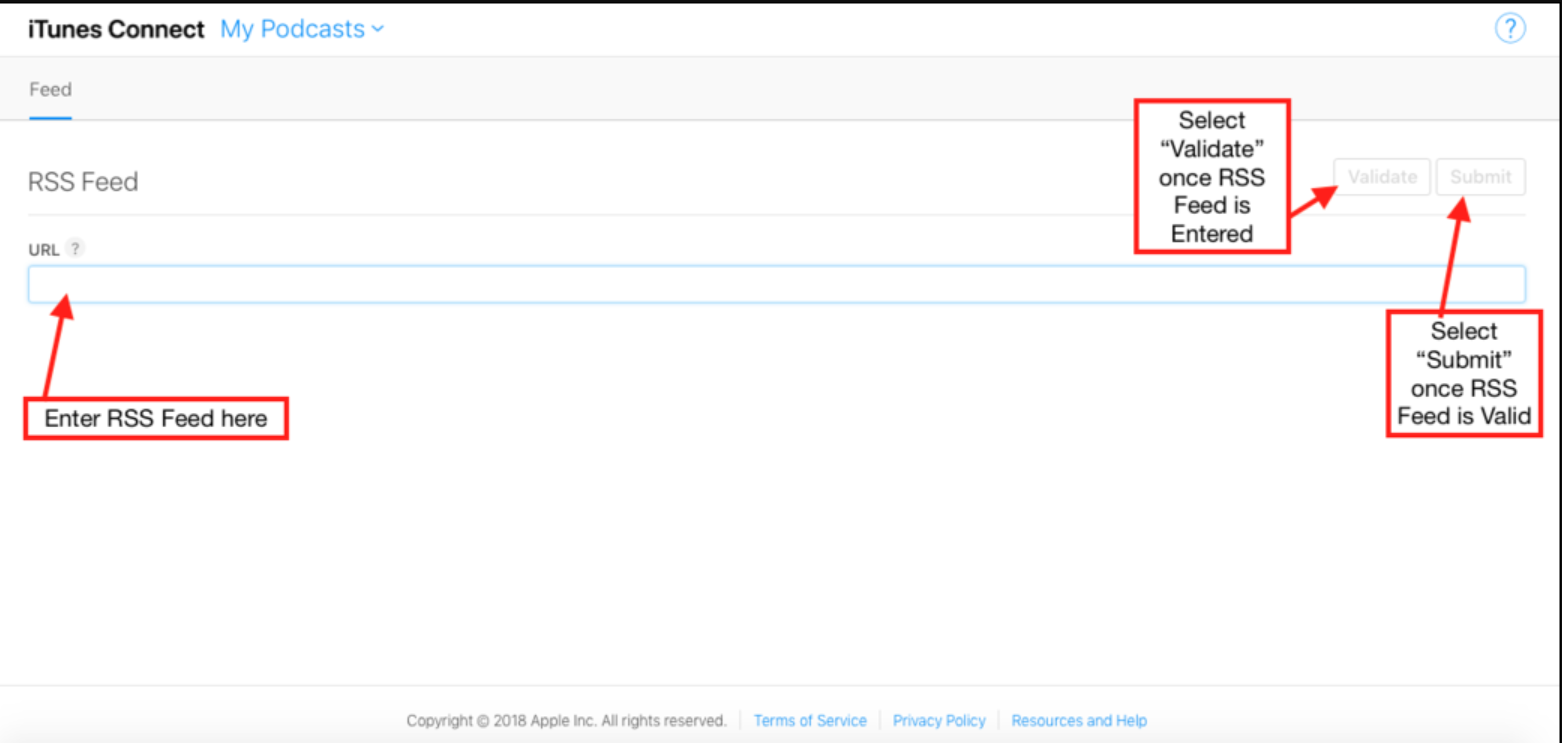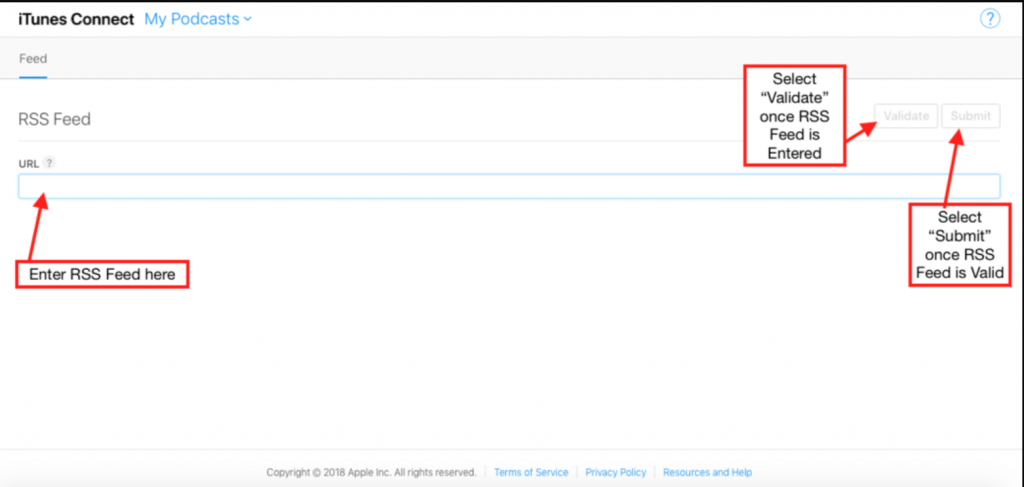 To get started with Apple podcast, you need an apple account and all the other process is quite simple like we have mentioned earlier in Spotify.
Google podcast


Google podcast or Google play is the best choice for android users. As the majority of the population uses android smartphones. Also while using Google services, it becomes a bonus point for podcasters to get high visibility in Google searches.
However, Both platforms can do stream podcasts, but it is highly recommended to submit your episodes on each platform. To get started with Google Play or Google podcast, you will require a google account.
The best thing is, if you already using Gmail, then you can directly start with a login through your Gmail account. But, before you begin please read the following guidelines.
Prerequisites for Google Podcasts
Your RSS feed must be accessible by Google. Your RSS feed cannot be blocked by login requirements, <itunes:block> tags, or anything else that would prevent Google from reading it. Therefore, custom feeds (sometimes called private feeds) are not eligible for Google Podcasts.
Your feed must have at least one episode.
Use a supported audio format for your episodes.
You must provide an image for your podcast.
You must follow the RSS guidelines for Google Podcasts. If you are using a podcast hosting service, they should handle this for you.
Do not mix HTTP and HTTPS URLs for your resources. If your content is served over mixed protocols, your listeners can have a bad playback experience in Chrome browsers as well as other playback devices. Bad experiences include popup warnings and blocked playback. Therefore, we recommend that your RSS feed, podcast homepage, and all audio files be served from HTTPS addresses.
To know a detailed get started instructions please click the link below:
The above, detailed instructions, will help you out to get start your own Google Podcast services.
Summary
In the above article, you have seen how WordPress Podcast can be one of the best and easiest method to start podcast shows.
While planning to get started your own podcast show. We highly recommend you to use a dedicated Podcasting Hosting service as well as WordPress Podcast Plugin. Choosing both services will help you cost cutting during long run. And the overall experience will be seamless.
Once, you are done with your WordPress podcast Website, do not forget to arrange all the episodes on leading Podcast directories as well as the lesser-known ones.
This is the only easy and most efficient method to get visibility on a higher scale. Do not let any stone unturned and try to make yourself discoverable.
If you are already running your podcast channel, please do share your experience with us. And if you found any we have missed mentioning, please share with us in the comment section below.

Frequently asked Questions
Is WordPress good for podcasting?
If you want an easy and streamline the process, then WordPress is one of the best platforms for podcasting. WordPress podcast offers a well-managed, smooth, easy setup and plugin integrations, that makes it a better way to podcast.
How do I add a podcast to my WordPress site?
There are many WordPress Podcast plugins are available on the WordPress directory. From where you can download Podcast Plugins as well as Podcast players. Just you have to install them separately and active on your WordPress dashboard.
Once you installed a podcast player, do the following steps:
1. Go to Appearance section of your WordPress dashboard > Widgets
2. In available widget section look out for Podcast player.
3. Drag the widget to any widget area.
4. Enter RSS reed URL in the specified area
5. Click on save button.
Do I need a website for a podcast?
Having a Website for Podcast is not compulsory. But it is highly recommended to have one. Because Podcast website, provide visibility on search engines, a hub for all the podcast Episodes, Increases subscriber list and do promotion. To start building your podcast website, look into WordPress hosting from WPOven today.