Fond of clothing, footwear, lifestyle, accessories, and makeup. Then Fashion blog is the right platform for you to share your creative ideas on new fashion trends and other Fashion activities. But the main concern arises "How to start a Fashion Blog".
For many people, the fashion industry seems quite a lucrative career opportunity, and why not? Many famous fashion bloggers are making millions and also it is their primary source of income. Similarly, you can also start your own fashion blog, no matter how big or small it is. Starting from a small step with time, patience and dedication have the potential to turn anything impossible into possible.
However, there are many CMS and Free blogging platforms are available, with the help of them anyone can start their own fashion blog in just simple steps. With the help of an expert's little guidance, the blog setup process turns out to be straightforward and smooth.
If you are looking for "How to start a fashion blog", this guide will take you through the right track to start your own Fashion blog easily. So, are you ready to dive into our comprehensive guide on "How to Start a Fashion Blog"? Let's get started!
How to start a Fashion Blog?
Starting from scratch to create a Fashion blog can be time taking and tedious for any individual, who is looking for "how to start a Fashion blog". In addition to that, lack of Knowledge about website design, Website traffic, Search engine functions, content creation, and generate income. All these, stuffs make it more difficut to another level.
But you do not need to worry, We at WPOven bring you an easy step-by-step process, following them one can easily learn and succeed to develop a full-fledged Fashion Blog like a pro.
All you need to follow these mentioned steps:
Research about Fashion Blog Niche
Decide a Blogging platform on which you would like to share content
Research and decide Domain Name
Select Hosting Service Provider
Setup your Website on WordPress
Choose a Website Theme
Create Content strategy
Marketing
Add Google AdSense
Research about Fashion blog Niche
To establish a solid foundation of any successful business, the only trick is to narrow your path and try to target and focus on a specific audience. It helps in creating appropriate content, that targets the right audiences and offers them the exact type of products, best deals and the right information, that they are looking for.
Narrowing your Fashion blog niche also helps in to create your brand name and increases the conversion rate.
How to choose a particular Fashion niche?
The fashion industry has a vast area for different types of niches, hence for a beginner, it might be a bit confusing to choose the best suitable niche for them. To make it a bit easier, the following common questions, that you must ask yourself to ease the niche selection process.
Ask yourself, Why you need to start a Fashion blog?
Most of the answers lie within the questions you ask. Similarly, it is better to ask yourself, why do you need to start a Fashion blog? Is that the love of fashion pushes you to start your own blog. Is there any particular thing about Fashion you like the most? Like doing stuff, such as projects, sharing some tips and tricks or you like to review on Latest fashion trends or like to review and sell online fashion products.
Whatever you like to do, be particular about your likes or interest. Once you have decided about the purpose of your blog and the contents you will push. You will have a clear path to follow without any distraction and help you out to decide about your Fashion blog niche.
What type of Audiences you are targeting?
Decide the demographic for your blog. Think who will be your target audience or who you would like to push content for. Do you want to target a specific gender, either men or women or both? Is it for a particular age group or you for a limited ethnic group?
Narrowing your Fashion niche further with demo graphs, help you to make it easier to target audiences and more conversations.
Which region or ethnics background audiences you want to target?
Fashion changes from region to region depending on their preferences and the different cultures they follow. The regional fashion industries being regulated by the culture and ethnicity of that particular region. So, as a fashion blogger, you always need to take note of culture and regional differences, what the fashion they follow and try to target the audience according to them.
Explore the different type of Fashion blog niches
Creative fields like the Fashion industry has very wide areas to explore, hence there are different type of fashion blog niches have been emerged. So, It is essential for you to know all these different types of fashion blogs to get a better idea for your own blog. Let us check out some of the most popular ones, you can consider.
Common fashion blogs – This fashion blog niche covers all types of fashion trends without any foundation or limitation. You can create content based on whatever you feel like about Fashion. Whether it is about Airport looks tips, beauty tips and tricks, Runway trends, News related to the fashion industry and many more.
Personal style blogs – If you are a fashion blogger or stylist and have great taste in Fashion trends, then you can run your own personal style blogs and create content on the basis of your own ideas, suggestions and creativity. You can teach your audience, fashion etiquette, fashion mantra, how you prefer to style yourself, etc.
Celebrity fashion blogs – If you are fond of celebrity fashion sense, and their dress-up style, then a celebrity fashion blog is the best niche for you. You can cover all the hot red carpet celebrity looks, celebrity airport looks, Celebrity beauty tips and much more content related to celebrity fashion.
Street style-inspired fashion Blogs – Fashion Inspired by common people wearing in your community or on the streets? There is no limitation to fashion, whether you are working in an office or going to a grocery store, What street people follow fashion trends on different occasions. You can write about what people on the street love to wear and what not to.
Fashion trends News – These blogs are meant for all fashion-related news, such as the latest costume collection of a designer, Interviews, Fashion shows, runway gossips and other fashion-related news that is worth mentioning.
Fashion shopping blogs – If your main goal is to generate a good income from Fashion blogs, the best solution is to sell trending fashionable products directly from your blog online. Fashion bloggers often offer their readers to purchase some fashion-related products and services. Some successful fashion bloggers even write compelling content to generate more income by increasing product selling rates.
Choose the best suitable blogging Platform
After extensive research on different fashion blog niches, and picking up the most suitable one, it is time to choose the best and suitable blog platform to share your valuable content. A platform on which you can easily deliver your content without any limitations and boundaries.
Today, due to the rise in popularity of blogging, there are various blogging platforms have been emerged. But each one of them has its own limitations and flexibility. Some of them are paid and some of them are absolutely Free. For example, there are some free blogging platforms such as WordPress.com, Weebly, Medium, etc. from where you can start without spending a single penny.
But the main concern is to which one you should choose and which will be best for the long run.
The free blogging platforms have their own boundaries, which restricts the users to use only features they provide. Limits the growth of your blog and also reduces the chances to generate income. Similarly, there are many more other limitations which we will gonna discuss later in this section.
Blogging through Instagram
No doubt, Instagram is one of the most popular platforms for sharing content online. But the problem is, you do not have control over it. You are abiding by the terms and conditions of Instagram. Although you can increase your followers and have a huge Fanbase if you violate any of their policies, it might result in account deactivation or in severe conditions account may be deleted, without any further notice.
However, We are not discouraging or asking you to not use Instagram for blogging. Instead, Instagram will help you to create a huge follower base, and with the help of it, you can draw traffic to your own Blogging website. Where you have all the admin powers and controls to run your blog for coming years.
To make this happen, first of all, you need to build your own fashion blog without relying on any free services. The best solution is to buy your own domain and hosting services. You will have all the control and ownership of that blog, without any limitations.
But, the main question arises: how can anyone create static websites without prior knowledge of any hardcore doing or programming languages.
WordPress as Blogging platform
Here, WordPress comes to the rescue. It is an open-source platform that has a powerful and friendly website builder, that helps you to build your website easily without any restrictions. But one thing you should not be confused about, WordPress has two platforms, WordPress.org and WordPress.com. Both are two different platforms for different purposes.
WordPress.com is a free blogging platform. Where you can start your own blog absolutely free. They keep provide automatic backups of the website and bring security updates regularly. You do not rely on third-party apps. But there are certain limitations and restrictions are there in terms of flexibility and features. That will constrain a blog in terms of its future growth. The most common restrictions that come with these Free blogging services are:
A limited number of plugin support.
Limited choice of themes.
Unable to access source codes.
Unable to remove ads on web pages.
No custom Domain name
However, WordPress.org is completely the opposite of WordPress.com. Through the help of which, we will going to show you "how to start a Fashion blog" with a complete setup process.
WordPress.org is a CMS tool that helps you to build a website, manage content and update it regularly. These tools are best suitable for users who do not have any coding knowledge or do not like to spend time designing and coding each web page. They are so handy, you can start your blog with the help of templates directly.
Choose your domain Name
After selecting a suitable Blogging platform, the next task is to choose or select a domain name for your Website. It is so important because a domain name is the address of your website and also it helps to create a brand of yours. You cannot choose any random domain name simple. It should be easy to remember, catchy and sounds around your blog niche. For example, if your blog niche is Food, you cannot simply choose xyz.com but myfood.com would be suitable. If nothing comes to your mind, you can also use your name as a domain name. That helps you in making a personal brand.
For a best domain name you must check these qualities to get a better visibility online.
Do a keyword research around your niche for better domain name ideas.
If possible choose the domain name of keywords that have high search volumes and less competition.
The name should be short, easy to spell and trendy.
Always give priority to the ".com" domain.
Make it as short, if possible make it to one word
The whole buying and registering of a domain name will depend on availability and seller. But on average, it will cost you around $10- $20 per year.
Choose Web Hosting- WPOven make it easy!
After registering your Domain name, now it is time to buy a Web hosting service. It can be understood as, If the domain name is your home address, then the Web hosting is the home you are living in, where you host your all website contents.
These hosting providers are one of those, who have the power to make your website accessible for users. However, there are a number of web hosting services available now. But the main concern is to choose the right one.
Without second thought WPOven is one of the best Web hosting service providers that you can trust upon. We have servers and data centers with dedicated data centers around the World that keep your blog connected to the global internet users all the time.
Some of the key Features of WPOven are :
24/7 customer support
You can choose a Datacenter from our 15 locations around the world.
Can host unlimited websites
Provides Staging platform and easy to Sync
We offer a Dedicated Cloud with SSD Storage.
Complete Security
And Plans starting at $16.61 per month. It is one of the lowest and best plans for anyone who likes to start their WordPress blog.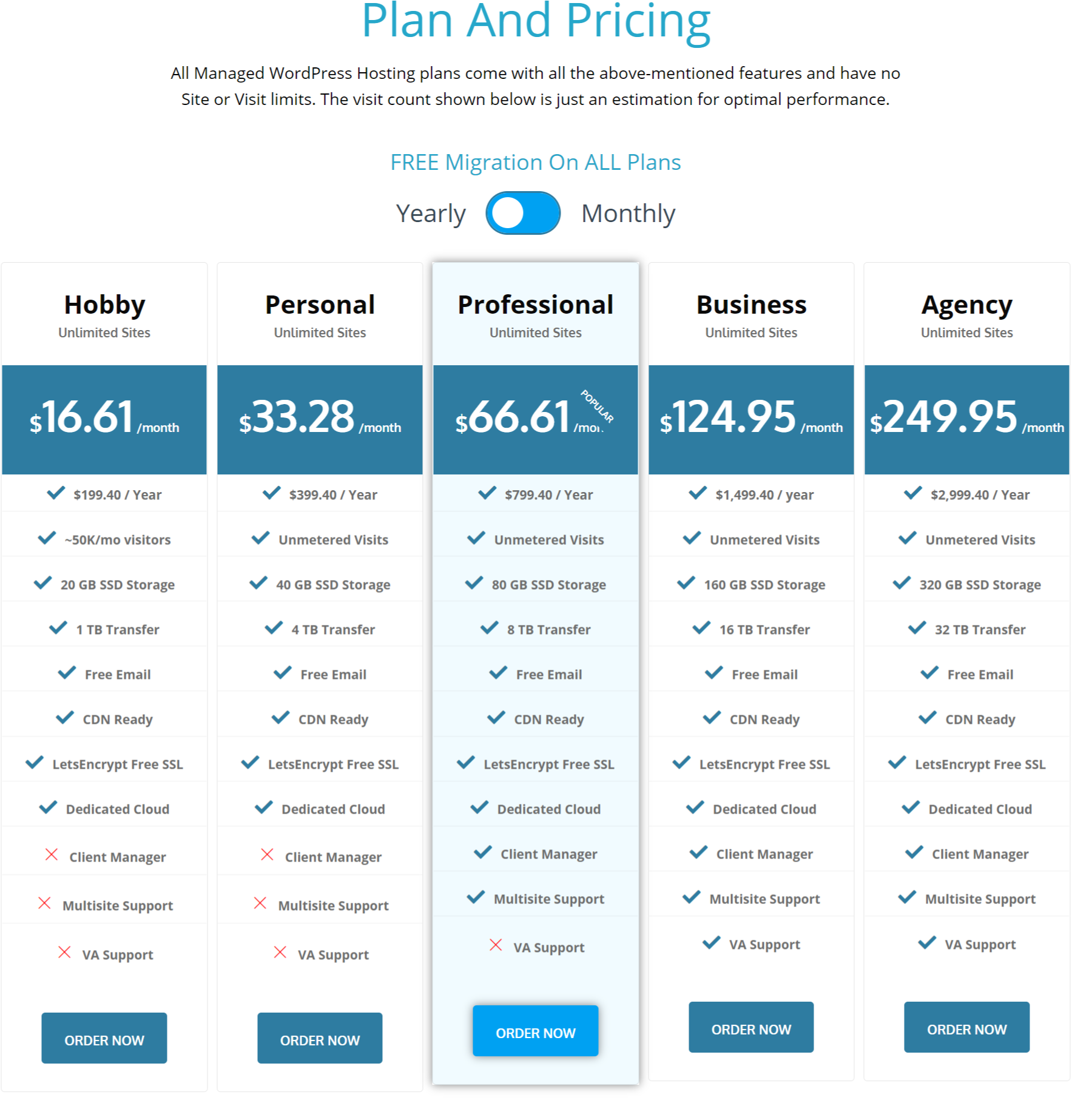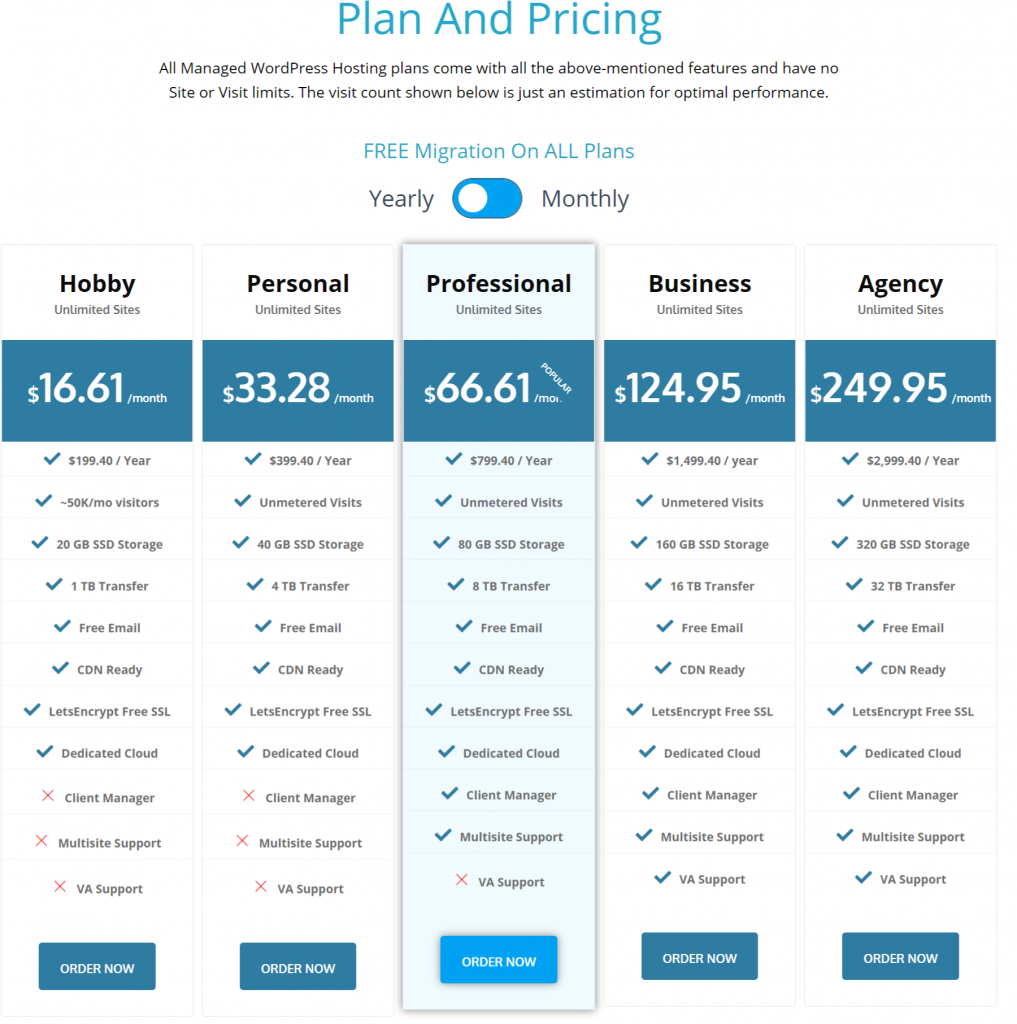 Setup your Website on WordPress
Once you have selected your suitable WPOven web hosting plan and bought it. The next thing is to do the setup and start your WordPress Fashion blog. But, before hopping into direct website setup, the first thing you need to learn how to set up your WordPress on your web hosting. For your convenience, we brought you a step by step process which is mentioned below:
In the First step of setup, You need to go WPOven homepage.
Sign Up a Free account on WPOven.com
In the first step of website setup, you need to visit WPOven Homepage, and click on the Sign UP button as shown in the picture below:
Once, you click on Sign Up button a Sign UP form appear asking your important credentials such as:
Your name
Email address
Password
Check the terms and conditions button and hit the Sign UP Now button to complete registration. An verification email will be sent to your registered email id. You have to open your email box and click on the verification email to verify it.
After you done with your verification, it is time to choose your hosting plan. Go to back to the Homepage and click on "Plans And Features" button as shown in the image.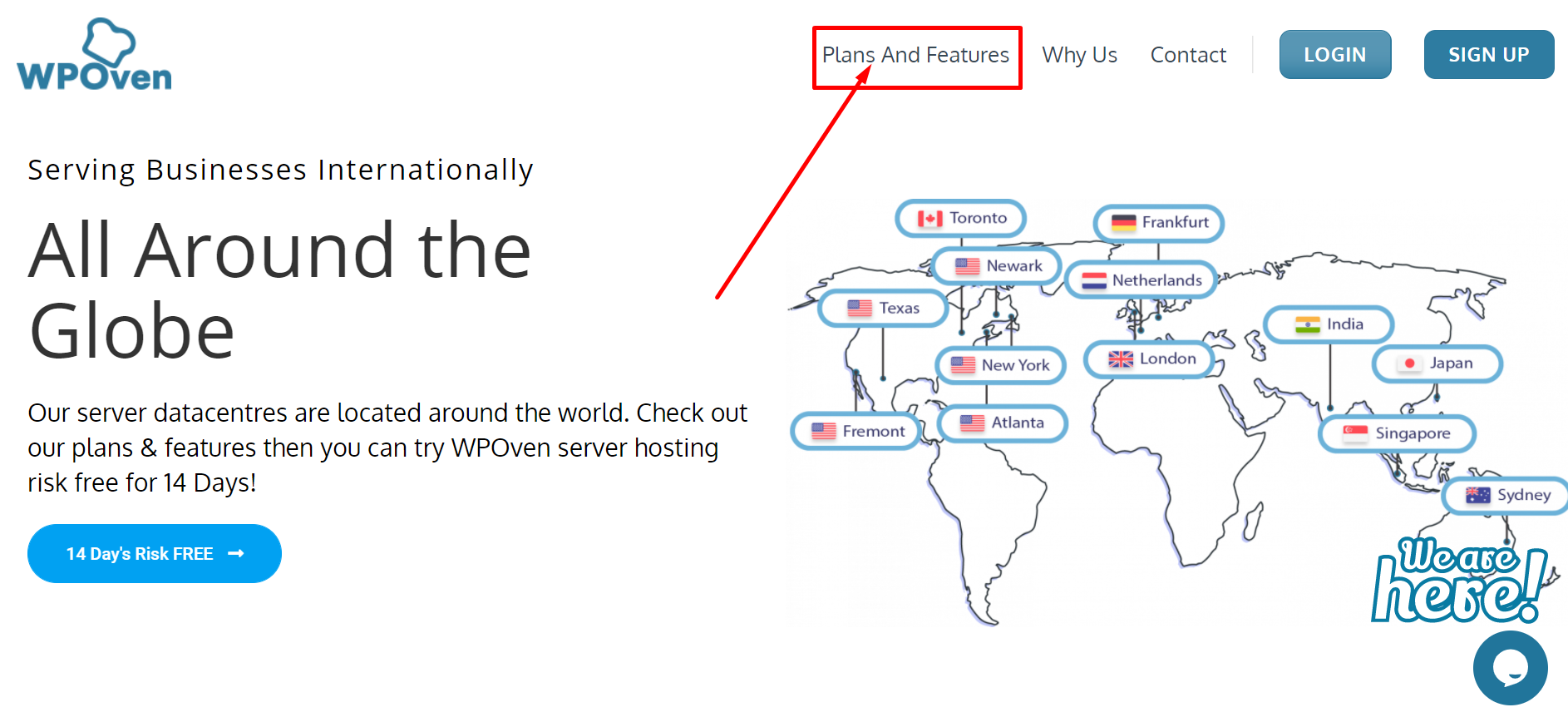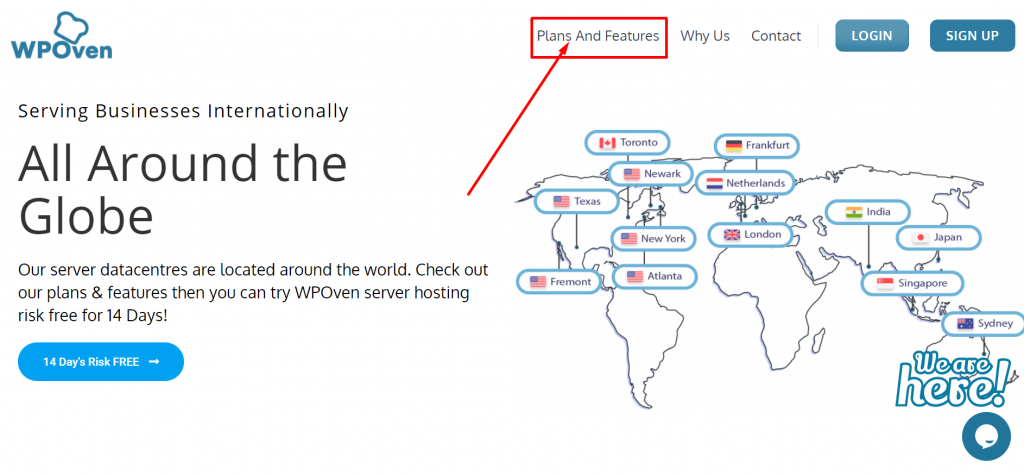 A page with the complete price and plans will show up. Check carefully and look at the features that match your requirement and budget. To pick an appropriate beginner-friendly plan, we will highly recommend you to go for our basic plan. Once you start getting good traffic, you can move on to higher plans. At WPOven, we take care of every client's needs, hence we have plans for everybody, from clients who like to have a site for hobby or for running an Agency or business.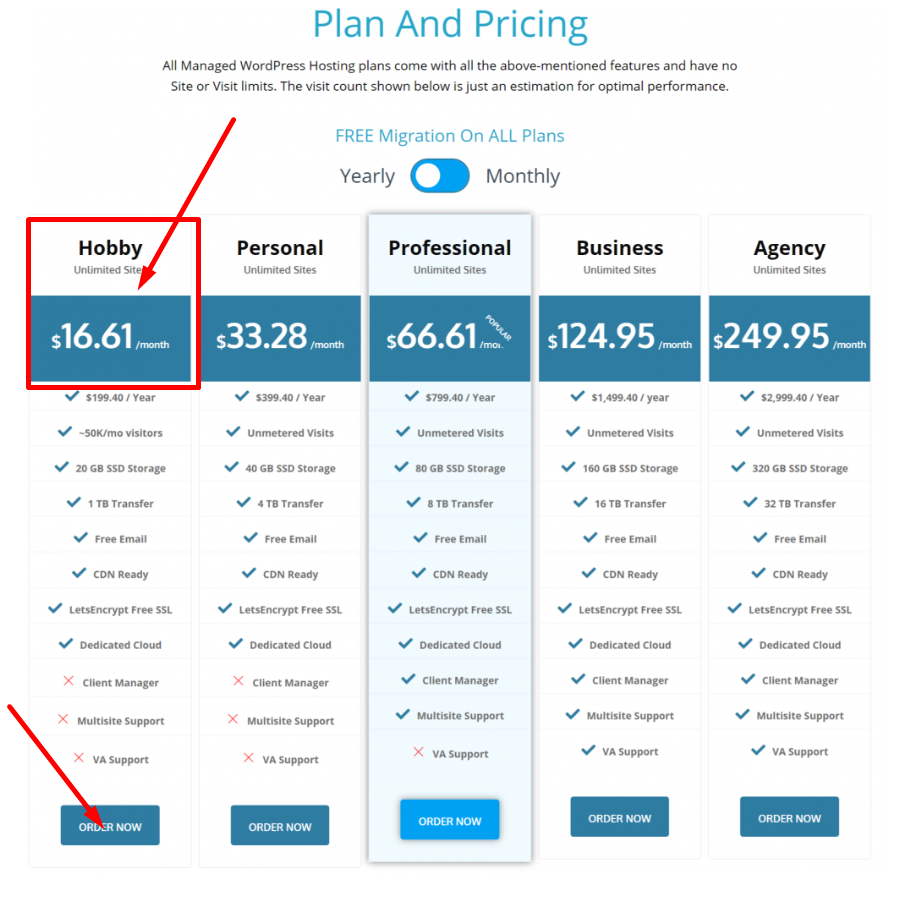 The basic at WPOven starts at $16.67 a month, especially focuses on users who want a website as their hobby or newbies who were for How to start a WordPressl blog just like you. To continue with the process, click on the "Order now" button and complete the payment.
How to add your Domain to WPOven
After you are finished with purchasing Web hosting services, Now the time has come to Set up your Domain Name on your Web host. Simply look at the "How To Add Your Domains to WPOven" tutorial video. It will guide with complete setup process.
Choose a suitable theme for your Fashion Blog
If you are thinking, you are ready to go and start blogging after setting up WordPress on your Host, then you are wrong. There are certainly more things that you need to set up before pushing your fashion content online. It is like decorating or touching up before the final showdown.
Similarly, to make your Fashion blog look more attractive and featureful, you need to select a suitable blog theme that matches your Fashion blog niche. And you will like it to be given the right impression to your readers whenever they visit.
There are various WordPress themes are available online, some of them are available free and some of them are paid. There are thousands of themes are available in the WordPress directory. But if you are not satisfied enough, you can go for one of the most popular WordPress theme providers " ThemeForest". which has various themes available for Fashion blogs/websites.
In the beginning, if you find this quite confusing and do not want to go for paid themes. You can choose a free theme and if everything goes well, you have an option to change it later on.
Once you have decided on your theme, you can download it either from the theme forest website or use the default theme present on the WordPress dashboard.
Installing and setting up a new WordPress theme is fun and fairly straightforward.
You just need to log in to your WordPress admin page. On the Dashboard, hover over the Appearance menu button which is located on the left sidebar. Click on Themes, then select either any one of the installed themes or Upload a new one by clicking on the Add New button.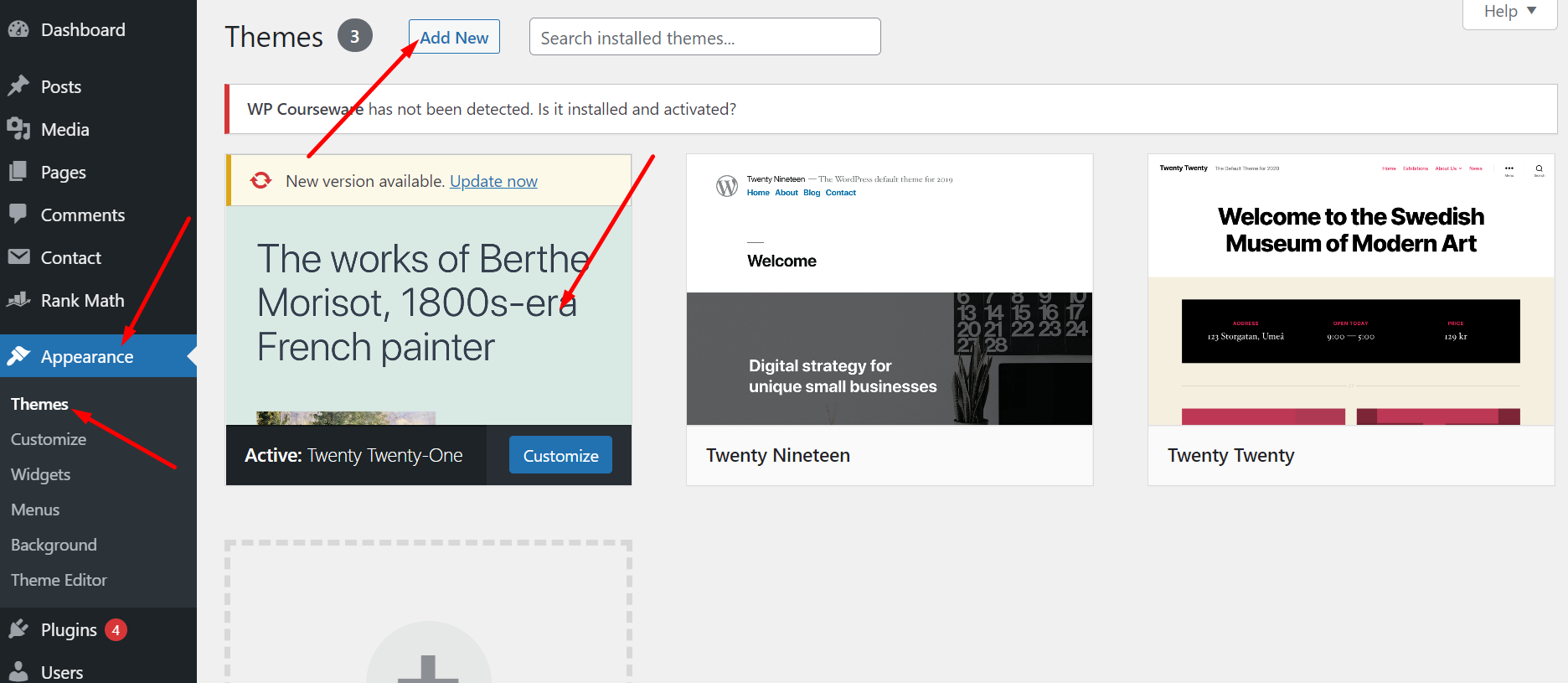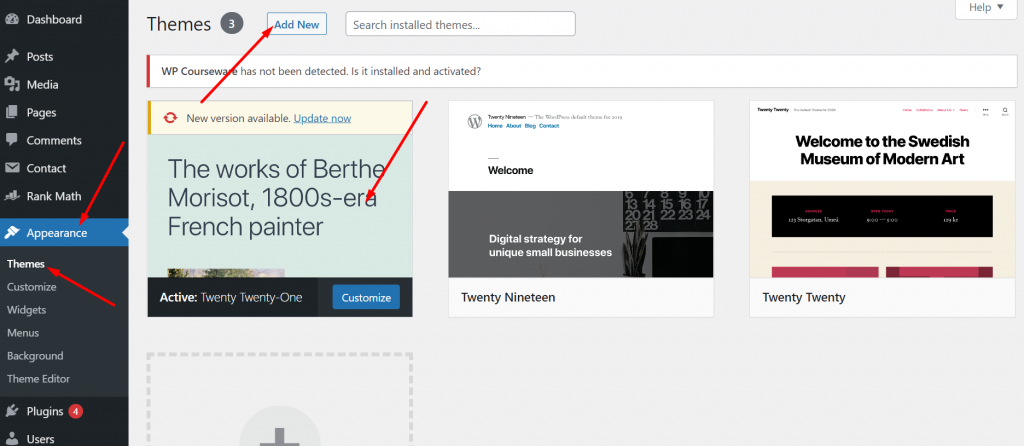 Some important points to remember while picking up your Fashion blog theme:
Read carefully about all the features and functionalities in the theme description.
If possible check out the demo and see if it work for you or not.
Do not forget to see User reviews and ratings.
Preview or Demo will let you visualize how your fashion blog would look like in real time. And even there are some themes that have different responsive design and customizations.
For your reference , there are some list of most trending Fashion blog themes on WordPress.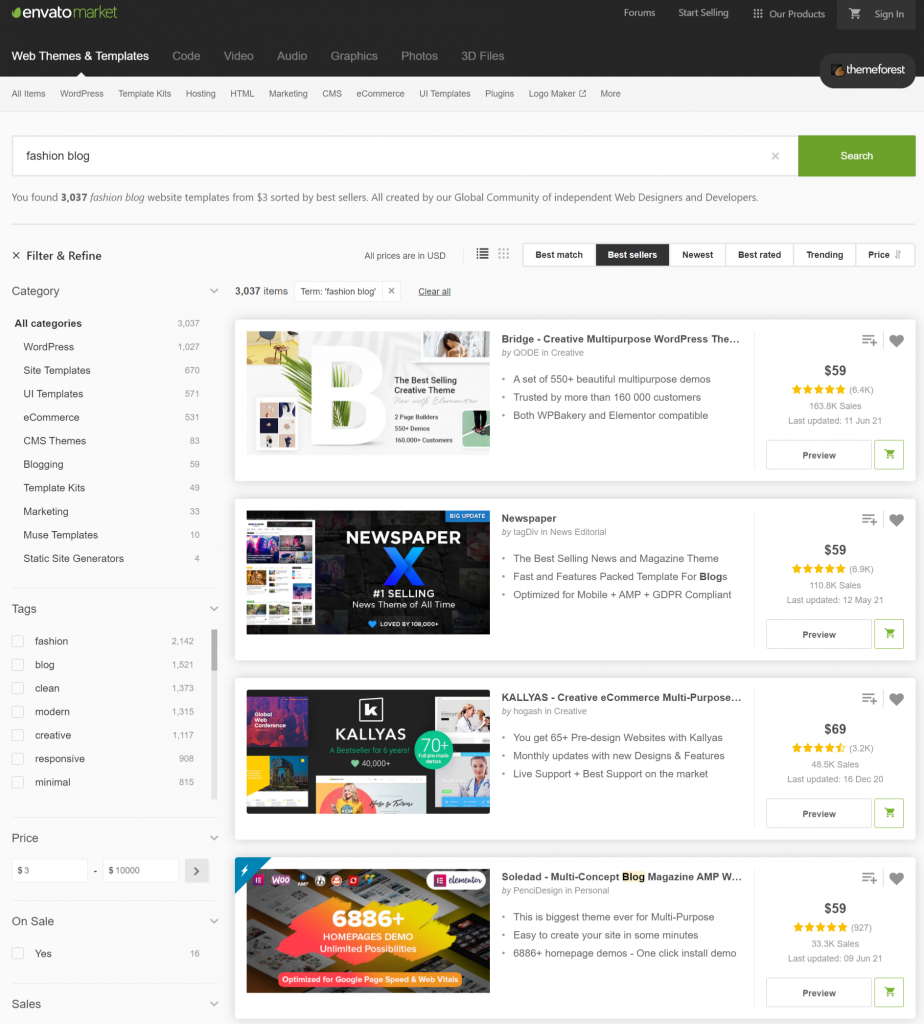 Add Essential Plugins
The next thing on the to-do list for learning how to start a fashion blog is to add essential plugins. Plugins are WordPress tools, with the help of them you can enhance the functionality and add some more essential features, that WordPress does not comes with initially.
Hence we have provided a list of most essential plugins, that you will be required for your fashion blog.
Security plugin
Automatic Backup Plugin
Rank Math SEO
Photo Gallery plugin
Ecommerce plugin
Social media sharing
Image Optimization
Some of the above plugins are essential, that will help you to run your blog without any hindrance. Which is an important thing in terms of search engine Raking. However, not all the plugins are essential, some of them are optional too.
Security plugins help to ensure the security of your blog from spam and hacker attacks. Once your blog is showing high visibility and getting high traffic, the hackers will attack your blog with spam or malware, to turn it down. There are many free Security plugins are available in the WordPress directory to download. Askimet is one of the most popular ones you can try.
Automatic Backup Plugins helps to take complete backups of your blog automatically. In case of the site is being hacked or data loss, you can easily recover your blog from these backups in meantime.
Rank Math is an SEO plugin, that makes it easy for writers to optimize their content with built-in suggestions based on widely accepted best practices.
Photo Gallery Plugins are used to showcase vivid image slideshows or in different formats on the blog. It is completely optional to use and depending upon user to user.
Ecommerce Plugins are used to sell products online. If you are planning to sell products or services from your blog to your readers, these plugins will help you to create a full functional ecommerce store in just easy steps.
Social media sharing plugins are used to give your readers an option to share your content on their social media accounts. If you want your content to be shared and get viral, you must install it.
Image optimization plugins have the potential to improve the speed and performance of your blog or website. It optimizes the images on the blog and reduces the image loading time. But to get a completely smooth performance, the Image optimization plugin is not enough, a fast hosting service provider is also required.
If finding a hosting provider is still on your "how to start a fashion blog" to-do list, consider looking for WPOven that is already optimized for speed.
Create an effective Content Plan
Content is the foundation of each Website or Blog to improve visibility and website traffic. Thus, making a powerful Content Plan and executing it on your site is another milestone you need to cover from time to time. Since Consistency is the thing that the clients always looking for.
If you are unable to push content regularly or left updating your old blogs, it will reflect a bad impression on your readers. They may believe that your fashion blog is no longer live or the author is no longer interested.
To keep your blog traffic up and retain your readers, it is better to make a complete content Plan on google sheets in advance and schedule pushing content weekly.
Let us check what strategy you must follow to implement this.
Competitor Analysis
One of the simplest and best techniques to implement a complete content plan is to spying on Competitors. Check what your competitors are doing, see what type of content they are pushing, Read their content to understand their structure and try to implement it in your strategy. But, do not copy their strategy, just analyze it, get ins[pired and implement it in your content plan.
Find out the Target Audiences, Trending Topics and Audience demands
Google Analytics is an outstanding free tool from google as compared to other free tools available. With the help of this tool, it becomes easier to determine your blog performance, web traffic analysis and what type of content your readers like the most. Or on the other hand.
Similarly, you can also analyze through the comment section of your posts. what the readers would like to talk about? What they are interested in? If possible you can also implement a Q/A session on your blog or Make a survey asking readers about what topics they are interested in. Inspired through their comments or Questions they have created content accordingly.

For better ideas, you can also take help from Google trends, to find out the most trending topics.
How to make Your content look appealing?
The long textual content may not look engaging and readers will promptly get exhausted and will leave unread completely. From the SEO point of view, this is called poor user retention. Lower the client retention, Poor will be the site rankings on SERPs.
To well optimize your content for reader-friendly and make it more engaging. Break textual content into small paragraphs and add some media such as vivid pictures, videos, GIFs, and emojis. These media help in visualizing and releases a sense of Fun to read the content.
Let us find out what you can do more with it to make to brush up on your content.
Enhance your Photography Skills
For figuring out how to start a Fashion blog, one is normally expected to have some photography skills. If not practice and learn. Pictures are the most fundamental part of any content that is highly required in any creative field. Thus, in a Fashion blog, to make your content look attractive and engaging, you will require high-quality images. The fashion industry is all about glam and stardom, so the quality of the picture that you will use in your Blog should have the capability to show that spark.
However, taking high-quality pictures is not an easy task. Setting up for a perfect shot requires some technical knowledge and photography basics. In addition to that, hiring a professional photographer would not sound good for your budget. The only solution left for a beginner is to first learn from the basics and click photographs on their own.
Add images and Videos
Contents rich in Photographs and videos, look more intriguing for your audiences. Visuals are what make any blog look more appealing and fun to read, especially for the creative niche.
Hence, for the fashion blog, you must include high-quality pictures or videos that are related to Fashion. Make sure the videos or images must be original and the quality should not be compromised. You do not want your audience to have a bad experience while watching your videos. Similarly, the images you add or any media must be authentic, clean and clear.
One thing you must note while editing media that, you must avoid altering the pictures or videos. Just try to refine, adjust the light but do not over-saturate it or add pop-up colours. Over editing can completely change the picture and the content will look fake.
How to make your Content Search Engine Optimized?
After you have done your complete content planning and scheduling. It is now an ideal opportunity to figure out how to make a well Search Engine Optimized Content for your Fashion Blog?
You may have thought, contributing to a blog is about composing printed content and simply distribute it on the web. However, things will not work like that, especially to get good ranks in SERPs. It is difficult for search engines to understand the context of content unless or until you have provided some extra data or information to it.
To make search engines easy to understand and rank your website, you need to optimize it as per the search engine guidelines. Since there are no official guidelines are released yet. But some SEO plugins can help you out through this.
One of the widely used and trusted SEO plugins is Rank Math. It can help you to optimize your content as per the latest acceptable guidelines. However, it is simply not adequate for content to be fully optimized. In addition to it, there are certain other optimization techniques also required to get a better rank.
Use Long tail keywords
Key phrases or long-tail keywords are combinations of two or more words with the most number of searches in search engines. They actually help in adding context to the content, Hence it is highly preferable to use a long-tail keyword rather than a single one.
It is because, if the users are searching with a single keyword on search engines, there is less chance that your blog will appear on Top ranks of SERP. It is because, for a single keyword, there are more than thousands of blogs try their best to outrank each other and the level of competition is high. Hence it will be difficult for search engines to rank your blog for the most competitive keyword.
So, to refine search results and getting better visibility, your content must combine long-tail keywords as well as single ones. It will help search engines to understand better and provide a better ranking in the SERPs. The more information or relevant keyword you use the more relevant content will be targeted to your visitors.
Create blog highly Responsive
Smartphones are the future, and the dependency of users on smartphones has drastically increased the consumption of content online. According to a survey, it has been found that more than 50% of all internet users, use their smartphones with different resolutions for browsing and read content online.
Hence, it becomes essential for bloggers or website owners to create Blogs and content well optimized and responsive on all screen sizes. Whether, it is for desktop, laptop, tablet or smartphones. It is so crucial that Google has taken it as a parameter to determine SERP rankings.
If you are unable to optimize your content for various devices, and simply post on your blog. There are high chances that your blog will not get better ranks and even the readers will find it difficult to read your content.
Search Engines love Rich and long content
Although, Google does not disclose their algorithm for search engine rankings. But it has been seen that they prefer contents that have higher word lengths, has better rankings. But it is not always the case, the ranking factor depends on various other parameters, and sometimes you can see a short blog gets better rankings than the longer one.
One thing you must keep in mind that, along with other essential ranking factors, word count is a plus point for getting a better search rank. And it is always recommended, that a blog must be more than 2000 words. The longer the content, the higher the keyword density and the higher the organic reach.
Pushing your Content and Promoting it
Till now, we have covered all the website technicalities, design, features and Content guidelines. But the last step in our to do list of "How to start a Fashion blog" is Pushing the content and start promoting your blog.
Now you have a Fashion platform(blog) ready to show what you have got. You have your runway to walk over it and show your talent. So what are you waiting for then? Start writing the most appealing and compelling content for your blog that matches with your readers' likes and marks your higher position in your niche.
But, for a beginner, it will take time to reach your content to the right audiences. They even do not have any idea about your Blog's existence. So, it is better to start promoting on various platforms and create awareness among them.
Promoting your Fashion Blogs
To create awareness, promoting your fashion blog is a simple and easy process. Let us check out what things you need to do to promote your Fashion Blogs.
First of all, the easiest and the most common one is using Social media Platforms. There are many social media platforms are available now with a huge user base. Hence, these platforms are incredibly best fit for creating your Brand Awareness. Whether it is Twitter, Facebook, Instagram, Youtube or Pinterest.
Sharing your content on these social media platforms helps to spread your brand awareness on a large scale. It also helps to build a community where you can increase your followers and create your Fanbase. Instagram is the best suitable platform to increase the number of followers and you can target them to visit your blog.
But, you cannot simply ignore Facebook and Pinterest, these two platforms are the most visually-oriented platforms and hence they have their own importance.
So you must be thinking of, how you can do it? Don't worry follow these simple tips mentioned below:
Use CTA or call to action buttons, Use eye-catching captions and relevant hashtags on your Instagram posts.
Use the content link in your bio and Post images on Instagram relevant to it.
Once you have posted images or content on any social media platform, do not forget to engage with the audience.
If possible do Paid marketing to boost your visibility
Initially, your post won't appear to the majority of the audiences, and for getting organic results, it will take some time. But paid marketing can help you out to expand your post visibility to a larger scale quickly. Nowadays, in most of the social media platforms, they provide an option to boost your post.
You just need to:
Select the most popular post you want to reach maximum audiences.
Click on the Boost option
Select demography
Select Budget up to which you can pay and time for the campaign.
Once you have started boosting your most popular post, it will reach to a wider audience and shows quick results.
Collaboration with Social Media influencers
Choose a social media influence from the same niche and has a higher number of followers. These Influencers have the right platform to target the right audience, which will help your brand exposure.
You can become their loyal follower or Fan and keep interacting with them, give suggestions and try to engage with them in the comment section. Once you become recognized, the influencer will definitely support you. Even, in certain conditions, you can negotiate with them about your Blog promotions and ask them to be your brand ambassador.
How to generate income from your Fashion Blog?
After completing all the above steps, the last thing any blogger will look for is " How they can earn money from it? . After all, you are putting so much effort into it, you can make it your full-time business too.
There are various ways by which you can earn money through Fashion blogs, let us check out what are they:
Sell online Fashion Products or Services
Fashion Products and services are always considered to be expensive and luxurious ones, hence, they can generate a high revenue as well. If everything goes well and your blog stands in a great position.
For selling Fashion products online and services, here, eCommerce plugins such as Woocommerce come to use. You can create an online store and list all the fashion products on the blog. Even you can become an online Fashion consultant and offer your services.
Paid posts or Sponsored Contents
Once, your blog starts gaining popularity and becomes high authority website. Other low authority websites will approach you for sponsored content or paid partnership. Simply you need to create content, that promotes their brand/product or services and post on your blog. In return, they will pay you with some money for that. This sponsored content not just helps in promotion but also builds healthy relationships with other brands.
Paid Influencer Marketing
Social media influencers earn their money by promoting other brands on their channels. The brands will approach the influencers to promote their product or services on their social media accounts and in return they pay them.
Instagram is most famous for Influencer Marketing, wherewith a huge follower base. You can earn by promoting a single post on your account.
Get paid from YouTube
With the high number of users, One of the most popular video consumption media is YouTube. And hence it makes it the best choice for any blogger to increase their followers and divert them to their blog. You just need to create an account just like other social media platforms and start to upload your Fashion or Blog niche-related Videos. Make sure the videos must be interesting, compelling and informative. The more creative you will be the more viewers would like to watch your content.
In addition to it, when your Youtube account start growing, you will start generating revenue from its YouTube Ads and many companies will contact you for the sponsorship.
Google Adsense
Google AdSense is the best option for generating passive income by selling out your blog space to advertisers. Google utilizes your Blog space to show only relevant ads with ad banners, GIFs or other ad Graphics. The ads are created and paid for by advertisers who want to promote their products. In this way, you can create a passive income out of it and also get good web traffic.
Earn through Commission (Affiliate Marketing)
Affiliate marketing or Earning through commission is another best source of income option, that you might be interested in. In this marketing strategy, bloggers try to convince their loyal readers to buy some sort of Fashion product, through their content and directly connecting their readers to the affiliate company. You will get a part of the profit or commission in return when a customer buys a product by clicking on the affiliate link.
Summary
Starting a Fashion blog without proper guidance and knowledge can be exhausting and tedious for any individual. However, in our complete guide on" How to start a Fashion blog", we tried to deliver you comprehensive material that will really help you to build your own Fashion blog.
In short, to start your own fashion blog, all you need to:
Research about your Niche and pick the right one
Choose a blogging platform
Choose a suitable Domain name & Web host
Choose a suitable WordPress theme that matches your Niche
Download and Install essential Plugins
Create a Content Plan and push content accordingly
Promote your blog on various social media Platforms
These are the most important points in our to-do list that will help you to learn "How to start a Fashion Blog". What do you think? Are you looking to start a Fashion blog? or If you found anything that we might have missed to cover in this article or would like to add your valuable suggestions. Please do write in the comment section below. We would love to hear from you.
Do fashion bloggers get paid?
Most fashion bloggers get paid through promoting brands. Brands approach fashion bloggers and influencers to promote their products and services on their platform and in return they pay them accordingly. These paid and sponsored contents are major sources of income for most fashion bloggers.
What should a fashion blog include?
The fashion industry is not limited to clothes or run-walk, but it covers a wide range of other creative fields as well. And to cover each and every aspect of the fashion industry, there is a wide range of fashion blog niche are present. Some most popular and successful fashion blogs include clothing items, Celebrity clothing, accessories, Runway tips, beauty tips, apparel and many more.
How do I start a fashion blog on Instagram?
Starting a fashion blog on Instagram is best suitable for increasing followers and turn them into leads. But the problem is, you do not have control over it. You are abiding by the terms and conditions of Instagram. Despite these limitations, you can draw traffic to your own Blogging website. To start a fashion blog you need to
1. Create an Instagram account
2. And start posting relevant content on your Instagram account.
3. To increase visibility, you can even promote your most popular content.