Suppose you are thinking of creating your own WordPress website. The first question that most probably comes to your mind about What will WordPress Website Cost? Well, it is somewhat similar to the estimated budget to build a new house. That is, where your website will be hosted, the features, the design, and many more.
And answering all these questions can vary from individual to individual. For example, if a user wants to build an e-commerce WordPress website, it may be costlier than a simple blogging website. And the features that may be required via plugins and extensions might be unnecessary if you are looking for a simple blogging website.
But on average, running a WordPress website can vary from 50 USD to about 1000 USD. Depending upon various factors that we shall discuss in a later section of this article.
More than 40% of websites on the internet are running on WordPress. Hence, you can assume its popularity among users around the world. Initially, it was launched as a Free Blogging Platform, but it gained huge popularity in recent years and developed a fully functional CMS. However, WordPress has provided their CMS software open source, which sounds Free, but technically not. Let us know why?
Why WordPress is not Technically Free?
Since WordPress claims it is an open-source platform and is available absolutely free. It is true but not completely, especially if you want to create a fully functional WordPress Website. Although both the platforms, WordPress.org and WordPress.com, are available free, you need to spend some expenses on creating a fully functional website.
WordPress.com is a free blogging platform where you do not require to pay any fees to start your own blog. You will be provided with the default theme and some basic features, and if you want to add some features to it, you have only limited upgradable features.
Whereas, In WordPress.org, It is an open-source CMS with basic free themes and plugins that help you create a basic website. But when you add some more premium features, you are required to lose your pocket then.
These extra premium features required to run your website loaded with features and functionality are where the added WordPress website cost comes into play.
And the extra WordPress Website cost that you need to pay for are:
Domain name
Webhosting Services
Premium Themes
Premium Plugins
Ecommerce Features
Website Designing
Website Maintenance Cost
Security
1. WordPress Website Cost: Domain Name
The first thing that includes in the WordPress website cost list is registering a domain name. It is like buying a Website address or URL so that users can visit your website and see its content.
Another thing that affects your Wodpress Website cost is the choice of Domain name selling companies that are available in large numbers. But if only a handful of places that provide you with affordable options are Godaddy and Namecheap. However, almost all the domain name registration companies have almost common pricing. But the most reliable and best service provider will be the right one.
On an estimation, depending upon the availability and the company, the Minimum Domain name registration may cost you around 1.5$ to 15$ per year.
Whichever plan and company suit you, it is highly recommended that you should never go for WordPress' free domain option, especially if you are looking for an independent website of your own for the long run. It will somewhat look like www.yourwebsite.wordpress.com, which means your website is freely hosted on WordPress servers, and it is not the best option if you are looking for some serious online business.
The best option is to go for self-hosted WordPress, i.e., WordPress CMS, and build your website with your own domain name.
In addition, after purchasing or registering a domain name, it is highly recommended that you protect your domain name information from being shared, which can be a potential threat of hacking and email spamming. Hence it would help if you bought an addon of WhoisGuard Protection shield that helps you in domain privacy protection, which can cost you around an additional 10$-15$ a year.
However, certain websites provide this domain protection absolutely free with their plans, such as Namecheap and Google domains. Still, they can be a bit costlier than other domain websites.
2. WordPress Website cost: Web Hosting Services
Web Hosting Services holds the major part of the WordPress Website Cost budget. Hence, it is also considered the most crucial step to deciding on a web hosting service for your WordPress website to invest in. However, with WPOven, you do not need to worry about much.
If you are a beginner who wants to build a website and want a hassle-free and fast experience, WPOven will be the best-Managed Web hosting provider you will have. It is one of the best and widely recognized web hosting companies in the US and provides the best environment for WordPress.
WPOven has dedicated web hosting services for WordPress and also provides Premium WordPress support to their customers. The basic plans at $16.61 per month.
To make the process easy and convenient, they automatically install WordPress whenever you buy any plan, and you can immediately start working on your Website ideas.
Since WPOven gives you a wide range of plans, you can choose the best option that best fits your requirement and budget.
Web hosting usually means you are restricted to the only features that WordPress CMS has to offer. And being an open-source CMS, you won't get much support from their end rather than just regular software updates. WordPress won't monitor your website performance or security issues or help you with third-party WordPress themes or plugins.
However, a Managed WordPress Web hosting service provider like WPOven provides you with features like maintenance, automatic updates, Support, monitoring, etc. All you need to choose is a proper plan that best fits your budget and requirements, and it would be worth the money to spend on.
You must note that if you choose a cheaper web hosting service, it is more likely that they will lack some features, and quality would be directly proportional to what you pay. This may heavily image your website performance and can be a potential threat to your website too.
In addition to it, if you go for Premium Web hosting plans, it would be worth every penny. It provides you flexibility and has advanced features such as dedicated resources to use. You do not have to share it with anyone, and your website traffic would be smooth without affecting your website speed and performance.
3. WordPress Website Cost: WordPress Themes
Like WordPress plugins that we have already discussed in the above section, WordPress also offers you a wide range of third-party and WordPress themes. These themes can help you to personalize your website and enhances your online presence.
Although WordPress has Free WordPress themes available in their WordPress repository, you are not just limited or bound to use them. You also have the option to go for free themes from third-party websites.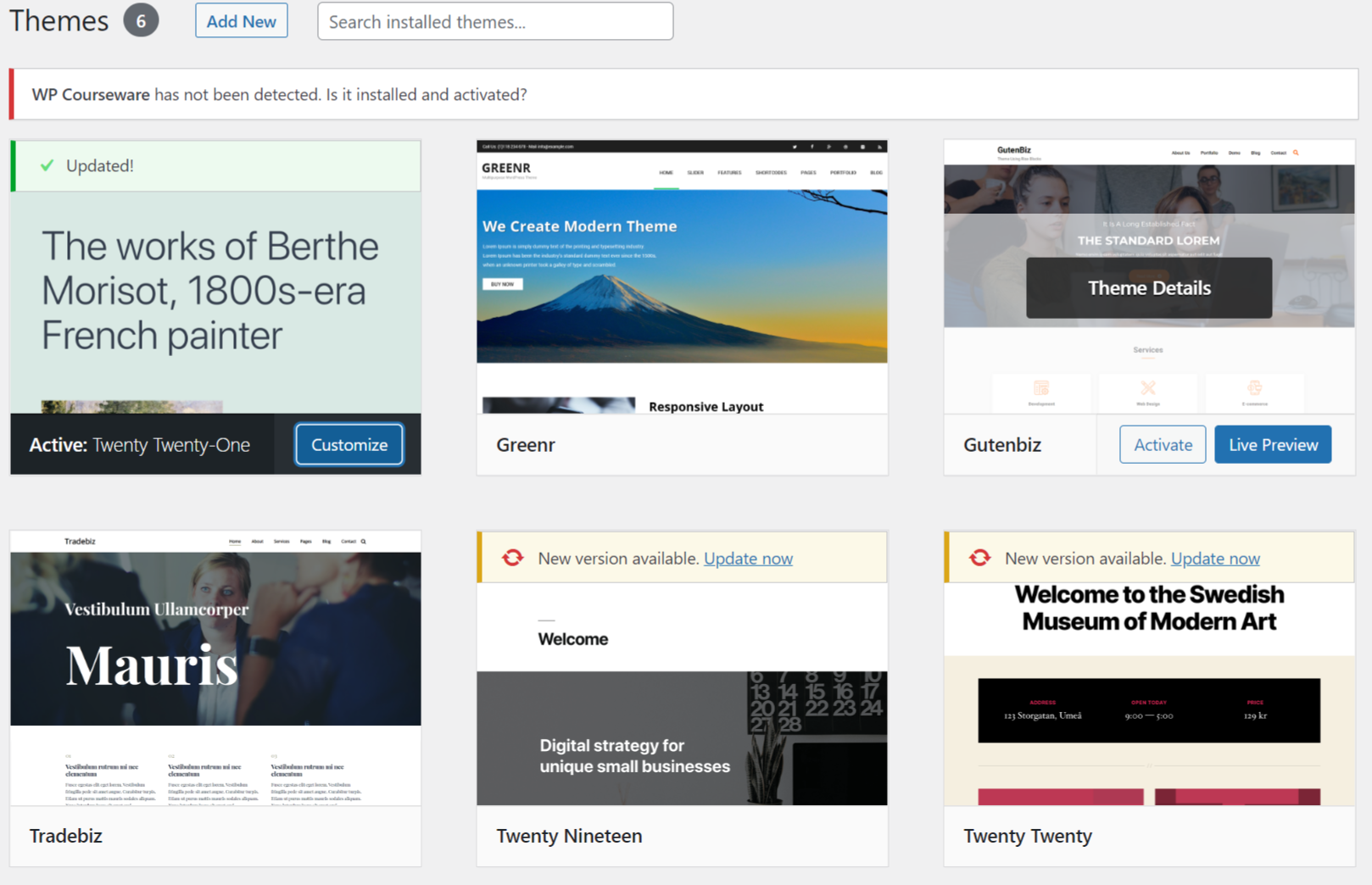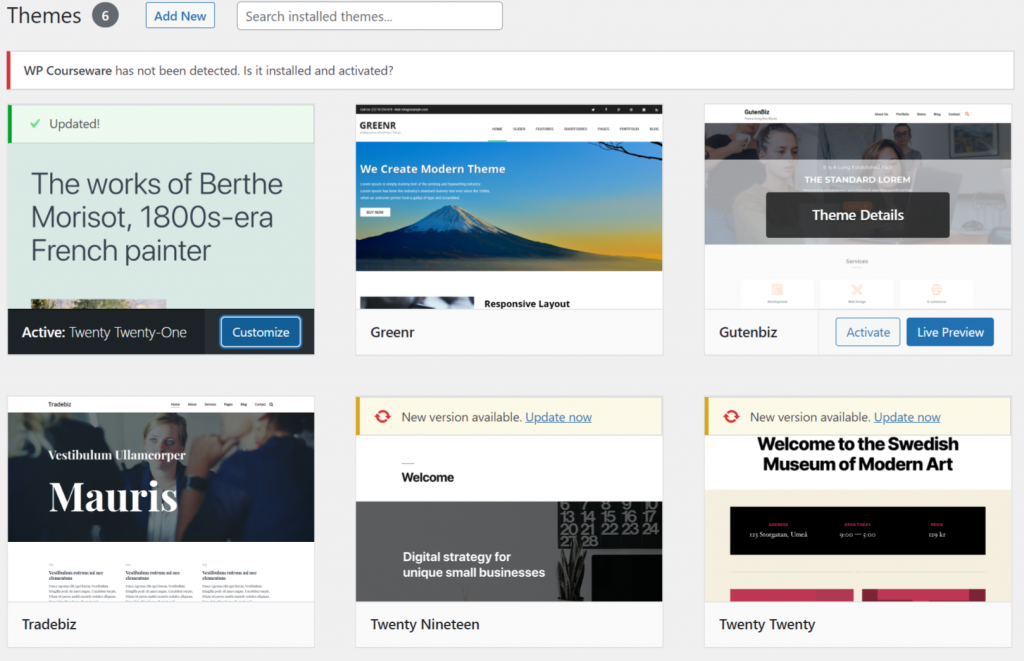 But free things always have certain limitations and do not provide the look the way premium ones have. But When you opt for Premium themes, you need to spend a lot of money that can affect your Overall WordPress Website Cost.
But Spending money on Premium themes is worth every penny, make your website look more stunning and professional, loaded with features and functionality.
However, the cost of themes can also vary depending upon your niche and requirement. But on average it ranges from $20-$1000. You can choose whichever fits you.
4. WordPress Website Cost: WordPress PLugins
WordPress is famous for its flexibility and customization options with a wide range of WordPress Free and premium plugins. It has thousands of plugins available in its WordPress repository as well as third-party websites.
These plugins help to add functionality to the website and give it a touch of a professional look.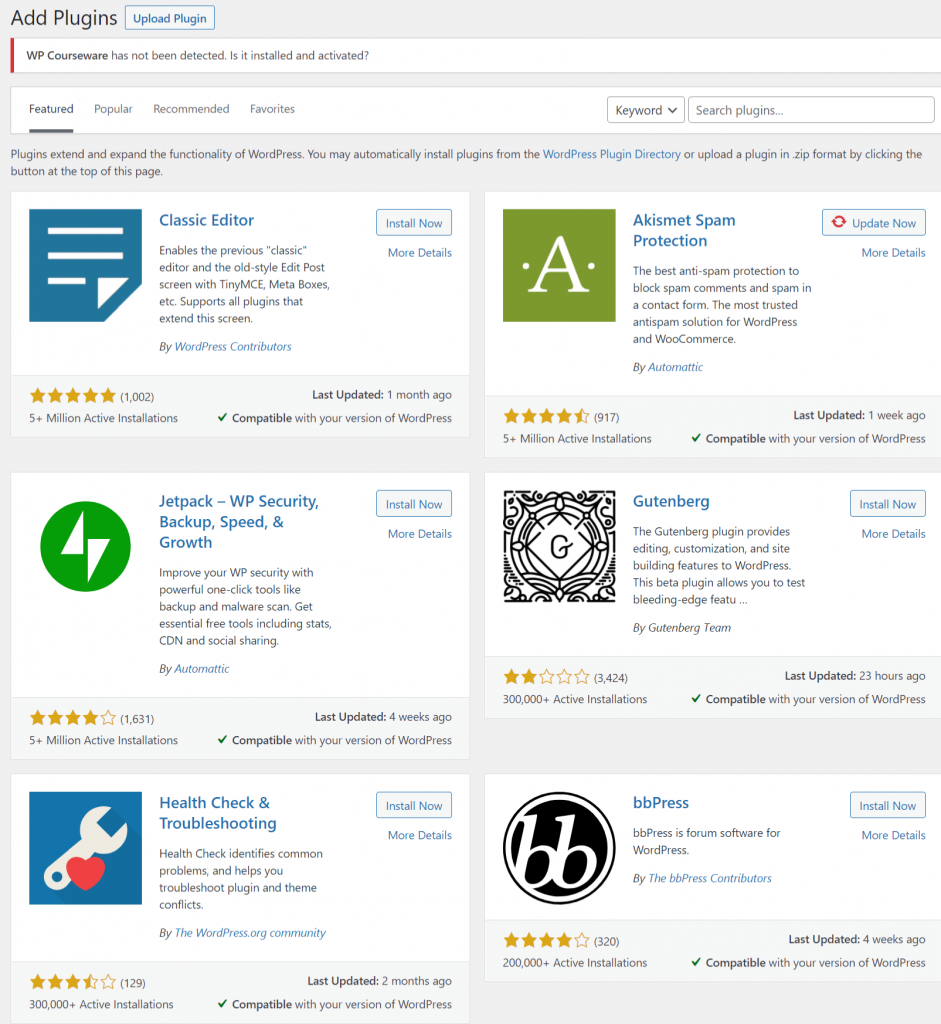 However, most of the plugins available in the WordPress repository are absolutely Free to use for their basic features. And they can even charge you for their premium plans that include exclusive and premium features.
The majority of the Free WordPress plugins are enough to do any job without an upgrade, but if you want to experience their premium features, you need to spend for yearly or monthly charges. There are certain plugins that almost everyone uses like, security plugins, SEO tools such as Rank math or Yoast SEO, and some Backup plugins. ALL these essential plugins need to be installed, and even you have to pay for their premium.
The overall cost of using WordPress plugins on your website can be vary depending upon your requirement and use. Hence, on average, it probably costs you around 10$-100$ per year.
5. WordPress Website Cost: Ecommerce
If you plan to have an e-commerce store, it can totally affect your WordPress Website Cost, which you may have estimated for a normal website. Hence, we make a separate section to explain how an e-commerce website can affect your WordPress Website Cost.
For any individual, creating an e-commerce store might sound like a tedious job, but it is not. Even WordPress has no inbuild features separately for online stores, but you can still achieve this. Thanks to WordPress's flexibility and customization option, there are plenty of WordPress e-commerce themes and plugins are available that make all this possible.
Woocommerce is an ultimate Free WordPress e-commerce plugin that has the potential to turn any normal website into a full-fledged e-commerce store. In addition to it, there are also other plugins. Combining all of them can help you to build an e-commerce store working exactly like Amazon.


Let us estimate how much money you need to spend for an online store:
Woocommece plugin– This plugin is available Free and it is allrounder for your online store.
Easy Digital Downloads – Best Free plugin for online store that are into selling digital products and services.
Alidropship- Best Free plugin that help you to dropship with your ecomemrce store. Starting with one time payment of $89.
Memberpress- It is a memebrship WordPress plugin, helps you to sell membership products online.($149- $349)
You have noticed that many of the e-commerce plugins are available free and can do a decent job, but most likely, at times, you need to upgrade to premium plugins to make sure they work just like you want them to.
In addition, there are many WordPress plugins that need addons to add extra functionality and can seriously increase your WordPress website cost. Hence, getting all the e-commerce features that you need to want in your online store will not be cheap.
6. WordPress Website Cost: Security
After successfully creating a website, the most essential and important element that you need to concern about your website is its Security. You do not want your users to feel unsafe or insecure while browsing your content or making transactions online.
To avoid such a situation, you need to secure your website by providing security to it to encourage users to browse your website without any hesitation.
For that, the basic and most essential security layer that you can implement on your website is by getting an SSL certificate. It is a web security technology that helps in keeping your website secure from hacker's attacks. It usually comes with one-time payment options, but it can vary with monthly or yearly plans.
Even some Web hosting services provide free SSL certificates to their customers, but if they don't, you can still buy them from other websites with a basic plan of about $50 per year.
7. WordPress Website Cost: Website Design
Suppose you are a noob and have not even a basic knowledge about WordPress and How to design a website. Then this can add up extra money to your WordPress Website cost list. Depending on the type of website you want, it is for eCommerce or just a business website. You can hire a freelancer or hire a professional Web designer to design and develop your website.
Professional web designers can charge you about 3000$-5000$ even more. Whereas if you hire a freelancer, it can charge you about 700$ to 1000$.
8. WordPress Website Cost: Maintenance Cost
After Security, you need to consider while estimating WordPress Website cost is also its Maintenance Cost. However, it depends whether your website maintenance is managed by your web hosting you you need to do it your own.
Usually, a user prefers to hire a freelancer, Website Maintenance that can cost you around 60$ to 150$ per hr. At the same time, a Digital Marketing Agency can charge you around 200$ to 500$ per month.
Some Pros and Cons of having a WordPress Website
Nothing is perfect, and almost everything that exists is not perfect either. Similarly, creating a Website on WordPress would be an excellent option for someone or not. Let us check out some points on the pros and cons of using a WordPress website and Its WordPress Website cost is worth it or not.
Let us talk about its Pros first.
Pros of using an WordPress Website
WordPress has gained a tremendous response across the internet has an excellent user base. It is ruling the internet of about more than 40% of the total websites on the internet.
SEO friendly- WordPress is well Search Engine Optimized website and Provide you an unique platform to develop SEO optimized Website. In addition to it, there also various SEO plugin that help you to Optimize your website for search engines.
Flexibility– WodPress provide you a limitless oppertunity to create any website of your own. No matter weather you are creating a Simple blogging website or an online ecommerce store. You have endless oppertunity to create any website you want. combining thousands of plugins and themes make it even more flexible. Using these wordPress plugins one can easily extend functionality, add features and scale up as the website grows.
Free and Affordable– WordPress being an Open source platform, you are not required to pay even a single penny on its CMS. If you are looking to develop a simple websiite with basic features. It provide you with Free plugins and themes that are sufficient. If you would to add more features you can choose premium plugins, which are overall still affordable.
Cons of using a WordPress Website
As we have already mentioned, everything has both bad and good aspects. Similarly, While using WordPress, you may face certain bad aspects. Let us check out what are the cons of using a WordPress website that you might likely find.
Poor Learning Cure: When we talk about usability of WordPress, then it is found little difficult for majority of the usrs. Unlike other easy CMS platforms like Wix or squarespace which provide a simple drag and drop website builder, building a website on WordPress can be tedious for beginners. Building a website on WordPress is time taking process, and even it inculdes some time coding knowledge as well. These are the things that make WordPress difficult to learn.
Not a Complete package: WordPress CMS doesn't come with bundle of other things that many other CSM offer. It is a standalone software that requires Web hosting plans , domain name, hemes and plugins. Combining all of them, then you are able to create a simple website.
Required assistance: From the above two points, you have seen how it can be tedious and challenging for any beginner to create a website on the WordPress. Hence, to encounter this problem, you might look for assitance from Freelancers or professional Web designers to create your website.
Summary
As far as now, you have seen various factors that affect overall WordPress Website Cost and help you out to estimate a budget on How much a WordPress Website Costs you.
The First and Foremost thing you need to do is to find a suitable place to host your website. Better the place and plan you choose, the better will be hosting services and features. Not to forget that you also need to register/buy an address to your website, i.e., URL. In addition to it, a touch of premium theme to your website would be best that matches your intention.
After that, you are required to have suitable plugins that add some features to your website, especially if you are running an online store. That requires additional attention while choosing the right eCommerce plugins.
Now let us estimate the minimum WordPress website Cost that you will require.
WordPress CMS: Free
Web hosting (WPOven) : 119.40$ per year
Domain registeration: min 15$ per year
Premium Theme: min 1500$
Premium Plugins: min 50$
Maintenance cost: min 300$ per year
Security cost: 10$ per year
Design cost: 300$
Total= 2295$ per year
The above WordPress website Cost estimation is only subjected to creating a simple personal blog/website, and the prices may vary. It only helps you have an idea about how much money you will have to spend on a WordPress website if you plan to have one in the future.
WordPress website cost estimation might be intimidating for many users, but trust me, if you follow the right track, it will lead to your success, and it will be worth to money spent.
I hope this article fulfills all your objectives and clarifies your doubts regarding WordPress website cost. And if you find anything that I might have missed to cover, please do let us know in the comment section below. We love to hear from you.
Frequently Asked Questions
Is a WordPress website free?
WordPress itself is completely free software, but when you try to create a WordPress website, you need to pay for the place where you host your WordPress software, Domain registration, themes, and plugins.
Is it worth paying for WordPress?
Since WordPress is free, the only money you need to spend on is Web hosting and domain. Since, for a beginner, a simple website can be very cost-effective if chosen basic and entry-level plans. And will not affect your WordPress website cost much.
What are the disadvantages of WordPress?
Some Disadvantages of WordPress.
1. Requires a lot of Plugins to add features and functionality (Affects your WordPress Website Cost)
2. Steep learning curve
3. Poor SEO
4. Website can be down without any prior notice
5. Slow loading speed and frequent Plugin updates