---
---
WP Project Manager  (Free/Premium)
WP Project Manager allows you to move your management functions in-house as opposed to having to log in to an external site multiple times a day. WP Project Manager has a premium upgrade that cost up to $199 (WP Project Manager Pro) which gives unlimited site support.
Easily add projects to manage from inside WordPress
Collaborate with team members based on their user levels
Get an overview of your project list with a Calendar function
You control user roles, assigning managers, co-workers, and clients
Assign creators and limit project visibility
See current project statuses
Track milestones
Archive completed projects
See all files associated with a single project in one place.
---
Task Freak

 (Free)
TaskFreak free plugin is a WP version of an open-source web application of the same name. This plugin allows you to manage tasks for yourself or within a group, company, association, etc., create projects or teams, then add tasks and assign rights to users. The administrator then can follow their progress through status. It also allows attachments and comments to the tasks, which can all be viewed from mobile devices.
Easy to install
Full integration with WordPress users and roles
Create public and private projects
Integrates seamlessly with your WP theme
Users are associated with projects by WP roles
---
CollabPress

(Free)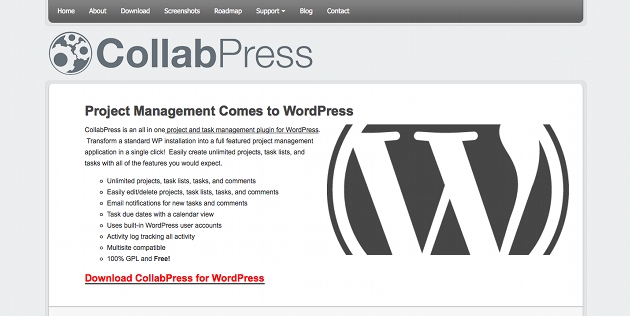 CollabPress is a collaboration tool that integrates with BuddyPress. You can add unlimited projects and tasks, and task management functionality to WordPress. Easily create/edit/delete projects and assign tasks to users.
Unlimited projects, task lists, tasks, and comments
It supports front-end shortcodes.
File upload on projects, task lists, tasks, and comments
Email notifications for new tasks and comments
Task due dates with a calendar view
Uses built-in WordPress user accounts
---
S.P Project & Document Manager

 (Purchase)

You can organize, and manage client, student & supplier documents and accounts, control individual documents, and select specific distribution of documents all in an easy-to-manage online process. As an administrator, the Smarty Pants plugin gives you complete control over user access. You can upload files to each client and project page and get an overview of the last 50 client uploads.
Users at all levels can create projects according to your permission parameters. Clients can upload multiple files, delete files, and search for files by name.
Premium features include:
Tag search
Category management
Custom notifications
File auto-delete
Build your own form fields
Advanced shortcodes
User-created groups
Thumbnail views
---
Project Tasks

(Free)
It is a completely flexible Project Task Management System that helps you take control of all tasks when developing a WordPress Theme in a team or with a client.
Gives an overview of all tasks to manage them properly.
Link each task to a specific object in WordPress.
Suggest templates, shortcodes, and post types already available on your app to link your task to.
Accessible from the WordPress Admin bar when browsing your WordPress site
Project Tasks are also available from the WordPress Admin which gives you an overview of all tasks and
---
IProject Web

 (Free)
Easy-to-use project management and task management software that helps to organize effective project team communication and project document tracking
Advanced file management.
Task status tracking.
Task history tracking.
Email notifications.
Online help system.
Advanced data filtering.
Advance data navigating.
---
Freelancer

(Free)
Freelancer is more than just basic project management that allows you to manage your clients as well as their projects. It's an ideal solution for freelancer developers and designers that want an attractive design and dashboard.
Set the integrated task timer
Attach files to tasks.
Update project statuses based on due dates.
Get a view of your clients and their projects along with invoices.
Filter and search for tasks.
Customize e-mails using beautiful HTML templates.
---