Want to know How to start a food blog? You're not alone! Food blogging is a popular choice for beginners as it's a universal topic that never goes out of style.
But remember, passion is key! If you love cooking and want to share your experiences with others, a food blog could be perfect for you. With endless possibilities, you can teach people how to make new dishes, offer cooking tips, and even review restaurants and cuisines from around the world.
In this post, we'll cover everything from choosing your niche and platform to creating great content and building your audience. Plus, we'll share tips on how to monetize your blog and turn it into a source of income.
But before answering How to start a food blog first you must know why you should start a Food blog?
Why You Should Start A Food Blog?
Before answering "How to start a food blog?", let us clarify why you need it to start a new blog. You must be clear about your intentions, and find out the reasons why you should do it. No doubt there has been a lot of effort required to start and maintain a blog in the long run. Hence, to make yourself a little clearer, you must consider these reasons to make your decision strong.
Must be passionate about cooking – You do not get tired of cooking, trying every different recipe, and like to share it with others.
Love to do experiments – You like to do experiments and try to bring new recipes all the time. And you never get bored of it.
Foodaholic – If you are crazy about food, visit every stall to review their dishes, and have active taste buds that are always trying to taste different cuisines from around the world. And I would like to share your opinions with everyone that has a common interest.
Be a part of the community – If you want to be a part of the Food blogger's community and share your ideas and thoughts related to Food and recipes. Once you become a community member, the other old members will help you to grow and give suggestions from time to time.
Earn money- Apart from being passionate about food and stuff. Food blogging also has the potential to earn money from affiliates and sponsors. You can also start blogging on social media channels, where marketers can pay you a great amount to review their Food items.
Whatever reason pushes you to start a food Blog, you must check out "How to start a food blog" mentioned below:
---
How To Start A Food Blog?
Starting a food blog can be overwhelming, especially when it comes to technical aspects like search engine optimization and monetization. But don't worry – we've got you covered.
In the below sections, we'll provide you with a comprehensive guide on how to start a food blog from scratch and drive more traffic to your site while also generating revenue.
All you need to do is to follow the steps mentioned below:
Research about Food Blog Niche
Decide a Blogging platform on which you would like to share content
Research and decide Domain Name
Select Hosting Service Provider
Setup your Website on WordPress
Choose a Website Theme
Create Content Strategy
Marketing
---
Research About Food Blog Niche
Extensive research about your blog niche is the first and foremost step for starting a food blog.
Find out all the available food blog niches to target wider audiences.
Narrow down your niche and choose a specific area that you are specialized in.
This will help you to target a particular type of audience and lower the competition.
By doing this, you can effectively deliver your content to your target audience.
Different Types Of Food Blog Niches
To get lower the competition, you can consider the following popular/trending Food blogs,
Vegan diet
Satvik diet
Keto diet
Protein Diet
Food and travel
Bakery and many
Food and Travel and many more
There are many food blog niches to choose from, but it's important to select one that people are looking for or is currently trending.
Choose a niche that interests you, or that you are passionate about so that you can enjoy running your blog and attract audiences of the same interest.
For example, if you are into street food, you can explore and find popular food joints that have never been searched for or reviewed, or if you follow a vegan diet, you can experiment with different recipes to make them more nutritious and delicious.
Choose carefully whatever Food blog niche you want, because once you choose, you cannot step back.
---
Research and Decide Domain Name
Having your domain name for your blog is one of the basic and most important things for a website. It is so important that your whole brand reputation, Web traffic, and Search result optimization (SEO) depend on it. You cannot select any random name before keyword research and analysis.
For the best domain name, you must check these qualities to get better visibility online.
Do keyword research around the niche.
Try to choose a name from the keyword or names around it which has high search volume and low competition.
If keywords are unavailable, you can choose a particular name that you would like to make your Brand Name. It must be sound around your niche. for example, for food blogging, you can choose "foodoholic.com", "Spicycurry.com" etc.
Always give priority to the ".com" domain.
The name should be easy to remember and pronounce.
Make it as short, if possible, make it to one word
The whole buying and registering of a domain name will depend on availability and the seller. But on average, it will cost you around $10- $20 per year.
---
Select The Hosting Service Provider
Once you are done registering your Domain name. Now in our "How to Start a Food Blog" article, the next segment is to select the best web hosting service provider. You can understand its importance as, if a domain name is your home address, then web hosting is your home where all the content will be hosted.
These hosting providers are one of those who have the power to make your website accessible for users. However, there is several web hosting services are available now. But the main concern is to choose the right one.
But with WPOven, you can simply trust us, We have servers and data centers with dedicated hotspots around the World that keep your blog connected to the internet all the time.
Some of the key Features of WPOven are:
Unlimited Website Hosting
Email Hosting
You can choose a Datacenter from our 13 locations around the world.
Provides and Staging platform and easy Sync
We offer a Dedicated Cloud with SSD Storage.
Complete Security
And Plans start at $16.61 per month. It is one of the lowest and best plans for anyone who like to start a Food blog.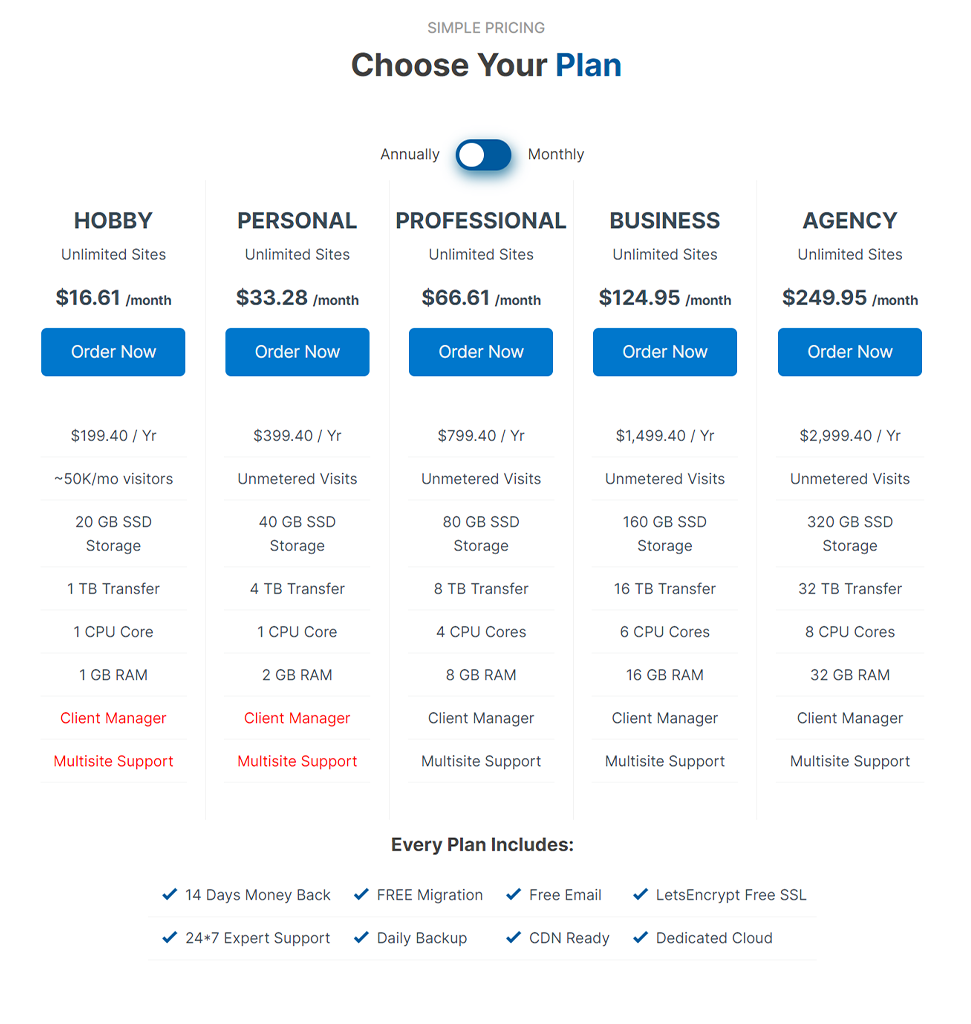 ---
Setup Your Website On WordPress
After finalizing your domain and buying a Web hosting service, now it is time to learn all the technical details on How to start a food blog? You will be guided through how to set up WordPress on your Web host.
Visit the WPOven homepage.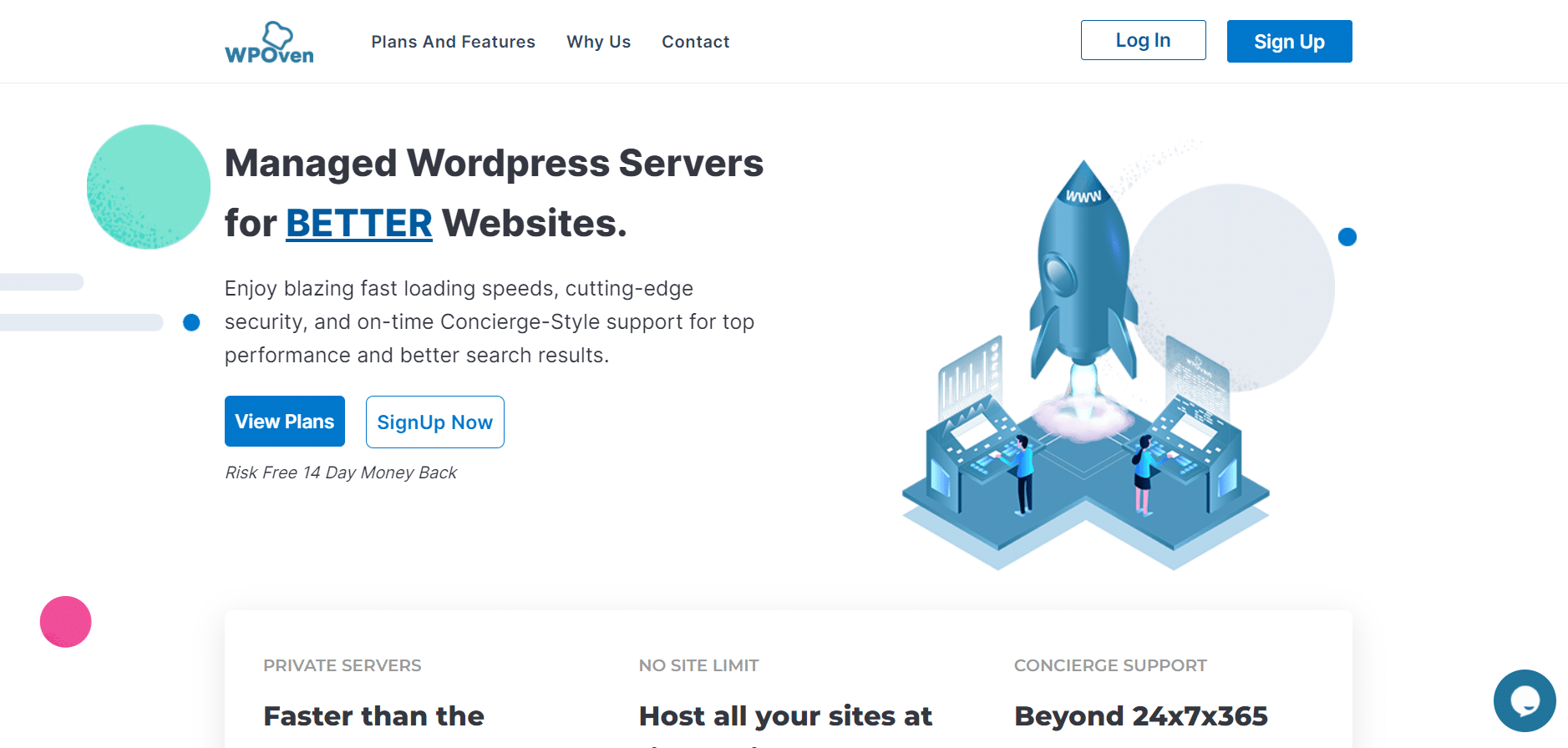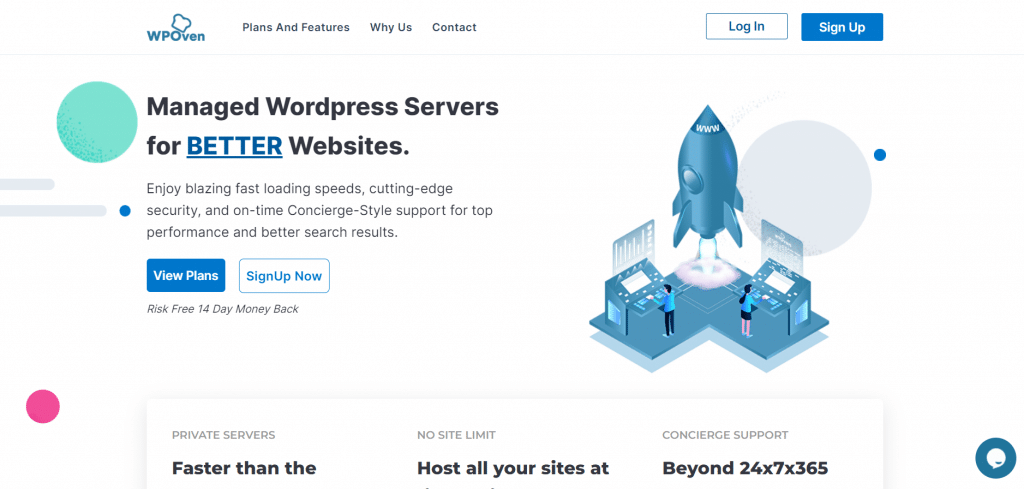 Click on the "Sign-Up" button to access the Sign-Up form.
Fill in your name, email address, and password in the form.
Check the "terms and conditions" button and click the "Sign Up Now" button to complete the registration.
Open your email and click on the verification email to verify your account.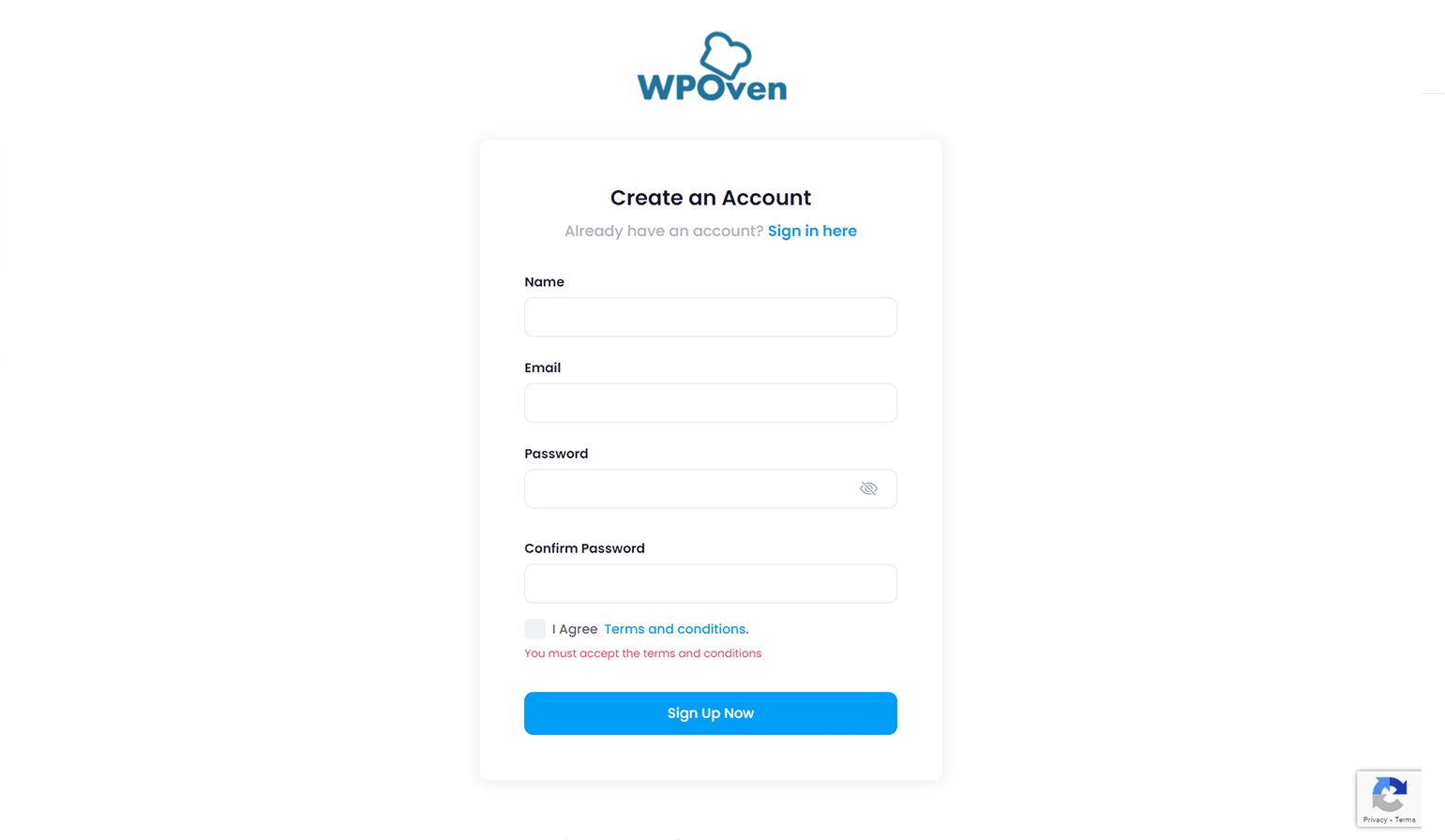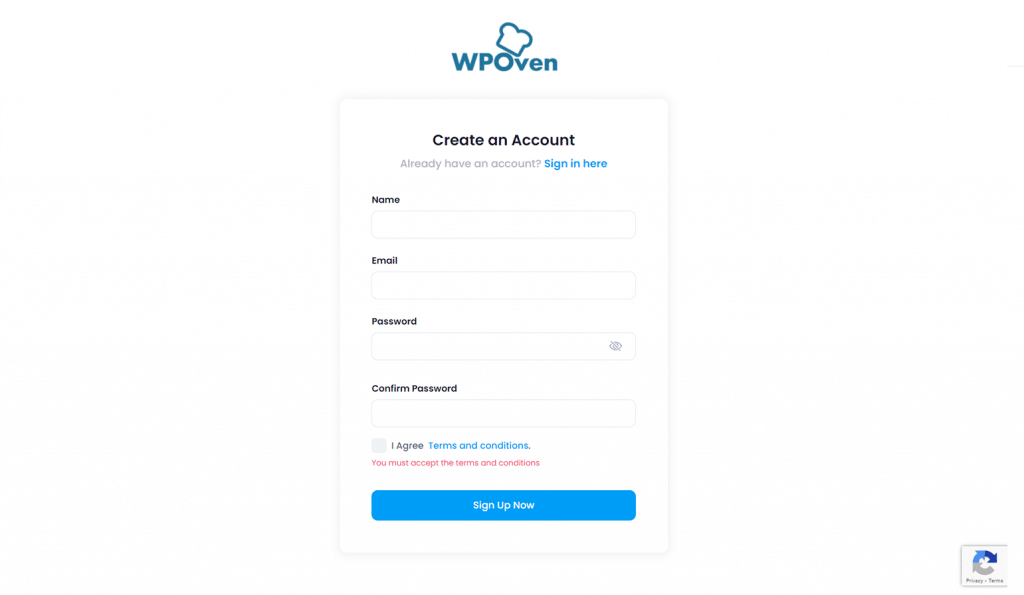 Once verified, return to the WPOven homepage and click on the "Plans and Features" button.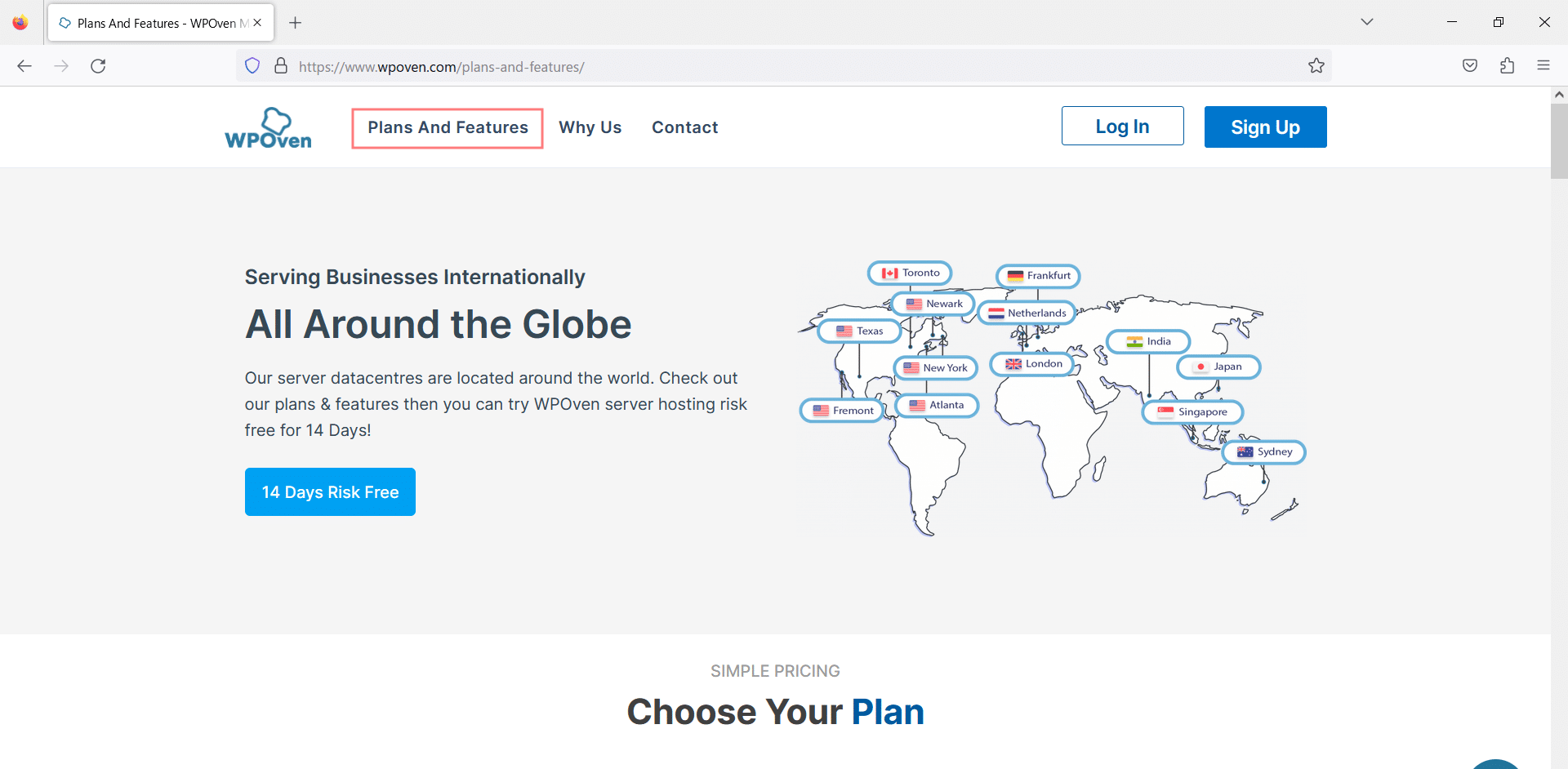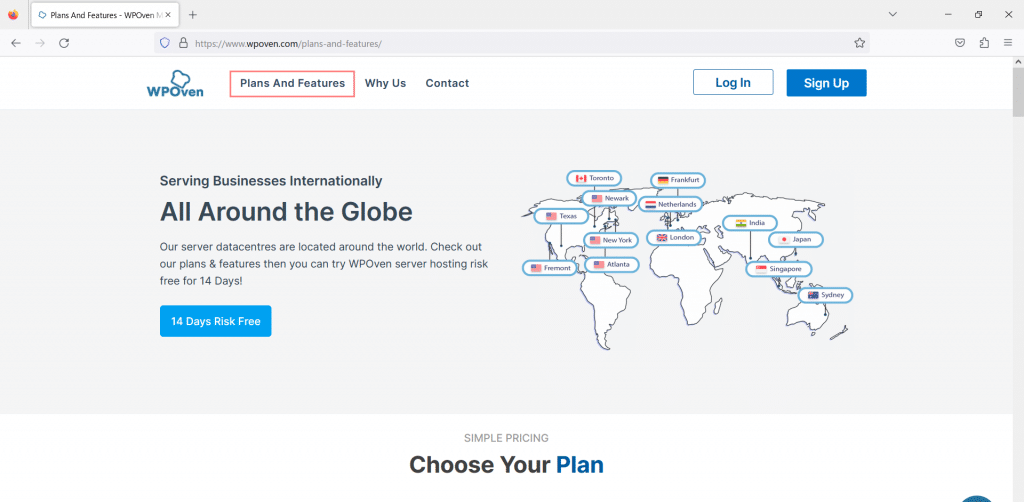 A page with detailed plans and features will appear. Review and choose a plan that best fits your needs. We recommend starting with a basic plan and upgrading as your website grows.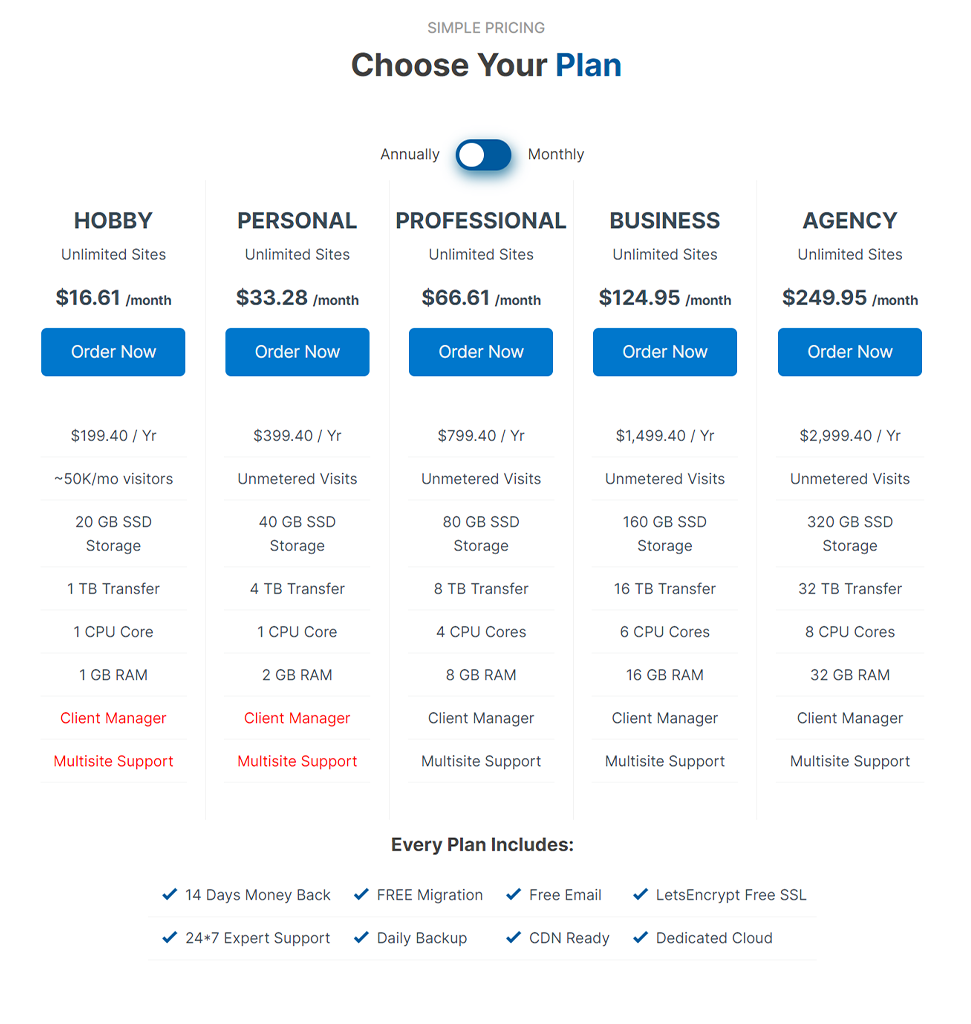 Click on the "Order Now" button and complete the payment to continue with the process. The basic plan starts at $16.67 a month and is perfect for those starting a new website or blog.
---
How To Add Your Domain to WPOven
Access the "How To Add Your Domains to WPOven" setup tutorial.
Follow the steps mentioned in the tutorial video provided carefully.
---
Add WordPress Themes
After setting up your web hosting and adding the domain to it, the next step is to choose a WordPress theme for your website.
There are various options available online, including free and paid themes.
ThemeForest is one of the most popular WordPress theme providers for food blogs/websites.
If you are unsure, you can start with a free theme and change it later if needed.
You can download the chosen theme from the ThemeForest website or use the default theme available on the WordPress dashboard.
Here you can see a list of themes available on ThemeForest for Food Blog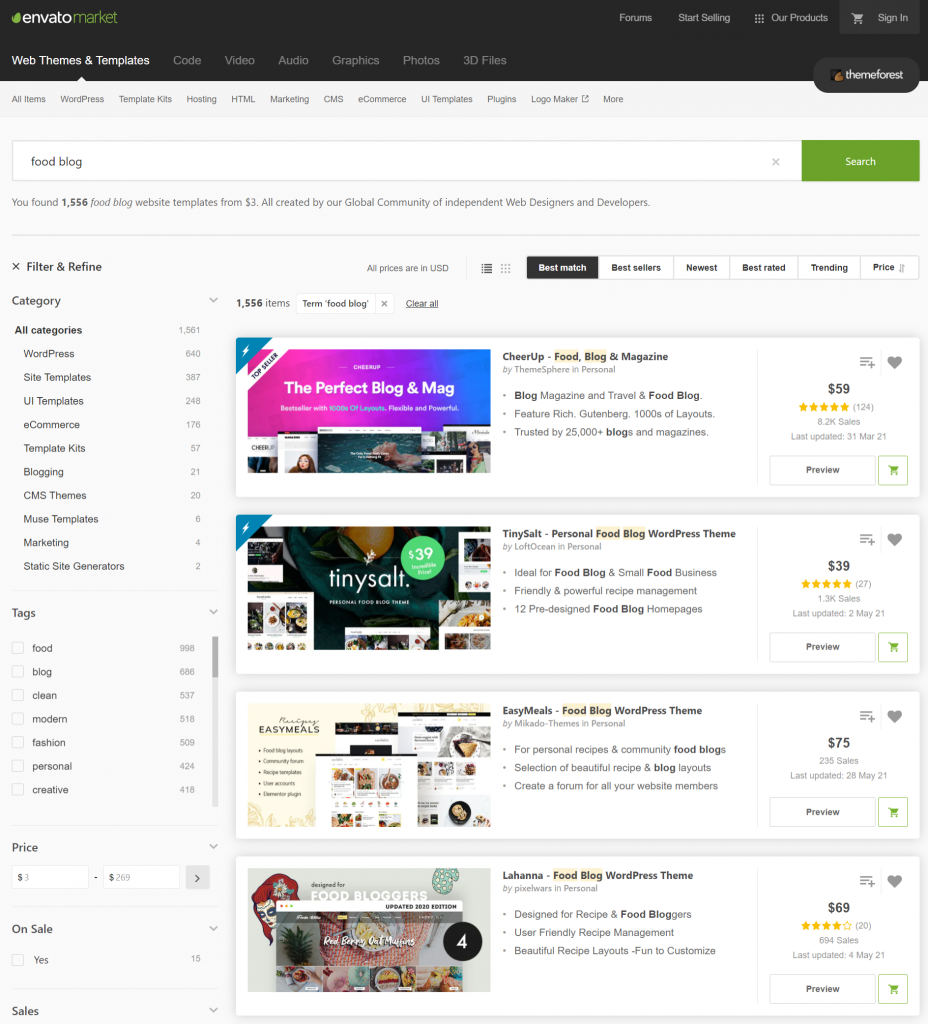 Installing Plugins
Plugins are essential tools that help to extend the functionality and features of a website. So, if you want your website to look rich and featureful, you can add/install some Food plugins that add up an extra edge to it. For example, if you would like to add an image gallery that shows all the Recipes you have covered on your blog, simply install a photo gallery plugin that will do the work.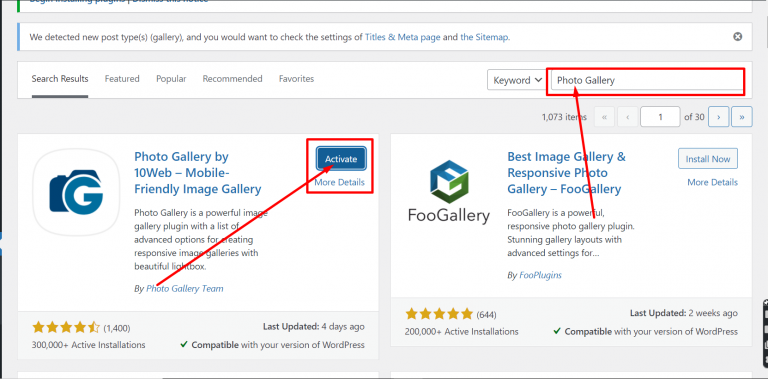 And if you like to showcase your recipes more attractively, there are many recipe plugins available in the WordPress directory for free. These Plugins are well optimized from the SEO point of view, which helps in getting Top google rank lists.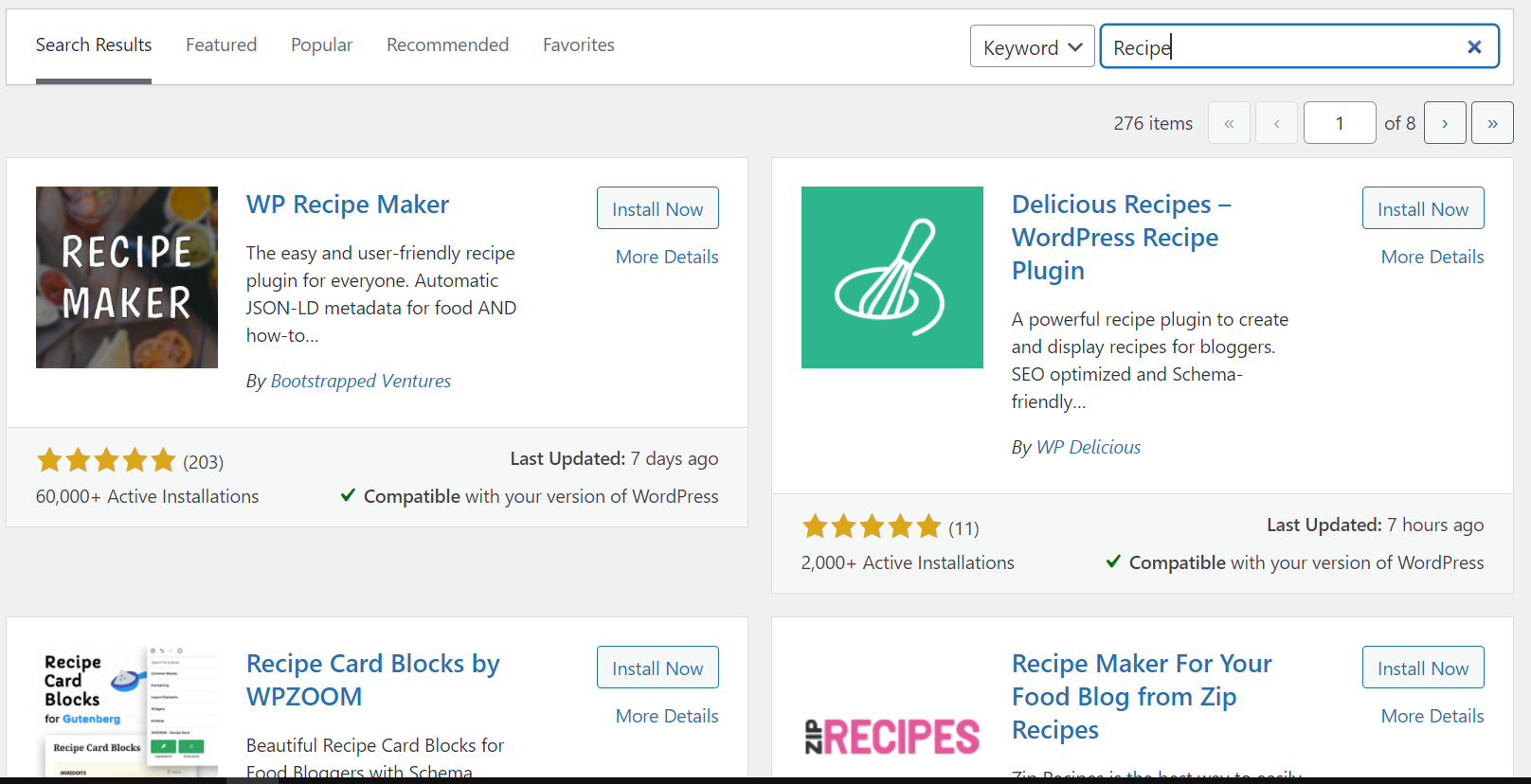 Some Additional Tips On How To Make It More Reachable And Increase Your Web Traffic
To attract more visitors and increase your web traffic without compromising website performance, you need these extra tips:
Use Good quality well-optimized pics: To make more appealing content and increase traffic, you often need High-quality pictures for your content. Similarly, in the case of the food blog, you also need high-quality images without any compromise. But the most challenging part is, high quality or high-resolution images require more memory and it takes up a lot of loading time on the webpage. But a well-optimized image can load quickly without affecting your image quality.
Multilanguage: To receive traffic globally, you need to give users an option to choose a language that they are comfortable with. The more options you will provide your visitors it will be more convenient to use visitors from around the world to easily access your content without any language problems.
Add social media buttons: To drive more traffic to your website, you must not forget to add social media buttons such as Facebook, Twitter, or Pinterest along with your posts. Or you can even create a social media account for your blog and promote them.
SEO Aspects For Your Blog
SEO or Search Engine Optimization is a method of increasing search engine visibility, improving SERP rankings, and increasing traffic. It includes a wide range of processes and parameters to follow to get better results. But in this article "How to start a blog?", we shall talk about only the basic and most important things worth mentioning.
Install Rankmath SEO plugin – This SEO plugin will guide you through how to write well SEO-optimized content and other technical search optimization aspects.
Responsive Website Design – More than 50% of internet traffic comes from mobile web browsers. From this data, you can clearly understand how important your website should have a responsive design. So, always pick up a responsive Theme that has a responsive design and is compatible.
Post rich and relevant Contents – Content Relevancy is one of the major parameters of google for ranking. The content must be relevant to the blog niche with proper structure.
Schema Markup– More often in SERPs you have seen, reviews and star rating snippets. These rich snippets can only be shown through a proper Schema Markup. This SEO technique is usually used to provide additional information to Google about what type of content is and which type of audience is suitable. This additional information makes it easy for Google to understand and gives better search results. This method is best suitable for Recipes, Reviews, etc.
Meanwhile, you can also check out our latest blog on 11 Best WordPress Plugins to Boost organic Traffic for your blog. And check out other SEO plugins that have a lot to offer.
---
Create An Effective Content Strategy
Content is essential for improving visibility and organic traffic on a website or blog.
Implementing an effective content strategy is crucial and should be done regularly.
Consistency is key to satisfying users' demands for regular content.
Failure to provide regular updates may create a negative impression on readers.
To retain readers and attract new visitors, make a complete content plan or strategy in advance and schedule them in a week.
Keep pushing content according to the plan.
Creating a complete content strategy is necessary to ensure the success of a blog or website.
Competitor Analysis
Conducting a competitor analysis is an easy and effective way to create a content plan.
Check what other competitors are doing and spy on their activities.
Analyze their strategy and try to implement some of their tactics in your strategy.
Do not copy everything, instead, take inspiration and use it to create your unique content plan.
Find Out The Target Audiences, Trending Topics, and Audience Demands
Google Analytics tools are free and useful for determining audience interests.
Analyze earlier posts to see which topics have a high demand among users.
Check the comment section to see what visitors are saying and what topics they want to see more of.
Conduct Q&A sessions or create polls to ask readers about their interests and suggested topics.
Use Google Trends to identify recent trending topics for creating content.
Create a Food Blog Content Calendar
To properly plan content, maintain a calendar for all planned content and schedule it in advance.
This ensures that the same content is not posted again and eliminates confusion.
The process becomes more systematic and scheduled with a content calendar.
Online free tools, such as Google Sheets, can be used to create a well-structured and systematic content plan a month or year in advance.
Google Sheets offers to push notifications and set reminders to remind you to post content on time.
Segmenting Content Calendar Into Week Planning
After creating a food blog calendar, segment, and schedule content weekly.
This segmentation of content makes the process easier and helps maintain consistency.
Consistency is important for website growth and audience engagement.
Advanced weekly content planning ensures consistency and audience engagement.
Be A Master Of Your Niche
To consistently write quality content, owning a particular niche is crucial.
In a niche, you should have complete knowledge, experience, and expertise, including both the positive and negative aspects of it.
The ability to explain your niche seamlessly is essential for producing excellent content.
Taking the example of a Keto food blog, research and including unique recipes can elevate the quality of content over quantity.
It is crucial to have the necessary skills and knowledge in your chosen food blog niche to deliver authentic content to your viewers.
How To Make Your Content Look Appealing?
Text-based content is suitable for blogs, but long paragraphs can be unappealing and lead to poor user retention.
Poor user retention can negatively impact a website's performance and search engine ranking.
Breaking paragraphs into smaller parts and styling them with relevant images, videos, GIFs, and emojis can make the content more visually appealing and engaging.
Including multimedia elements can increase the fun factor and appeal of the content.
There are other ways to improve the readability and appeal of your content, and it's worth exploring them to make your content more effective.
Enhance Your Photography Skills
To be a serious blogger, it's important to ensure that everything is perfect and professional-looking.
In a food blog, high-quality pictures are essential to make the content more attractive and engaging to the audience.
Taking good pictures requires skills in lighting, angles, and color, which can be challenging.
Hiring a professional photographer for each photoshoot can be expensive, so it's better to learn and improve your photography skills starting from the basics.
Improving your photography skills can enhance the quality of your food blog content and make it more lucrative for your audience.
Check Proper Lighting
Lighting has a significant impact on any photoshoot, and it's essential to regulate it properly for the best results.
Setting up and managing lights can be tedious and expensive, which may not be ideal for a beginner on a budget.
Shooting outside in daylight is an affordable and easy way to use lighting for better results, but it's not always reliable due to sudden weather changes.
A cost-effective indoor lighting solution is to use budget-friendly lightboxes.
DIY video tutorials on YouTube can help you make your lightbox, or you can buy one at a discount from various eCommerce websites.
Learn Food Representation
Food representation is the art of presenting and displaying food more beautifully.
Well-styled and well-plated dishes look appealing and attractive, like artwork.
You can learn food representation skills from various online platforms, such as YouTube.
YouTube is a popular video platform with many tutorials on food representation.
Learning these skills can help you bring out the best results and match the work of professionals.
Add Images and Videos
Photographs and videos in content make it more interesting for audiences.
Tutorials and videos on how-to's, DIYs, and tips and tricks are popular categories.
The quality of videos should be good, and the sound should be clear to avoid a bad audience experience.
The images or media added must look authentic, clean, and clear.
While editing media, avoid altering the pictures or videos too much and over-saturating or adding too much light.
Over-editing can completely change the picture, making the content look fake or unauthentic.
How To Make Your Content Search Engine Optimized?
To create a well Search engine optimized Content for your Food Blog, you need to go beyond just writing and publishing textual content.
Search engines cannot understand the content unless it has been properly optimized and follows all the parameters for search engine rankings.
Using an SEO plugin like Rank Math can guide you through the writing process, but it is not sufficient for fully optimizing your content.
To optimize your content further, you can implement keyword research, add meta tags, including internal and external links, optimize images and videos, and improve the page loading speed.
Use of key phrases or long tail keywords
Key phrases or long-tail keywords are better to use in content as they provide more context.
Using a single keyword makes it difficult for Google to rank the most relevant article.
Refining search results and getting better visibility requires providing more information to search engines.
The more relevant keywords used, the more targeted and relevant content will be shown to visitors.
For example, instead of using the simple keyword" Food", use a long tail keyword " Food that triggers inflammation".
Create Blog Highly Responsive
Over 50% of internet users browse and read articles on their smartphones.
Blogs and websites need to be optimized and compatible with all screen sizes, including smartphones, tablets, laptops, and personal computers.
Google uses this parameter for its SERP rankings.
If your blog is not well optimized for smartphones or mobile devices, Google will push your blog towards lower search results.
This makes it difficult for visitors to find your blog.
Write Contextual, Relevant, and Rich Content
Google has recently updated its ranking factors, and they now prioritize contextual, relevant, and rich content over long word counts. This means that if you want your website to rank well on Google, you need to focus on creating content that speaks directly to your audience, provides useful information, and includes engaging visuals or other multimedia elements.
So, when creating content for your website, remember that it's not about writing the longest articles possible. Instead, focus on creating content that is contextual, relevant, and rich to improve your SEO and engage your readers.
Contextual content speaks directly to the interests and concerns of your specific audience.
Relevant content sticks to the topic at hand and provides useful information that readers can use.
Rich content uses images, videos, and other multimedia elements to break up text and make it more visually appealing.
By creating content that is contextual, relevant, and rich, you'll be able to connect with your audience on a deeper level.
This type of content is more engaging and can help establish your credibility and build relationships with your readers.
Remember to stay focused, provide value, and make your content visually appealing to create the best possible user experience for your readers.
---
Promote Your Blog
Here are the key points about promoting your blog and increasing your visibility, broken down into bullet points:
Setting up your blog and creating content is just the first step – now you need to promote it!
Brand awareness is an important part of marketing, and promoting your blog is a way to build it.
To let visitors know about your blog, you'll need to promote it on various platforms.
There are many ways to promote your blog, including social media, email newsletters, and guest blogging.
You can also increase your visibility by using search engine optimization (SEO) strategies to help your blog show up in search results.
By promoting your blog and increasing your visibility, you'll be able to reach a wider audience and attract more readers to your site.
So, don't be shy – promote your blog and its content to help it reach its full potential!
Use Of Social Media Platforms (Social Media Marketing)
Social media platforms are a reliable and highly acceptable way to increase awareness of your blog.
Because these platforms have a high user base, there's a greater chance of getting higher visibility and awareness for your blog.
You can create an account or blog page on social media and share links to your latest blog posts from time to time.
To engage your audience, try interesting activities like polls, Q&A sessions, and online quizzes, and respond quickly to their comments.
Being active on social media can increase your followers, so try not to be inactive or slow to respond.
Choose visual-oriented social media platforms like Pinterest, Instagram, Twitter, and Facebook to showcase your content and attract more viewers.
Influencer Marketing and Collaborations
This is quite trending marketing nowadays. You can reach social media influencers who have a good fan base and have the same niche. Or you can ask other bloggers of the same niche to collaborate with you. Or if you couldn't find an influencer of the same niche, you can go for similar ones. For example, if your niche is "Vegetarian dishes", you can contact a blogger whose niche is vegetarian English dishes.
---
How To Start A Food Blog And Make Money?
The last but not the least stage of " How to start a food blog?" is to earn money or generate revenue from it. After all, you are putting so much effort into it, you can make it your full-time business too. Let us check out the various ways you can generate revenues from your Food blog.
Selling Cook eBooks
One of the highest profitable strategies you can follow is selling Cook eBooks online. Users find it comfortable to buy eBooks online and read them on their computer screens. They are cheaper to use and can be accessed globally. No need for printing or pages, direct type a book in any editor makes a book of it, upload it on your website, and add a buy button beneath it.
Selling an eBook does not require any expensive setups or any material. All you need is a personal computer and a fast internet connection.
Use Google AdSense
Google AdSense is the best option for generating passive income by selling your website or blog space to advertisers. Google utilizes your Blog space to show only relevant ads with ad banners, GIFs, or other ad Graphics. The ads are created and paid for by advertisers who want to promote their products. In this way, you can get a passive income out of it and also get good web traffic.
YouTube
With increasing day-by-day users, one of the most popular media-consuming online platforms is YouTube. And hence it makes it the best choice for any blogger to increase their followers, and online readers and increase visibility. To make this happen, just like social media platforms, you also need to create an account and upload videos to promote your blog.
In addition to it, when your YouTube account starts growing, you will start generating revenue from its YouTube Ads and many companies will contact you for sponsorship.
Lead Generation
Lead generation is an old technique to make a list of potential customers, who have signed up on your blog or showed interest in your posts. Through this, you can easily target your audience and sell them your products and services directly.
But to follow this strategy, first of all, you need an email list, and you can have it by making a landing page on your blog, asking visitors to sign up. Once they sign up, their emails and other information will be listed and with the help of that email list, you can start your email campaigns.
Running Ads on Social Media Accounts
As we have earlier discussed how social media marketing can help to create brand awareness among social media account users. And how it will help in increasing web traffic. Similarly, you can also boost up the whole process by running paid ads on these platforms. You can benefit from your Food blog by simply investing some initial amount on social media accounts, that are worthy of getting higher audience reach and piling up a loyal customer base.
In addition to it, you can get more benefits if you have started selling cooking products online. Social media platforms such as Facebook and Instagram use retarget marketing methods, in which they display relevant products to the user's behavior and likes. They are helping to target the right audiences that might be interested in your product and services.
Affiliate Marketing (Earn through Commission)
Affiliate marketing or earning through commission is another revenue generation option that you might be interested in. In this marketing strategy, bloggers try to convince their loyal readers to buy some sort of product or service through their content and directly connect their readers to the affiliate company. You will get a part of the profit or commission on each new customer who buys a product by clicking on the affiliate link.
---
Summary: How To Start a Food Blog?
Blogs are the ultimate platform for any sort of creativity to show, it is not just limited to food or catering. There are several other fields such as photography blogs, and travel blogs on which you can start your blog. Apart from it being a hobby or personal fulfillment, you can also generate revenue through this.
If you already have your Food blog or would like to add more points on How to Start a Food Blog. We are all ears for your worthy tips and suggestions. Please do write them in the comment section below, we would love to know what our readers would like to know more about.
---
Do food bloggers make money?
In simple words Yes, a blood blogger can make money or generate revenues from their blogs. All food bloggers can make money as long as they get a good amount of monthly traffic on their blogs. It is estimated that a Food blogger in the United States can make money from $50k to $ 1 million a month.
How much does it cost to start a food blog?
Starting a Food blog is not that expensive. It all depends on how you want them to be. If you like to have a very basic food blog with basic plans. You only need to pay for the Domain name and Hosting service, which will cost you around 4$ to 6$ a month.
How do you get paid for being a food blogger on Instagram?
Food bloggers get paid on Instagram through Paid partnerships, collaborations, and Sponsorships. You make a contract and post about the product on your Instagram posts, in return, the company will pay you accordingly. This is one of the major sources of income for Food bloggers on Instagram.