WooCommerce Vs Shopify is a fierce battle in the eCommerce domain of WordPress. There are a lot of multi-functional e-commerce platforms, each of which has its own benefits. Shopify is the best Woocommerce alternative out there.
---
---
Both platforms offer attractive designs, product variations, different shipping rates, payment gateways, SEO, and marketing functions; as well as various extensions and add-ons to further expand and improve your online store.
---
Points Covered in this post –
WooCommerce vs Shopify comparison of their functions, designs, etc which will help you determine which one is the best choice of an e-commerce platform.
We will compare both in terms of convenience and ease of installation, features, prices, and some other aspects.
We will look at how to install, add products, and discuss the best themes and plugins available online for your online store.
Creating an online store is a very important task, so let's start with a comparison of these two platforms.
---
What are Shopify and WooCommerce?
If you don't know much about these platforms, let's see the general information about these platforms.
1. What is Shopify?
Shopify is a unique solution that provides everything you need for an e-commerce business. This solution allows the user to create a professional website from scratch without any knowledge of coding or development. You can create your own online store and start selling immediately.
You do not need to buy hosting, then find a theme and make every step manually. Just sign up for Shopify, and the set of tools will be ready in seconds.
2. What is WooCommerce?
Although Shopify offers a unique solution, it is completely different from WooCommerce which is based on WordPress. WooCommerce is a WordPress extension that allows for creating an online store. You must buy a domain name, and get VPS hosting and a theme. In addition, if you are new to the e-commerce world, you must add tax and other boring settings.
For a WooCommerce website, you must first set up your website. Once you are done building the site, you need to add a WooCommerce plugin, and you will be ready to launch. Read about the complete guide on Woocommerce here.
However, WordPress offers better content management, which is an advantage here. You will have to use a fast and reliable hosting provider. We recommend using WPOven the best Woocommerse hosting as a hosting platform for your online store. You can also read about How to use Woocommerce with stripe plugin Here.
---

---
WooCommerce vs Shopify: Installation
First of all, let's look at how easily you are able to install each platform. We believe that if the installation process will be difficult, this will be a decisive argument in choosing WooCommerce or Shopify.
1. How to install WooCommerce?
WooCommerce is a popular plugin for the very popular WordPress content management system. Once you create a WordPress site, you can turn it into an online store using an e-commerce plugin such as WooCommerce. you can host your website at WPOven the fastest WordPress hosting service at Just $1 with 14 days refund guarantee. Here is a guide to how to choose ecommerce hosting?
how to install it? First, you need a working WordPress installation. For complete beginners, installing WordPress is like walking into a park. You just need :
A domain name, for example, website.com.
Hosting with WordPress auto-installer in one click. You can try an eCommerce hosting service for Just $16.61
However, if you already have a working WordPress website, you only need to install the WooCommerce plugin, like any other plugin. Here are the installation steps:
Log into the WordPress dashboard and go to Plugins — Add New.
In the next window, find "WooCommerce" and install it.
Activate WooCommerce, two additional menu items will appear in your WordPress dashboard — WooCommerce and Products.
2. Quick Setup Guide Of Woocommerce
Next, click on the purple Run button and the Setup Wizard button at the top of the window:
This installation wizard will guide you through all the settings that will make creating an online store easier and clearer from the very beginning to its launch:
1st Page – Enter the online store address, the exchange rate, and the type of product you are going to sell on the
2nd Page – It offers several payment options including Stripe, PayPal, and offline payments. Choose the payment methods that will work for you and click Continue remembering that later you will be able to add other payment systems if needed. How to use WooCommerce with stripe plugin.
3rd Page – Extras page you will be offered additional extensions, for example, you can choose automatic tax calculation. Activating the feature above will also automatically install and activate WooCommerce Services and Jetpack.
Please note that on this page you may be offered various additional extensions, such as the free StoreFront WooCommerce theme, depending on the settings you chose in the initial steps of the installation wizard. Make sure you really need them before applying. Or you can also get free premium themes and plugins when you sign up in WPOven.
---
---
Next, connect your store to Jetpack to improve protection, the ability to create backups, generate store statistics, monitor the site, and advertise the product, among other things.
Please note that in order to connect Jetpack to your site, you need a WordPress.com account. Although this process is free and easy, so we do not think that it will cause you any problems.
After connecting Jetpack to your online store, you will be redirected to the last page of the WooCommerce installation wizard:
3. Adding a new product to WooCommerce
Click on the Create a Product button to create a product. This will lead you to the Add New Product page on the WordPress website dashboard:
Obviously, Woo Commerce offers you a guide that will guide you through the process of creating the first product. You can add many different product details, including:
The name of the product.
You can perform actions: save the product "as a draft", see how it looks in the preview, automatically post a link to the new product on social networks, change the visibility of the product, and change the category.
Write a long product description which is very good for SEO.
Optimize your product for SEO using the Yoast SEO plugin.
Categories
Tags
Product data, like price, type, tax, the amount in the warehouse, delivery, related products, attributes, and more.
Image
A brief description of the product appears next to the main product image.
Other details, depend on your plug-ins and site settings.
This is the product mockup you are able to create in less than 3 minutes:
WooCommerce will create the rest for you, including breadcrumbs, URLs best suited for SEO, and the Add to the Cart button.
In addition, It creates a page with the details for your store, that is, the Store, Checkout, Trash, and My Account pages.
Here is a complete guide to WooCommerce Subscriptions
From this point on, you can immediately start selling with WooCommerce. Just publish your products, customize your WordPress theme, if necessary, and send traffic to your new online store.
---
---
4. How to install Shopify?
When comparing WooCommerce Vs Shopify installation, unlike Woocommerce that you add to WordPress, Shopify is an independent e-commerce platform. You do not need to install Shopify on your site. Instead, you sign up for an e-commerce service just as you did when creating your email or Facebook account.
They run a subdomain for you like yourstore.myshopify.com, where you store your online shop. However, to run your own address, you still need to buy the domain name from Shopify or any other domain registrar. At the same time, the Shopify monthly payments cover hosting, which means you do not need to worry about hosting anywhere else.
Now, that we know all the details, let's sign up for Shopify and create a test product. It will show you the whole installation process from creating a store to publishing its first product.
Go to Shopify.com and click the Get Started button:
Enter your email, password, and store name on the next page to start using the free 14-day trial.
You can choose the initial design for your online store or skip this step and return to it later.
Add a description of your business on the following page: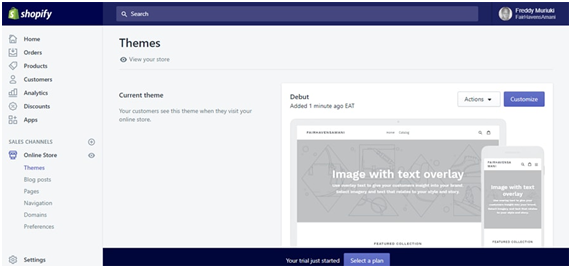 Very attractive, isn't it? Both the appearance and the necessary functionality are in one place. In addition, Shopify offers the Start Exploring button at the top. When you click it, you will go through the entire product creation process.
---
5. How to Add a new product to Shopify?
Click Products in the Shopify dashboard and then the Add Product button. You are able to add new products or import existing ones. On the next page, you can see an intuitive product editor. Just like in WooCommerce, this Add New Product page comes with a set of options for presenting your product:
You can:
Add a product name.
Change sales channels.
Write a product description.
Set the product type, manufacturer, tags, and collections.
Attach images and modify them by dragging and dropping.
Set prices.
Track warehouse availability.
Add delivery details.
Determine the types of goods such as colors, and sizes.
Set up SEO parameters.
After adding product information and clicking on the Save product button, the product editor will display a product in a preview where you can make sure everything is correct:
Click the Next button on the right corner. This will lead you to the Theme Editor page.
Here is the product you can create in several minutes:
On the free plan, you cannot sell anything from your Shopify online store. You have to buy a subscription plan to start selling.
Read our article on How to generate revenue with BitCoin Donate Button on WooCommerce Website
6. Highlights Of Woocommerce Vs Shopify Installation 
The installation process on both platforms is very simple.
WooCommerce offers you more options on initial installation than Shopify (for example, you can select a currency).
WooCommerce's product editor offers more product options than Shopify's product editor.
WooCommerce is free and you can start selling from WooCommerce immediately after installation. Shopify is a paid one and you have to choose one of the offered paid tariffs before you start.
Shopify comes with an SSL certificate (HTTPS), but you will need to order an SSL certificate separately for the WooCommerce store.
---

---
---
Read: 🚩 Woocommerce Payment Gateway & Taxation Guide
---
Woocommerce Vs Shopify Highlights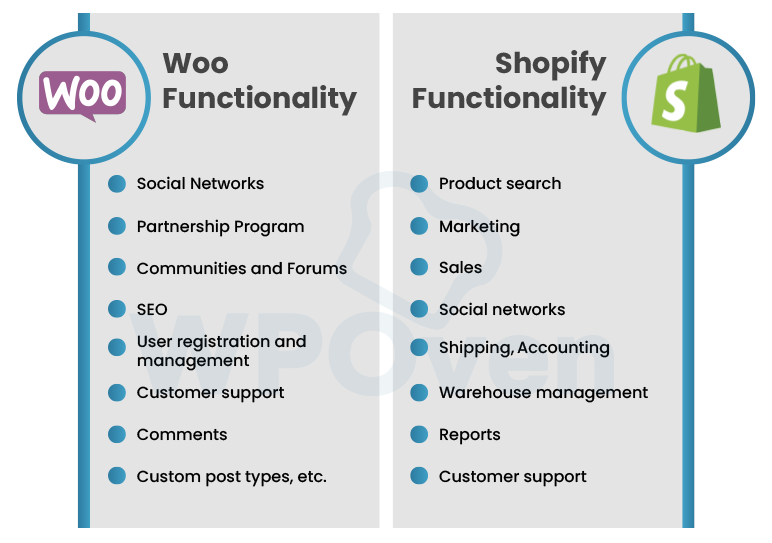 WooCommerce uses the full power of WordPress, that is, you get more plugins than Shopify.
Premium WooCommerce themes are much cheaper than Shopify's official themes.
WordPress/WooCommerce themes have more features and are more extensible than Shopify themes.
With Shopify, you will likely have to pay more for the same functionality as in WooCommerce, due to a regular monthly payment plan.
For a beginner who has never heard of Shopify or WooCommerce, it may be easier to create an online shop on Shopify. Installing WordPress + WooCommerce is also not that difficult, but requires more steps.
Both WooCommerce and Shopify can be used to sell both electronic and real goods.
---

---
WooCommerce vs Shopify: Performance and Security
1. Speed
No doubt, both platforms are performance and security-focused. Shopify provides you with high-quality hosting, which means your store will work really fast. At the same time, you can greatly slow down your store by configuring it incorrectly.
On the other hand, the performance of your WooCommerce-based store depends on the hosting. Get high-quality hosting to avoid problems.
2. Security
In terms of security, Shopify initially offers a free SSL certificate, which means your store is protected. Of course, you should consider all possible other methods of protection, such as password protection, and use only verified themes and applications from trusted sources.
WooCommerce and WordPress offer you many protection options. In addition, you can always install free SSL or pay for an SSL certificate from any provider. Check out other ways to protect your WordPress, such as password protection and as well WordPress platform, themes, and plugin updates installation.
3. WooCommerce vs Shopify: Prices
Two e-commerce platforms have different pricing schemes. We recommend that you choose the platform that suits your needs, but consider the costs to control the budget.
3.1. WooCommerce price
WooCommerce is a free plugin. You are able to use the online store without paying for a premium extension. However, you still have to pay for:
Domain name — from about $10 per year.
Hosting starts VPS hosting from $1
SSL certificate for secure data exchange – Free with Wpoven hosting services
Premium WordPress Theme — Free with Wpoven hosting services
Although WooCommerce is free, there are paid extensions for it. Most plugins cost less than $60. The official WooCommerce website offers a package of 19 extensions for $299, which is $16 per extension.
Remember, you can start creating an online store with the WooCommerce plugin for free. In addition, you can buy third-party WooCommerce extensions for as little as $5.
3.2. Shopify price
Shopify offers a 14-day trial on a subdomain. However, you will not be able to sell anything (or check the purchase process) using the trial version. To start selling, you need to register at one of the paid tariffs.
For $9 a month, you can get the Shopify Lite plan that allows you to sell on Facebook, add products to any site, chat with customers, and accept credit card payments.
Other tariffs: Basic Shopify for $29/mo, Shopify for $ 79/mo, and Advanced Shopify for $299/mo. The own domain name on the Shopify platform will cost you an additional $14.
So, Shopify is much more expensive than WooCommerce.
3.3. Comparison Woocommerce Vs Shopify
Shopify
WooCommerce
Subscription-based tool, complete e-commerce solution.
Free WordPress plugin. Requires hosting and a working installation of WordPress.
Key similarities and differences
Allows selling anything you want (physical and digital products and services).
Online store + autonomous mode
Online usage only
24/7 support via email, chat, and on the phone
Support via tickets, forums, and blogs
Proprietary platform — you can choose your store only how Shopify allows
Open source — you are able to change the shop without limits
Shopify controls your online store data
You completely control the shop
Store design
More than 50 themes (about 10 for free)
More than 1000 themes
Mobile-friendly
Other similarities and differences
Hosting included
No hosting
Free subdomain
No subdomain
Free SSL certificate
You can connect SSL for free but many people pay for it
Unlimited file storage
File storage limit depends on your hosting provider
Sell an unlimited amount of groups
Create/edit promo codes and discounts
Accept payments through PayPal, several payment gateways (including Stripe, credit cards), bank deposits, cash on delivery and other methods.
Accept payments via PayPal, Stripe, checks, bank transfers, and cash on delivery.
Sales statistics and reports
Native multi-language support
Multi-language support via third-party plug-ins
Regulated tariffs and taxed
Final Verdict
1. Use Shopify, if:
You appreciate the approach when you can easily register and create an eCommerce store.
You do not want to deal with any installation yourself, and you do not mind paying a commission to take care of everything.
And at the same time, you want an optimized solution that is no worse than competitors.
You want to have a reliable and responsive support service to solve any questions.
If you do not care about any technical details of your e-commerce platform. You just want it to work as expected and be accessible to all clients and on all devices/
---

---
2. Use WooCommerce, if:
If you want to control your eCommerce store.
Want to have access to thousands of website designs and thousands of plug-ins that allow you to extend the website
You do not mind spending a couple of hours setting up things, and you are not afraid to do the required tasks yourself (or you hired someone to do it for you).
(Optional) You only have a minimum budget to start with, and you want to do everything yourself.
---