Looking for Woocommerce Extensions to enhance features of your WordPress online store?
Well, your Plugins and Extensions are some of the greatest tools to build a fully functional online store on WordPress. Combining the power of Woocommerce plugins and Woocommerce extensions provides the potential to even build an e-commerce website just like top-tier online stores around the world.
And there are thousands of plugins and extensions are available for WordPress to build an online store but not all of them are worthy enough. But the main challenge for any individual to enhance and build the feature of an online store is to choose the right Woocommerce extensions.
Hence, in this article, we bring you, someone of the best Woocommerce Extensions that help you out to, increase your sales and your overall business growth. But before listing out the best Woocommerce Extensions, first, let me explain to you what Woocommerce exactly is?
What is Woocommerce?
WooCommerce is a third-party WordPress plugin, developed to make small-scale to large-scale eCommerce websites. The WooCommerce plugin has several add-ons based on various specific uses, for example, 'WooCommerce Subscription' to enable subscription-based services to enable recurring payments. It will not be an exaggeration to say that WooCommerce is one of the most popular plugins of WordPress.
WPOven is the best woocommerce hosting for your eCommerce store. With free SSD storage, server, and WordPress support. Free SSL, Free business E-Mail, daily Malware cleaning, etc at no extra cost.

The latest version of WooCommerce is 5.7.1 with more than 5 million active installations and an overall rating of 4.5 stars. It is available in about 60 languages. WooCommerce was started as WooThemes in the year 2011 as a theme store and eventually went on to develop this amazing eCommerce plugin.
WooCommerce plugin has lots of inbuilt functions and tools along with an easy-to-use interface to effectively manage the eCommerce store. It is a versatile eCommerce solution with all the basic necessary features to manage a web store effectively.
What are WooCommerce Extensions all about?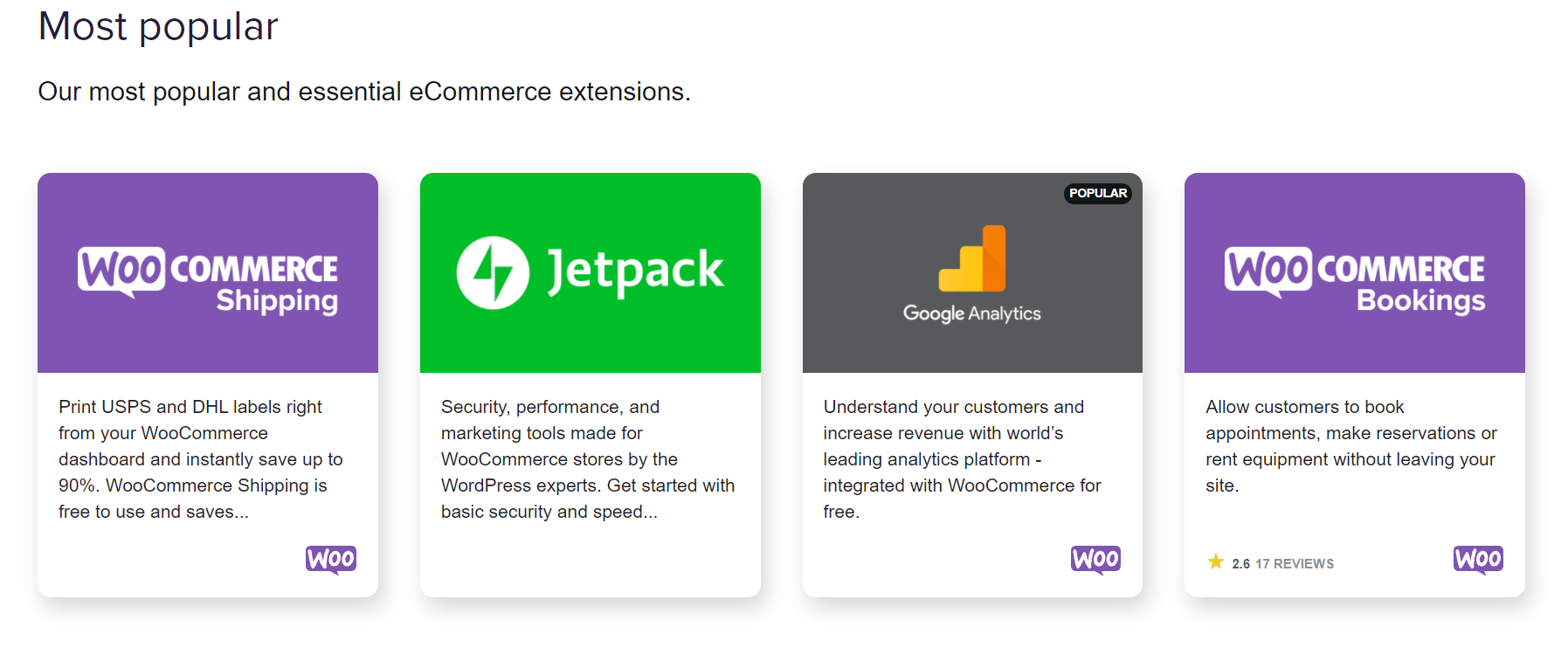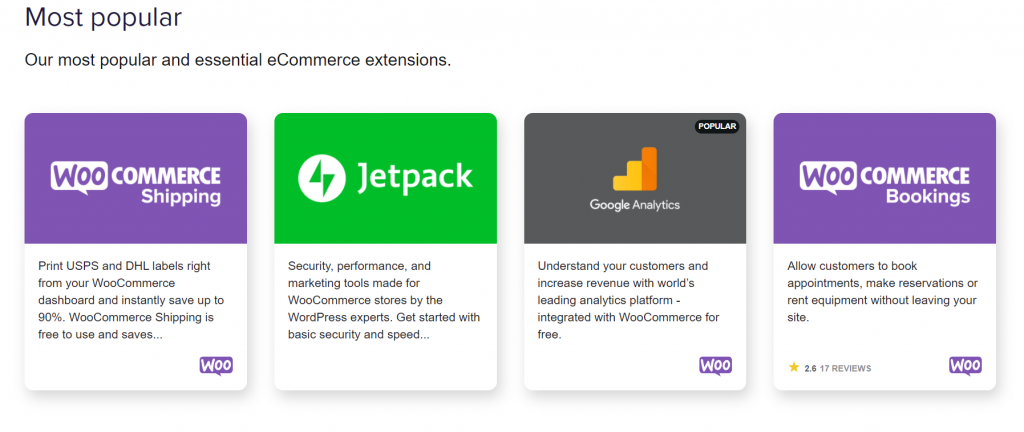 However, Woocommerce offers you a wide range of unique features and functionality, but at some point, it won't be able to fulfill all the functions or features you might be looking for. If Woocommerce has all the inbuilt features that are available, the software would have become bloated, slow, difficult to navigate, and hard to learn.
Hence, it is why Woocommerce Extensions come to the rescue. These Extensions add up features and functionality to the Web store just like WordPress Plugins do. You will have the limitless possibility to features and transform your online store in any manner. With the help of Woocomemrce Extensions, you can integrate memberships, Adding Tracking and shipping methods, payment gateways, and many more popular extensions.
You have a complete market of thousands of Woocommerce extensions available on the internet, either from the official website or their party extension stores. Possibilities are limitless.
What are the risks and benefits of using Woocomemrce Extensions?
From all the good things of using Woocommerce Extensions, there is also some degree of risk associated with it. But first, let us talk about the positive aspect of using it.
Since, you have already read in the above para, How WordPress extensions help in extending features and function of a WordPress Plugin and the Website. Not a single WordPress plugin has all the features and functionality available, some of them lack some most popular features and some of them have just basic ones.
Even it is not possible to install all the plugins on a website, else your Website becomes laggy and becomes difficult for you to learn.
No doubt there has a wide range of free plugins are available and they even work well for most users. But the point is, it might not include everything that you want on your website. For example, if you want to add a new payment gateway that has been newly introduced, You cannot install a completely new plugin for that, instead, just install an add-on or extension.
Even Woocommerce Extension Store has a wide range of payment gateway integrations available absolutely free. That lets you add options such as Stripe, Paypal, Debit/credit card, and many more.
However, apart from all the positives, there are also some risks you must look upon. Adding third-party plugins to your website can be a serious risk to your website security. If the plugin is not secure and coded badly, your website becomes vulnerable to get Hacked.
In addition, these third-party extensions are not even supported by the Woocommece Support team. And if something went wrong, it is all up to you who will be responsible.
But above all the risks and drawbacks, using Woocommerce plugins have more advantages. You cannot launch your online store without some basic and key features which can be only possible by using Woocommerce extensions. The only alternative to this fear of putting your website at risk can only resolve by either you learn coding by yourself and develop extensions or hire a developer. Which doesn't sound financially great.
But you can lower the risks by using Woocommerce extensions from trustful and reputable sources.
Woocommerce Extensions Installation Process
When talking about the Woocommerce Extension Installation process, it is quite different from Installing WordPress plugins. The first and foremost step is to Install a Woocommerce plugin on your WordPress site.
Go to your WordPress Dashboard > Woocommerce > Extensions > Woocommerce Subscriptions.
The next page will ask you to connect your WordPress account with Woocommerce.com. If you have not already had a Woocommerce account, first you need to have one and then try to connect your website with woocommerce.com.
After successfully linking your WordPress website with a Woocommerce account, go back to WordPress Dashboard > Woocommerce > Extensions > Woocommerce Subscriptions, and click on connect.
This will ask you to allow your Woocommerce install to communicate with Woocommerce APIs to retrieve your Subscription information, available extensions and serve update packages to your WordPress site.
Now your most of the battle has been done, you have successfully connected your WordPress site with Woocommerce. Go back to your Woocommerce extensions Dashboard and check out all the Extensions
All Woocommerce Extensions either premium or Free will appear in the list shove above. You can now directly install them or buy them. If you would like to add a third-party extension from other reputable sources. first, you need to download the files they have provided you.
From whichever source you download Woocommerce extension files, all of them will be in .zip format. Hence to install it, you need to go to your WordPress dashboard > Plugins > Add new > click on Upload Plugin, and upload the Zip file that you have downloaded.
If you have bought Woocommerce extensions from exclusive Woocommerce stores, go to your WordPress dashboard > Woocommerce > Extensions > Woocommerce.com Subscriptions and select the inactive plugins to activate.
However, if you have installed plugins from the WordPress repository, you can directly Install > Active them on the same page.
Woocommerce Extensions marketplace
Like WordPress plugins, Woocommerce Extensions also have been available on various platforms all over the internet. Some of them are listed on some popular directories and some of them are hosted on their dedicated websites.
But the point is, from where one should prefer to install Woocommerce Extensions?
Woocommerce Extensions Store
There are various Directories are available that host a wide range of Woocommerce extensions in a large number. Similarly one of the best Market places from where you can trust and install extensions is the Woocommerce store.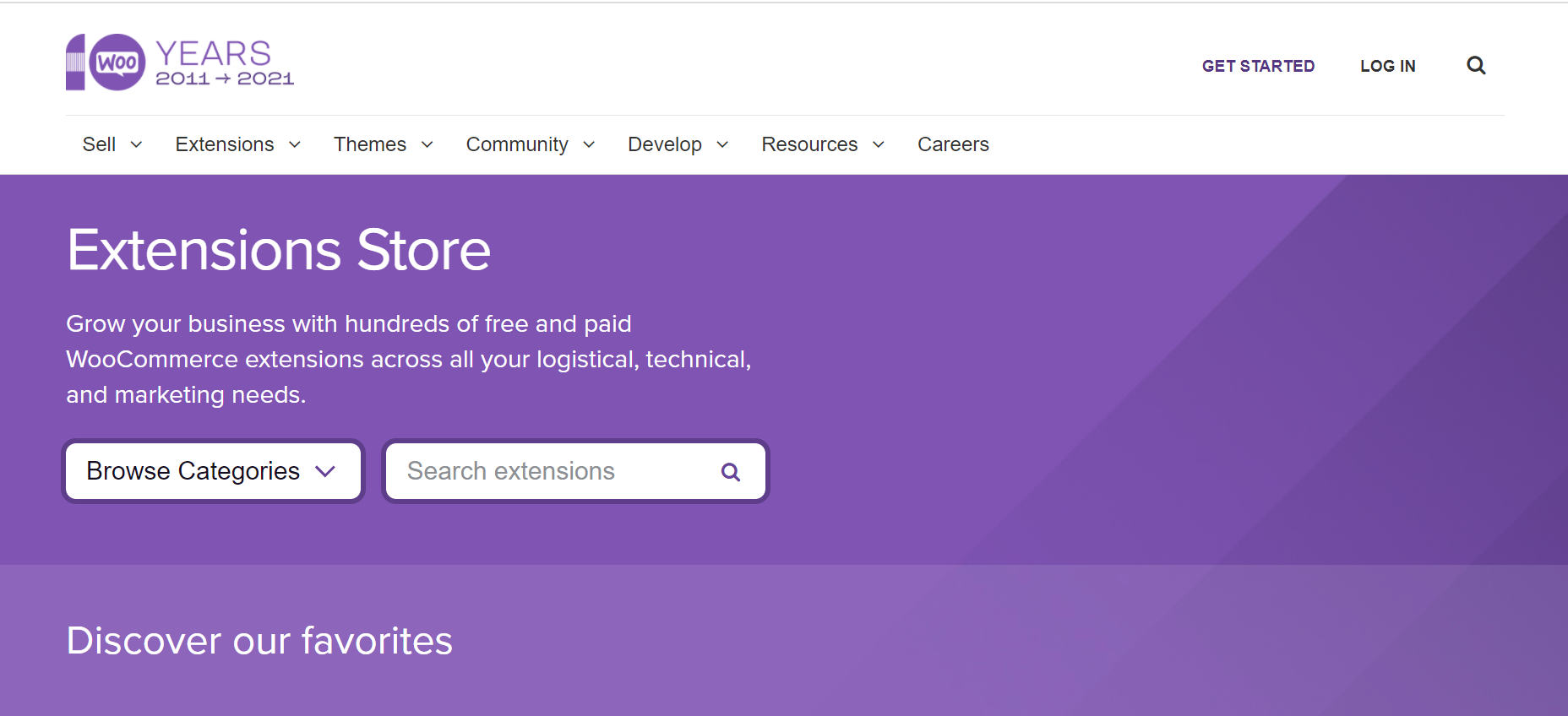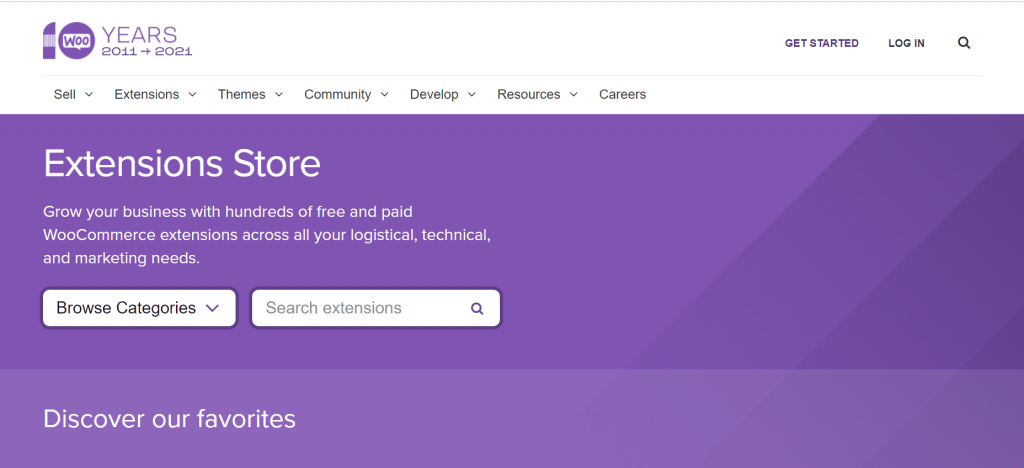 Woocommerce's own Extensions store itself has officially 331 extensions available. Some of them are developed by Woo developers and some of them by other developers but tested and approved by Woocommerce. You can browse different categories to search extensions and not forget to check out the free section too.
It is highly recommended that you should always give preference to download Woocommerce extensions from the official repositories. They are safe, trustworthy, and managed by Woocommerce.
WordPress official directory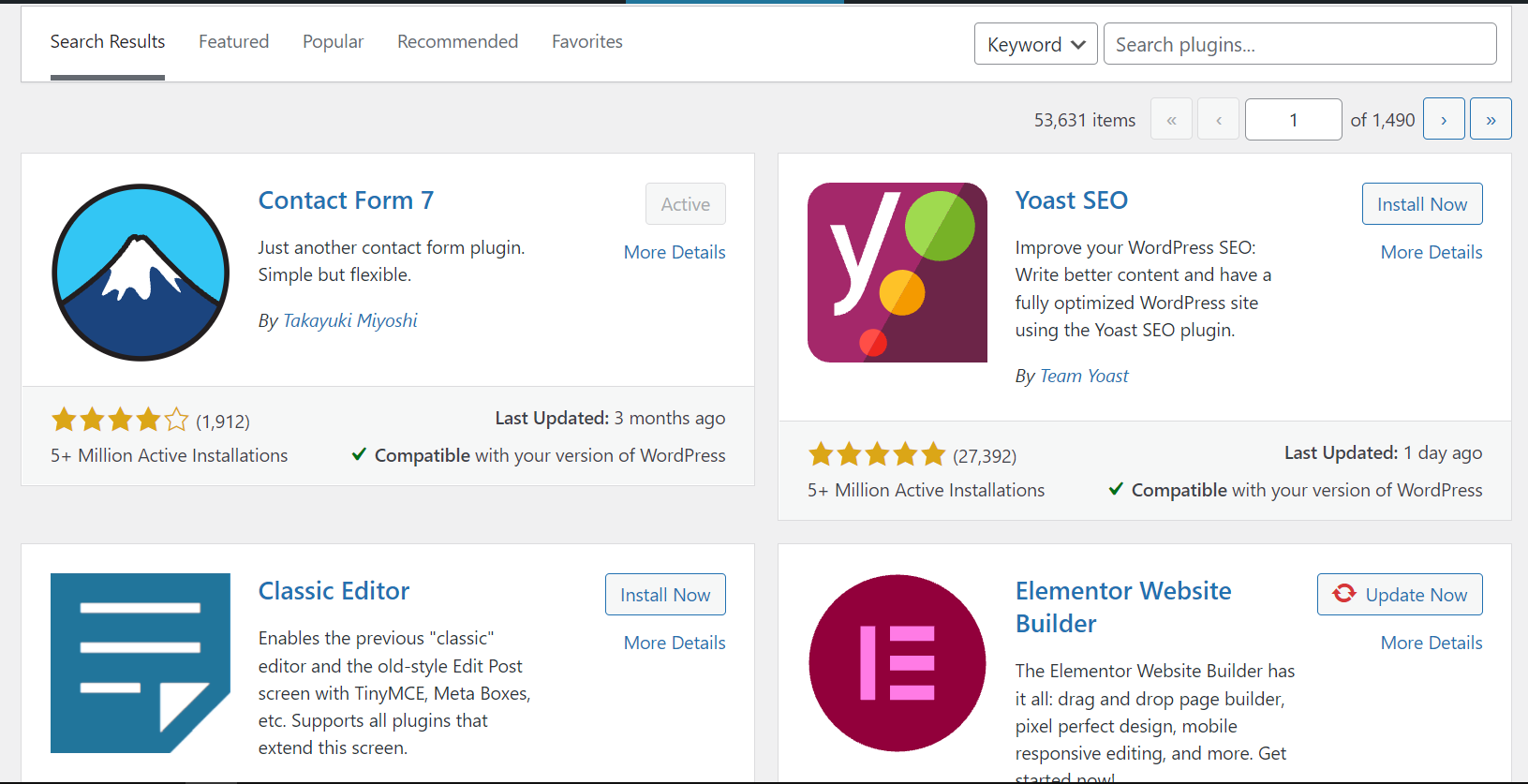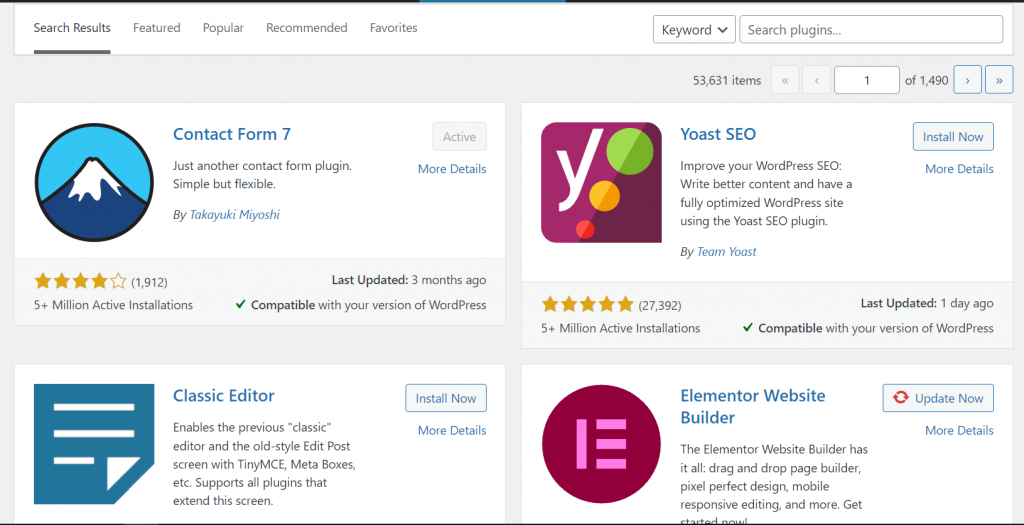 After the official Woocommerce extensions store, the next best marketplace from where you can install Extensions is the WordPress directory. However, the quantity of them is here but whatever available extensions are available, they are completely Free.
When talking about the security and the risks, WordPress may not be as careful as Woocommerce store but WordPress plugins still need to get approvals and pass certain tests to host on their repository. You may not find High-quality plugins on the WordPress directory but in terms of security, they are generally safe.
CodeCanyon
The third and another most famous Woocommerce extensions directory is Codecanyon. It has a wide range of plugins and extensions available for all categories. You can easily find the right extension by filtering out them based on keywords and categories. But the downside is, everything hosted on this platform is paid and not a single one is available free.
Codecanyon consists of more than 100 paid Woocommerce extensions or plugins from which you can choose. First, you need to register yourself on their website, buy an extension and upload it on your WordPress site. Apart from all these, the best part is you will have access to all of the themes and can compare prices relatively.
Some Woocommerce Extensions you must have
No doubt it would be quite confusing for you to choose the right Woocommerce Extensions to enhance the function of your online store. Especially if you do not know exactly what you will require and what you should search for. However, it is best that you browse all the plugins and extensions and find out yourself which one would be great for your website. But there is also a higher possibility that if you are a beginner, you might miss out on some of the best extensions that have important functions that you are unaware of.
Here we have narrowed down the process of searching Woocommerce extensions by providing you a complete list.
While setting up your online store, the first and most basic thing you will require is to have various shipping and payment methods. There are various plugins and extensions are available that will help you to integrate a variety of shipping and payment options on your online store. Some of them are :
1. Paypal or Stripe (both)
You should never forget to integrate these two most famous and free Woocommerce payment gateways.
Some Features
Get started for free
Supports Multi-currency
Increase conversions
Simplify your workflow
Reduce cart abandonment
Stay on top of chargebacks,
Immediate access to your funds when you need them.
Get paid in your nominated accounts
Pricing- Absolutely Free
2. Woocommerce One Page Shopping
Woocommerce One Page Shopping helps to reduce a buyer's journey by compressing the store pages and checkout into a single page.
Due to this, it has become convenient and fast for a buyer to add the item and checkout simultaneously from the same page. In addition to that, other extension settings make it easy for you to customize the combination of checkout and product pages as per your requirements.
Some Features
Get Free Support
Increase Conversion Rate
Faster Checkouts
Pricing: $20
3. Advanced Coupons
To enhance buyer's interest and attract them, Advanced Coupons is one of the best Woocommerce Extensions that extend the coupon functionality. and Also let you design and create better coupons and offers. It is well designed and provides a lot of advanced options such as buy one get one free, Auto-generated coupons, festive coupons, shipping coupons, and many more, that integrates well with your Woocommerce.
Using multiple ways of coupons you can easily boost up your sales on online stores. The best part is you can even use it for free since a free version is also available to download.
Some Features
BOGO deals
Add Products
Cart Conditions
Scheduled Coupons
Auto Apply
URL Coupons
Shipping Coupons
Pricing: $59 to $199 per year
4. YITH WooCommerce Wishlist
YITH woocommerce Wishlist plugin lets buyers or customers save products in their wishlist and they can check it out whenever they want to share it with anyone. This is one of the perfect strategies to implement on your online store, especially during festive seasons or sales. This will increase the purchasing power of customers and eventually boost up your online sales.
Some Features
You can select the page to show wishlist
You can insert the shortcode and enable "Add to wishlist" option anywhere on a page.
you can show even the "Remove from wishlist" option
You can also show "Add to wishlist" option on Shop page too.
You can customize wishlist Table
You can even add products with variations in wishlist.
Pricing: $94.99 per year
5. WOOCS – Currency Switcher
What would be the best thing other than having international customers on your website? But this can only be possible if you provide them a Currency Switcher option so that they can navigate through your products in their own currency without any issue.
Woocommece Currency Switcher is one of the best Woocomemrce extensions that support multiple nations. The whole setup process is also easy, All you need to either insert a shortcode within the content or use it as a widget on your online store. Even you have the option to customize the design and select how visitors can choose their currency in various styles.
Some features
Multiple Designs
Supports Multiple Currency
Automatic currency rate changing
Easy to Set Price
Multicurrency Drop down switcher
Payement rules
Show approximate price and many more.
Pricing: $32
6. Woocommerce Advanced Shipping
After checking out the products, the customer has to select Shipping methods, and to make this whole process a lot easier with more options, woocommerce Advanced Shipping is one of the best extensions. With the help of this extension, you can either increase or lower the shipping charges based on weight, quantity, area, and a lot of other shipping options.
In addition to it, you can even implement shipping based on conditions such as area pin code, the weight of the product, limited stocks, and many more.
Some Features
You can create Multiple shipping options
Conditional Shipping methods
No coding needed
Shipping can be done on Pin code, State or city
Table rate shipping
Unlimited Shipping methods
Pricing: $18
7. WooCommerce Subscriptions
Using the Woocommerce Subscriptions plugin, you can implement subscription-based products and sell them to earn recurring income. It is the best method to generate passive income for any individual.
Whatever the product is, either physical or digital, This Woocommerce extension allows you to have the complete flexibility to sell products online.
Some features
Free Trials and Sign up Fees
Subscription Management
Synchronized Payments
Flexible Product Options
Subsctiption Coupons
Variable Subscriptions
Subscriber Account Management
Upgrades and Downgrades
Multiple SubsCriptions
Customer emails and many more.
Pricing: $199 per year
8. All in One SEO (AIOSEO)
When you are building a website, you are also aware of the fact that how SEO is important. Especially if you want to get a better rank in SERPs. Hence, the All in One SEO plugin is the best SEO plugin especially for Woocommerce stores in the market. And the amazing thing about this plugin is that you do not need to have prior knowledge of SEO because the plugin itself helps you to improve rankings.
If you are at the starting phase, you do not need to pay for their premium plans rather try their free version. In the settings, you have the option to set titles and product descriptions as per the SEO standards.
This plugin will automatically generate sitemaps consists of all the products and their categories. Due to this, it becomes easy for search engines to find your products and show them on search engines results. In addition to it, the plugin also supports schema markup, which generates rich snippets on SERPs. And mark a unique presence among its competitors on the search result pages.
This All in One SEO extension also helps to optimize product images and even local SEO too. So, it has all the possible ways to rank an online store better than anyone would look for.
Some Features
Local SEO
Woocommerce SEO
SEO optimizer
Advanced SEO modules
Smart Sitemaps
Schema Markup
Product Categories and Videos Sitemaps, etc.
Pricing: $49.50 – $299.50
9. WhatsApp Chat and Share
WhatsApp is so popular app that has billions of users worldwide and you can easily find it installed on almost everyone's smartphones. Hence, integrating your website with the Whstapp option would also make it a lot easier for your site visitors to directly chat with you via WhatsApp.
Using the Whatsapp extension on your online store, not only improves customer satisfaction but also eliminates the phone call supports, instead you can directly deal with your customers easily.
Some Features
Localize all texts
Share option
Show by device
Predefined message to send and many more.
Pricing: $14
10. WooCommerce Google Analytics Integration
Google Analytics is a great tool to monitor and analyze your website traffic and it can be very helpful if you are running an online store. Using this google analytics Extension you can link a referral to purchase and add transaction information to your Google Analytics data.
Some Features
Supports Google Site tag
Universal analytics
eCommerce
Advanced Ecoomerce event Tracking
Pricing: Free
11. Easy Affiliate
One of the best ways to generate passive and recurring income is through affiliate links. Especially when you list products on your online store, you link some premium products through affiliate links to generate commission on it. So, the easy affiliate plugin is the best tool to manage and track all your affiliate or referral links on your website.
Even with the help of this plugin, you can create and implement your own affiliate program and encourage your user to promote your products.
This easy affiliate plugin is quite easy to use, within few clicks anyone can set up their affiliate program on their online store. Whenever a customer or a visitor signs up for your affiliate program, they will receive an affiliate or referral link through which they can earn a small commission based on sales or conversion, through that link.
In addition to it, this affiliate plugin also generates a complete reports regarding all the referrals , payments and sales, which will be easy for you to track. You also have the option to restrict affiliate program to certain members and send affiliate payment in any mode of your choice.
Some Features
Affiliate Dashboard
Real Time Reports
Fraud Detection
Ecommerce Integrations
Email Marketing
One-click Payouts
No Transactions Fees
Pricing: $99.50-$199.50 per year
12. Min/Max Quantities


Min/Max Quantities woocommerce Extensions let you define, minimum and maximum quantities of products in different other variations as well as minimum/maxm cost required to checkout.
Some features
You can set min or max quantity for product to checkout
You can set min or max price for product to checkout
Restrict certain products as per the conditions or rules
Pricing: $29 billied annually
13. Custom Product Tabs for Woocommerce
We know how long it may become your product pages can be. And it become very tedious for your visitors if the pages are not well organized. But all these problems can be easily sort out by simply adding tabs to your products that distribute information such as variation, specifications in a single tab can be done using Custom Product Tabs for Woocommerce extensions.
Hence, you can implement an Tab option just next to the product description, that give your visitors a detailed information without messing up or making long pages.
Some features
Allow to add custom tabs for products
You can create saved Tabs
Tabs can be easily deleted, rearranged or added.
Pricing: Available completely Free
14. Better Variations
Woocommerce better Variations is a simple but very useful woocommerce extension, that can convert a simple online store just like the big eCommerce websites. It simply gray out the product variations depending upon the availability , product size, and color, etc.
You can also customize the message depending upon the availability of stocks, so that you can provide more information to them. The more information you will intimate your customer, the better customer satisfaction will be. You can also mark date to show "Back in stock" message so that your customers can estimate how long they have to wait.
Some Features
Disable and style sold out variations
Re style and Re sort options
Flexible and easy to use
Pricing: $49-$89
15. PickPlugins Product Slider for WooCommerce
PickPlugins Product Slider for WooCommerce is another amazing Woocommerce extensions with the help of which you can style your product pages and give your customers a whole professional website look. With this, your extension you can creat a beautiful product slider that your customers can easily check out all the variations or options on the same page.
You can add them anywhere on your online store, but make sure it must look great to your customers.
Some Features
Slider Column Number
Slider Autoplay
Slider rewind and loop
Slider Stop and hover
Slider center
Slider Navigations
Slider dots
Hide out of stock and many more.
Pricing: Although the free version of Product slider plugin is available to download from WordPress repository. And its premium plans starts at $19 to $119.
16. YITH WooCommerce Zoom Magnifier
The next step to give a professional look to your online store is to add Zoom Magnifier feature by using YITH WooCommerce Zoom Magnifier. On many ecommece gaint websites you have already seen whenever you hover over the product images, the images get large at that moment to provide a clear and in detailed view.
Similarly you can also implement this features by using this plugin and give your customers the same experience.
Some Features
Easy to enable zoom feature on product images
Activate/deactive Product image feature on mobile devices
Set the size of zoom window
Enable the product gallery slider
Enable Slider autoplay
Choose whether to blur the image while zooming or not and many more.
Pricing: Free and you can download it from WordPress repository
17. Beeketing
One of the most amazing automation plugin for sales and marketing is Beeketing. With the help of this extension you can monitor your marketing, teack sales, engage your customers, acquire leads and convert them automatically.
This extension has the power of almost 10 different extension such as checkout, sales, coupons, etc, which are inteligentally designed to make the whole process automatic and simply the whole marketing process smooth and seamless.
Some Features
Increase Average Order Value
Prevent And Recover Abandoned Carts
Retain loyal customers
Get Visitors to start buying
Pricing: Free to download from WordPress Repository
18. Product CSV Import Suite
This simple but out of the box Woocommerce extensions let you Export or Import all your Data into CSV format. With this plugin it become so easy to handle thousands of products and custom information from the products , brands and many more. you can import all the complex and valuable data of products in just a simple click.
Some Features
Save time creating and updating complex products
Managing your product catalog
Manage and sync your catalog including bookable products
Pricing: $49
19. SUMO Reward Points- Woocommerce Reward System
Like other popular Ecommerce Websites, you can also reward points to your customers whenever they make purchases. You can either give them some points or coins whenever, they either sign up, share on social medias or buying products from your online store. And later on they can redeem the coins or points on their next purchase.
In addition to it, you can even add points or coins expiry date to boost up the sales and increase competition.
Some Features
Complete Reward point System
Points with Expiry
Nominee Feature for Charity
Encashing Reward Points
Buying Reward Points
Strictly Point Pricing and many more.
Pricing: $49
20. Booster for WooCommerce
Booster for WooCommerce, is one of its kind, that has bundled almost all the features of Woocommerce Extensions. This plugin has all the essentials that you will require to completely customize your online store's features and functionality into a single Woocommerge package.
You do not required to have coding skills nor the extension has complex setup process. The Booster for Woocommerce provides a complete customization experience for everyone.
Some Features
PDF invoicing and Packing Slips
Product Input fields
Prices and Currencies
Cart and Checkout
Product Addons
Button and Price Labels
Payment Gateways and many more.
Pricing: Although the free version is available to download from wordpress repository but you can also upgrade to their booster plus at $11.99 to $31.99 per month.
21. WooCommerce Waitlist
Nowadays, the demand has been increased ever since, hence the the products easily get out of stock in any sales. Due to this you you can potentially lost your conversions permanently. Hence to avoid such there is Woocommerce Waitlist extension, with the help of which you can retain your customers and notify them automatically whenever the product gets back into stock. In addition to it customers will have the freedom to either delete or add products in their waitlist at any moment of time.
Some features
Automatically notifies the customers whenever the product which was in their waiting list is in stock.
Plug and play functionality
Intelligently identifies products and priotize accoding to their demand
Allows customers to edit their waitling list
maintain a record of users that have been emailed an in-stock notification and many more.
Pricing: $49 per year
22. WooCommerce Multilingual
What would be better than getting international traffic on your online store. This can only be possible if you allow your visitors to visit your online store in their their preferred language. And also you do not like your visitors to translate each page which is itself quite a hectic task. So, Woocommerce multilingual plugin heps you out to overcome this problem and blends well with Woocommerce.
These Woocommerce Extensions are cable of translating your complete online store whether it is currency or product descriptions without affecting your SEO.
Some Features
Translate Woocommerce products, variations and even emails.
Translates even the whole check out pages.
Allows to set and convert prices in multiple currencies.
Compatible with most of the woocommerce extensions and plugins
Pricing: $39 to $199
23. YITH WooCommerce Ajax Search
With adding multiple and wide range of products, an online store become complex over time. Hence, it become difficult for your customers to check out their desired product easily. To overcome this problem you can add a Search Option using YITH woocommerce Ajax Search Woocommerce Extensions.
You can set a search bar widget anywhere on your online store. This way your customers can easily search their products directly without checking out whole range of products at once. This little feature of usability enhances whole buying experience.
Some features
Easily you can set search widget or shortcode anywhere on the website.
You will have options to customize the search bar
Options for displaying of Woocommerce search results.
Pricing: Open source and Free
Summary
Woocommerce is one of the best plugins that has the potential to turn any regular website into an Ecommerce store. Not just a simple online store but a full functional store that can beat even top notch e-commerce websites like amazon. But the only downside of this plugin is, you might not find some features that you'll like to add.
Thanks to Woocommerce Extensions, that comes to the rescue Woocommerce by bringing an unlimited possibility to extend the functionality of this plugin.
No doubt there have been a lot more Woocommerce Extensions directories are available, where you can find more Woocommerce extensions easily, but whatever I have mentioned in this article, they are the most trustful sources for over a long time.
In this article, with my best knowledge and experience, i tried to make a complete list of some of the best Woocommerce extensions one should consider for their online business.
If you find that i have forgot or missed some more worthy Woocommerce Extensions to mention in this article, feel free to share with us in the comment section below.
Frequently Asked Questions
What is WooCommerce extension?
However, Woocommerce offers you a wide range of unique features and functionality, but at some point, it won't be able to fulfill all the functions or features you might be looking for. If Woocommerce has all the inbuilt features that are available, the software would have become bloated, slow, difficult to navigate, and hard to learn.
Hence, it is why Woocommerce Extensions come to the rescue. These Extensions add up features and functionality to the Web store just like WordPress Plugins do. You will have the limitless possibility to features and transform your online store in any manner. With the help of Woocomemrce Extensions, you can integrate memberships, Adding Tracking and shipping methods, payment gateways, and many more popular extensions.
How many WooCommerce extensions are there?
Officially there are total 331 woocommerce extensions are available on their official web store.
Are WooCommerce extensions free?
With a wide range of Woocommerce extensions available, some extensions are free whereas some of them are paid. However not all of them are worthy enough