Online shopping and transactions are an integral part of today's websites and many online businesses. In this article, our focus is on WooCommerce, which is a versatile plugin to transform a simple WordPress website into an eCommerce platform. The transaction could be done to purchase a tangible product, buy services, buy subscriptions, make online donations, enroll in training and course programs, or many other reasons based on a specific business model. 
Simply explain, eCommerce is a method to make financial transactions online through Credit/Debit Cards and net banking.
---
---
There are various methods to make a website eCommerce enabled. Various platforms are available to develop eCommerce websites like Magento, Drupal, WordPress, Zen CMS, Shopify, and more.
There are usually 4 parties involved in an eCommerce transaction, as follows:
Customer




Merchant




Payment

Gateway




Merchant's

Bank




Customer's

Bank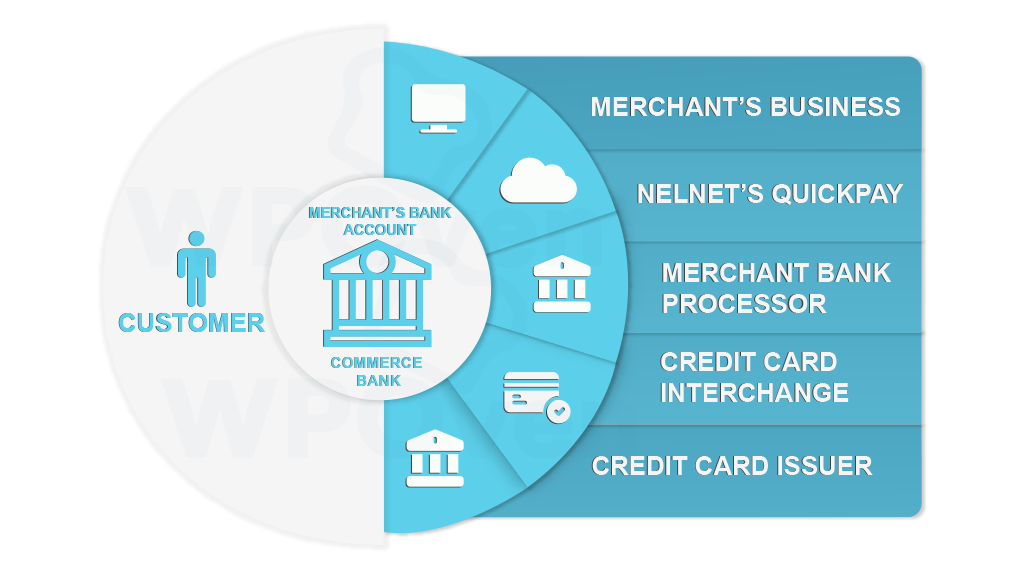 The customer buys through the online transaction on the merchant's website. The payment gateway processes the payment using a credit card or net banking based on the selection made by the customer.
The payment gateway enables the transfer of money from the customer's bank account to the merchant's bank account.
---
What to look for in an eCommerce Solution:
There is an increasing demand for eCommerce as people prefer to make purchases online through mobile, tab, or laptop. Hence, it is a good investment to develop a good eCommerce website that has all the good inbuilt management tools for store admin, and an intuitive, easy-to-use, and hassle-free experience for the website visitor.
There are also many extensions for WooCommerce, which will help us to further customize our store, being able to add for example payment gateways, and extensions for personalized shipments, to add other types of services such as reservations, and billing.
---
Why is Woocommerce best?
Ease of Use – An ideal eCommerce solution should be user-friendly from an admin's perspective as well as the customer's perspective. It should be quick to install and customize. The overall buying experience for customers should not be cumbersome.
Management Tools – The eCommerce backend should have sufficient tools to manage the web store effectively. Also one should consider how well it can integrate with third-party applications.
Budget – There are various costs involved in running an eCommerce store. Some of them are one-time while others are recurring expenses. You should consider the overall budget for running the eCommerce solution. The typical expenses include annual domain costs, annual web hosting, annual SSL certificates, development, and customization charges (if you are hiring the developer), and license fees for plugins and extensions.
Compatible Payment Gateways – Make sure that the eCommerce solution provides easy integration with payment gateways that are popular in your country/region, and that the checkout & payment processing is easy and hassle-free for the customer. Here is a complete guide to WooCommerce Payment Gateways and Taxation Guide
Flexible & Scalable – The solution should not be restrictive in terms of scalability. It should be able to accommodate changes in the future if you want to add more features to your web store.
Support – It is of utmost importance that there is a capable support team to guide you in situations when you are stuck with finding the right solution or troubleshooting any technical issues. Besides that, the solution should release occasional updates to counter security issues and make it compatible with the latest technologies and applications.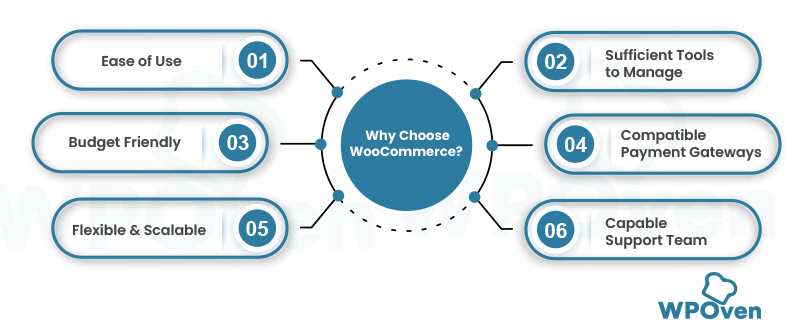 ---
What is WooCommerce?
WooCommerce is a third-party WordPress plugin, developed to make small-scale to large-scale eCommerce websites. The WooCommerce plugin has several add-ons based on various specific uses, for example, 'WooCommerce Subscription' to enable subscription-based services to enable recurring payments. It will not be an exaggeration to say that WooCommerce is one of the most popular plugins of WordPress. 
WPOven is the best Woocommerce hosting for your eCommerce store. With free SSD storage, server, and WordPress support. Free SSL, Free business E-Mail, daily Malware cleaning, etc at no extra cost.
The latest version of WooCommerce is 3.7.1 with more than 5 million active installations and an overall rating of 4.5 stars. It is available in about 60 languages. WooCommerce was started as WooThemes in the year 2011 as a theme store and eventually went on to develop this amazing eCommerce plugin.
WooCommerce plugin has lots of inbuilt functions and tools along with an easy-to-use interface to effectively manage the eCommerce store. It is a versatile eCommerce solution with all the basic necessary features to manage a web store effectively.
---
Is WooCommerce Free?
Yes, WooCommerce is a free plugin that can be downloaded from the WordPress repository or directly installed in the WordPress admin dashboard. Besides the base WooCommerce framework, various extensions and add-ons can be added to enhance functionality and add new features. Some of these WooCommerce add-ons are paid, while some of them are free. Each of the paid extensions can be purchased separately at its stand-alone price. For example, the 'WooCommerce Subscription' extension starts at $199 for a single site. It adds a feature to charge monthly or weekly or annual recurring payments which are not available by default in the WooCommerce setup.
Read Complete Guide: 🚩 recurring income business with a WooCommerce Subscription.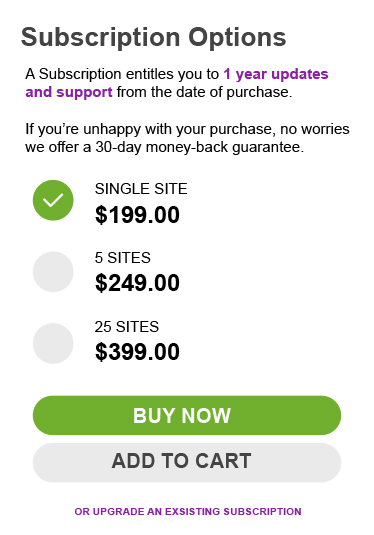 Some other extensions are as follows:

The WooCommerce extensions are of various specific uses like Payment Providers, Shipping Methods, Product Customization, Payment Customization, and Marketing extensions (Mailchimp, etc.). There are more than 300 WooCommerce extensions.
Learn How to add a donate bitcoin button to your Woocommerce website. 
WooCommerce Integration:
WooCommerce is easy to integrate with many popular apps and platforms. Like you can integrate it with MailChimp for email campaigns, and connect Woocommerce to Google Sheets, it can also be integrated with the Gravity Forms plugin to manage product order processes and other customizations.
Gravity Form is one of the most popular and versatile plugins that can be integrated with WooCommerce. Gravity form can be used as an ordering form that can be mapped to an existing WooCommerce product. A gravity form can also be used to create product add-ons and customization. Gravity form has a dedicated 'Product' field. Gravity form can be used to process payment through its Paypal and Stripe extension.
---
What Are The Best Woocommerce Plugins?
Besides these extensions and integrations, there are other plugins developed by other independent developers that enhance the functionality and usability for specific eCommerce needs. Some of these plugins are paid, while others are free. Here are some of these plugins:
Stripe

Payment Gateway




YITH

Wishlist (and other plugins from YITH)




WooCommerce

PDF & Print




AliDropship

Plugin.
Read: 🚩 How to use Woocommerce with Stripe (Woocommerce Stripe plugins)
---
Application Integration:
1. WooCommerce Themes:
There are some themes developed by WooThemes, while others developed Woocommerce-friendly themes. The WooThemes are paid for and can be bought separately. While the other third-party themes like MojoThemes are free as well as paid.
2. WooCommerce Learning Management System (Sensei):
WooCommerce has developed a complete learning management and training management system, with features to add courses, lessons, and tests. It has an extension as well for content dripping using which content is delivered automatically to students based on a certain logic. You can define the logic like sending weekly lessons to students.
With WooCommerce you can create training products, which a student can buy and start the course. Go through the assessments, clear the modules, and so on.
It works seamlessly with every WooCommerce-friendly theme. Sensui is built in collaboration with Automattic, which is also behind products like WordPress.com, Jetpack, and Gravatar.
3. Why use WooCommerce:
It will not be an exaggeration if we can call WooCommerce a DIY eCommerce application development tool, with all the basic functions embedded in it by default, and more advanced and complex functions can be added using extensions and plugins.
4. Pros of WooCommerce:
It

is scalable and flexible




It

can be easily customized




Integrated

really well other apps, including various shipping platforms




Easy

tax definitions and calculations




Have

all the functionality of a basic online store inbuilt into the base

WooCommerce installation




Easy

to install and configure




Easy

to define Shipping Methods and Costs




Easy

to integrate with global and local payment gateways




Supports

almost all the currencies




Support

drop shipping model of eCommerce




100%

free as it open source




Impressive

customer support
These are just some of the pros that you can avail of the basic Woocommerce plugin.
5. Cons of WooCommerce:
Some

of the extensions and plugins are expensive




Unlike

dedicated eCommerce platforms like Shopify, this is a 3rd party

plugin.




WooCommerce

can be installed with any web host, you have to take certain

security measures with WooCommerce to make your online store more

secure




Financial

transactions happen out of Woocommerce, through

independent payment gateways like Paypal or Stripe. In some of the

dedicated platforms, the payment gateway is inbuilt in the system.




As

you can use Woocommerce-friendly themes and plugins by independent

developers, woo-commerce cannot provide complete support in such

cases in case of some incompatibility issues.

WPOven
Shopify

– Dedicated and fully hosted eCommerce platform (Read our article about Woocomerce Vs Shopify)


BigCommerce

– Dedicated and fully hosted eCommerce platform




Magento

– Open source eCommerce platform
---
How to Start an Online Store:
With many of the available solutions, developing an eCommerce store has become a cakewalk, anybody can develop it anywhere in the minimum possible time. For this kind of business, it is important to implement virtual phone systems to have effective internal-external communication. Online Business models like Dropshipping have given a boost to the eCommerce industry.
The available eCommerce solution can be categorized in 3 ways, as follows:
Fully Hosted eCommerce Platforms.

Example: Shopify and BigCommerce. With this solution, you don't

have to worry about third-party hosting, server maintenance,

security, updates, etc. These platforms are ready to go.



Dedicated eCommerce Platforms.

These are platforms especially developed for eCommerce. You have to

install the script on your web server and customize it the way you

want. Example: Magento, Square, X-Cart.



Third-Party Plugins to add to a CMS platform.

These are the third-party plugins you can install on an existing

CMS. Example: WooCommerce.
Once you have selected and configured one of the above solutions, there are some basic actions you have to perform to get started.
---
Configure Domain, Hosting, and SSL:
You have to register the desired domain name and set it up on a web host. To build trust with your customers you need to install SSL, which is also a prerequisite for many payment gateways to process secure financial transactions online.
Domain Name: A domain is the web address of your online business. Web users will type the domain name in their browser to visit your online store. It is important to register a domain name that matches your business name and can be recalled and remembered easily.
Web Hosting:
A server that hosts the files and database of your website is known as a web hosting server. It is important to invest with a reliable and trustworthy hosting provider, that has good features and support to make your online business a success. Check out our Wocommerse Hosting Solutions. 
Check out our blog on How to choose your eCommerce Hosting?
Web hosting is one of the most important factors in making or breaking your eCommerce store. There are some points that you need to look for in a good web hosting company.
Offers

maximum uptime, many hosting providers claim to provide 99% uptime

. Please check customer reviews on various platforms if they fulfill

the claim.




Have a

faster response time. It is of utmost importance these days to have

websites that open quickly, and hosting servers are an important

consideration for that. WPOven has dedicated resources for all the

websites hosted on their server and all servers have fast SSD disks

that improve load time.




Have

Good Caching Capabilities. It is a feature that stores some scripts

and data in the browser's cache for faster loading. WPOven the best WordPress Hosting uses custom

varnish cache along with Redis caching which is a smarter way to

cache.




It

should be feature-rich, like easy backup and update options from the

dashboard.




Should

have good customer support




Some

providers also offer WordPress Hostings to cater to the special needs of

WordPress, which makes managing WordPress websites much easier.
---
Benefits of Dedicated WordPress Hosting for eCommerce:
It

improves the overall performance of the WordPress website.




WordPress

is installed by default.




Automatic

updates and security patches




Offers

Mission Critical Security




Optimized

for faster loading
SSL Certificate:
People often have this myth that the SSL certificate doesn't add any value or functionality to the website, and hence it is a complete waste of money.
An SSL secures the connection between client and server through encryption and hence protects sensitive information about customers and their financial data. Once successfully installed it will display a secured lock icon with https in the user's browser and will help in identifying your website as secure for online money transactions.
Typically an SSL certificate costs between $8 to $1000 per year. But WPOven offers free SSL for all the sites.
A website with SSL installed scores better in search engine rankings, so you can definitely say that it's more business than usual with an SSL certificate.
Besides that, all the leading payment gateways have made it mandatory to install SSL certificates for online transactions. In the absence of it, your customers will not be able to make any online payments.
---
How to Setup WooCommerce?
With your domain, hosting and SSL ready, the next step is to start configuring WooCommerce.
As a prerequisite, there should be a WordPress installation on the server for the website, and the WooCommerce plugin needs to be installed and activated.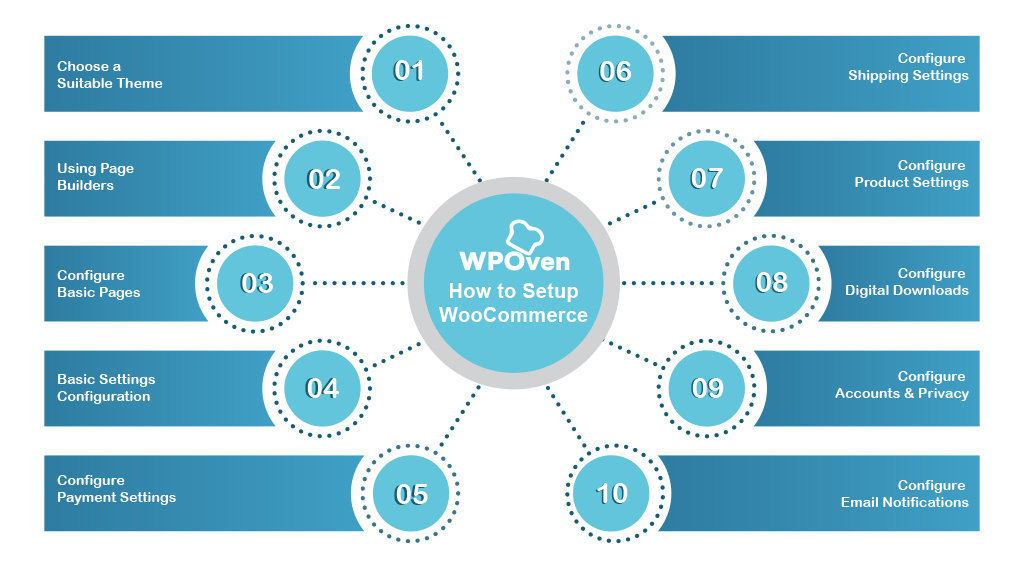 Choose a Suitable Theme:
You need to choose the designs or themes. There are many WooCommerce-friendly themes available on the WordPress repository for free as well as leading WordPress Theme Marketplaces like Mojo, Themeforest, Woothemes, etc.
While choosing a design you have to make sure that it adheres to all your WooCommerce requirements. Some themes provide some additional inbuilt functions like Ajax Search, Product Display Layout, Product Browsing, etc. Please make sure that the theme has good inbuilt customization options.
One of the important considerations here is to make sure that the theme should be compatible with other Woocommerce extensions and add-ons that you want to use to achieve your eCommerce objectives.
Using Page Builders:
All the leading page builder plugins support WooCommerce and have inbuilt WooCommerce widgets for various specific use. One of the benefits of using a page builder plugin like Elementor or Visual Composer is that it doesn't break the page layout in case you change the theme of your WordPress website in the future.
Configure Basic Pages:
There are some basic pages that each eCommerce website has. These include Registration/Login, My Account, Shop (page to display the products), View Cart, and Checkout. These are essential for the seamless functioning of any eCommerce store. Without these pages, WooCommerce doesn't work. WooCommerce can automatically generate these pages, while one can create these pages and then assign them the above functionalities from the WooCommerce dashboard.
Besides these pages, you can add some other legal pages like Terms & Conditions, Privacy Policy, Refund Policy, Shipping Policy, and any other pages relevant to your business model.
Basic Settings Configuration:
There are some basic settings every eCommerce platform has that you need to configure like Physical Address, Country, Currency, and Select type of deliverable (physical/digital/services/subscription).
Configure Payment Settings:
Another essential step is to configure payment settings correctly to receive the payments in your account. There could be one or more payment methods applicable in an online store like Cash on Delivery, Pay by Check/DD, Wire Transfer to account, NetBanking, or Credit/Debit Card. You can select which ones to use, and the customer will be able to choose one of them while making the payment.
The most popular method is NetBanking and Credit/Debit Card as it instantly transfers payment from customers to merchants. To enable NetBanking or Credit/Debit card you need to configure an independent payment gateway like Paypal, Authorize.net, Stripe, or any other payment gateways popular within specific countries and regions.
Paypal and Stripe are pre-installed with WooCommerce, and you just need certain APIs and credentials to enable them. Whereas there are extensions available from other gateway providers to integrate it with your WooCommerce installation.
Configure Shipping Settings:
You have to define the shipping rates and methods if you are dealing with physical products. It can define flat shipping rates, and region-wise shipping rates, and can even integrate leading shipping providers like FedEx to calculate shipping costs instantly, based on weight, dimension, and distance.
You can set up different shipping classes as well to use them for specific products.
Configure Product Settings:
Under product settings, you can define things like the unit in which you want to define the product weight (lbs, grams) and dimensions (inch, cm). Under this option, you can also choose settings for Inventory Management, and define low stock and out-of-stock threshold levels.
Configure Digital Downloads:
If you are dealing with virtual products or digital files, you need to define the download path. You can select the file download method and how and when to give access to the download.
Configure Accounts & Privacy:
Under these settings, the admin can define the account management and guest checkout options. The registration and checkout policies can be defined under this module.
Configure Email Notifications:
You can change the default email notification settings and messages to be sent to customers and the admin specific to each of the actions like Successful Order Placement, Order Processing, Order Completions, etc.
Adding Products:
The Basic WooCommerce offers functionality to choose one of the 4 product types, namely:
Simple –

As obvious as a

simple product. Suitable for products that have static pricing and

no variants like Sports accessories, Kitchenware, etc.



Variable –

These are the

products where customers can choose variations like color, size,

etc. Custom attributes can be easily defined and set as variables.

Each variable can have a different price as well. Suitable for

clothes, shoes, apparel, etc.



Grouped Product –

You can

add a product that belongs to a parent group. Suitable for offering

additional products when purchasing one of the other products within

the group.



External/Affiliate Product –

As

obvious from the name, you can link it to another external or

affiliate product sold on some other website.
To start with you need to add a product name and its description. A product short description can also be added to be used as a product excerpt. You can place the product under one of the categories. Product Featured Images and other images for the product photo gallery can also be uploaded with provided options.
Product Data: You can mention the Regular Price of the product as well as the Sale Price if you want to give an offer. The SKU can be defined as a unique product identifier and set its stock status. Under the shipping option product dimensions can be added including weight, length, width, and height along with the Shipping Class for the specific product.
Under Attributes, you can add any custom attributes like size, color, or any other specific attribute for the product. For a simple product, you cannot define different sizes for different attribute options. To do that you have to make the product as a variable, and define variation prices individually.
You can also choose if you want to add a product as Virtual or Downloadable.

---
How to secure your WooCommerce store
As it involves your brand reputation and customer trust, it is essential to beef up the security around your WooCommerce store. There are a number of measures to follow, some of the important ones are explained here. For more details about WordPress Security, please refer to our article here.


Choose

strong usernames and passwords.




Keep

a check on registered users to identify suspicious ones.




Use the

updated PHP version, preferably use the versions above 7.0.




Keep the

site's theme and plugins updated. WPOven shows the outdated plugins

and themes in its dashboard, along with the identification of plugins/themes

 with known vulnerabilities for malware.




Keep

periodic Backups. You can use WordPress backup plugins like

BackupBuddy, BackWPup, or UpdraftPlus. WPOven WooCommerce hosting

offers free daily backups for up to 14 days with all plans and saves

backups off-server.




Use

SSL. WPOven WooCommerce hosting provides a Free HTTPS certificate through One-click LetsEncrypt, install with auto-renew for all the sites.


Especially

protect against Brute Force attacks, where hackers can acquire

access to the website's

backend. WPOven servers have inbuilt security

scripts to tackle brute force and DDOS attacks.




Add

Captcha or Security Question to Registration and Login Screens.




Limit

Login Attempts




Utilize

Two Factor Authorization, sending login code to the user's mobile or

email.
---
How do I choose a WooCommerce theme?
It is suggested to do thorough research before choosing a suitable theme for your WordPress eCommerce store. Here are a few things we recommend you follow to find the most appropriate theme.
Identify

your eCommerce objective and target audience.




Identify

the features you want to have in your WooCommerce store.




Imagine,

and preferably wireframe the layout of all important pages of the

woocommerce store. Most importantly the Home Page, Shop Page, and

Single Product Page.




Now

browse through the WordPress repository and popular, and broadly

identify the most suitable themes that match your above

requirement.
Besides the above specific details, a WooCommerce theme should:
Be

Responsive, and easy to use on all the devices




Be

Optimized for Speed and Load faster




Be

Easy to customize




Have

Search Engine Optimized Coding




Be

GDPR-ready




Be

Compatible with all the WooCommerce extensions and plugins you want

to use




Be

Compatible with WPML if you wish to use multiple languages in future




Should

have an inbuilt demo and single-click demo import




Should

support Google fonts




Should

be cross-browser compatible
Top Free WooCommerce-Friendly Themes:
eStore: This is a very elegant theme with an impeccable design suitable for an eCommerce website. eStore has inbuilt spaces for ads & promotions and beautiful icons for wishlists and carts in the header. It has more than 10,000 active installations and a rating of 4.5. It is fully compatible with WooCommerce and YITH WooCommerce plugins.
XClean: It is a canvas-based, to-the-point design WordPress theme. Its clean design makes it faster to load. XClean is a perfect choice for all sorts of products ranging from gadgets, clothing, art, and fashion. It is a highly customizable and easy-to-use theme. It has more than 10,000 active installations.
Best Premium WooCommerce-Friendly Themes:
Porto: It is one of the best-rated WordPress themes fully compatible with woocommerce and ready-to-use WooCommerce layouts.
It has more than 30 ready-to-use demos to choose from, and a large repository of predefined layouts, elements, and sections. Porto is currently used on more than 30,000 websites. It is optimized for faster loading and intuitive visual composition. It has a track record of achieving more than 90% of the PageSpeed score.
Divi: Divi is a very popular theme to use with or without woocommerce. It has a very rich, customizable yet fast visual editor. Divi has plenty of global elements & Styles. It has more than 40 pre-built website elements, 800 pre-made designs, and 100+ full website packs.
Elegant theme developer has launched a dedicated WooCommerce builder for Divi which has 16 fully loaded WooCommerce Modules.
TheGem: It is a highly customizable and flexible WordPress theme designed specifically for WooCommerce. TheGem is a high-performance theme optimized for SEO. It has more than 400 ready-to-use creative templates. It is a multilingual theme and can also be used for Right to Left (RTL) languages like Arabic. This theme is available on Themeforest Marketplace and has the best-rated support.
---
WooCommerce Extensions:
WooCommerce has developed certain extensions that work with woocommerce to enhance the eCommerce experience with a specific function. Each extension is designed for a specific task. There are more than 300 WooCommerce Extensions and they are priced separately, some of them are free to use.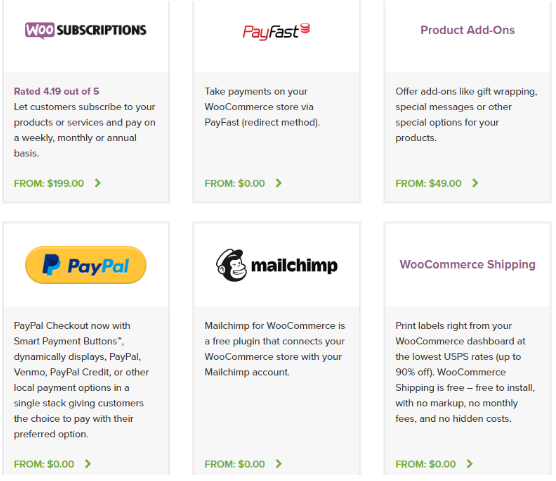 To install the extensions you can go to Extensions under WooCommerce from the dashboard sidebar menu.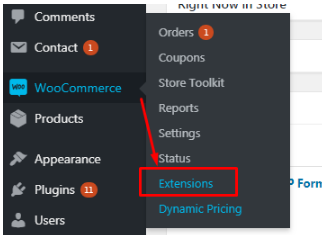 You can search and filter the extensions, or go to the Woocommerce Extension page.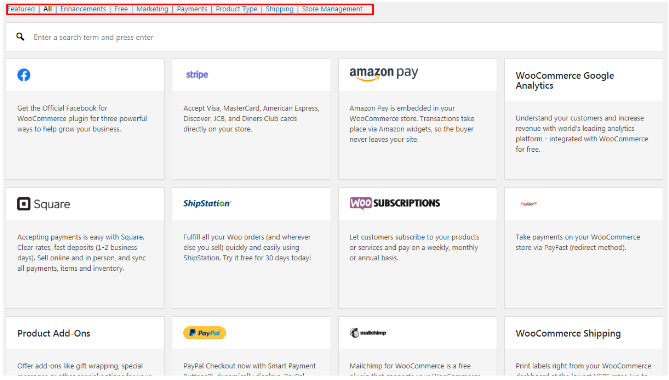 Once purchased you can install it as a plugin, and activate it with the Licensed key provided by WooCommerce. Once successfully activated you will be able to use it with the basic WooCommerce plugin.
---
Top 5 WooCommerce Extensions you must have:
MailChimp: It is the most popular application for email marketing and campaigns and managing email lists. You can integrate it with your WooCommerce and build an email list of your customers. WooCommerce offers Mailchimp extensions for free.
Using this plugin you can grow your audience and sell more stuff with Facebook and Instagram Ad Campaigns in Mailchimp.
Product Add-Ons: Customers these days need the option to customize their product with things like special engravings, customized designs, and gift wrappings, at an add-on the price to the base product. You can use the Product Add-Ons extension to add things like that to improve customer experience and make some additional sales.
Checkout Field Editor: This extension allows you to add/edit/remove custom fields at WooCommerce checkout. With Checkout Field Editor you can add fields like preferred Delivery Date and a special note for product customization. It allows you to add text, select, checkboxes, and date pickers input fields. You can also play around with the default fields.
Dynamic Pricing: It is a very flexible extension to define rules for dynamic pricing, especially if you want to apply conditional logic like bulk discounts over a certain amount on the total bill. Dynamic Pricing is a tool for advanced product pricing based on a number of different criteria like first purchase, repeat purchase, the number of products ordered, total bill, category-based pricing, and a lot more options.
Shipment Tracking: As obvious by its name it allows your customer to keep track of their consignment. Shipment Tracking extension integrates directly with leading shipment providers like DHL, FedEx, TNT, UPS, Australia Post, Canada Post, Fastway South Africa, and a number of other providers. As soon as a customer places the order, a link will appear on his Order Status page to track the shipment, and will also be delivered over email.
All the extensions come with a 30-day money-back guarantee from WooCommerce and a great support team available 24X7.
---
How to Grow Your WooCommerce Store
There are two ways to grow the WooCommerce store:
Increase the number of customers

Increase the number of repeat sales from existing customers.
You can apply both of the above methods to grow your sales exponentially using some of these tips.
Start an Email subscribers list:

If you are a new store you can collect the emails of your target

audience through various lead generation techniques, if you already

have an

existing customer base you can ask for their emails and add them to an email marketing tool's list like MailChimp, Aweber, etc. You can send them emails about new offers,

loyalty

programs, deals, and discounts to engage them and encourage them to buy

from your website. To collect emails you can use an opt-in form on

your website as well.



Optimize Receipts: You can send an optimized receipt on every order, suggesting the other related product that can be bought together offering a discount or deal. Always make sure to take feedback from customers about their experience at the physical store or web store.


Use Good SEO Practices:

You must have a strong SEO team to boost your rankings, and hence

the sales. You should know what keywords to target, it is very

critical for your success. You can also invest in a foolproof

online ad campaign.



Use Live chat: Customers always go for companies that have excellent customer support, in the pre-sales as well as post-sales periods

. You can

also use chatbots to welcome customers visiting your website and

guide them through. This will help build a relationship with the

customer and will project your brand as reliable and trustworthy.

There are some chat plugins that you can use on your WooCommerce

websites, for example:



ZenDesk

Chat




Tidio

Live Chat




Pure

Chat




LiveChat



Keep

the whole eCommerce process really simple for customers.




Always

attend to clients' complaints.



Use Social Media to engage with the target audience and potential customers.


Invest

in good graphics and creatives to use in social media.




Always

make sure to use icons that show that this site is secured.




Keep

your website optimized for mobile usability in terms of speed and

design.




Always

make sure to use payment options that are easy to use and are

trusted names.




Showcase

your top-selling items on the front page, and category-wise top-selling

products on each of the product category pages.




Always

make sure to cross-sell or up-sell. WooCommerce has an inbuilt feature

to display suggested products with every product purchased.




Always

tap the opportunity of selling more during the festive season and

promoting seasonal products. There are many Zendesk alternative customer service platforms that can be just as effective for promoting seasonal products and driving sales.


Make

sure that your shipping partner is a trusted name, often customers

are doubtful about the delivery of products in pristine condition and on-time

delivery.




Create

the environment of FOMO (fear of missing out), through messages like

'this product is going out of stock soon' and with other limited-period

offers.




Always

keep a vigilant eye on website analytics and sales figures. A

capable sales manager will be able to gauge the decrease in sales

and take corrective measures to increase sales.
There are certain WooCommerce extensions and plugins that you can use to support you in implementing the above-stated sales strategies.
---
Is WooCommerce Mobile Friendly?
WooCommerce is as mobile-friendly as the WordPress theme being used with it in terms of design and layout.
With regard to usability, the ordering process works like a breeze for visitors. You just have to make sure that the theme you choose displays all the buttons nicely. So we suggest you test the theme thoroughly on a mobile device and hire a good developer for CSS customization.
To further make the checkout process easier on mobile you can do certain customizations.
Re-arrange

the checkout form fields using

Checkout

Field Editor

extension.




It

is recommended to set the option of guest checkout, where customers

are not forced to register.




Provide

payment options that are easier to make on mobiles like Amazon Pay

and Paypal.




You

can use plugins and tools to convert your WooCommerce web store into

a mobile app. However, it depends on your business model whether it

will be a good choice or not.
WooCommerce Mobile App:
The wooCommerce store can now be managed using iOS and Android applications. The store manager can now manage orders, receive sales notifications, and get insights about sales through the easy-to-use mobile app.
Although this just seems to be a starting phase, we can be sure of more features to be added to the mobile app in the near future.
---
Conclusion
There are a few things that are instrumental in the success of an eCommerce store, including user-friendly design, especially on smartphones, fast loading, easy product browsing & ordering process, easy and trusted payment processing, timely delivery, and of course above all quality of the product.
WooCommerce makes your job easier and saves you time in managing your eCommerce store so that you can focus more on other critical things stated above.
---