Building an eCommerce website on WordPress using woocommerce? When you have to choose a theme, the marketplace has got an abundant theme to choose from but only a few themes make it to multipurpose option.
One such theme that I found and used for eCommerce websites that we have built and delivered to our customers is Flatsome.
In this blog, I am going to share my complete experience using the flatsome theme which will help you decide if flatsome is the right eCommerce theme for you or not. Let's check out.
What is flatsome?
Flatsome is a multipurpose theme that came to the WordPress themes market on 3rd September 2013. It is currently one of the top-rated themes in eCommerce by ThemeForest which is a leading e-marketplace worldwide. Flatsome theme is developed by UX Themes company that develops tools and themes for WordPress websites with the best UX experience headed by Tommy J Vedvik.
Flatsome theme is highly rated on ThemeForest with a 4.80 average based on 5932 ratings. This itself speaks the quality that flatsome is offering to its buyers.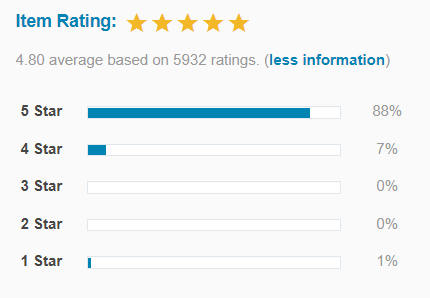 Flatsome Performance With WPOven Hosting
Before I explain to you the entire usage and share you the flatsome demo, let us first test it with WPOven which is a managed WordPress hosting solution.
In this test, we are using a flatsome eCommerce demo theme and settings to test its load time and site speed with the least optimization. Using these settings, we shall understand the robustness of this theme.
Further using the WordPress optimization theme, you shall be able to archive even better results.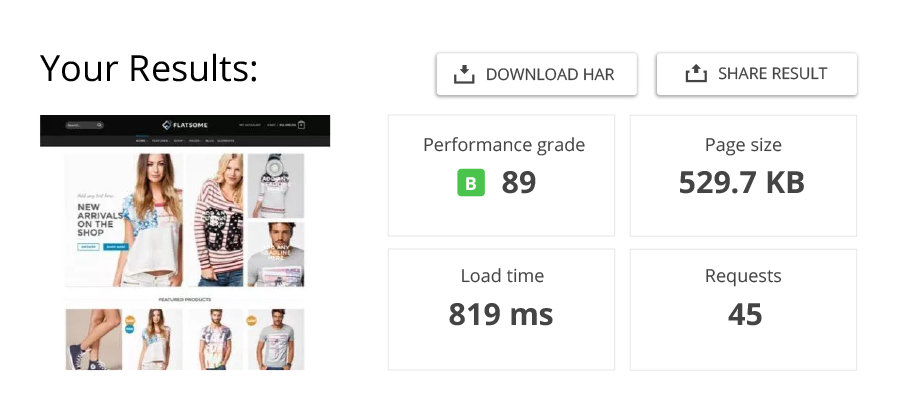 The performance observed with WPOven hosting was really outstanding as per our experience of hosting an eCommerce website on WordPress. The flatsome theme loads in less than a second for an unoptimized format. Your load time may go a little bit higher if you add uncountable products but with optimization as well, the site loading time doesn't go above 3 seconds which is pretty amazing.
DOWNLOAD FLATSOME LATEST VERSION
WPOven recommends Flatsome for Building an eCommerce website on WordPress.
I know you are excited to know how to get started with a flatsome theme? Let us understand this in detail.
Getting Started With Flatsome Theme in 2020
Flatsome theme is available on Envato's theme marketplace called as ThemeForest. You need to buy the theme from there. Once you have purchased the theme, you will get the complete package in a zip file which will have assets like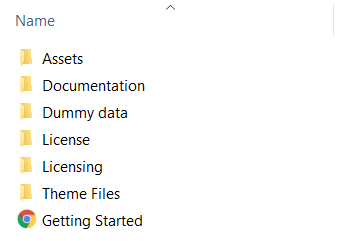 So, the theme package will have documentation files plus theme files both for the main theme as well as the child theme. If you want to start with test building then you get an option of using the child theme of flatsome also. So, it's quite a developer-friendly package.

How to Install Flatsome theme?
To install your flatsome package on WordPress, you simply need to upload the theme file from the folder named "Theme files" where you will get two zip files. Chose the main theme or child theme, whichever way you want to get started with flatsome theme.
Go to WordPress dashboard
Hover over the Appearance option on the left sidebar
Click on themes.
Choose add a new theme.
Upload your theme file by browsing your local computer.
Once you have uploaded the theme, you need to activate the theme.
How To activate flatsome theme?
Once you have uploaded and install your copy of flatsome, next you need to activate that theme to make it appear on the front end of your website.
Repeat the same step as installing a flatsome theme.
Here on the theme page, you will now find flatsome already installed.
Click the active button to take it live over your website.
Once you do that, an activate page will open asking for a license key of flatsome theme. There you can enter your unique key and activate the theme.
Note: Without entering the serial key also, you can use the flatsome theme but your theme files won't update if you don't have a genuine license key of flatsome.
Let's talk about the Design part of flatsome theme.

Flatsome theme Design Review and scope
Before I dive you into designing e-commerce or any website with flatsome, I want to announce this to you all.
With Flatsome on WordPress, you can design anything like leading big marketing places like Flipkart, Myntra, club factory, Shein, or any fashion store that you know. Flatsome theme has huge scope to take your UI/UX to next level.
Let us understand the different theme demo that you get.
How to import Flatsome demo content?
Many WordPress designers get haunted if they have to start from scratch. So, they use demo data or we call it as demo content to start customizing already built structure as per personal needs.
In flatsome theme, you get to import demo data while you activate the theme. The setup wizard follows up to help you import the demo data.
Alternatively you can follow these steps.
Follow these steps to import flatsome demo data
Go to your WordPress dashboard.
At the top, choose the flatsome menu
Choose setup wizard.
Here you will get navigational instructions to import flatsome demo content.
Flatsome offers pre-design themes and structure to set up your woocommerce store.
Flatsome has amazing parallax effects, integrated Wireframe Kit, UX Creator, and Flatsome Studio allow you to create stunning web pages. The theme color, image size, block placement, icons, and background design are all very impressive.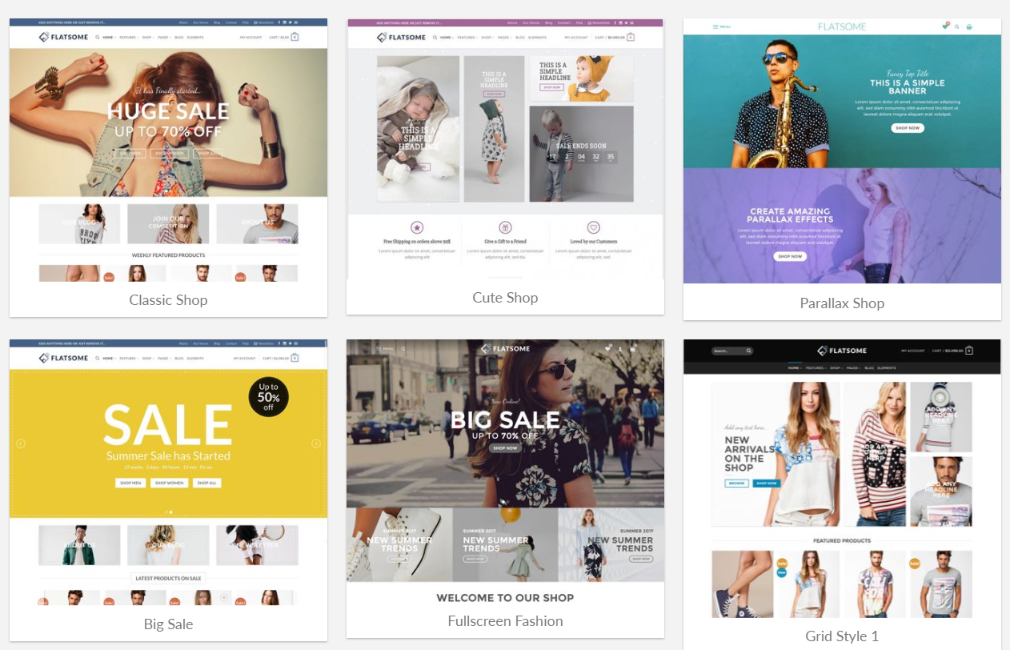 Features of Flatsome
Flatsome theme comes with a list of long features. To your surprise, Flatsome provides you access to around 20 demonstration videos with which you can know how to integrate it onto your website. Without any prior coding experience, you can easily create an attractive and user-friendly website in just a few clicks. In this Flatsome theme review, let us get to know more about the features the theme provides. 
Flatsome Theme Demos
The Flatsome theme comes with beautifully designed website demos helping users create a perfect website faster. These demos are ready to use website templates with example data. The users can choose one template as per their needs and replace the sample data with original content to start the website in a matter of minutes. 
In addition to this, Flatsome comes with ready to use demos for e-commerce websites like
Sports store,
Store for kids clothing and accessories,
Lifestyle store demo,
Mega shop,
Vendor shop, [ Best for Multivendor support e-commerce. ]
and a demo with beautiful parallax design.
Along with this, there are shop demos with the discount sale and sale countdown timer. Flatsome offers different variations of design to choose from and this flexibility is the plus point that enables the users to create a website as they want it to be. 
Besides shop demos, there are business demos as well that allows users to create a business or agency website with or without e-commerce features. The demos include
Agency websites, [ You can depend on WPOven's dedicated agency hosting
Corporate websites,
Freelancer websites,  
Explore designs, and lifestyle to create professional-looking websites easily.
Customizable and Super-Fast Performance 
One of the main features of this fabulous theme is its ability to be fully customizable so that no two designs look the same. Every aspect of the shop can be changed simply as it has different menus. Using the live Theme Options Panel of Flatsome, you can very easily customize your website's style.
This comprises of many demos such as pre-designed templates, copyright-free images, and many more. There are also many other features to make your website look like a business poster such as banner line, campaign, and CTA. Other than that, these templates and designs will make your site look very professional.
With the Live Cascading Style Sheets feature, you can edit and have a look at the preview of CSS. The theme provides more than 700 fonts that you can consider for your website. In addition to this, before making your website live, you get the option of preview, so you can go through your website and make changes where needed. 

WooCommerce Integration
Flatsome theme enables the users to find the products easily with its Live Search option. With this, visitors can instantly see results when searching for a particular product and go through the details.
Most e-commerce templates offer a standard layout for product pages, but this is not the case with Flatsome.
It allows users to completely customize the individual product page with the look and feel as they want. Flatsome has three types of layouts to present your products such as
Grid view,
List view, and
Masonry view. 
The checkout page in Flatsome theme offers the highest security to keep the customer's information safe and secure. In addition to this, it offers different styles to design the checkout page as well. If you want your customers to view only the products, then enable the catalog mode which allows you to show or hide prices and add custom HTML components as a replacement of the Add to cart button. 
Read A complete guide on woocommerce setups.
Also, with the Flatsome theme, there is no need to resize product images several times to get the perfect look. You just need to define a standard size for products to resize all the images at one go.
Apart from this, you can provide the customers with a quick view option of your products, where they can see the details and price without having to browse the individual product page. This saves time for your customers and they will keep coming back to your website. 
Speed Optimization and Performance
In today's world, people use mobile phones than other devices to browse online, search for products/services, and purchase online. So, if you are starting an e-commerce store, it should be mobile friendly and fast for a better user experience. And Flatsome theme is the best for that as it is incredibly optimized for speed. The features that you get here with the Flatsome theme can be easily adapted onto the hand-sized gadgets. From speed, compatibility, to usability; everything is excellent. 
Flatsome is one of the fastest WordPress themes and developers have done an incredible job in optimizing it for a superb performance. Every element is optimized for better page speed.
Flatsome has a lightweight CSS and JavaScript Framework which enhances the page speed and is good for SEO. F
It also uses Smart Lazy Loading on all backgrounds and images, so the images are loaded only when needed. Thus, making the website load extremely fast on mobile phones. 

Parallax Effect
The parallax scrolling or effect is where the content in the foreground moves faster than the pictures in the background. When added on to an e-commerce website, it creates a feeling of depth and gives it a really attractive and professional appearance.
With a Flatsome theme, you can add a smooth parallax effect to the banners and content giving your website the extra edge making it stand out from the crowd. 
You can check the demo of the parallax shop of flatsome here
SEO Friendly
The Flatsome theme is created with SEO best practices in mind. It has the W3C validation structure ensuring maximum possible performance SEO compatibility. With the Flatsome theme, the users are saved from the hassle to optimize their website for SEO. It makes the optimization task easier than ever as compared to other themes.
Along with flatsome, you can prefer using some SEO optimization compatible plugin like rank math or Yoast SEO that helps you in properly optimizing your eCommerce meta.
Flatsome Page Builder
Let us move to the next aspect of the Flatsome theme review, the page builder. Flatsome theme has easy to use live page builder with an element library to build anything as per your liking and preferences.
Flatsome template allows you to craft a webpage from scratch easily and even you do not have to be tech-savvy to do this. Once the template is installed, you get access to various elements that efficiently customize your website. These elements include pages, portfolio, testimonials, price table, image box, video button, scroll option, section, and many more elements. Sliders and image grids can be easily created right from the Flatsome theme's page builder without installing additional plugins.
Flatsome has the functionality to customize every single detail while simultaneously seeing the results. Apart from this, there is a live Header Builder, where you can see the changes in real-time while configuring the webpage. Simply put, everything you need to create a well-designed e-shop website is available in Flatsome theme.
Flatsome has its own UX Block builder that comes with a lot of niche-specific pre-designed blocks.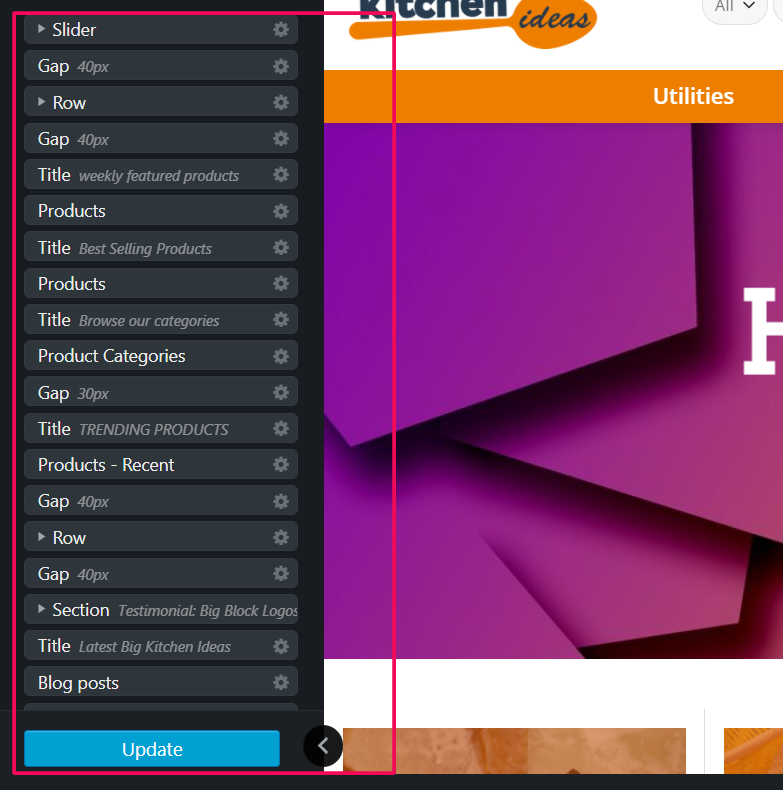 The flatsome studio has all pre built block that can help designers to import high quality designed block with just one click.
For ecommerce you get 250+ pre built block and similarly you can get more than 100+ UX Blocks in flatsome theme.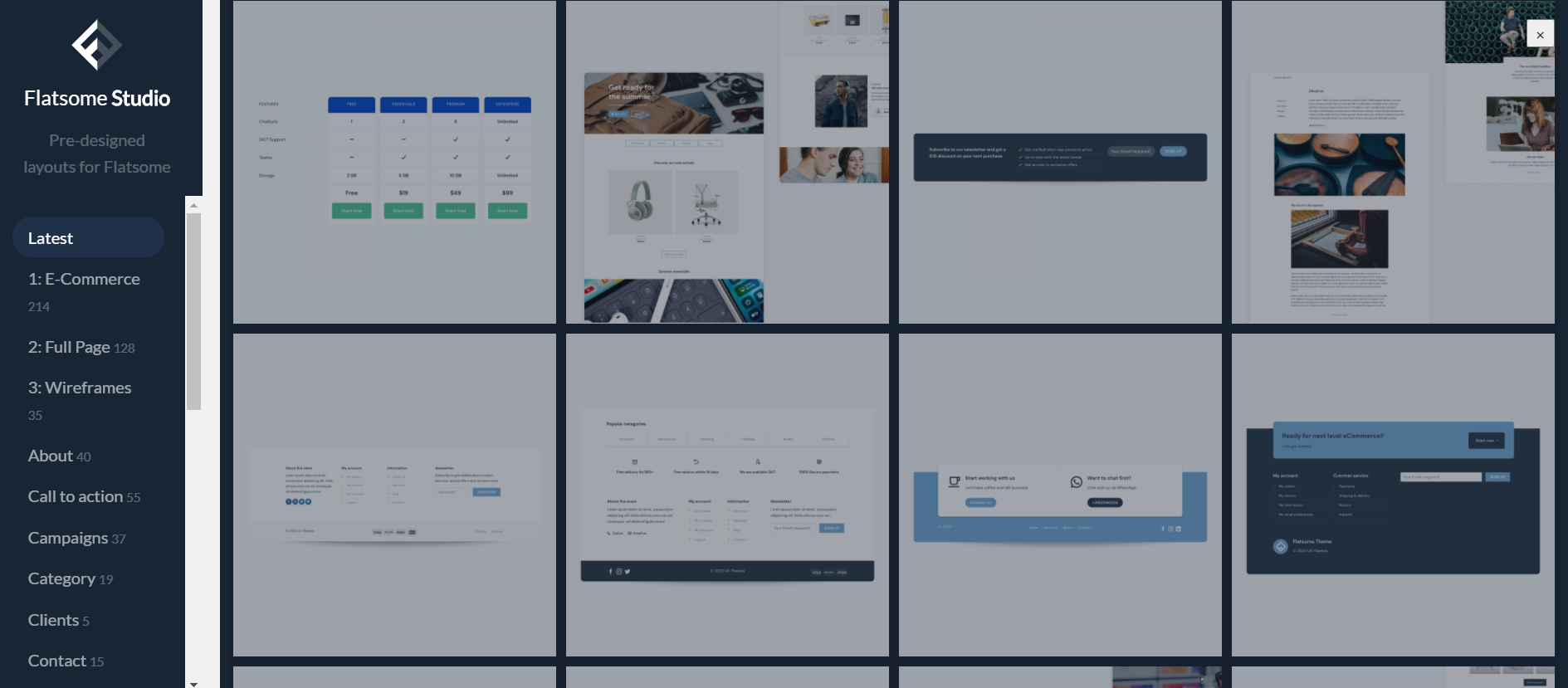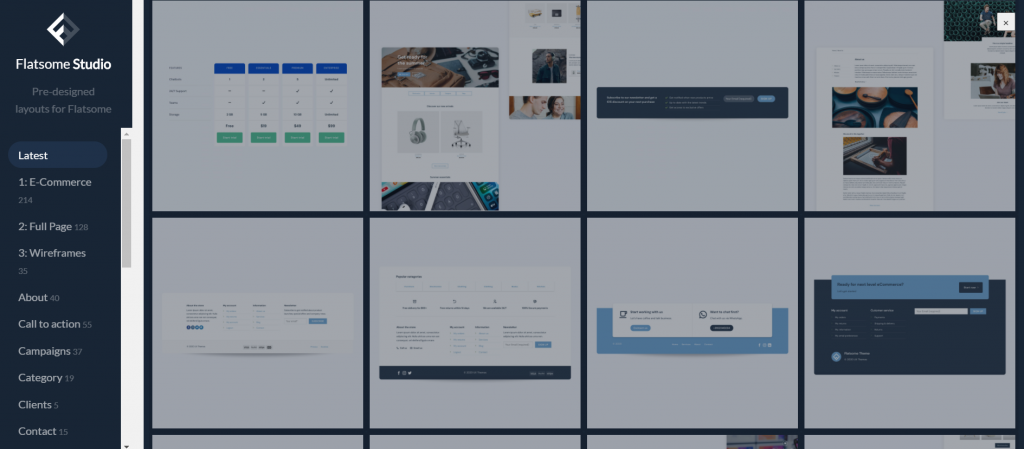 From a design perspective, this theme is compatible with elementor as well. So, you can switch your design between UX Block design or elementor design.
You also get responsive designing option with page builder of Flatsome theme.


Clean Code
Flatsome theme has good site loading speed. The reason is its clean code. Flatsome uses shortcodes for design.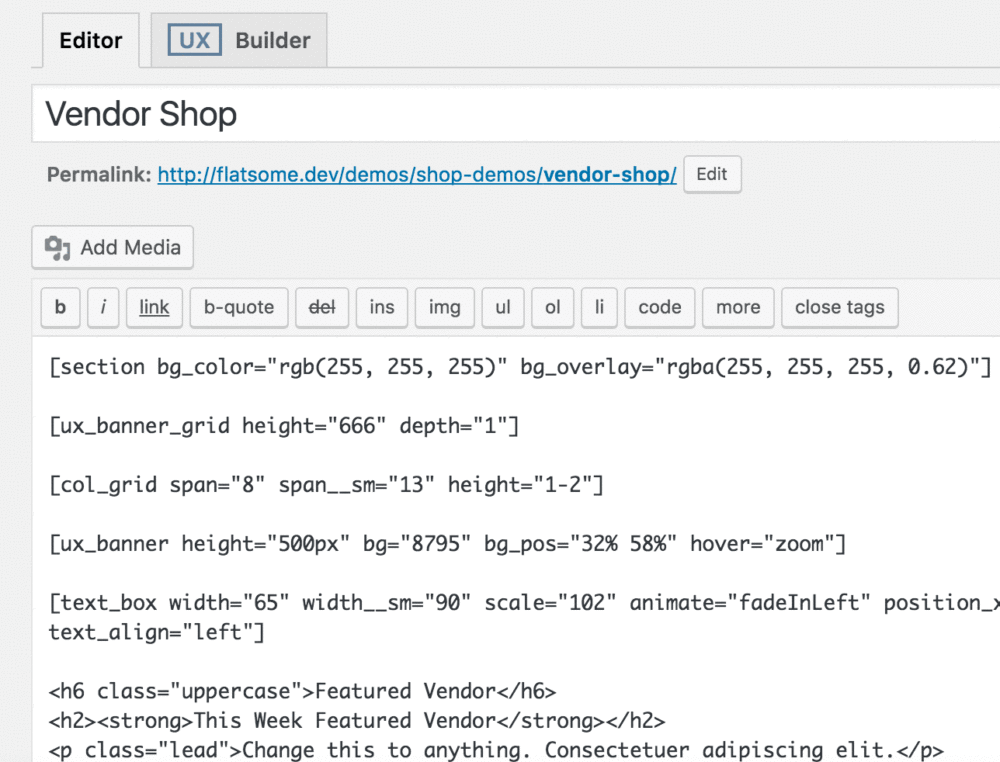 It is quite simple to edit the shortcodes from WordPress editor also. So designing a custom code while improving the UX is also simpler. Plus you can easily add CSS to beautify your front end of the website.
Plugins with Flatsome theme Package
Flatsome theme has several plugins with superb features which an online e-commerce store needs for its success. The plugins include
Ninja Forms,
Regenerate Thumbnails,
Nextend Facebook Connect,
WooCommerce,
WP Instagram Widget,
WooSidebars,
Ajax Search,
and many more such plugins to create the perfect store.
Some additional plugins that you must try with flatsome theme for perfect eCommerce optimization are
WProcket – Perfect for increasing your eCommerce site speed.
Smush – Since you are building eCommerce hence your images should load well. Smush helps you in image optimization.
If you are using Flatsome theme on our WPOVen woocommerce hosting then we shall provide you with a preinstalled cache plugin – WPBase which is compatible with all versions of flatsome.
Plenty of Other Features Of Flatsome Theme
As per the experts, we can say it with certainty in this Flatsome theme review that it is the most compatible version of the WooCommerce. It has been seamlessly used by the experts for their e-commerce websites, since; they feel that it adds a lot of elements to it. Apart from the main features, the Flatsome theme comes with many other features as well. These include:
Quick Add Feature
700+ Google Fonts
Customer Showcase
Category Layouts
Sale Discount Bubble
Unlimited Footer Options
WPML Support
Full Typography Control
Unlimited Product Page
Demo Content and Childs Themes
Quick Add to Cart
Optimized Rich Snippets
Favorites Button
Besides, you can also upgrade your website with different features like product videos, color change options, navigation to the previous page, quick zoom, and many others. 

Documentation and Support
There is extensive documentation available on Flatsome. You can find articles that help you with the problems you may encounter while using the Flatsome theme to create your website.
For example, you can find step by step guide on how to set up the Flatsome template, how to use the elements to design a website, how to configure the basic options, troubleshooting, etc.
Additionally, Flatsome has a collection of video tutorials as well on their YouTube channel.
Flatsome also provides excellent customer support offering real-time assistance. You can at any time turn to the theme support team for help in case of any unexpected query that pops up.
When you purchase Flatsome from ThemeForest, you get six months of premium support. If you require real-time assistance, you can join Flatsome's Facebook Community as well. 
Pricing
After going through the Flatsome theme review, one question might have popped up in your mind and that is what the price of this versatile template is.
So, let us mention that as well. This theme supporting WooCommerce has hit the chords with all e-commerce websites by providing them with some of the best features. You can get hands-on it at a very affordable price. Even after being equipped with excellent features like an impressive demo, page creator, header creator, different fonts, and structured UX design,
You can purchase it for only $59. [One Time Payment]
With six months of help from the UX Themes team, you can get numerous design templates from which you can choose the best one.
You can also buy annual support by spending $18 for six months.
With a lot of great features and integrations, the Flatsome theme is worth purchasing. 
Final Verdict On Flatsome Theme Review
From this Flatsome theme review, you might have got an idea of why it can be best for your e-commerce website. It is easy to use and versatile and is suitable for any business or product. With Flatsome, you can get the ease of management and flexibility, which allows you to manage all the departments of a website or online store conveniently such as inventory control, shipping, payment processing, delivery, etc.
We highly recommend that you check out the Flatsome theme for your WooCommerce shop and see how it works for you. However, this theme can be a bit trickier for the newbie since there are a lot of options to get familiar with first and then start. Despite this, the Flatsome theme can help facilitate your work allowing you to create a professional-looking store easily. We can say that if you are looking forward to making your website look versatile and stylish, then Flatsome lets you do this without any problem. So, it is worth trying out the Flatsome theme.