Magento and WordPress both are platforms that help in web designing. You can easily migrate your website from Magento to WordPress by reading our article.  Read on to find out How?
What is Magento?
Magento is basically an open-source e-commerce platform. It provides online merchants, a flexible platform for the shopping cart system. Magento also provides powerful search engine optimization and wonderful tools for managing catalogs. It is flexible as well as it provides plugins to extend its functionalities. It also offers a variety of themes from where the online merchant can choose the theme which is perfect for them.

Some of the key features of Magento are :
Has a good inbuilt search engine optimization
Catalog management
Provides good order management
Supports multiple tax rates and currencies
Backup and Rollback
Magento vs WordPress (WooCommerce)
Magento and WordPress both provide the e-Commerce platform for your website. There are many similarities between them such as they both provide a very good SEO, they both have a strong online community where you can get help to your problem. A large range of themes to choose from, and on the top, they both have the same architecture.
Magento is basically a content management system like WordPress which is dedicated to e-Commerce with many dedicated e-Commerce features. It also allows customization and adding functionality. It aims for building websites for selling things online. Magento is a complete solution for an eCommerce website but it is heavy to maintain and customize.
If you are enjoying our article we hope you will love our offerings. WPOven  offers free migration and also gives FREE Premium themes & Plugins, SSD, SSL, Daily malware scanning and cleanup, Busines emails, Dedicated server, and much more with every plan starting just $16.61.

On the other hand, WordPress is a content management system and open-source blogging platform. It allows you to add functionality to your websites by adding plugins. If you want an e-Commerce website using WordPress, then you may install any e-Commerce plugin such as WooCommerce, WP eCommerce, Easy Digital Download, etc. Out of them, WooCommerce is the most popular and flexible.
The market shares of the WooCommerce is shown in the image below: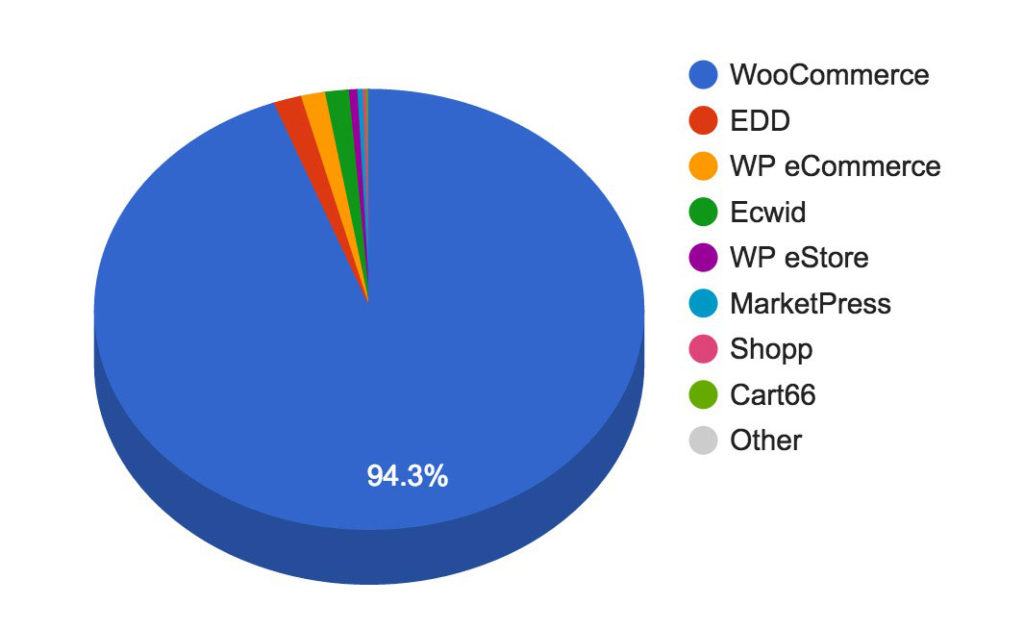 Considerable Things Before Migration
Magento and WordPress are similar in many aspects but there are many differences between them. However, you may not bother about this, not many things are there to consider. In a later section, we have discussed magento to woocommerce migration.
1. Themes: You will not get the same themes as the Magento but still you may get similar themes. You can choose the theme from a large number of WordPress themes available.
What are Pre Migration Steps?
You decided to move your site from Magento to WordPress, but before the migration process, you need to follow these steps to run this process smoothly:
1. Install WordPress: We are supposing that you already purchased the hosting if the not then the first step is to purchase the hosting. WordPress hosting is widely available with a great range of options from inexpensive to specialized managed hosting. To know more about managed hosting, check out this post.
2. Install WooCommerce: Now the next step is to install the WooCommerce plugin on your site. There are many other plugins available for e-Commerce such as WP eCommerce, Easy Digital Downloads, etc, but we will talk about WooCommerce.
3. Install Plugin to Migrate Site: There are many plugins available for migration of the site from Magento to WordPress(WooCommerce) such as Cart2Cart, FG Magento to WooCommerce, etc
How to Migrate from Magento to WooCommerce? What are Manual Migration Steps?
This is the simple method of migrating the site from Magento to WordPress is to use the .csv file for the migration purpose. To apply this method, you need to make a .csv file of the products, customers, orders available on your Magento store and then import the .csv file to WordPress(WooCommerce).
Magento to woocommerce migration can be done in a semi-automated way as follows:
Step 1:  Purchase the WooCommerce Import Suite
After installing the WooCommerce on your WordPress website, you need to purchase the import suite of the WooCommerce in order to import the .csv files. To purchase it you can follow the steps below :
1. Go to WooCommerce > Extension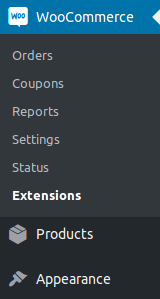 2. Then choose Import/Export

3. Choose the suite which you want
4. You will be redirected to WooCommerce official site, here you can proceed with the payment
Step 2 : Create .CSV file from Magento
Now you have to create the .csv file of the data which you want to migrate, for eg. products, orders, customers, etc. In order to make a .csv file of the data which you want to migrate follow these simple steps :
Login to Magento administrator area
2. Go to System > Import/Export > Export

3. In the Export section choose the entity you want to export and Export File Format as "CSV"
4. Include or exclude the data to be exported in the Entity Attributes section

5. Finally, click the continue button
Step 3: Import the CSV file to WordPress
Importing product to WooCommerce is very easy and very less time taking. All you need to do is, follow the simple steps below :
1. Go to WooCommerce > CSV Import Suite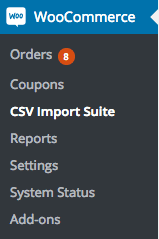 2. Let's look at How to export products from Magento to Woocommerce? Click the Import Products button

3. Select Choose File and then upload the .csv which you need to import

4. Finally, click upload file and import
5. Check the map fields before completing the import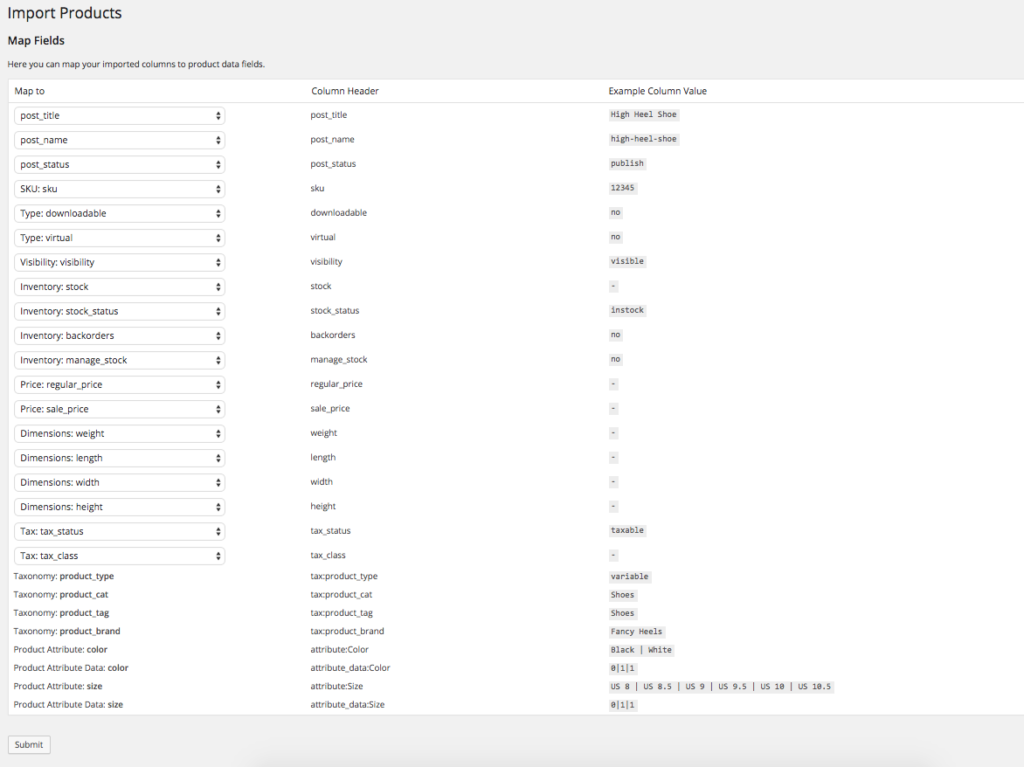 Semi-Automated Migration
Now you are all set for migration and few steps away from the migration. In order to migrate e-Commerce site from one platform to another platform, you need to migrate products, images, categories, customers, orders, etc.
Step 1: Install and Configure the Plugin
The first step to migrate from Magento to WordPress is to install the plugin which will help you to migrate your site from Magento to WordPress. There are many such plugins available. We will talk about FG Magento to WooCommerce. The free version of this plugin allows you to migrate your CMS,  After installing this plugin, configure the plugin's settings. To configure it go to Tools > Import > Magento. You will see this page.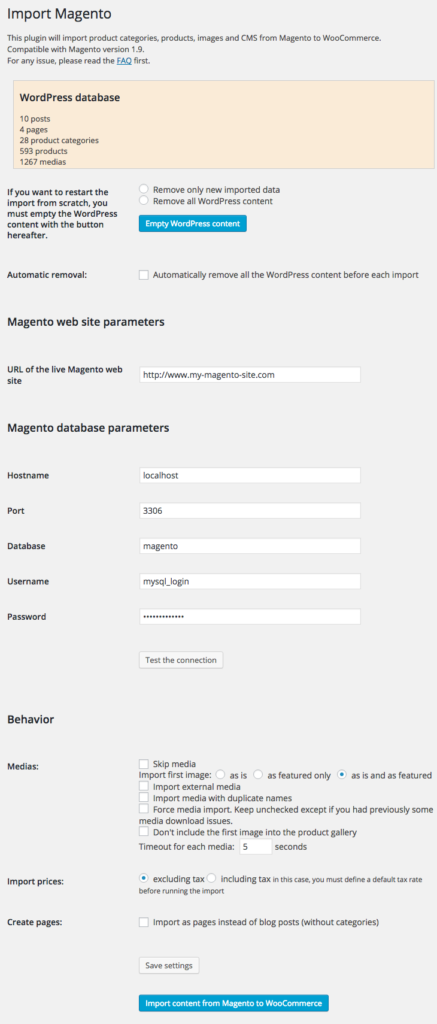 Configure it accordingly and proceed to step 2
Step 2: Test the Database Connection
Once the database credentials are filled, click the "Test the connection" button to check the database connection.
If Magento and WordPress are not located on the same server, then you must copy the Magento database to the same database as WordPress. And in this case, you must fill the WordPress credentials and not the Magento credentials.
Step 3: Import the Data

Fill all the details required. The settings are set to default, you may change them as per your needs. You can check the details about the options by clicking the help button on the plugin page and then choosing 'options'.
Once you fill all the required settings, you may click on the button "Start/Resume the import" and start the process of migration.
It may take time depending upon the size of your Magento site i.e. the number of products, number of images, etc.
Step 4: Check the New Site
Once the above process is over i.e. the products and images are migrated from Magento site to WordPress site, it is the time to check the new site whether all products and images are migrated or not. Also check for the categories, customers, orders, etc.
Where to get Paid Migration for Magento to WordPress?
If you do not have much time to spend on migration or you do not want to take any risks with your site then this migration method will definitely help you. You can choose the paid migration for your site. There are many online services that provide migration services. One of them is litextension.com which provides the migration services according to the data available on your site.
You can also get the price estimation depending upon your data and products. And you can also get the Live demo of the migration.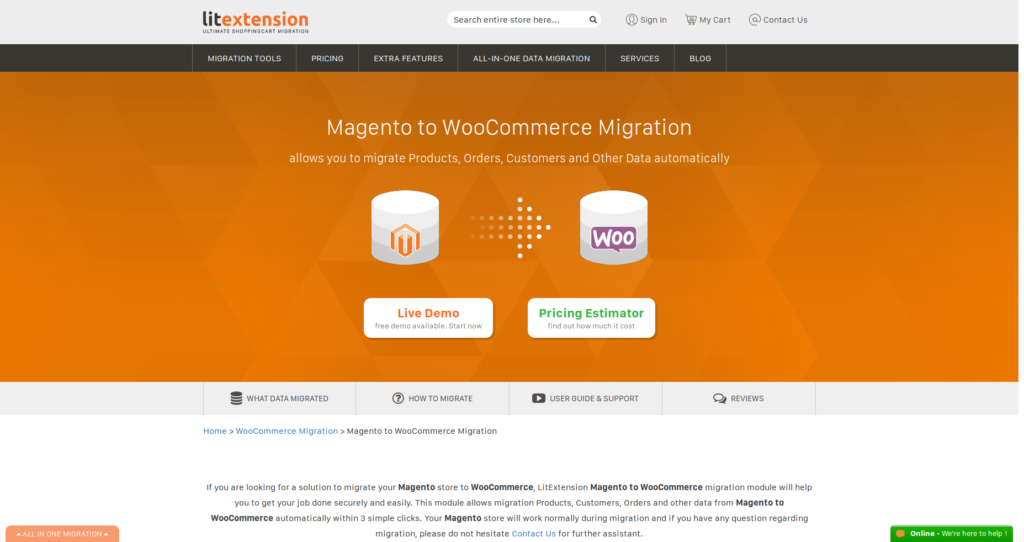 You can also hire a professional to migrate your site from Magento to WordPress. In that case, you do not have to take any tension, all the work will be done by the professional and that too in a professional manner. So, if you do not have much time to spend on migration, or you are not of technical background or whatsoever, the best option for you is to get the professional hired for your work.

Post Migration Steps
The migration process for the Magento site to WordPress site is now complete. You can now follow the finishing steps to finish the process completely. The steps which must be taken after the migration process are :
Step 1: Choosing the Theme for your website
Once you checked and verified your new WooCommerce site, It is time to choose the theme for your WooCommerce site. You can choose the theme compatible with WooCommerce from the plenty of free themes available on https://wordpress.org/themes/search/woocommerce/ or you can buy a paid theme.
Step 2 : Setup other things
Once the WordPress site is ready, you need to replace the Magento store with the WordPress site. In order to do that, you need to move WordPress files and folder to the root directory of the server and files of the Magento store to any subdirectory.
Also, change the absolute paths in the WordPress Database. To do this, you need to export the database to a SQL dump file, and then find and replace on URLs and file paths and import the SQL file. You can also perform this task simply by using the WP Migrate DB plugin.
You can look for Custom Magento development in case you need help with Magento development-related projects.