WordPress vs Drupal is the most sought topic you will find on the internet. Why not these two platforms are one of the most wanted CMS, that even some high authority websites are built on. From this fact, you can estimate how important these platforms are, and how much it is critical to compare WordPress vs Drupalrural and choose the best one for your website.
Both these CMS have been used for so many years and using them has two advantages over one another. To understand both, it is important to first understand what these two platforms are all about and what each of them has to offer. We will also compare WordPress vs Drupal on various factors and find out which is better.
---
---
But before that, let us get started with a brief introduction to both CMS.
---
Introducing Drupal
Drupal is an open-source (free) content management framework that is written in PHP and is distributed under the General Public License (GPL). It provides a strong back-end framework for at least 2.2 percent of the websites on the web today.
Drupal is used on all types of sites. From personal blogs to corporate, political, and government websites, everybody is using Drupal. Moreover, Drupal is also being used for knowledge management for business collaboration.
Drupal was released under the Drupal core standard. It contains all the necessary and basic features that are common to content management systems. These include maintenance, user account registration, RSS feeds, page layout customization, and system administration.
The Drupal core serves as a simple website whether a multi-user or single-user blog. The main modules in Drupal Core are:
• Access statistics/logging
• Advanced search for blogs, books, forums, polls, and comments
• Caching/feature throttling for better performance
• Descriptive URLs
• Open ID support
• RSS feed and the feed aggregator
• Multi-user content on editing and creation
• User profiles
• Workflow tools
• Security and the new release on the update notification
1. Extent functionality of the website using Modules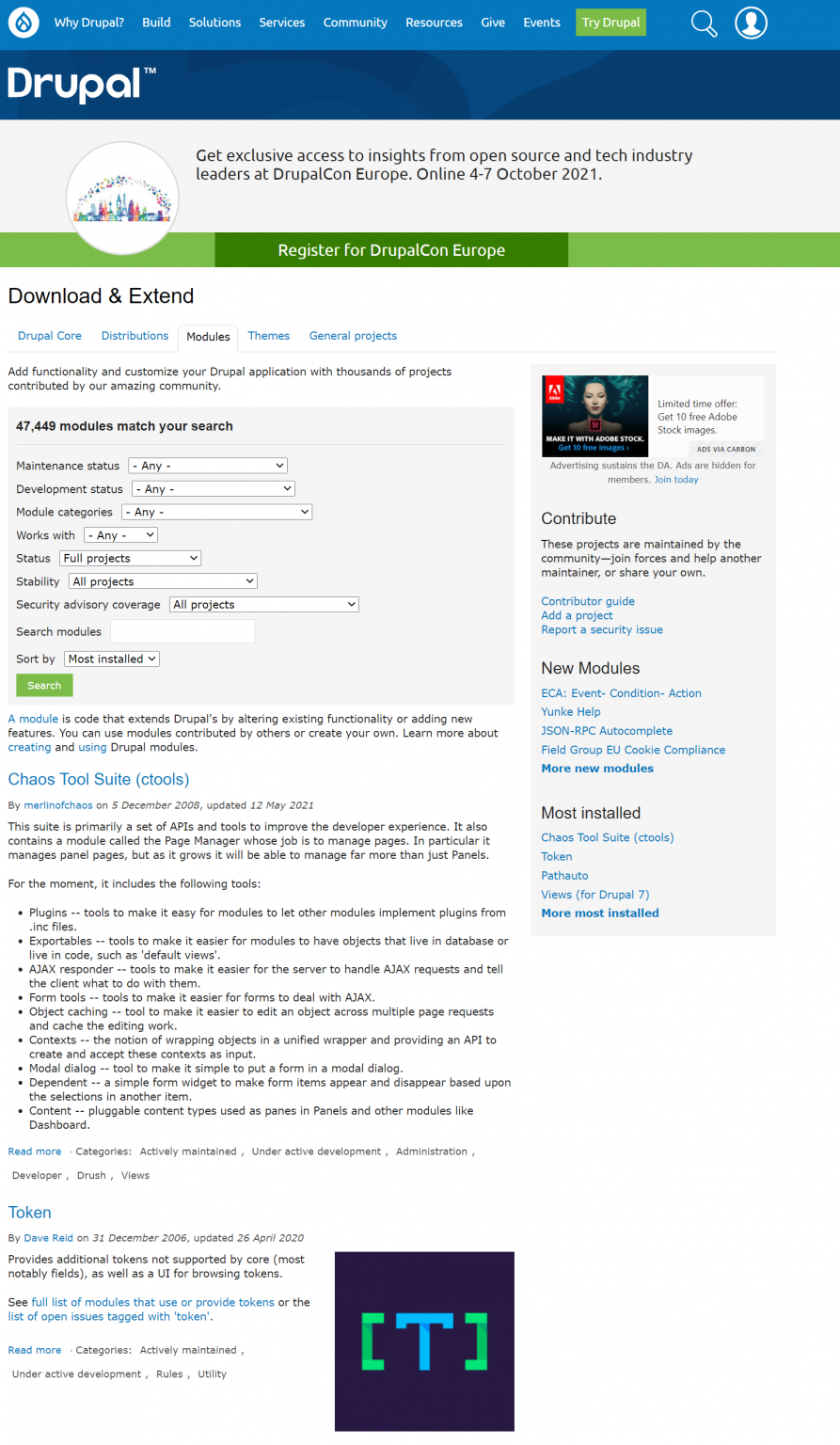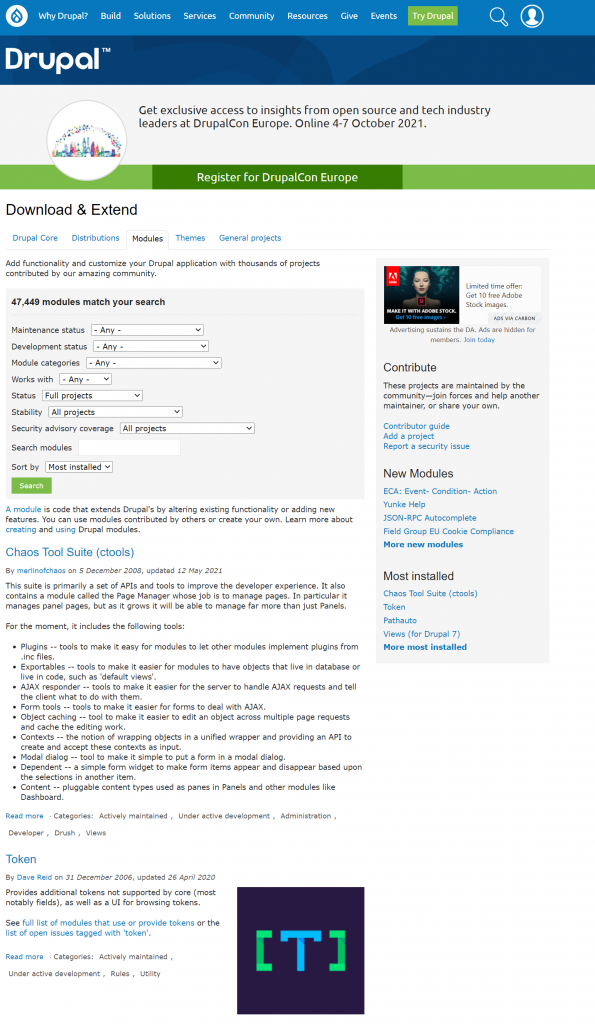 You can extend your website features and functionality, with the help of some tools that Drupal calls Modules. T
2. Top Websites that built on Drupal
According to a post on the renowned website Medium, The Top websites that build on Drupal are:
Montreal Opera
MIT List Visual Arts Centre
University of Arizona
Canadian Museum for human rights
Princeton University Admission
These are the topmost websites that trust Drupal and running successfully.
3. Drupal Advantages
Flexible and easy to Customize content types – Both platforms provide a feature to customize content and its appearance, But drupal gives you a bit more flexibility than WordPress.
More User Roles and permission – Drupal let you create different user roles and grant permissions individually, whereas WordPress has by default only 5 user roles with some basic permissions, although it can be increased with the help of plugins.
Inbuilt Multilingual support – Drupal has built multi-language support and it does not require any third-party plugin for that.
Better handles Data and Management – Drupal's content management and Data handling is way more flexible than WordPress.
4. Free and Easy Setup
Since, Drupal is availably Free just like WordPress, to build a website all you need to do is to buy the best suitable and Fast web hosting service, and domain name, and install Drupal CMS on it. With the right assistance of WPOven, you can make this process a lot easier and more seamless.
WPOven enhances the overall experience by providing you:
Fast and Dedicated Servers
Unlimited Sites
Daily Automatic Backups
Staging site
24X7 support
Free SSL and Business emails
Worldwide Datacentres
Malware Scan and Clean up
WPOven offers different plans for every type of user, starting at just $16.61 per month.
---
Introducing WordPress
On the other hand, WordPress is an online, open-source tool for website creation and it is also written in PHP. It is one of the most powerful blogging platforms right now and one of the easiest to use too. It is being used for website content management systems and millions of websites across the globe use WordPress to back their websites.
WordPress is being used by millions of companies globally. Many famous blogs, news outlets, celebrities, Fortune 500 companies, and others are using WordPress.
For instance, sites such as TechCrunch, Mashable, and others are on WordPress. Contrarily, news outlets such as CNN's on-air personality and others are also based on WordPress.
Another added benefit of using WordPress is the fact that it is available for free. Therefore, you can simply choose to get started on WordPress today and nothing will stop you. Just download and install it on your website and make your way around it to establish your site on it.
1. What makes WordPress so popular and widely acceptable?
Certain features make WordPress an advantage over some other popular CMS. That will ultimately help you to decide which one is better WordPress vs Drupal. Let us see some unique features that others fail to provide.
1.1. Extent Functionality of a website with the help of plugins
Plugins are powerful tools that with the help of them, you can turn your simple blog into a full-fledged e-commerce website. Add extra features without coding in the core files and many more. There are thousands of free plugins available on the WordPress directory. In addition to that, there are also premium plugins available from various vendors.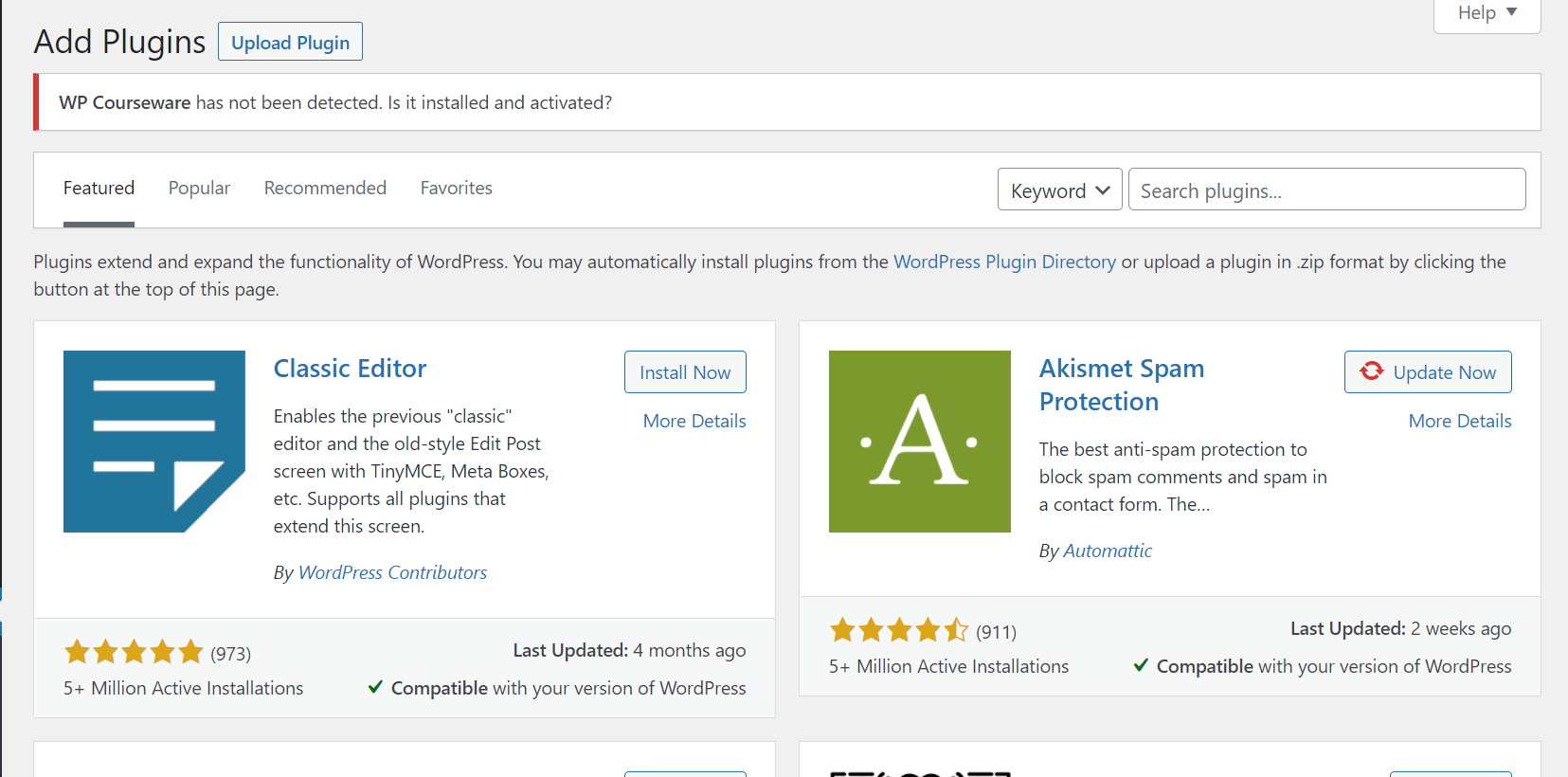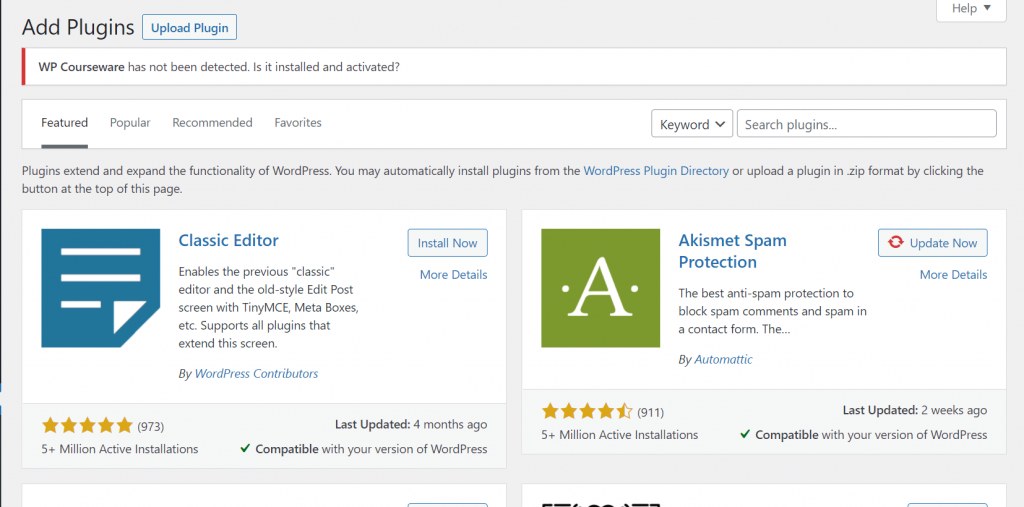 With the help of the plugin, you have endless possibilities to build any type of website. Whatever feature you are looking for on your website, there is a high possibility that it is already available in the online market.
2. Flexibility to change the appearance of your website using Themes


To change the looks of your blog or website, WordPress offers a range of more than thousands of WordPress themes for your website. Depending upon the niche you can choose whatever theme is best applicable to your website. Like plugins, there are also thousands of premium themes available that you can select as per your niche and install them.
ThemeForest is one of the popular theme vendors that have a variety of WordPress stunning themes available for any type of blog or website.
3. Free and Easy setup
Since, WordPress is an open-source CMS, that makes it available for everyone without any cost. The only money you need to spend is on Web hosting and Domain name. In addition, if you want your blog to look stunning and add extra features, you might need to pay for some premium themes and plugins.
But if you are a beginner, we highly recommend you use only free plugins and themes rather than premium ones. Once your blog starts growing and receiving good traffic, then you can switch to premium themes and plugins.
Just like Drupal, which we have already talked about in the above section, to set up a WordPress website all you need to have is a domain name and Web hosting service. WPOven would be the best choice if you are wondering to build a website on WordPress. WPOven has specially optimized its platform for WordPress and provides hassle-free Installation and 24×7 WordPress support.
4. Some Top Websites that build on WordPress
Some High authority websites are also built on WordPress and running successfully.
The White House
BBC America
Bloomberg Professional
Sony Music
MTV News
5. WordPress Advantages
Highly flexible and provides a lot of possibilities.
Can increase the functionality of the website using plugins.
A wide range of themes are available to choose from
Implement different aspects of SEO with plugins.
You will have full control over your website.
---
WordPress vs Drupal: Full Comparison of Various Factors and Their Final Verdict
Since you have already seen in their introduction what how these two platforms are like in an unlikely manner. But being almost the same to some extent, still one has a better market share than the other, Let us get into a deep comparison between both WordPress vs Drupal and find out who is the clear winner.
1. WordPress vs Drupal: Market share
Both WordPress and Drupal have just been released a couple of years apart. Both happen to be significant players in the CMS market. However, WordPress has managed to gain a lot more popularity and it has a bigger base than Drupal (at least 10 times bigger).
A lot of new bloggers wonder whether they should choose Drupal or WordPress for their business needs. There are some aspects that you have to consider before you make this decision and we are here to guide you through this decision.
2. WordPress vs Drupal: Ease Of Use
If you have limited knowledge of website use and how to function around different systems, our suggestion is to not go with Drupal and choose WordPress instead. Drupal has a complicated back end and WordPress is far friendlier.
WordPress lets you start your blog today whereas using Drupal has a few downsides.
One thing keeps in mind is that Drupal is not hard but it can be hard to learn. Whereas WordPress, with a user-friendly interface and step-by-step setup process, helps you a lot to learn the process. However, once you learn the process, both the platform will become easy for any individual. With regular updates, Drupal is trying its best to provide a better and easy user experience that matches WordPress.
WordPress also has a huge community that helps you regarding its use every step of the way. There are so many passionate people there who are willing to share their experiences regarding how to make your use better on WordPress. This is missing in Drupal to some extent.
Contrarily, as far as the updates are concerned, then it is important to realize that WordPress does it every 3-4 months and you don't even get to feel the update. It is that smooth. On the other hand, Drupal upgrades do not include the codes. Therefore, you will have to develop knowledge to handle the upgrades.
---
Which one is the winner WordPress vs Drupal?
In terms of ease to use, WordPress is more user-friendly than Drupal.
1. WordPress vs Drupal: Cost
Another important factor that individuals always consider before website development is the effective cost. Since both CMS are open source and available free to download, the only difference between them is the availability of developers and their cost.
WordPress has a major share on the internet, hence there is high competition around developers to provide the best quality service, hence most of them either provide a free charge service or keep it at the minimum. Whereas, when we talk about the effective cost of developers in Drupal, first it is not easy to find them in the market, and charges more for even making some minimum changes, updates, or any other service.
WordPress and Drupal are free CMS and require Domain name with Web hosting service which is the same, but the only thing that makes a big difference is the developer cost.
Which one is the winner WordPress vs Drupal?
While comprised on of effective cost between WordPress and Drupal, Drupal costs you more than WordPress, Hence WordPress is the clear winner.
2. WordPress vs Drupal: Customization and Flexibility
Flexibility and Customization is another major factor that gives a possibility of future growth for any website. For example, initially, you have created a Fashion blog and started pushing content, once you can attain a huge audience, you have decided to list fashion products on your blog to sell. This can only be possible with the help of addons or extensions. This is what a CMS must have to provide flexibility and customization option to its users.
Both CMSs have a wide range of extensions, add-ons, and themes available. WordPress calls them Plugins and Drupal calls them Modules. There have been more than 50000 Free plugins alone available in the WordPress repository, and there are also thousands of other third-party plugins are also available on the internet. Similarly, there are thousands of themes combining both that are in the WordPress repository and third-party WordPress themes.
In Drupal, there are almost 39000 modules and only 2500 plus themes are available which is quite low in number as compared to WordPress. The higher the number of plugins/modules, the greater the chances of customization and flexibility.
However, both the platforms provide customization options but Drupal gives lesser flexibility than WordPress.
Which one is the Winner WordPress vs Drupal?
With a higher number of themes and plugins, WordPress is the clear winner in the Customization category.
3. WordPress vs Drupal: Security
Lastly, as far as security is concerned, Drupal fares much better. WordPress, with all of its vulnerabilities, can be quite a tough one to handle as far as security is concerned. Drupal consequently has enterprise-level security and it provides in-depth security reports and others to its users.
You can simply understand from the fact that the US government, the most powerful govt has built their website on Drupal for many years rather than any other CMS available. But now they have moved to WordPress due to enhanced security features that have been added to WordPress. This is how many levels of security Drupal provides. And I am damn sure nobody would like to compromise on that.
On the other hand, with WordPress, no doubt there have been numerous security plugins available. But it also increases the vulnerability that hackers may attack with malicious plugins that are available and damage your website.
According to some reports, it has been found that there are almost 90% of WordPress websites infected. And it is mainly due to failing regular WordPress updates. Hence, it is highly recommended that always make sure your WordPress, plugins, and theme have been updated with the latest version available. With the latest release, a new virus definition has been updated so that it can prevent and block future attacks.
Of both systems, WordPress wins as far as the cost, flexibility, and ease of use are concerned. But for someone who prefers security over all other factors, Drupal makes a better choice.
Which one is the Winner WordPress vs Drupal?
Comparing WordPress vs Drupal on the factor of security it has been found that Drupal is the clear winner.
4. WordPress vs Drupal: Responsive Web Design
Considering Web design, both CMSs provide a great degree of freedom to design and customization options. But before that one thing, you need to understand how images and content are managed on different screen sizes.
Both the CMS, can show responsive design and optimize content very well but they follow different paths. In the case of WordPress, each breakpoint is mentioned in the functions.php file. On the other hand, Drupal lets you set the parameters of different image sizes inside the admin panel. This seems quite a hectic and time taking process, but it is far better than editing the WordPress core files.
In addition, there are various plugins and modules available for both platforms that help you to make your website more responsive. When we consider designing the website, both CMS provide the same functionality, you can design your website pages however you like to.
Which one is the Winner WordPress vs Drupal?
It's a tie between WordPress vs Drupal in terms of responsive design because both platforms provide the same time of features with different methods.
5. WordPress vs Drupal: SEO aspects
SEO or Search engine optimization is one of the other crucial factors that one should always consider while choosing the right CMS. After all, it helps you in better visibility and rankings in SERPs. There is no doubt that WordPress websites perform better in SERP rankings than Drupal websites.
It is also to be understood that, there has been no set of rules and regulations released officially yet by any search engines. All the SEO tactics and practices have been implemented by analyzing and researching the websites on various parameters.
You will not get a single advantage of SEO, no matter how well you build a website on any of the CMS. It all depends on the intention and know exactly what the developers are doing. WordPress has numerous SEO tools available in its WordPress plugin directory that helps it implement every possible aspect of SEO on the website.
But in Drupal, there is no such thing available. Only you can achieve it with some professional developers who have the basic and latest knowledge about SEO.
Let us subdivide this section and compare WordPress vs WordPress on on-page optimization.
Website Speed: By default, Drupal has enabled an outstanding feature of caching whereas, in WordPress, you can achieve this by using various plugins available. However, the plugins can only give you full flexibility and customization option such as Image optimization and Content Delivery Network. And we know how fast websites play a vital role in SEO.
Schema Markup: Schema markup is essential information in the form of code that can be added to a website so that it can reflect more information on SERPs. It can be implemented on both platforms by adding codes in their template files.
Search engine Optimized URLs: As we know, How important is a website URL to be search engine optimized? And when we talk about how CMSs provide this feature, Drupal comes out to be the real winner. It provides you with a limitless possibility to edit and rewrite URLs without any restriction and change the pattern of URLs. But in WordPress, you have a definite structure and some limitations.
CDN(Content Delivery Network): Both the Platforms either WordPress or Drupal provides the facility to integrate CDN with websites. It has been now a mandatory feature that many web hosting companies provide even with their basic plans.

6. What are the Future aspects of WordPress vs Drupal?
It is no doubt that you are planning to build a website in the long run. Hence it is important to analyze what will be the future and long time benefits of this WordPress vs Drupal CMS. Of course, you can shift your website from one CMS to another, but the whole process is quite hectic and risky. If anything went wrong, the results can be catastrophic. Hence, it is highly advisable to check out every point before finalizing a CMS platform.
6.1. Future Updates WordPress vs Drupal
Both the platforms provide regular core and security updates, but what differs them from one another, let us check out below:
WordPress Updates
WordPress brings massive upgrades frequently in about 3-4 months. In their latest update, they try to fix all the bugs that had been encountered in the previous update, bring the latest security definitions, and by adding some new exclusive features. Some platforms, such as WPOven, will update the core within 48 hrs of the new release. After that, you will need to update your other tools to the latest version to avoid compatibility issues.
Drupal Updates
Drupal provides only database updates and upgrading to a new version is always an excruciating and long process. It simply means, while updating to the latest version, all the data or content that has been stored in the old version can be easily migrated to the newer one but whatever the codes have been there needs to be written separately again.
Design and UI
It has been observed that, if any beginner chooses WordPress vs Drupal, they most probably would go for WordPress. The only reason behind this is, it is tough to learn Drupal and excruciating core updates. And even if someone has previously worked on WordPress, will never like to work on Drupal or support it in any case.
It is because WordPress is more user-friendly than Drupal and the learning curve is way better than this.
---
Conclusion: Which is Better WordPress vs Drupal?
Which one is better for you WordPress vs Drupal? This is probably the question that you were looking for. But to be honest, it is quite ambiguous to say which one is better. Instead, you should look for the answer to the question, which CMS would be better for your particular type of website?
In short, your main aim should be to decide first on what project you would like to work on, what will be the requirements, budget, and future growth. Match it with the points that we have already discussed in this post and figure out which turns out to be the best option for you.
No doubt both platforms work well and turned out to be the best options for many individuals. For some people, WordPress turned out to be an amazing platform where they can easily set up a normal website without much effort and for some, Drupal came out to be the right choice in handling a complex data organization that needs to be customized and flexible.
Drupal is best for those
Those who like to play with codes and a developers
Or who can pay developers?
WordPress is best for those
Who does not like to mess around with codes
Those who like a clean and easy User interface
No requirement for Developers
Easy to create from basic to pro-level of professional websites.
To help you to decide which one is better for you, we are providing you with a summary of the two WordPress vs Drupal below:
WordPress vs Drupal (Themes): Both WordPress and Drupal provide themes, but WordPress has thousands of themes available on various theme markets some of them are paid and some of them are Free. Whereas, Drupal, they have provided a limited number of themes in its theme market.
 
WordPress vs Drupal (Plugins or tools): WordPress has a collection of a wide range of plugins and themes available either in the WordPress directory or from third parties. Whatever you like to add a feature to the website, a plugin is available in the market either Free or paid. Whereas, in Drupal, you have limited modules that help you add some functionality to the website.
 
WordPress vs Drupal (Website building): With WordPress, it is very easy to build a website from scratch, and it does not take a lot of time, whether it is a blog or an e-commerce store. Whereas, in Drupal, it is hard to build a website but once you learned it will be easy for you.
WordPress vs Drupal (Multi-lingual): WordPress requires plugins to add a feature of multilingual to the website. Whereas in Drupal, it has been by default present in their CMS as an option for the website.
 
WordPress vs Drupal (Website migration and Theme switching): Complete Website for a WordPress website is way easier than any other CMS available. And when we talk about using different themes for different website pages, Drupal came out to be a complete winner. Whereas in WordPress it is a lot difficult process.
From the above comparison between WordPress vs Drupal, we hope you will be able to figure out the right CMS for your project. And if you found anything worth mentioning about these two CMS, that we have forgotten to mention in this post, please do let us know in the comment section below. We would love to hear from you.
---
Frequently Asked Questions
Is WordPress easier than Drupal?
When we compare the ease of use between WordPress vs Drupal, WordPress turns out to be the easier option than Drupal. WordPress gives you a user-friendly interface that reduces human efforts to some extent. Whereas in Drupal, you will require more technical stuff and coding knowledge or if you are not into coding you will require to hire a developer.
Is Drupal difficult to learn?

On comparing WordPress vs Drupal in terms of the learning experience, WordPress came out to be a complete winner. But it is still the first choice for many organizations and businesses due to its developer-friendly and high-security features. In short, it is not as difficult to learn as it seems.
Why you should not use Drupal?
Comparing the performance of WordPress vs Drupal, it can be easier for you to understand why Drupal is not a fit for you. It is because Drupal's RAM management is not well optimized and consumes a lot RAMory during operation. Upgrading is an excruciating process and every time you need to rewrite the codes.
---