As a website owner, it is essential to ensure that your website is accessible to everyone, including those with disabilities.
In 2016, the UN acknowledged internet access as a human right, making it necessary for websites to be easily accessible to everyone. Since then, making your website accessible to all has become an ethical obligation, and it is also a legal requirement under the Americans with Disabilities Act (ADA) and similar laws.
One of the best ways to make your website accessible is by using the AccessiBe WordPress Plugin. In this blog post, we will explore what AccessiBe is and how it can help you make your website accessible to everyone.
---
What is AccessiBe WordPress Plugin?
AccessiBe is an AI-powered accessibility solution that can help you make your website accessible to people with disabilities. It is a fully automated solution that uses AI and machine learning technology to make your website accessible to people with visual, auditory, and cognitive disabilities.
AccessiBe WordPress Plugin is a tool that helps to integrate with your WordPress website to make it accessible to everyone. The plugin works by adding a widget to your website, which users can click on to access a range of accessibility features, such as font resizing, contrast adjustments, and screen readers.
---
How Does AccessiBe WordPress Plugin Work?
AccessiBe WordPress Plugin works by using two main components: the Accessibility Interface and the AI-powered background process.
The Accessibility Interface is the widget that users click on to access the accessibility features. It allows users to customize the website according to their specific accessibility needs. For example, users can increase the font size, change the contrast, or enable the screen reader.
The AI-powered background process is the machine learning algorithm that runs in the background of your website.
By adding the accessiBe plugin to your website and creating an account on the platform, you can ensure continuous compliance with accessibility guidelines.
The AccessiBe plugin regularly scans your website's elements and identifies accessibility issues or checks your website for new and updated content 24/7.
It then applies the necessary adjustments to make your website accessible to people with various disabilities, including visual, hearing, and cognitive impairments.
The adjustments include adding alt text to images, enabling keyboard navigation, and adjusting colors and fonts.
AccessiBe is compatible with different websites, including eCommerce sites, blogs, and news sites. The plugin also supports different languages, making it accessible to people from different parts of the world.
---
Read: 🚩 WordPress Market Share: Updated Stats 2023
---
WordPress and Accessibility
WordPress is a widely popular open-source platform for building websites, with a significant market share of more than 40%.
While it is free, flexible, and versatile, WordPress needs a lot of areas for improvement and development when it comes to accessibility.
According to WordPress, it is entirely up to the developer to ensure the accessibility of the site, and a poor theme or inaccessible plugin can compromise the site's accessibility.
To create an accessible site, you must do extensive research and manually incorporate and implement all necessary adjustments.
While there are 84 accessible WordPress themes (Paid, Premium, and Free included). WordPress recommends using a paid theme instead of a free one for more effort, attention, and support. However, none of the paid themes on WordPress are up to the accessibility standards of the WCAG, making manual implementation necessary.
WordPress plugins are highly recommended for specific features, but none of the accessibility plugins offer full WCAG compliance. Without full compliance, blind people and motor-impaired individuals cannot access the website.
Ultimately, creating an accessible website on WordPress requires the website owner to manually implement the necessary adjustments, which can take months and cost thousands of dollars if outsourced. Consistent maintenance is also necessary for all changes made to the website.
---
Accessibe WordPress Plugin: Installation and Setup
Installing and setting up the AccessiBe plugin in WordPress sites is a straightforward process. Here's a step-by-step guide to help you get started:
Before directly jumping to the plugin installation process, the first thing you need to do is to create an account on accessibe.com and register your website domain. Else, the Free Accessibe WordPress Plugin won't work.
Step 1: To get started, go to www.accessibe.com and create an account by entering all of your details.
Step 2: Once you've done that, Do accessibe login and enter your domain name to complete the registration process. After you submit your domain name, you'll be able to start a 7-day free trial period!
Step 3: log in to your WordPress dashboard with your username and password.
Step 4: On the main menu, click on 'Plugins' and then click 'Add New'.
Step 5: On the Search Plugins screen, use the search field on the right and search for "accessiBe".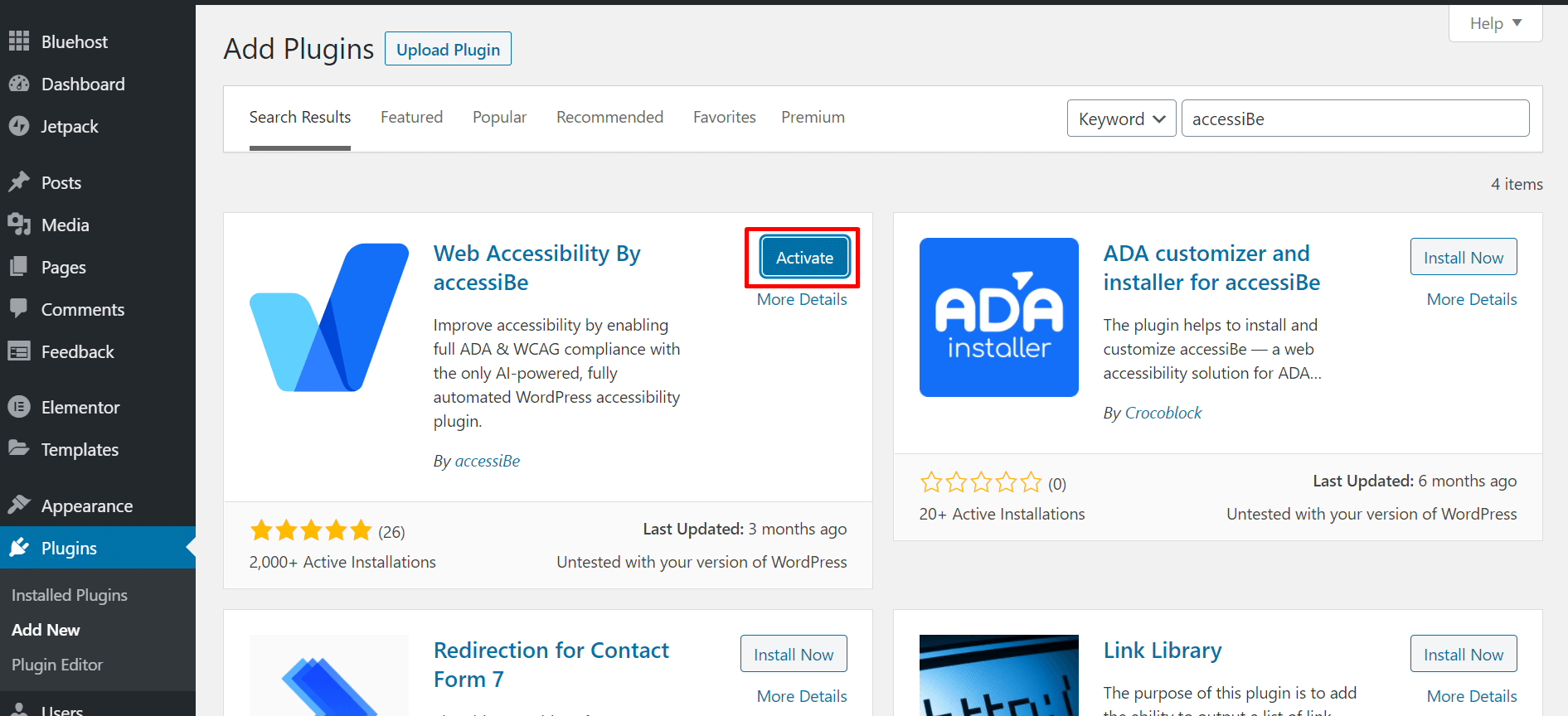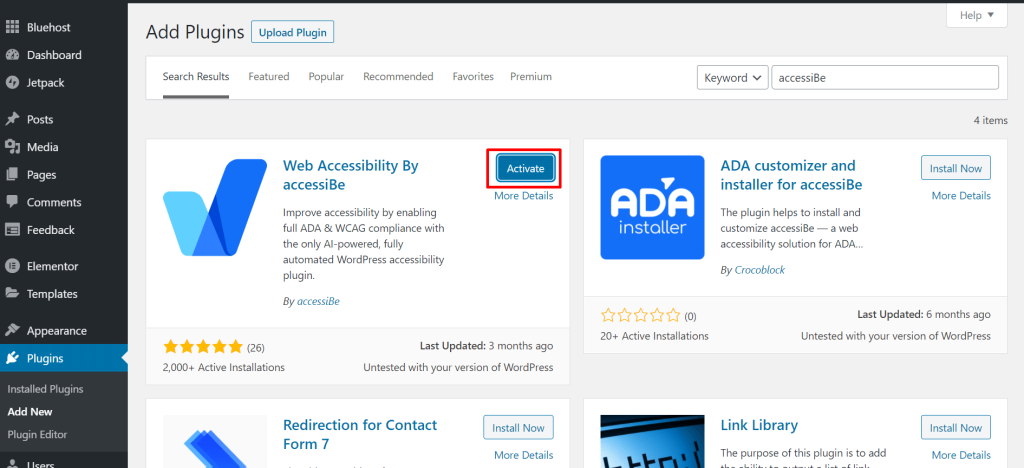 Step 6: Once you see the accessiBe plugin, click 'Install Now' > click "Activate".
Step 7: Find the "Web Accessibility By accessiBe" plugin in the list and click 'Settings'.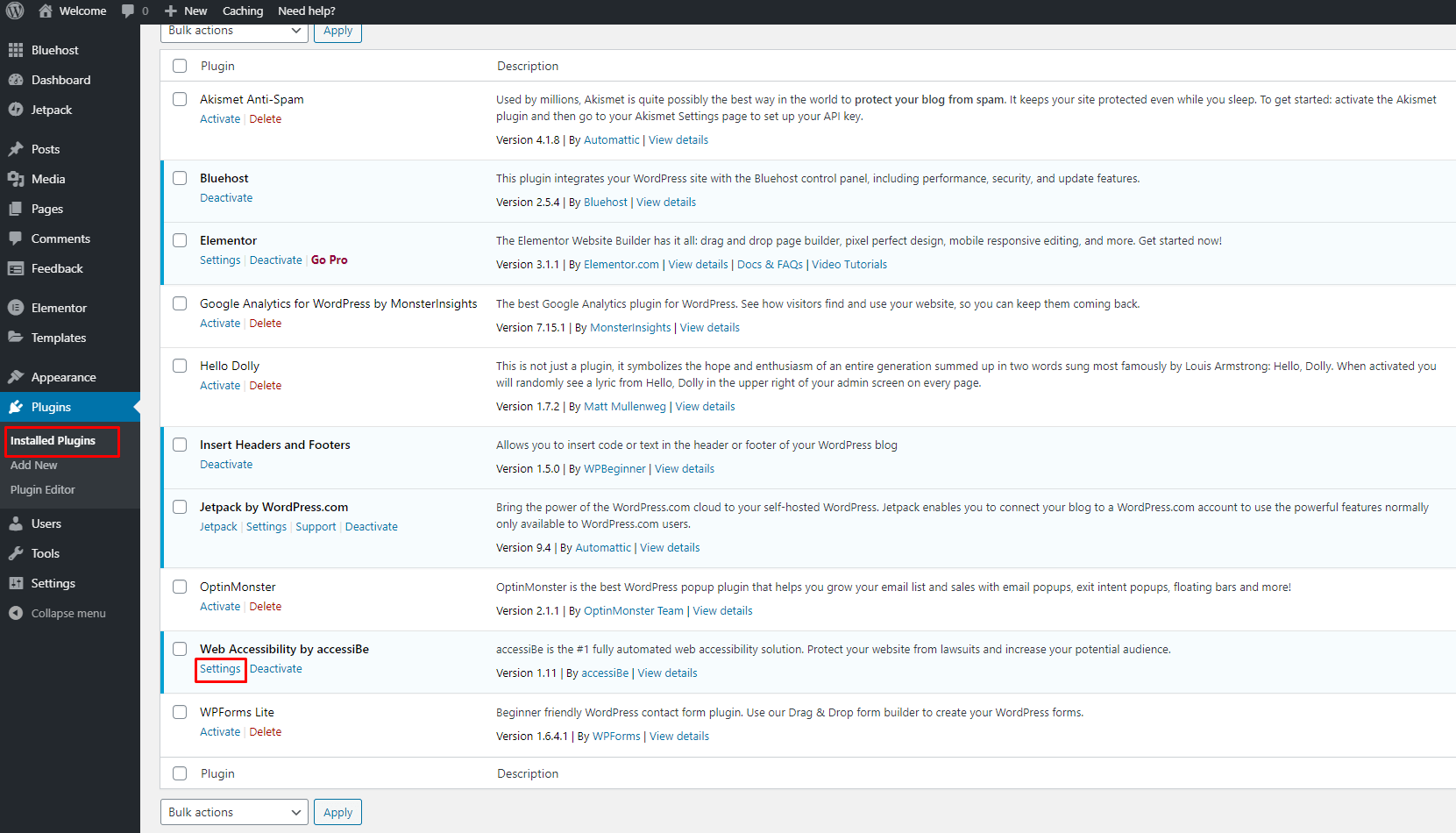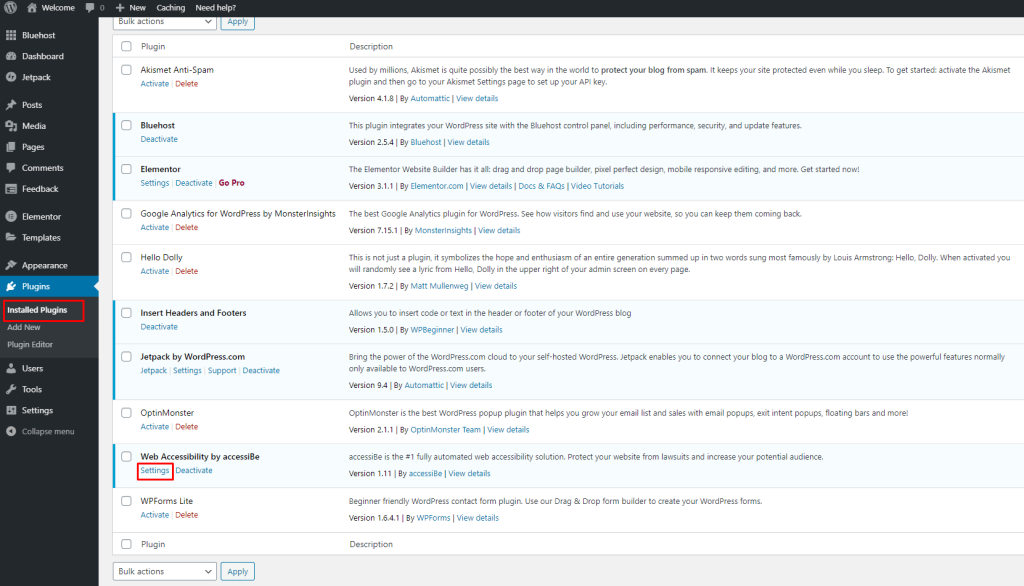 Step 8: You can design the button and customize it to appear on your site as you want and Click "Save Changes" to save your settings.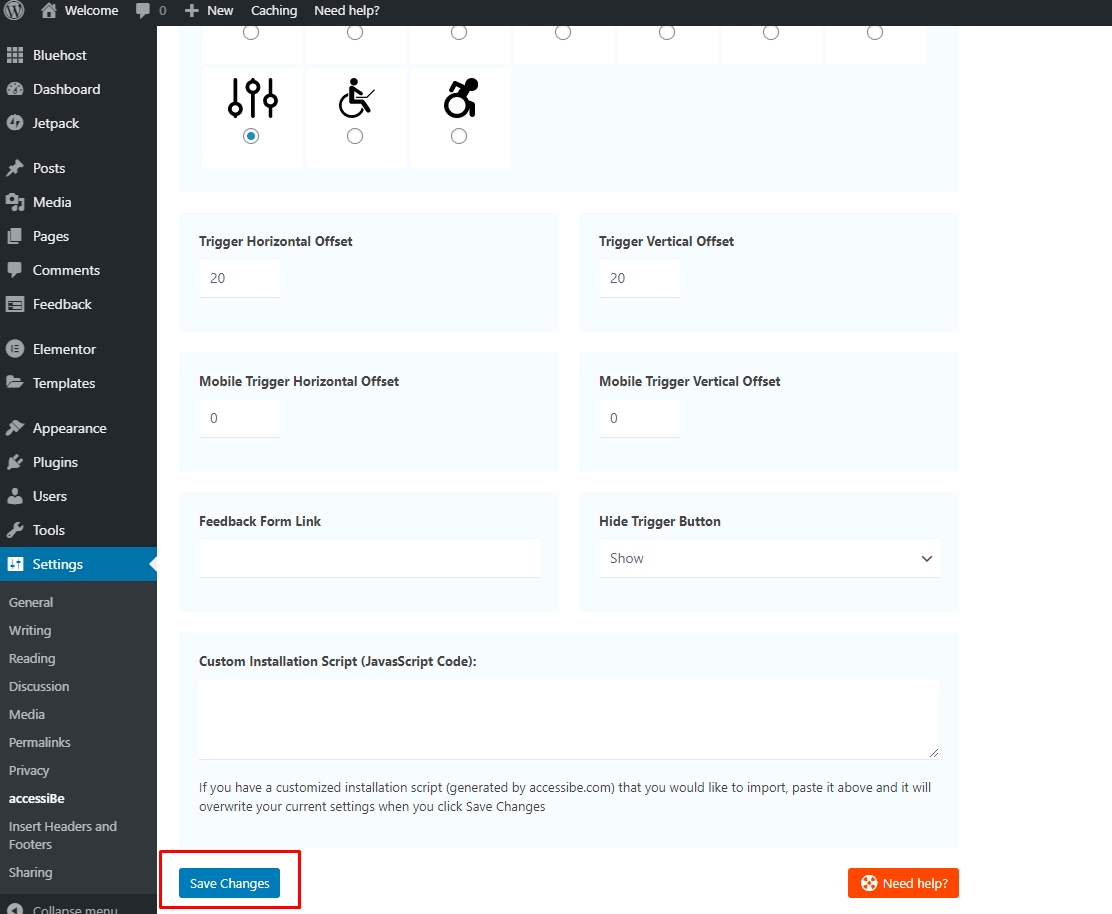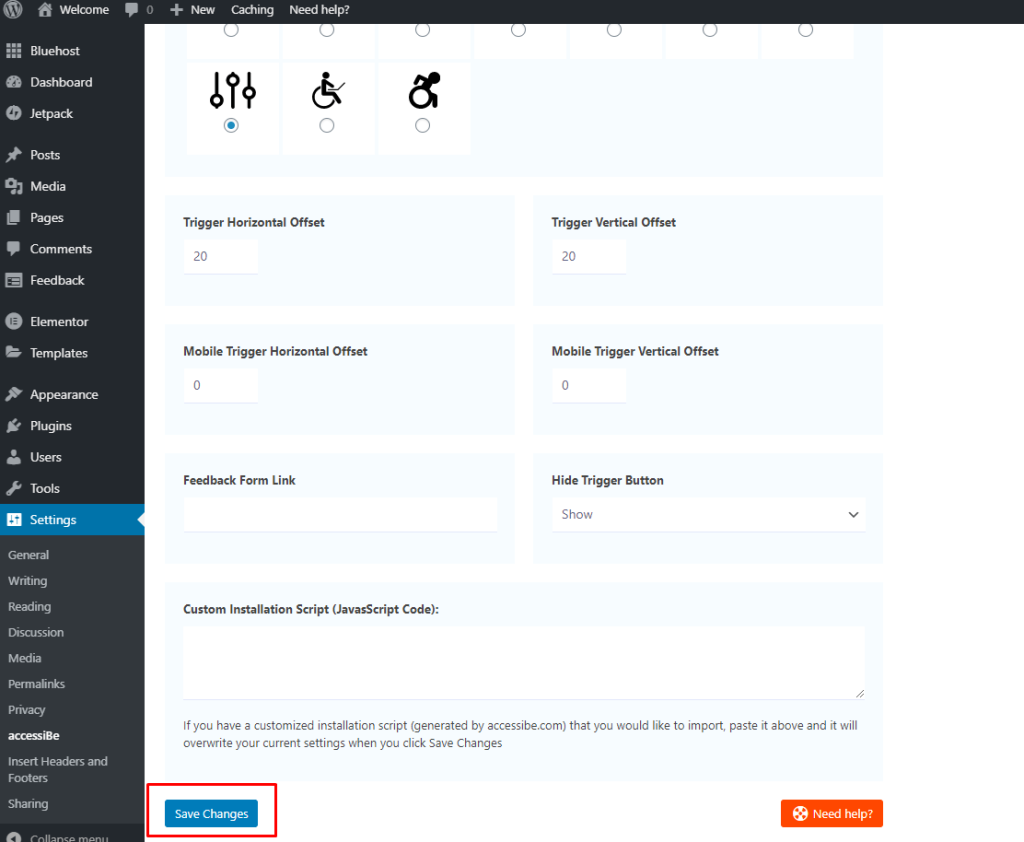 Step 9: Now, go back to your homepage and you will see an accessibility floating icon appear. Click on it to explore all of its features, as shown below: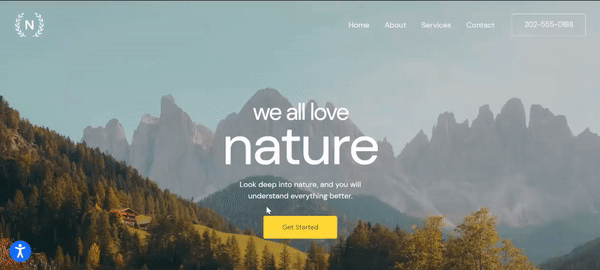 If you encounter any issues during installation or setup, the AccessiBe support team is always available to help you troubleshoot and resolve any issues.
---
Testing AccessiBe on Your WordPress Site
Now it's time to test the accessiBe integration on your website and ensure that everything is working correctly. Even though the Plugin is well-optimized and the AI technology is comprehensive, there's always a chance that it may miss some things or encounter bugs, that needs to be taken care of.
Step 1: To start, let's make sure that accessiBe is loading correctly on your website and that scanners are working correctly. The first thing you need to do is to run an audit with AccessScan.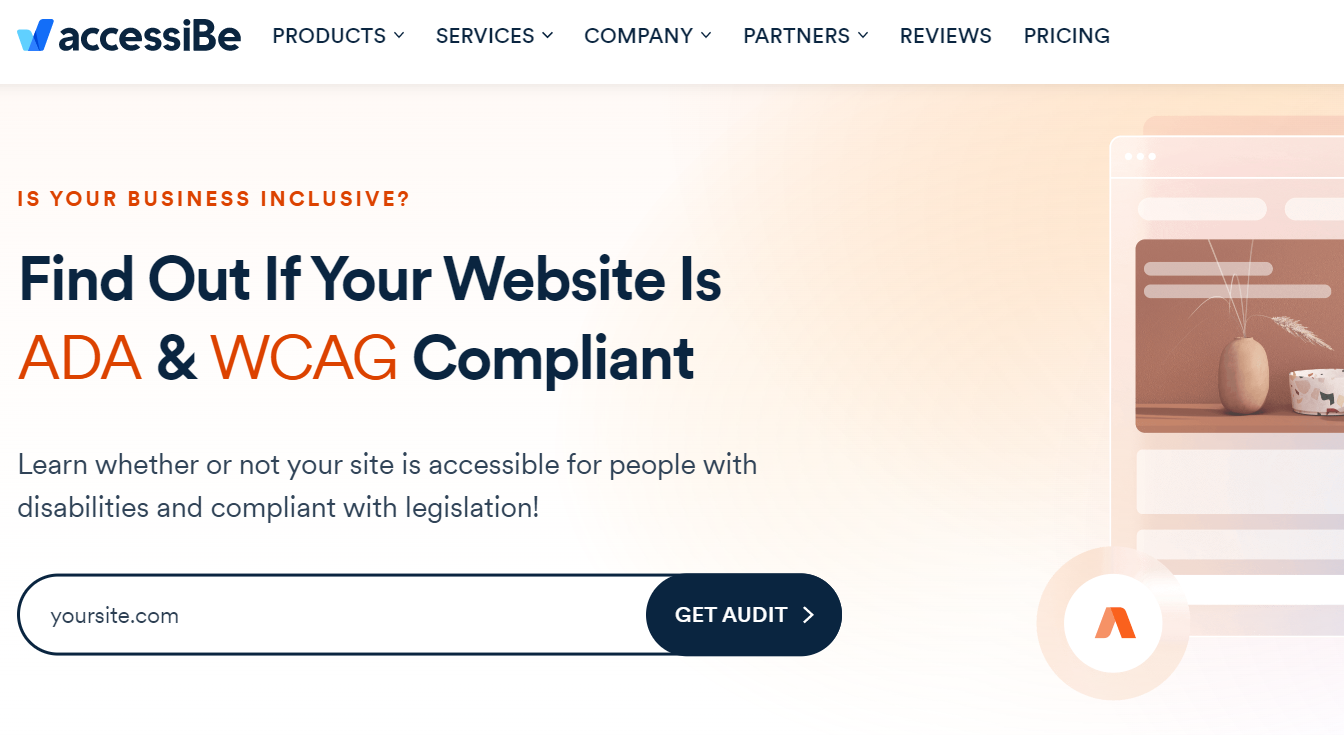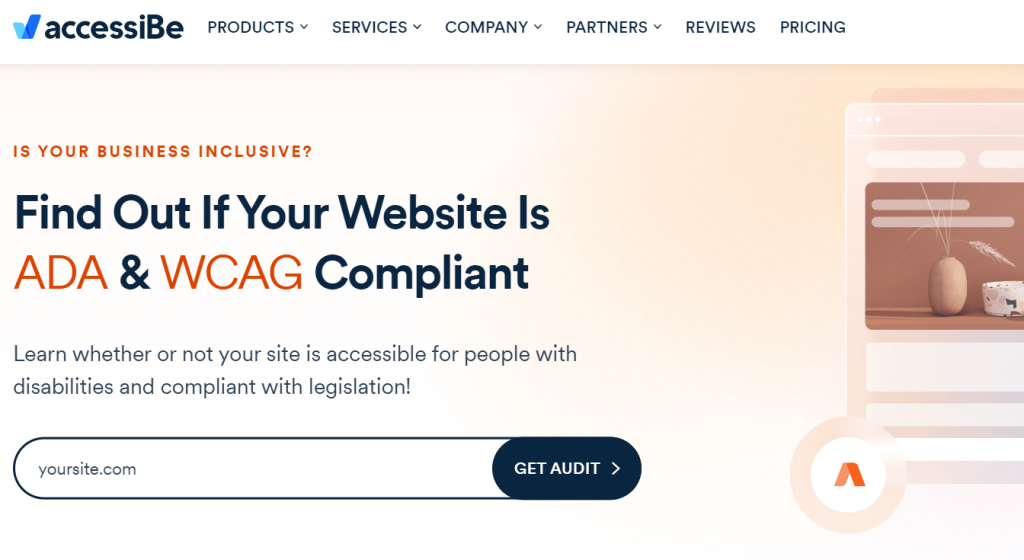 Step 2: If the scan doesn't load or you see anything other than "Compliant," You can contact AccessiBe support for further assistance.
For a more thorough testing process, check out AccessiBe's official easy-to-follow guide that covers everything you need to know. The guideline is written in simple language and doesn't require any technical expertise.
---
AccessiBe Pricing and Plan
Although the AccessiBe WordPress Plugin is Free to use for more straightforward installation and configuration. If you want to explore its complete AI solution, try the leading accessibility solution at a starting price of $49 per month with a 7-day trial.
---
What Are The Benefits Of Using The AccessiBe WordPress Plugin?
There are many benefits to using AccessiBe WordPress Plugin, including:
ADA Compliance accessible: Using AccessiBe WordPress Plugin ensures that your website is compliant with accessibility laws and guidelines, such as the ADA and Web Content Accessibility Guidelines (WCAG) 2.1.
Improved user experience: AccessiBe WordPress Plugin enhances the user experience for people with disabilities by making your website accessible and easy to use.
Increased audience reach: By making your website accessible, you can reach a wider audience, including people with disabilities.
Easy to use: AccessiBe WordPress Plugin is easy to use and requires no technical knowledge. Simply install the plugin and let the AI-powered background process do the work.
Saves time and money: By automating the accessibility process, AccessiBe WordPress Plugin saves time and money that would have been spent on manual accessibility testing and fixes.
---
Read: 🚩 How To Drive Traffic To Your Website in 2023? Ultimate Guide
---
Accessibe Plugin Pros and Cons
| Pros | Cons |
| --- | --- |
| 1. Improves website accessibility | 1. Not perfect still evolving and improving |
| 2. Reduce Manual accessibility implementation, testing, and fixes. | 2. Limited customization options |
| 3. Easy to install and Implement | 3. Possibility that it might not work well with all websites |
| 4. Compliant with accessibility standards | 4. Some users may still require manual adjustments |
| 5. Ongoing monitoring and updates | 5. Accessibe is paid service and not feasible for all website owners. |
---
Conclusion
In conclusion, making your website accessible to everyone is not only an ethical obligation but also a legal requirement. AccessiBe WordPress Plugin is a great tool that can help you make your website accessible to people with disabilities.
By using this plugin, you can ensure compliance with accessibility laws, enhance the user experience, and reach a wider audience. So, if you like to increase your audience reach, consider installing the AccessiBe WordPress Plugin today and make your website accessible to all.
Would you like to expand your audience and increase your website's visibility in search engine results? Check out this ultimate guide on improving your WordPress site's SEO to learn how!
---
Frequently Asked Questions
What is accessiBe plugin?
An accessiBe plugin is a tool that helps website owners make their sites more accessible to people with disabilities. It offers features like keyboard navigation, text-to-speech, and color adjustments that visitors can use to improve their browsing experience. With accessiBe, website owners can quickly and easily implement these features without having to spend a lot of time or money on development.

How to install accessiBe?
1. Create a free account on accessibe.com and register your domain first.
2. log in to your WordPress Dashboard > go to main menu > Click on plugins > Add new.
3. Search "Accessibe" in the plugin search bar > Click on install >Activate.
What is accessiBe?
accessiBe is a tech company that's using AI to make website accessibility available to everyone, especially those with disabilities. Their innovative solutions are making the web more inclusive. With machine learning algorithms, accessiBe analyzes and adjusts website content to make it more accessible, helping website owners comply with laws like the Americans with Disabilities Act (ADA) in the US.