Booking an appointment is a hot lead for any business. If this type of lead comes to your business, it has a high potential to convert and adds a new customer to your business. Hence having a secured and easy method of booking dates, appointments, or scheduled calls is very important.
But, when you integrate such a system into your business, your requirements may vary. For example, a doctor would need appointment bookings to happen at a defined interval as he/she cannot see patients altogether. Similarly, a gym trainer would need to book based on the kind of training his trainee wants. These requirements vary according to different businesses.
To make it easy for you to find the best available WordPress Booking plugins, we have reviewed the most widely and trusted plugins and created this list for you. Go through them and find what fits for your business automated bookings and appointments.
Importance Of Having WordPress Booking Plugins On Your Websites.
If you think that having a WordPress Booking Plugin is just an option. You are just looking to test how it works, you are missing a good chance to increase your business customer leads. In this section, I will be explaining to you the importance of having a WordPress Booking Plugin on your website.
Gives a sense of scheduling or booking
Having a booking plugin integrated, gives your website visitor, a sense of opting for your service. Imagine a situation where you are offering a service over your website and directly asking them to pay.
Nobody pays you on first interaction until and unless you are a big and trusted brand. In this case, it is very important that give an option to customers to book an appointment, a demo, a call schedule, or anything that will allow you to convince or set a meeting time to interact.
Improves User Experience.
We just discussed above that your customer may want to interact with you before opting for your services. But, there may be situations where they don't need any interaction and straight away go to checkout, or pay online to book an appointment, etc.
Under a similar challenge, if you provide users with an option to book for a time or schedule using WordPress Booking plugin integration, it will result in a better user experience. Both users, as well as your business, will save time in talking and convincing and conversions of leads would happen over the website itself.
Easy Integration With Google Calendar
Google calendar is one of the best ways to remind users of their booked appointment and schedule. Since, A lot of your customers must be using a Gmail id or an android phone, hence sending them a push reminder notification on their mobile phone is easy if your WordPress Booking Plugin can integrate with Google Calendar.
Using this benefit and choosing a WordPress Booking Plugin that can integrate, would automate a lot of your tasks and make it user-friendly as well.
Allow Payment Collection With Booking.
Whatever leads are generated in your business, If those leads are hot leads who are willing to perform transaction for booking an appointment or scheduling anything at cost, plugins like WordPress Booking Plugins will add amazing monetizing value to your business.
If you or your business feels that your leads can pay for booking then you must integrate WordPress booking plugins that can accept payments.
No doubt, if you add Plugins Like WordPress Booking Plugins to your business websites, you are not only improving your user experience but at the same time, you may add a new source of generating revenue for your business. By this time, you must have realized the importance of booking plugins in WordPress. What should you ideally look for, in a WordPress Booking plugin, lets us discuss that in-depth so that you can make a better choice?
What Should An Ideal WordPress Booking Plugins Have?
Knowing that having a WordPress Booking Plugin is very important for a business like yours, it's time to identify what is an Idea plugin of this type.
Your Booking plugin must have a calendar that you can customize yourself. If it can be customized, it would be easy to place anywhere on your website. [ If you know a bit of CSS, you can further customize in your own ways ]
If you are offering a wide range of choices before booking anything, your WordPress booking plugin must have options to customize these fields for menu and drop-down [ It should look appealing and beautiful to the user]
The payment acceptance feature must be there in your booking plugin. This should be present as a feature such that you can add or remove this from the front when required.
The booking plugin must be mobile friendly so that its design could so the responsive version to mobile users. [Very Important]
Options to edit and rebook schedules/appointments etc by users must be there.
Multi-vendor support must be there in your WordPress Booking Plugin if you have a business where different individuals have different times and options to meet your customers.
Automating email features to push booking notifications on both ends is also an ideal feature that WordPress booking plugins must have.
Booking appointment plugins must have options to allow an owner to set the desired intervals between each schedule.
Just keep the above checklist in your mind while you are choosing an idea booking plugin for a WordPress website.
If you are still confused that your website or business even needs to use a WordPress Booking Plugin or not, let me make it easy for you to decide. Go ahead and read more about your possibility to choose these plugins.
Does Your Business Need To Integrate A WordPress Booking Plugin?
We have already understood the importance of the Booking plugin on WordPress Website and identified the ideal qualities of A WordPress Booking Plugin. Let us understand if you need this in your business or not. I would be considering business niches and see if that fits a Booking plugin or not. [ Make sure to read this before adding, activating, or buying any premium WordPress Booking Plugins. ]
If you are a practicing doctor and you want the patient to come for getting treated. You need a booking plugin to set a schedule for an appointment.
Considering you are a gym owner, you would not want your gym to be overcrowded. You can maintain a schedule of your customers using a schedule management WordPress booking plugin.
You may be running a ticket booking business for busses, trains, flights, or cabs. Here a booking Plugin with payment integration would be a wonderful use case.
Running a rental service for houses or hotels? No doubt, you need a booking plugin on your WordPress website.
Are you an event-based company, organizing parties or large size events? In that case, you may need ticket booking facilities to take part in an event. You must choose an event booking plugin for this.
Running a consulting firm? In consulting, you always talk before both parties agree to get down to any monetary exchanges and benefits. You must have some consulting booking options on your website.
Real estate businesses should always consider a WordPress Booking Plugin over their WordPress website. It will help you schedule calls or site visits. Since it's a high ticket business, a booking system integration is always preferred.
So we see the WordPress Booking Plugins have massive use cases in a lot of businesses. Always ask yourself, if adding such an option would add value to your business or not. If you get an answer of yes, just go for adding and activating the best option. We have shared the best WordPress Booking plugins list in this blog. Go ahead and find FREE and Premium plugins to choose from.
In-depth Analysis of Top 13 WordPress Booking Plugins.
Yes, it's time to check out all the best WordPress Booking Plugins that can really transform the user experience of your WordPress website.
We had tested 30 different WordPress Booking Plugins on our test websites to check
How do they work?
What features do they offer?
How easy are their installation and setup?
What kind of compatibility do they need?
How frequently they are updated?
What amount of loading time do they consume?
How good they are at customizing?
Analysis of their integration with 3rd party tools.
So, hold your belts tight as we are going to give you massive actionable information about the 12 WordPress Booking Plugin that we found worth integrating into any WordPress Websites.
1. BookingPress
BookingPress is a feature-rich and simple-to-use free WordPress booking plugin. It's suitable for any service-based business website.
It's more adaptable and packed with valuable features that make the online appointment booking procedure on your booking website work more smoothly.
You may create and manage bookings straight from the admin dashboard, without the need for a third-party plugin.
Amazing features:
Excellent admin dashboard
Great UI and UX
Payments can be made online using PayPal
Translation ready (In-built translations for German, Dutch, Russian, French, and Arabic languages.)
In-built anti-spam protection for more site security
Customizable Email notification
Options for Quick and Easy Setup
Salons, spas, tutors, barbershops, consultants, wedding planners, and other businesses will benefit from the BookingPress Plugin.
Pricing of BookingPress
BookingPress is open-source software, hence it is available Free to use and download from the WordPress repository.
How do Installation and Setup look like
Installing this plugin is quite easy. You can simply go to your Plugin tab inside WordPress and click add a new plugin. Search for BookingPress and you will find it in the WordPress Directory to add and activate.
Once the installation gets completed, you can easily do all the setups from the BookingPress menu available at the left side of your WordPress dashboard, as shown in the picture below: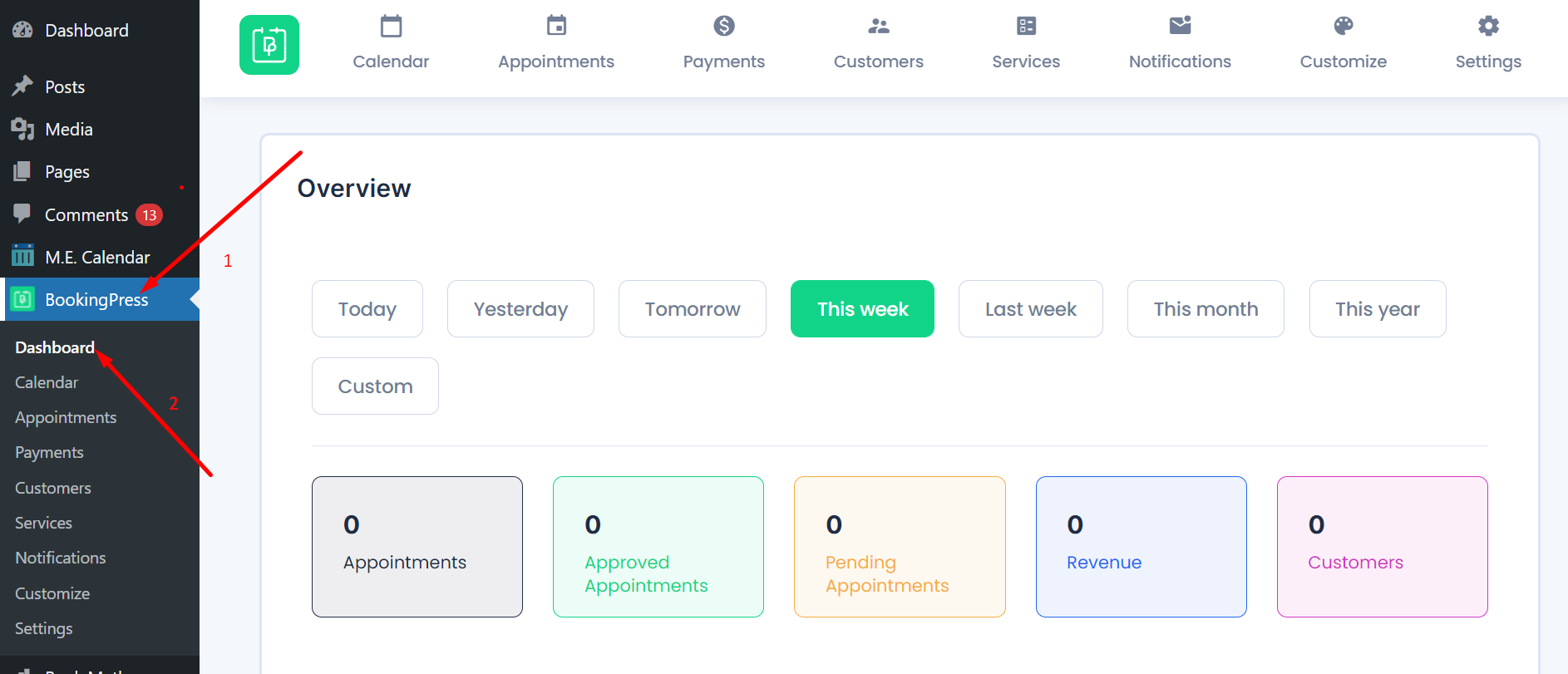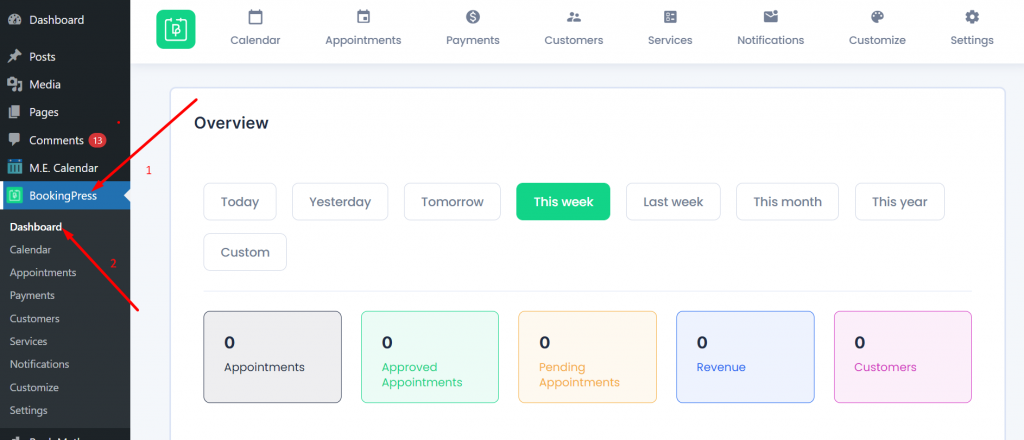 The entire setup and activation process is very easy and you don't need to read any sort of manual or installation guide for doing the setup. They have easy navigations for doing all necessary settings that will help you utilize its features to work for your business.
BookingPreess Updates And Reviews
We checked with BookingPress's customer reviews in the WordPress directory and the kind of updates their developer has been pushing and found the following results for its version – 1.0.15.
It has 700+ active installations right now.
For us, it shows that it was updated last 3 days ago. [ Regularly updated ]
It has been currently tested up to 5.9.3. [Latest version]
Its average rating is Average Rating 5/5.
WPOven's Opinion About BookingPress WordPress Booking Plugin.
BookingPress is definitely our first and best choice. It has almost all the best features that a WordPress booking plugin should have. One of the best things about Bookingpress is, that it is available free to use and download and its unique interactive dashboard design makes it a perfect pick.
When talking about the complete installation and setup process, you do not have to struggle much and the complete process can be done in just a few clicks.
2. Amelia
Amelia comes at top of our list of WordPress Booking plugins. It gives you an opportunity to completely automate your Booking system over the website. Amelia is best for any niche business or enterprise website. The best part is, that you can start using it for FREE.
You get a demo of how does its frontend and backend looks like. You can go through its demo and understand its usability.
Amelia features and advantages it offers.
It has a very unique user-friendly interface with book backend and front-end control optimization with an easy booking interface.
You can notify your customers and employees from every booking through its SMS Integration facility.
You can set custom service scheduling for bookings and appointments.
With every booking, you can also set up booking forms to take input from your customers.
Connecting ZOOM for video calling appointments is easy with amelia with the zoom integration feature.
Your employees get notifications on their calendar with amelia's potential to sync with google calendar. You can also sync it with outlook.
With step by step wizard, you can also create a multi-step booking process.
If you are looking to have a recurring appointment WordPress booking plugin then this is the best choice.
Amelia has the capacity to integrate with your woocommerce store. So, if you are selling some service and want to schedule the sales, amelia can integrate with your woocommerce and do that.
You can also display the catalog to your customer while they are on this booking page integrated with amelia.
Amelia gives you a complete dashboard setup from where you can control, manage, search, or filter data.
Geolocation features help you in managing an automated booking system for an international audience.
Managing time for pre and post-booking for managing the cancellation is possible with this WordPress booking plugin.
You also get the flexibility to manage your own email SMTP servers for notifications.
It supports payment with Paypal and Stripe integrations.
You can easily manage your customer database, offer coupons,s or offers to your customers with its advanced feature set.
Amelia is GDPR Compliant WordPress Booking Plugin.
It offers webhooks for any 3rd party integration.
You get separate dashboards from employee and customer management in this Plugins management system.
So many features to grab in a single package, that Amelia is bound to be our favorite WordPress Booking Plugin.
Pricing Of Amelia
Amelia is a FREE WordPress Booking Plugin for most of its features while you may need to upgrade to the paid version if you want to use its advanced features starting at 60 USD Annually. It also has Lifetime deal pricing. You can check its pricing here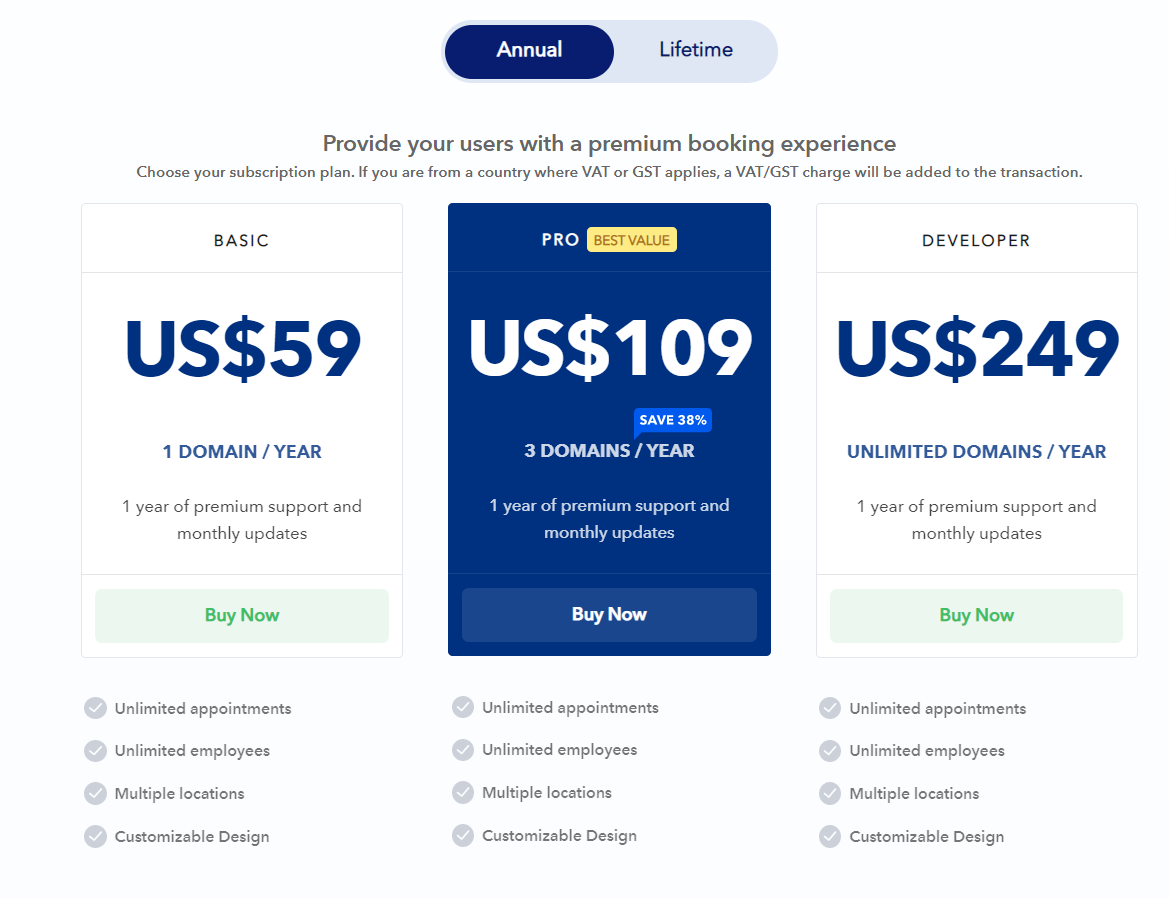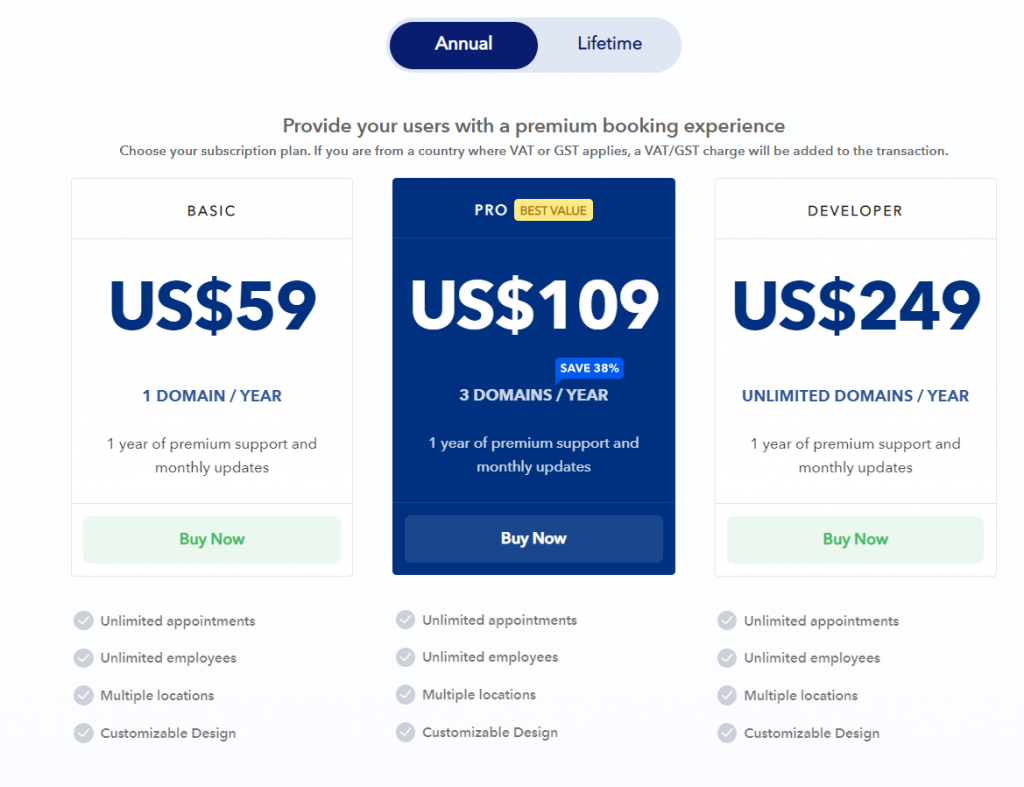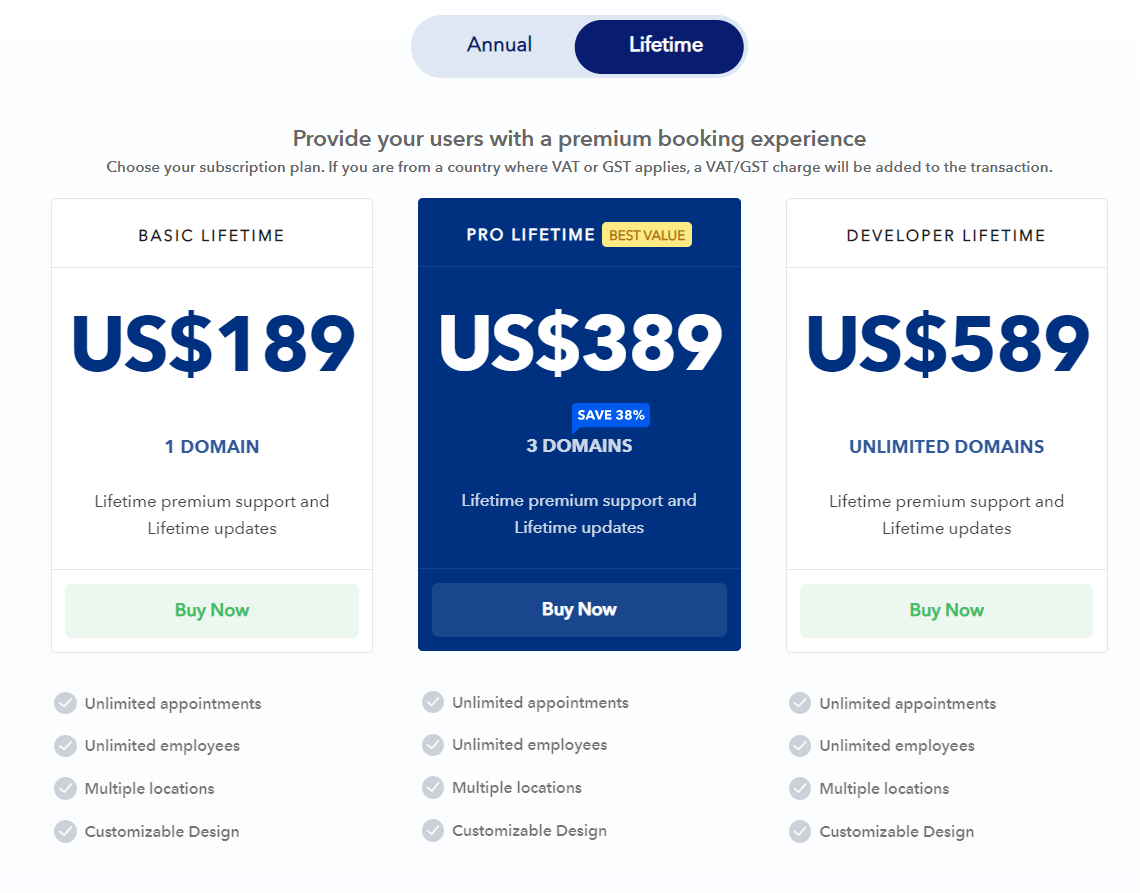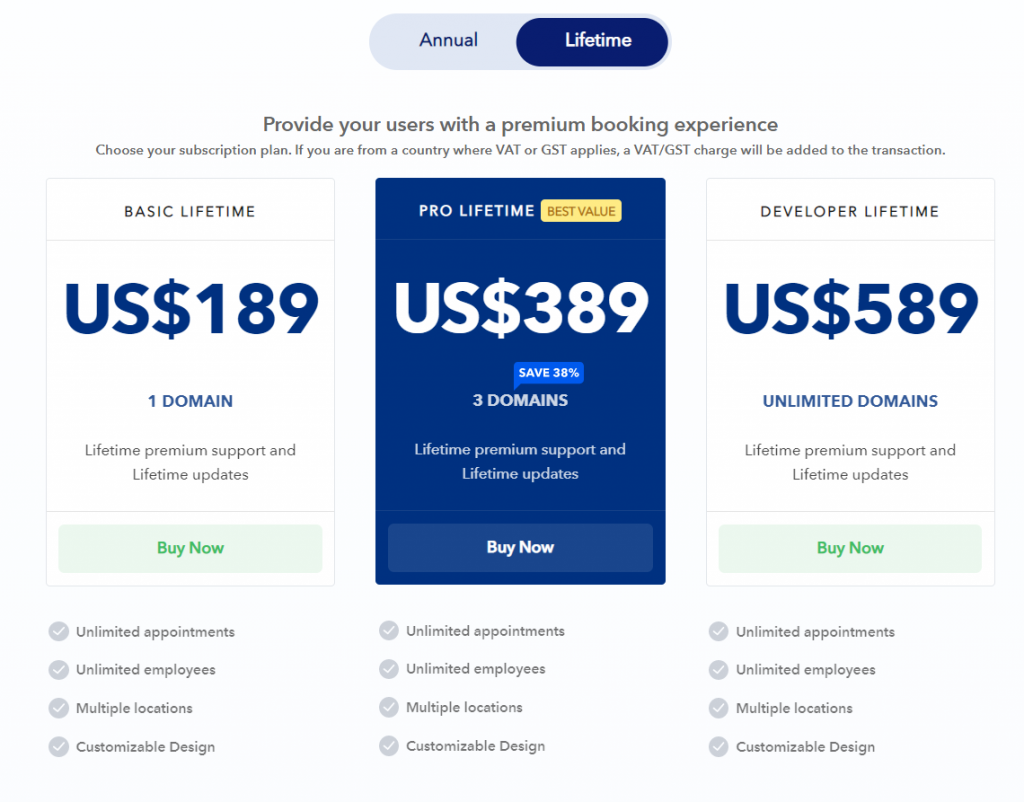 How do Installation and Setup look like
Installing this plugin is quite easy. You can simply go to your Plugin tab inside WordPress and click add a new plugin. Search for Amelia and you will find it in the WordPress Directory to add and activate.
Once the installation gets completed, you can easily do all the setups from the setting option.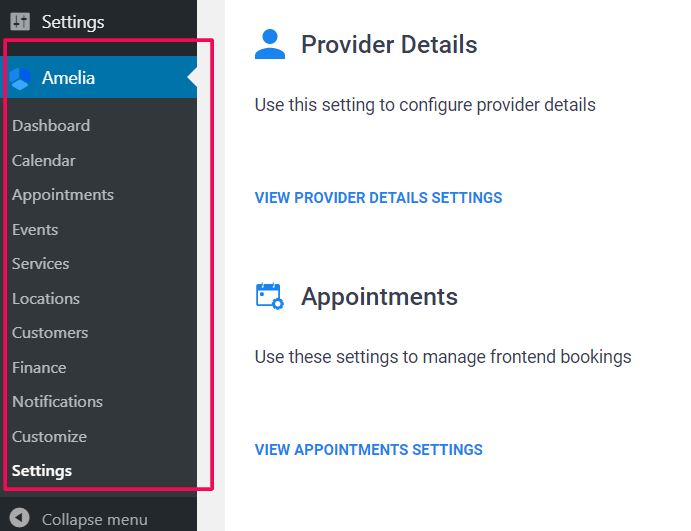 The entire setup is very easy, and you don't need to read any documentation for doing the setup. They have easy navigations for doing all necessary settings that will help you utilize its features to work for your business.
Amelia Updates And Reviews
We checked with Amelia's customer reviews in the WordPress directory and the kind of updates their developer has been pushing and found the following results for its version – 1.0.24
It has 20,000+ active installations right now.
For us, it shows that it was updated last 2 days ago. [ Regularly updated ]
It has been currently tested up to 5.5.3. [Latest version]
Its average rating is Average Rating 4.2/5. Mostly positive reviews.
Founded By Company TMS Plugin
Founder – Alexander Gilmanov
WPOven's Opinion About Amelia WordPress Booking Plugin.
Amelia is definitely our first choice. We found all the ideal features that a WordPress Booking Plugin must have. The best part is, you get a good value in its FREE package as well. Later you can choose to upgrade to its advanced features as your business grows.
It took only 15 minutes for us to complete our entire setup process on our WordPress Website for every feature that it had to offer and it worked amazing for our test booking.

3. WooCommerce Bookings and Appointments
If you have a woocommerce built WordPress website then you can consider this Woocommerce booking and appointments plugin by pluginhive. It is the best in WordPress Booking Plugins features when it comes to booking time, products, and services.
Supporting multi-niche business owners and vendors, you can easily integrate this plugin into your woocommerce website and start getting your booking in a matter of clicks from your customers.
The best part of this plugin is that you can change your product listing into bookable resources. For example, if you have listed your hotel rooms as a product, you would definitely want buyers to choose rooms and services, the time, etc related to hotel booking and then allow buyers to checkout. In a normal product listing with the woocommerce plugin, you won't get this but by integrating this WordPress booking plugin, you can manage your booking.
Not only the hotel industry, any business that needs input from buyers before making any purchase or booking time, schedule anything, must try using this plugin.
With a feature-packed bundle, you get full control over managing a custom booking model like controlling dynamic pricing during holidays. You can also manage to price for single, multiple days, or a recurring price booking.
On top of that, you get to control the time of cancellation and manage refunds.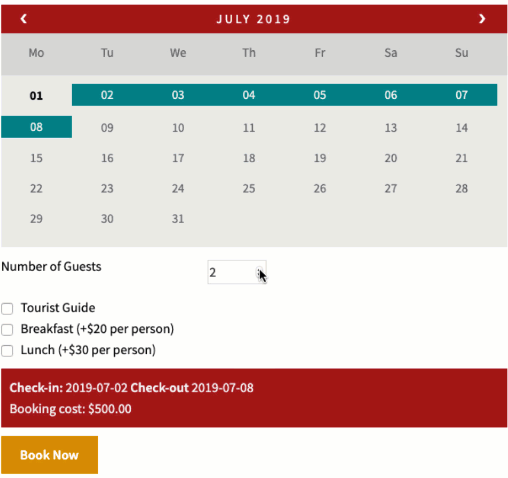 Features of Woocommerce Booking and Appointment Plugin
With so many features to offer, let us list down all of these here for you.
Booking is possible according to minutes, hours, days, and months.
Multiday booking features are available.
Mulitple booking for the same time slot is possible.
You can control the minimum and maximum days of booking.
Rule-based Cancellation of booking an appointment can be done.
Booking approval and cancellation can be done from the admin end.
You can add an option of check-in and check out [ Best feature for hotel industries ]
Google Calendar Sync feature is there.
The staff management system is supported by this WordPress Booking plugin
You can set email reminders for upcoming bookings.
You can also set email notifications for new bookings, cancellations, and confirmations.
A dynamic cost booking setting is also available in this plugin.
Allows buffer time between two bookings. (Flexible Buffer After/Before a Booking)
You can add an option to get custom information from customers as notes by adding and activating an additional field.
Timezone-based conversion is possible.
With WPML you can manage multi-language website visitors.
Accept payments via woocommerce integration.
You get complete documentation so that you can easily do all setups according to the features that you wish to integrate over your website.
Supported Business niche – Doctors, lawyers, Salon and Spa services, Dog walkers, accommodation booking, hotel booking, guesthouse booking, rental booking system for bikes rentals, party equipment rentals, or any consulting firm.
Supported Languages – English, Russian, Portuguese, Italian, Spanish, French, Dutch, Swedish
You can check their Demo – Plugin Demo, Admin Demo
Pricing Of Woocommerce Booking and Appointment Plugin by Pluginhive
This WordPress Booking Plugin has a free version with limited features but definitely good to integrate and use. For advanced features, you may need to upgrade to the premium version.
They have 30 days money-back guarantee policy with 1 year of support and updates if you upgrade to premium.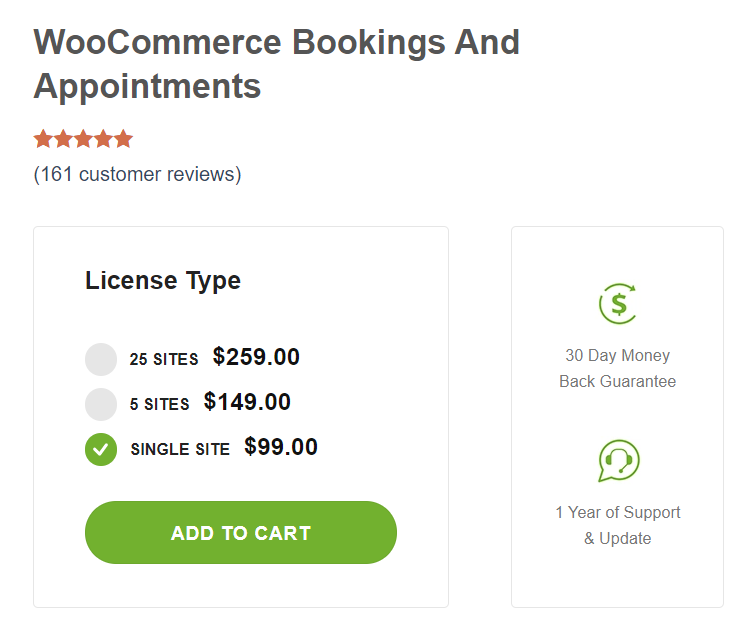 How do Installation and Setup look like
You won't find this plugin from adding a new plugin inside your WordPress plugin search directory.
In order to install this plugin to your WordPress website, you will have to visit the pluginhive website and download the free version or the premium version, whichever you want.
We download its plugin from the website and tested it on our WordPress website. [ You will get the download link in your email which you submit in order to get the free version. ]
You get an email below to download the free version. This email will let you know what features are part of the premium version. You can still work on a lot of things with its FREE version.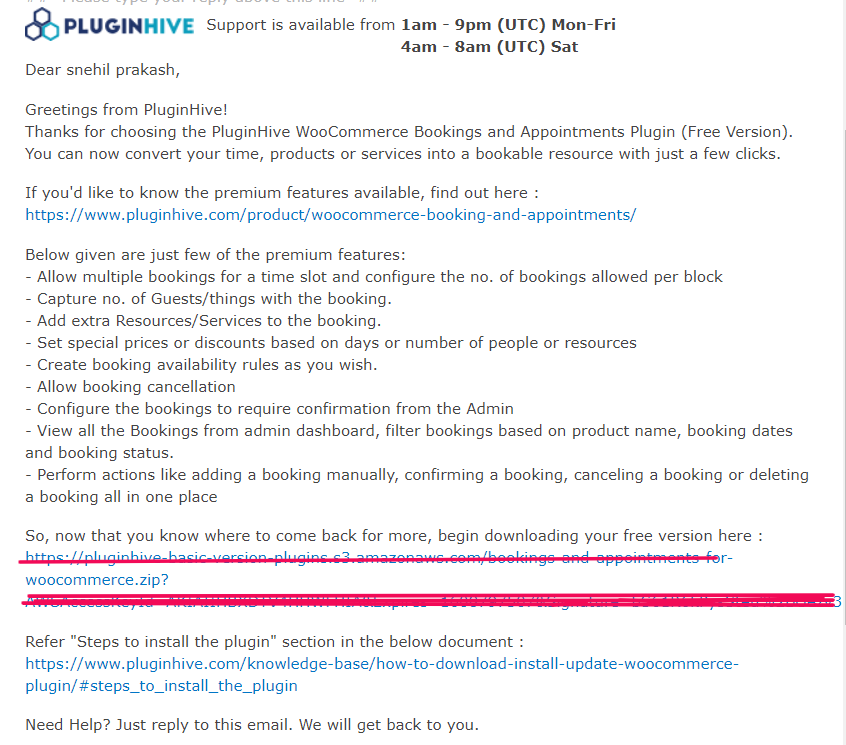 Once you download the zip file from the link in the email, you can upload the entire zip file to your WordPress website from add new plugin's upload section.
Please note – This plugin will only work if you have a woocommerce plugin already installed on your website.
Woocommerce Booking and Appointment Plugin Updates And Reviews.
We checked their updates and reviews and found positive results. They regularly update their plugin to avoid any compatibility mismatch.
On 24th December 2020, we found that it was last updated on 10th December 2020. [ Their update frequency is once per month ]
The updates log generally shows some new features or improvements or any bug fixes. So, this is quite good to note that you will get an excellent, reliable, and good performing plugin.
They have 161 customer reviews where they seem to be very satisfied with the customer support and plugin performance.
WPOven's Opinion About Woocommerce Booking and Appointment Plugin
This plugin worked perfectly for us in terms of site loading, booking, user experience, and installation. The plugin is perfect if you are a Woocommerce enabled website owner. You can think of creating any product or service-based booking business and managing your customers.
It took us around 30 minutes to do a sample setup for 1 product but it would hardly take 2-5 minutes once you get to understand how the setup works. It is very easy. Plus the features that you get for FREE are worth trying and also the premium features are value-adding to any business with an upgrade to its paid plan.
4. Bookly
Bookly is one of the best fits to automate your booking management system over any WordPress website. This plugin comes with FREE to use features while you can always upgrade to its premium features [ Which include payment processing feature ] to improve and give a better user experience to your customers and users.
This WordPress Booking Plugin is best for businesses who want to start with FREE booking. If you have plans to accept payments for booking then be ready to pay a fee for that.
This plugin has all modern features with good frontend and backend control to manage your booking systems. You don't need any coding knowledge to get started with this plugin. Simply install, do the necessary setup as per their documentation [Can be done without reading doc as well]
If you are a new or small business and can't afford to hire a developer to set up your booking process then bookly is something you should look for.
It is a multi-niche plugin as it says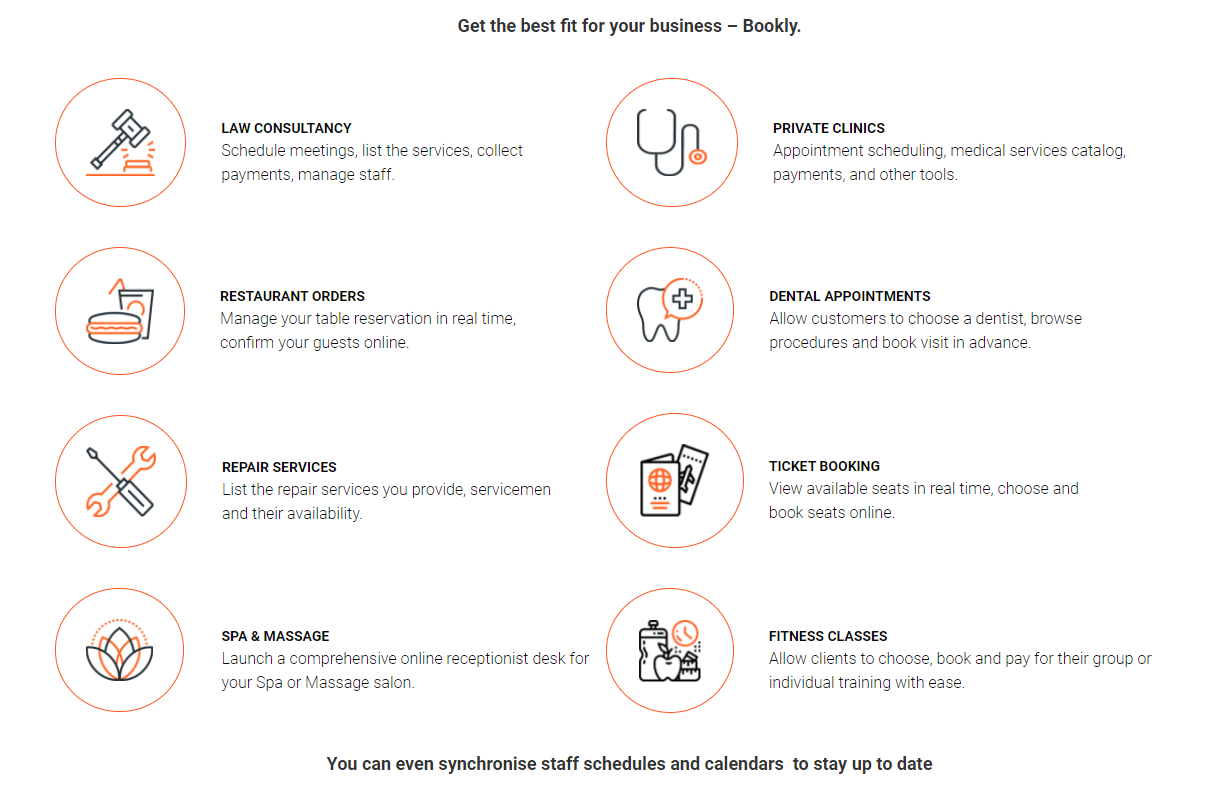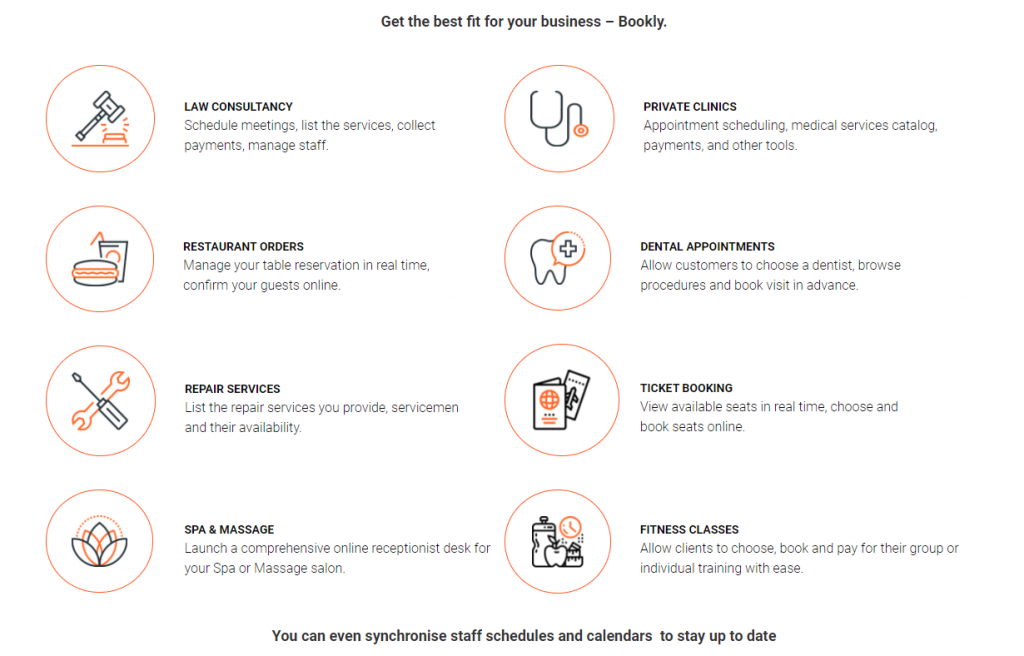 Features of Bookly WordPress Booking Plugin
Let us understand what all features this plugin has to offer
Integrate a booking management system with no coding knowledge.
Manage group booking.
Setting recurring booking and appointment systems.
Get email notification integrated with an inbuilt SMS notification feature.
Easy integration with google calendar.
Allows a coupon system and facility to offer to your customers for booking.
You can also create a widget with this plugin that's integrable in the sidebar.
With payment settings, adding a revenue collection system is easy.
Multi-language support – 12 languages included
They have Built-in analytics with booking statistics.
This plugin is also woocommerce compatible.
They have a feature request page where you can add your suggestions to the developer of the plugin and add awesome features to this.
In their roadmap page, you can always monitor what new features are upcoming. You can plan your website UI/UX accordingly.
You can check its demo here
Pricing Of Bookly WordPress Booking Plugin
As we mentioned earlier, it is a FREE WordPress plugin with its payment feature as an option in its premium plan.
You can directly install this plugin by going to adding a new plugin from your WordPress dashboard and get started.
If you are planning to use its paid version then you have two alternatives to do so.
Buying it from their website directly.
Buying the same plugin from codecanyon.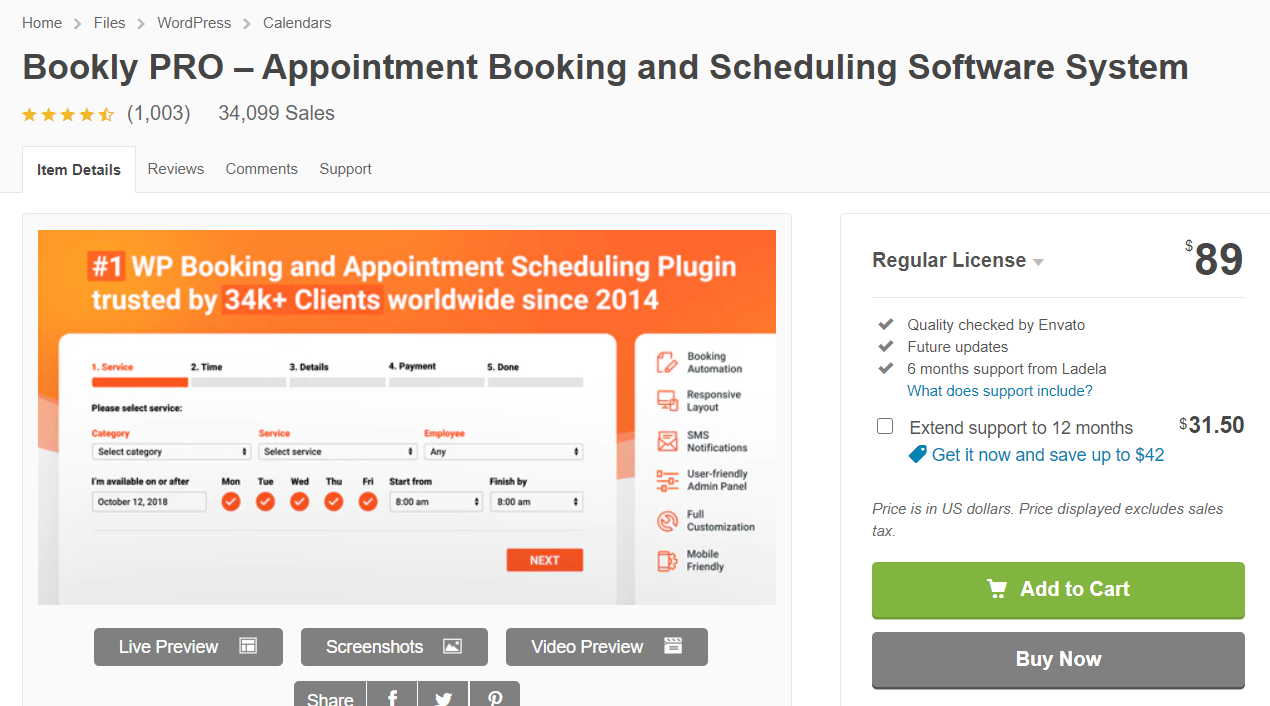 Our recommendation would be to start with the FREE plan if you are starting new.
How do Installation and Setup look like
Installing bookly is quite easy as compared to the rest of the WordPress Booking Plugins. You can easily install this plugin using from WordPress plugin directory by going to the Add New plugin option inside your WordPress Itself.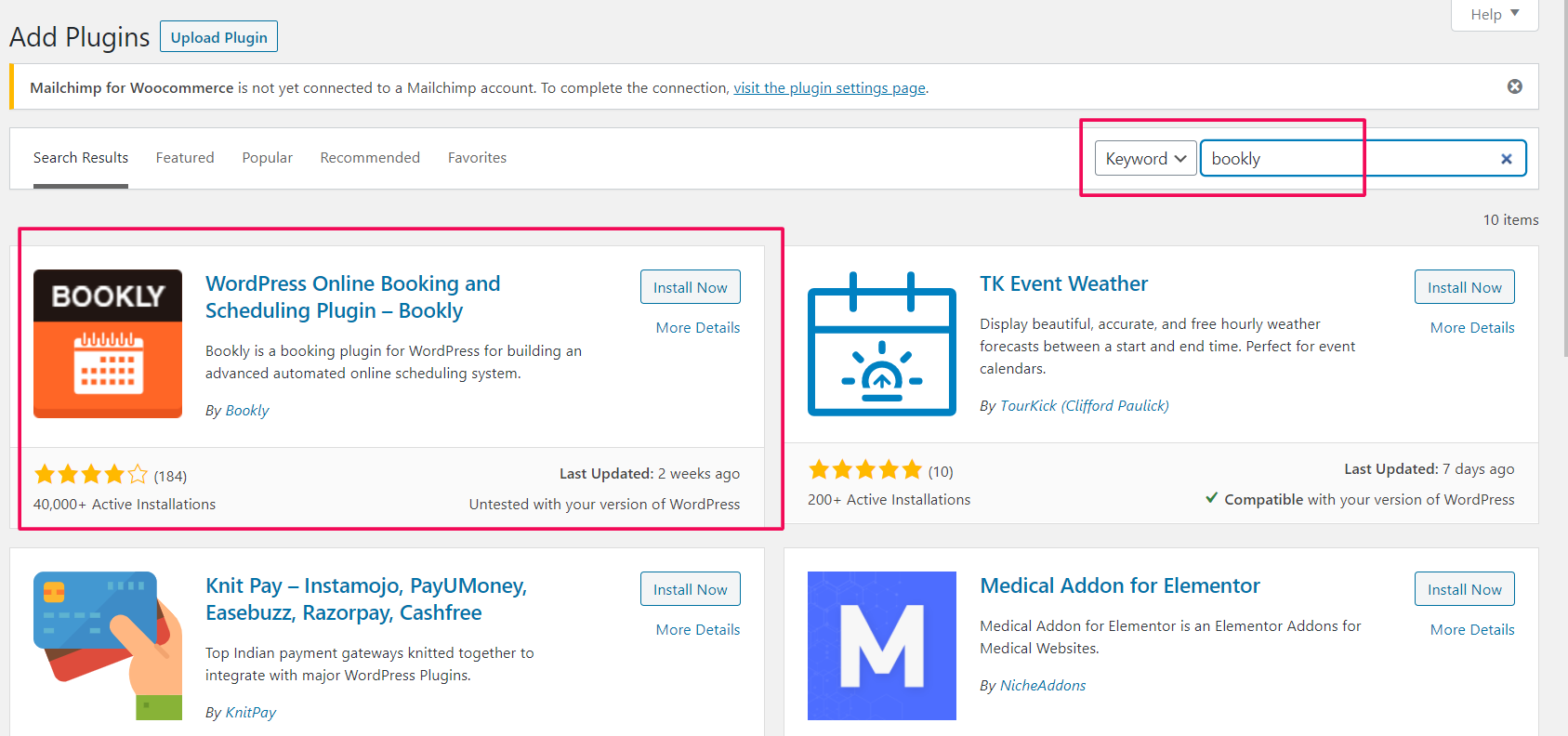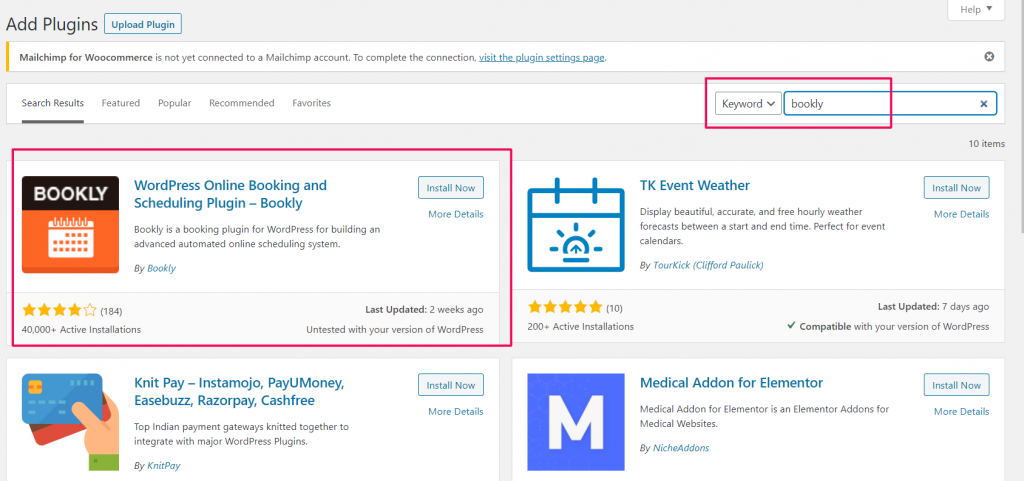 After searching for this plugin with the keyword 'Bookly' you will find the plugin coming at the top itself.
Simply hit install now and activate to start using its FREE Version.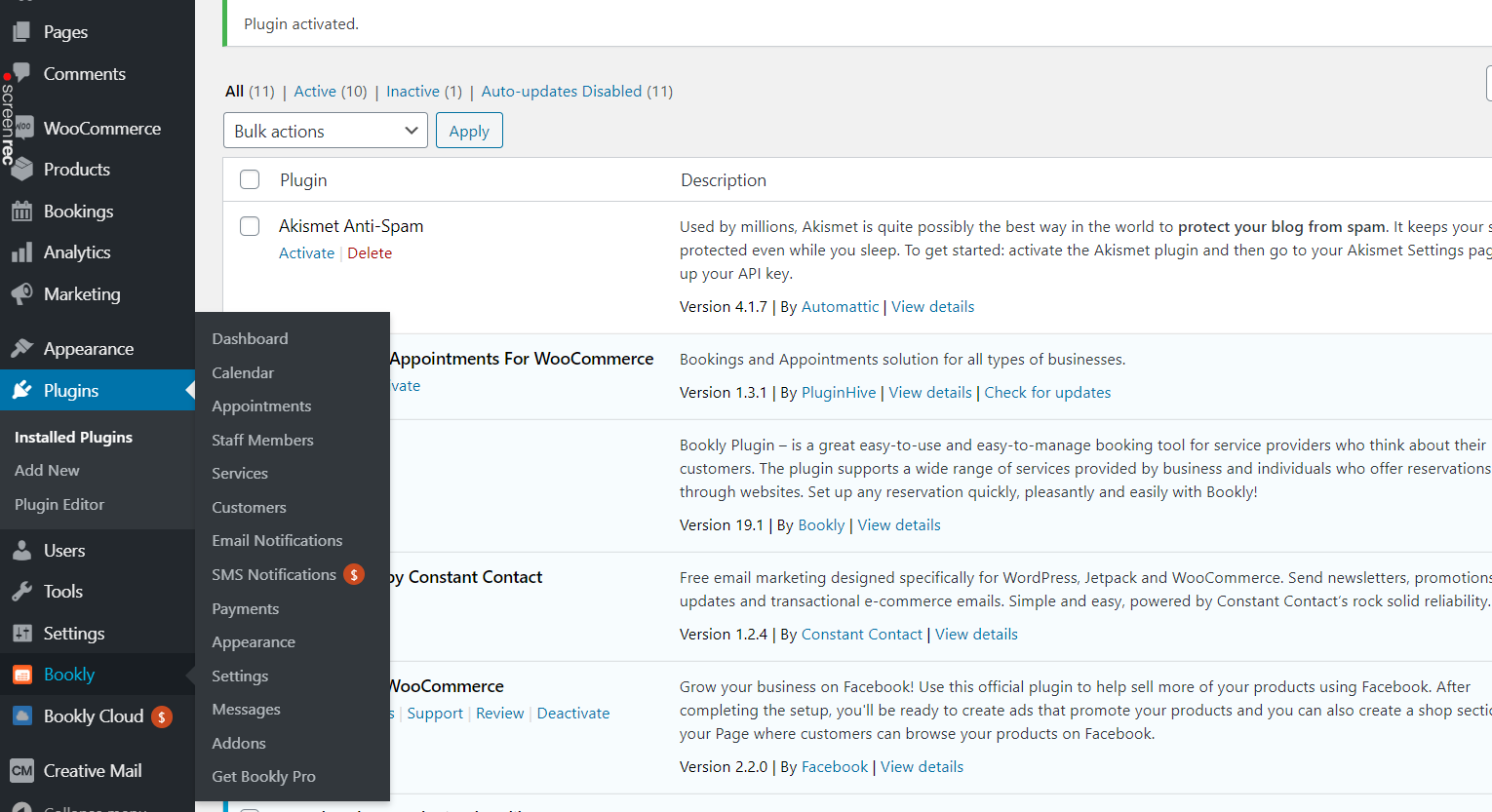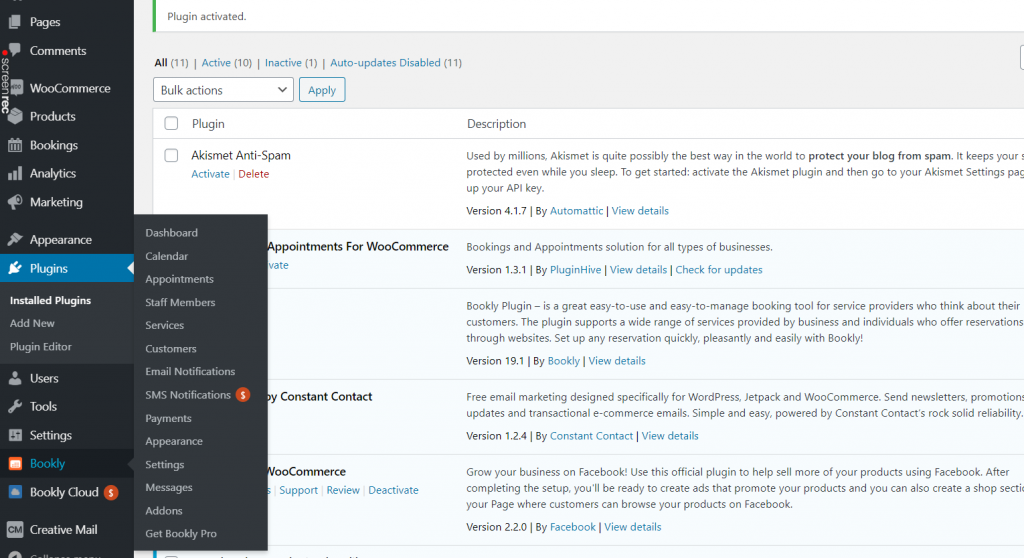 Once the plugin gets installed, you will find it in your dashboard sidebar from where you can control all your setups.
Bookly Updates And Reviews.
Bookly is a very renowned WordPress Booking Plugin and that is evident from its reviews on a different platforms.
It is regularly updated which means you will never face any compatibility issues with WordPress Updates.
With 40k+ active installs, it has 184 reviews with 120 ratings of 5/5.
Its premium plugin is available on codecanyon also. There, it has 1003 reviews now with 4.54 as an average rating.
Till now 34k+ sales have happened for this plugin from codecanyon itself.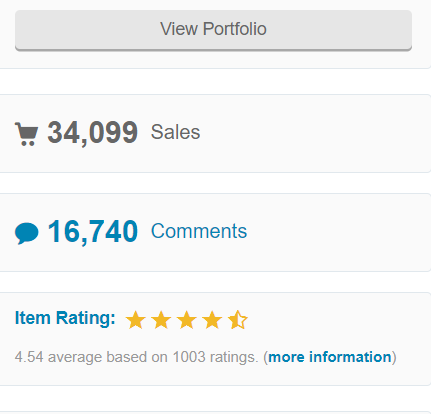 As far as reviews and updates of the Bookly plugin are concerned, it seems to be very promising and good to start with users on a low budget.
WPOven's opinion on Bookly WordPress Booking Plugin.
Our WPOven Dev team looked into the functionality of Bookly and found great results.
The easiest Booking plugin to install and set up.
All its features have their individual dashboard to manage and do the setup.
We tested Site speed after installing the bookly plugin and found it adds a negligible increase in loading time though few ping requests will increase which is quite obvious.
Integrating with 3rd party apps like zapier etc is easy. Also, adding your payment gateway with Stripe, PayPal is very easy and controllable from the dashboard.
If you want to set up all the features of this plugin in one go then it would take around 20-30 minutes depending upon your speed of understanding.
The above 3 WordPress Plugins are the ones whom WPOven trusts for usage. Since this Booking plugin space consists of a lot of other booking plugins as well, we are going to add some other recommendations also in this list. Let's check them out.
5. Simply Schedule Appointments
This plugin is one of its kind when you are running a scheduling or pre-booking business with WordPress. It offers both Free as well as premium version plugins for advanced features and integrations. When you want to use some smart features like google calendar sync, custom fields, Mailchimp integration, etc, then you can think of upgrading to its premium option starting at $99 (Plus Edition).
If you are running your business on WordPress and wish to grow your scheduling with a flawless and glitch-free error then this is your best option. It would hardly take 5 minutes for you to set up this plugin on your website if you follow their setup wizard.
The best point about this plugin is that it is compatible with all the famous page builders like Elementor, Divi, and Beaver builder. This plugin gives you a Custom CSS Design option to sync your website builder design with your Booking plugin. In the end, this is a pure fact that their support team is there for you consistently to offer solutions and fixes if you are facing any issues with this WordPress Booking Plugin.
Features of Simply Schedule Appointments
With so many good things to know, let us have a look through its features.
The only plugin to offer an unlimited booking feature.
Offer a free option to design your form according to your website builder design.
Getting upfront payment is easy as this plugin allows integration with payment gateways.
You get awesome updates in this plugin as most of the updates come from customer feedback or request.
They integrate with over 15+ other tools including Gravity Forms, LifterLMS, and more.
Pricing of Simply Schedule Appointments
This is a FREE plugin as we mentioned earlier but some features come in as advanced options to choose from. These features come at a certain cost.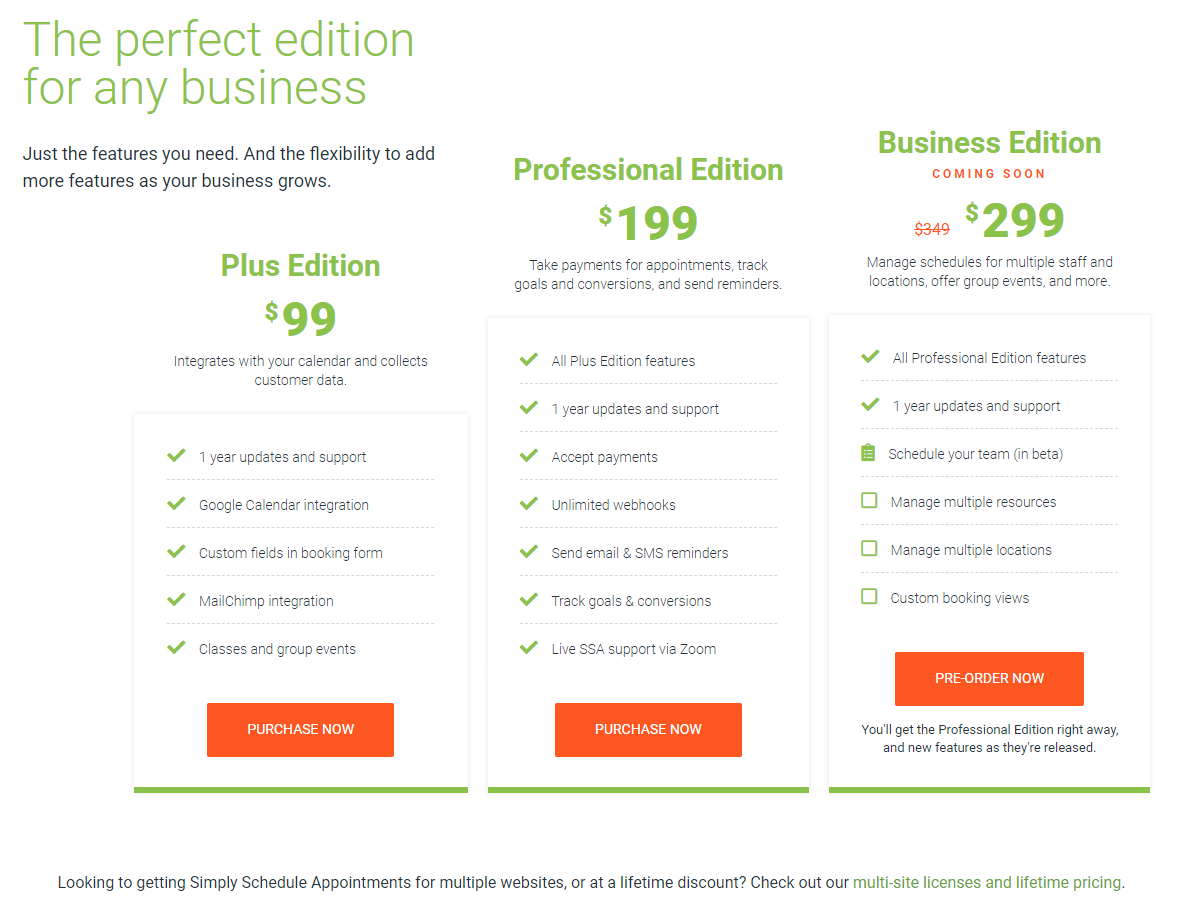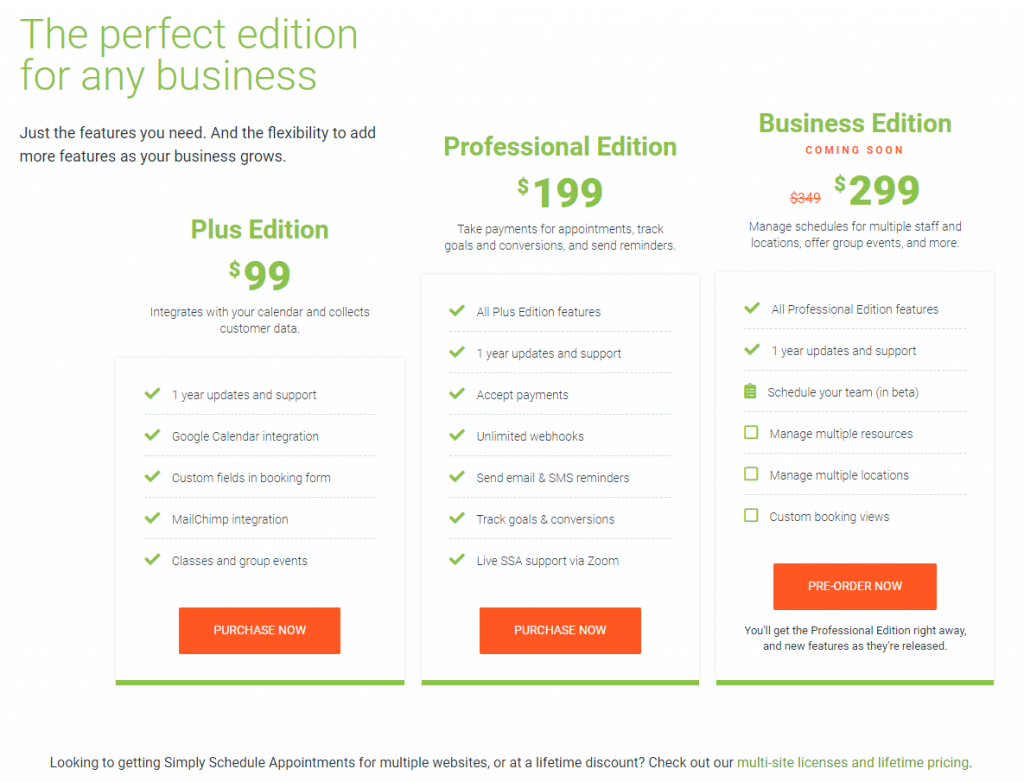 How do Installation and Setup look like
Just like the above WordPress Booking Plugin that we discussed, this plugin can also be added to your WordPress website via your Add plugin option inside WordPress.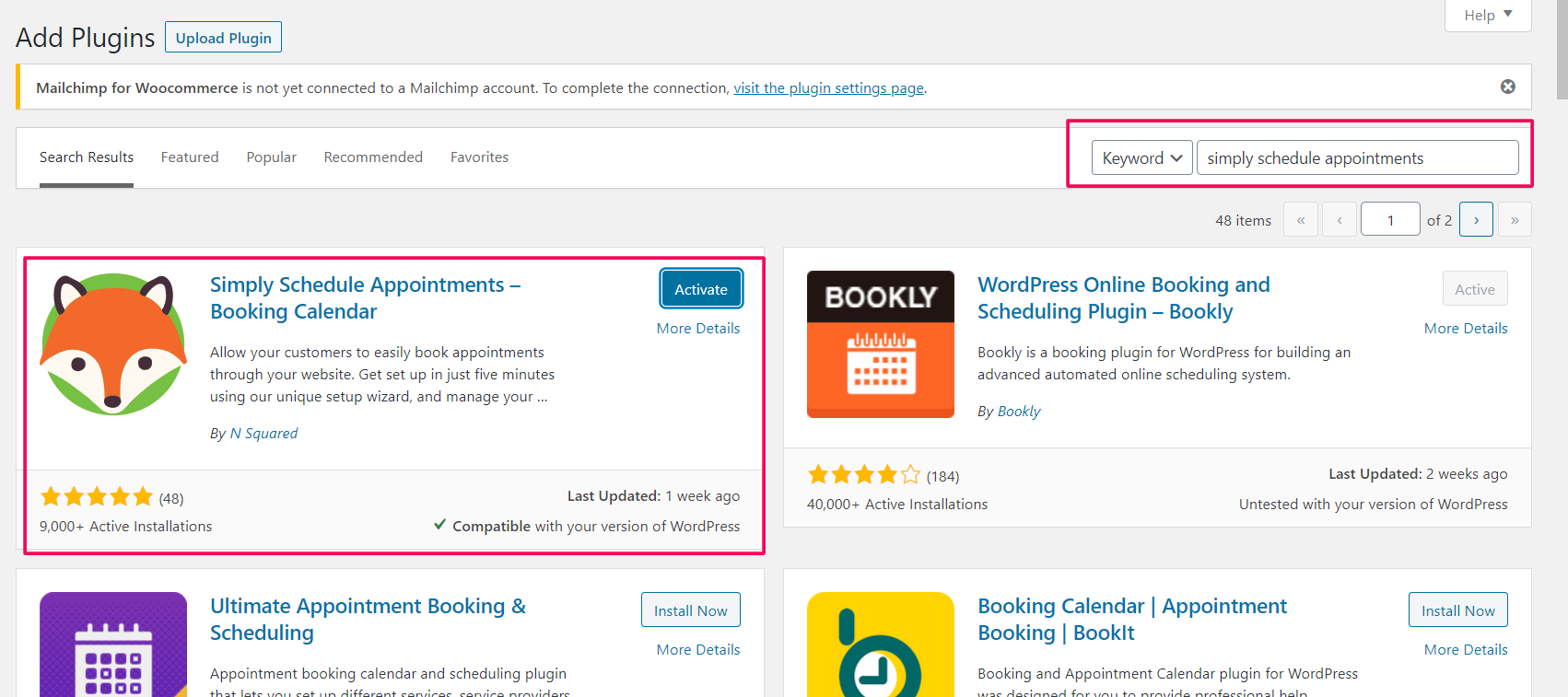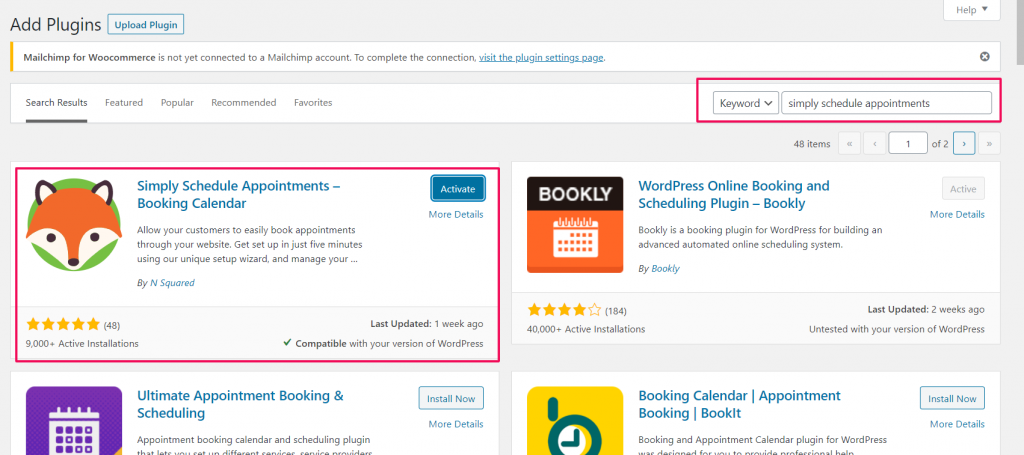 The same plugin can be downloaded from their official website and uploaded to your website to start using it.
The setup of this plugin is even easier. You get guided navigational instruction to do the complete setup from your WordPress dashboard itself.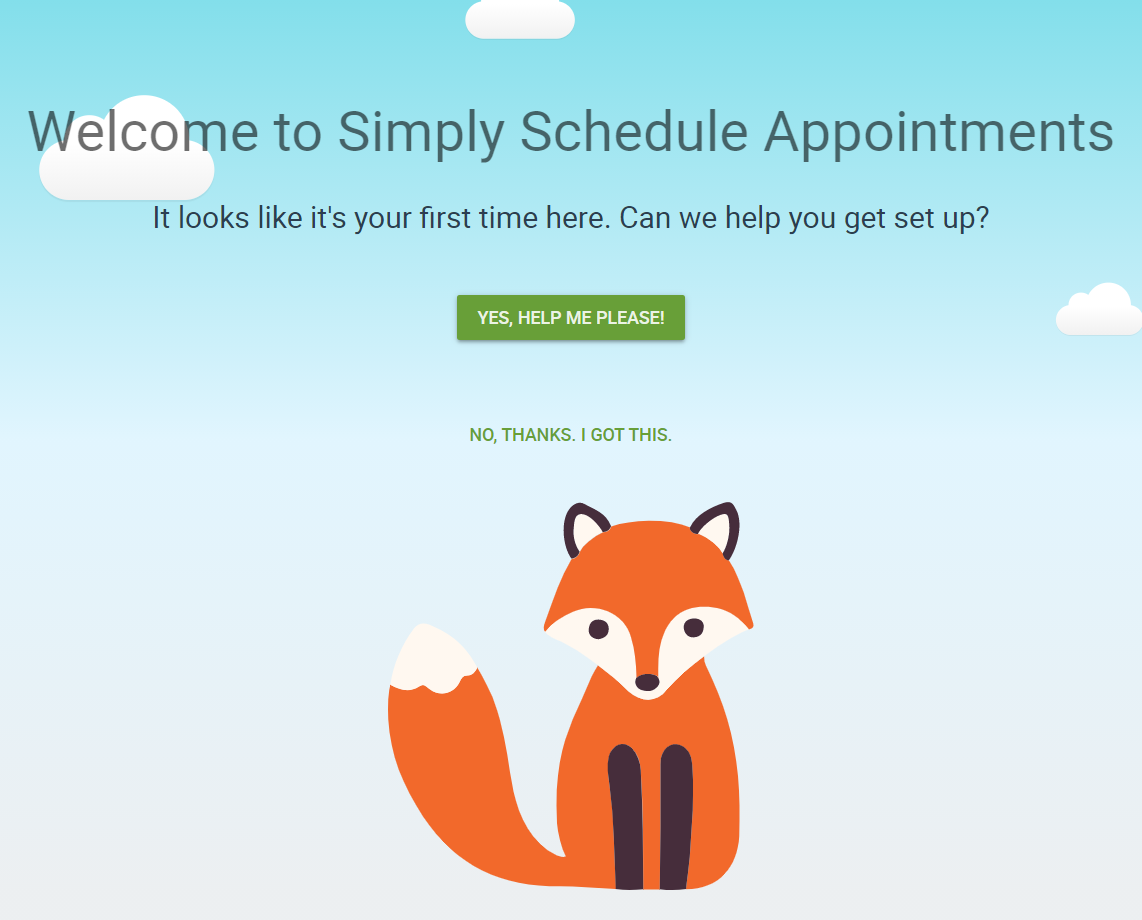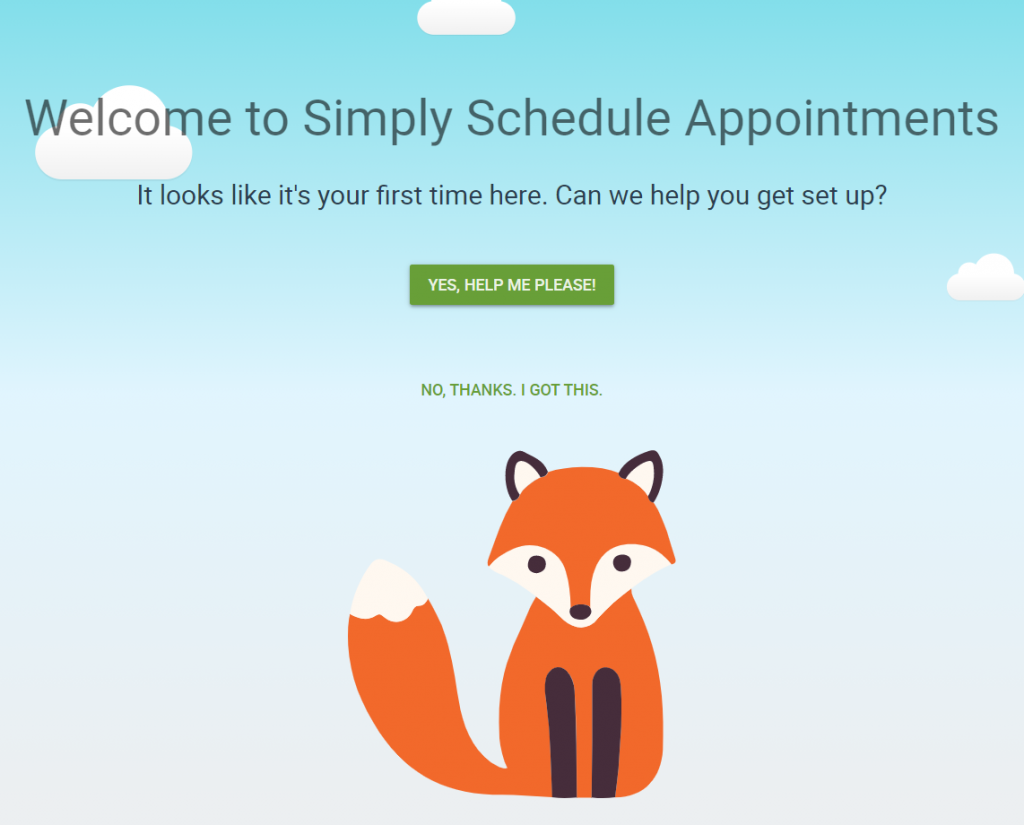 While doing the setup, just click on Yes please and the plugin will guide you for the entire setup.
Simply Schedule Appointments Updates and Reviews.
We went through different reviews and updates of Simply schedule appointments WordPress Booking Plugin and found the following details.
The plugin seems to be getting updates every week or alternates.
It has got approved 10k+ active installs.
It has a 5 Star rating in the WordPress directory of approx. 48 ratings.
WPOven Opinion About Simply Schedule Appointments
We loved this plugin in terms of its usage and support services. What a perfect combination of features, support and offers in their FREE offers.
Let us look at the 5th most widely used WordPress Booking Plugin.
6. Gravity Forms
This is a pure drag and drops WordPress Booking Plugin. You can customize your booking plugin the way you want.
With its advance inbuilt features for push notification and reminder settings, it is loved by developers and WordPress based business.
Yes, like most other plugins, the payment gateways are also present for pre filtering bookings with upfront payments.
Let's have a quick look at what features does this form offer as a WordPress Booking Plugin.
Features of Gravity Form Booking Plugin
They give you an intuitive embed form for inquiry-based booking.
The custom field setup option is something that is awesome in this plugin.
You can give conditional logic in order to take inquiry requests from people.
Push notification, email, and SMS reminder feature you get with gravity form.
Your customers can save partially filled forms and can submit them later.
You can perform calculations based on submitted fields by users.
The gravity form allows you to let your users upload files.
Limit the number of entries.
Filtering spam is easy with gravity form.
Creating a mobile-friendly booking form with the gravity form WordPress Booking plugin is super easy.
You get integration with payment gateways, dropbox, Mailchimp, and many more powerful tools to make the booking process very easy.
Pricing Of Gravity Form WordPress Booking Plugin.
The gravity form comes with a paid premium plan in order to enjoy some of its advanced features. They don't have any free plans for a trial. The pricing is a one-time payment for annual plans only.
There is no subscription pricing. You can buy this plugin for 1 site or multiple sites depending upon your requirements.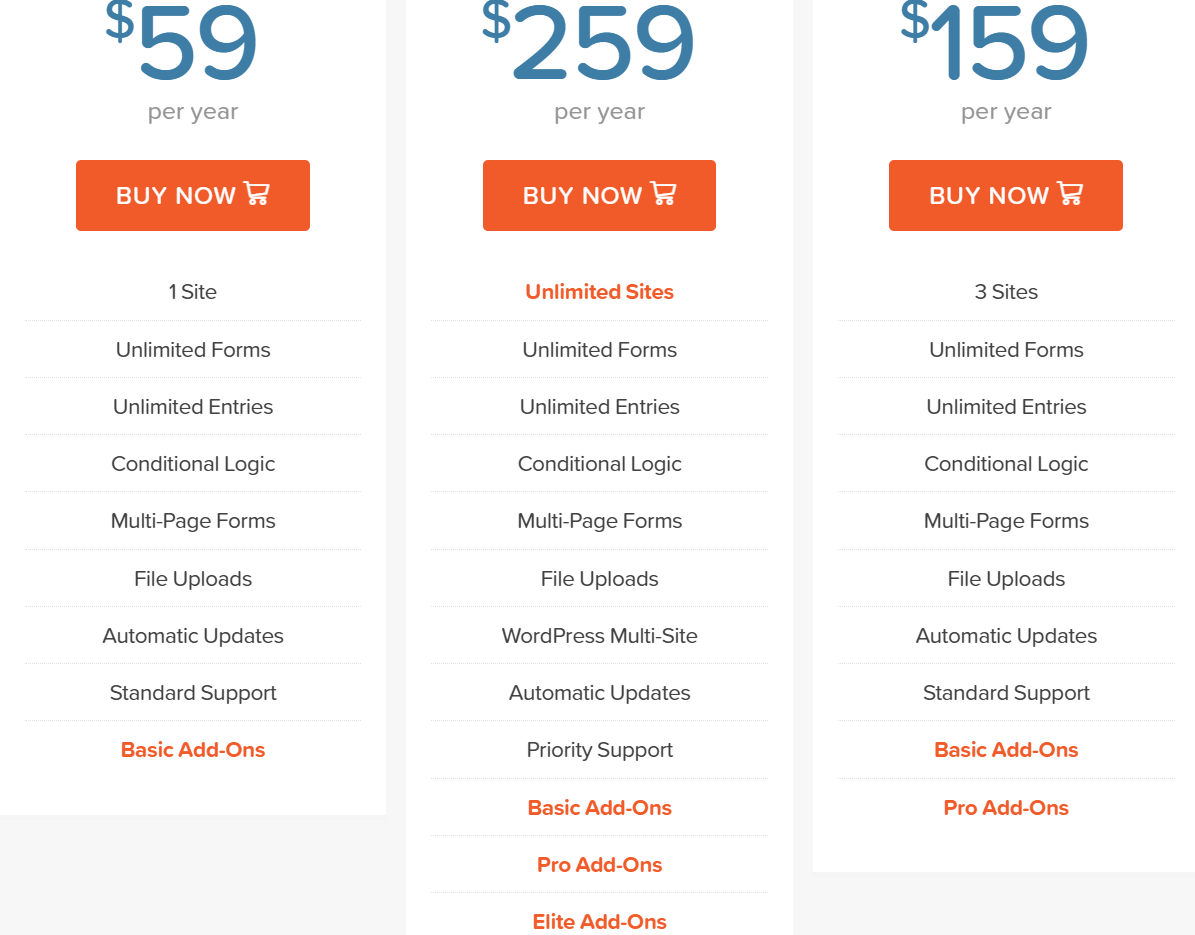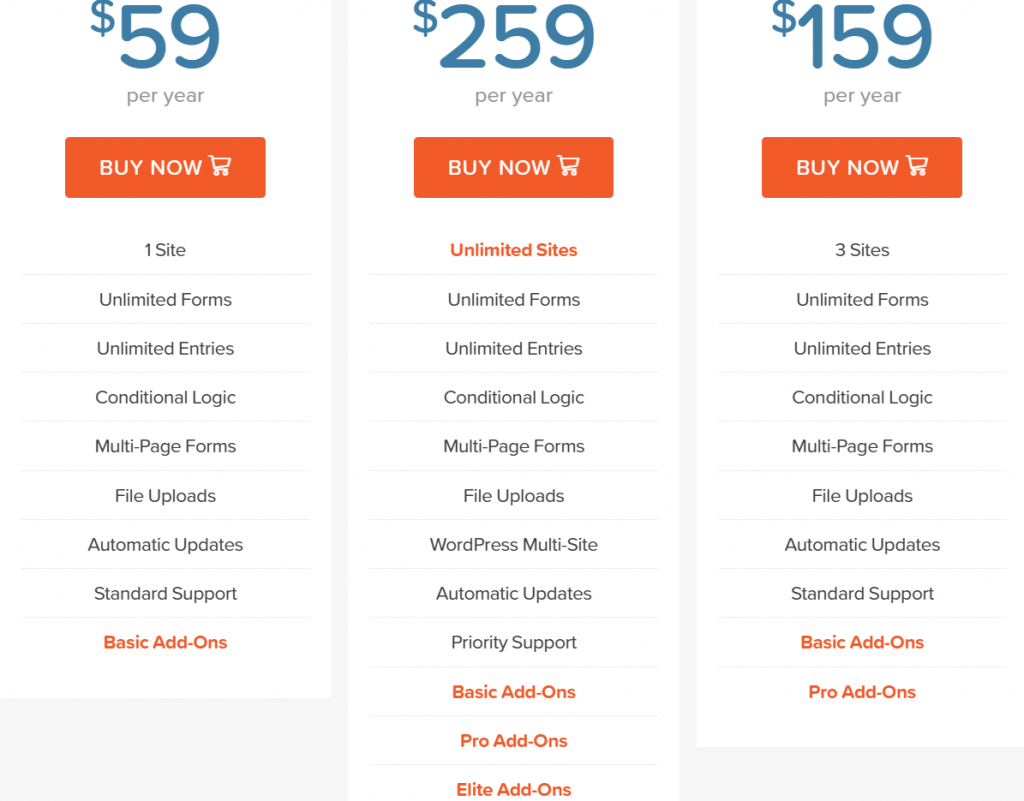 The starter plan comes at 59USD/ Year which is only for 1 website. For unlimited options, you will have to upgrade to the elite plan where you get everything at 259USD/ Year.
Installation and Setup
The installation process for gravity form is different from the rest of the plugin. You will have to buy this plugin before using it. This plugin is not available in the WordPress Directory.
After you have purchased it from Gravity form Website, you will get a zip folder file that you can upload and activate.
You can check the demo here
Gravity Form Updates and Reviews.
Gravity form is a very responsive plugin in terms of support and updates. Hence it is loved by its users. We didn't get any update log but as per its popularity and testimonial status.
WPOven's Review About Gravity Form.
We loved this plugin in terms of features it offers. Obviously it offers everything at a premium cost so you will get flawless options to work as a custom field based booking plugin.
The best part we found about this plugin is the addons that you get in this bundle. It adds amazing functionality to your website which is unique and not offered by other plugins.
Other Best WordPress Booking Plugin Comparision
There are abundant WordPress Booking Plugins to choose from. We are listing all
The above other recommended plugins are also a good option to choose from. They are all paid plugins with good and advanced features to integrate WordPress Booking plugin over your WordPress website.
If you are looking for a feature-rich booking software that provides more than just a WordPress plugin, Baluu is certainly an option you should be considering.
It offers well-designed, and fully brandable front-end booking tools for your WordPress site (which can be integrated as an iframe). Their timetable view is particularly popular as customers can choose a date and book with ease – payment processing is included with the tool (Visa, Mastercard, Google & Apple pay, etc.). 
You can display all your events and availability on one clear page and customers absolutely love the ease of use and great UX of this tool.

As well as front-end booking pages, Baluu also comes with a myriad of handy back-end tools to take the hassle out of running any booking business. Analytics, multiple ticket options, and custom forms come as standard. It's also incredibly easy to reschedule bookings and your customers will receive auto updates as things change.

It's totally free to use (limited to 50 bookings per month) if you go over 50, you'll need to upgrade – prices on more advanced plans start at a low of $17 a month. 
What WordPress Plugin Should You Choose Finally?
We shared 16 the best WordPress Booking Plugins to Choose From. Still if you are bit confused than we can tell you our final recommendations to select.
If your website is Woocommerce dependent then choose – Woocom booking appointments, bookly or WooCommerce Bookings.
If you are just starting and looking for a FREE option – Bookly, Calendarista, booking calendar, Booking calendar contact form.
For custom code free plugin with good features and design – Bookly, Simply Schedule Appointments.
For 3rd party booking syncs like Airbnb or booking.com – Use the Booking Calendar plugin.
Running a motel or hotel? – Motopress
For linking payment Gateway like Paypal for FREE– Choose Appointment Booking Calendar plugin.
For premium product plugin with less cost plugin – Amelia is best.
Hope you had gone through the top 6 WordPress booking plugin that we had recommended earlier. Do give a read at WPOven Reviews on WordPress plugins to make a decision.