The err_internet_disconnected is one of the most common errors that the majority of internet users have to face on a daily basis. We know like any other browser error, this particular one can be also very irritating for anyone. Especially for those who do not know its exact cause and any technical expertise.
Fortunately, Unlike browser errors, you are not required to have any technical knowledge to fix this. The troubleshooting method is so basic and easy that, you might need to just reset your internet connection or check your internet is modern and it's done.
So, stay tuned and check out more troubleshooting steps to fix the err_internet_disconnected error. In addition to that we shall also discuss its meaning and Why it happens. Without further delay, let us get started!
---
---
How do I fix err_internet_disconnected?
You can easily fix the err_internet_disconnected error by following these simple and easy methods.
1. Check your Internet connectivity
The first and foremost step you need to follow when you encounter an err_internet_disconnected error is to check your network connectivity. If the internet connection is turned off or inactive, it will not allow your browser to load the website and hence display the above error.
Check your Wi-Fi modem is turned on and the indicators are working normally. In case of any network disconnection, generally, Wi-Fi modems have LEDs or LCDs that indicate the connection status
You can also try to access the website on a different browser or on a different device but connected to the same network to see if the website loads.
If you find out that the internet modem has some issues, you can either simply reboot it or do the soft reset ( Steps usually provided in the manual of Wi-Fi routers ) to see if it fixes the issue.
If you configured your router with VPN or proxy settings, make sure that you are connected to the right internet port.
---
2. Use an Internet troubleshooting app
Windows has provided an inbuilt internet diagnostic tool popularly known as Internet Connection Troubleshooter. These tools are so helpful that, they can help identify the possible cause of the issue and also fix them.
So, if you are experiencing an err_internet_disconnected error on your Chrome browser, follow these simple steps.
err_internet_disconnected Windows 10 Fix:
Step 1: Open the Settings menu by simply Pressing the Windows + I key simultaneously.
Step 2: On the same page, select "Update & Security".
Step 3: Scroll down to the left-hand menu and select "Troubleshoot".
Step 4: Under the "Get up and running" section, click on "Additional troubleshooters".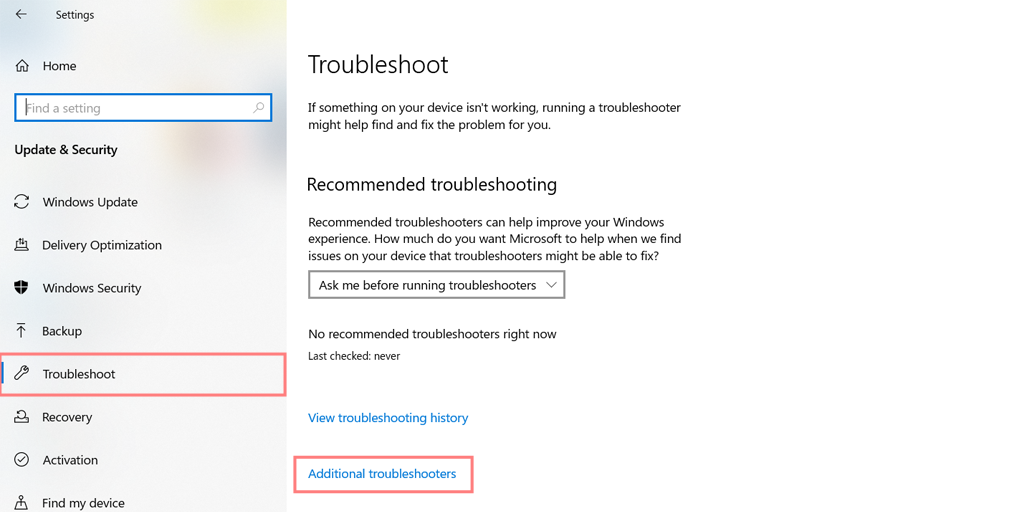 Step 5: From the list of troubleshooters that appears, select "Internet Connections".
Step 6: Click on the "Run the troubleshooter" button.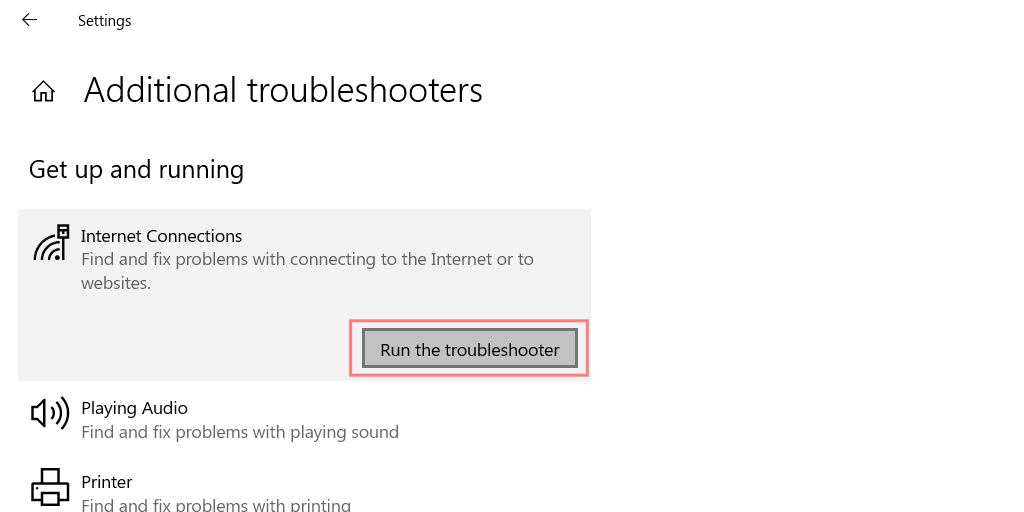 Step 7: Then the troubleshooter tool will start finding issues with your internet connection.
Step 8: Once it has completed the scan, any issues that it finds will be listed, along with the steps on how to fix them.
err_internet_disconnected Windows 11 Fix (Some steps differ from Windows 10)
Open the Start menu on your Windows device and Type "troubleshoot settings" in the search bar.
From the list of results that appear, click on "Other Troubleshooters".
On the Internet connections option click on the "Run" button.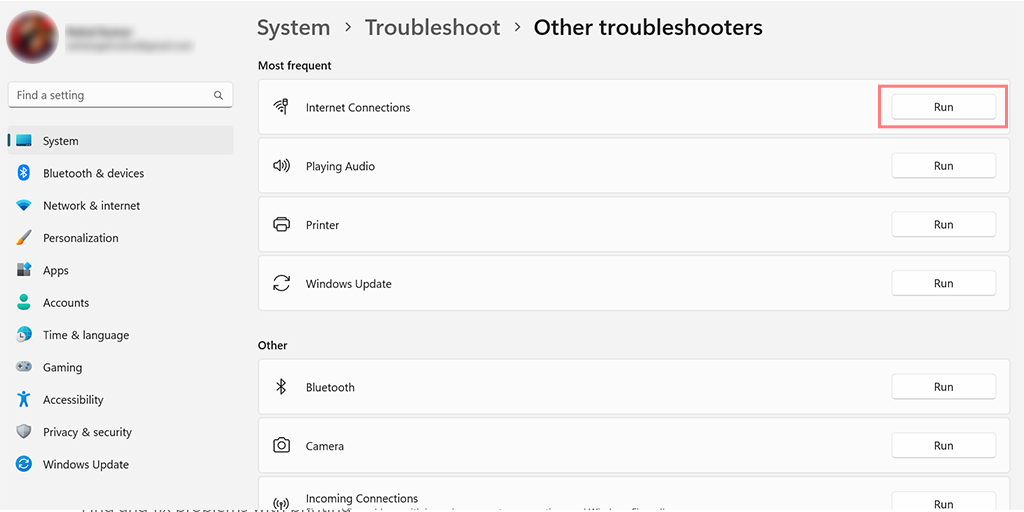 A prompt will appear that will automatically start detecting problems.
---
3. Turn off the Proxy server or VPN if any
If you are using a proxy server or VPN application, sometimes the settings can be changed automatically and hence trigger an err_internet_disconnected error. The best thing you can do to fix this issue by simply disable the Proxy Server. Here's how you can proceed.
Press the Windows key + I to open the Settings window or type "settings" in the search bar as shown below: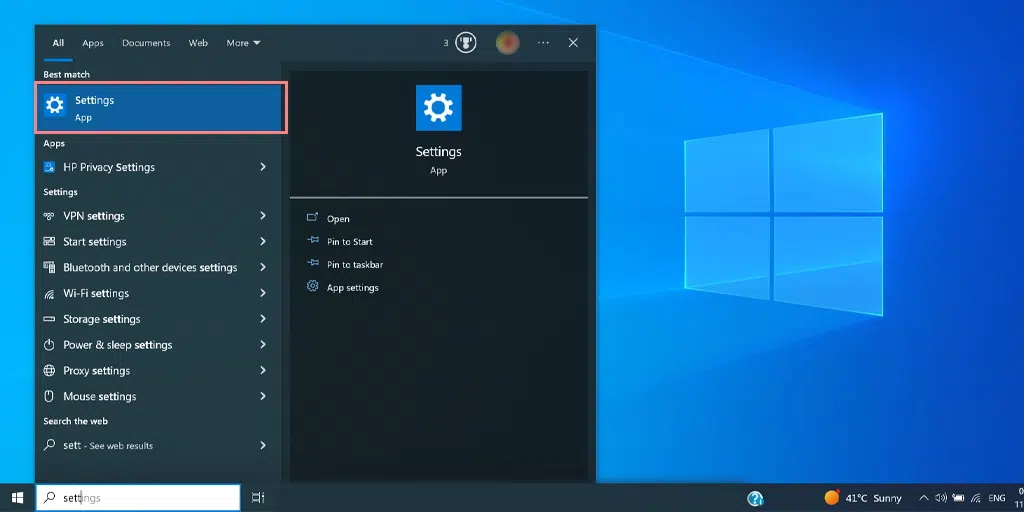 From the main window, select Network & Internet.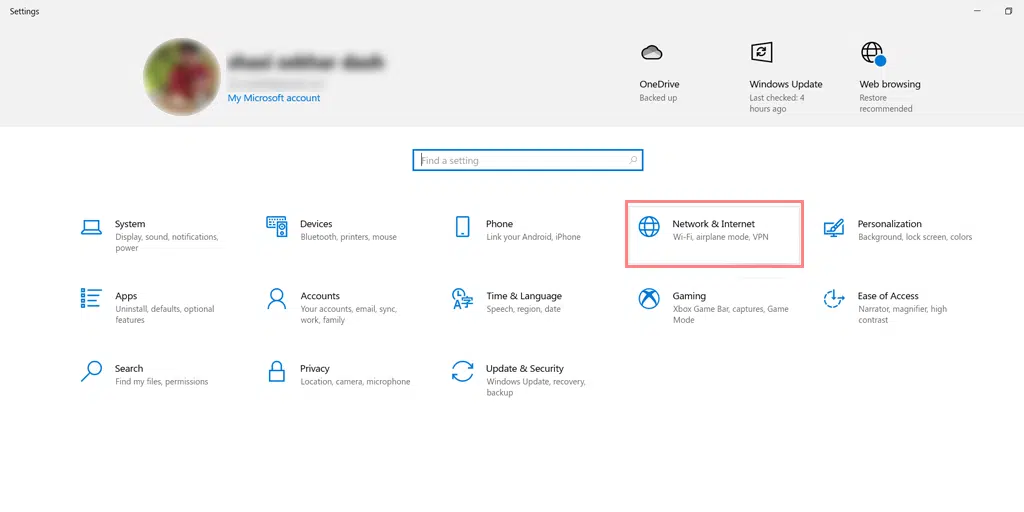 Select the "Proxy" option on the Left.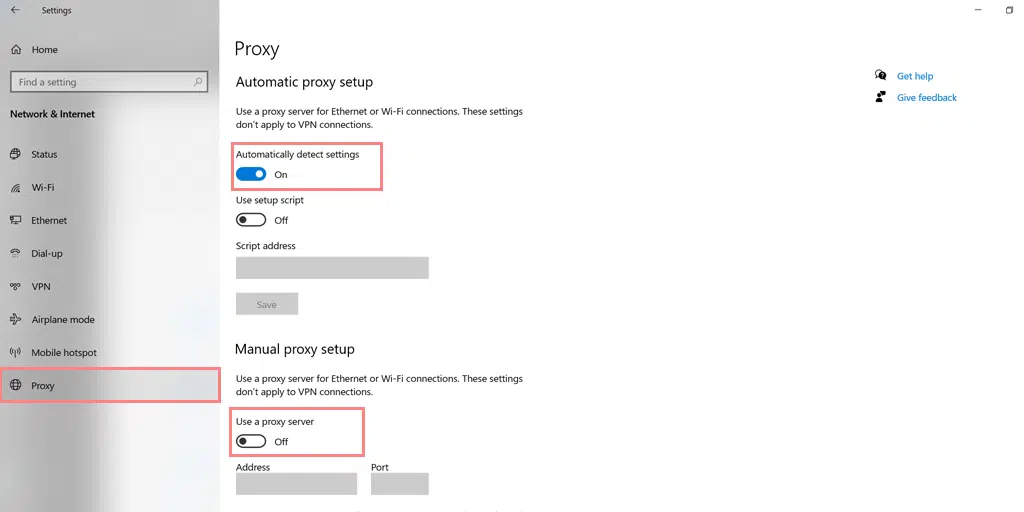 Check if the "Automatically detect settings" option is turned off under "Automatic proxy setup".
Disable the "Use a proxy server" option in the "Manual proxy setup" section.
For err_interenet_disconnected Mac Fix, You can do the following steps to disable proxy settings:
Step 1: Go to the Apple menu or click on the Apple icon located at the top left of your Mac screen.
Step 2: Click on System Settings or System Preferences, whichever is applicable.
Step 3: Now click on the "Network" in the sidebar.
Step 4: From the right pane, Select a network service > click the Advanced button.
Step 5: Click on the Proxy tab and uncheck all the protocols under "Select a protocol to configure" and click on the "Ok" button when done.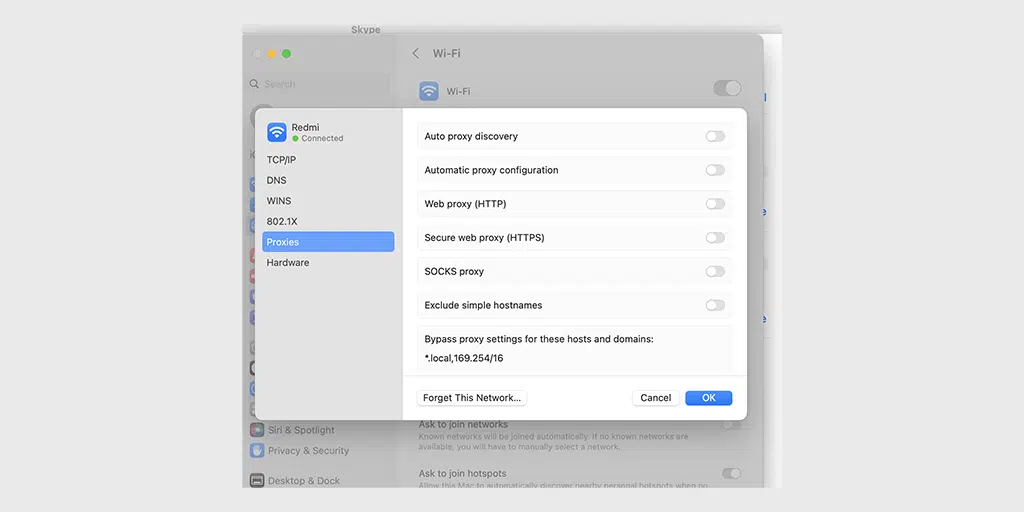 ---
4. Reset your WLAN profiles on your System
WLAN profiles, or Wireless Local Area Network profiles, are created automatically whenever you connect to a new wireless network. These profiles mostly consist of passwords and settings, so that when your device tries to rediscover the networks, it can connect automatically.
But sometimes, if these WLAN profiles get outdated or settings have been changed, it can trigger network errors such as err_internet_disconnected.
The best way to fix this issue by simply to delete the WLAN profiles and connect to the same network with fresh settings.
To delete WLAN profiles in Windows 10 or above, Go to Start > Settings > Network and Internet > Wifi > Manage Known Networks.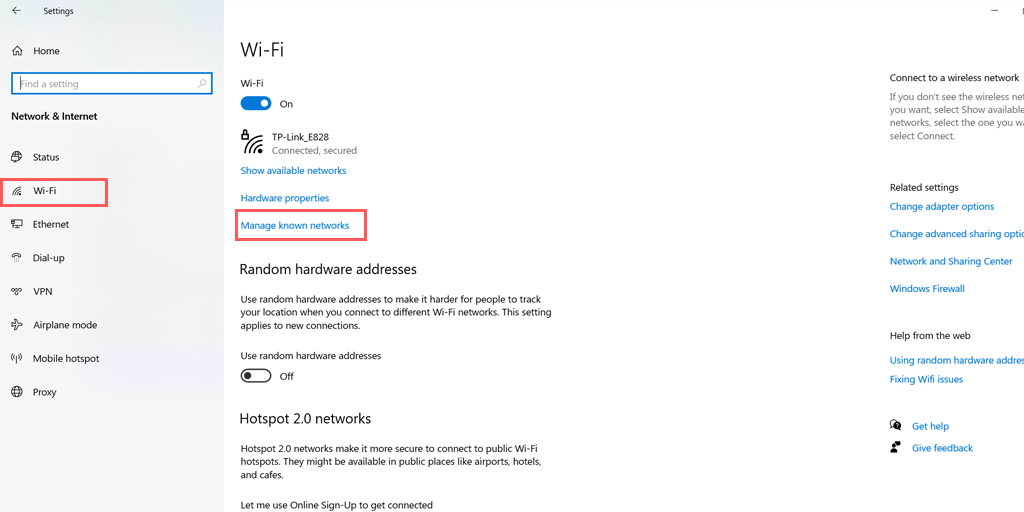 In that particular window, you will find all the wireless networks listed, select the network you want to delete and choose the "Forget" option. Once you are done deleting the WLAN profile, restart your system.
If you are a Mac User, Go to the Apple icon located at the top left corner of your Mac > System Settings > Network,
Select the WLAN network > Click on Details > Forget This Network, and restart your Mac PC.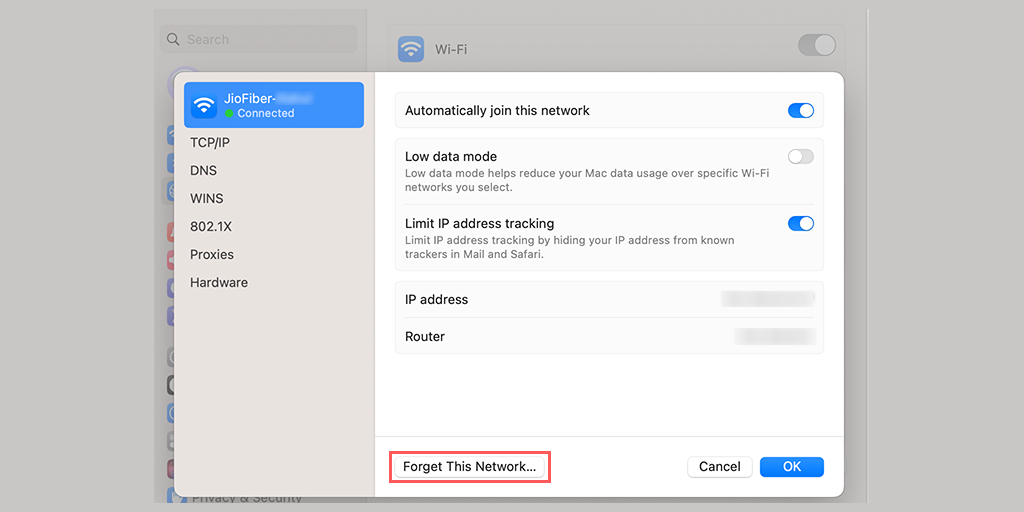 ---
5. Clear your Chrome Browser data (err_internet_disconnected chrome fix)
In Chrome browser, Go to Settings > Privacy and Security > Clear browsing data > check the Browsing History and cookies and other site data, as well as cache images,> Clear data.
Alternatively, you can directly enter this address into your Chrome browser: chrome://settings/privacy. It will take you to the privacy settings where you can click on "Clear browsing data".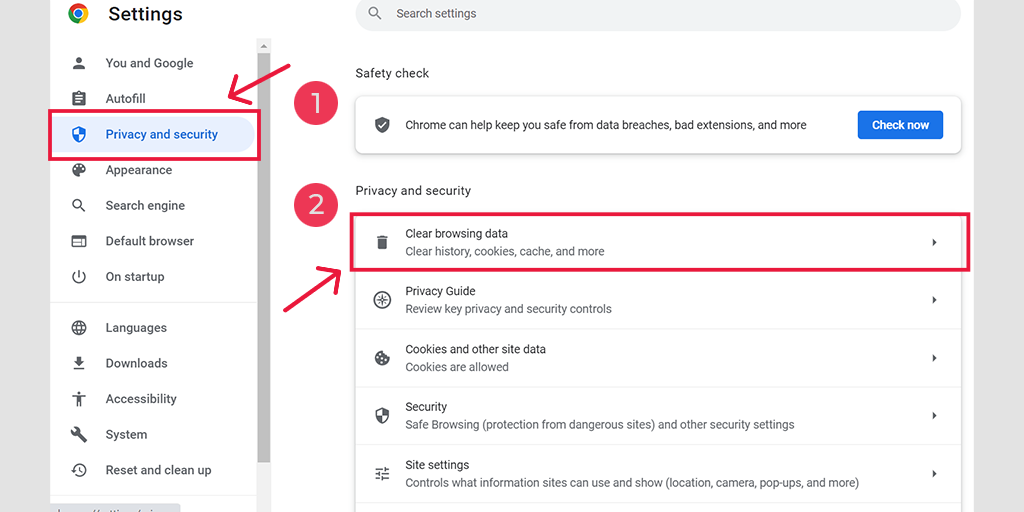 In the pop-up window, you will see plenty of other options, but you have to choose as follows:
Select the time range as "All time".
Select cookies and other site data as well as Cache images (you can also select browsing history)
Click on the Clear Data button.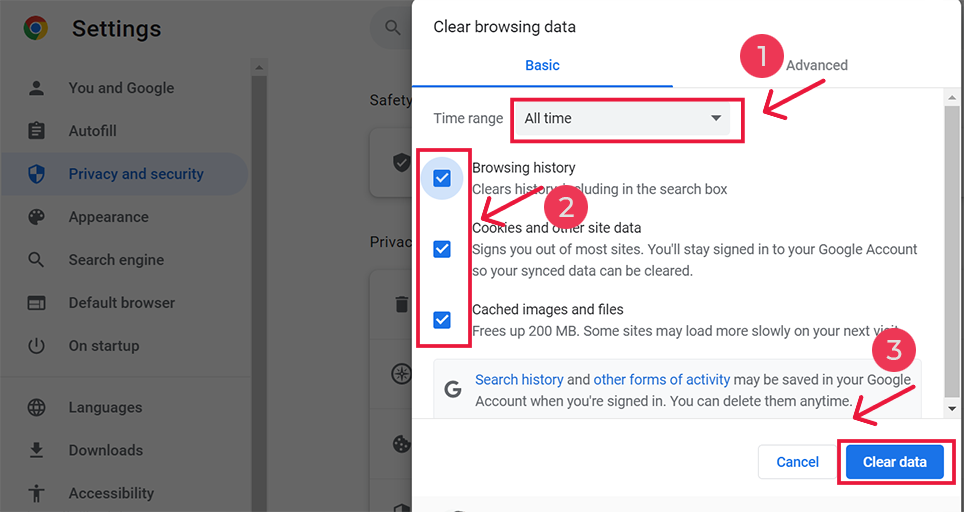 ---
6. Reset TCP/IP settings
You can also fix the err_internet_disconnected error by resetting your TCP/IP settings. This method will reset your internet settings to their default, such as DNS, your IP address, TCP, etc. and the network will start working from a fresh state.
Resetting TCP/IP settings in Windows 10 or 7 Operating systems:
Step 1: Open up the run command by clicking the Windows key and R. In modern versions, they can also be searched at the search bar present at the start menu option.
Step 2: Write cmd and press enter.
Step 3: Following the admin-based command prompt page opening up, the next step features typing ipconfig/release on the command page. This process triggers the release of the existing IP address.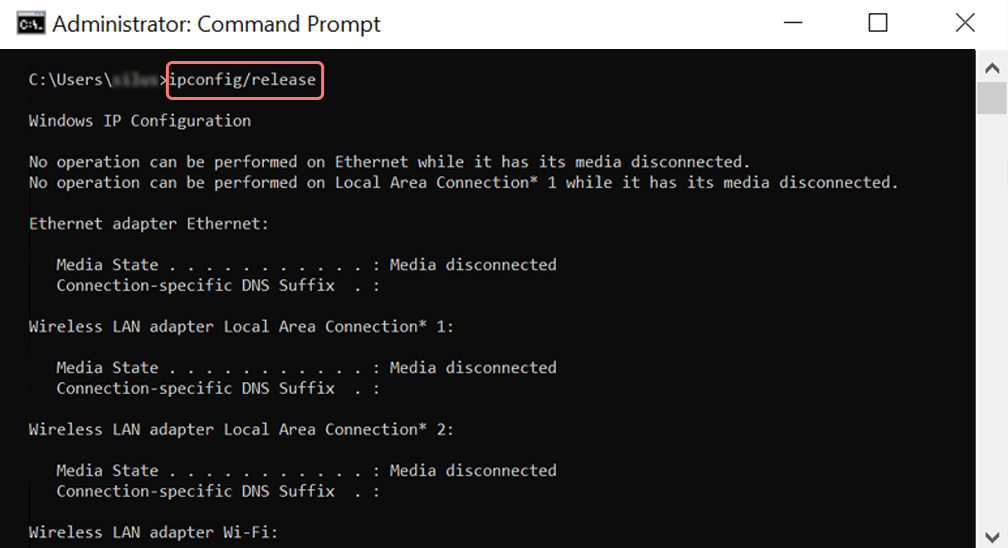 Step 4: Once the IP address is released from the system, follow the next step to release the DNS cache. Thus, type ipconfig/flushdns to release the DNS cache.
Step 5: In the next step, type ipconfig /renew, which will renew the new IP address to the system.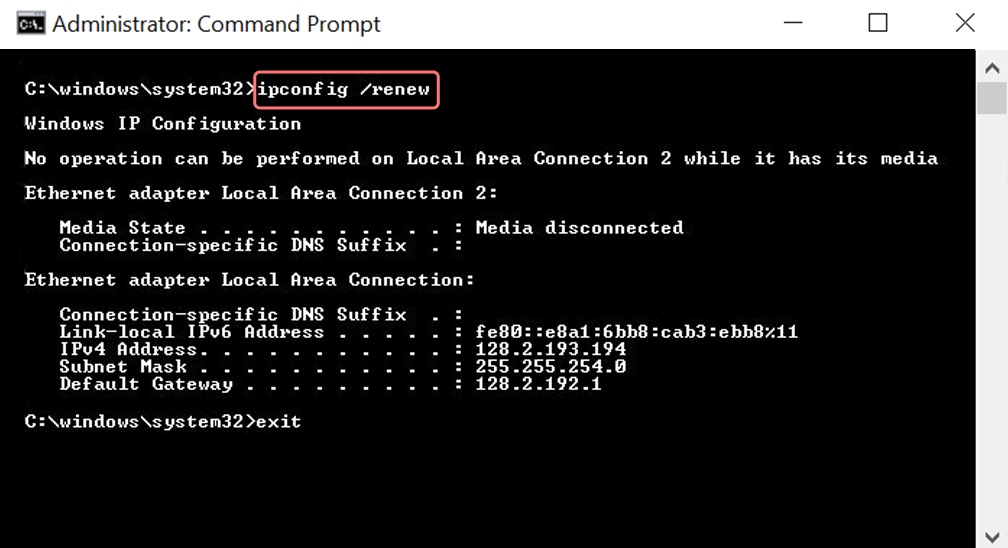 Step 6: Type netsh int ip set dns and click enter. This will reset the entire IP settings of the previous IP stored.
Step 7: Type the netsh winsock reset command. It will reinstate the Winsock Catalog.

Step 8: Finally, after the process is complete, restarting the PC will ensure the problem gets resolved.
For MAC users:
Step 1: As mentioned previously, using a Gas Mask is an easy way out for searching all system-related works. For the regular case users, the first step involves opening up the system preference options in the main window.
Step 2: Following this, under the Ethernet tab, click on the advanced options.
Step 3: For starters, with commands, it is required to click on the TCP/IP tab, which has the option to release a DHCP option. Thus, the process allows MAC users to clear out the local DNS.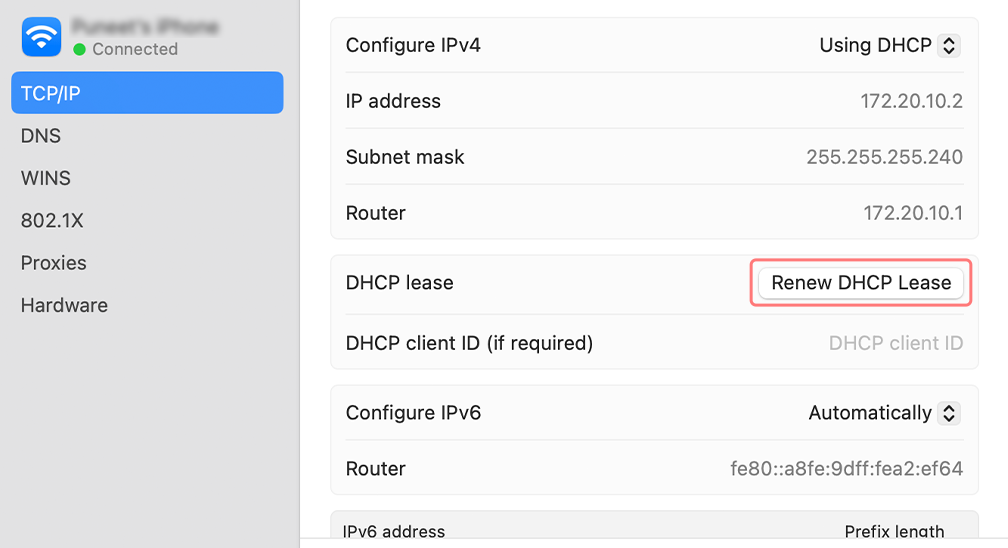 Step 4: MAC users can also clear the local DNS cache. This involves visiting the Utilities>Terminal page, where they will be required to present the command.
Step 5: The command for flushing the same is dscacheutil -flushc
---
7. Deactivate Firewalls Temporarily
No doubt, Firewalls are one of the best things that protect the users from various malicious attacks. They act as a filter, that sits between your private network and public internet. But, sometimes these firewalls can also mistakingly conflict with your network and as a result trigger 'err_internet_disconnected'.
To check, if this is causing the issue. You need to temporarily disable your firewall and try to access the website again.
For Windows users,
Go to Control Panel > System and Security > Windows Defender Firewall.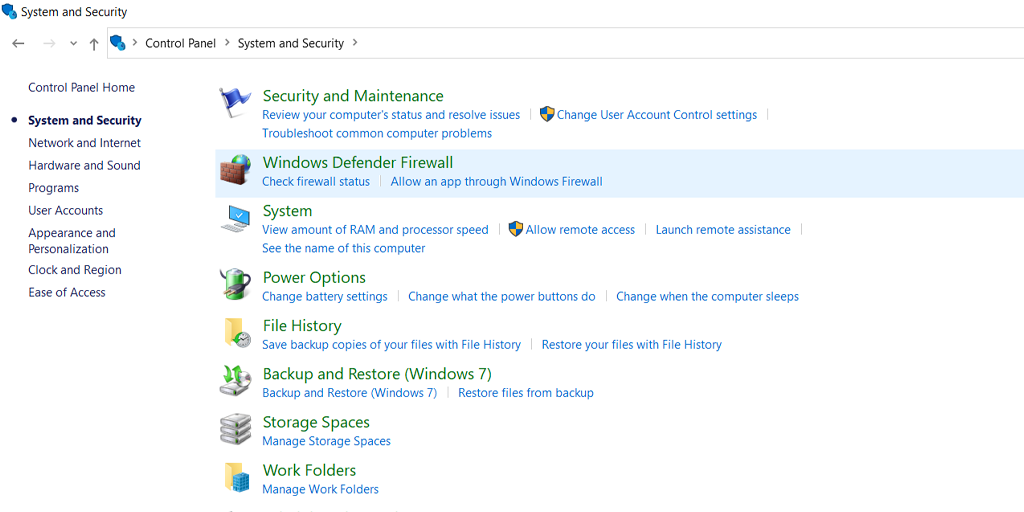 Now From the menu provided on the left side, click on Turn Windows Defender Firewall on or off > Check the box stating "Turn off Windows Defender Firewalls" as shown in the picture below: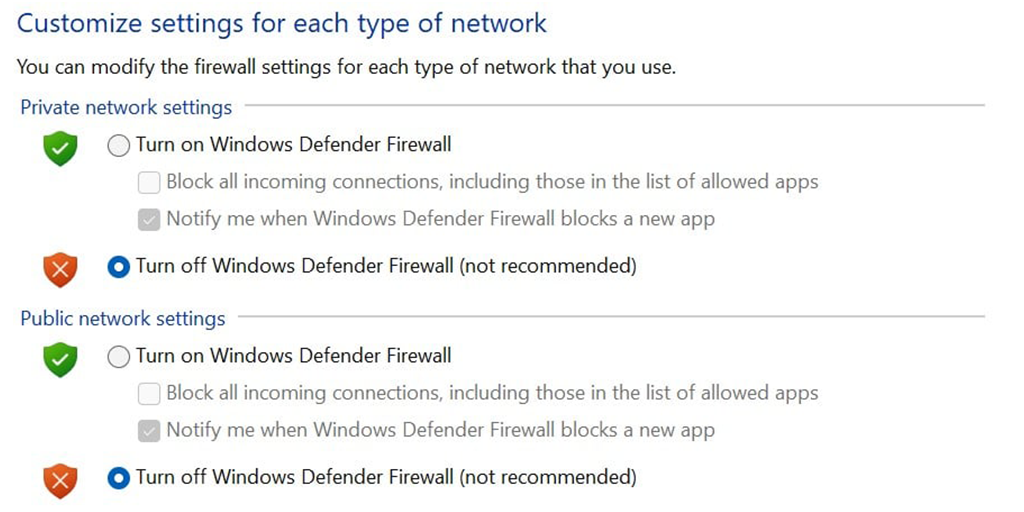 After that restart your PC and see if the issue persists.
For macOS users,
Go to the Apple icon at the top left corner > click on system settings > Network > Firewall > And Toggle it to turn off.

---
8. Reinstall Antivirus
Just like Firewalls, an Antivirus program can also conflict with or interfere with the internet connection. Especially if the antivirus software is aggressively configured.
The first step is to Remove or uninstall any Antivirus program you have, to do this follow these steps on your Windows PC,
Go to Windows key > Control Panel > Programs and Features > Uninstall a Program or Remove a Program.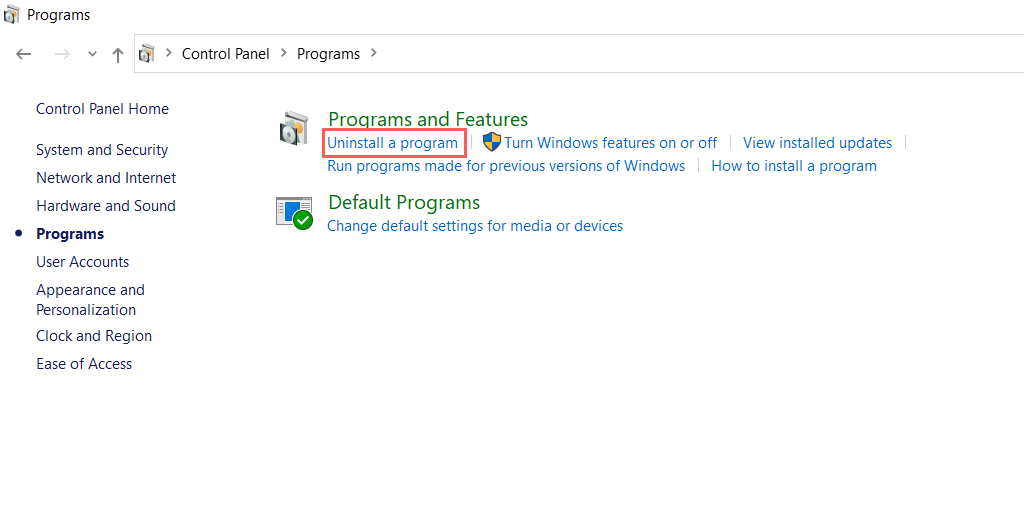 When you have successfully uninstalled or removed the Antivirus program from your PC. Try accessing the website again and check if the error persists.
If the error is not showing up, it is time to reinstall the same antivirus with a new configuration or choose a completely new one.
---
9. Update your Windows network Drivers
Windows drivers are responsible for running any sort of hardware on your system, whether it is your display, mouse, or even inbuilt network adaptors.
Even the slight misconfiguration or outdated network drivers happen, it can trigger network-related issues such as err_internet_disconnected issues.
To fix this, Go to your Search bar in Windows PC > Type "Device Manager" > Right Click on Device Manager and select right click on the device you would like to update.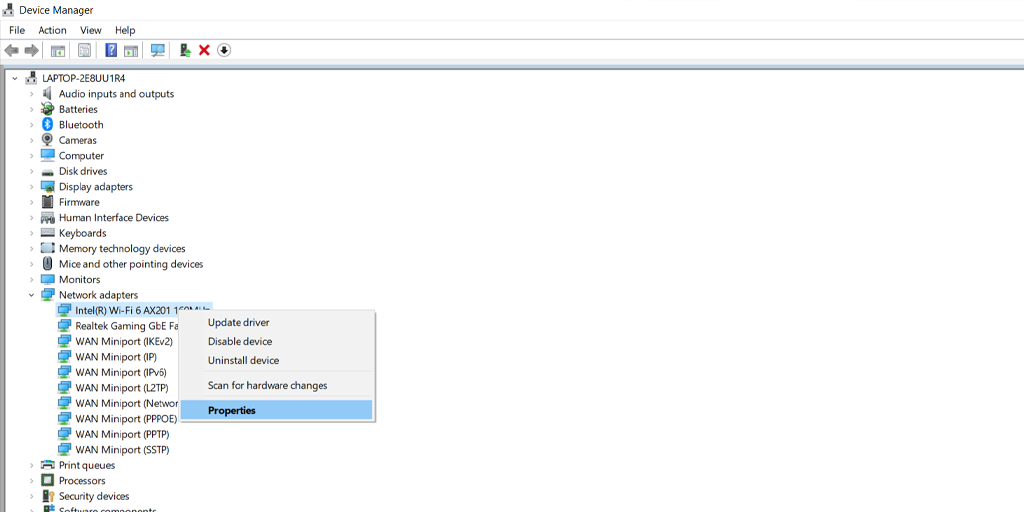 Select the "Update Driver" option and a pop-up window will appear asking from where you would like to search for the updates on your computer or online.
---
Note: It is highly recommended that you keep your computer updated with its latest version available, it not only brings improved performance and bug fixes but also prevents any issues with your drivers.
---
What does the err_internet_disconnected mean?
What does the err_internet_disconnected mean? The err_internet_disconnected error means that your web browser is unable to connect to the website you are trying to visit due to an internet connectivity issue on your system.
From the error name itself, anyone can get an idea about what possibly went wrong.
This error usually looks like this on your Windows PC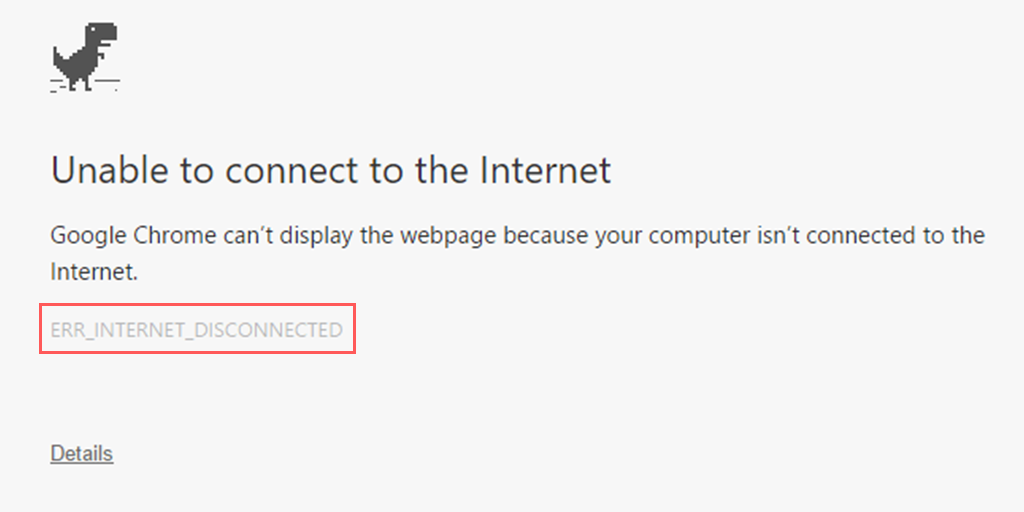 On your Mac, this error somewhat looks like this,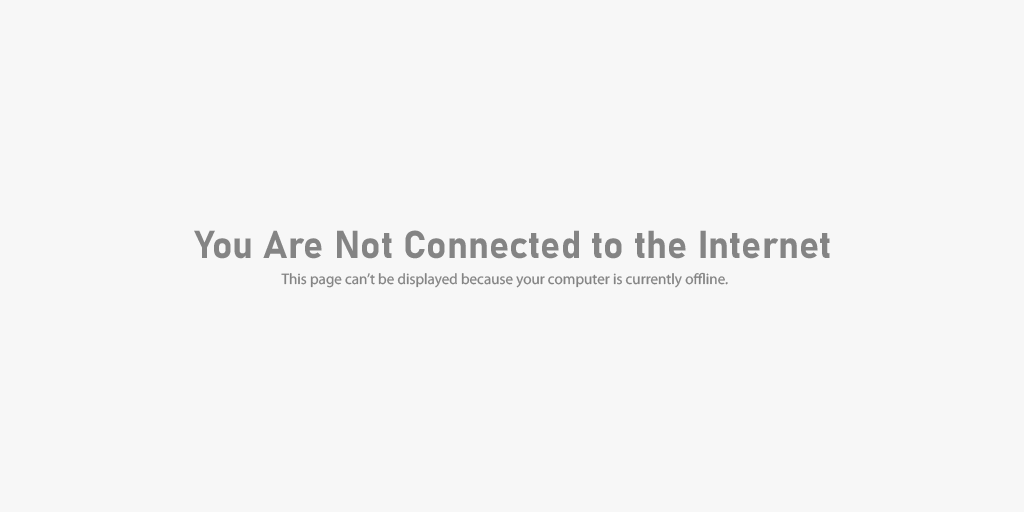 Since the Chrome browser has a huge Browser market share, this error is commonly seen in Google Chrome. But it doesn't mean that other browsers such as Firefox, Edge, and Opera users are not affected by it.
This error is generally caused due to poor internet connection or your system issues, We will talk about this more in the coming section.
---
What causes err_internet_dicsonnected error?
The "err_internet_disconnected" error generally displays in your web browsers when they are unable to establish a connection to the internet.
Here are some of the potential causes that trigger this error:
Internet Connectivity Issues: One of the most common causes of majority of the internet errors is a poor, unstable, or slow-speed internet connection. These network issues don't allow webpages to load and in return show an err_interent_disconnect error.
Network Configuration Problems: You simply cannot solely blame your internet connection. Even if you have poorly configured your modem or router, it can also cause errors.
DNS Issues: If the Domain Name System (DNS) is temporarily down or its settings are not configured properly. It can hinder the browser's ability to resolve the website domain name.
Firewall or Security Software: If you have aggressively configured your Firewall or antivirus program, It can also mistakingly block the browser's access to the internet.
Browser Cache or Cookies: Outdated or Corrupt Browser cache or cookies can also interfere with your interfere with internet connection.
Browser Extension Conflicts: Faullty or Poorly coded Extensions or plugins can also interfere with the browser's ability to connect to the internet.
Malware or Viruses: It is also possible that your system has been severely hit by viruses or malware. That could interfere with the internet connection and trigger errors.
ISP (Internet Service Provider) Problems: Your ISP might be facing some issues or outages temporarily in your area and unable to provide the internet facility at the moment.
Hardware Issues: Apart from all Software and technical issues, it is also possible that your Wi-Fi router, modem, or network might be experiencing some hardware issues.
---
Summary
Not only the error err_internet_disconnect can be frustrating for anyone who encounters it but also disrupts your productivity. Although this error can seem very irritating to tackle, you must have seen Chrome has built a short T-rex game to make it somewhat entertaining.
But apart from that, this error can be fixed easily without any technical expertise required. All you need to do just follow these simple methods and you are ready to go.
However, if you have noticed similar types of errors frequently happening to your WordPress site. It is time to consider migration to a more reliable web host, i.e. WordPress vps hosting.
---
Frequently Asked Questions
What does Err_internet_disconnected mean?
The err_internet_disconnected error means that your web browser is unable to connect to the website you are trying to visit due to an internet connectivity issue on your system.
How do I fix err internet disconnected?
All you need to follow these simple methods:
1. Check your Internet connectivity
2. Use an Internet troubleshooting app
3. Turn off the Proxy server or VPN if any
4. Reset your WLAN profiles on your System
5. Clear your Chrome Browser data
7. Deactivate Firewalls Temporarily
8. Reinstall Antivirus
9. Update your Windows
What does Err_internet_disconnected mean for Mac?
The err_internet_disconnected issue is common to every type of OS not just Mac. It simply means that your web browser is unable to connect to the website you are trying to access, due to no internet connection.
---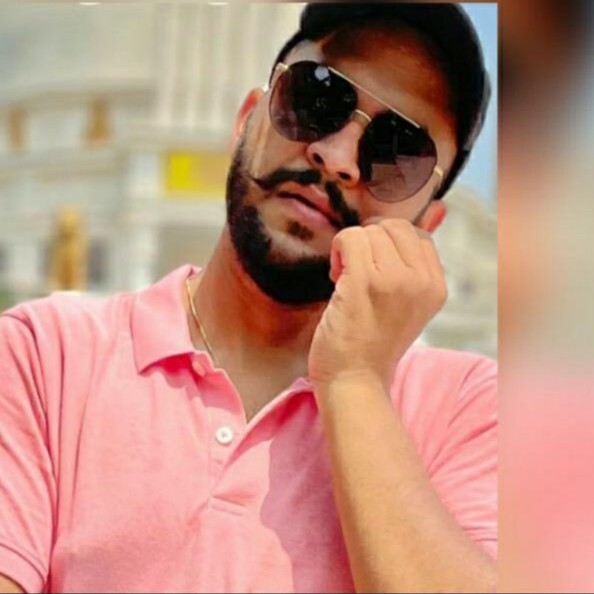 Rahul Kumar is a web enthusiast, and content strategist specializing in WordPress & web hosting. With years of experience and a commitment to staying up-to-date with industry trends, he creates effective online strategies that drive traffic, boosts engagement, and increase conversions. Rahul's attention to detail and ability to craft compelling content makes him a valuable asset to any brand looking to improve its online presence.