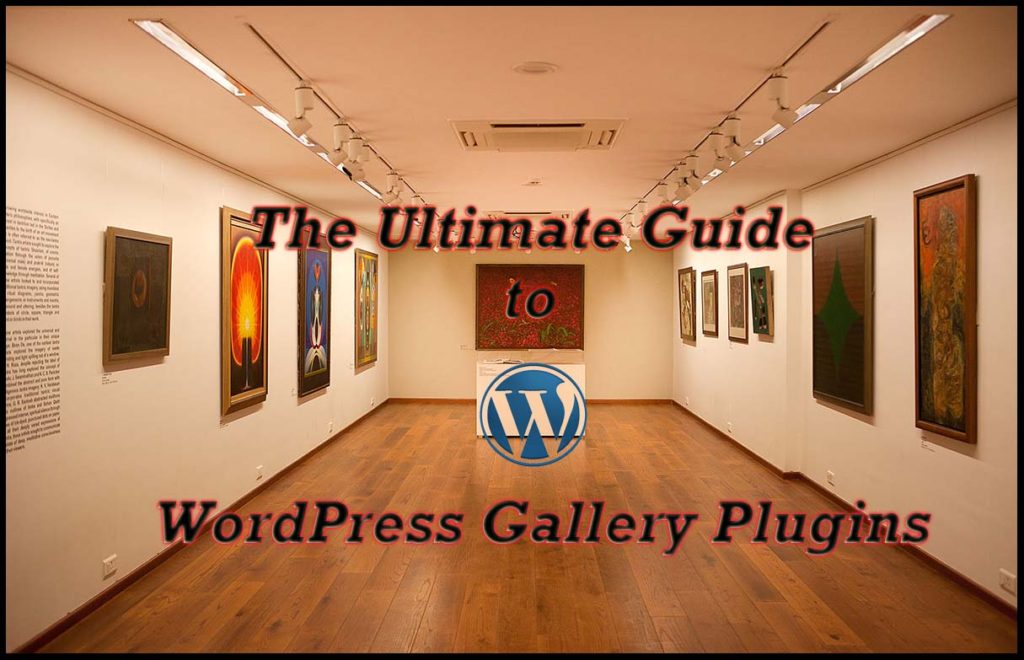 While WordPress has its own responsive gallery plugin with both free and premium features, its low ratings by community members show that it may not be one of the best options for photographers and photography enthusiasts to display images in a manner that is attractive and stands out. Listed below are the top WordPress Plugins, according to community users.
Free WordPress Gallery Plugins

Downloads : 3,223,845
Active Installs : 300,000 +
Rating : 4.6 / 5
Price : FREE
The Photo Gallery Plugin for WordPress has an average rating of 4.6/5 stars by over 600 reviews and has been downloaded over 3.2 million times. The plugin supports JPG, JPEG, PNG and GIF image formats along with Youtube and Vimeo files within the gallery. The gallery can contain unlimited numbers of images but you cannot create multiple galleries. It is available in nearly 40 languages, but reviews by the community suggest that the translation tool is subpar. For photographers who would like to sell their images, Photo Gallery also has an e-commerce add-on through which you can set up an online store and sell digital images or prints.


Downloads : 10,468
Active Installs : 800 +
Rating : 5 / 5
Price : FREE
The PiwigoPress plugin is an open source photo viewing plugin which is run and supported by community users and developers. Though there are no reviews for it on the WordPress website as yet, it seems popular on technical forums. Piwigo is a simple and easy to use plugin which with security configuration options which means each image can have different levels of visibility and privacy. This is one of the few free gallery plugins which gives user the option to have multiple galleries rather than having to store all pictures in one large gallery. This plugin is available in 54 languages.

Downloads : 69,072
Active Installs : 5,000 +
Rating : 4.3 / 5
Price : FREE
MaxGalleria has been downloaded over 65,000 which is a lower number of downloads as compared to other plugins but its users stay loyal and enjoy the plugin. It has over 5,000 active installs and has a rating of 4.3 /5 stars. This is a relatively new plugin – only 4 years olds – but has an active team dedicated to improving updates and providing support. MaxGalleria has the option to use lightbox for both images and youtube/vimeo videos. It also comes with widgets for galleries and has the option for multiple albums. Most reviewers have mentioned moving away from NextGen (which is one of the top free plugins) to MaxGallaria.

Downloads : 213,868
Active Installs : 60,000 +
Rating : 4.8 / 5
Price : FREE
Foo Gallery has over 60,000 active installs and a rating of 4.8 out of 5 stars – the most impressive number yet! It should be noted that this plugin is geared more towards developers which means the functions are distributed amongst different codebases and that could make it hard for everyone to use. The plugin supports one-click page creation and has multi-site support. However, for videos you would need to buy the premium version.

Downloads : 192,116
Active Installs : 10,000 +
Rating : 4.0/ 5
Price : FREE
Nimble Portfolio has a 4 out of 5 star rating and currently has over 10,000 active installs. Along with supporting image and video files, it also supports Pdf files. And in addition to youtube/vimeo support, the plugin supports quicktime videos which is a great plus for Mac users. Images in the gallery can be refined and filtered through tags for a more productive user experience. The Nimble Portfolio has a default lightbox which can be customized in the pro version. Note that the Nimble portfolio has a simple design which might not be best for people wanting more flashy animations.
Premium WordPress Gallery Plugins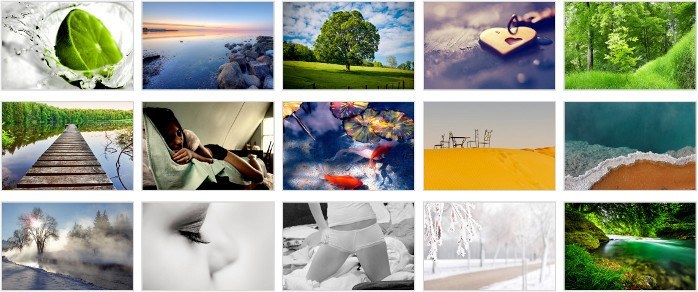 Downloads : 2,000,000+
Rating : 4.4 / 5
Price : $26 – $866
The Gallery Bank plugin's free version has been downloaded by over 2 million WordPress users and 593 reviewers give it an average 4.4 star rating. While a few people have had technical problems with the plugin, majority are satisfied with this download. The images and videos can be displayed within a variety of styles and the gallery view can also be customized with animations and special effects. This plugin comes with multiple live demos which make it extremely user friendly. Like most plugins this does have a lite version, but reviewers state that there aren't many options available without going premium.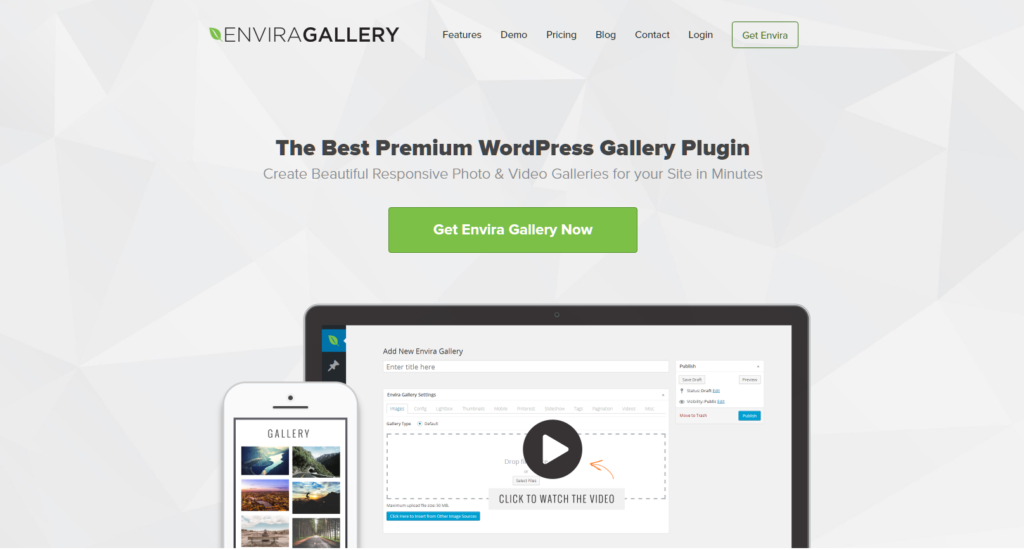 Downloads : 480,000+
Rating : 4.1 / 5
Price : $19 – $249
The Envira plugin's free version on wordpress.org, has over 480,000 downloads and a 4.1 star rating average over 74 reviews. It should be noted that Envira is not compatible with the wordpress.com platform hence it can only be used on a self-hosted WordPress. The premium packages range from 19$ for basic features and goes up to $294 for maximum access. The basic 19$ version comes with unlimited galleries and slideshows and one year of updates and support, but is only be available for use on one site. The more expensive packages build up on more features and can be used on multiple sites. The Envira plugin is mobile friendly and allows for galleries to be shared on social media. In case you buy the plugin and feel it does not meet all your need, you can ask for 100% refund within 14 days of the purchase.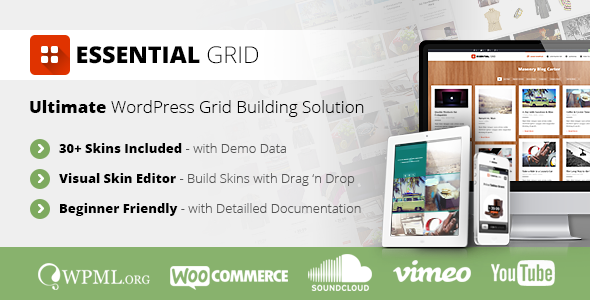 Downloads : 19,200
Rating : 4.7 / 5
Price : $26 – $130
The Essential Grid is an "all purpose gridding solution" which has been rated at 4.75/5 stars by over 800 reviewers. It comes with a regular $26 price tag which can be extended to $130. The Essential Grid plugin has over 30 skins which come with different layout styles; the drag-and-drop feature allows users to customize their own skins. The plugin will give your viewers the option to refine image results and filter according to their needs; this can be useful if viewers are put-off by scrolling through large galleries to and having to furiously scan for an image they like.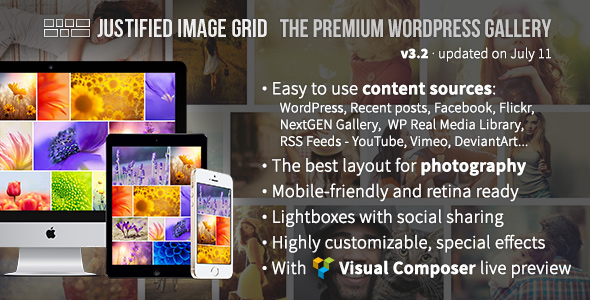 Downloads : 15,000+
Rating : 4.8 / 5
Price : $26 – $145
Justified Image Grid comes with a regular licence at 29$ or $145 for the extended version. It currently has a 4.8 average rating based on over 1500 reviews. This plugin is compatible with other image sources such as Facebook or Flicker and can also import images from the NextGen plugin. Justified Image Grid allows users to add special effects to the gallery and comes with extensive support. However, with both the regular and extended version, this plugin can only be used on one site. It has an interesting feature of thumbnail captions and is completely mobile compatible.