Cloud Market share has been shown tremendous growth from past recent years. The market of cloud computing has boomed exceptional and has started growing with covering a large area of complex technologies, Engineering, products, and customer services.
As a result, it gives birth to a multi-billion dollar industry where many cloud computing companies compete with each other for expanding their cloud market share.
It is also difficult to understand these Cloud market share, cloud ecosystem, navigation, and architecture for end-users or consumers. Outside the cloud ecosystems and giant cloud companies like Google, AWS, and Microsoft. it has become a mystery for most consumers.
In this article, we try to bring you an in-depth analysis of Cloud Market share and try to reveal all the facts about the Cloud market. We will introduce you to the major and leading cloud market shareholders and compare their cloud market share.
In addition to it, we also let you know, who big tech giants are moving to provide cloud computing services, what are its advantages, and How much money they invested. But before that, let me introduce you to three Major Cloud Computing Services.
Why Cloud computing has attracting Businesses?
Businesses are attracted to Cloud Computing for various unique reasons. But even, some reasons match with almost every business, that opts for their companies to make the transition. Here are some most common reasons why businesses are getting attracted to Cloud Computing.
Add value to your Business
Cloud Computing offers a wide range of offerings to a Business that add value to it. It provides businesses, greater flexibility, scalability, and security. However, there are a lot more benefits that you will go to see in the next section.
Events that happen to be terminated
No matter whatever product you have either digital or physical, all of them have a typical lifecycle. Hence, whenever a seller has announced to terminate their products, then it becomes an opportunity for you to consider alternative solutions. Hence, due to these naturally occurring events, businesses are moving from one premise to more reliable cloud-based solutions.
Business merges or Acquisition
When a company turns over or acquired another company or merges, the main challenging part that arises for them is the compatibility issues. Different companies use different technologies and applications, and it becomes tough for both companies to match all technical parameters.
Hence, if you ever came across such situations, the best and the right solution left for you is to migrate all applications and technologies to the cloud platform. By doing this, you can offer your employees a more smoother and seamless ecosystem.
Contract Renewals
Many businesses have contracts with private data centers, hardware, and software providers that must be periodically renewed. Much like an end-of-life event, this presents you with an opportunity to reconsider how you deploy specific services and solutions.
Increasing cost bases and a range of other limiting factors present you the opportunity to make the transition to a more cost-effective cloud-based solution.
Capacity Requirements
If you are running a business that utilizes hardware, then it is obvious that you will face issues when there is a surge in growth or experiencing huge seasonal shifts. Due to this demand will be high and the cost will rise, and you will end up paying more money on services that are not even utilized properly.
When you shift your business to the Cloud platform, it will give you the option to either increase or decrease computational power instantly. And the price will solely depend on the model you chose.
Software and handware Updates
if you are setting up an in-house hosting data center or software application, you will be responsible for managing it and keeping it fresh or up to date. In-house updating software or hardware is usually less expensive and it is highly beneficial when you shift to the cloud ecosystem.
For example, a public SaaS subscription eliminates all the unnecessary hardware upgrades and very expensive software licenses.
Data Compliance
Data compliance is one of the foundations for any business operations. Especially if you are into healthcare service providers or Financial industries. If you are shifting your business to Cloud computing, it will provide you the freedom to choose those services that are already in compliance.
Protection from cyber attacks
Since the increase in business migration to online platforms, cyberattacks and hackers become active. Their attack might be severe that can damage your whole website to an extent that it cannot be restored. You might even find your business to be vulnerable and also at risk of these cyber attacks.
No matter, if they are have not enough tools or intellect, you will still find cloud platforms provide you with an inbuilt solution to lower the risks.
Advanatges of Shifting to Cloud Computing Services in terms of Business
As far as now, I have tried to cover all the major common reasons for any business to consider moving on cloud computing. Now let us check out more advantages of shifting to cloud computing in terms of business.
Saves money
One of the main reasons to move to cloud services is it helps to save money. Depending upon the type of your business and how efficiently you utilize cloud resources, you can save money through cloud computing in various ways.
For example, Cloud computing helps you to automatically scale according to changes in demands, supply, and many more.
Easy to scale
Another key advantage of shifting to cloud services is its ability to scale. Cloud computing lets you easily scale up computational as well as storage demands whenever necessary for the business. It is based on whatever you pay that much you will receive, it means to scale up your compute and store you will require to pay more, hence it is better you must control over your costs and scale up or down only when it is utmost necessary or the demand.
Continuous Operational
A major factor for your business to be successful and ahead of its competitors is to provide service even if there is any disaster occurs. Your technology must be operational anyhow. No matter how much you control your business processes, there are always high chances that it will let you down. And due to high competition and demand, even a slight downtime can seriously impact your business and hence its reputation, productivity, and at last revenue.
In addition, cloud computing technology provides overall protection from any kind of contingency, that can harm data loss and failure of vast data centers.
Edge over the competitors
When you are running a business, you have limited resources for your IT team but when you decided to move to Cloud services, it helps your business to run more smoothly and quickly than competitors.
You can let your IT team to more focus on the business and work on different projects that create revenue rather than working in a room depending on the in-house infrastructure resources.
Can easy to do business and access data from anywhere
Cloud computing helps your business team members and employees well connected through a loop no matter where they are located in the world. By providing remote access, cloud services let your employees ability to work on your business projects remotely and access data via any IT devices. It helps to encourage remote working and also ensures to maintain productivity as well as connectivity of the employees while they are on the move.
Quality Control
Quality is everyone's business's sole backbone, if you compromise on that your business will no longer survive. Similarly, any business should not tolerate any lack of quality and inconsistent reporting. Cloud services can help you to prevent such by keeping all the information and important documents in a single format in one place. These services also offer data backups as well as version control, provides your employees the exact information without disturbing accuracy and consistency.
Sustainable Development
Since the new industries have emerged vigorously, it has been a matter of concern for the environment as well. Hence, it has become a top priority for any business to consider sustainable resources as an alternative so that they can help to lower the carbon footprint. Some Businesses are also implementing this by supplying renewable energy in their data centers.
Using cloud services, businesses can also opt for virtual services and dependency on hardware or physical products. In addition to it, cloud computing also provides employees mobility and remote accessibility, which helps to reduce on-premises emissions.
Comprehensive
Due to digitalization, everything has become digital and eliminated manual records on papers. It has become easy to track, monitor, and examine countless data points that are related to your customer's behavior, such as interaction and transactions with your company. It is also true, that analyzing the whole customer data is not an easy task and time-consuming process.
Now, the right cloud service provider can provide you with a strong infrastructure, powerful computing, and storage options integrated with analytics tools that help fastens the process and works efficiently. It is all due to the introduction of AI and technological advancements that happened recently.
Increases Business relationships
Cloud computing provides an easy and smooth platform for your business collaborations. These platforms provide your business team members to interact, create, view, edit and share information or data easily with protection. In addition to it, the ability to remotely connect and mobility let your team connect whenever and wherever they are located.
Threat protection
Other than the advanced features that cloud computing offers, threat protection and security are also their utmost priority. In which they offer your business a vastly improved security solution. For example, Big tech giants like Microsoft monitors and stops millions of potential threats or attacks on a regular basis, and they have dedicated in-house security experts who continuously take an eye on every possible security threats. Hence when your business moves on a Cloud platform, your security and protection are all responsible to your cloud provider so that you can freely focus on your business development.
Price or Cost Comparison for AWS, Azure, and Google Cloud Platform
If you are looking to migrate your Business to public cloud infrastructure, the first and most important step is to find the right cloud service provider with reliable pricing. However, it is not that easy it seems, the price of cloud computing services is simple and can vary on various parameters. such as:
The amount of storage you will require.
Configurations and specifications of servers you want to set up.
Operating system and type of software you gonna install.
Paying cycle (either per min, hr or by month)
Choose one time contract or pay as you go
Data centre locations
These are just common parameters, however the leading cloud market shareholders such as Google Cloud Platform, Amazon Web services, and Azure offers you hundreds of different services. Each one of them changes the price as you choose the configuration of customizing it as per your requirements.
To help you out how the leading cloud market shareholders have variation in their pricing for the same service (combined public cloud hosting, installation of servers, and storage). To make it easy for you to compare prices of different leading cloud market shareholders provides you with the same parameters. I have used Cloudorado, a cloud hosting comparison tool that lets you choose basic configurations or specifications such as RAM, CPU, storage, and Operating system.
These Basic configuration settings will help you out to analyze their pricing per month.
For example, let us take a basic configuration such as:
CPU of power 8
RAM to be 5Gb
Operating System to be Windows
Storage capacity to be 2 TB.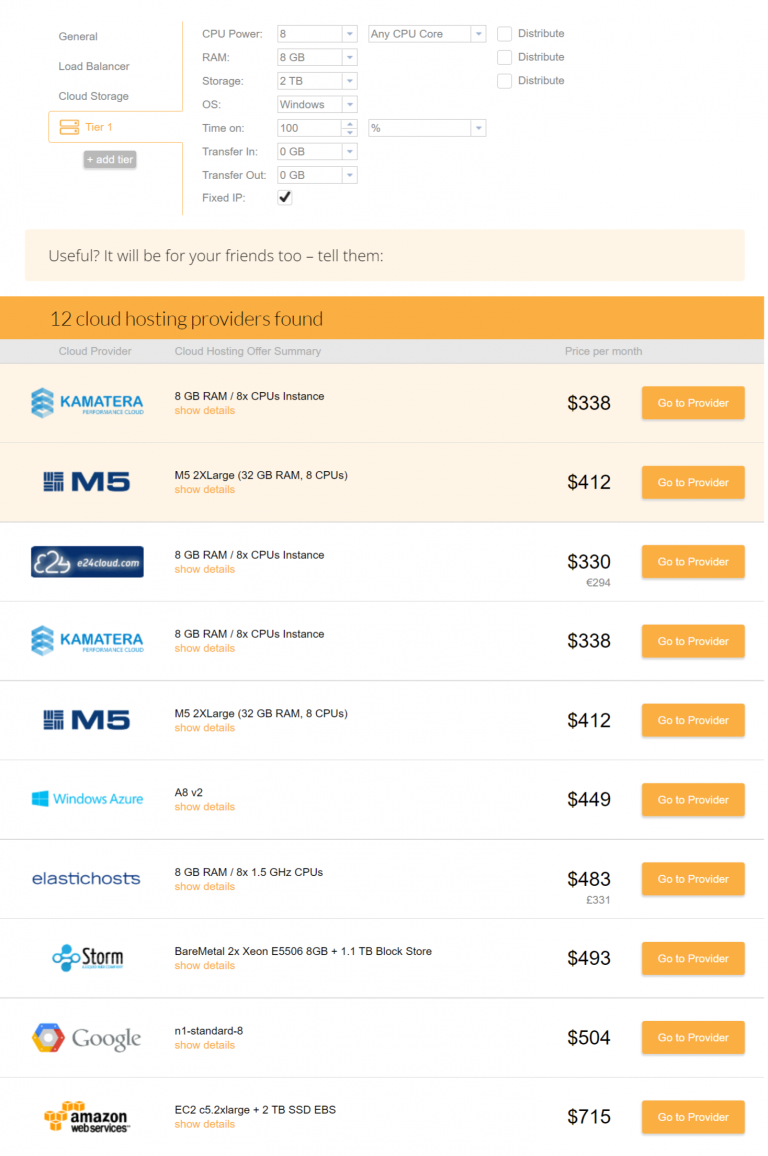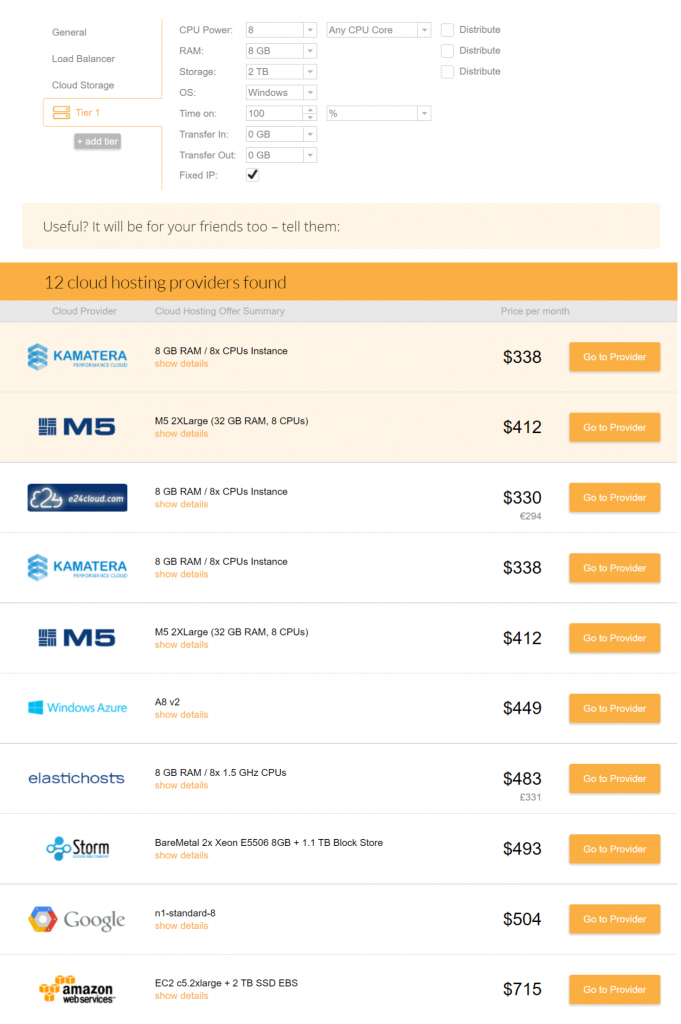 From the above comparison, you can clearly see that Microsoft turned out to be the most economical option, it is due to if you have opted for windows which are Microsoft's operating system. But when you change the operating system from Windows to Linux, google will be turned out to be the most economical option.
It is obvious that the above price comparison is just basic and only for your reference. However, if you go deeper into each cloud service provider, you will find hundreds of customization options, offers, and discounted models, that you can choose hence varies the pricing.
If you are well known about your Installation requirements and want to estimate the cost, each of the leading cloud market shareholders has their own calculator. That helps you out, in estimating costs for your cloud computing services.
Summary
For you as a Customer, cloud computing has dramatically changed the whole IT market, by providing you with a vast range of competitive services at reasonable price offerings. But to get the maximum benefit out of it, you are required to have the deep knowledge to explore almost every option available in the market.
In addition to it, you are also required to have the willingness to optimize your cloud installations to make them cost-effective. Considering all the major Cloud services whether it is, SaaS, PaaS, or IaaS, the leading cloud market shareholders will be Amazon (AWS), Google (GCP), and Microsoft (Azure) which continues to dominate. And it has been also observed that continuous research and development also lead to dominance in the near future as well.
While, if you are planning to shift to cloud services, you must analyze, research, and collect all the information regarding the offers these leading Cloud market shareholder companies have to offer in their competitive price ranges. Spending time to figure out the best suitable cloud services for your business, will be worthy for you to optimize price and make your installation cost-effective.
Whereas the Google cloud platform is considered as one of the reasonable and cost-efficient CLoud market shareholders, it is also one of the fastest-growing ones. They are continuously researching and making innovative steps to enhance their performance, and also provide reasonable discounts.
I hope the above-detailed article on Cloud market share will help you to understand which provider has the maximum shareholder. And if you have any experience with these cloud services please do share your valuable input with us in the comment section below.
Frequently Asked Questions

Who has the biggest cloud market share?
Owing to almost half of the cloud market share, Amazon become the leading cloud market shareholder. Amazon Web Services become a clear market leader in 2022. And as per the reports by parkmycloud, AWS (Amazon Web Services) generated a revenue of $13.5 billion for Q1 2021. AWS revenue grew 32% in the quarter, accelerating from 28% growth in the fourth quarter.
What percent of the cloud market is AWS?
In 2021, AWS leads the $150 billion cloud market share by 32%.
What are the 3 types of cloud services?
There are three major types of cloud services that holds maximum cloud market share are:
1. IaaS (Infrastructure as a Service)
2. PaaS (Platform as a Service)
3. SaaS (software as a Service)