WordPress is one of the most popular and versatile platforms to develop any Website, unlike other CMS available. With many Plugins and Extensions, one can easily create any website and enhance its functionality.
Similarly, Woo-commerce is one of the most popular WordPress-owned e-commerce plugins that can develop a full-fledged e-commerce store.
Thanks to the flexibility of WordPress, a large number of Woocommerce plugins and extensions can be used to bring out the best possible feature of any online store. Even with the right Woocommerce plugin, you can build a fully functional eCommerce store that can compete with the standards of a well-established e-commerce giant "Amazon."
---
---
Why you should consider Woocommerce plugins and what is it?
Although, there are plenty of other platforms available, like Wix and Shopify. But these platforms have limited functionality and are bound to limited extensions.
Whereas in WordPress, you can transform any website or blog into an online store by integrating payment buttons, adding products, and the checkout page directly. This all can be possible due to WordPress and a large number of plugin usability.
Similarly, Woocommerce is a WordPress Free tool that can transform any website into an online e-commerce store. Though the core plugin is free, you can add plugins and extensions to increase its features and functionality.
Yes, you heard it right. With Woocommerce, you can add a plugin within the plugin. This unique integration feature makes Woocommerce a complete solution for any eCommerce website.
Since it does not require any technical knowledge and complex coding, with the help of Woocommerce plugins, any beginner can easily sell and list their product online.
---
Points to consider while looking for Best Woocommerce Plugins
There are plenty of Woocommerce plugins available in the WordPress directory. But the main concern is which one to choose. When you install Woocommerce on your WordPress, you came to know what extra features and functionality your e-commerce store will require.
In fact, you want an online store that sells only digital products, offers coupons, membership fees, or sells online courses. Like these, there are a lot of other features that Woocommerce is unable to provide.
Hence, what points should you consider while seeking for Best Woocommerce plugins that enhance the overall Woocommerce experience?
Consider some points given below:
Make a note of the whole objective of your website.
Look out and Choose the right Woocommerce theme for your website that has a modern look and design.
Get yourself in the customer's shoes that he/she will require all the features to buy a product from your website seamlessly.
If the theme lacks some features, search for Woocommerce plugins and extensions that complete all the requirements.
Some plugins are paid, and some are free; decide which will be best suited for your requirement and pocket-friendly.
Hence, it will be helpful for you to decide what features will best work for your eCommerce store and How they will affect the whole customer buying journey from the above points.
---
Best Woocommerce plugins that enhance your online store experience
Woocommerce is a free core eCommerce plugin available on WordPress. Hence, it does not affect your budget. However, typical online stores need Premium eCommerce web hosting for a smooth and fast experience.
But, initially, you do not need a premium hosting service to run an e-commerce store. Because on a new website, the traffic will be low, and as the traffic grows, your shared hosting will be unable to handle it. At that moment, you can consider migrating to more efficient dedicated e-commerce hosting.
Similarly, to run a genuine web store. It would help if you had some premium plugins to offer some out-of-the-box features. But for that, you have to pay some fees on some premium Woocommerce plugins. And some of them are absolutely free. Which you will get to know in detail below:
---
1. YITH Woocommerce Wishlist


YITH Woocommerce Wishlist is an amazing Woocommerce plugin that copies the "Favorite" feature of some renowned eCommerce websites. A user can mark any product favorite or add it to their wish list to purchase later.
Whenever the user checks out the products or browses, the product in the wishlist will keep showing on their screen as a reminder. Through this algorithm, marketers boost their sales and try to complete the sales Funnel.
YITH Woocommerce Wishlist key features
Boosts sales by reminding the customers about their favorite products, which they have marked to buy later.
You can select a particular page for a wish list.
You can show " Add to wishlist" anywhere on the page using the shortcode
Users can create as many wishlists as they want
Can set product Price variations like Amazon
You can send as many promotional emails to users according to their wishlist products.
YITH Woocommerce Wishlist pros and cons
Pros
Boosts Sales
Easy to implement on any page
Clean and beautiful Wishlist page design
Cons
Not for small websites
Advertisements in the admin dashboard
Poor support
YITH Woocommerce Wishlist Pricing
YITH Woocommerce has a free version available to download from the WordPress directory. However, its Free Version works like a charm, but the premium version is also a more powerful tool that boosts conversion and scalability. The Premium version starts from $94.99 – $299.99.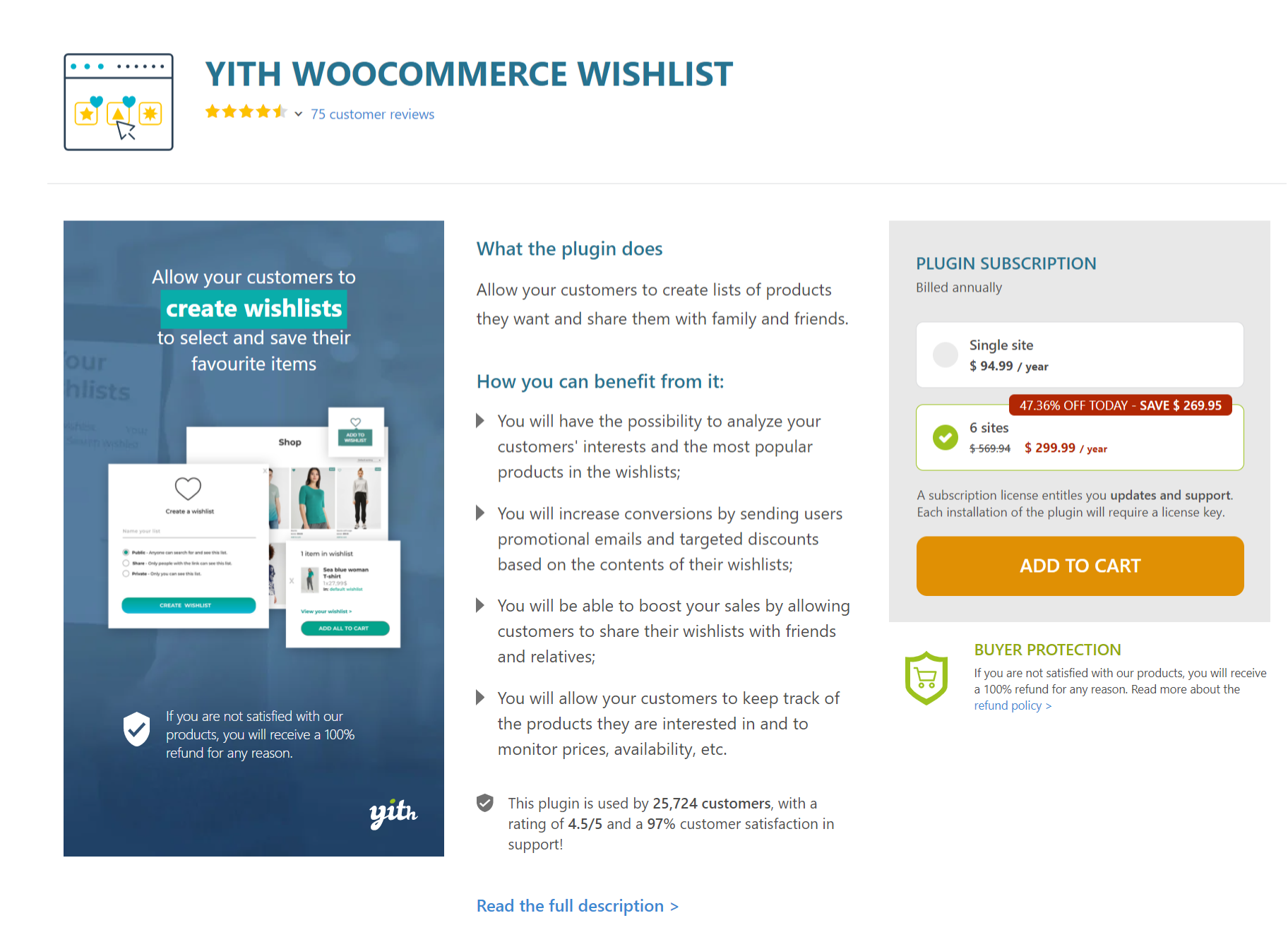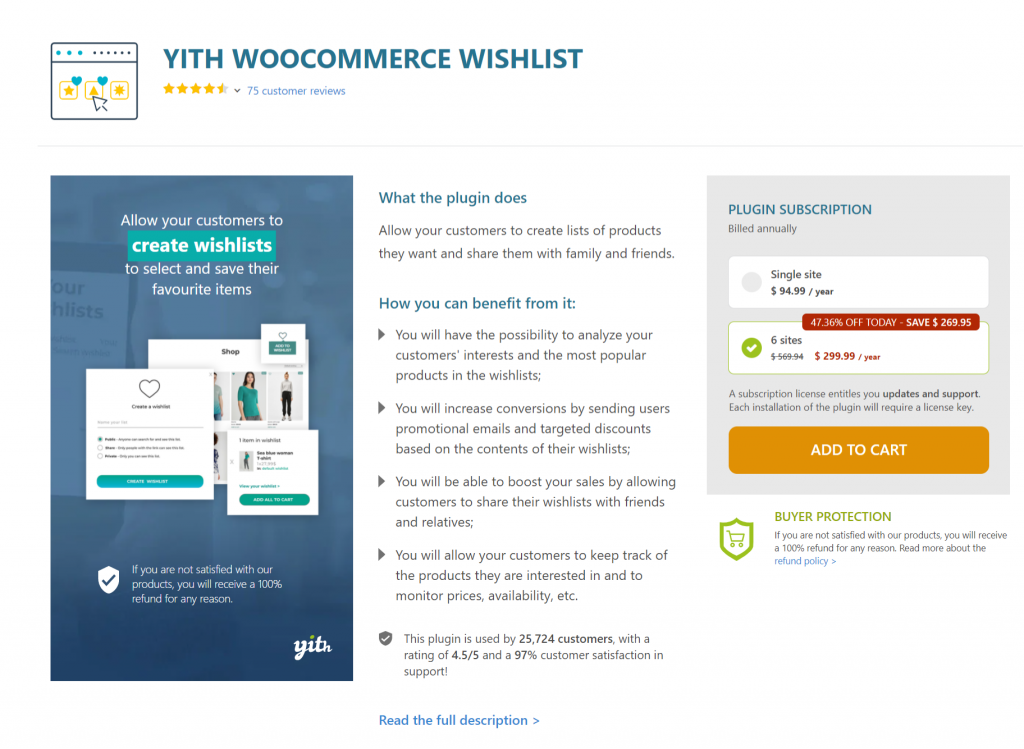 What way this plugin can improve the Store User experience?
YITH Woocommerce Wishlist plugin is not meant for every ecommerce store, especially for the new ecommerce websites. Because initially, they have less traffic and fewer products. Hence the chances of conversion are meagre.
The Wishlist plugin is best suitable for well-established high traffic eCommerce websites, where the conversion rate is high.
---
2. WooCommerce PDF Invoices & Packing Slips


Woocommerce PDF Invoices and Packing slips is one of the most popular and high downloads of Woocommerce plugins. A wide range of online Websites requires invoicing and packing slips for their business.
Which is not possible in Woocommerce. The significant factor about this plugin is that you can generate invoices, attach them to the customer's email or take a printout to send it along with the product.
Not only generating invoices but you can also generate packing Slips that can be used in shipping packages in bulk or individually.
WooCommerce PDF Invoices & packing Slip key features
Automatic invoice attachments to emails
Easy to generate and download Invoice and packing slips
Generate Bulk packing slips and invoice
Customizable invoice and slip templates
Multilingual format
WooCommerce PDF Invoices & Packing Slip Pros and Cons
Pros
Free version has advanced features
Great customer support
Easy to use
Low cost software as compared to other plugins
Cons
No significant Cons were found yet
Woocommerce PDF Invoices & packing slip Pricing
Woocommerce PDF invoices and packing slip is an open-source plugin. Hence it is available free to use, and you can easily download it from WordPress Directory. If you still want more features, you can use their premium extensions starting from €59.00 to €249.00.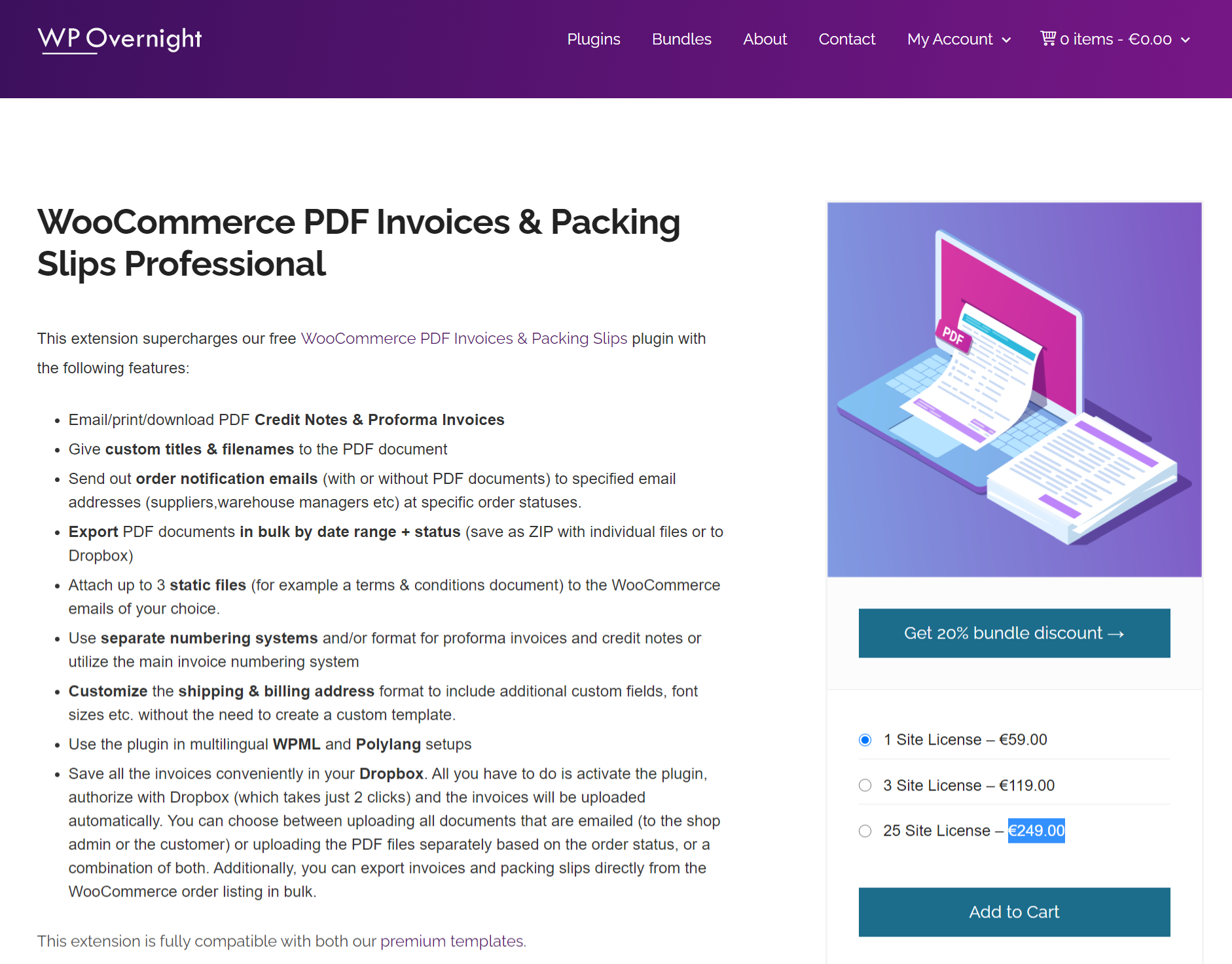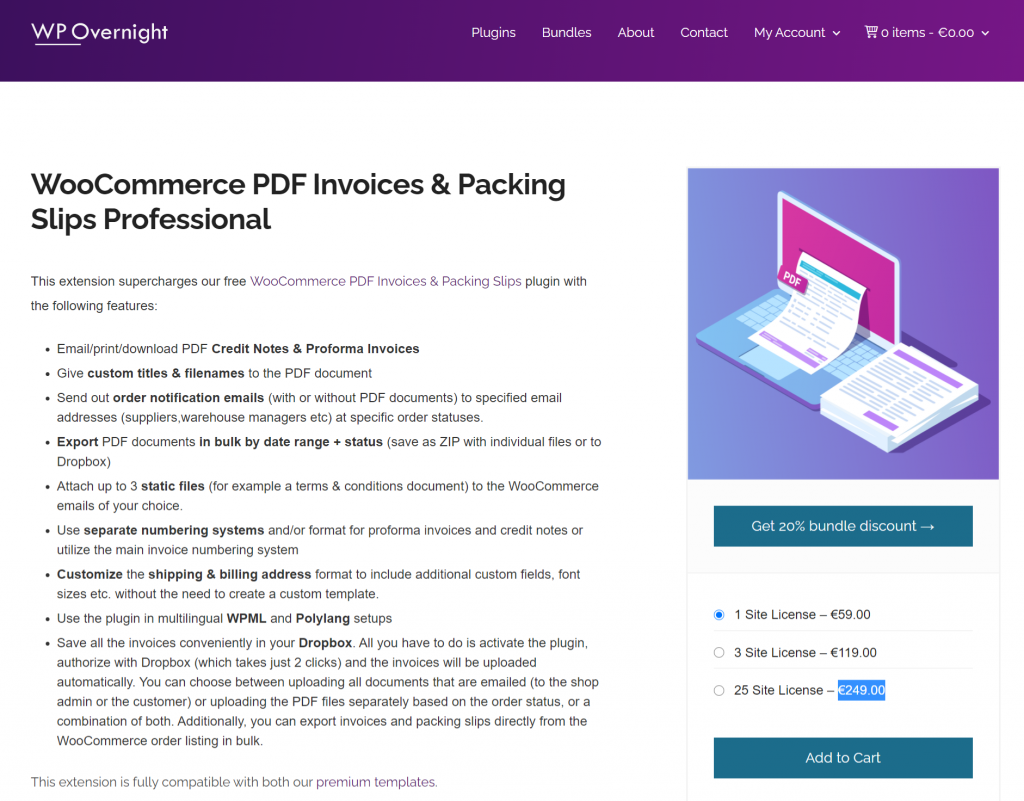 What way this plugin can improve the Store User experience?
Woocommerce PDF Invoices and Packing Slips is best suitable for those ecommerce stores that provide drop shipping or ship their own products. And does not depend on or associated with third-party shipping companies.
It is the best plugin to generate invoices for customers and mail them through their emails and provide customers an environment of trustful and professional ecommerce service.
---
3. Woocommerce Multilingual


To bring your eCommerce store multinational, the Woocommerce multilingual plugin is one of the best Woocommerce plugins that break the language barrier. The plugin is so user-friendly, that the user can change the language of the website and even Currency in just one click.
The multi-language page feature is one of the best eCommerce practices to bring a better user experience. Not just user convenience, but it also helps increasing international traffic that generates good revenue.
Woocommerce Multilingual Key features
Easily Translate all woocommerce products and pages
Once the language is selected, the same language will continue till checkout
Sending emails and clients in their selected language
Inventory tracking without changing in product languages
Payment gateways based on location
allows multi-currency
Woocommerce multilingual pros and cons
Pros
User friendly
Great customer support
Regular updates and bug fixes
support most of the themes
Cons
Heavy plugin
Large Database
Bit slows down the server
Woocommerce Multilingual Pricing
Woocommerce Multilingual is a completely free plugin available to download from the WordPress directory. But it works well in combination with WPML which is a paid plugin and the price starts from $29 to $159.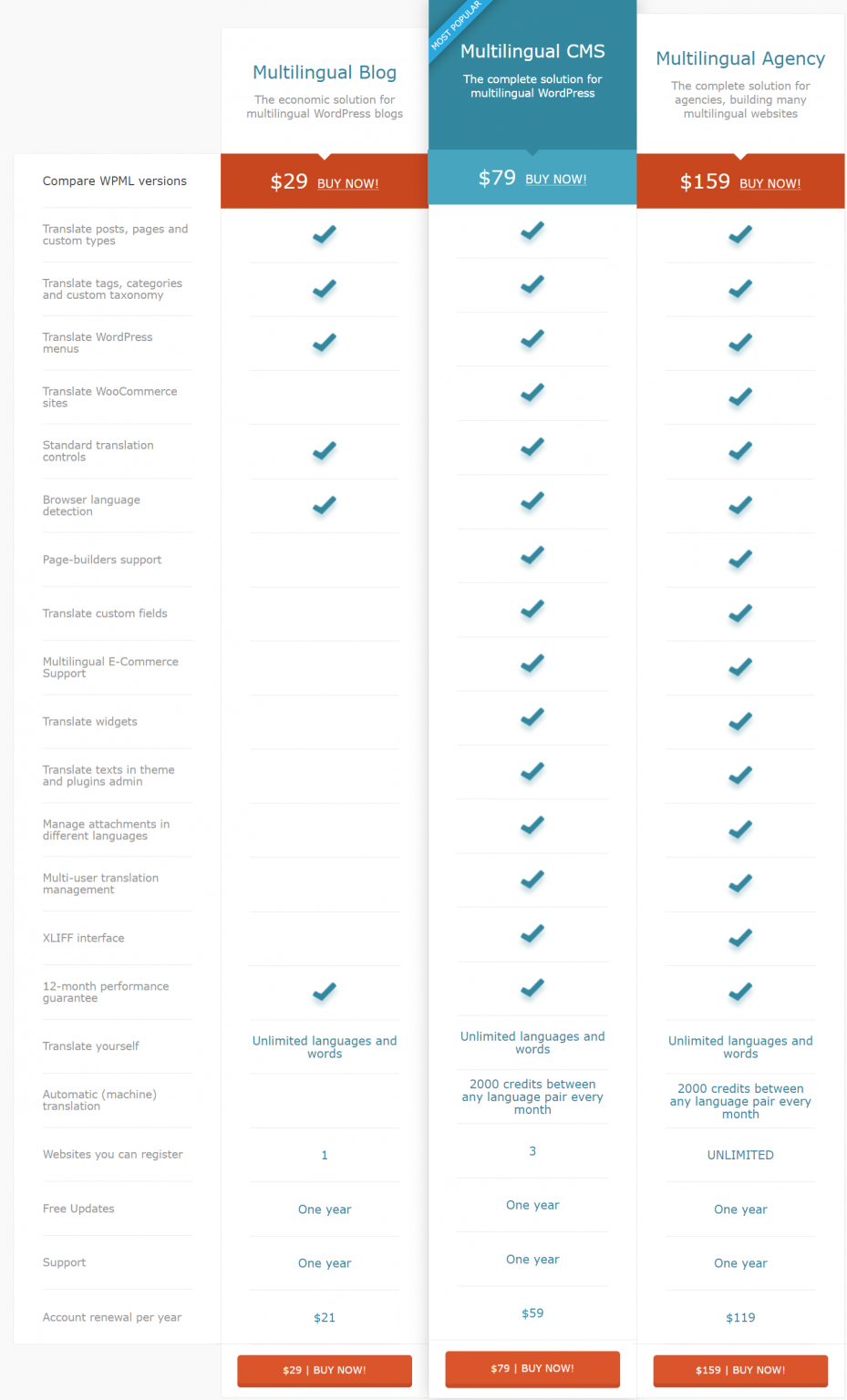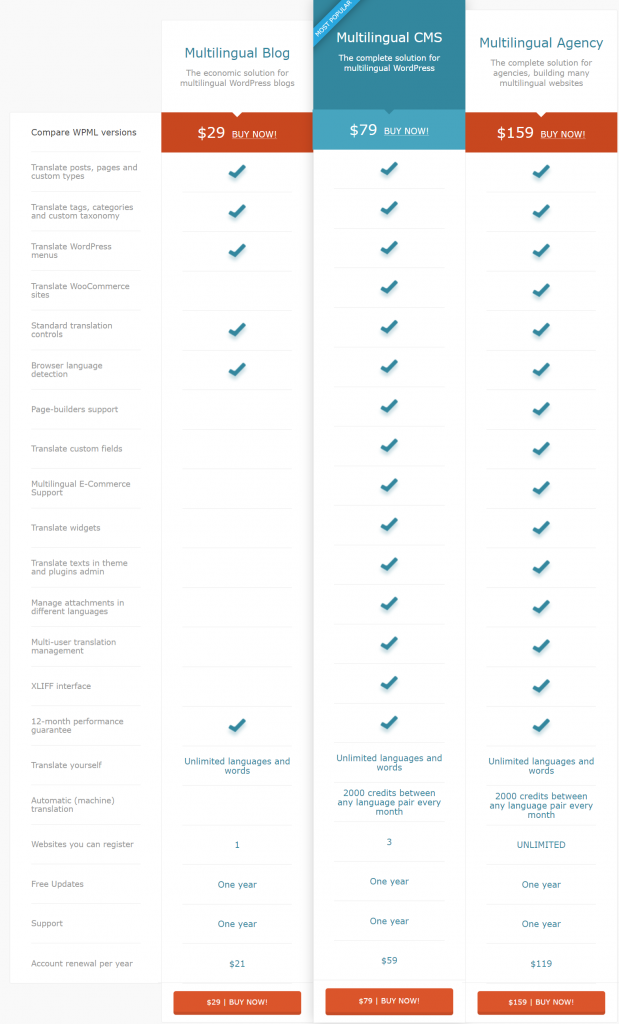 What way Woocommerce Multilingual can improve the Store User experience?
Brands who want to expand their business globally and attract international clients. This Woocommerce Multilingual plugin can be highly beneficial to provide internal traffic and convenience for multinational users to shop in their language.
---
4. Booster for Woocommerce


An all-in-one solution for Woocommerce plugins. It consists of features more than 100 plugins. Hence, considered a complete solution for any ecommerce website.
Features like bulk currency conversion, Discounts, and Bidding tools for customers to offer their price, make it one step ahead of features that are missing in many Woocommerce plugins.
Overall it is worth trying a plugin that has many features, which many premium plugins try to provide in their individual extensions.
Booster for Woocommerce key features
Provide invoicing and packing slips in pdf
Provides product customization input by customers
Multilingual pages and multi-currency support
Cart and checkout page
Custom Woocommerce payment gateways
Generate Reports
Booster for Woocommerce Pros and Cons
Pros
Complete solution for ecommerce store
Reduces installation of multiple Woocommerce extensions
Even pro version is quite affordable
Cons
Not suitable for small features
Slows down server a bit
No plugin demo or tutorial is provided yet.
Modules takes time to setup
Booster for Woocommerce pricing
Although the core plugin is available Free to download with sufficient features for an eCommerce website if you still want to add more features, upgrade to the Booster Plus plan starting at $99.99 to $249.99 per year.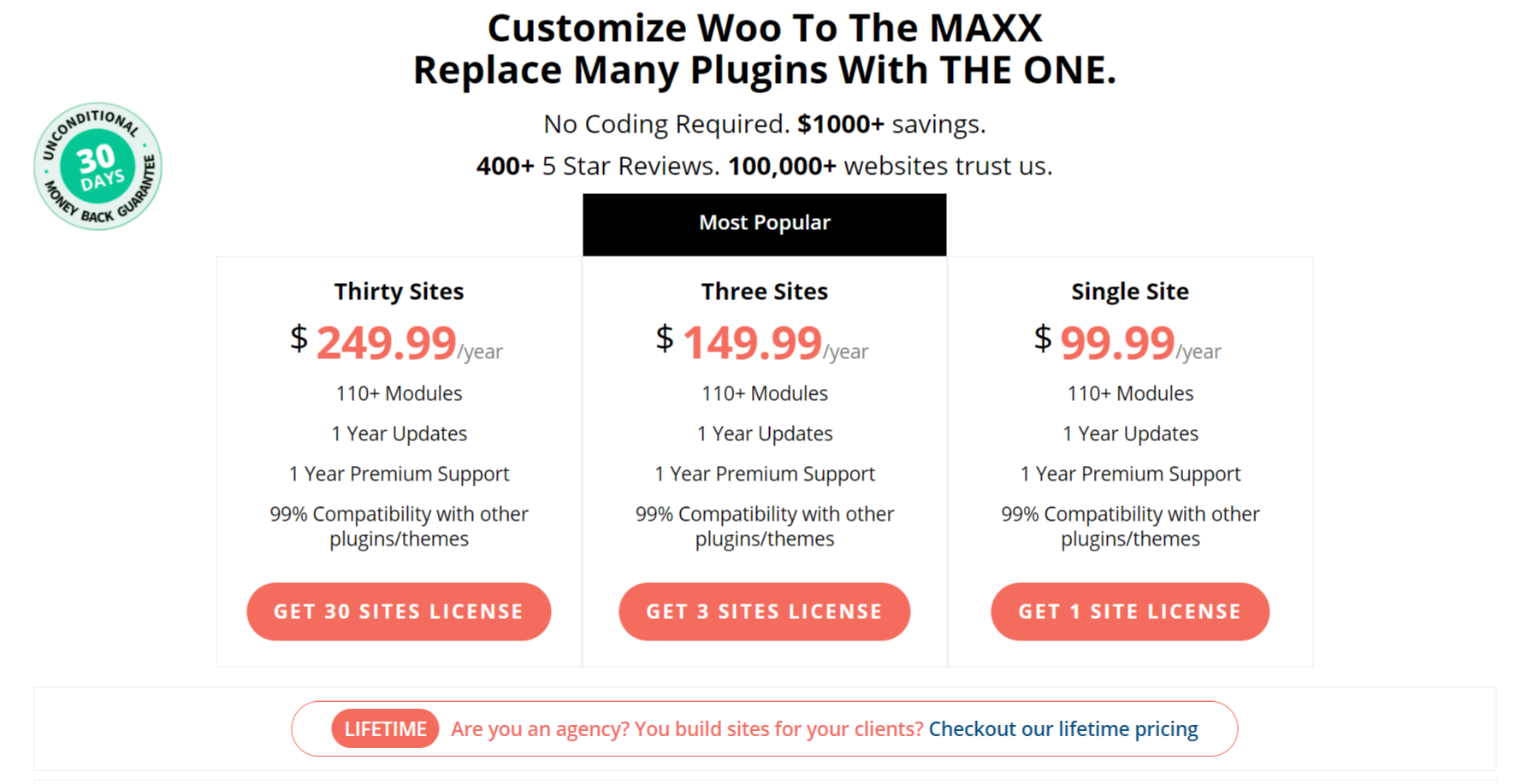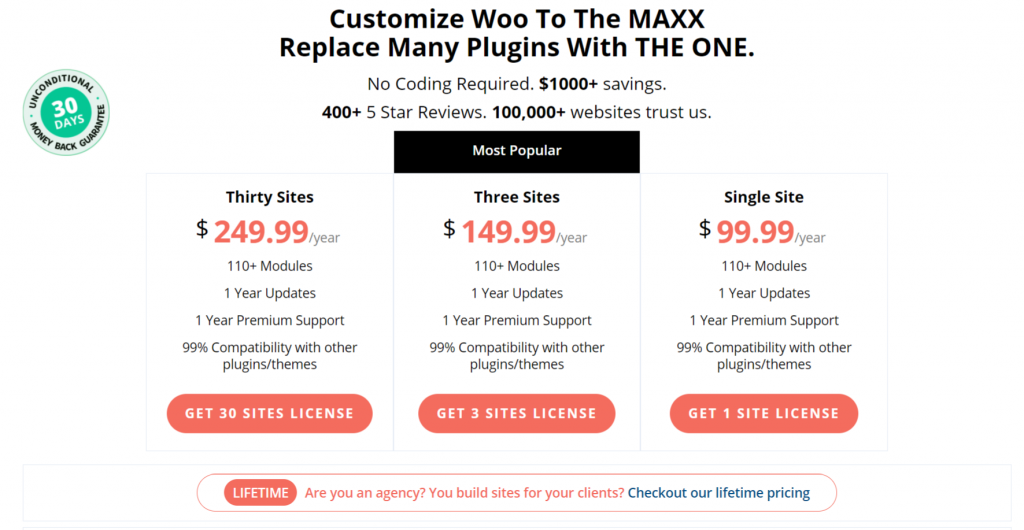 What way Booster Woocommerce can improve your online store user experience?
It consists of a long list of features that is impossible to mention in this article, hence you can check out all the features and see if they are sufficient for your website. If yes, this plugin can eliminate the dependency of multiple extensions on a single plugin.
---
5. Product Import-export for Woocommerce
It is very tough to manage a large product database for your store. While exporting, it is very challenging to manage and save each product's price, images, product description, and reviews.
Hence, Product Import Export for woocommerce is one of the most useful Woocommerce plugins that reduce the complexity and helps in importing the products easily.
Product Import Export for woocommerce Key features
Export-Import products(single, multi, group, or external)
Easily import- Export Reviews
Check and make changes in the product database during import
Import-export files through FTP servers
Directly import files from URL
Provides automatic schedule importing and exporting
Product Import Export for woocommerce Pros and Cons
Pros
Easy to use
Easy to handle large database
Importing and exporting takes less time
Incredible Support
Cons
Sometime it shows does not support UTF-8
Issues with Arabic texts
Ignores ACF inputs
Product Import Export for Woocommerce Pricing
This plugin has a free version available to download from the WordPress directory and has allowed only simple Woocommerce products for importing. But to import both simple and variable products you can choose their premium plan starting from $69 to $199 per year for product import-export. And $129 to $299 per year for product export-import.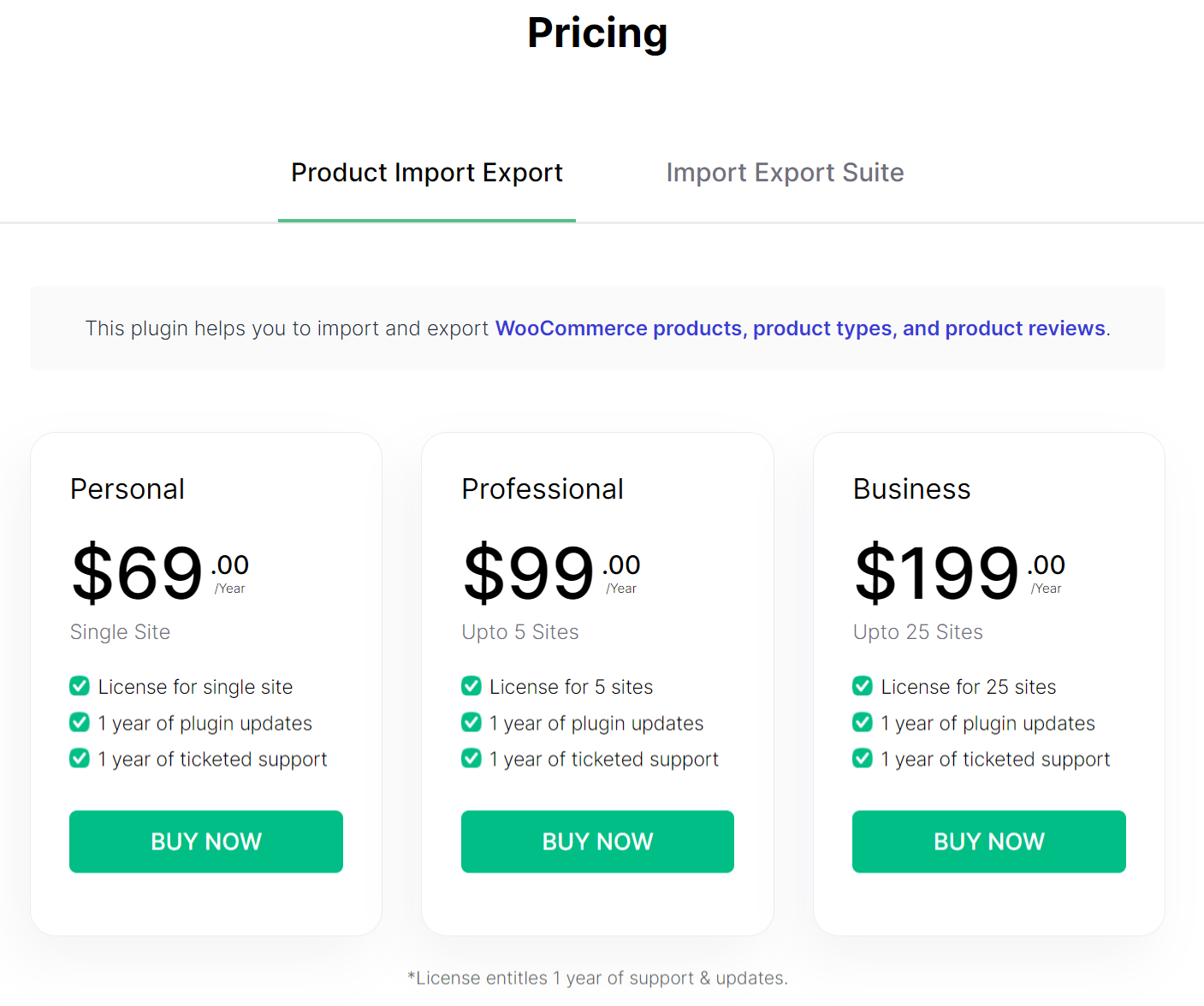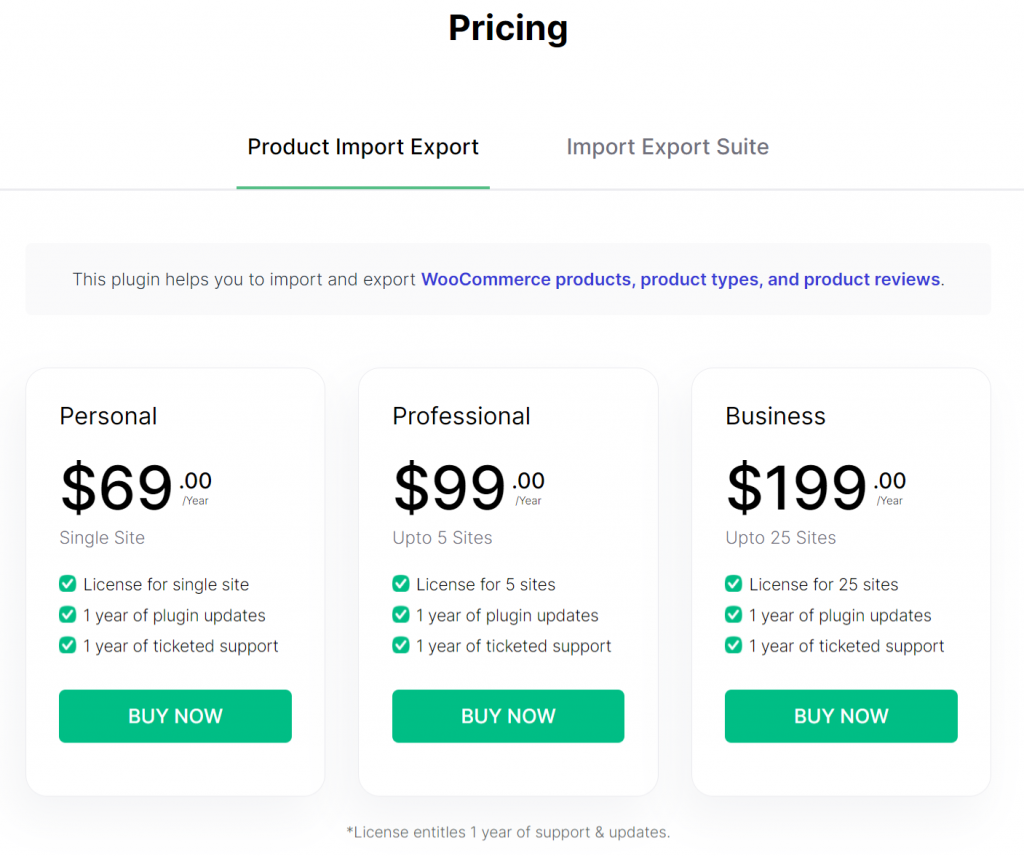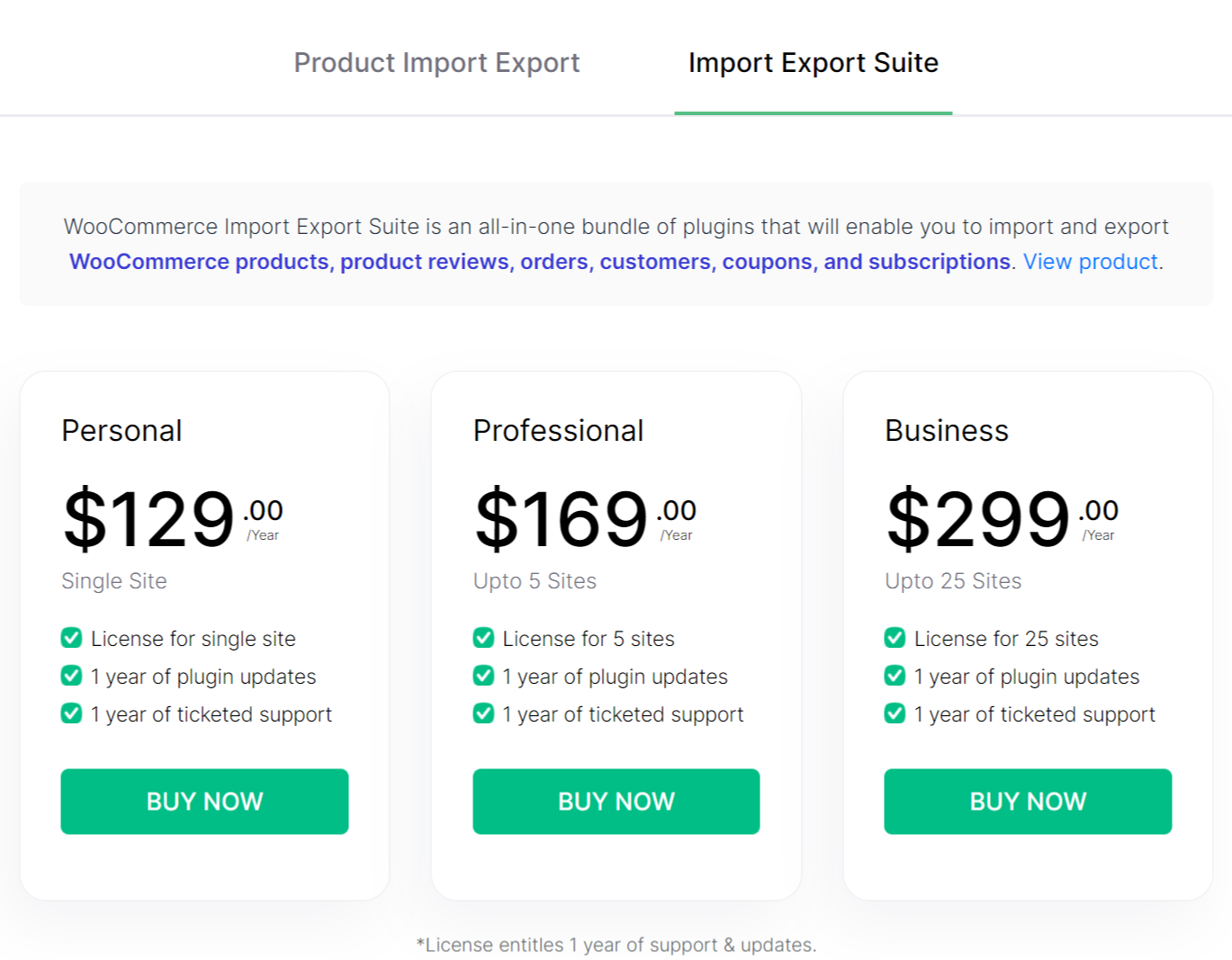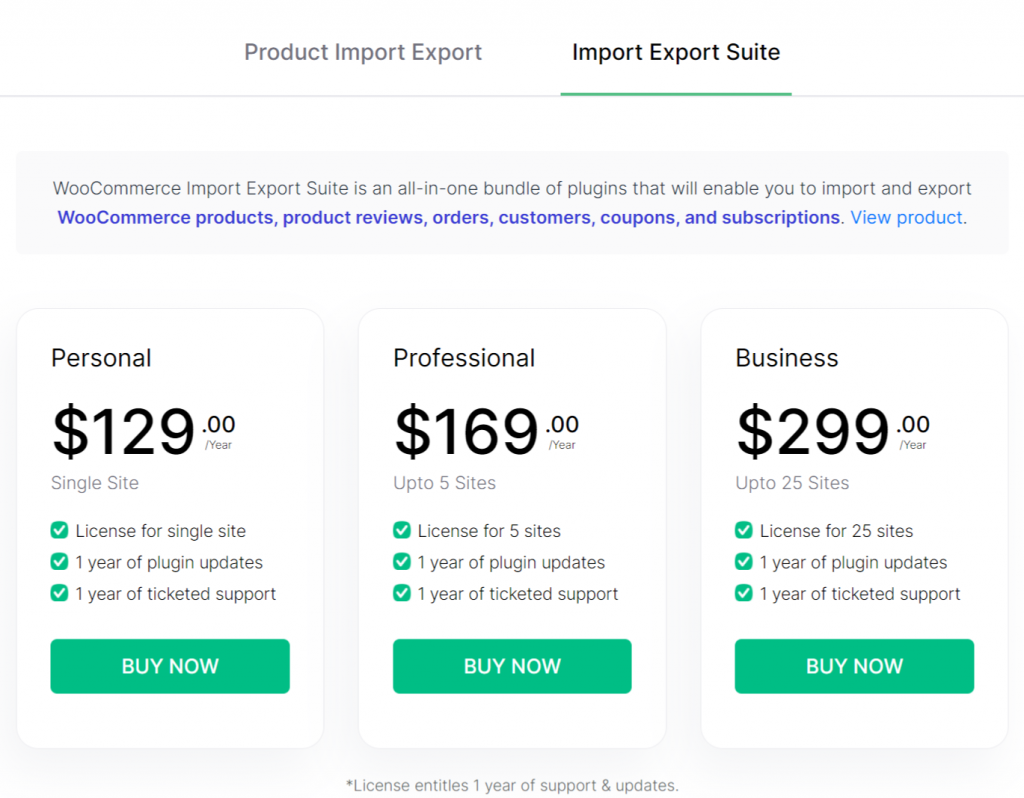 What way Product Export Import for woocommerce can improve your online store user experience?
This plugin can improve the management of thousands of products. Best suitable for large ecommerce websites that handle large product database that includes product images, meta descriptions, and price details. All this can be done in simple exporting – importing CSV files and that takes less time.
---
6. Woocommerce Menu cart

Woocommerce Menu cart is a versatile Woocommerce plugin, that can be used with the most popular eCommerce plugins available. It is mainly used to provide a Menu cart button on the homepage of eCommerce websites that many themes failed to provide.
This happens when you use themes that are not specially developed for woocommerce. But it is not the same case always. Some eCommerce themes also do not provide a Menu cart on the navigation menu. Hence, sometimes you need to add an extra feature such as a menu cart from the plugin.
Woocommerce Menu cart key features
Takes less than a minute for complete setup
Let you customize your own CSS
Let you display always or only when there is an item in your cart
Provides you feature to display items only, price only or both
You can set Button to float either left or right of the navigation buttons
Turns non-compatible ecommerce themes into full functional one.
Woocommerce Menu Cart Pros and Cons
Pros
Takes less than one minute to setup
Multilingual support
Compatible with most ecommerce plugins
Quick support
Woocommerce Menu cart pricing
The Woocommerce Menu cart is available free to download from the WordPress directory. But to enjoy more features, you need to upgrade to their premium plans starting at €29.00 to €129.00.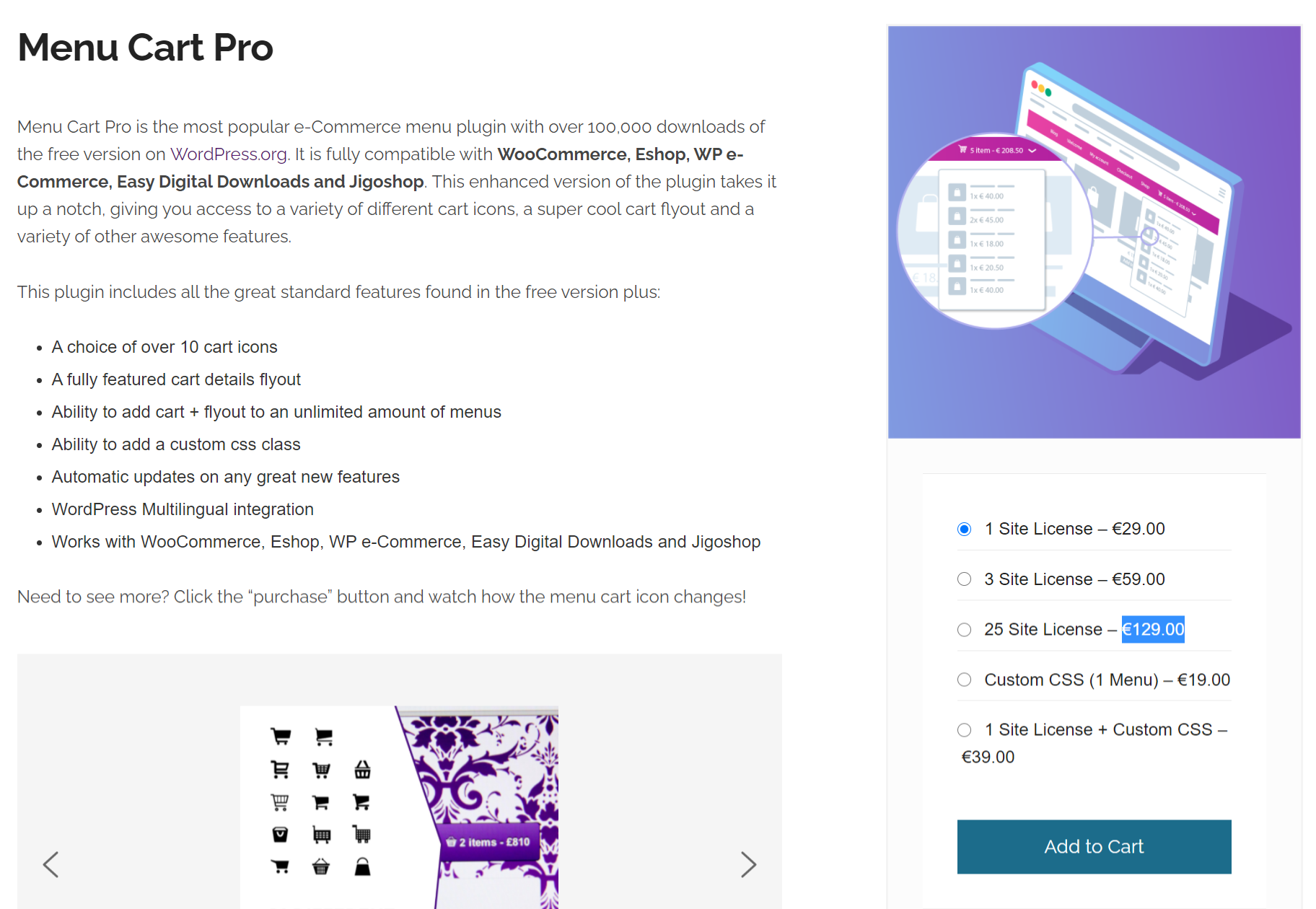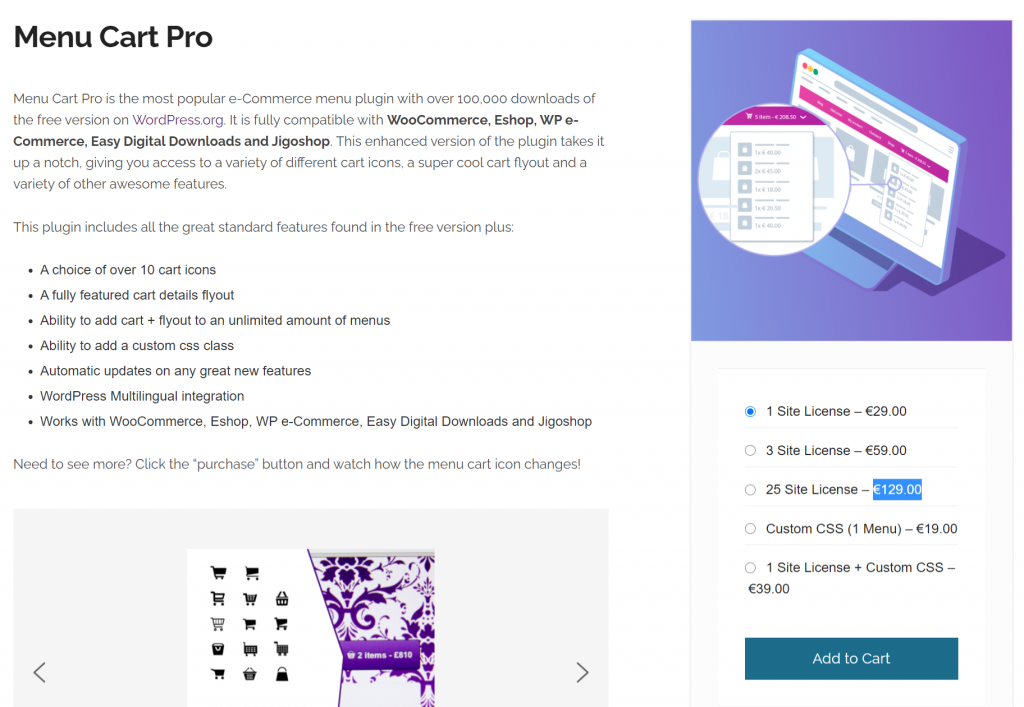 What way Woocommerce Menu cart can improve your online store user experience?
This woocommerce plugin is best suitable for those who start planning to sell products from their website or blog and leverage online business. Also, you can add this plugin if your current website theme does have not any menu cart button on the navigation menu.
---
7. WooCommerce Currency Switcher
Woocommerce Currency Switcher is one of the best Woocommerce plugins to show multi-currency options in an ecommerce store. It allows users to convert the price of the products by selecting the desired currency from the drop-down currency list. It helps users to see prices of different products based on different locations in real-time.
When installed and active, this plugin shows all the product prices in international currency formats, which can be very beneficial for international clients.
Woocommerce Currency switcher key features
Available as a Widget
Three different design formats
Customers can payment in their preferred currency
Notified when currency rates changes through email and make changes if necessary
Set Currency rate update automatically or manually
Customize money symbols
Wooocommerce Currency Switcher Pros and Cons
Pros
Free Version available
Currency changes with visitor's IP address
User friendly Interface
Integrated with three widgets (Currency switcher, converter and rates)
Cons
Free version has limited currency display
Woocommerce Currency Switcher pricing
woocommerce Currency Switcher free Version is already available free to download and use from WordPress Directory. But If you want to enjoy a full version, you can download it from CodeCanyon Directory at $34.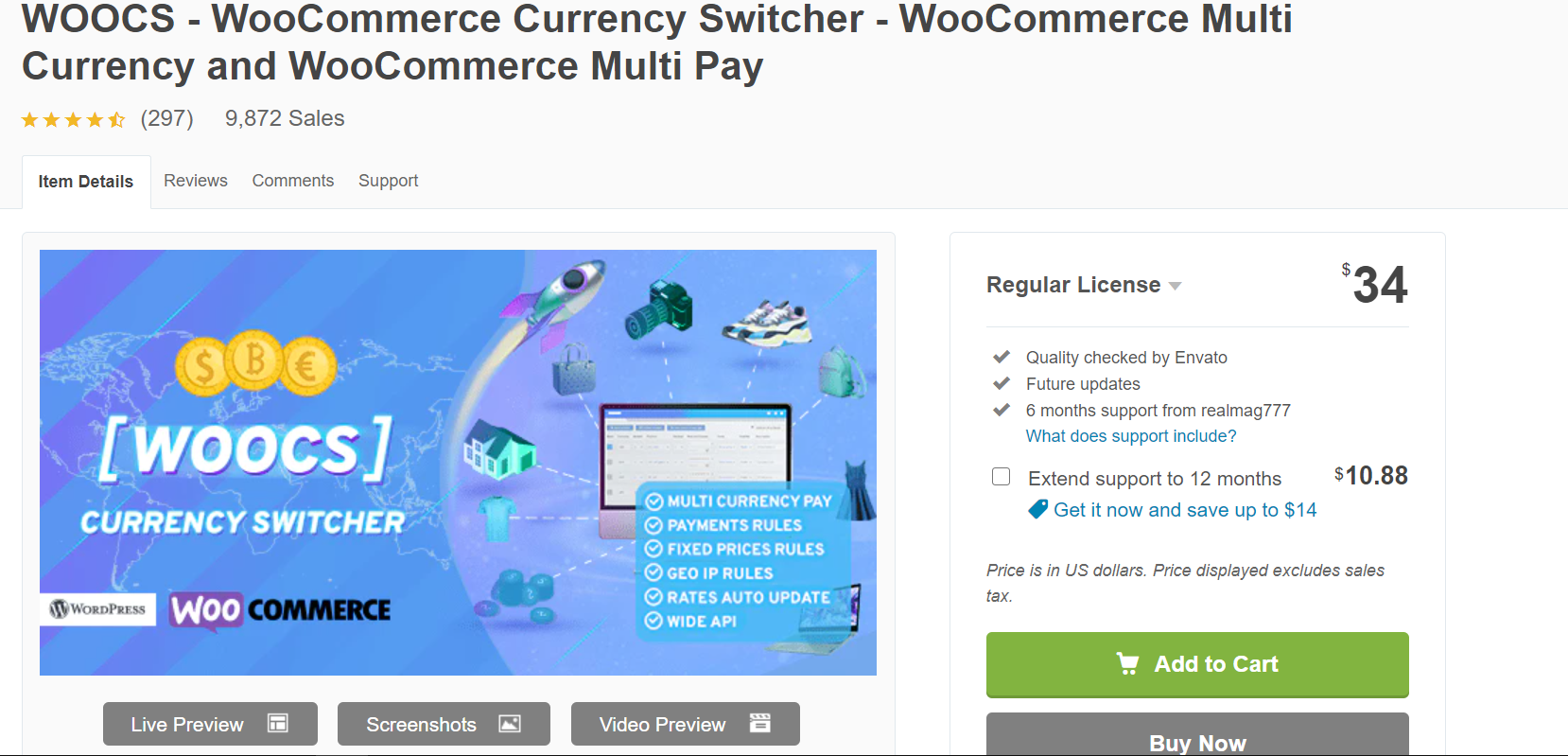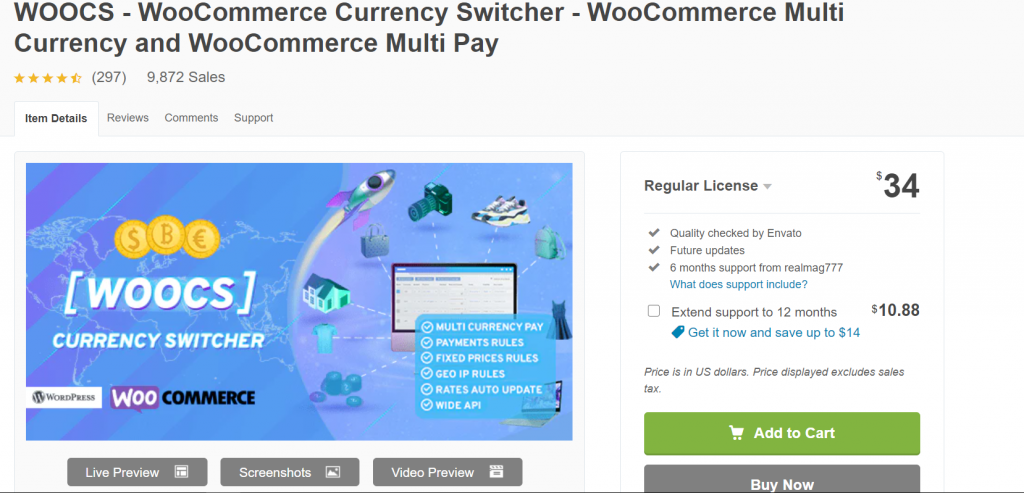 What way Woocommerce currency Switcher can improve your website?
Woocommerce currency switcher provides users the ability to change currency as per their location and complete payments in their currency format. Hence, using this Woocommerce plugin, you can increase international traffic and provide a convenient checkout process.
---
8. YITH Woocommerce Compare


YITH is developing several great woocommerce plugins and extensions for a long time. YITH woocommerce Compare is one of the best plugins developed by them for any online store to compare products on the same page.
After installing the plugin, set each product woocommerce attribute in the product configuration and click on the compare button. A pop-up window will appear showing compared products next to each other.
YITH woocommerce Compare key features
Freedom to open the modal window automatically when a new item is added
Add a product to the comparison table from the product detail page and/or the Shop page
Display products and compare in two different styles link and button.
Select the product fields to add to the comparison table
Provides product image in a widget form
Freedom to select the size of products in the comparison table.
YITH woocommerce Compare Pros and Cons
Pros
Free Version available
Easy to install and implement
Good support
Beginner Friendly
Cons
Inbuild irritating banner ads
Not compatible with all browsers
YITH Woocommerce Compare pricing
Like other Woocommerce plugins, YITH Woocommerce Compare also has a free version free to install from the WordPress directory. The free version is sufficient for beginners or those who just started their online store.
But, if you want to enjoy full packed feature just upgrade with premium package starts at $69.99 to $209.99 per year.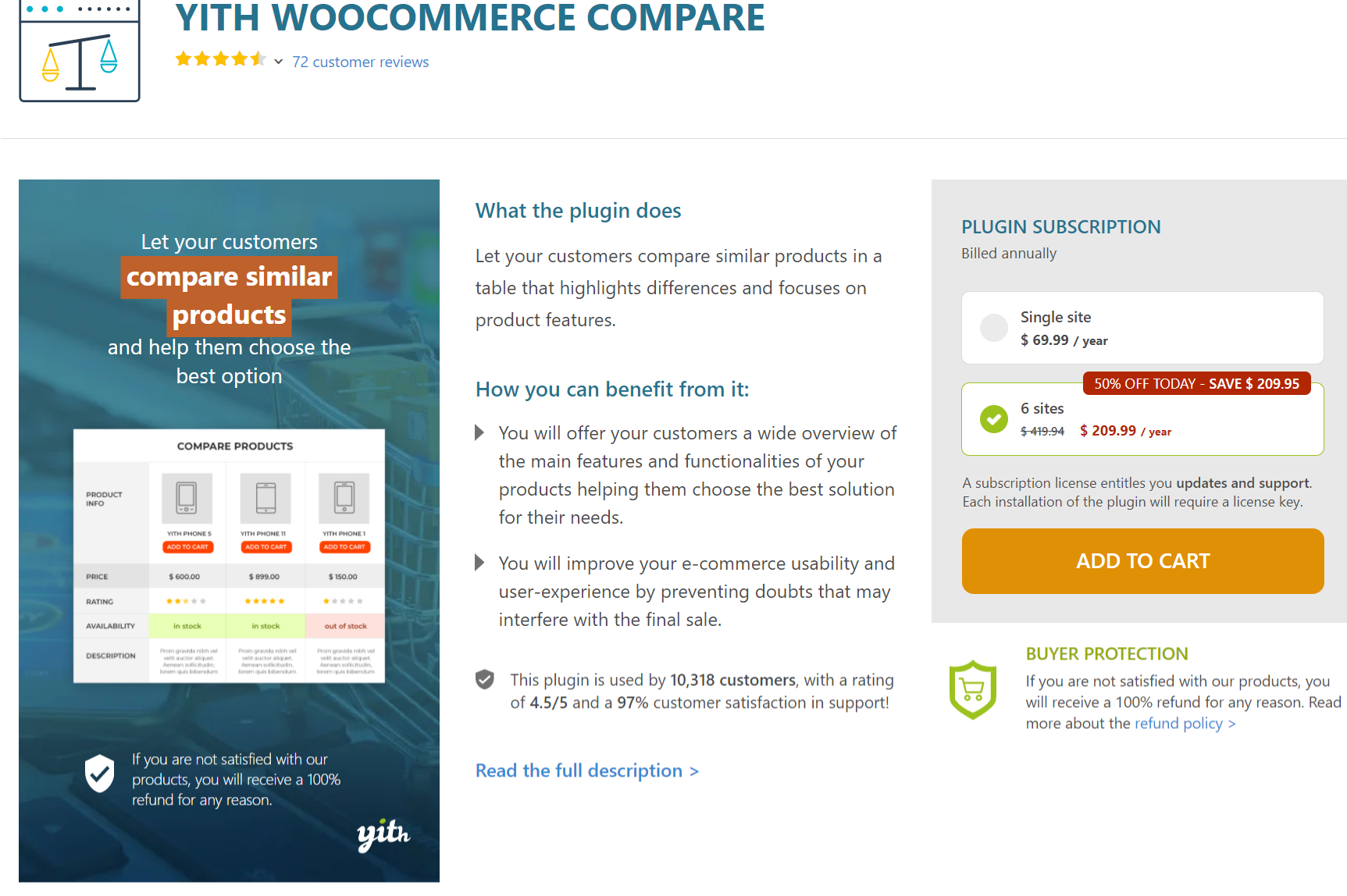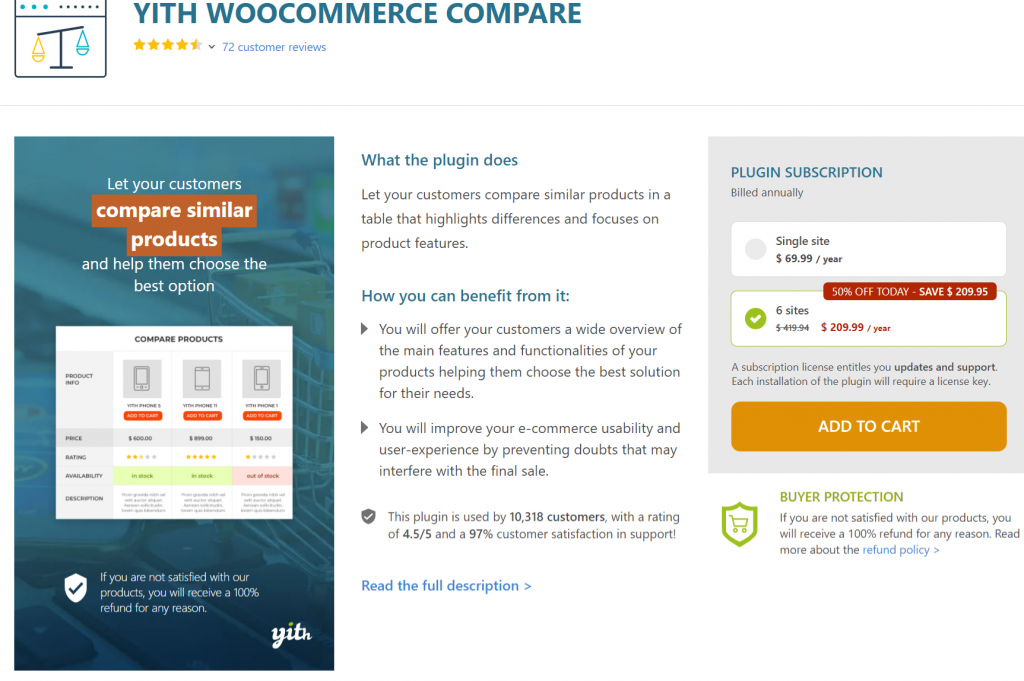 What way YITH Woocommerce Compare can improve your online store?
YITH Woocommerce Compare is the best suitable Woocommerce plugin for comparing products that have the same features. For example, your customers will get the extra feature of comparing two products simultaneously on the same page, and it will be easier for them to get the best deal.
---
9. Woocommerce Stripe Payment Gateway


Best Woocommerce plugin for all online payment gateway solutions. Stripe Payment gateway is one of the most installed and common payment gateway used by maximum ecommerce websites.
By default, Woocommerce does not come with popular inbuild payment gateways. Hence Woocommerce Stripe payment is the best solution to provide your customers a complete ecommerce transaction.
Woocommerce Stripe Payment Gateway key features
In more than 20 countries Store Owners and Merchants use STRIPE
Allow you to take payments directly to your store via Stripe's API.
Local payment methods to reach customers everywhere
Support for faster mobile and desktop checkout options
Better fraud protection and support for 3D Secure
Easy monitoring and reporting
Instant Payouts
Woocommerce Stripe Payment Gateway Pros and Cons
Pros
Absolutely Free
Quick Installation and setup
Good support
No monthly and Setup Fees
Cons
Let down by Third party cookies
Updates bring bugs
Woocommerce Stripe payment Gateway pricing
This Woocommerce Plugin is available absolutely free to download without a premium version.
What way Woocommerce Stripe payment Gateway can improve your store?
Stripe is one of the most common and popular payment gateways that every ecommerce website should have. It is not just adding an extra option for online transactions but also increases online sales.
---
10. Hubspot for Woocommerce


With the integration with Wooocommerce, Hubspot has become one of the most powerful tools for any ecommerce website. As we know, Hubspot is one of the major CRM available that provides a complete ecosystem to run successful eCommerce.
Whether for email marketing, segmentation, customer tracking, and many more, HubSpot helps you generate leads and assist you with different marketing campaigns.
HubSpot for woocommerce key features
Sync your WooCommerce store data to HubSpot
Manage your customers and their orders in an easy-to-use CRM
Track and recover customers' abandoned carts
Create and send beautiful, responsive emails to your leads and customers
Build advertising campaigns on Facebook, Instagram, LinkedIn, and Google
Create insightful reports on your customers and orders to track the growth of your business
Hubspot for Woocommerce Pros and Cons
Pros
Absolutely Free
sync customer and orders data
create coupon codes
Fully automatic workflow
Multi store support
Generate leads through abandoned cart
Great support
Cons
No function to automatically check opt-in newsletter
Quite heavy plugin
HusbSpot for Woocommerce Pricing
A completely free version is ready to install from the WordPress directory and no premium version is available yet.
What way HubSpot for Woocommerce can improve your store?
A best woocommerce plugin that helps in lead generation and improves online sales. This plugin can remind customers through emails about their abandoned carts and compel them to convert. Through performance and analysis reports, you can even do email marketing to generate more leads.
---
11. WooSlider Products Slideshow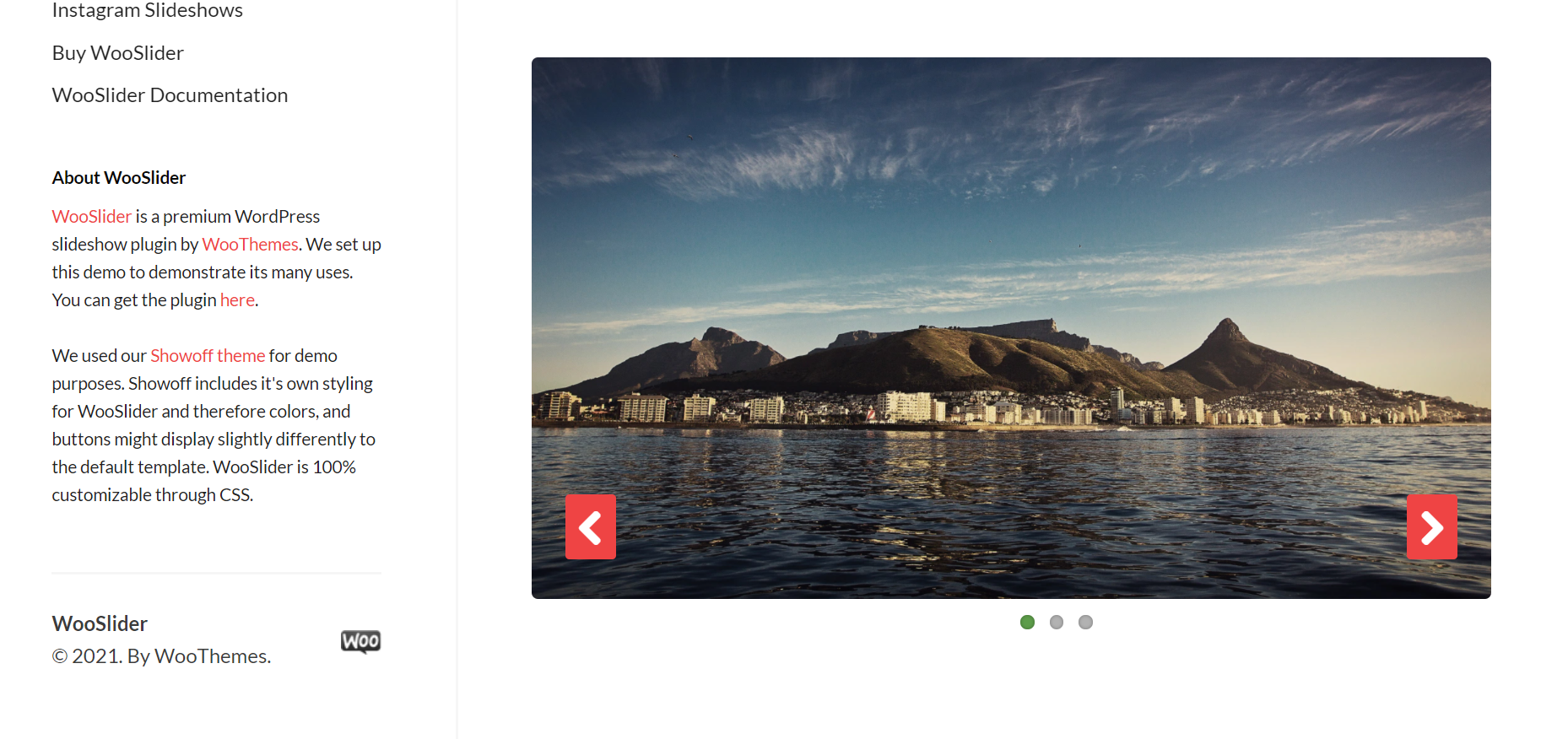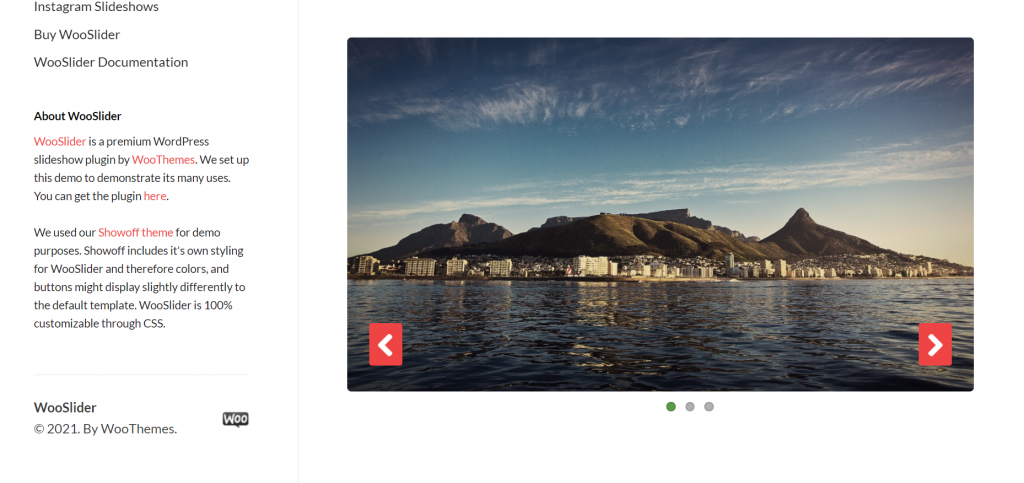 A premium slideshow Woocommerce plugin that provides a dynamic look on an ecommerce store. Not just add effects, but it also saves a lot of web page space and provides a range of product images through slide shows.
Adding a product carousal helps in user engagement and Shoppers can view images and product information and can add products to their shopping cart right from the carousel.
Wooslider Product slideshow Key features
Choose from various content types to build and manage your sliders.
Slide overlays and layouts give you complete control over how you display your content.
WooSlider comes with various settings to control every aspect of your slide show.
WooSlider comes with minimal styling & CSS, making it easy to customize.
Wooslider product slideshow Pros and Cons
Pros
Compatible Worldwide
Easy to customize
Simple and basic
Multiple layout option
Cons
Expensive
Need extensions to increase functionality and overall increases the website load
Wooslider Product slideshow pricing
Wooslider and Wooslider product Slideshow, both woocommerce plugins, need to be purchased separately and installed. Wooslider comes with $49, and Wooslider product Slideshow comes with $29. Hence, it becomes quite an expensive deal, and also it slows down the website a bit.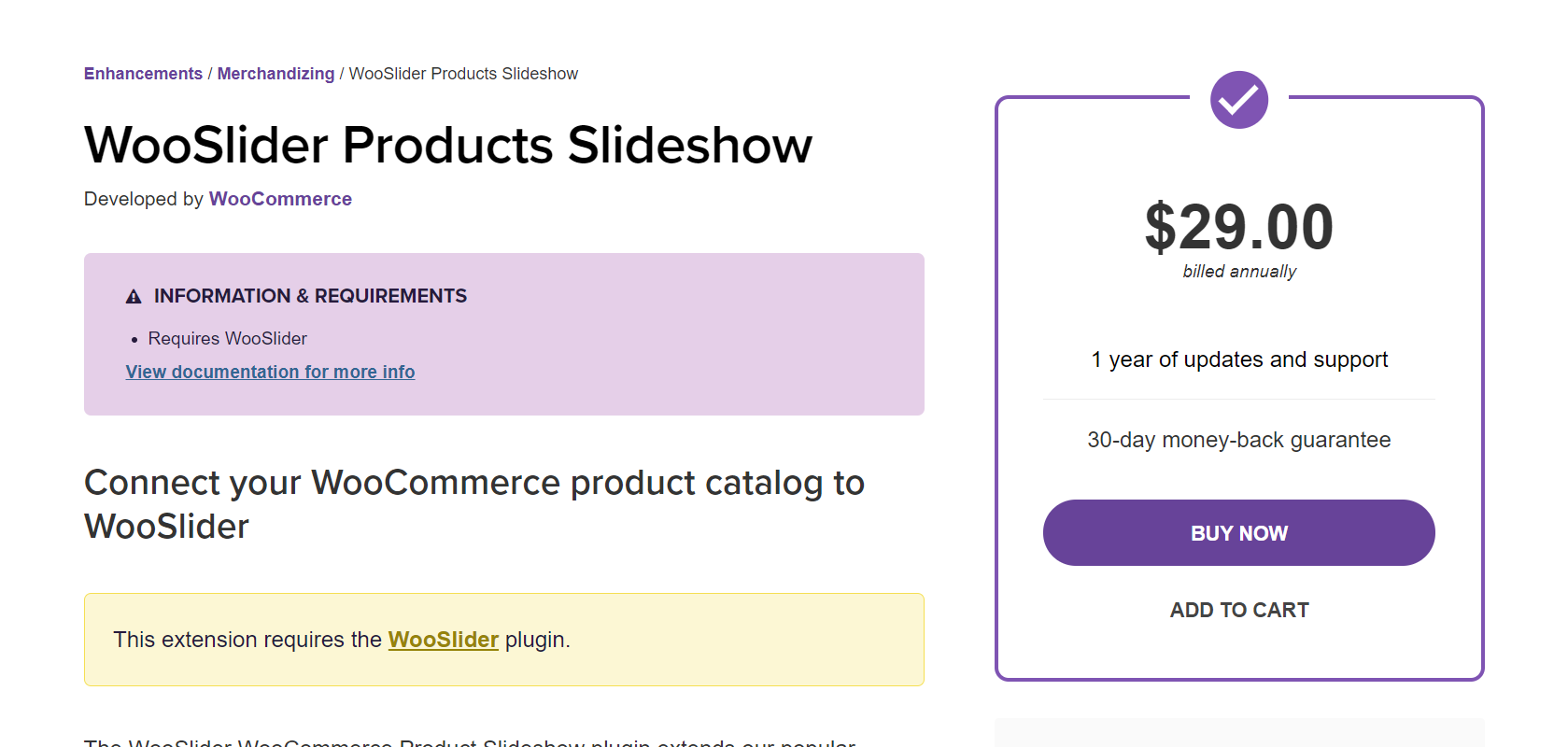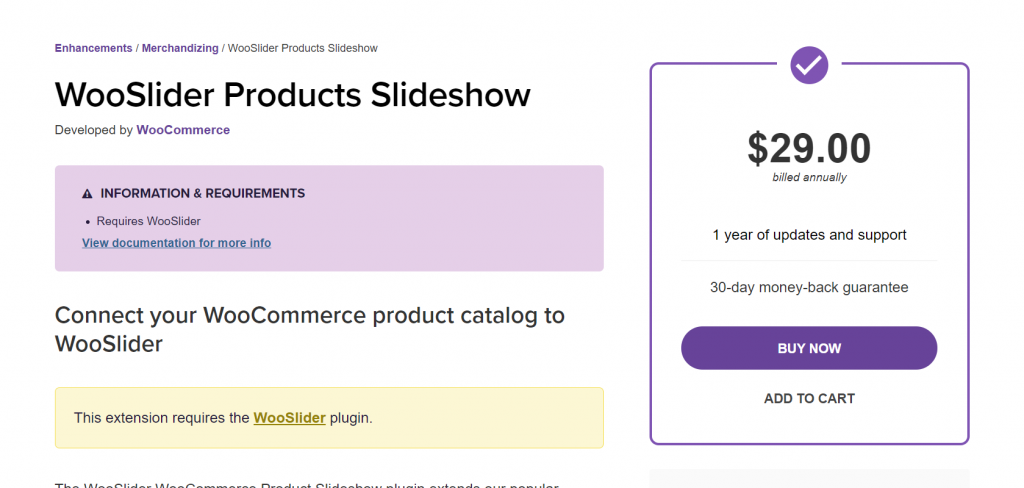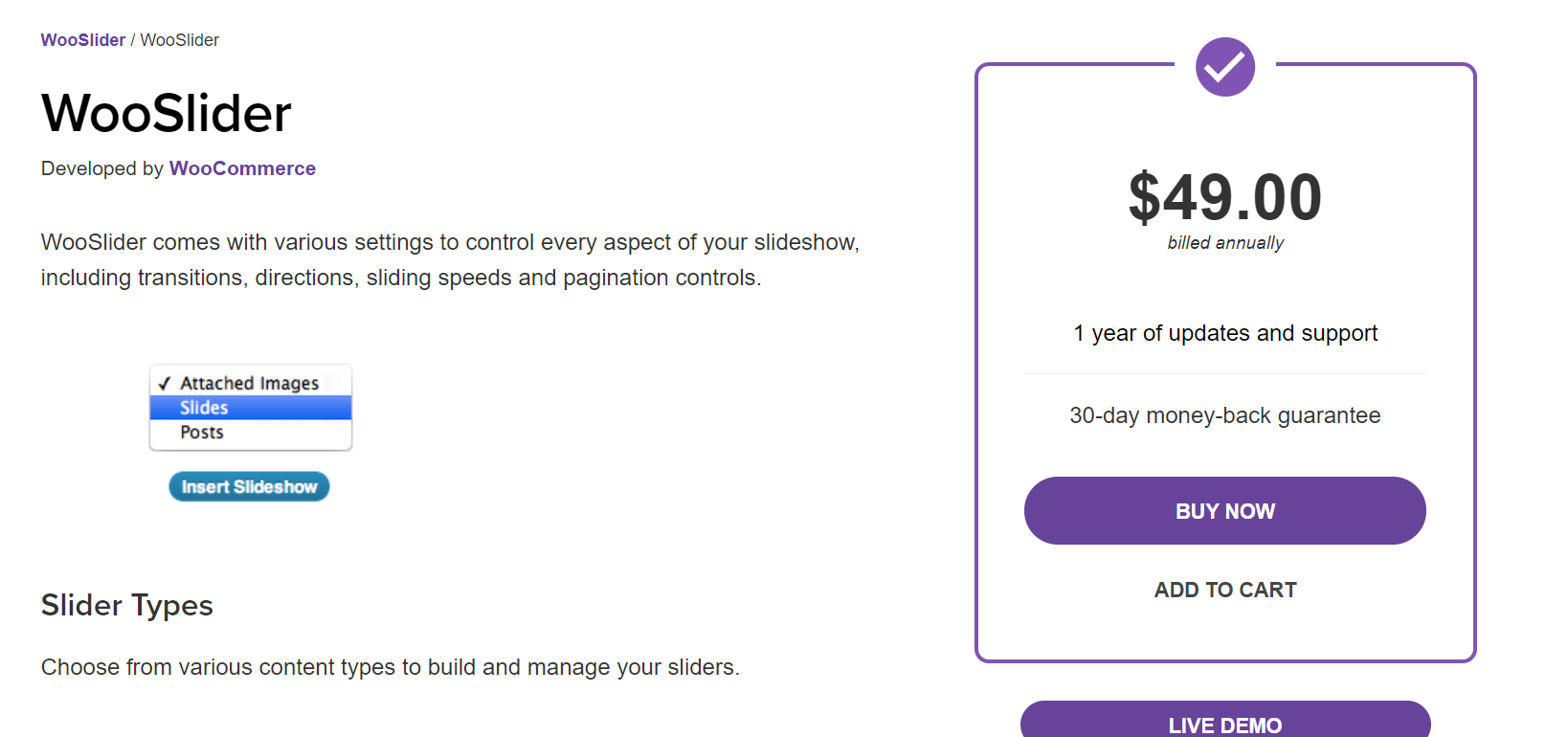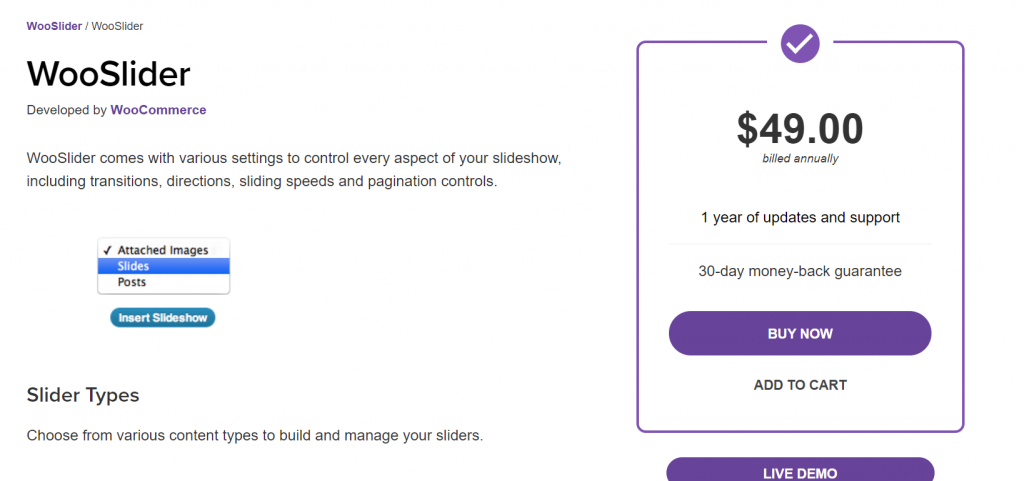 In what way can Wooslider product slideshow improve your store?
This plugin is worth spending on well-established ecommerce websites. If your current theme is not providing this feature or you did not like the default one.
---
12. Woocommerce Quick View


Woocommerce Quick view plugin provides a convenient way to view products without accessing or opening the product page quickly. Through this woocommerce plugin, customers can quickly navigate from one product to another using the "Next" and "previous" buttons.
Some developers also add Hover to view product information, which is also unique and convenient for customers. They can add items directly through this feature and can complete the whole checkout process. The sole purpose of this quick view feature is to eliminate multiple steps of the checkout process.
Woocommerce Quick View key features
You can disable or enable the quick view feature on mobile
Easy to install and setup
all the product details can be seen in pop up window
Easy to customize modals
Label quick view button
Woocommerce Quick View Pros and Cons
Pros
Easy Setup
Completely free
Simple and basic
Great options for customers
Responsive
Cons
Some themes does not support
Some time works partially
Woocommerce quick view pricing
The amazing fact about woocommerce is that most of the woocommerce plugins available are free with premium-like features and woocommerce quick views are among them. It has no premium version available, and you can easily download it from the WordPress directory absolutely free.
In what way Woocommerce Quick View can improve your website?
Woocommerce Quick View plugin is highly recommended to those ecommerce websites, which like to eliminate the multi-step checkout and give their customers a shortcut checkout process. However, this feature can also increase complications during the checkout process like making some changes before transactions which can be tedious.
---
13. Shipment Tracking
After completing the order, the most frustrating time for any customer is to wait for the shipment to deliver. And the most irritating fact adding to it is poor shipment tracking.
Hence, to reduce customer frustration, Woocommerce brings you an ultimate Woocommerce plugin that better deals in shipment tracking. The more detailed information for your shipment tracking is, the happier the customer will be.
Shipment Tracking Key features
Tracking info on the frontend via emails
Custom tracking links
Supports almost all major chipping provider companies
You can track shipment easily on the mobile app also
Shipment Tracking Pros and Cons
Pros
Easy to Setup
Supports major shipping companies
Responsive design
Clean user interface
Cons
Quite expensive
Lack some features that 3rd party plugins provide
Shipment tracking pricing
The shipment tracking woocommerce plugin has no free version available yet. But you can purchase it to enjoy its features at $49 per year from its official website.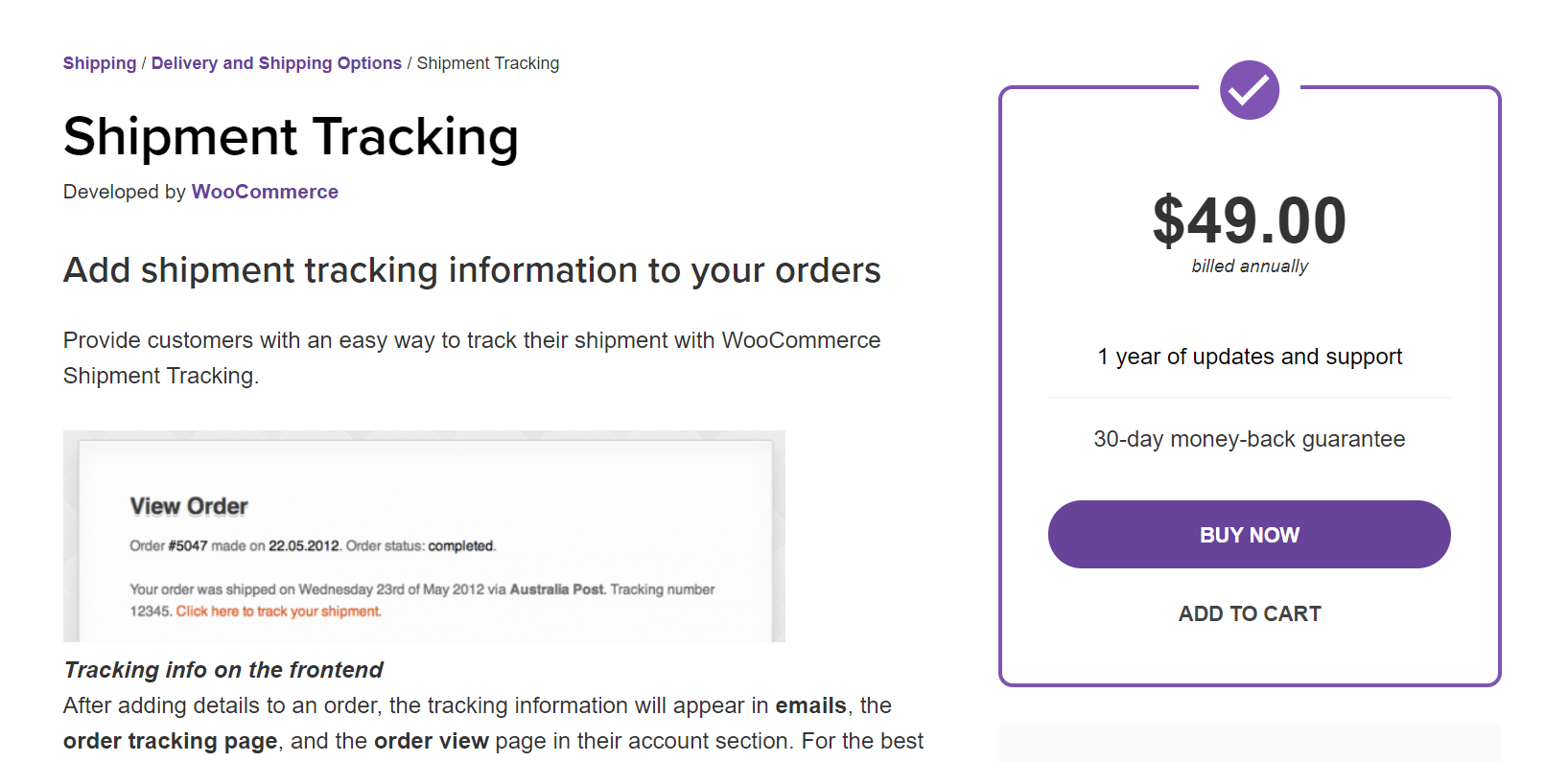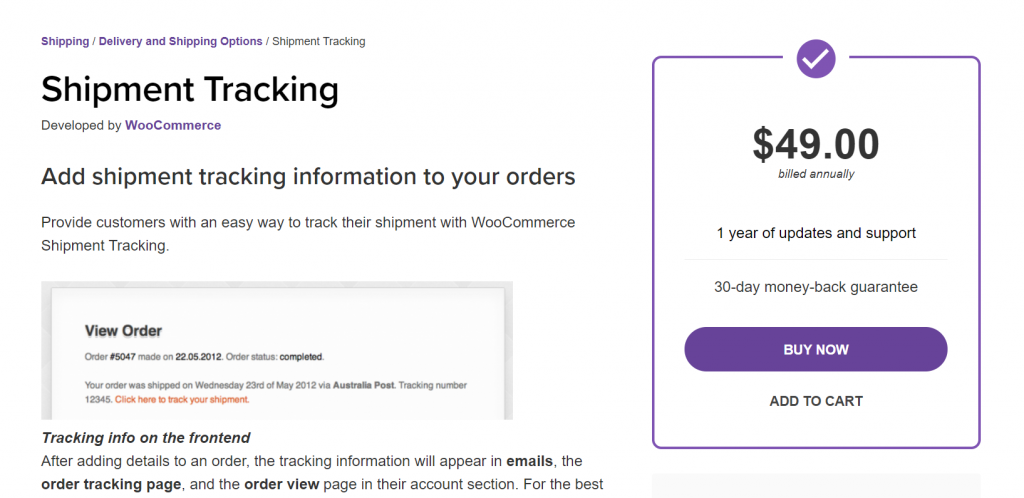 In what way shipment tracking can improve your website?
One of the major features of any ecommerce website is to provide your customers with complete shipment tracking details. The more you provide details, the more customer will be assured and trust you. Hence, with the help of this plugin, you can provide your customers with tracking details and help them till product delivery.
---
14. Woocommerce waitlist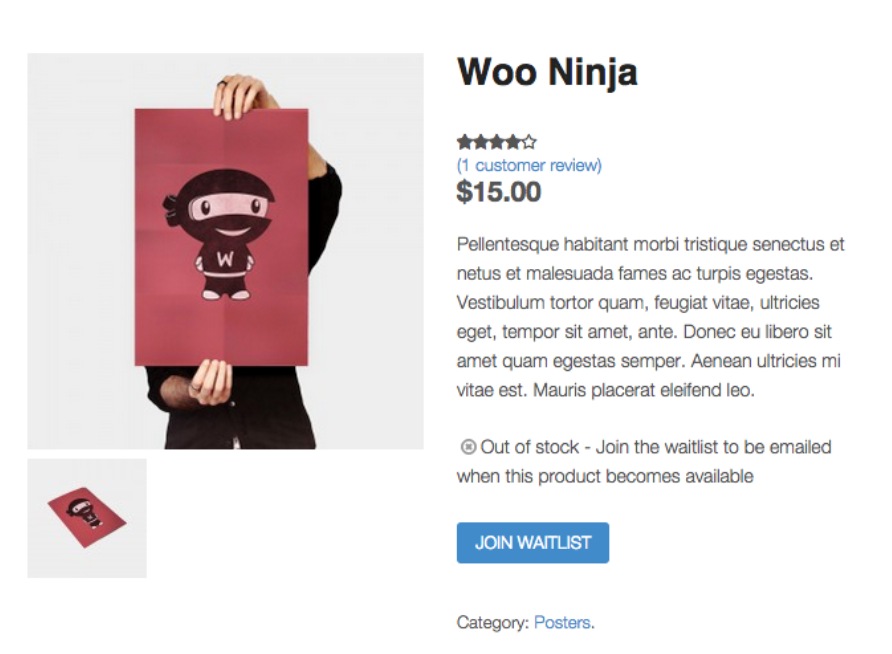 Flash sales and quick out-of-stock labels can be very irritating or frustrating for any customer. Due to limited stocks and high demand, online sellers are unable to complete customer demands. But also it is tough to maintain supply all the time.
Hence many ecommerce websites started to provide their customers with a "Join Waitlist" option to maintain customer retention and increase leads. Woocommerce waitlist is an ultimate woocommerce plugin that provides a Waitlist option to any online store.
Woocommerce waitlist key features
Notifies customers when the product back in stock
Prioritize product that is on high demand
Customers can edit their waiting list page
Maintain records of waitlisted customers
Easy to set up and use
Easy to implement Waitlist feature on any product using shortcodes
Woocommerce waitlist Pros and Cons
Pros
Setup in seconds
Email notifications
prioritize products
user friendly
Cons
Paid plugin
doesn't work with simple and variable product
Woocommerce waitlist Pricing
You can buy the woocommerce waitlist plugin at $49 per year with one year of complete update and premium support.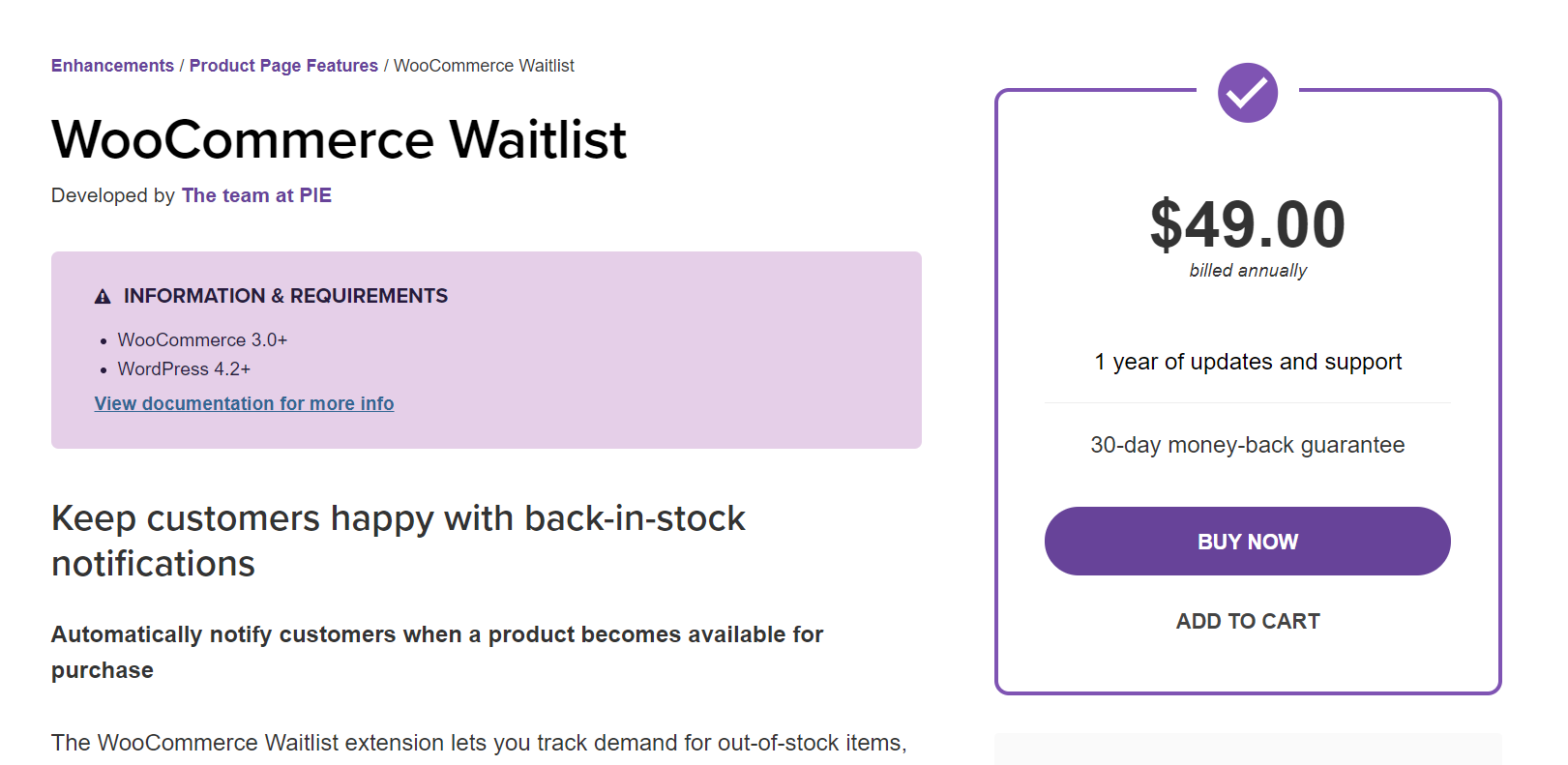 In what way Woocommerce waitlist can improve your website?
This woocommerce plugin is mainly focused on those ecommerce stores that sell high demanding products and conduct flash sales. You can use this plugin on such products, which get out of stock often and ask them to join the waitlist. This plugin will help you to build a good customer relationship and loyalty.
---
Conclusion
There are more than 100 woocommerce plugins available. And to choose the right one is one of the hectic tasks for anyone. And a most asked question always arises " Which woocommerce plugin should you install?"
You can only get the right answer to this question by looking at the Woocommerce plugins mentioned above. Thoroughly scrolls up and down through the plugin list and check out which one you need the most for your e-commerce website.
All these plugins are not hundred percent perfect, some of them lack some features which other plugin tries to complete that void. Therefore, the best thing you can do is decide on what grounds you would like to improve on your ecommerce website and then decide.
If you are already using some Woocommerce plugins, we would like to hear how it improved your website?
You can also enhance your ecommerce website experience by choosing the WPOVen eCommerce hosting plan.

---
FAQ On Woocommerce Plugins
What WooCommerce plugins do I need?
The Best WooCommerce Plugins for Improving WooCommerce Stores:
1. WooCommerce PDF Invoices & Packing Slips.
2. YITH WooCommerce Wishlist.
3. Custom Product Tabs for WooCommerce.
4. Beeketing for WooCommerce.
5. WooCommerce Customizer.
6. PickPlugins Product Slider for WooCommerce.
7. WooCommerce Multilingual.
8. Booster for WooCommerce.
Is the WooCommerce plugin free?
WooCommerce helps you sell products and services from your WordPress site. It's a free WordPress plugin with additional features available as extensions. WooCommerce is made by Automattic, the corporate arm of WordPress, so when you use it, you're in good hands.
Which is better Shopify or WooCommerce?
Woocommerce is best. Shopify is for starters and not scaleable because its not seo friendly. Shopify has set pricing, whereas WooCommerce is more flexible. Shopify's prices range from $29 to $299 per month. You unlock more advanced features, like professional reports, as you upgrade. WooCommerce is free, but comes with extra costs, including hosting, a domain name, and security.
---