Confused about which one you should go for, Rank math vs Yoast? Then you are at the right place. I know these two SEO plugins have gained quite a popularity on the internet as have been emerged as the best SEO tools so far. Since, both the Seo tools or plugins have gained huge popularity and positive response, often users found confused about which one they should go for.
Since Yoast SEO is popular and available from the very beginning when compared to other tools, it does not mean that there is no other best and more reliable alternative is available.
Rank math is relatively a newcomer and has been gaining popularity exponentially from past recent years. So, which SEO tool is best for you, Rank Math vs Yoast?
Well, there is not a short answer to these questions, but a full comparison will help you out to make it clear which one is the ultimate winner. Depending upon your usage and requirement, we have compared both these Seo tools Rank math vs Yoast Seo on various parameters.
But before starting our comparison between Rankmath vs Yoast, first, let me introduce these two SEO tools in brief. Let us get started!
Rank Math vs Yoast SEO : Introduction
Before start comparing these two SEO tools Rank math vs Yoast, let us know what these tools are all about.
Yoast SEO
This SEO tool was initially released in the year 2010 and since then it has become the most widely used and popular WordPress SEO plugin. The Yoast Seo plugin is based on all the SEO tutorials, practical approaches, and google's ranking factor methods.
Apart from its popularity as the best SEO tool, it is also considered as one of the most popular WordPress Plugins back then, with a huge number of active installs and higher user ratings.
Rank Math
Whereas, Rank Math is a newbie and has been recently launched in the year 2018. But it has been developed and tested for quite a long time before its final release. Besides, the SEO plugin is a newcomer, but it has the potential to give tough competition to other most popular and reputed SEO tools out there. It is because Rankmath has been developed by a well-established and highly qualified team of Mythemeshop.
When we talk about its growth, Rank math has achieved exponential growth in terms of its popularity and the small span it holds the second position in the most popular WordPress SEO plugin. You can just estimate that how popular this plugin is, scoring from 0 to more than 5 million active installs and counting, which is not normal for any WordPress plugin.
It can all be possible due to its features that no other SEO plugin can match.
Rank Math vs Yoast Seo: Pros and Cons
Let us check out the Pros and cons of both these SEO plugins or tools one by one:
Rank Math pros and Cons
Pros
Extremely easy to use, as its UI is user-friendly.
Easy to import settings from other SEO plugins such as Yoast or All in one.
A free version of the plugin is also available to download and use.
It doesn't affect website speed
Works well with the latest SEO practices and methods.
No need to install extra plugins for rich snippets.
Great customer support
Cons
A little bit complicated as compared to other SEO tools.
Other Seo plugins don't support settings import from Rank Math.
There are incompatibility issues with javascript plugins
Yoast Seo Pros and cons
Pros
Easy to access and user friendly
Help you out to finding your errors considering SEO benchmarks.
Show you the right keywords
Protect your RSS feed from content scrappers
Helps you out to find errors while writing content.
Cons
incapable to understand the intent
Yoast can be a security threat to your website.
Yoast does not update and follows the latest SEO tactics
Rank Math vs Yoast Seo: Installation and Setup
When it comes to the Installation and Complete setup process, both these plugins do a good job. You won't find any issue while installing and the user interface is quite easy to understand for anyone. Hence, based on the installation and setup process, both the platforms are somewhat equal and it only comes to personal preference that which you will be going to install.
Rank Math Installation and Setup
First of all, when you chose to install Rankmath, the setup Wizard lets you complete the installation process by configuring all the important settings step by step. But to unlock most of the important free features, you will be required to link your free rank math account while setting up the plugin. However, it is not compulsory to create or link your free rank math free account to use the plugin.
But adding your free account lets you use other essential features without any problem. When we talk about the Setup Wizard, Rank math offers users to choose to go with either easy(for beginners), Advanced, or Custom Mode(especially for advanced users).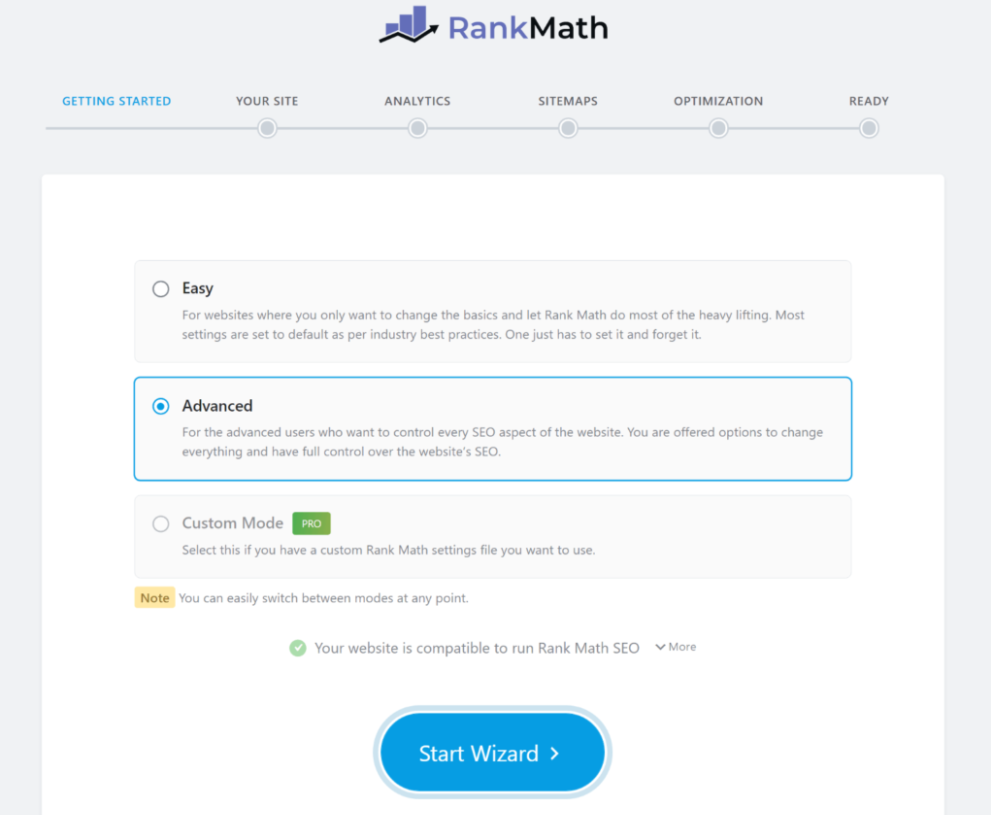 From the above image of Rank math setup wizard, you can see, when you choose an advanced option, you will be required to go through additional steps to further define the settings such as:
Role manager
404 Monitor
Redirections
Schema Markup
Followed by steps Import > Your Site > Analytics > SiteMaps > Optimization > ready.
Once, you have completed the setup wizard, the page will load back to the Rank math dashboard showing different modules with the functionality to enable or disable.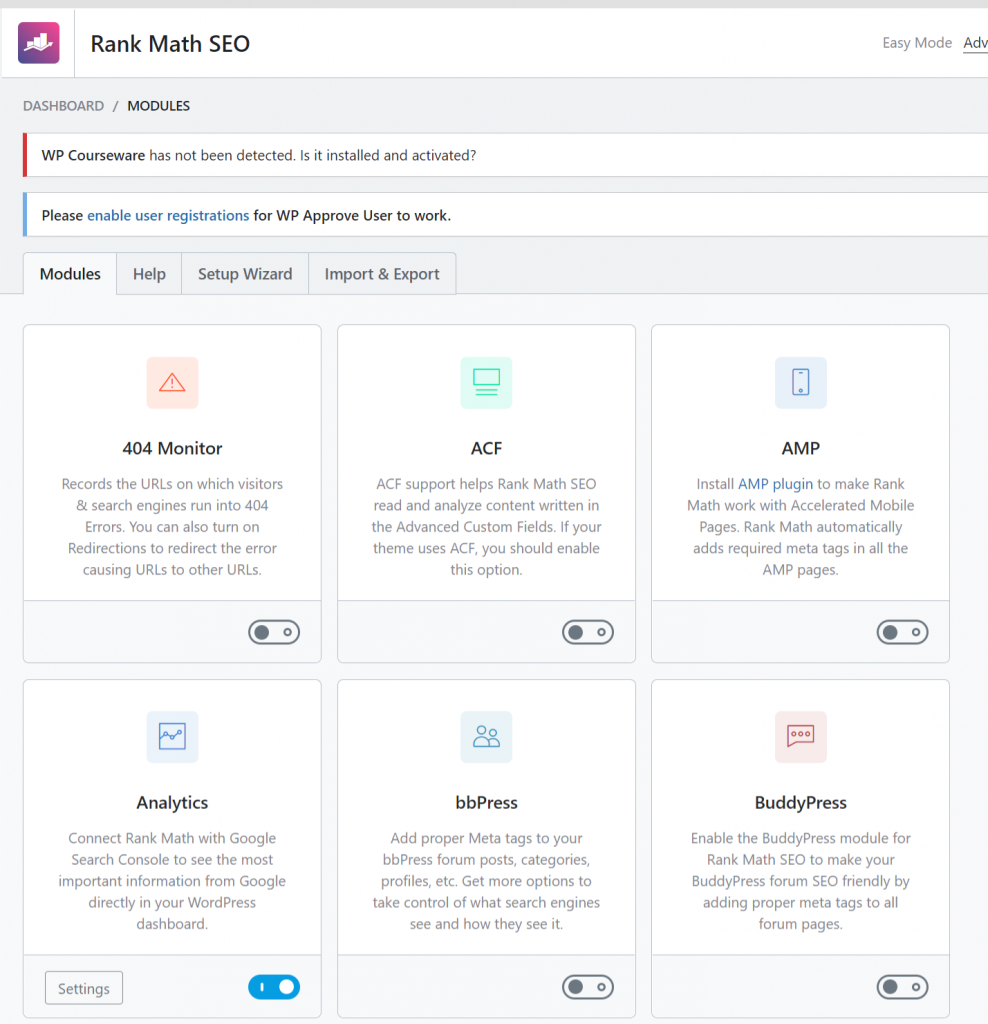 However, if you have chosen an easy mode for Rank math setup, you will not find any of the advanced mode options and the setup wizard will end in just a few clicks.
Yoast SEO Installation and Setup
Yoast Seo installation and Setup wizard is not different from the rank math. Both the platforms provide you a configuration wizard step by step so that it can be easy and quick for a user to understand. Just like Rankmath, the setup process will take you also through some essential and important settings.
Ask you if you want to index your website or not.
Shcema data
SEO titiles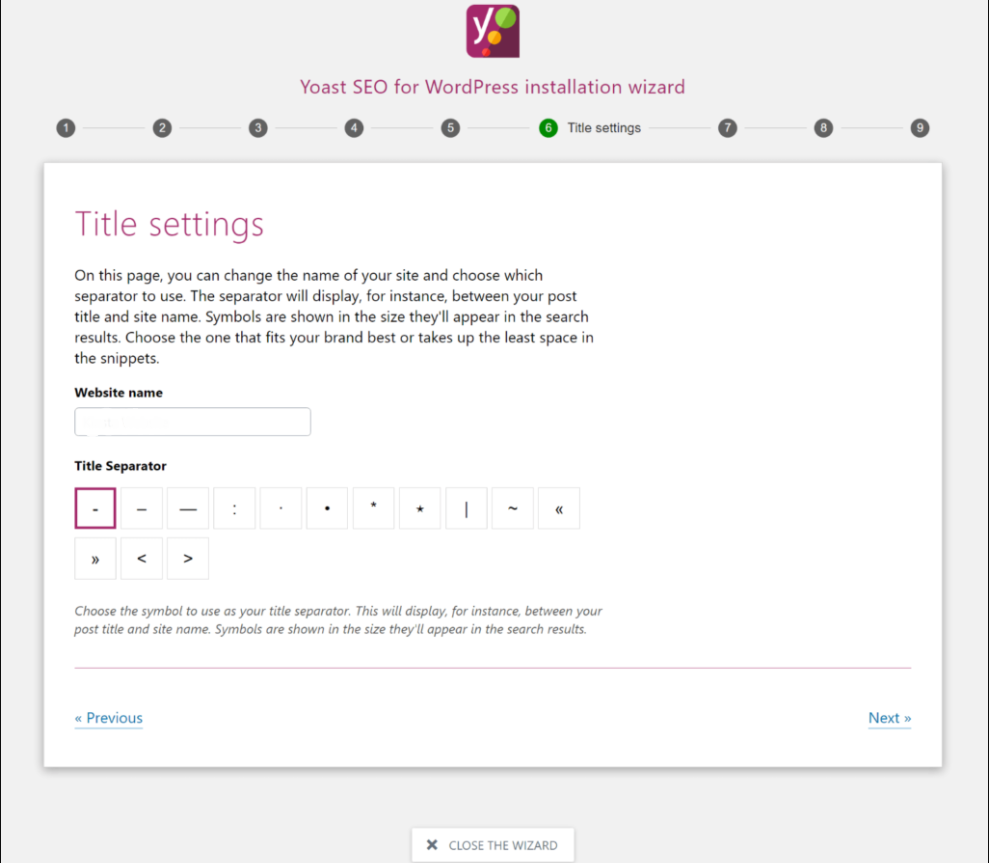 After successfully setting up the Yoast SEO, you can find that the Yoast Seo Dashboard starts showing some suggestions and tips to better optimize your website for better ranking. The plugin will point out any potential issue with the red flag.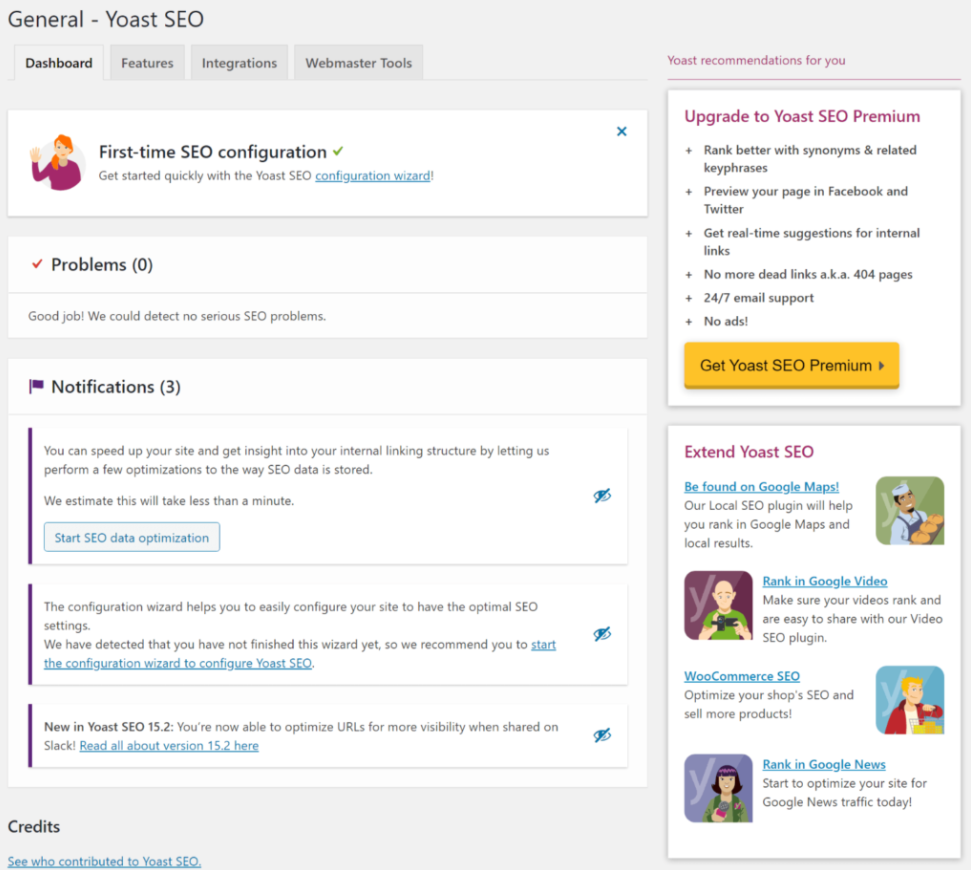 Another thing that is worth mentioning is that, similar to Rank math, Yoast SEO also provides you a set of modules that you can enable or disable whenever you want to. In addition to it, You can also check out all the features in the Features tab and turn on/off each feature as you want.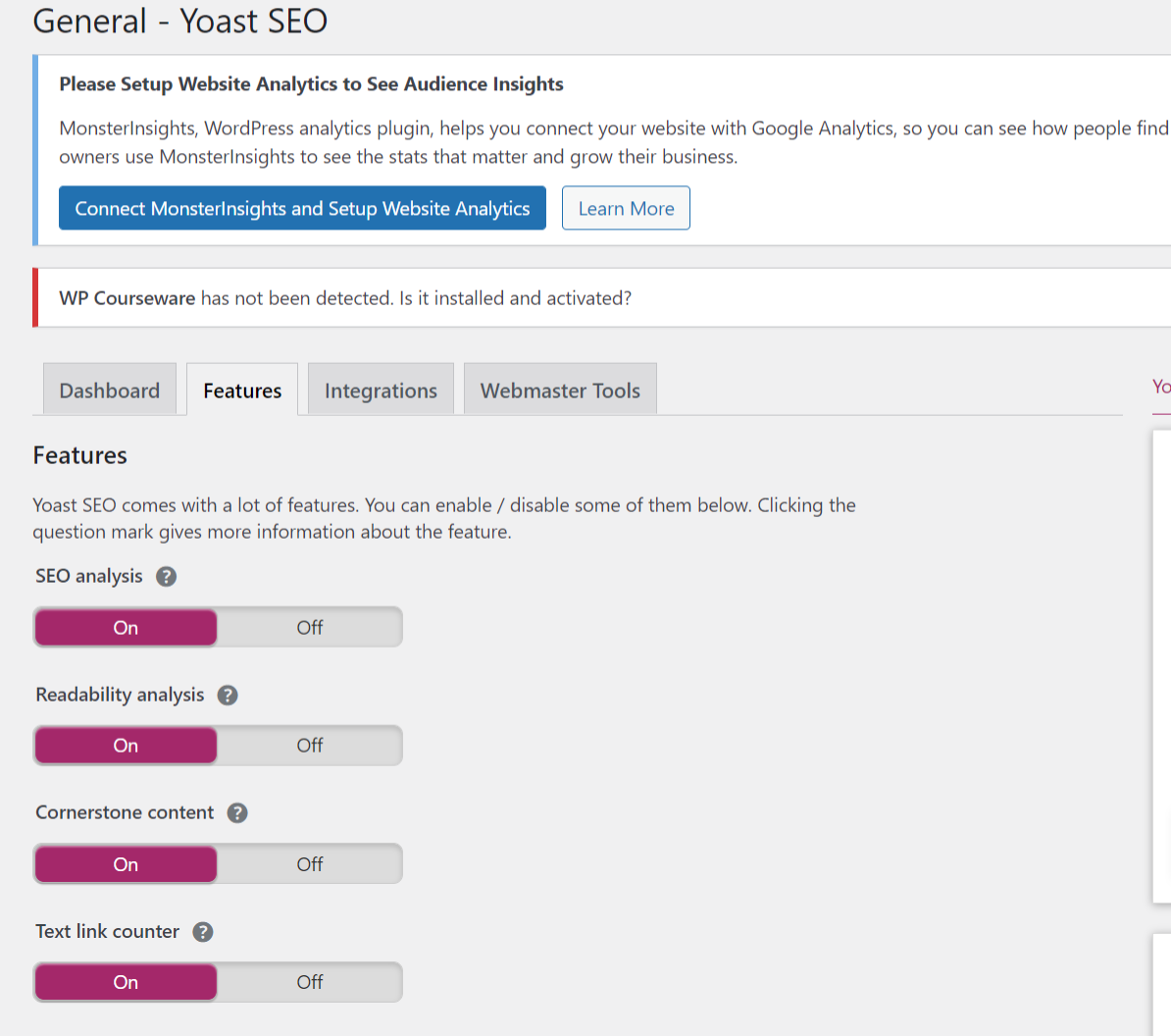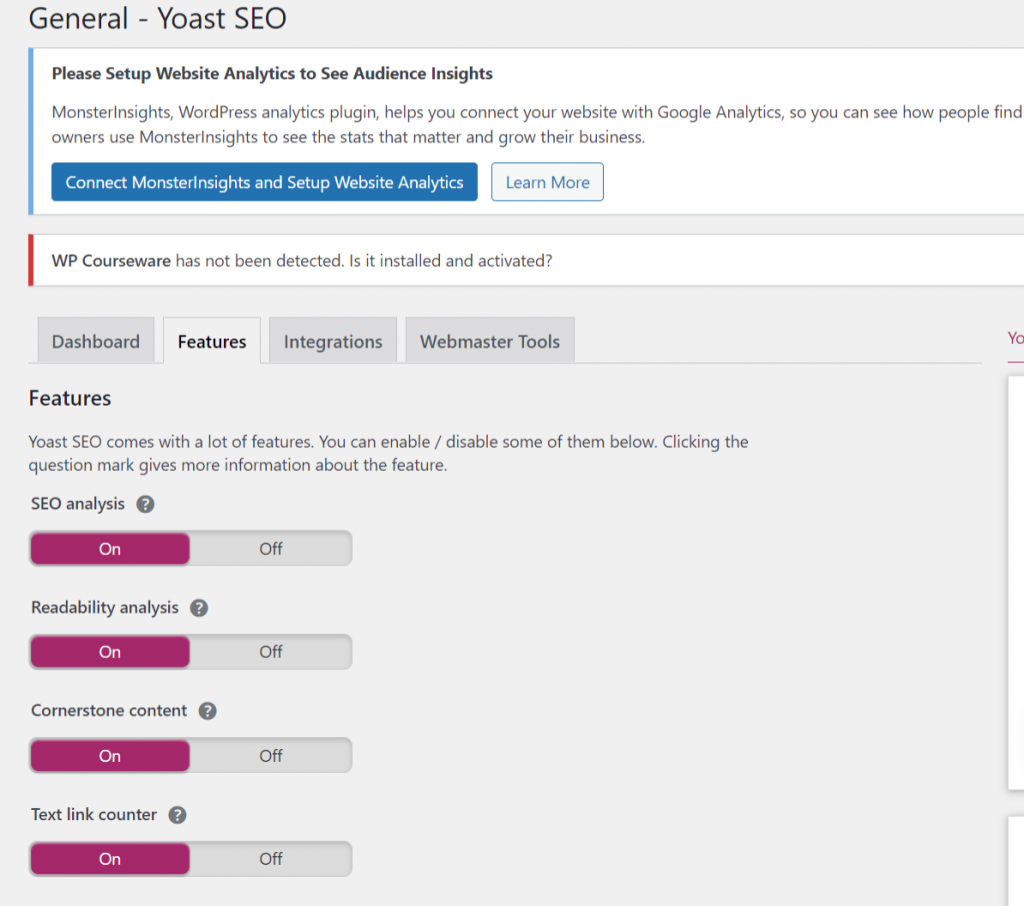 Verdict: Both the SEO plugins took almost the same Installation process and the Setup was also the same.
Rank math vs yoast Seo: Keyword analysis
You better know how Keywords play a fundamental role in getting better results in SEO. Hence it is very important to take Keyword as a parameter to judge which one is better Rank math vs Yoast in terms of keyword analysis. How these platforms are good enough in optimizing and analyze keywords.
As you have been known, for digital marketing how much keyword is important for SEO purposes, and in this regard, Rank math has stood out with the advantage of analyzing up to five keywords free. Whereas, when we talk about Yoast Seo, this can only help you out with only one keyword for your digital strategy.
Let us check out in-depth keyword analysis by both platforms.
Yoast SEO
As we have already mentioned above, How Yoast Seo is just limited to analyze a single keyword for SEO in their free Version. However, you will get more options and features when you upgrade to their premium plans. The plugin uses ratings and gives suggestions on how efficiently you are optimizing with the keyword. They usually indicate how well you are optimizing by a light system, in which red means you need to work in that field, and Green means it is all ok. In addition to it, it also lets you know how your content is suitable for posting in terms of readability score.
However, you have always an option to upgrade your toast SEO with premium plans to get the most out of it such as more than one keyword analysis, Multilanguage keywords, etc.
Rank Math
When we talk about Rank math, It provides you up to 5 keywords analyses in their free version, unlike Yoast's free version. It provides a scoring system from zero to a hundred, which helps you to better Search engine optimize your content. And changes color accordingly. The red color of the score shows the content is not well optimized, yellow shows the content needs some improvement, and the green color shows satisfactorily and is ready to publish.
In addition to it, Rank math also give you keyword suggestions when you start tying just like Yoast SEO
Verdict: Rank math is the winner with providing up to 5 keyword analysis for optimizing content.
Rank math vs yoast : User Interface
When we compare both the platforms Rank math vs Yoast based on UI or User interface. Both these platforms have quite different designs and offer unique features to the users.
Yoast SEO
When you edit your posts using Yoast Seo, you find a Yoast Seo sidebar that suggests or guides you through the writing and editing process. Along with the sidebar, it has also a WordPress meta box that is available on both the WordPress editors, classic, and block editor.
But for a better editing experience, the sidebar is limited to only block editor and it shows all the SEO options that help you out optimizing your content in a list form. In addition, once you complete optimizing, there is a preview option is also available with the help of which you can preview your content and check out how exactly it would appear on the live webpage before publishing it or making it live.
Now considering the Meta box, a user has four tabs namely Schema markup, Readability, SEO, and social media through which optimization of content can be possible while writing. In addition to it, you will be allowed to preview your content on Google and check out its responsiveness on different screen sizes such as mobile and PCs.
Which one you prefer will depend on how long you've been using Yoast SEO. If you began using the meta box, you might prefer continuing to use this over the newer Yoast sidebar.
Rank Math
One of the amazing things about Rank Math is that it gets fully integrated with the block editor. It is completely different from Yoast SEO and has no meta box option. The best of Rank math you can enjoy only on block editor. While editing or writing content, you can generally find the rank math icon located at the toolbar of the block editor.
The Rankmath Toolbar has been divided into three sections, General, Social, and Schema. In addition to it, Rank math also provides you a Keyword Trend graph which is limited to their premium plans.
Verdict: The Clear winner in this comparison is Rankmath. Well both the platform provides simple and Clean UI, but Rank math has an edge over Yoast in providing easy and more options for users to understand and explore.
Rank math vs Yoast Seo : Content Optimization
Content is the major part for any website to rank on the search engines and hence optimizing it to get better results is another most crucial task. Comparing both the platform Rank math vs Yoast Seo based on Content Optimization, help you out to judge better which one would be the best and right choice.
Yoast : Content Optimization
While editing and writing content on Yoast Seo, you must have come across something like this.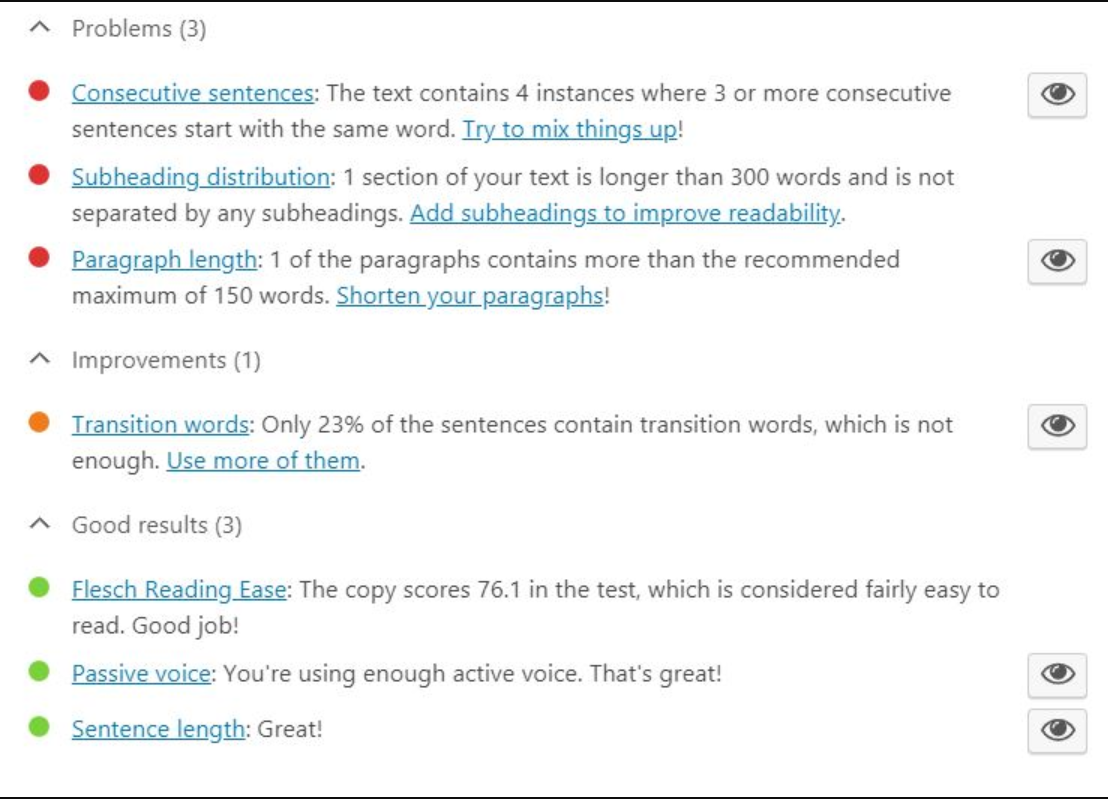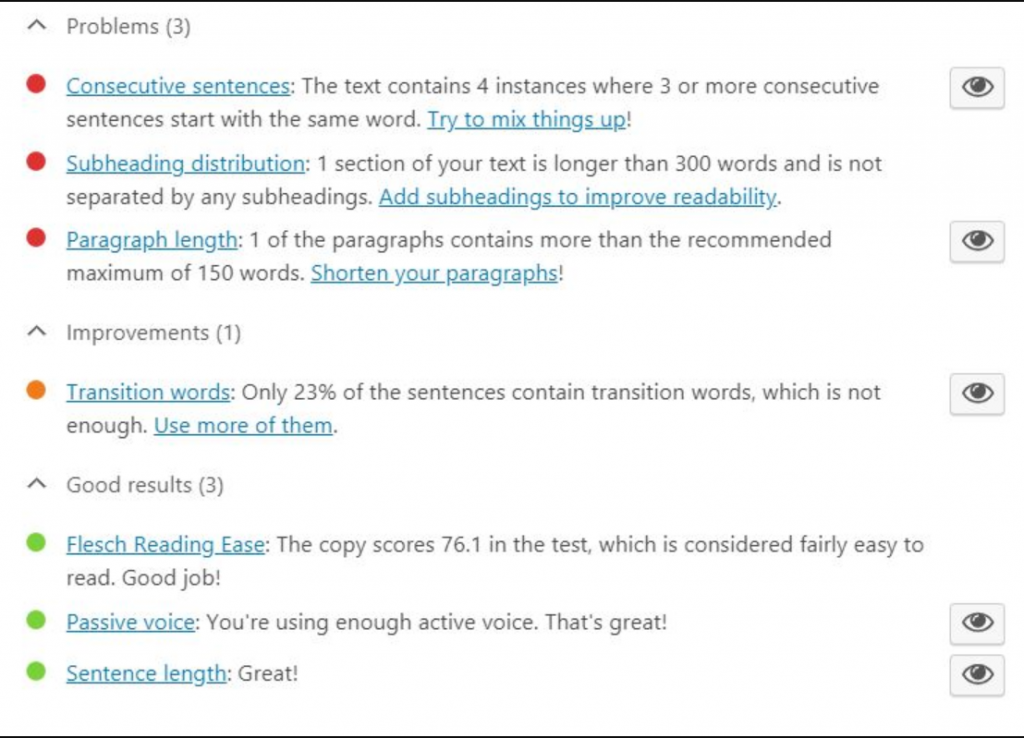 These are suggestions/tips or guidelines for the users to Optimize their content as per the search engine requirements. And helps in gaining better rankings in SERPs.
But one thing is worth mentioning, SEO is dynamic and changes from time to time as per the latest search engine algorithms. Hence, it is not guaranteed that these tips or suggestions will work all the time or be useful.
Rank Math : Content Optimization
Unlike Yoast SEO, Rank Math keeps updating itself as per the industry trends and latest SEO tactics to optimize your content.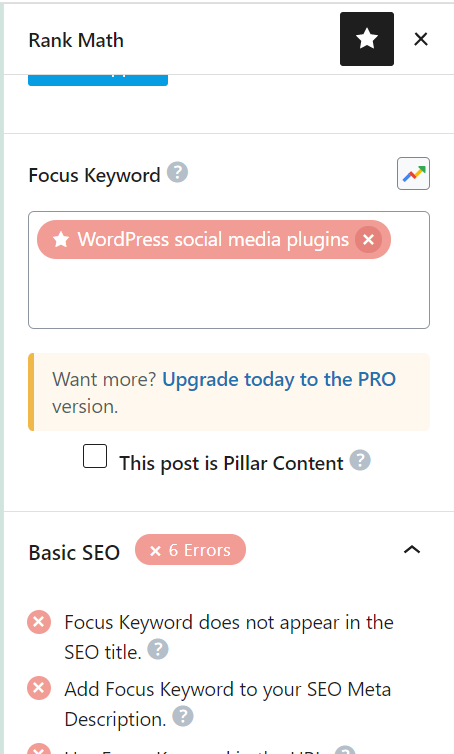 Both the platforms use their own rules, for instance, Rank math asks users to put keywords in the first paragraph of the content whereas Yoast SEO asks users to use the Focus keyword in the first sentence of the content.
However, practically it has been observed that there is no need to use the focus keyword in the first letter of the content to get the best ranking in SERPs. Hence it is evident that Yoast SEO does not update themselves as per the latest search engine algorithms or trends.
Content Optimization Scoring
When comparing Rank math vs Yoast on Content Optimization benchmarks both the plugin uses a scoring method to check the level of optimization. Rank Math gives you a score on achieving various goals for content optimization out of 100. When you start reaching a score of more than 80 it will automatically turn Green. That means you have satisfactorily well optimized your content.
Whereas, Yoast score does not use numbers or scores to determine how well content is optimized. Instead, it uses colorful circles just like traffic lights Green, orange, and red.
Now, from the above Content Optimization scores from both the SEO plugins, it is clear that Rank math uses a better scoring method to determine the optimization level of content whereas, in Yoast SEO it is not sufficient to determine with just three lights.
Verdict: Rank math provide a lot of area of improvement when optimizing content.
Rank math vs Yoast: Schema Markup
For getting better visibility and SERP ranking, you know how important Schema Markup is. Structured data is what Google or other search engines would love to have in Contents. Because it helps search engines to better understand what the content is all about.
And this is the main reason why you must consider this factor while comparing Rank math vs Yoast.
Rankmath has well-implemented Schema markup for its users. Providing a range of 18 different schema types such as Recipe, Hotel ratings, FAQs, and Reviews. Rank math intelligently detects your content and adds schema when you use any media.
You can implement Schema markup using Rank Math, by just going to page editor where you find the Rank math icon on the top right of the page. Below that icon, you will see a schema section along with the other two Rank Math options. When you click on it, you will find it has automatically added schema to your website. In addition to it, there is also an option is provided to create your schema.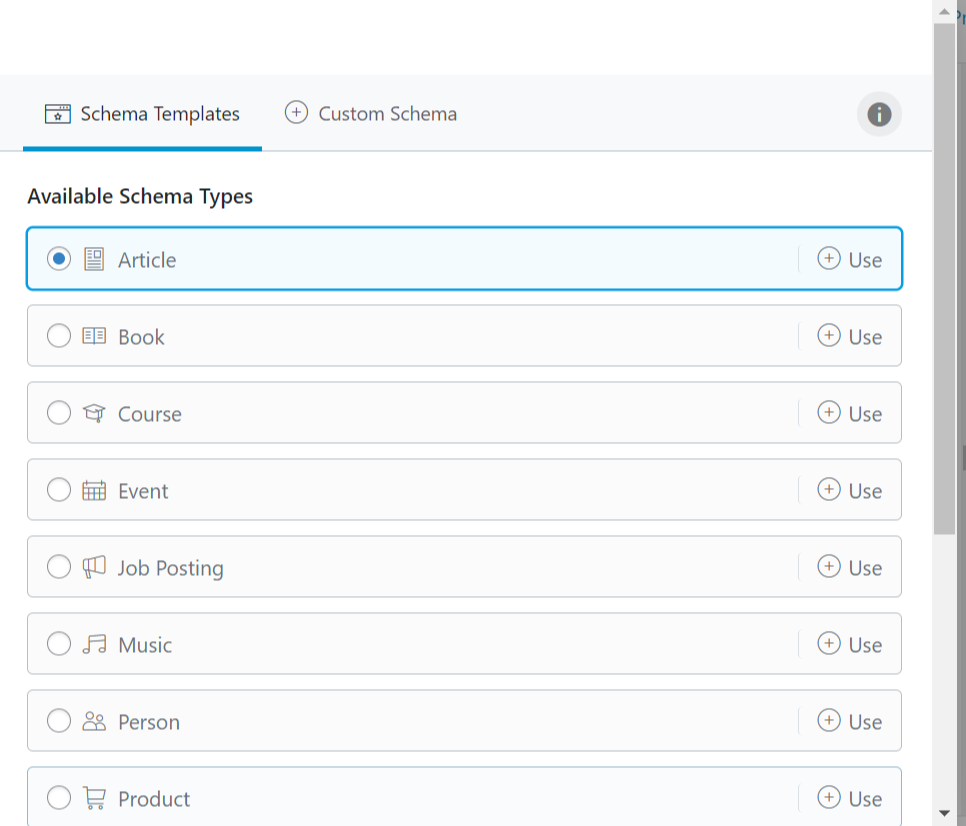 To create your custom schema markup, select schema Generator and fill out all the required information, and you are done. You have also an option to use Custom Scheme which is only limited to the pro version.
Now in Yoast SEO, there is only a basic Schema markup is available such as FAQs and Type of Post. And it does not give you schema flexibility like Rank math does.
Verdict: Rank math is the winner, with providing users a lot of schema options.
Rank math vs yoast Seo: Free & Premium Features and Comparison
Now let us compare Free and Premium Features between Rank math vs Yoast and see who is offering you the best.
Yoast SEO
Since, its launch in 2010, Yoast was the only tool that helped many users to optimize their content initially. Gained huge popularity and become one of the most common and widely used WordPress SEO plugins. And the great thing is it is available free to install and use with limited features, which can be enough for regular users.
However, you can increase its functionality and features by upgrading to premium plans. But most of the Yoast premium features you will be provided by Rank Math in their Free version.
Features like, Multiple schema markup, More than one focus keyword analysis, and internal linking suggestions are some of the pro features of SEO that Rank math offers for Free.
In addition to Its pro features, Yoast SEO also provides you an option to use paid add-ons such as Woocommerce, Video, and News SEO plugin separately.
Let us check out what you will get in Yoast SEO's Free version:
Automated technical SEO improvements, like canonical URLs and meta tags.
Advanced XML sitemaps; making it easy for Google to understand your site structure.
Title and meta description templating, for better branding and consistent snippets in the search results.
An in-depth Schema.org integration that will increase your chance of getting rich results.
Full control over site breadcrumbs
Faster loading times for your whole website, due to an innovative way of managing data in WordPress
SEO analysis: an invaluable tool while writing SEO-friendly content with the right single keyword in mind.
Readability analysis: ensures that humans and search engines can read and understand your content.
Full language support for: English, German, French, Dutch, Spanish, Italian, Russian, Indonesian, Polish, Portuguese, Arabic, Swedish, Hebrew, Hungarian, Turkish, Czech, Norwegian and Slovak.
A Google preview, which shows what your listings will look like in the search results.
Innovative Schema blocks for the WordPress block editor, so that your FAQ and HowTo content can be shown directly in the search results. Plus a breadcrumbs block to guide your users.
The premium features of Yoast SEO has:
E-mail support for our Yoast SEO Premium users.
The possibility to expand Yoast SEO with the News SEO, Video SEO, Local SEO and WooCommerce SEO extensions.
Internal linking blocks to easily improve the structure of your content. Easily add a table of contents block, a related links block, a subpages block, or siblings block
Social previews to show you how your content will be shown on Twitter and Facebook. Plus: Social Appearance Templates to guarantee a consistent look.
The Insights tool that shows you what your text focuses on.
Optimize your content for synonyms and related multiple keywords.
Automatic internal linking suggestions
An orphaned content filter to detect posts that have no links pointing towards them!
Automatically creating redirects when URLs change or when pages are deleted, and providing tools to manage or create redirects.
Showing you social previews to manage the way your page is shared on social networks like Facebook and Twitter.
A redirect manager that prevents "404: page not found" errors
Optimize without worrying about over-optimization with intelligent word form recognition available in multiple languages.
Internal linking blocks to structure your site easily.
Internal linking suggestions while you're writing.
Preview your content to see what it will look like in the search results and when shared on social media using the Google preview and social preview.
Cornerstone content checks that point search engines to your most important pages.
Connect Yoast SEO to Zapier to easily create zaps that instantly share your published posts with 2000+ destinations like Twitter, Facebook, and much more.
Rank Math Features
As compared to Yoast SEO, Rank Math is a newbie and was recently launched in the year 2018. Although the Plugin has been recently launched, but has shown huge popularity and gained exponential growth since its initial launch. Just like Yoast SEO, this SEO plugin also has Free and premium versions available for its users.
Let us check out what are Features it has to offer.
Free version features:
List of Best Rank Math SEO Features
18 Pre-defined Schema Types
Limited SEO Performance Email Reports
Google Data Fetch Frequency
Days to Preserve Google Data
Email Report Frequency in Days
Complete Elementor Integration
Complete Divi Integration
Optimal Settings Pre-Selected
Clean User Interface
Simple Setup Wizard
Compatibility Check
Auto Canonical URLs
Google Search Console Integration
1 Click Import From Yoast SEO, AIO SEO and for SEOPress
Import from Redirection Plugin
Advanced SEO Analysis Tool
30+ Detailed SEO Tests
SEO Analysis Score
Automated Image SEO and many more.
Premium version features:
Advanced Google Analytics Integration
Keyword Rank Tracker
The Most Advanced Schema Generator
Import Schema From Any Website
Speakable Schema
Google Trends Integration
Google News and Video SEO Sitemap
Image SEO PRO
Local SEO PRO With Multi Locations
WooCommerce SEO PRO
Automatic Video Detection for Video Schema
Track Top 5 Winning Keywords
Check Ranking Keywords for Each Post
Position History for Keywords & Posts and many more.
For complete Free and Premium Features of Rank Math, you can visit their Features page and check out everything in detail.
Verdict: Again Rank Math is the winner and shows more features either in the free version or premium both.
Rank math vs Yoast : WooCommerce Integration
WooCommerce a renowned WordPress e-commerce plugin has been used by many users who like to build online stores. But the store and its products also have to be well optimized to get a better ranking in search results. Because of that, you'll also be required to have an SEO plugin that is well integrated with your Woocommere website and able to provide all the optimization options available.
RANK MATH
Woocommerce integration with Rank math is very basic, especially in their Free version. It only lets you optimize your content of product pages to rank well on search engines. However, when you chose to have the Pro version, you'll have full control of your Woocommerce SEO settings in addition to schema and other SEO elements.
YOAST SEO
In Yoast SEO, you have only some basic features to optimize your Woocommerce content, especially in their free version. However, to avail more woocommerce options, you can buy a dedicated Wocommerce SEO addon.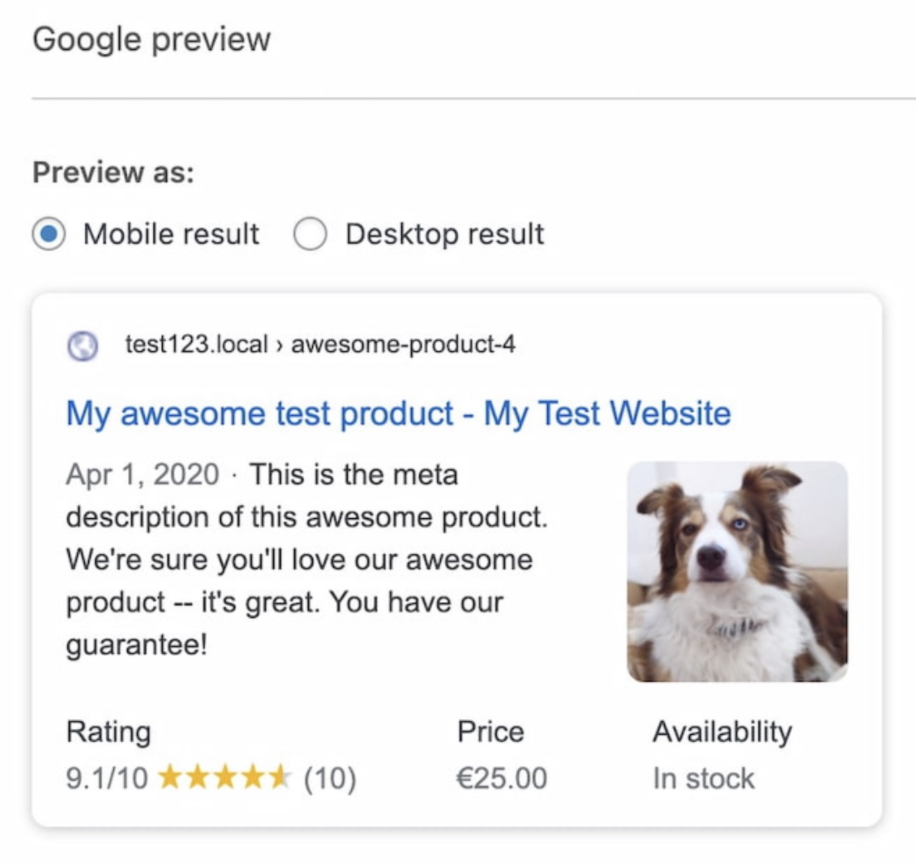 Features:
Showoff your products in the search results
Provide extra details to users and search engines
Preview What your product would appear in search results.
Upgrade your Social Media Cards
You will have Product specific SEO analysis
Improve your Breadcrumb Navigation
Optimize your XML sitemap
Verdict: Comparing Rank math vs Yoast, Rank math has better Woocomemerce Integration than Yoast SEO and it is the clear winner in this section.
Rank math vs Yoast SEO: Inbuilt SEO Audit Tool
Sometimes, even with a lot of effort and covering all the SEO aspects, you couldn't able to achieve better results. And it would be amazing if any tool or resource let you know what is happening wrong with your strategy.
RANK MATH
When talking about SEO analysis tools, Rank math excels in this category, it provides you a variety of SEO analysis tools that will generate Free reports and help you identify the problems or shortcomings that you can work upon.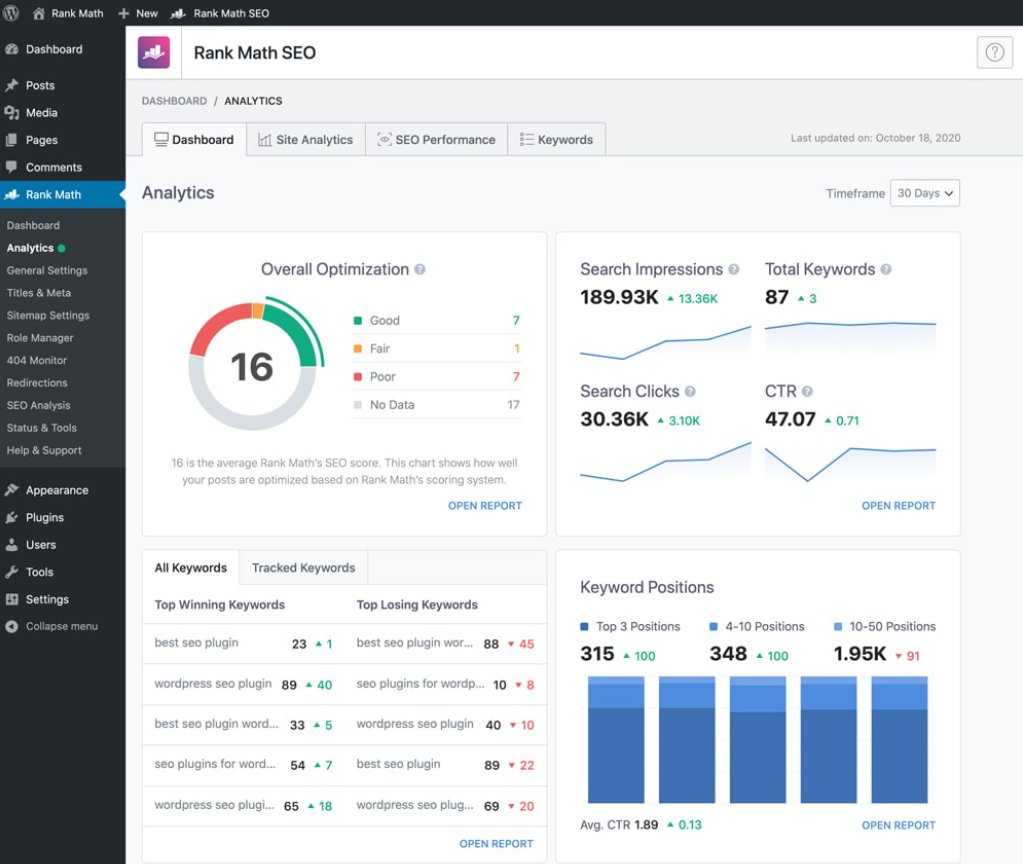 YOAST SEO
When talking about Yoast SEO, it doesn't have such kind of feature. That delivers a complete report on your Optimization issues, etc. Yoast SEO is only limited to provide a content analysis tool that would help you to improve your posts before making them live.
Verdict: Rank Math is a clear winner in this Comparison factor as Yoast SEO doesn't provide such a feature even in their pro version.
Rank Math Vs Yoast SEO: Image SEO
The amazing fact about search engines is that they become smart year by year by updating their algorithm and now can better understand the intent behind posting or uploading images on your website, when well optimized.
RANK MATH
To optimize images or any other media, Rank Math provides you an option to optimize images using Alt tags and title tags. These Tags are very helpful to rank in Google images and redirects to their root pages.
Each image that's uploaded will have its page created for it by WordPress. That's why it's essential to redirect attachments to the original post.
YOAST SEO
Yoast SEO also redirects images that you used on your content or post to their root directories just like Rank Math. But the only difference between these two SEO plugins is Rank math adds Alt and title tags automatically whereas, Yoast does not.
Verdict: It is evident from the above comparison between Rank Math vs Yoast that, Rank math has more SEO options rather than Yoast.
Rank Math vs Yoast : Google Search Console
If you have a website, you must be aware of the fact that how much Google Search Console is important for any website. After all, it helps you to monitor your website activities, keywords, insights, website vitals, and many more.
RANK MATH
Rank Math turns out to be the best option in terms of providing a unique experience of Google search Console when connected. The first thing you need to have is your Google search console account, connect it with Rank math and verify. The connection lets Rank math fetch all the vitals of the website and display them on the dashboard.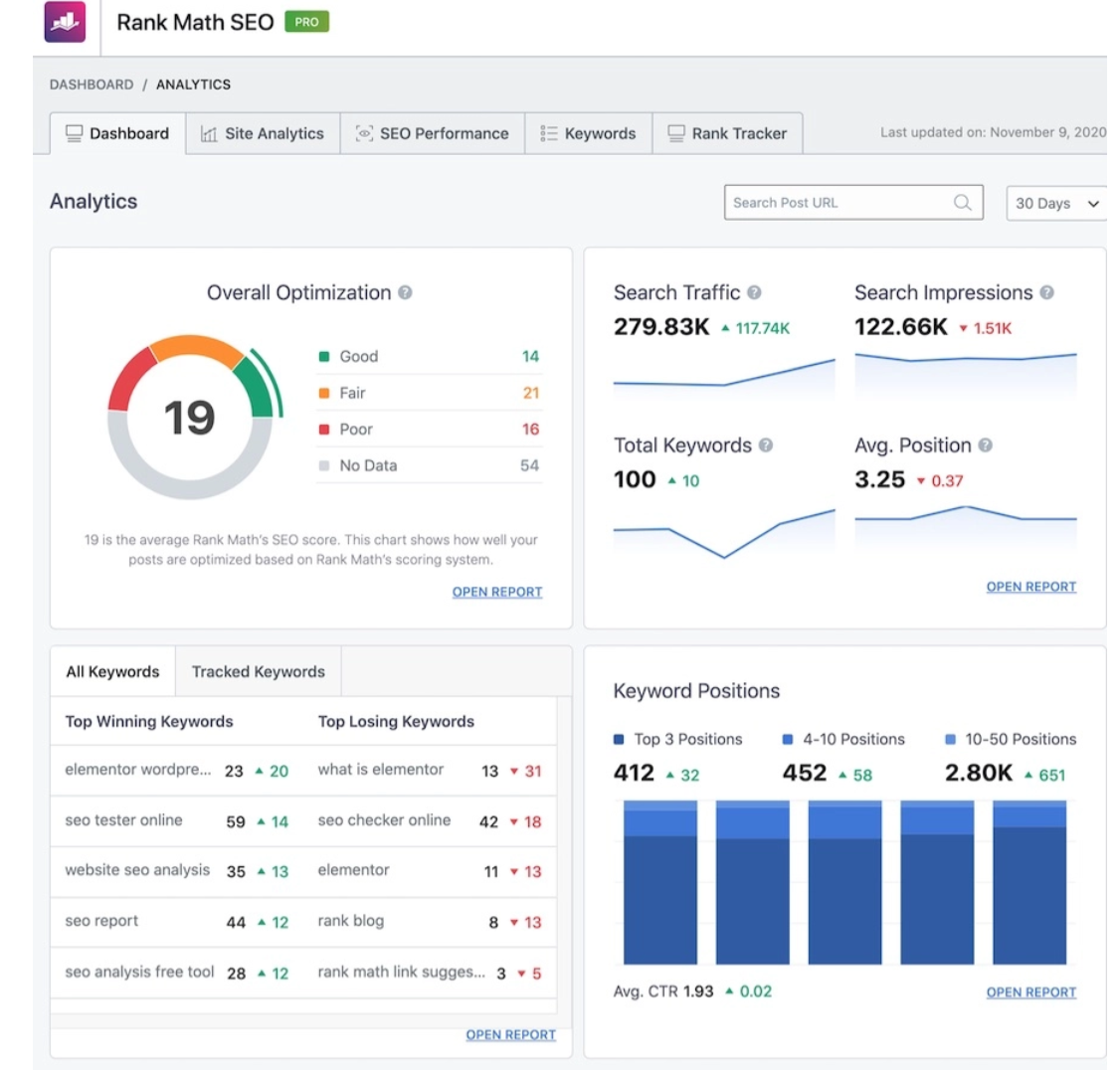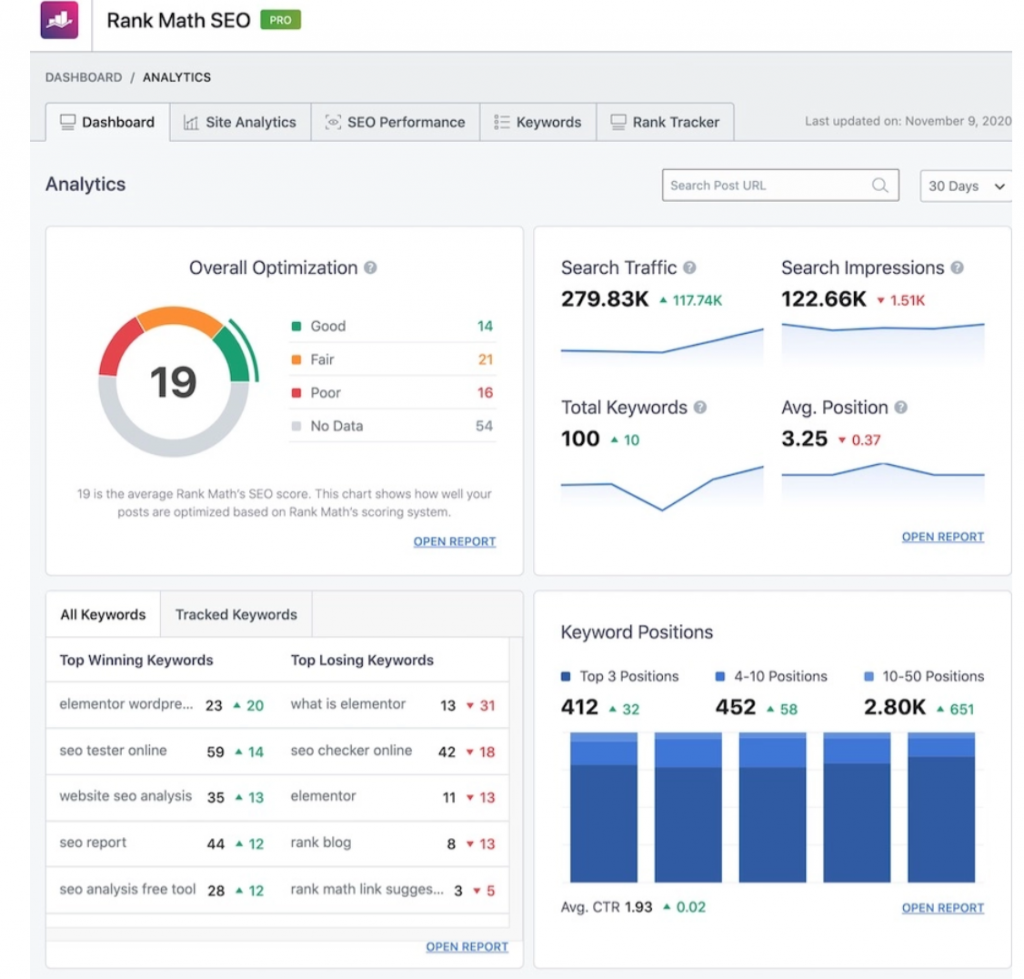 YOAST SEO
While talking about Yoast Seo, it does let users verify their website. But the downside is, you won't be able to see all the vitals of your website information directly on the WordPress Dashboard, unlike Rank math. The Yoast SEO does not have that functionality/feature to let users have a glance at their website activities on a single platform.
Verdict: Rank math is again the clear winner in terms of providing a lot of features such that showing your website vitals from the Google search console on the WordPress dashboard without going to your Google search console account regularly.
Rank math vs yoast – Pricing comparison
Initially, Rank math was released without any premium plans and its features were available free, but when Rank math's popularity has increased popularity, they introduced pro and Business plans. Even Yoast SEO, you have many of the premium features that are only exclusive to their pro plans. Let us check them out in detail.
Yoast SEO
Although Yoast SEO is available free to download and use with just simple and basic features. But at some point, you will be required to upgrade to their premium plans that offer you a lot of upgrade options and many more. For a single site, Yoast SEO's premium plans start at $89. However, as you add more sites you can save 5% on each addition.
In addition to it, Yoast SEO also provides you with paid addons, with the help of which you can add the functionality of the plugin. Such as Video SEO, News SEO, Local SEO, and Woocommerce SEO, all of which price 69$ each.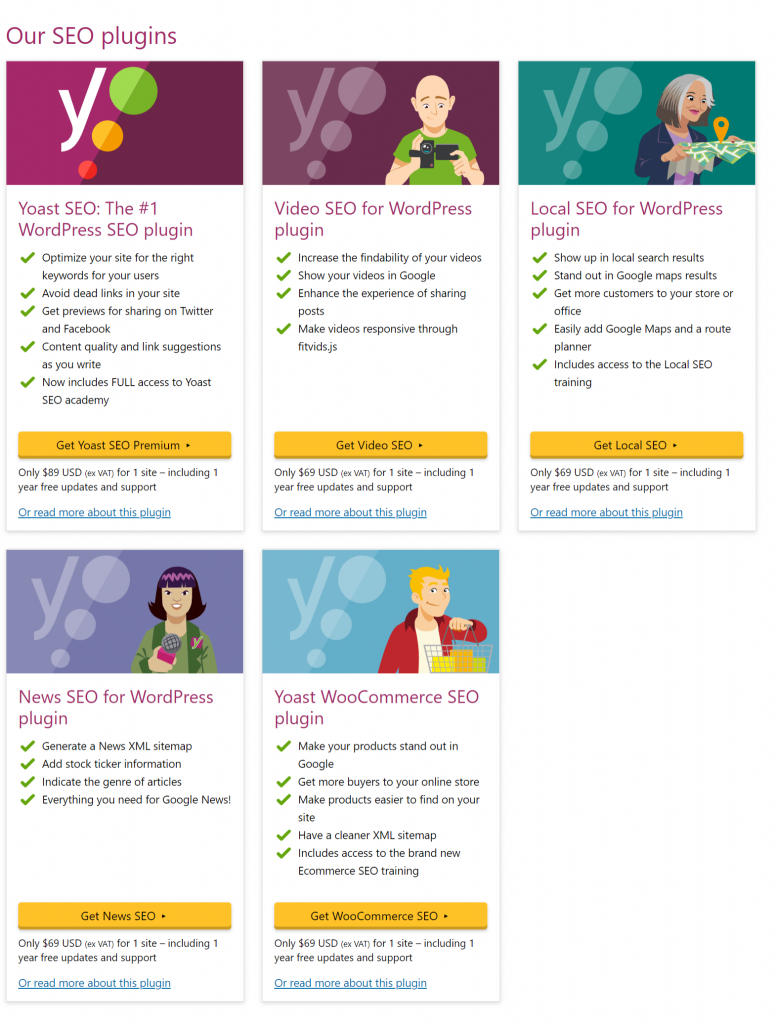 Rank Math
Although, Rank Math's Free version provides you with almost all the basic features that are sufficient for average users. But still, if you are looking for more upgradable options, Rank math also offers their premium packages starting at Pro (59$) per year, Business ($199) per year, and Agency ($499) per year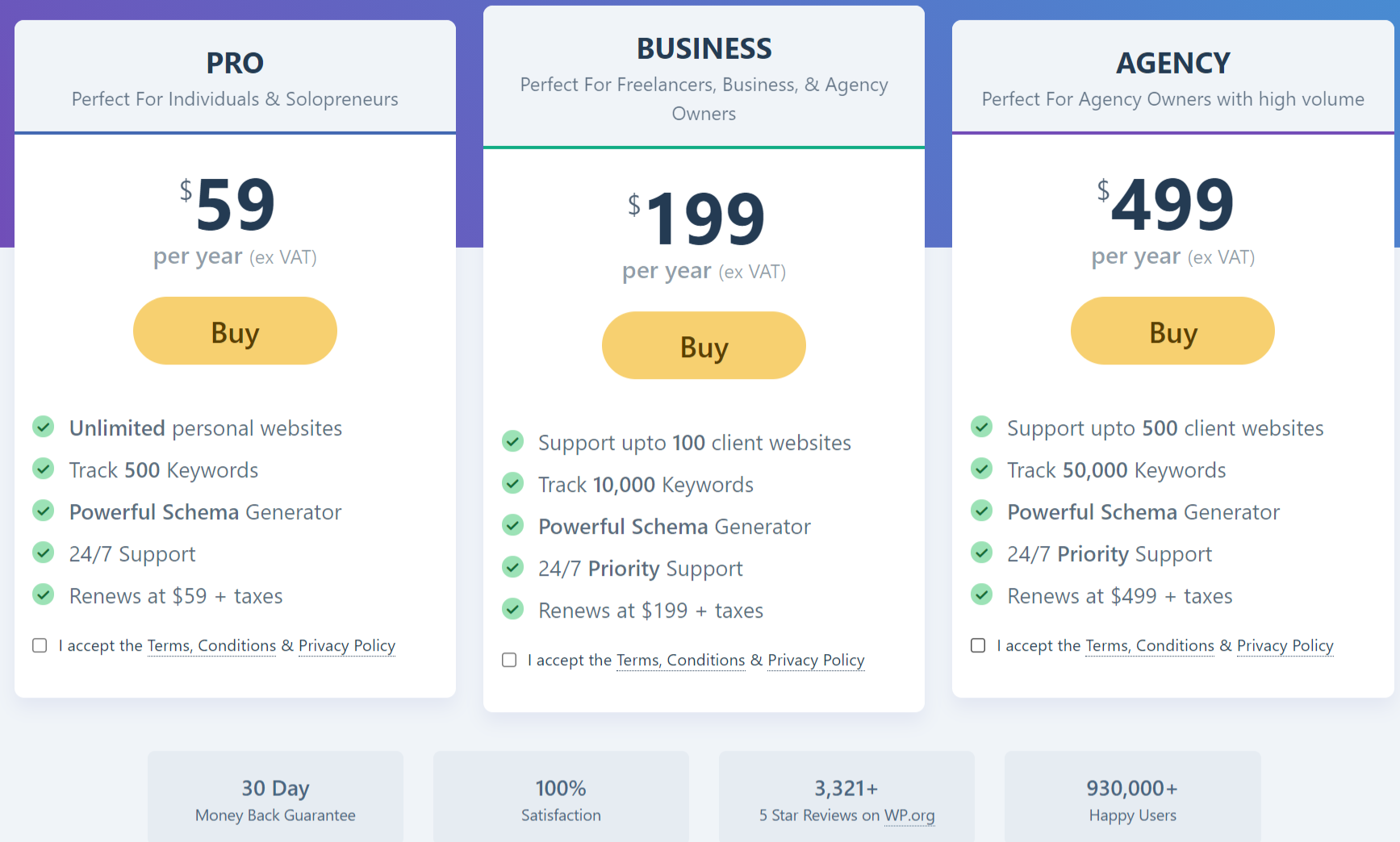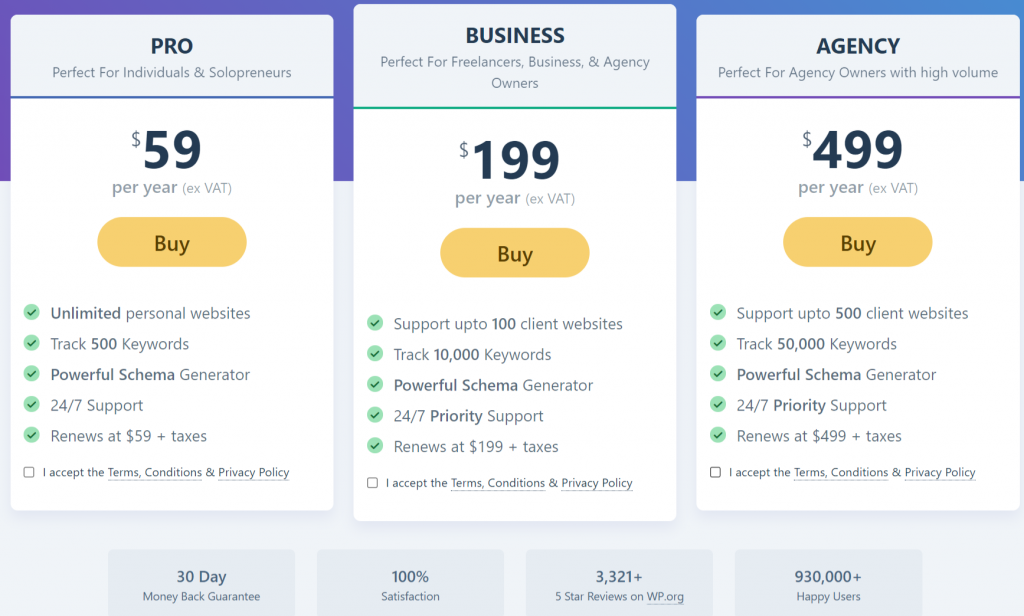 Verdict: From the above Comparision of Rank math vs Yoast, it is clearly evident that Rank math offers you a lot more features and options even in their basic plans. Whereas, Yoast SEO fails to offer in such price range. Hence, Rank math is again the clear winner.
Conclusion
Finally, in our Complete and detailed Comparison between Rank math Vs Yoast SEO, one thing you must keep in your mind is that both these SEO plugins have been popular amongst various users and are the best quality SEO plugins ever exist.
The Ratings, reviews, and number of active installations won't lie. Whichever plugin you go for, either it is Rank math or Yoast SEO it is all about which plugin has the potential to full fill your requirements. And help you to achieve your goal.
Summarizing the above comparison benchmarks, No doubt Rank math showed up a lot of features than Yoast SEO. and if features are your priority then Rank Math is the best choice for you. But if you are just a beginner or an average user, who is not into in-depth SEO and only relies on Optimizing content for single keyword and SEO titles. Yoast SEO can be the best choice.
Let us Summarize the above benchmarks in short and see which one is the clear winner:
Rank math vs Yoast SEO: installation and setup- Tie both
Rank math vs Yoast SEO: Keyword Analysis – Rank math
Rank math vs Yoast SEO: User Interface – Rank math
Rank math vs Yoast SEO: Content Optimization – Rank math
Rank math vs Yoast SEO: Schema Markup – Rank math
Rank math vs Yoast SEO: Features- Rank math
Rank math vs Yoast SEO: Woocommerce Integration- Rank Math
Rank math vs Yoast SEO: Inbuild SEO tool- Rank Math
Rank math vs Yoast SEO: Image SEO- Rank Math
Rank math vs Yoast SEO: Gooogle Search Console- Rank Math
Rank math vs Yoast SEO: Price comparison- Rank math
Hence, you can clearly Analyze Rank Math has become the winner leading over Yoast.
Frequently Asked Questions
Is rank Math better than Yoast?
When comparing various parameters or benchmarks, Rank math turns out to offer more features and options than Yoast SEO, either in paid or Free versions. This is what makes Rank math a better option than Yoast SEO.
Is rank Math good for SEO?
Since rank math offers you a lot of SEO options to optimize your content or page based on the latest trends. It turned out to be a good choice if you are looking for some positive and better results.
Is Yoast SEO the best?
Yoast SEO is one of the earliest and most popular SEO plugins available and works best with WordPress websites.