PayPal and Stripe are online payment processing tools. Due to the many interrelated products, ranging from mobile payments to financial services, we can say for sure that PayPal is almost the industrial standard. And Stripe, whose name is not always known by online users in many countries, has a long list of very popular customers and partners. So, what platform is more preferred in the Stripe vs PayPal competition?
First, neither PayPal nor Stripe offers the cheapest payment processing rates. For a basic payment processor with lower rates, it would be better to have a regular merchant account. And you will get basic eCommerce support.
But if you are looking for opportunities and flexibility, you are in the right place. The strongest points of Stripe or PayPal are the countless eCommerce features, including support for digital products, subscriptions, and even mobile payments. However, despite the fact that both Stripe vs PayPal services is radically common, they are different.
If you don't know which of these online payment processors is suitable for your business or just want to know a little more about these processors before you decide to start a business, this article is right for you. Let's compare Stripe vs PayPal and see which platform is really better.
What is Stripe?
Stripe is an international system for secure online payments using plastic cards. Simply put, Stripe acts as an intermediary between the buyer and the seller, who makes a payment that is safe and absolutely protected. Stripe solves all the problems of payments by cards, including storing card data, recurring payments and withdrawals to a bank account. The Stripe system is distinguished by high payment processing speed and security, and for business, it provides a very convenient means of integrating with sites (especially for programmers).
Stripe meets international security standards, with PCI Level One certification. This is the highest level of certification available in the payments industry. Stripe has a very high reputation in the world of online business, primarily due to its high reliability and security, as well as due to good documentation and ease of integration with sites.
What is PayPal?
This is the most popular way to receive and send online payments in most online stores around the globe and with over 377 million total active accounts is one of the fastest-growing electronic payment systems in the world.
Why is PayPal so popular?
First, it's Using this payment system, for example, a resident of any country can easily make payments in any online store in the world, in any currency and the store will receive the funds in a matter of seconds.
Second, its speed and simplicity. When making a purchase, it is not necessary to enter multi-line bank details or payment card data each time. It is enough to know the recipient's identifier which is the e-mail address that the user used during registration.
Third, its No one except PayPal who will know the details of your payment card. After all, to leave them everywhere you make purchases is quite unpleasant and dangerous.
And, most importantly, — PayPal protects most of the purchases in the stores connected to it and, in case of problems with the seller, allows you to return your hard-earned money.
PayPal provided the following services to its users:
Send Money. The PayPal user can transfer a certain amount from his personal account in the payment system, as well as directly from a bank card or a bank account linked to a PayPal account.
Money Request. Using this type of service, the user can send letters to his debtors containing a payment request. You can address your letter both to an individual and to a group of debtors.
Adding the tools to accept payments on the user's Web site (Web Tools). This service is available only to Premier and Business account owners.
Auction Tools. The payment system offers two types of services. First, the automatic emails with payment requests. Second, the auction winners can make payments directly from the Web site where the auction is held.
At the moment, the full package of services is available only to residents of the United States. For many countries, it is very limited. There are a lot of countries that can only send money via PayPal while receiving is not available. Therefore, in the near future, we can expect an even greater expansion of opportunities for users in other countries.
We hope that you are liking the blog and we are sure you must love what we have to offer. Get free advice with our WordPress Experts on WordPress Development and Server Issues. We offer best support to our clients. Get FREE SSD, SSL, Business Emails, Premium themes & Plugins, Malware Scanning, Off-Site Backups etc. So many features in the minimum amount. Plans starting just $16.61 per month. Check out our plans & features here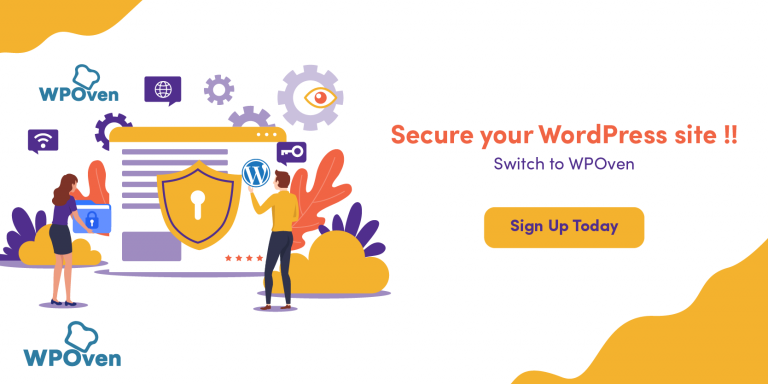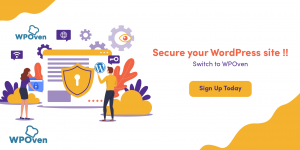 How to use Stripe on WordPress?
Basic WordPress Site — WP Simple Pay Lite for Stripe WordPress plugin-
Search, download and install the WP Simple Pay Lite for Stripe plugin.
Add the Stripe API key, which you can take from the Stripe dashboard, and save changes.
Go to the Default Settings tab on the plugin page and fill in all the required information about your site like name, image, currency, etc. Save all the changes.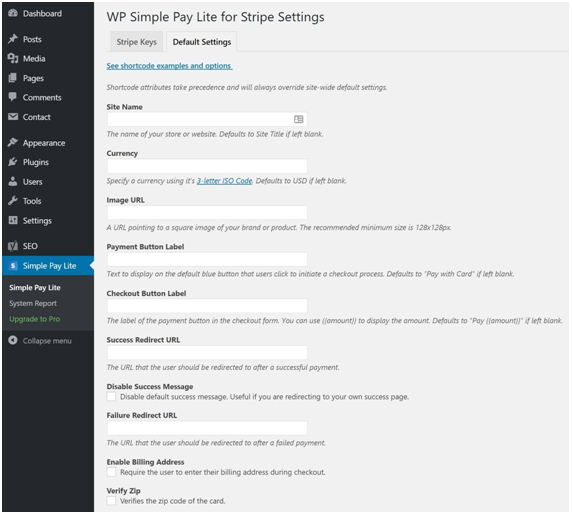 Add the payment button with the shortcode. It must look like the following: [stripe name="My Store" description="My Product" amount="1999″]
Gravity Forms-
Install the Gravity Forms plugin.
Add the Stripe API keys and save changes.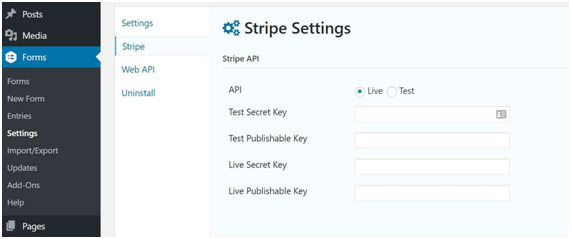 Log in to Stripe Webhooks management page: https://dashboard.stripe.com/account/webhooks.
Click on the Add Endpoint button.
Click the "Add Endpoint" button above the list of Webhook URLs.
Add the URL: https://yourdomain.com/?callback=gravityformsstripe and activate the Live
Click on the Create Endpoint button.
Update setting in the new window.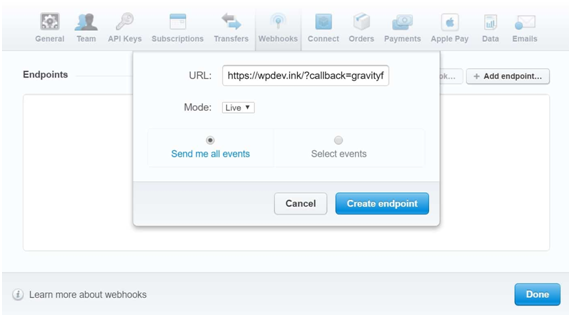 Create the new form and configure any data you require on your website.
Add the form to Stripe. In the form settings, go to Stripe tab and add all the payment information.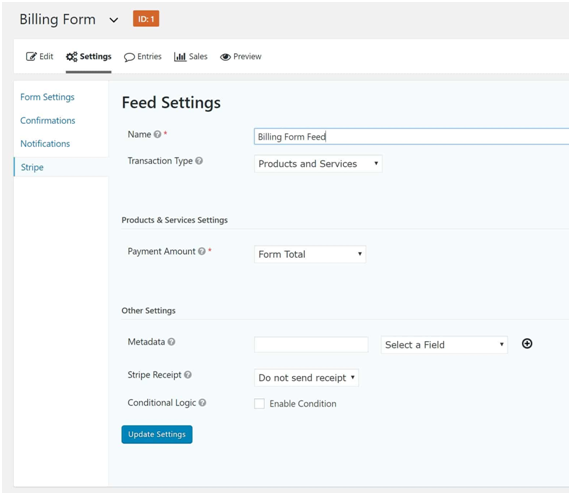 Add the created form to the page or post. Go to Gravity Form settings, select the form you previously created, and insert it into the page.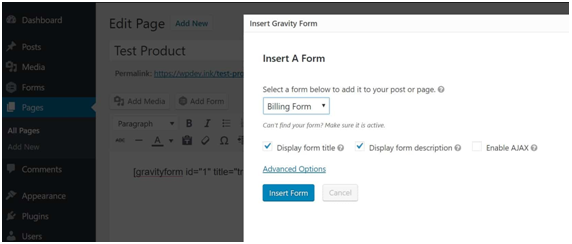 WooCommerce — WooCommerce Stripe Payment Gateway plugin-
Install the plugin to use Woocommerce with stripe.
In WooCommerce settings, add the Stripe API keys in the Checkout tab.
In the Checkout tab, activate Force secure checkout and save changes.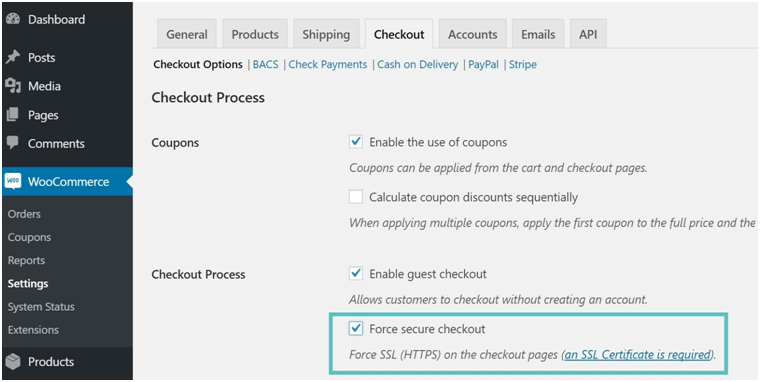 Easy Digital Downloads — Stripe payment gateway extension-
Install the plugin.
On the plugin page, go to Settings — Payment Gateways and check Stripe and all supported payment methods.

Configure Webhooks the same way we described in the Gravity Forms section.
How to use PayPal on WordPress?
There are a lot of free tools to use PayPal on your WordPress website. Let's review the four best ones. In the beginning, make sure you are able to access the WordPress dashboard. It is necessary to install the required plugins.
Digital Goods plugin-
Install & Activate the plugin.
Open the Settings page, then select PayPal for Digital Goods.
Select the currency you are going to use in your store and add the default text for the Buy Now button. Your buyers will see the button when they buy something on your site.
Add the PayPal Credentials: PayPal API Username, PayPal API Password, and PayPal API Signature. You can find them in your PayPal account.
If you are not sure how it works, test everything in the Sandbox Mode. However, do not forget to activate the Live Mode box when everything is ready.
Having applied necessary changes, click the Save Changes button.
Edit a WordPress page where you are going to add the payment button and add the following shortcode: paypal_for_digital_goods. Also, add the following parameters: name, price, URL, and button_text.
Customize the shortcode for your specific needs.
Update the page, then check how it looks on the page in real-time.
Shortcode Example:
[paypal_for_digital_goods name="My eBook" price="25″ url="http://your-domain.com/my-ebook-file.zip" button_text="Buy Now"]
PayPal Donations plugin-
Open the homepage of your WordPress Dashboard, go to the Plugins tab and click Add New button.
In the search field, type PayPal Donations.
In the search results, click Install Now, then Activate the plugin.
Open the Settings page, then select PayPal Donations.
Enter your PayPal email address in the PayPal Account box.
Choose any settings in the Optional and Default tabs.
Having applied the changes, save them.
Next, open Appearance — Customize — Widgets.
Select Sidebar as a Widget Location, and click on Add a Widget button.
At the bottom of the page, click on the PayPal Donations.
You may remain default settings, however, you are able to change the preferred ones according to your needs.
In addition, you are able to customize the location of the widget on the page. For that, click on the Visibility button.
On the Live Preview screen on the right side of the screen, preview the Widget.
WP Easy Paypal Payment Accept plugin-
Open the homepage of your WordPress Dashboard, go to the Plugins tab and click Add New button.
In the search field, type WP Easy Paypal Payment Accept.
In the search results, click Install Now, then Activate the plugin.
Open the Settings page, then select WP Easy Paypal Payment Accept plugin.
Type in the PayPal Email Address.
You may remain default settings, however, you are able to change the preferred ones according to your needs.
Click on the Update Options button.
Edit a WordPress page where you are going to add the payment button and add the following shortcode: wp_paypal_payment
Update the page to check if the changes have been applied.
WordPress Simple Paypal Shopping Cart plugin-
Open the homepage of your WordPress Dashboard, go to the Plugins tab and click Add New button.
In the search field, type WordPress Simple Paypal Shopping Cart.
In the search results, click Install Now, then Activate the plugin.
Open the Settings page, then select the WordPress Simple Paypal Shopping Cart plugin.
Enter the PayPal Email Address.
You may remain default settings, however, you are able to change the preferred ones according to your needs.
Click on Update Options.
Edit a WordPress page where you have a product for sale, and use the following Shortcode: wp_cart_button. Also, add the following parameters: name and price.
To display the shopping cart, add the following shortcode: show_wp_shopping_cart.
Stripe or PayPal Products and Services?
PayPal's main goal has always been the payment processing: enabling any user to make a payment to a seller using PayPal's own balance or credit/debit card. But nowadays, merchants using PayPal have access to various additional services that go beyond the sale.
PayPal has three service plans:
Express Checkout
Payments Standard
Payments Pro
Other PayPal services include:
PayPal Here: mPOS app from PayPal
POS software integration
Payment page (with PayPal Pro subscription)
PCI compliance
PayFlow Payment Gateway
Online distribution
Virtual terminal
Digital goods
Subscriptions
Donation tools
Buy Now buttons
Mass Payout
PayPal Credit: providing interest-free financing to customers
In addition, PayPal offers SDK and other tools for developers, so you can create custom integrations — and even run your own mobile payment application with Android and Apple support.
Like PayPal, Stripe's main function is online payments. The company offers its customers opportunities to complement their main offer, but, unlike PayPal, they complement more. Here are the main features of Stripe:
Payment processing
Payment page (data entry fields for purchase payment)
PCI compliance
Customizable payment
Subscriptions
Trading tools
Platform tools
Coupons
Customizable reporting tools
Buy Now buttons in mobile apps
It should be noted that Stripe claims to have more than 100 functions. This is a very reliable platform that can serve almost any Internet company. In addition to general functions, you will also find the Stripe Atlas toolkit, designed to help international entrepreneurs start a business. Stripe also has a robust API for easy integration with many other applications. However, integration supports Android and Apple.
Stripe vs PayPal: What features do you really need?
Now, when you know some basic things, it's time to think about what's important to your business. Not every company requires the same set of features.
Sigma is a Stripe reporting tool. This is a simple, reliable and unique reporting tool. PayPal will generate reports for you, but only Stripe allows you to create your own custom SQL queries to create reports. This is not just an ability to choose from a pre-generated parameter list — if you can request the SQL query, you can get a report. If you are dealing with serious business data, it's hard to ignore this tool. PayPal reports are quite advanced (and this is a long list), but they are not configurable. At least it doesn't look like Stripe.
Stripe has some of the most advanced tools for developing ordering and subscription management processes. PayPal has some reliable subscription and billing management tools, but you have zero control over the ordering process on a standard plan, and the Pro-plan tools simply do not compete against Stripe.
Winner: Stripe
Stripe vs PayPal: Cost and tariffs
Both Stripe Paypal charge 2.9% + $0.30 per transaction. In addition, Stripe also supports both ACH and Bitcoin, charging 0.8% per transaction, with a maximum amount of $5.
Stripe does not charge anything extra for accepting international cards, for its subscription services or payment page. This is definitely an advantage. However, if you plan to use the Connect kit (platform from Stripe), you will come across additional charges.
A basic PayPal subscription does not charge you anything, but you do not get a hosted payment page. To do this, you need to upgrade your plan to PayPal Payments Pro. You also get a PayPal virtual terminal (which comes with a different pricing scheme for transactions). However, if you want to have regular payments/subscriptions, additional charges apply.
PayPal Payments Pro + Virtual Terminal: $30 per month
The cost of a virtual terminal: 3.1% + $0.30
Prices for American Express for Pro and Virtual Terminal: 3.5%
Regular payments: $10 per month
Forty dollars a month for the payment form and regular payments seems a lot. However, you also get a virtual terminal — Stripe does not support this feature.
It is also worth mentioning that PayPal is actually more cost-effective in other situations. In particular, PayPal offers a non-profit discount, where you will pay 2.2% + $0.30 per transaction. And if you sell low-cost digital goods (up to $10 on average), PayPal offers a micro-payment plan that can save you money compared to typical rates. You pay 5% + $0.05 per transaction — and since the transaction fee is lower, you can save money, even if the interest rate is higher.
If you need mPOS, PayPal is also more cost-effective here than Stripe — 2.7% against 2.9% + $0.30.
Winner: PayPal
Stripe vs PayPal: Ease Of Use
PayPal offers developer tools. They are for anyone who can set up and start accepting payments. If you have no coding experience, setting up Stripe will be much more difficult. You can customize the base. However, if you need something more complicated than a simple e-commerce site, you will have to hire a developer. Otherwise, you will be limited in what you can do.
Here is an example. You have probably seen the PayPal "Buy Now" button everywhere, which allows you to order and pay for goods on websites. To integrate the Buy Now button on your website, you only need to copy the appropriate code from the PayPal website and paste it into your website. Stripe has a similar option "Pay with a card", but it requires you to have programming knowledge or hire a developer.
If you are a developer, there is no doubt that Stripe is the best choice. You can do a lot with PayPal these days. But you can do more with Stripe. Again, Stripe was designed primarily for developers. But if you do not understand the technology and you are not able to hire someone with the necessary skills, PayPal will be a more reasonable option.
Winner: PayPal
Stripe vs PayPal: Contract fee and early termination fee
Neither PayPal nor Stripe requires a contract (both services are paid as needed), which means that there is no fee for early termination in any of the services.
Winner: Draw
PayPal vs. Stripe: Sales and Advertising Transparency
Both Stripe Paypal highly rate their fees and services. No company uses any schemes or tricks that will take you by surprise when you see your account. As mentioned, PayPal payment is more transparent. Everything is clearly explained on their website, so you certainly cannot call them "hidden fees." Both services are also well known, so they do not need to spam the Internet with annoying ads.
Winner: Draw
Stripe vs PayPal: Customer Service and Technical Support
PayPal offers several ways to achieve customer service reputation. They include:
Self-help center
Forum
Email support
Developer Center: PayPal documentation is not as thorough as Stripe, but it exists.
Telephone support (available Monday through Friday from 5:00 AM to 10:00 AM Pacific Time)
Twitter — @AskPayPal serves Mon-Fri 9:00 AM to 5:00 PM Central Standard Time
Facebook: You cannot post your entries to the page, but you can comment on their entries and send PayPal messages directly if you have questions.
Stripe, on the other hand, offers more limited support:
Knowledgebase
Email support
Developer Documentation: this part of Stripe support is more comprehensive than the knowledge base
Chat support
Facebook: comments on the page are forbidden, but you can send a message to Stripe.
Twitter: there is no special support account, but you can tweet @Stripe or check @StripeStatus for update notifications
Stripe support is worthy, but PayPal gives you the opportunity to get answers to your questions over the phone. Even if the quality is not amazing, the importance of telephone support cannot be overemphasized.
Winner: PayPal
Stripe vs PayPal: Final verdict
After all, no one thinks it's easy to find a clear winner in the Stripe vs PayPal debate.
Ultimately, the choice depends on your needs. If you have experience and want to create an individual online store, Stripe is the best choice. If you are not a developer, do not want to hire him, or do not have big needs, PayPal will be more suitable. Although you do not receive a payment page without a $30 monthly subscription, PayPal is really reliable and secure service. So, there's nothing to worry about when PayPal redirects its customers to their website to complete the transaction.
Winner: Draw