In the past, Comparing Wix Vs WordPress was not possible. Because WordPress was one of the most preferred CMS and held the maximum market share over Wix. But, things are now getting change. With massive progress in both website builders, the choice has become more challenging.
As launching your website from a business point of view, you need to consider certain points each builder has and how each one can accommodate your business with dedicated VPS hosting providers and compare Wix Vs WordPress.
Over the past few years in digital marketing, website builders have played a pivotal role in propelling businesses and taking their trading online. The development of a viable eCommerce platform and WordPress security is a feature that has incredibly developed at a fast pace.
To make it a comprehensive article for better understanding to choose the right one from Wix Vs WordPress. Before getting into the detailed comparison, first get some general idea about Wix and WordPress.
1. Wix Vs WordPress: Short Review
Website builders are a far more accessible way to create and design a website. With little to no programming needed, you do not have to have advanced design skills to create your eCommerce platform.
Using 'drag and drop' design, website builders have become an easy way to create a website without knowing any code. WordPress has always been the leader of the pack. Several other service providers recently joined it.
The idea of simplified website building has changed how people work with pre-designed themes to customize. The power and success of WordPress, Wix and similar platforms are that they allow a business owner to manage their own website. It can take anything from an hour to a few days, weeks, or months for a website to be up and running. Let us figure out a short review on both Wix Vs WordPress website builders.
First, let's talk about Wix
Before starting a full comparison of Wix Vs WordPress let us first talk about Wix.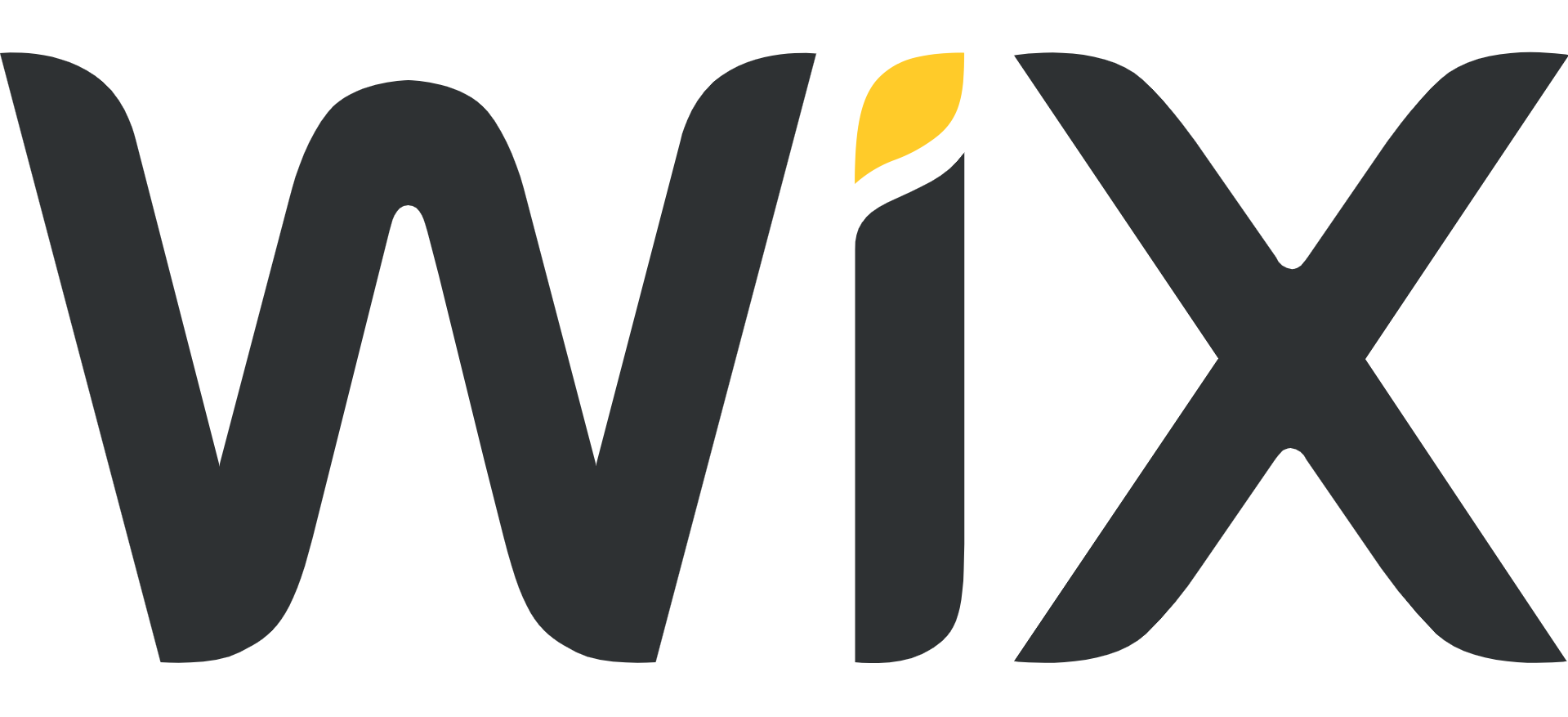 Wix is one of WordPress's steady and earliest competitors, established in 2006. It is probably one of the most advertised platforms out there. It is not rare to come across a Wix ad on YouTube or any other online platform, for that matter.
At the moment, users stand at 150 million individual websites from across the world. Their pricing plans range from free to premium, between $0 to & $40 per month.
One of Wix's perks, quite different from their counterparts, is the 24/7 support team. This also upgrades with each package. As a student building your own eCommerce site, you can use an essay writing service to stay ahead of your studies.
For eCommerce Wix has a few premium plans that ensure that a business can easily establish itself in the eCommerce platform. The plans easily connect to platforms like Google Analytics. Varied payment options are offered to website visitors. Wix provides a simplified service to businesses by offering the following features:
Some Key Features of Using Wix
A guided process of planning your eCommerce site to meet business needs. 
A simple way to track sales and scale your campaigns and business progress
Optimized online monitoring for various aspects of your business
Safe options for managing your website and conducting security audits
Direct contact with expert support offered by Wpoven dedicated to ease your experience. 
The pros and cons of using Wix
Let us start with the pros of using Wix for developing a website:
Pros
Wix offers a wide variety of free templates – even on the cheapest plan which is free. .
The drag and drop interface appears to become easier with every development update, saving time in creating a website. No special skills are needed to use Wix features, and with a little tech-savviness, you can build an amazing site for your business. 
It is easy to integrate plugins on Wix, they are all in a single app store that allows you to easily integrate the plugins into your website. 
The blog features a user-friendly blog editor and has integrated SEO features to improve and enhance your SEO rankings.
Cons
The drag and drop design features are incredibly limited and can seem backward for the more advanced web designer. 
The themes tend to be difficult to completely customize to suit a brand, thus limiting design options. 
Only limited features for blogging are available. The post editor is not ideal if you are looking for something completely customizable.
You need to separately edit the mobile and web view of your website which can be time-consuming and it can be challenging to achieve a complementary look.
Should you be using Wix?
If you are looking for something that is relatively easy to use and offers a wide range of design options, Wix is ideal. Besides, if you are a beginner in web design but are interested in developing this particular skill – it is a great platform to learn. The eCommerce plans are also user-friendly and do not require a lot of advanced knowledge.
What is the deal with WordPress?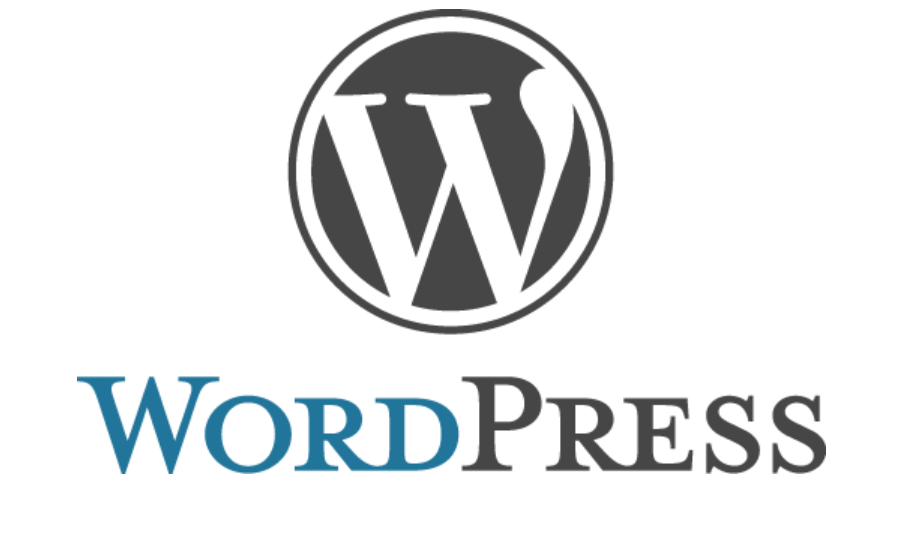 WordPress is one of the most powerful blogging and content management systems of our time, and it features a simple interface. The CMS has been used by some of the world's most prominent websites. It continues to dominate the web design sphere. In fact, you can add knowing WordPress to one of your special skills on your resume.
With 16 years in web content creation, this is a tool for serious content creators looking to create something powerful, secure, and user-friendly. WordPress started as a blogging site and has grown to accommodate the website market for businesses and individuals across industries.
The .com and .org of it all
WordPress comprises two separate services – WordPress.org and WordPress.com. Each one with its own purpose and use with similar features.
WordPress.org: WordPress.Org is an open-source content management system that is accessible. It is ideal for advanced users interested in changing some of the HTML and PHP codings. This makes the platform highly accessible, and the use of templates increases flexibility, and this is a dream come true for anyone who wants to create something that relates to their brand.
WordPress.com: WordPress.com is a lot more simplified and bears similarities to Wix. It is ideal for the user looking for something simple without whistles and bells, and you do not need to know any coding to make magic happen. There are a variety of plans, from free to premium, that offers various options.
The pros and cons of WordPress
With WordPress, it is relatively easy to build an eCommerce platform and any site for that matter. Some of the best essay writing services use WordPress to host their websites. With some programming knowledge and experience, you can have a lot of fun with the features and flex your muscles in design with thousands of themes to choose from.
There are also a host of plugins to improve your site's performance and ensure that your site is fully functional. However, as with anything, WordPress has its pros and cons:
Pros
Scalability: WordPress provides you high scalability feature. You can extend your website functionality with the help of extensions and plugins.
Wide range of Plugins and Extensions available.
Easy to handle website data and provides more flexibility.
Cons
You actually need to know some form of coding in one or another because you may encounter problems that are challenging to fix. 
You often need to install a plugin for fully functional features such as SEO. For instance, for SEO, the best plugin to install is Rankmath.
If you require a lot of storage, you may need to go for a paid plan to gain access to more space.
2. Wix Vs WordPress: Pricing Comparison
Although, Both Wix and WordPress offer free plans, they have their own limitations. Let us find out the best value for money by comparing Wix Vs WordPress given below:
Wix Pricing
As mentioned earlier, Wix has a free version, but it is highly recommended to choose their paid plans. The following demerits are given below:
A lot of Ads and Banners are fed into a free Wix website which you cannot remove.
Not flexibility to choose an independent domain name. You will be bound to use the Wix subdomain in the username.wix.com/sitename format.
Wix Premium plans start at $14 to $39 per month. And Premium features you will get:
One year of Custom Domain
No irritating Wix Ads
Storage Space from 3 to 35 GB
24/7 Support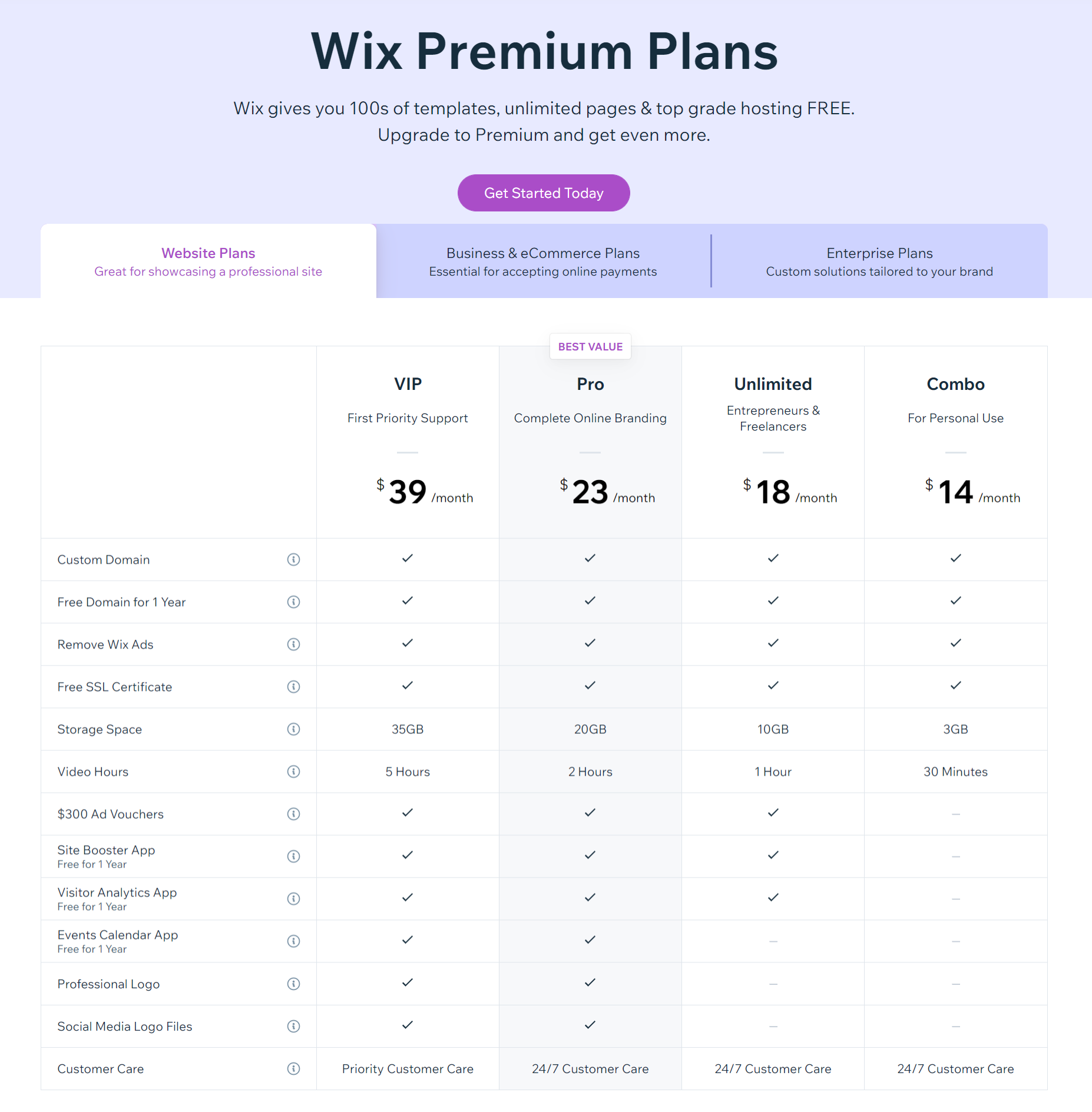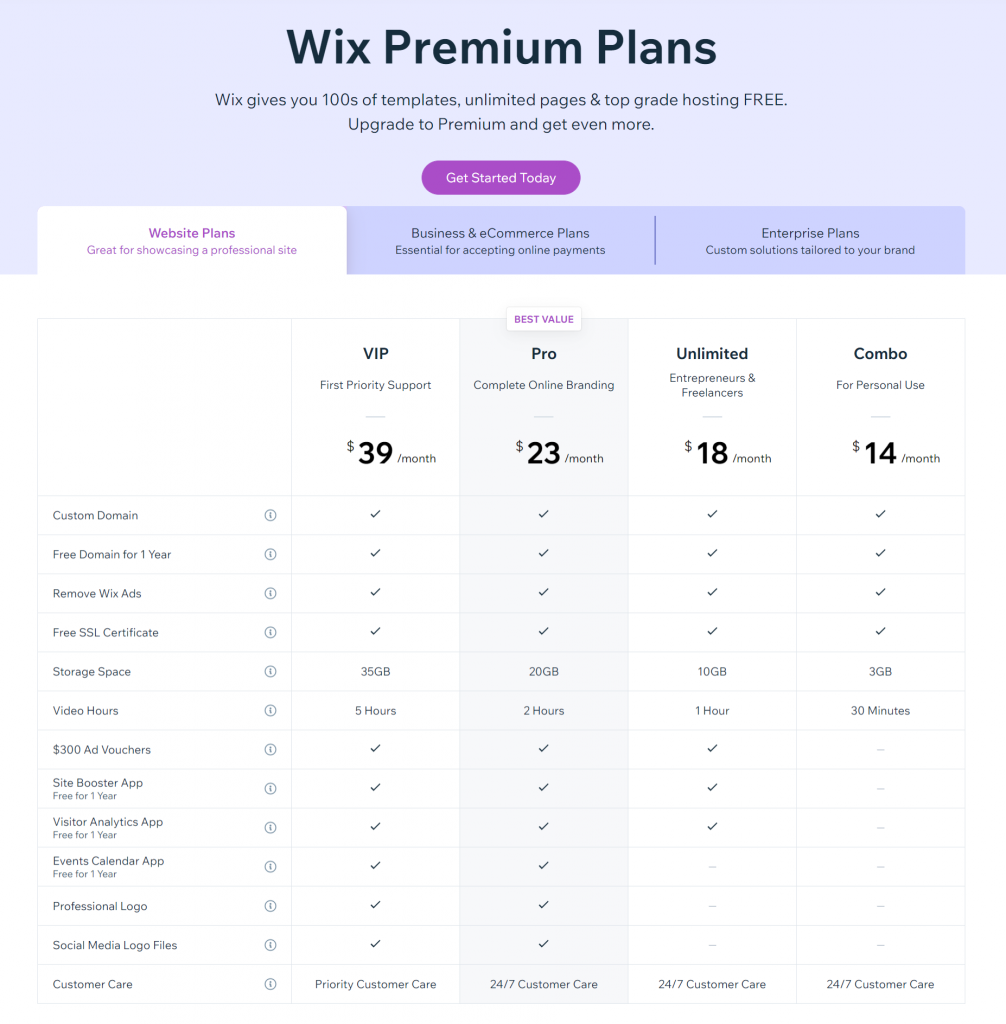 WordPress Pricing
WordPress is an open-source platform. Hence, no money or installation charges are required. The only things that incur charges to develop a website on WordPress CMS are Hosting plan and Domain Name.
On average, For the best Hosting Service like WPOven, the plan starts at $16.61 to $249.95 per month.
and the average amount for purchasing a Custom domain name starting at $10 per year.
In addition to that, to develop a fully functional website. You need some extra optional features such as paid extensions and a custom theme.
The average price for the custom theme would be around $50 to $1000.
Although many plugins and extensions are free, premium ones will cost you around $5 to 100$.
Considering all the minimum effective costs to develop a WordPress website, it will cost you around a one-time payment of $150.
Plus, if you are not going to spend a lot of time developing and customizing the website and hire some professionals for it. It will cost you around $200 to hire a web developer.
3. Wix vs WordPress: Ease of use comparison
Many platforms are available out there, But the only stand out from the crowd, which is easy to use and implement. Now let us compare Wix Vs WordPress and check which platform is best in customization, design, and ease of use.
Wix: an ultimate platform for beginners
Wix is considered one of the best options for beginners who have not any technical knowledge and do not like to spend a lot of time on website development.
Wix makes all these a lot easier by providing you a wide range of more than 1000 beautiful templates. All these templates are based on different niches and come with a theme.
Wix provides, Drag and Drop feature for customization and design of web pages. You can drag any image, buttons, and paragraphs, resize them, and drop them easily on any web page location.
It has limitations and is specially designed for beginners to create a more personalized website without any coding.
WordPress: Best for experienced developers
When we talk about ease of use on both platforms, Wix has the edge over WordPress in website customization and design. Whatever you make changes or drag and drop different elements, you can see the live preview of your website whenever you redesign or edit it.
Whereas, In WordPress, you have to save and click on the preview button after each edit.
It is also noted that the elements look quite different on the live preview than during editing. However, it has the edge over Wix in terms of a lot of customization options and designs.
You do not need to be a hardcore coder; simple and basic CSS and HTML knowledge can make you wonder.
You can also use different editing plugins that provide a drag and drop feature. Through which editing and designing tasks will become a cakewalk.
4. Wix Vs WordPress: Extensions and Plugins
Extensions and plugins are among the most important tools that enhance any website's functionality and increase the overall user experience. But the main concern is that Should a user go for quality or quantity? Let us find out by Comparing Wix Vs WordPress on the number of Extensions or apps provided by both platforms.
Wix
Wix has a collection of over more than 200 quality plugins. Exclusively Some of them were developed by Wix and third-party developers.
All the plugins are compatible with Wix and can easily integrate with it. Even the third-party apps are developed on the guidelines by Wix. Hence, a user has not to worry about compatibility issues.
WordPress
WordPress has a huge Plugin Directory that consists of thousands of Paid and Free plugins or extensions to download. Since it is an open-source platform, any developer can create plugins as per the requirement.
But the main problem with the WordPress extension directory is that plugins are not well verified from the source and the company. But, with the help of user reviews and ratings, it will be easier to choose the right one.
5. Wix vs WordPress: Which one is best for Ecommerce?
Ecommerce has emerged on a huge scale, and most online users are mainly focused on developing online stores. Hence, choosing the right eCommerce developing platform is very crucial. Let's figure out which will stand out the best Wix vs WordPress.
Wix
Wix provides a complete solution for small eCommerce businesses in their premium plans, starting at $23 per month.
Wix's paid eCommerce plans come with all the essential features such as payment gateways, online shopping, and currency switcher.
WordPress
WordPress consists of more advanced dedicated eCommerce features than Wix. But WordPress does not come preinstalled with it.
WordPress requires an eCommerce dedicated plugin such as Woocommerce for creating an online store.
Woocommerce is one of the most popular eCommerce plugins available. And it comes with its own Woocommerce plugins and extensions.
6. Wix vs WordPress: SEO aspects
When we consider SEO for both platforms, the developers have done a tremendous job providing the best SEO tools for both platforms. Let's compare Wix Vs WordPress on how both platforms are providing the best SEO services:
Wix
Wix has one of the most powerful SEO tools named Sitebooster.
Sitebooster is free to use only for higher plans. But you can also choose its premium plan starting at $4.95 per month.
Sitebooster provides features like the company's schema, Keyword Analysis, and Performance analysis.
WordPress
WordPress has many best SEO tools available such as Rank Math, Yoast SEO, and Jetpack.
Rank math is one of the best among other WordPress plugins. Although, its free version is ready to download and has enough basic SEO features.
Rank math premium plans start at $59 to $199 per year.
Rank Math provides features like keyword density suggestion, editing metadata, editing URL, SEO-friendly content monitoring, etc.

7. Wix vs WordPress : Customer Support
Apart from premium features and providing scalability, Customer support is one of the main and last best points you must consider. Let us check out Comparison Wix Vs WordPress on which platform offers the best Support system:
Wix
Due to the Simple and easy Drag and Drop feature, you will hardly need any assistance or Support.
Provides one of the best customer support from dedicated hotline numbers. And the technicians are always ready to help you 24/7.
Apart from hotline services, to make it easier for Wix users, they provide Articles and Tutorials on most asked questions.
WordPress
Open-source Platforms have their own drawbacks; the customer support of WordPress is not quite responsive.
Users have to mostly rely on articles or tutorials created by other WordPress developers.
But one of the merits of using WordPress is that WordPress acquires more than 70 percent of internet websites. Hence, the possibility of getting answers to any issue will be more.
Final Verdict: Choosing between the two Wix vs WordPress?
Of course, you have picked up on the differences between the two services Wix vs WordPress. One might feel that WordPress is the ideal option because it has been around longer and have more to offer an advanced website builder.
WordPress is quite preemptive in that it allows its users to create the type of site they envision with minimal hassle. Most templates are also often ready for mobile with a responsive option. WordPress is ideal for the more advanced user who has a good idea of what they want. Meanwhile, Wix is ideal for the beginner looking for something quick but is willing to learn with access to support.
WordPress is certainly more difficult to use and is more advanced than Wix. Wix requires little to no coding making it ideal for the beginner. Each one has its limitations. But each platform needs to be cleverly used with skill, and with experience, you will become better at it. Both require practice and an honest evaluation of one's skills against their business needs.
Despite great themes, Wix can be limiting in customizing those templates, while WordPress is quite different. Before choosing, it is important to understand that your choice is good either way; both services are reputable and offer innovation options for eCommerce websites.
Hence as per the different criteria mentioned above, let us find out the final verdict which won in the particular comparison criteria, that will ultimately help to figure out which one Wix Vs WordPress will be best for you:
Final Verdict on Wix vs WordPress Pricing: The Clear winner in the pricing section is Wix. Since you have to pay fixed monthly charges in Wix, Whereas WordPress price varies.
Final Verdict on Wix vs WordPress Ease of use: Wix considered as a Winner in the ease of use section, As it provides an easy drag and drops feature. Whereas WordPress has a complex editing system.
Final Verdict on Wix vs WordPress No. of Extensions or apps: WordPress has more plugins and extensions and provides more premium and free options. Whereas Wix has limited but quality plugins which will not be sufficient.
Final Verdict on Wix vs WordPress for Ecommerce: WordPress is the clear winner for eCommerce development; as mentioned earlier, it has a dedicated plugin, Woocommerce, which has the potential to provides features like existing eCommerce giants.
Final Verdict on Wix Vs WordPress for SEO: Although Both platforms provide great SEO features, Rank math is slightly powerful than site booster.
Final Verdict on Wix Vs WordPress Customer Support: Wix is winning in providing the best customer support rather than WordPress.
Hope, after reading the detailed comparison between Wix Vs WordPress, it will be easier for you to choose the best platform that fulfills your requirement.
Get FREE SSD, SSL, Business Emails with 14 days money-back guarantee with WPOven. Hosting that everyone loves. The most secured WordPress Hosting with Daily Malware Scanning & Cleanup.

If you like to ask more questions just mention them in the comment section below.
Is Wix better than WordPress?
Comparing both, WordPress is far better than Wix. Because WordPress is one of the most versatile, flexible, and scalable platforms for any website. Whereas, Wix offers only a simple site builder for creating a small, simple, and easy website with limited features.
Is Wix Safer than WordPress?
Wix is focusing on providing basic, simple, and easy features to users. Whereas WordPress has the flexibility to customize and control the site in terms of design, security, etc.
Is Wix or WordPress easier?
In simple words, Wix is a lot easier than WordPress. Wix has an easy drag and drops feature, which makes editing a cakewalk. Whereas WordPress requires complex editing tools and some coding knowledge to edit a website.